I'm living proof that it's possible to travel young, no matter your economic means.
Just two months shy of my 27th birthday, I'd traveled to more than 35 countries, 15 in the last year alone. Paradoxically, I'd held a full-time job during only seven of the prior 24 months yet managed to finance all of these trips myself, without parental assistance and using credit cards for convenience rather than in lieu of cash.
To be sure, I spent most of the three years immediately following college graduation working in the service industry instead of "using" my degree, yet managed to visit Europe and India twice each during that time. How, you might be asking yourself, can this be possible?
The fundamental answer is simple: I'm very good at math. Of course, that's only one tool I use to manifest my travel goals into reality. While I can't guarantee that any of the techniques I describe in this travel blog post will work for you as well as they do for me (or at all), I can tell you one thing without any hesitation: you don't need to be wealthy to travel extensively while you're young.

Need help plotting your escape? Hire me as your Travel Coach, or as your Teach Abroad Coach.
Cut the Fat
One of the chief mistakes people make once they begin living on their own is attempting to live exactly like everyone else they know. When I graduated college and moved to hip, up-and-coming Austin, Texas, I immediately set myself up in a one-bedroom apartment with an enviable location (and even more rocking view), bought a brand-new car and took a high-paying job so that I could afford all of it.
There is nothing inherently wrong with living life like this, particularly if your family is well-off enough to finance the majority of it for you. If you're middle class like me, however, a huge pile of obligatory, recurring monthly expenses is as close as you can get to prison without shackles. And I'm here to testify: It is not possible for middle class people to travel and have huge recurring monthly obligation. It should go without saying that you should also limit discretionary spending such as eating out and nightlife.
Break Down Your Monthly Expenses
Say your one-bedroom apartment runs you $750 per month in rent, with an additional $250 per month spent on utilities and other bills such as Internet and television. That's $1,000 just to put a roof over your head!
Let's also suppose your car note is a modest $275 per month, but your insurance bill is $125. Even if you spend only $100 per month in gas, you're still looking at $500 per month for transport, which doesn't take into account other expenses like car repairs and cab fares.
Finally, you let's assume you pay $130 to AT&T each month for your super-fast, unlimited iPhone service.
To add it up:
$750 rent
+ 250 bills
+ 275 car
+ 125 insurance
+ 100 gas
+ 130 phone
= $1,730
That's almost $2,000 of obligatory, monthly expenses. Wowza.
Slash Your Spending
We could dwell on this sad fact, but I prefer a more proactive approach, so let's take a look at what you could save by making some basic adjustments.
Suppose that you move into a two-bedroom apartment with a friend at your same complex, whose base rent is $900 per month, which means your half is $450. Since the square footage is greater, so too are the bills — let's say $300, half of which is $150. Even still, your total monthly bills for shelter have now decreased to just $600, as oppose to $1,000.
If you were financing a car and you sold it outright to rid yourself of the obligation, you probably lost money. $1,000 is a conservative estimate. Let's say you spent $400 on a bike to get you around instead. Shelling out over a grand sucks, but consider that recurring car, gas and insurance obligations are gone for good. Apart from bike maintenance costs and, perhaps, a bus pass, your transport is now essentially free.
To sweeten the deal even more, you told AT&T to shove it, unlocked your iPhone for free and switched to T-Mobile's prepaid, unlimited plan (which includes 2 GB of data) for only $70 per month as of December 2010.
Your monthly expenses are now as follows:
$450 rent
+ 150 bills
+   70 phone
= $670. Now that's more like it!
You now have the company of a roommate,  a hot body from cycling and over $1,000 extra dollars of dough in your pocket each month.
Multiply these savings out to see what you save in a year:
1730
– 670
= 1060
x 12
= $12,720
Even if you lost money giving your car back to the dealership and buying a bike, subtracting the sample $1,400 from your sum still leaves you with more than $11,000 to play with between New Year's and Christmas. This is more than enough for you to realize your wildest travel dreams, whether you want to lie on beaches in Goa, India, explore the pyramids of Egypt or see pandas in China.
Set Travel Goals
Of course, money is only a number if you don't know what to do with it. When I returned from my third trip to Europe in August 2008, I informed my then-boyfriend that I was going to be in India by March 1 and planned to spend at least a month there. He laughed it off.
The joke ended up being on him.  Almost immediately after returning to the U.S., I set to researching India in-depth, deciding upon cities and attractions I couldn't do without seeing (and those I wouldn't lose sleep over missing). Eventually, I mapped out an itinerary, complete with sample rates for transportation, hotels, daily spending and even a lump sum to be used in the event of an emergency.
By the time the holidays came around, I had a "magic number" in mind every day I went to the Cheesecake Factory to wait tables. Visions of pink desert cities, mile-long stretches of beaches and the largest monument to love ever built were tucked safely in my mind as I trudged through each day's work.
Simply saying you want to travel is not a goal. In order to travel somewhere, you have to decide upon where that place will be, how long you'll stay there, what you plan to do when you get there and so forth.
If you want to take a trip to Morocco, the generic abstraction of "Morocco" is probably not going to motivate you enough to actually make it there. But reading up on how to navigate the busy night markets of Marrakech, make a trek to the charming coastal city of Essaouira or spend three nights in the Moroccan Sahara desert might.
Picturing yourself somewhere is the first step to being there. The most important component of budget travel is "travel" itself.
Free Your Mind
Whether you plan to visit Morocco, Myanmar or a country whose name doesn't start with an "M," you must find not only the money and motivation (I like the letter "M" today), but also the time to travel while you're young. This can be an arduous, if not impossible task if you work a typical full-time position. "Fifteen days annual leave" doesn't sound so competitive now, does it?
Every young traveler's goal should be to become location independent. In other words, to get a job or gig that allows you to earn money from anywhere in the world. Location-independent jobs can take many forms.
I earn my living primarily through Web copywriting, which mostly see me producing content for retail and review websites. It's soulless, but it's flexible, quick and pays the bills. For ideas on how to make yourself location independent and make money even when you're away from home, read my post on How to Travel With a Purpose.
Another option is to find work abroad. For example, you can teach English in Asia, which will give you a convenient base for travel in the East, income far greater than your cost of living and allow you to fully immerse yourself in a culture for a long period of time, something more nomadic travelers rarely experience of their own accord.
The bottom line is this: In order to travel, you have to want to travel. Being middle class, middle income or just plain broke is not a good excuse to hold you back from traveling young if you really want to do it. By cutting out superfluous expenses, setting tangible budget travel goals and limiting your work to occupations that are time-and-location flexible, you can manifest your travel dreams into reality while you're young, just as I have done: You, too, can leave your daily hell.
So, you listed that Civic on Craiglist yet?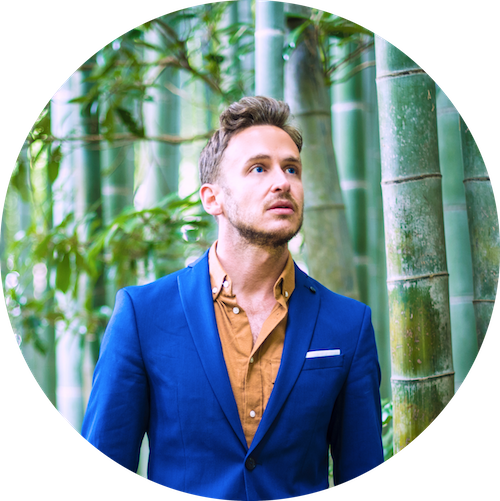 informs, inspires, entertains and empowers travelers like you. My name is Robert and I'm happy you're here!