<!– Place this tag in your head or just before your close body tag –> <!– Place this tag where you want the +1 button to render –>
Istanbul is at once Europe's easternmost city and the most European city in Turkey and (arguably) Asia, which begs the question: Are prices in Istanbul more in line with bargain bin Asia or upmarket Europe?
Truly, prices in Istanbul fall somewhere in-between the two. Although Istanbul isn't nearly as expensive as Europe's most high-dollar destinations, a weekend in the city formerly known as Constantinople will be closer in price to an Athens or Madrid getaway than what you'd spend in New Delhi or even Shanghai.

Let Me Plan Your Trip to Turkey
Currency in Turkey
Before I get to the types of prices you can expect to pay when you travel in Istanbul, I'm going to give you a rundown of the currency situation in Turkey.
As you likely know if you haven't spent the last half-decade hiding under a rock, Turkey has desperately been vying for E.U. membership. Thanks in large part to the religious and ethnic infighting is more of an issue in eastern Turkey than it is in Istanbul, the E.U. has thus far denied Turkey membership into the union.
Although Turkey is not yet a member of the E.U., much less of the Eurozone that uses the euro as its currency, the euro is a commonly accepted form of payment in Turkey, with prices on more expensive goods and services listed both in euros, as well as in Turkish new lira, abbreviated "YTL" or simply "TL." Backpackers who travel to Turkey from elsewhere in the Middle East can convert their foreign currency into either lira or euro.
Istanbul Hotels and Hostels
Hotels in Istanbul aren't generally what I would call expensive, although you're not going to be able to travel the world for $50 per day like I did if you stay in hotels. Conservatively speaking, I would expect a two-star hotel room in a central neighborhood of Istanbul like Beyoglu or Cihangir to cost 100 lira or about $55. Prices can obviously get much higher than this depending on the types of service and amenities you expect.
Hostels in Turkey tends to be much cheaper, as is the case in most other countries. Perusing HostelWorld for hostels in Istanbul reveals that dorm beds in Istanbul hostels such as Cheers Hostel and Bahaus Hostel can be yours for under $15 or 30 lira, or about what you might expect to pay in a European city like Lisbon or Granada.
Single and private rooms in Istanbul hostels are usually priced around 50 lira  per night, or still about half of what you'd pay for an actual hotel room.
Istanbul Attractions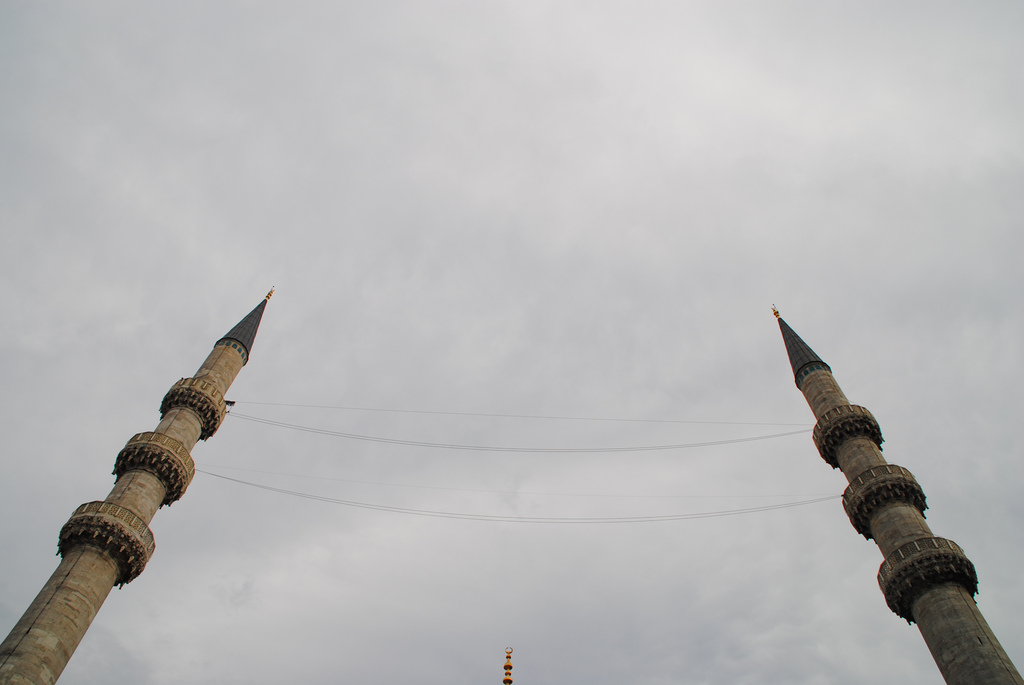 If you're into world history at all, then you'll find travel in Istanbul, let alone in Turkey, to be a euphoric experience. With famous tourist attractions like Hagia Sophia church, the Blue Mosque, the Grand Bazaar and Dolmabahce Palace, you could literally spend days of travel in Turkey exploring tourist attractions.
If you did that, however, you'd also likely spend a shit ton of money. Entry into the Dolmabahce Palace alone was 40 lira (or about $20) when I visited in September 2010. The kicker? You can't even take pictures inside many of Istanbul's famous tourist attractions.
My suggestion to backpackers who travel in Turkey on a budget is this: Take photos from the outside of attractions that require you to pay to get in and instead devote your time to exploring other areas of Istanbul. Why not take a walk along the Bosphorous or explore Istanbul's Fatih neighborhood?
Food in Istanbul
One thing that is thankfully very cheap in Istanbul — or at least can be, if you play your cards right — is food. Enjoy my personal favorite, delicious Turkish durum sandwiches with juicy chicken, beef or lamp in crispy pita wrappers, for under 5 lira.
Restaurant food in Istanbul can be cheap or expensive, depending on where you eat. I had breakfast with my friend Safa and his girlfriend at a trendy-looking café just off the Istiklal pedestrian street and about 15 lira for eggs, toast and coffee. Restaurant meals can also not surprisingly be expensive. In general, avoid eating in sit-down restaurants.
And you could always cook in your hostel, as I suggest in my article about how to eat well for cheap.
Transport in Istanbul
Travel within Istanbul is generally easy and cheap, whether you choose to ride one of the city's trams, walk or even take a taxi. Read more about transport in Istanbul.