The only thing I knew about the city of Bergen, Norway prior to visiting was that it's rainy. According to some, in fact, Bergen is the rainiest city in all of Europe, averaging more than 270 days per year of gloomy clouds and showers.
I hate rain, so after a drenched day out on Norway's Hardangerfjord, I was delighted (but shocked) to be greeted at Bergen's railway station by bright sun, the fact that it was nearly 9 p.m. notwithstanding.

My good fortune to have arrived in Bergen on a sunny day — and to have experienced, for the first time in my life, the "midnight sun" phenomenon — is only the beginning of why Bergen is one of my favorites in the world after less than 24 hours.
As if being welcomed to Bergen by the sun wasn't enough, the view from my hotel (The Scandic Strand) left me nearly speechless. In fact, I'm enjoying this very vantage point as I sit and write this entry, even if it is extremely cloudy this morning. My experience in Bergen was a spiritual one from the get-go.
Like I mentioned before, it was not only sunny when I got off the train in Bergen, but it was also relatively late at night. I knew prior to visiting Norway that my trip would coincide with the so-called "midnight sun," but I had no idea how surreal it would be to roam around in it. I had to look at my phone frequently throughout the night to remind myself of the time.
Although it is nearly summer in Norway, temperatures are still chilly for me. Bergen reached a high of just 14°C yesterday, for example, which is about the same maximum temperature one can expect in my former hometown of Austin, TX — in January! By the time this picture was taken it was no more than 8°C, but Bergen locals were nonetheless soaking up the rare sun.
The bad news? After 48 hours in Norway, I have seen almost no viking paraphernalia. The good news? As I strolled Bergen's so-called "Strand" (which runs along the city's harbor), the sheer number and scale of the ships docking and leaving were enough to evoke visions of Leif Ericsson himself in my mesmerized mind. It's the stuff that dreams are made of, trippy nautical-related ones anyway.
A picture of McDonald's might seem like a waste of space in a photo essay about a beautiful city, but do you see this McDonald's? I've been to plenty of stately, uniform-looking cities around the world and have never seen anything this ridiculous. The sad thing is that it not only looks like a nice American restaurant, but is also priced like one: 79 NOK (about $14) for a Big Mac meal. Ouch!
As picturesque as Bergen is, there are plenty of ridiculous sights and sounds to keep offbeat travelers amused. I have seen my fair share of mobile strip club ads in my life: On taxis in New York; Pulled behind Smart cars in Melbourne, Australia. But never this nonsense! What's funny is that I saw this guy several times throughout the night, and not once was he actually riding the bike.
Anyway, back to Bergen's beauty! As if the scene to be found at Bergen's harborside wasn't breathtaking enough, the same sorts of fairytale-looking buildings that line its stone streets also extend up onto the hills that rise around the city. I keep using the word "city" — and Bergen, make no mistake, is a city — but it simply doesn't feel like one to me. It's not small; but it's magical.
Literally the moment I posted my first batch of Bergen photos, my Italian friend Stefano told me I had to catch sunset from Fløyen, Bergen's highest viewpoint. Although it was 10:30 p.m. by the time I got his request, I was in luck: The "Fløibanen" trains that go up the side of the mountain run until 11 p.m., at which point there is still daylight!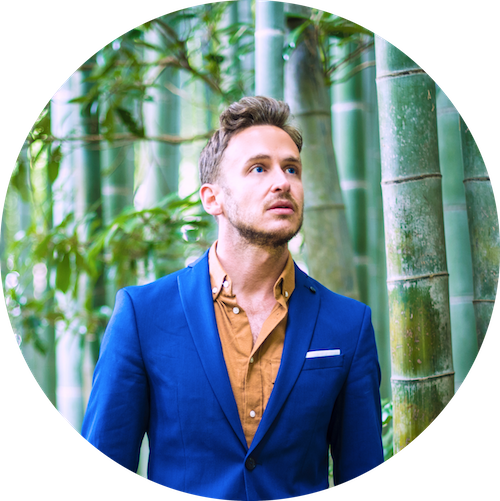 informs, inspires, entertains and empowers travelers like you. My name is Robert and I'm happy you're here!