"How can you afford to travel so often?" is the question I am asked most frequently, by travelers and non-travelers alike.
The simple answer is that I save well, and I budget even better. I'm also extremely good at math. At the same time, my income isn't particularly high — and I pay for almost 100% of my travel. (The question I get asked second-most often is "Do you get paid to travel?")
The takeaway here is if I can travel extensively, you can travel extensively. Indeed, you shouldn't be asking "How can Robert afford to travel so often?" — you should be asking yourself why you can't!
How Much Income Does It Take To Travel?
The biggest bullshit myth about travel is that you need to be wealthy to travel extensively. Would you believe me if I told you that my average monthly income since I started traveling has been less than $3,000?
In fact, I believe that a net income of $3,000 a month is a good target to set if you want to travel long-term. In my experience, it is possible to travel basically anywhere in the world on $100 per day, sometimes less. And $100 x 30 is $3,000, so you see my logic.
Of course, you can travel the world on even less than $3,000 per month — did you read my article about how I traveled for three months on less than $50 per day?
Then there's time. If you want to travel long-term, time is even more important than money. My biggest secret to traveling is not having a high income, but rather that my income is location-independent — I can earn money from anywhere in the world!
Want To Travel More? Sell Your Car
I haven't had a car since September 2009, just before I moved to China. Assuming a car note of $300, $150 in insurance and $150 in gas, I have saved $600 per month, or a whopping $19,800 as of June 2012. At $50 per day, that amounts to 396 days of travel!
Selling your car is a great way to save more money for travel, but you should also make sacrifices elsewhere in your life. Obviously, you should keeping eating at nice restaurants and drinking in fancy bars to a minimum. But some sacrifies need to be more fundamental.
People who want to travel long-term shouldn't rent a single apartment, for example. Before I moved to China, I was paying $850 per month in rent and approximately $250 per month in utilities — or $1,100 per month, just to put a roof over my head!
After I returned I moved in with roommates, and was paying just $450 in rent and $100 in bills, or $550 vs. $1,100 per month. Each year, living with roommates (rather than alone) saves me $6,600, or enough to travel continuously for 3-4 months.
Budget Travel Best Practices
Adhering to a travel budget takes discipline, but setting it need not be hard. In general, I set a budget of $50 per day in developing regions (i.e. India or Southeast Asia) and $100 per day in developed countries (Australia, Europe and the U.S.).
"But Robert," you're probably asking, "What if I want to do an activity one day that costs more than $100?"
The answer is simple: If you spend more than your travel budget one day, you need to spend less other days to compensate for it.
Let's say, for example, you decide to tour Australia's Great Ocean Road, which costs about $100 on its own. Let's also say that on that day, you spend $70 eating, drinking and on your hostel bed. You've exceed your travel budget by $70 — that's 70 per cent!
But not to worry! Let's say you're in Australia for 20 more days. Come on, do the calculation — you see that? You would only need to save $3.50 per day in order to compensate for your overage. Budget travelers don't have to be cheap, but they do need to be smart.
Do You Get Paid To Travel?
The simple answer to this question is a resounding "No." Rather, I get paid to write and use the money I make writing to fund my own travel, during which I write more to make money for my next trip.
Last year, for example, I traveled for approximately 120 days — and only four of those days were paid for by a third party!
The problem with"getting paid to travel" is that you spend your entire trip adhering to a program designed by someone else. You don't get to have your own experiences (you might not even get a lunch break!) and that defeats the purpose of traveling, for me anyway.
There are, of course, exceptions to this rule. My current trip to Norway was kindly sponsored by Innovation Norway in New York. But in general, I avoid seeking out "sponsored travel," even though the popularity and credibility of my blog afford me such options.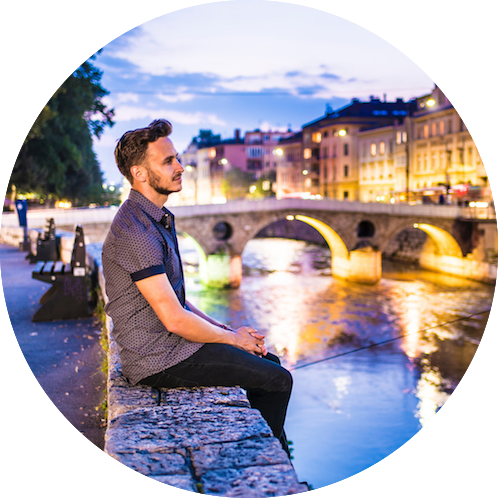 &nbsp informs, inspires, entertains and empowers travelers like you. My name is Robert and I'm happy you're here!