<!– Place this tag in your head or just before your close body tag –> <!– Place this tag where you want the +1 button to render –>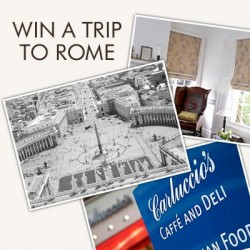 If you read this blog with any regularity, you know that Rome is one of my favorite cities in the world. Well, guess what? Hillarys, the made-to-measure blinds company, is giving away a free trip to Rome!
After you like their Facebook page and enter the competition, make sure and check out the new roman blinds collection from Hillarys. And after you've done that, check out my favorite photos of Rome below!
One thing that astounds me about Rome is how, well, astounding it remains, in spite of its incredible popularity among travelers and its conspicuous place in Western culture. Fittingly, many of my favorite Rome views are among the best known the city has to offer. My night shot of the Colosseum, above, is perhaps my number one.
My recent trip to Rome was my second. One of the important Rome places I missed my first time was The Vatican, so I decided to drop by on my last day. Or I tried to drop by — do you see these crowds? For me, the insanity surrounding Vatican City, which is in fact its own independent country, was more interesting than the pope's home itself.
Forget Virginia — Italy is for lovers! I met a delightful Italian boy named Leonardo my first day in Rome, and spent a lot of time exploring the city with him. (You might call him "camera shy.")
They say a picture is worth 1,000 words, but talking is the last thing I think about when I look at pictures of the food I ate in Italy. This one was from a lunch in Rome's Testaccio culinary neighborhood, which featured a Carbonara pasta that was to die for, not to mention all the other amazing Italian food and drink items you can see in this photo.
What better way to end an amazing day in Rome than with a sunset? This was taken from Villa Dora Pamphili, a hill above Rome — the city's highest in fact. If you win the Hillarys Facebook contest, you might be able to enjoy this same view very soon!