I was nervous as I waited to depart on my first trip to South America back in 2011: It was my maiden voyage to the continent, a place I'd long heard was a bastion of death and danger. But when I heard my name called out over the P.A. system, I was positively petrified – the gate agent's request did little to calm my nerves.
"Can I please have your boarding pass?" She muttered with an emotionless look on her face.
I handed it to her with a smile, but I was freaking out inside. Was my flight canceled? Does Peru require a visa and since I don't have one, they decided to boot me off the flight? Did I get put on the no-fly list?
All of a sudden, as she handed me back what appeared to be my boarding pass, her face lit up. "Have a good time up there, Mr. Schrader."
I couldn't believe what I was seeing: I'd been upgraded to business class for the first time in my life, at least for the first time on an international flight.
I was surprised, given that I was a lowly "Silver" elite with my airline of choice at the time, and given that I hadn't asked a single airline employee about the possibility of an upgrade, let alone thought about or even wanted one. And I was extremely grateful, even if I'd been upgraded on a domestically-configured, geriatric 767, and even if the flight's six-hour length barely gave me enough time to savor the experience.
I hadn't asked why I got upgraded – Maybe, I thought to myself as I walked off the plane and into Lima Airport, United upgrades Silvers all the time – so naturally, I got in the habit of anticipating one on every subsequent flight I boarded. But in spite of the fact that I am now a Platinum elite, and in spite of my having taken no less than 100 international flights since that fateful day four years ago, I have never once flown in proper international business.
Well, not until a few weeks ago, when I headed to Thailand to meet my friend Dora.
If you've ever asked yourself the question "Is business class worth it?", read about my experience in international business class on two of the world's finest airlines.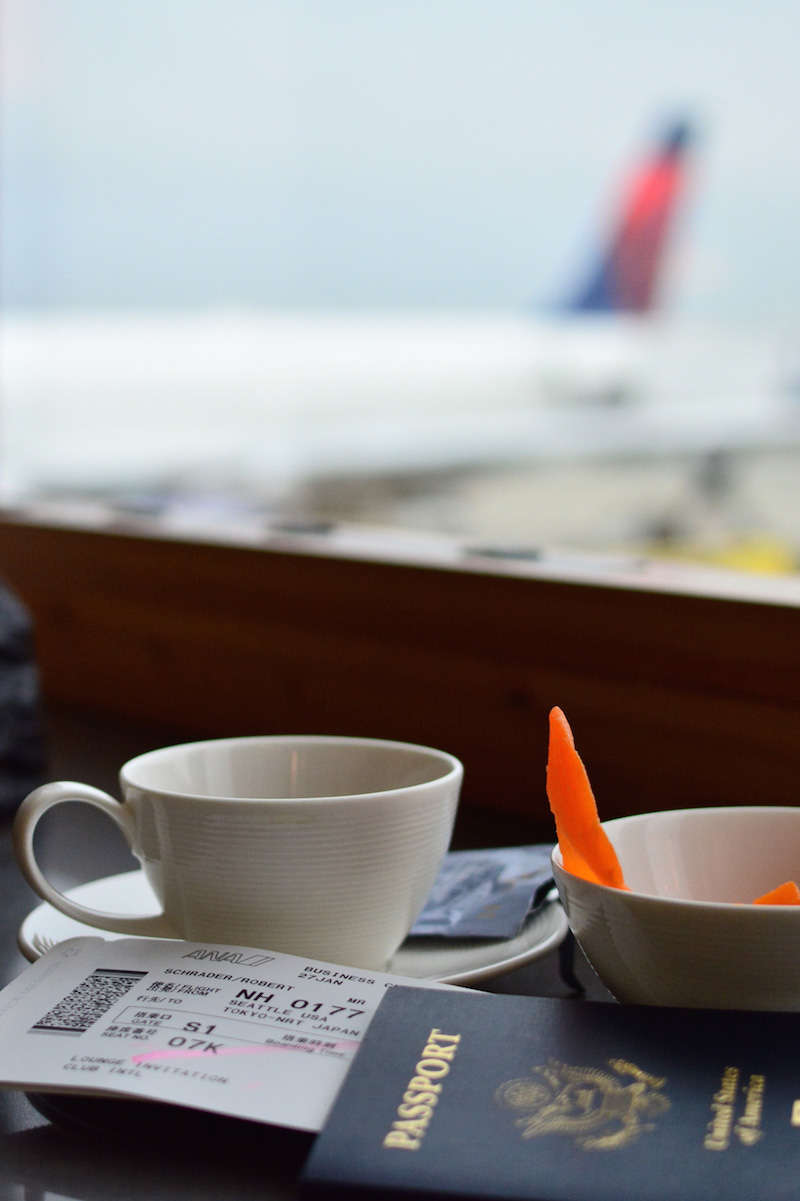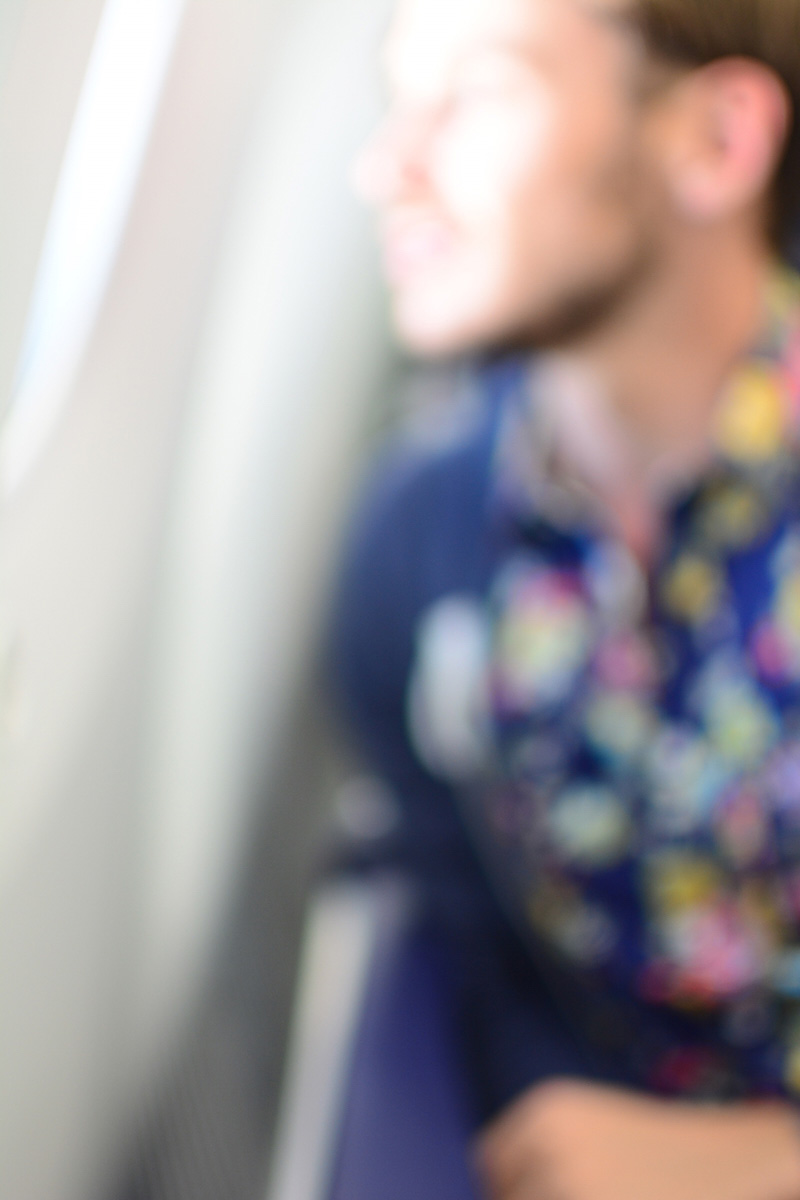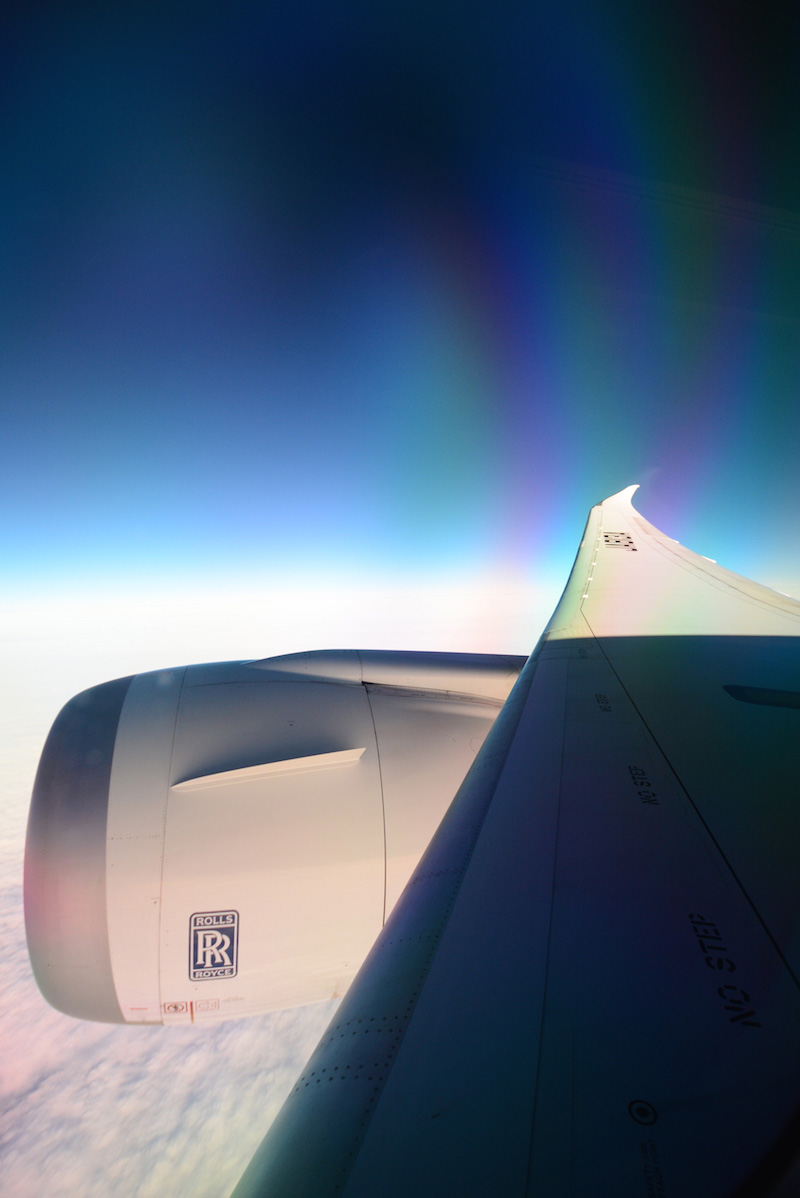 Business Class on ANA: Seattle to Tokyo-Narita on a B787
As much as I remember having enjoyed flying business to Lima on United back in the day, I knew I wanted my first "real" business class experience to be on a top-tier airline, which is why I chose to pop my business class cherry with ANA, or All Nippon Airways. With outstanding service, food and attention to detail, ANA makes every passenger feel like a VIP, even flying economy on domestic or shorter regional routes – ANA is definitely my favorite airline in the world.
The fact that I would be flying business class took a while to set in. The business class lounge in Seattle was nice, but I've enjoyed lounge privileges for years as a Star Alliance Gold member. Likewise, while my seat was private and spacious, it took me until it was fully extended into a bed for me to appreciate it size.
But before that, I had to eat. One of my favorite things about ANA is how immediately service begins – literally once the captain turns off the seatbelt sign, unless of course you count the welcome drink (in business class, this is) you enjoy as soon as you arrive at your seat. The first meal on my flight to Tokyo began with a Japanese citrus drink called Kabosu and an amuse-bouche, which segued immediately into the Japanese-style meal I selected.
I'll spare you all the particular details, because I'm going to be honest: I was so overwhelmed with the sheer quantity of the food that I barely had a chance to think about what I was eating. This is, of course, a good problem to have, but one that was compounded by the ridiculous amount of pictures I took.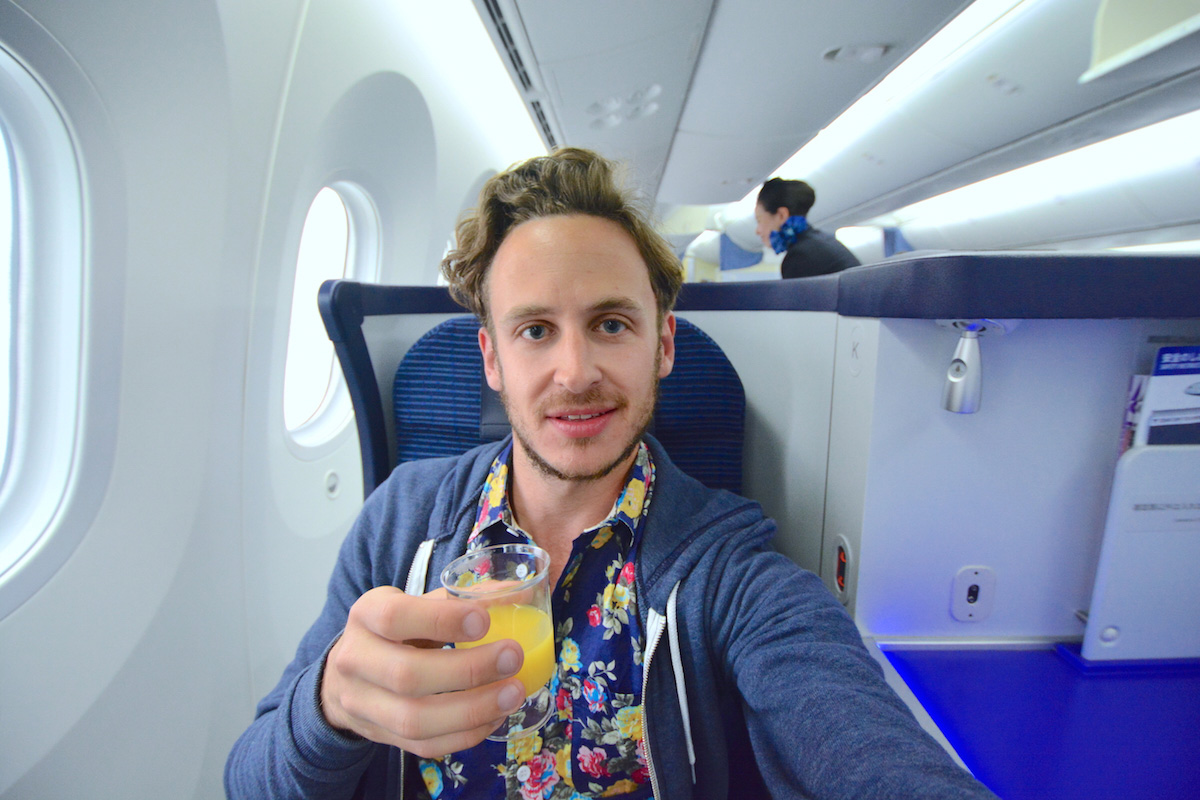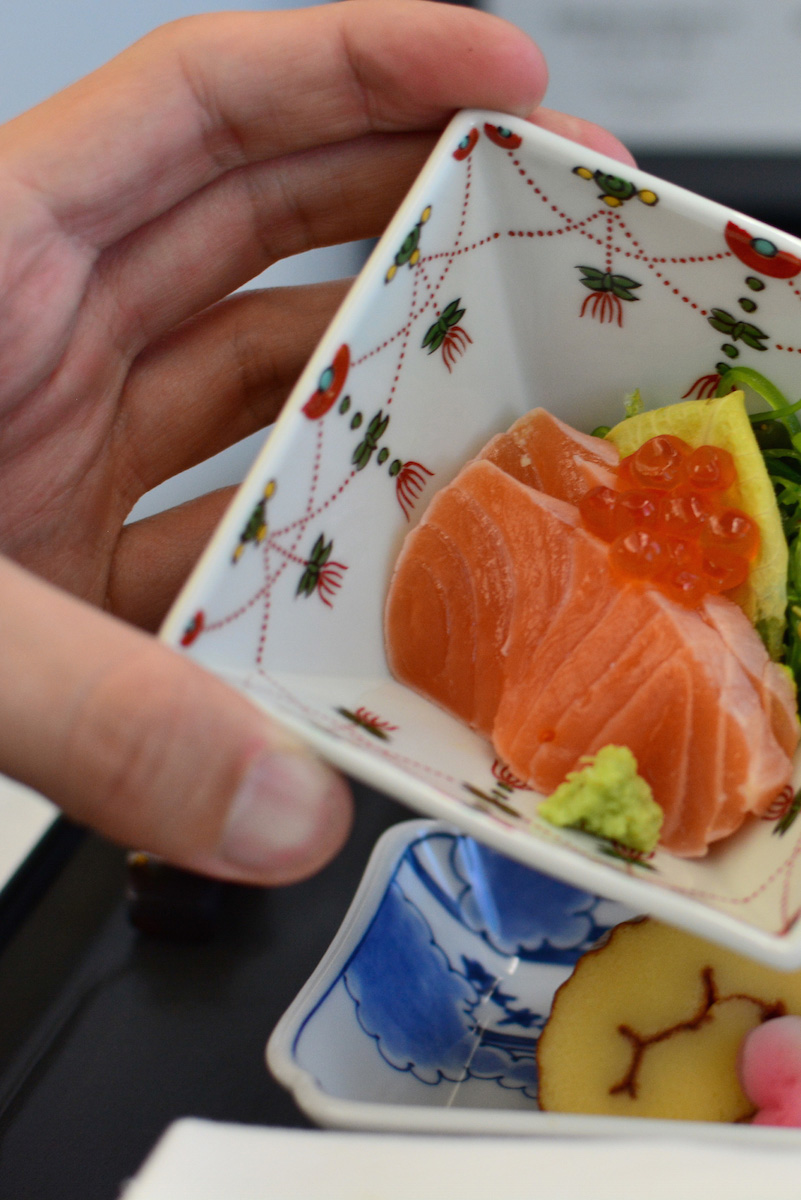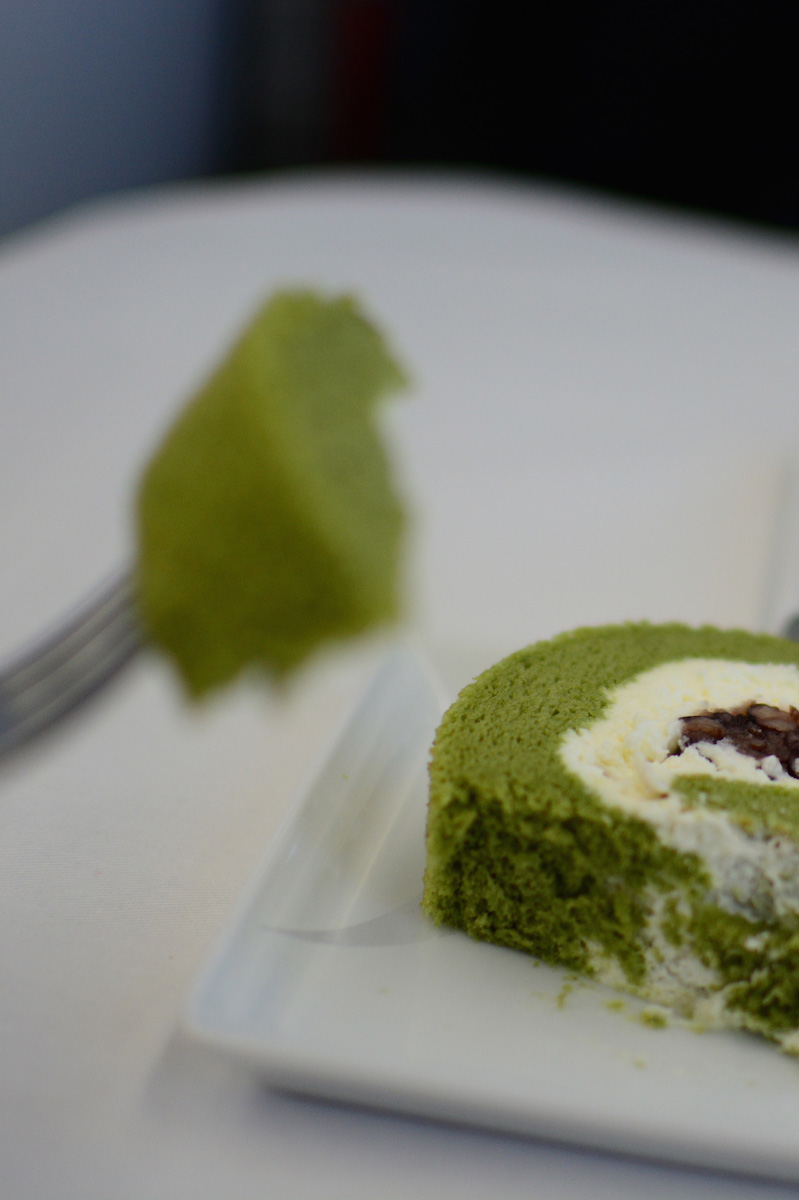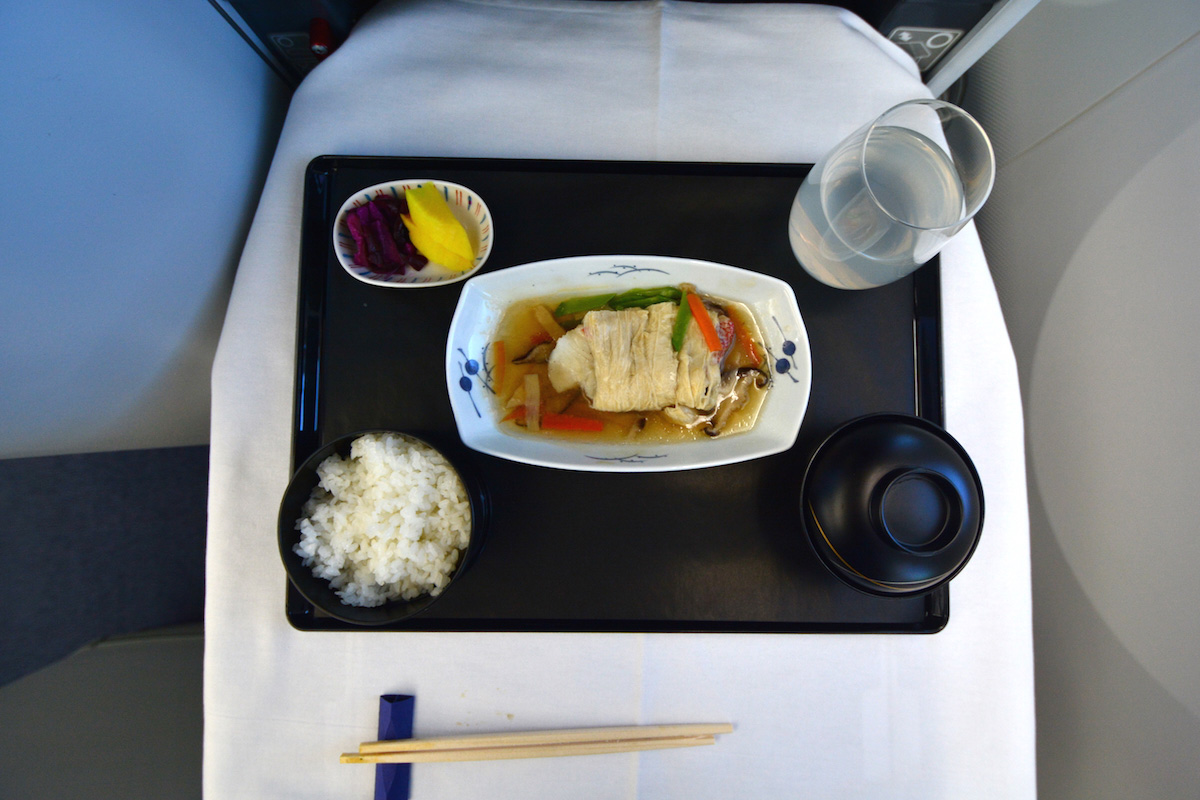 As far as highlights, I loved being able to eat salmon sashimi on an airplane, as well as eating a restaurant-quality Japanese meal (this one was Sake-steamed channel rockfish in a delightful, thick broth) complete with rice, pickles and miso soup. Oh, and then there was the dessert cart – definitely don't wanna remember how much I ate off that.
(Quick note: I'm not drinking alcohol right now, but if I was, I'd have been in heaven. From sakes, to Japanese whiskys to one of the fullest bars I've seen in or out of the air, you'd have to be sober to walk off this plane without assistance.)
After a cup of Japanese Hojicha tea and a bottle of water, I was almost ready for bed, but not before I headed to the bathroom to wash up with the L'Occitâne en Provence amenity kit ANA provided me with and to join the mile-high bidet club, courtesy of the Japanese-style toilet seat exclusive to premium class toilets on ANA.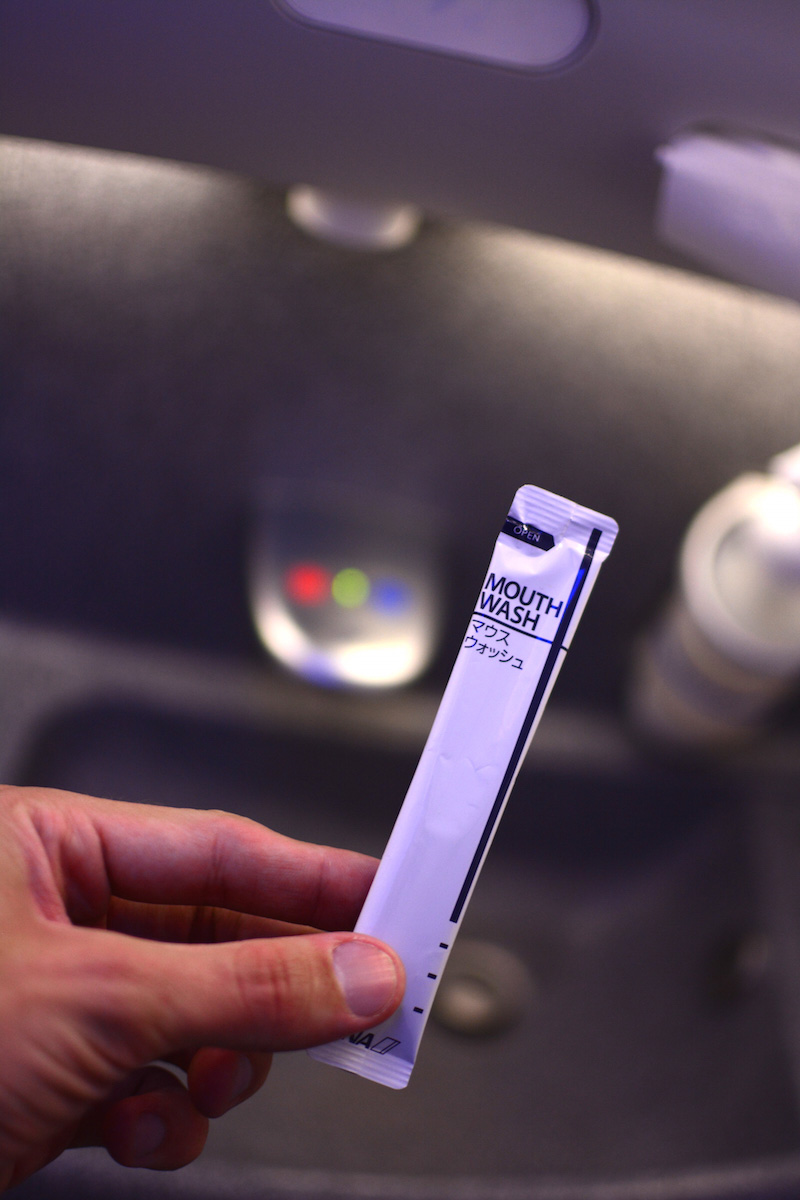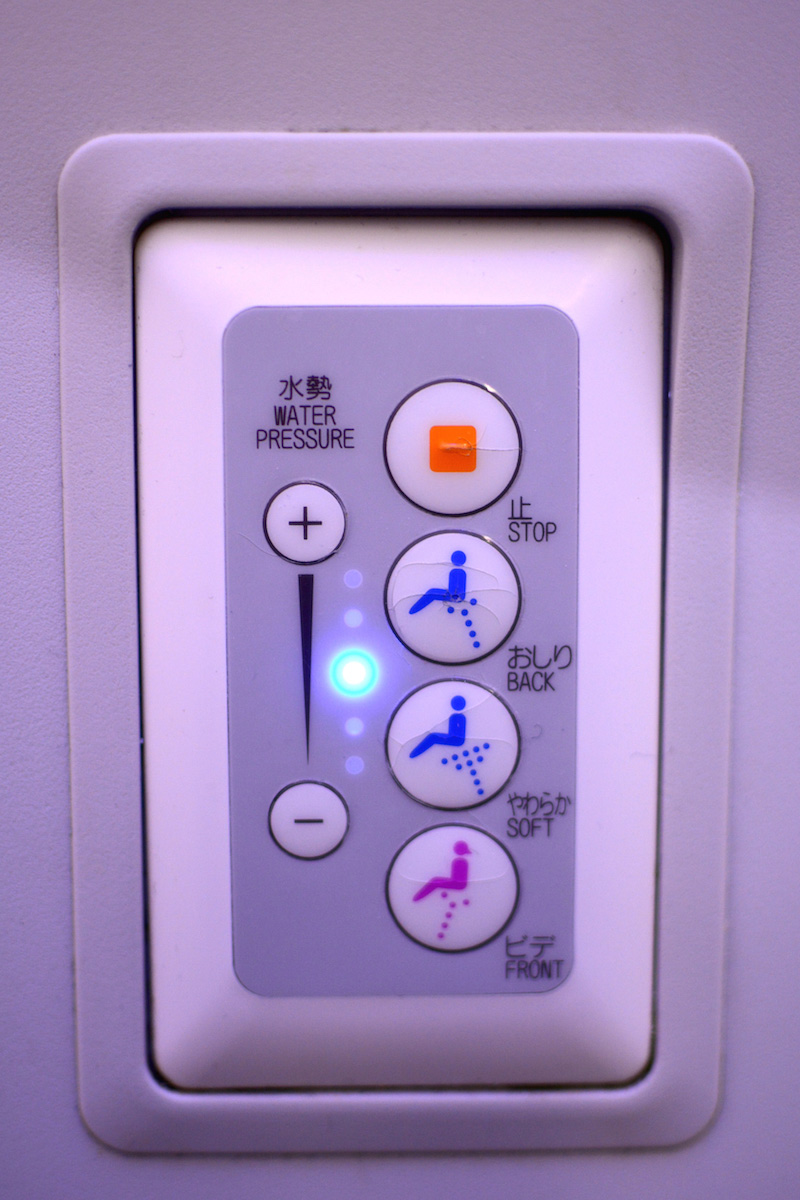 A pair of adorable Japanese slippers were waiting for me when I got back, so I sort of assumed the flight attendant would come by and help me make my seat into a lie-flat bed – or at least I hoped I did, since I had no clue how to do it.
Sure enough, a friendly young lady showed up the moment I started unwrapping my comforter and blanket and, after profusely complimenting my shirt, did in seconds what would've likely taken me several minutes, leaving me with a task that's been anything but simple for me in the past: Sleeping on a plane.
To be sure, I had initially feared I wouldn't be able to sleep on this flight, especially since on this flight, the sun never sets as it makes its way over the Pacific. Thanks not only to my lie-flat bed but also, to the incredible lighting features of the beautiful Dreamliner (digital window dimmers and virtual sky simulation, anyone?), I was out cold within 15 minutes.
I'm not sure exactly how long I sustained my sleep – frankly, it was longer than I would've preferred, since the entire flight took place during the portion of the day, Tokyo time, that I naturally would've been awake – but I do remember waking up, and realizing that the flight was mostly over, and feeling profoundly disappointed, maybe even sad. In general, I'm not someone who tends to complain about a particular flight being too long, but this is definitely the first time I ever wished a flight would be longer.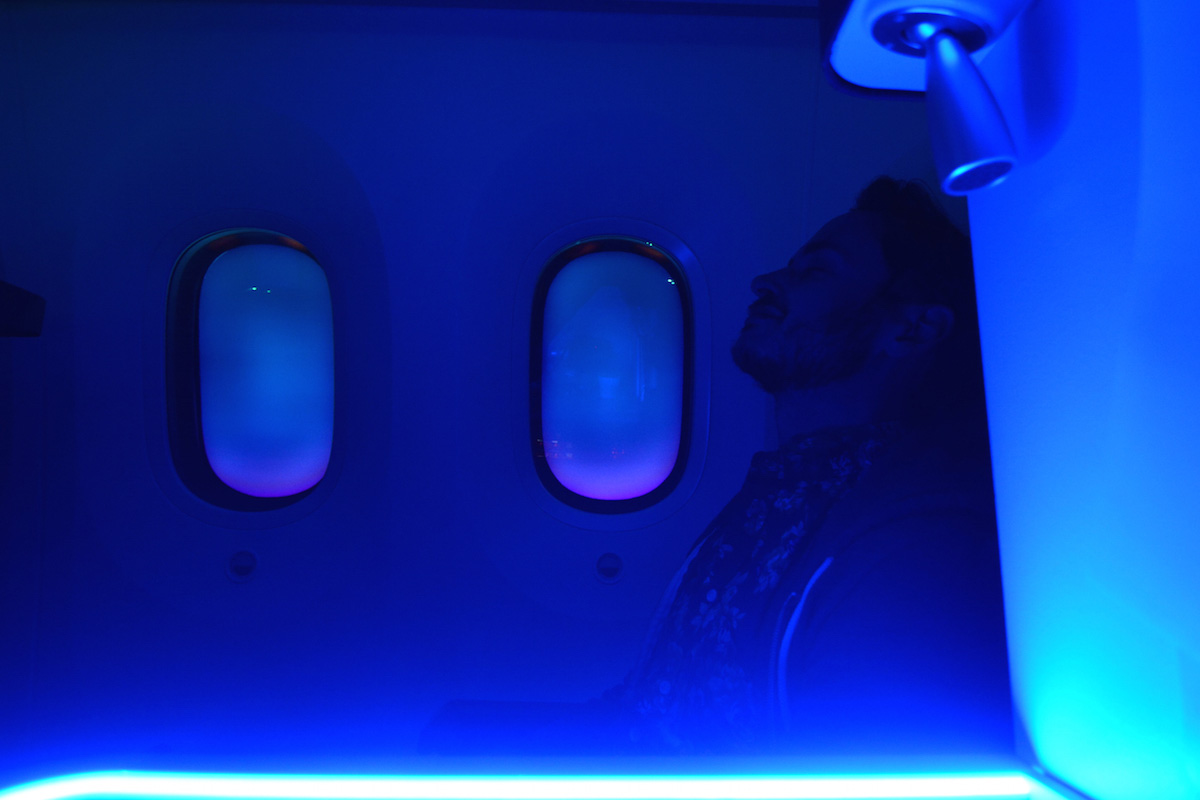 For most of the flight, I was so present in the experience of flying business class that I wasn't thinking of how the experience back in economy class might differ, but looking back, it's easy for me to decode why I felt sad as we sped closer to Tokyo.
The first thing was definitely the personal level of attention, from the meals, to the turn-down, to the periodic food and snacks throughout the flight. This was the first longhaul flight I've ever taken where I did not use the in-flight entertainment once. I mean, really, who needs movies when you have nigiri?
Compounding my enjoyment of everything was how private and cozy the seats were, and the fact that they seemed even more cocoon-like when I was lying in my bed and the lights of the Dreamliner got all neon and futuristic. I literally felt like I had the plane to myself (which was actually sort of true – business class was nearly empty).
I showed my newness to the business class experience when, about an hour before our arrival into Narita, I asked when the second meal would be served. "You can order food anytime," the stewardess said without the slightest bit of condescension, although I felt like a moron.
But by that point, she explained, the "scheduled" meal service was just 15 minutes or so away, and so I waited. And man, was it ever worth the wait: Japanese-style braised chicken, served like the first meal, with rice and miso soup. Real food in the sky! It was delightful, but it was also a sign that the end was nigh.
As I gathered the belongings my obscene amount of personal space had allowed me to scatter during the flight, I feared that any future business class flights I took might seem anticlimactic, what with how perfect my first was. And I didn't mean distant future: I would be flying business all the way to Bangkok, connecting to a Thai A380 upon arrival at Narita.
Business Class on Thai: Tokyo-Narita to Bangkok on an A380 (Upper Deck)
Thailand and Japan are constantly vying for my "Favorite Country" spot, so I was delighted that I would be immediately following up my business class flight on ANA with one on Thai, which is probably my favorite airline in the world after ANA. It also thrilled me that I would follow up my Boeing 787 business class experience with one on the A380, which is probably the world's next-most talked about airliner.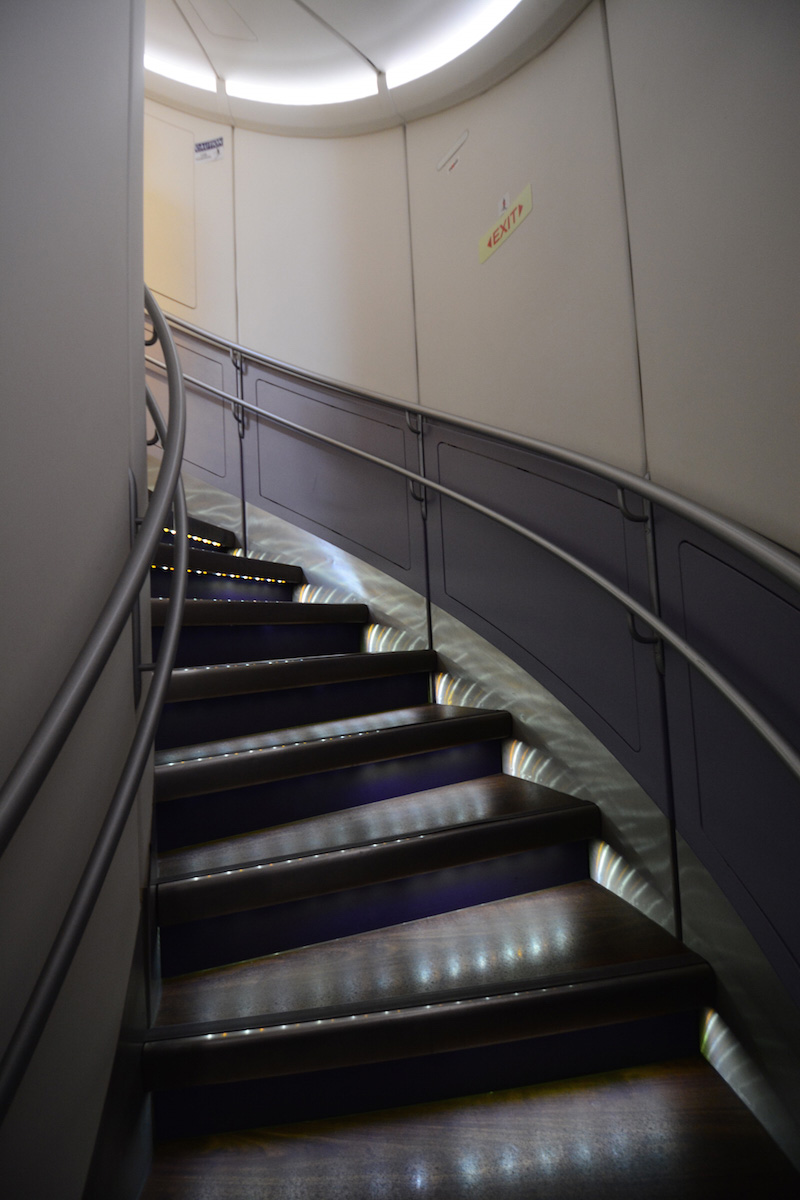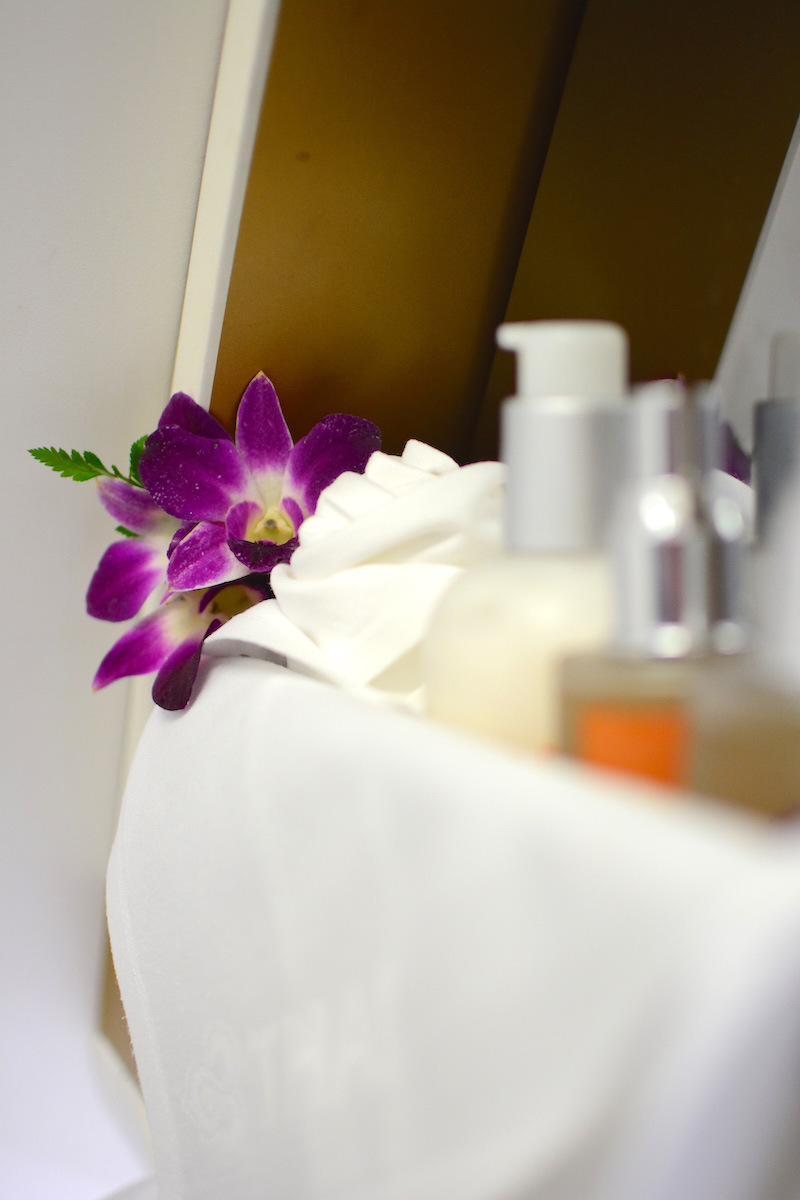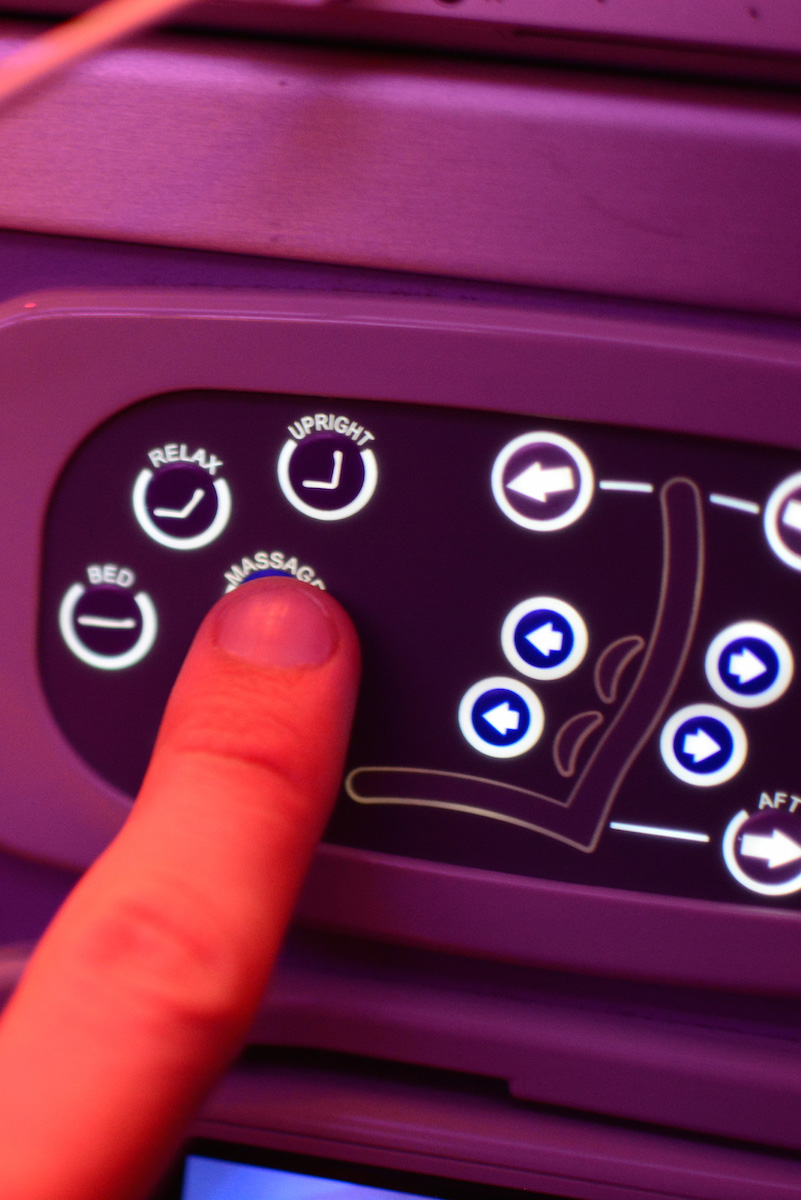 The A380 is very hyped but in my opinion, it has absolutely nothing on the 787. I noticed this the moment I arrived to my seat, which in spite of being the same size as the one I had on ANA's 787, was crammed into the upper deck of the A380 – perhaps by necessity, given the aircraft's high-capacity nature. Four-across seats made the cabin feel crowded, to say nothing of the narrower aisles, less roomy overhead storage bins, and smaller windows, with comparatively primitive manual dimmers.
But I digress: The A380 is still an excellent aircraft, especially when paired with Thai's world-class service. Well, world-class compared to any U.S. airline. I have to admit – coming off ANA, this is – that the crew on my Narita-Bangkok flight seem hurried and maybe even a little anxious, which was probably due in part to the larger number of customers they were expected to pamper (to say nothing of their employer's increasingly precarious financial situation).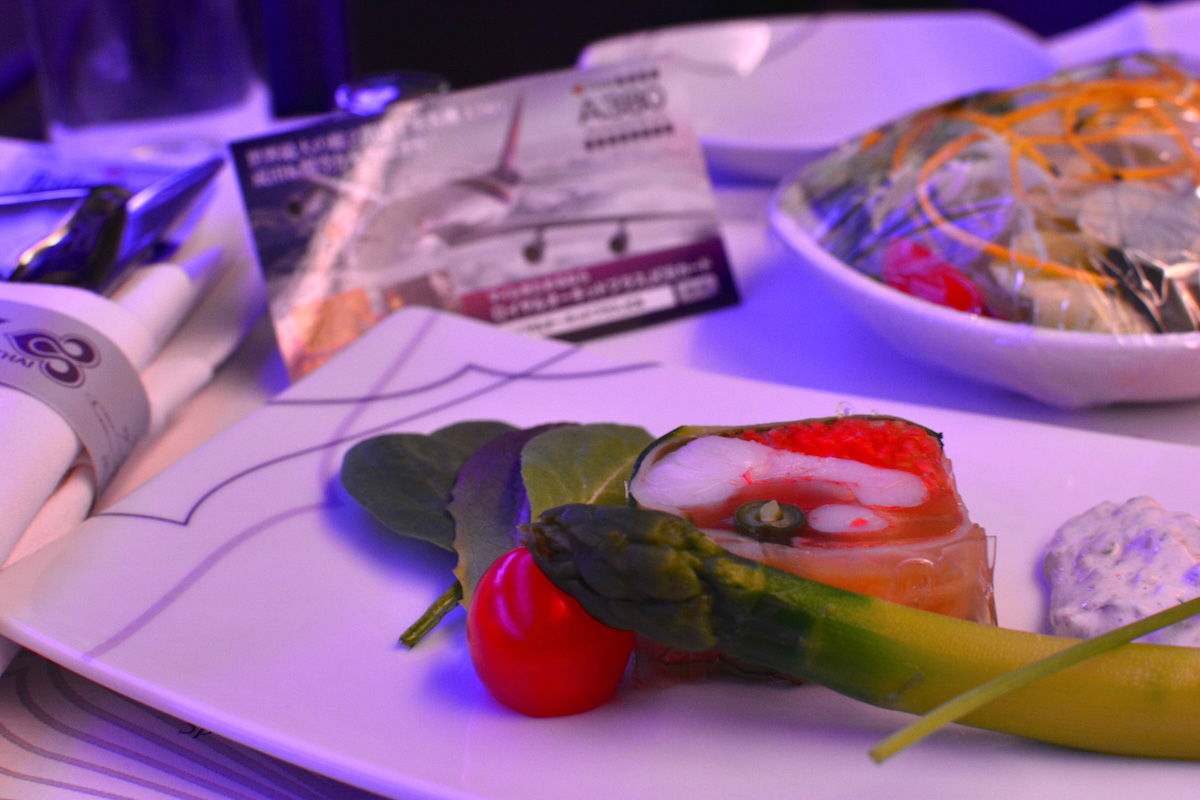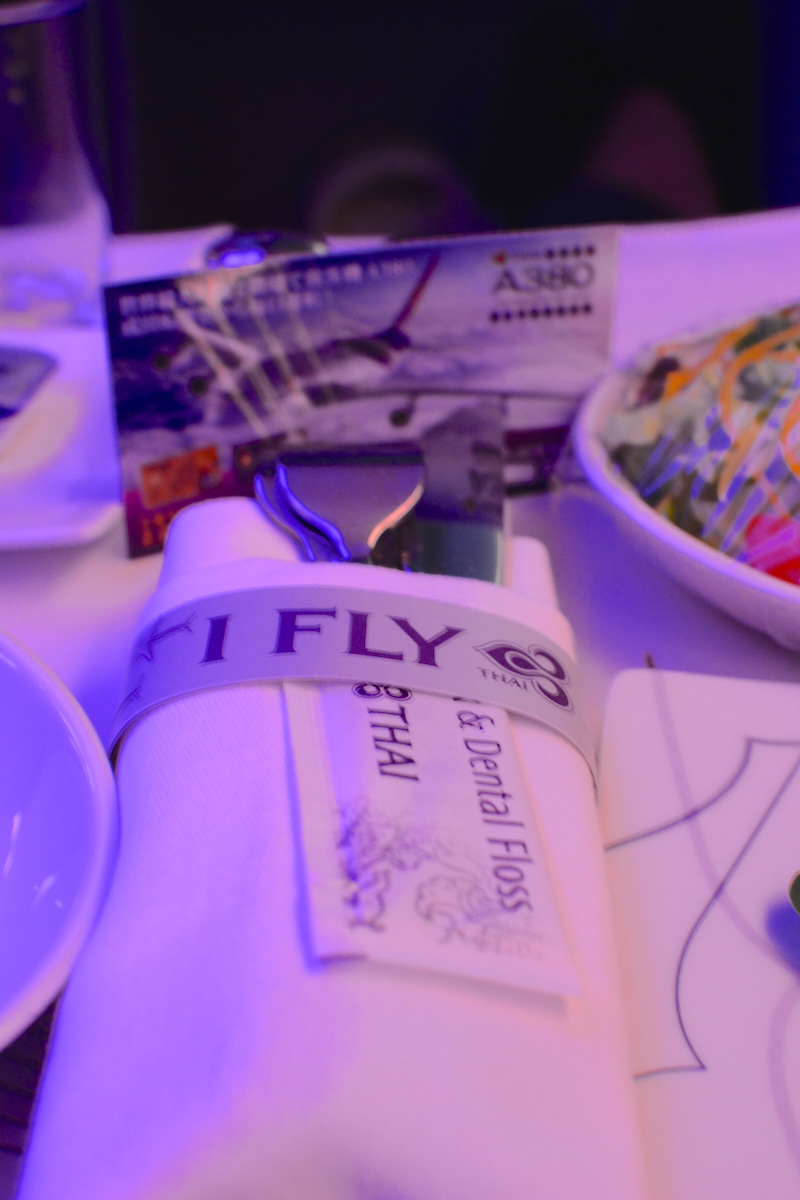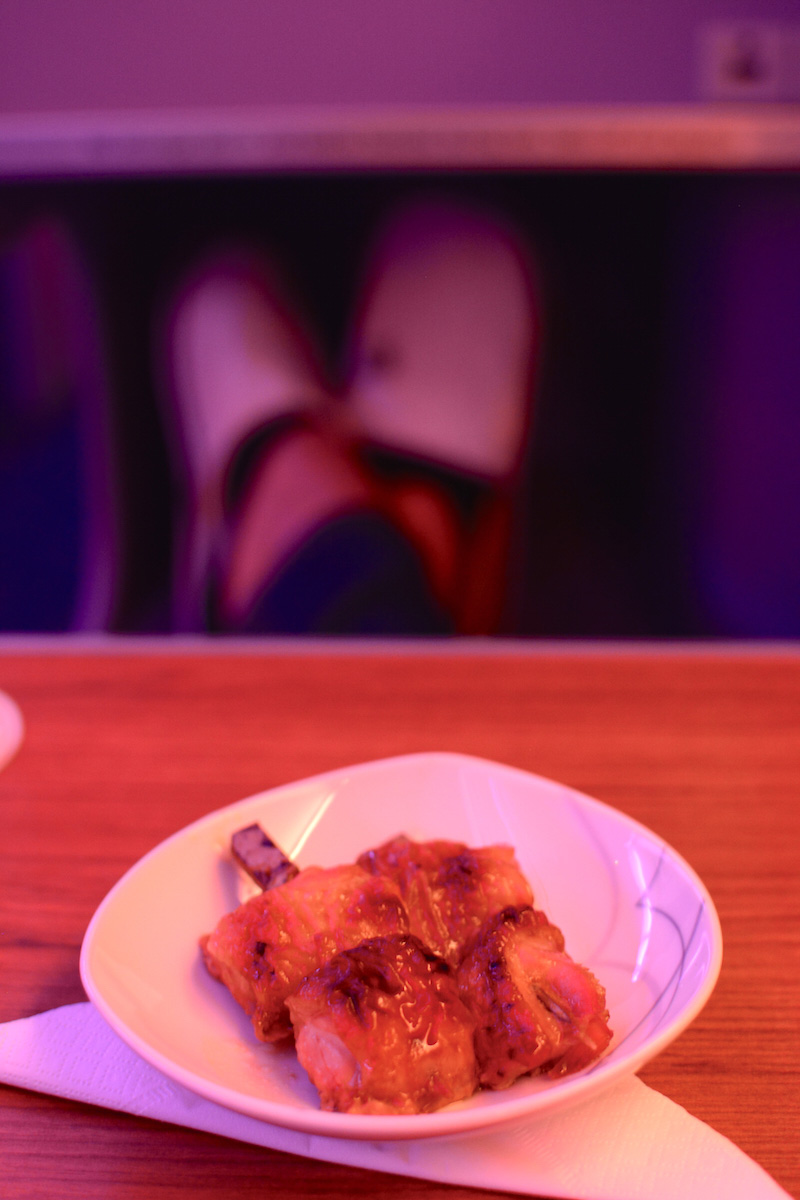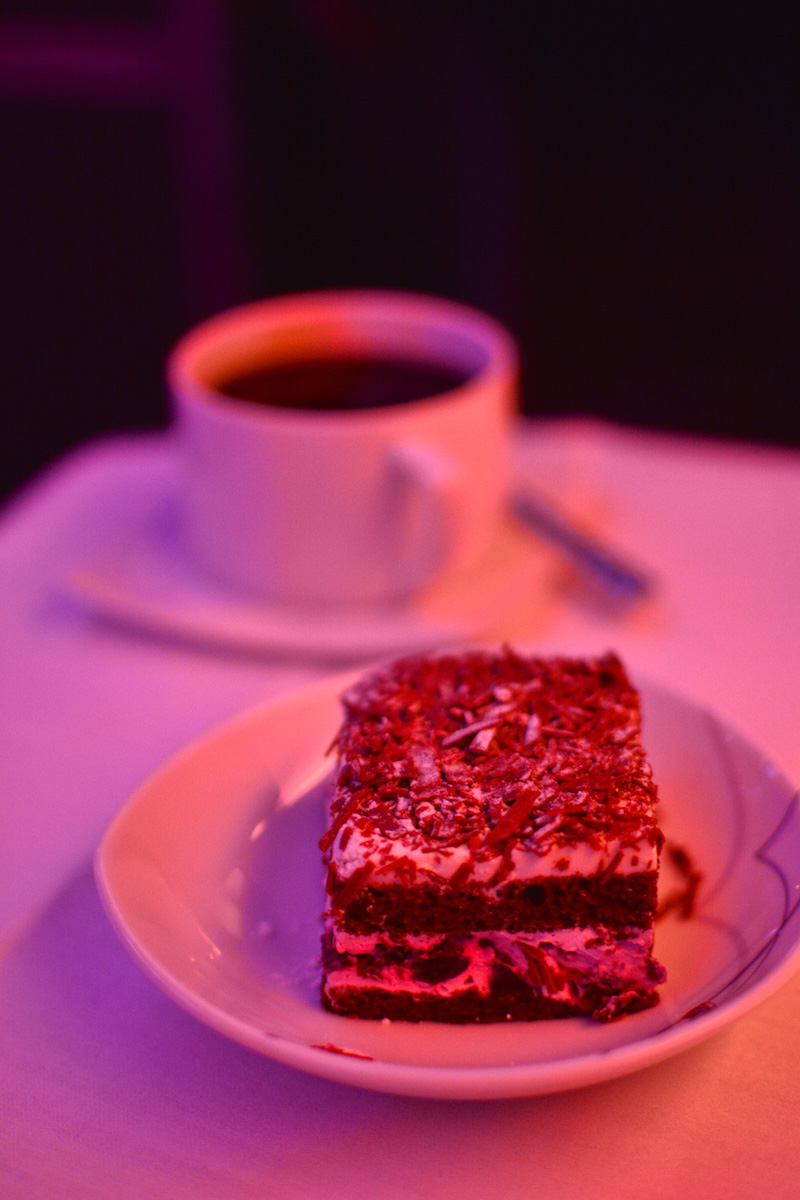 And I again digress: The service in Thai's business class was ultimately very good and the food was also quite good as well, although neither the Panang Curry, nor the sushi-like appetizer, nor the Black Forest Cake flirted with restaurant-quality in the way ANA's food did. Dammit, I just can't avoid making comparisons – and this is only my second experience flying in international business class!
My experience flying business class on Thai was slightly less satisfying than business class on ANA, although it's difficult to tell if it's due to a marked discrepancy between the airlines' product and service offerings, or if after only a single completed flight segment in the front of the plane I'm becoming a picky diva. (I doubt this last bit is true, but I'm throwing it out there for balance.)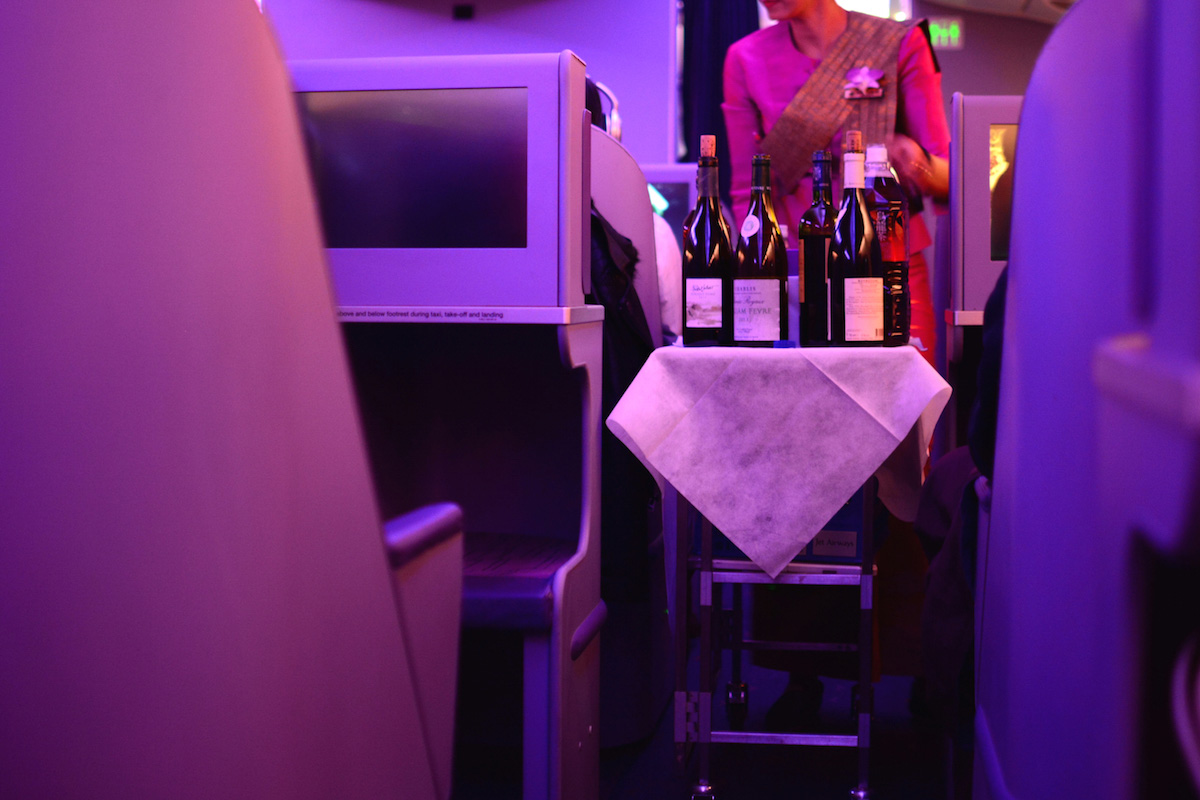 Indeed my complaints, if you can call them that, are merely superficial. The privacy of the business class seat on Thai's A380 is exquisite, the service quick and personalized, the comfort of the lie-flat bed greater than many hotels I've stayed at, with a built-in massage feature – so Thai. I appreciated other authentic Thai touches as well, from the fresh orchids in the restroom, to the dental floss (Read More: Why I Trust My Teeth to Thailand) offered after the meal.
In the unlikely event that I am becoming addicted to business class travel so early in the game, my experience with Thai has definitely hastened that process with its excellence, rather than pushed it in the other direction because it ever so slightly pales in comparison to ANA.
How Much Does It Cost to Fly in Business Class?
Business class is expensive, but thankfully, I didn't pay to fly in business class – not cash, anyway. Instead, I redeemed 80,000 United MileagePlus miles for my one-way ticket from North America to Southeast Asia (an economy class one-way, by comparison, would've cost 40,000 miles). Using miles enabled me to select an itinerary to fly on United's Star Alliance partners ANA and Thai at no additional charge, which is one reason I'm glad I didn't pay outright.
Indeed, if I had paid cash for this exact ticket, a quick Internet search reveals that I would've paid at least $6,200 to fly from Seattle to Bangkok, via Tokyo, in business class. On the other hand, if I had opted to take United from the U.S. to one of the Star Alliance hubs in Asia before connecting to Bangkok on a partner flight (United no longer flies to Thailand on its own metal), I would've paid a minimum of $4,000 fly business class to Bangkok.
Now that we've established how much it costs to fly in business class (irrespective of periodic fare sales, of course), I can answer the question that inspired this article in the first place…
So, Robert, Is Business Class Worth It?
Maybe? If it was as simple as answering "yes" or "no," I wouldn't have written this blog post. Hell, if life were that simple the only word in my vocabulary would be "yes." But I digress.
Allow me to remind you, first and foremost, that this was my first experience flying proper international business class, and so my scope of experience in business class is rather limited. On the other hand, I've taken no less than 100 longhaul flights in coach, on dozens of airlines all over the globe, so my context for comparison is very large and nuanced – I'm not so much answering the question "Is business class worth it?" as I am "Is flying in business class worth paying several times as much as you would in economy class?"
Unfortunately, my answer is still "Maybe," especially if you're paying with cash instead of miles. I mean, I guess 80,000 miles isn't a ton if you fly a lot, but thousands of dollars is a lot of money! For the price of many one-way flights in business class, you could buy a used car, or a new wardrobe, or a few purebred puppies, all of which will be yours for years.
Existentially speaking, the idea of shelling out of a few grand for an experience that lasts only a few hours, even if it is one of the best experiences you'll ever have, and even if the comfort of said experience makes it significantly easier to get work done miles above the ground, seems insane. I do think it's slightly less insane if you do it on a premium airline like ANA or Thai (especially ANA), as oppose to a half-assed one like United or American (especially United), although you do tend to get what you pay for – or pay for what you get, as it were.
I almost equate it to paying someone extremely good looking for a quick fling, when you can sleep with someone who's perfectly attractive and compatible with you on the regular, and absolutely free of charge (I have never done the former, FYI, except in my mind). But I might one day, just once, and that's what I ultimately have to say about the big business class question: Business class is worth it, maybe just once (or twice if you're lucky), because until you have the experience, you'll never stop wondering what it would be like.
I mean, if you're a total baller – or if you become a total baller – I guess you could fly business all the time, but for me it's a decadent splurge, one I justified as a gift to myself for my 30th birthday (which is Thursday). And actually, even if I were a total baller, I don't know if I would want the incredible experience I had in business class to become my new status quo. It truly was a luxury, and a privilege, to travel halfway around the world with such exquisite hospitality, service and food – I do think the high price tag of business class is appropriate, even if it might not be "worth it," depending on your financial situation.
With all that being said, I hope I don't have to wait 'til 40 to fly in business class again!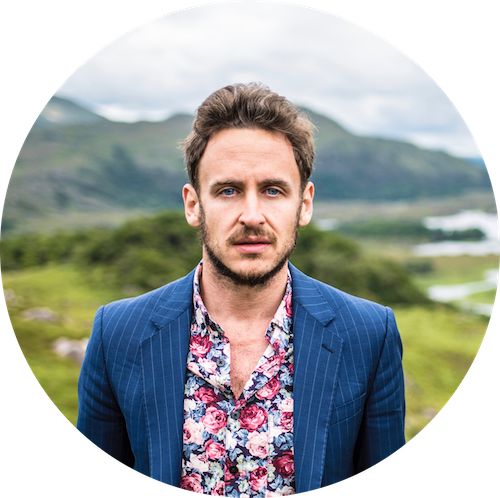 informs, inspires, entertains and empowers travelers like you. My name is Robert and I'm happy you're here!