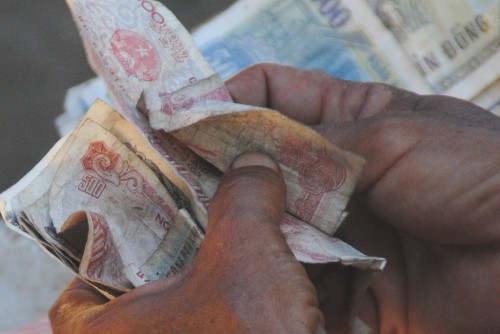 Whenever I inform someone about how I travel the world for a living, their first question is
"How can you afford to travel so often?"
The answer is simple: I know how to travel cheap.
This budget travel guide deals not only with strategies to help you learn how to travel for cheap, but also provides an overview of options for saving money for travel, working abroad, and even making money while you travel.
Saving Money for Travel
No matter how cheap you want to travel, most people travel by saving a certain sum of money, then quitting their jobs and embarking. I took my first five overseas trips this way, so I certainly won't recommend against this, although better methods for traveling  (which I'll detail later in this guide) do exist.
Of course, effectively saving for even cheap travel involves more than finding a job that pays a lot of money or using a free budget calculator. In order to save enough money for a one-month trip within six months or even a year, you need to make significant lifestyle adjustments. The good news? This can net you a lot — I'm talking about saving $12,000 (or more!) for travel.
My article "How To Travel Young and Middle Class" is a great place to start, whether you're about to embark on your first overseas trip, or are a seasoned veteran and looking for new tips on how to save money for travel, whether you travel cheap or in first-class.
Thinking of paying for your cheap travel with credit cards? Nothing wrong with that — I've done it a few times! But hazards are obviously involved, many of which I discuss in my article about financing travel with credit cards.
How To Travel Cheap
Once you have saved enough money for travel, the first step you need to take is finding a cheap plane ticket — and flying a low-cost airline might not always get you a cheap flight. To help you get started, I've written article that details strategies on how to find cheap flights. The article is also a great starting point if you need to purchase inter-regional air tickets, such as for cheap flights between Southeast Asian countries.
As a budget traveler, however, flying might not always be your cheapest travel option, although budget travels can earn elite flyer status. Travelers to Europe, for instance, will want to look into options for obtaining Eurail rail passes for cheap travel in Europe, while bus travel is a popular option for backpackers who want to travel cheap in South America or Vietnam.
And transportation is only one step of the cheap travel equation. You won't want to spend a lot of money on expensive hotel stays, but rather stay in hostels whenever possible or, even better, stay with friends. Then, there's eating. Click here to read my article that deals strategies for eating well on a backpacker's budget. Even better? There are many free things to do when you travel, no matter where you travel.
My final tip for cheap travel (how does $50 per day sound?) is to limit your shopping. You will no doubt want to get gifts for certain friends and family members, but your time and energy is better spent exploring and photographing the cities and regions where you travel — give framed versions of picture prints as gifts instead of overpriced trinkets. Shopping is one the biggest wastes of money for budget travelers.
For some even greater cheap travel inspiration, check out my list of what $100 buys you around the world. It gives you a specific idea of just how much bang you can expect to get for your buck when you travel in foreign countries.
And as for currency exchange rates? Well, I've written an entire guide about those.
Working Abroad
After I took my first several trips abroad, I craved more extensive overseas experiences. So, I decided to work abroad — specifically, to teach English in Shanghai — so that I could take my time getting to know a foreign country.
Although teaching English is probably the most popular overseas work option for young people, whether they do it in Asia, Europe or South America, other options do exist. You could work for a bank or corporation using the skills you learned in college, for example.
It's also possible to volunteer abroad, although this does nothing to help you save money for travel. In fact, some volunteer programs actually charge you a program fee!
Make Money During Travel
The ideal method to make money for travel is also the one that takes the most time and strategizing to achieve: Becoming location independent, or making money while you travel. It took me several years to achieve location independence, but I can tell you it is absolutely possible.
Of course, making money during travel isn't always voluntary. If you run out of money while abroad, for example, you might not have a choice in the matter.
Want to become location independent? Click here to read a detailed guide on making money while you travel.