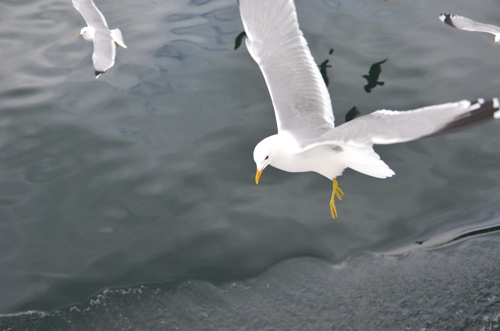 Of the dozens of questions people ask me when they learn about my travel lifestyle, "How do you afford it?" is by and large the most common one. They're usually surprised that my parents are not only of simple means, but have never contributed to my travels — in fact, they were opposed to me to traveling for a very long time.
My frequent travel is underscored by two factors: (1) My ability to budget time and money and to make room for travel in my life, as I detail in my post about how to travel if you're young and middle class; and (2) The fact that my income is entirely location-independent.
But what the hell does "location independence" mean?
I'm glad you asked. Location independence is simply being able to earn money from wherever in the world you are. Once your learn how to make money when you travel, you can also achieve location independence.
How I Achieved Location Independence
As you may know if you read this blog with any regularity, my "big" spurt of travel began in 2009, when I moved to China to teach English and escape the fallout of the 2008-9 economic collapse. This led to gigs with the Shanghaiist blog and the CNNGo website and, eventually, with a freelance gig with a digital media conglomerate that allowed me to work from almost anywhere in the world.
At some point, I started maintaining Leave Your Daily Hell, which has grown slowly from a slightly embarrassing personal blog into one of the world's most popular, trusted sources of inspiration, information, entertainment and empowerment for travelers.
These days, I fund the majority of my travel (you know, the 95 per cent of it that isn't paid for as part of some blog-related perk) with revenue earned from Leave Your Daily Hell, either directly or indirectly, through freelancing gigs are I describe below. I am about as location-independent as anyone can be. Learn more about the specific steps I took.
Freelancing
Want to quit your job and travel? Then freelancing is the best means of earning income to travel, particularly, so long clients are willing to pay you electronically and in local currency. Having freelance income allows you to be less cheap when you travel, since you can simply work hard to compensate for what you spend after you spend it.
Money isn't the only reason it's great to freelance as you travel, either. Freelancing is, by definition, contract work, which means that you decide when you work and when you don't. Want to escape somewhere far-flung like Myanmar or the Moroccan Sahara for a while? If current clients won't work around your schedule, you can simply find new ones once you get back to having Internet.
So, where do you find freelance jobs? As simple as this may sound, I found all of my early freelance work on Craigslist. The important thing to note, however, is that you shouldn't just look on one Craigslist. Since freelance jobs almost uniformly allow clients to telecommute, you can apply for opportunities anywhere in your country of citizenship and, if you don't fear potential legal retribution, anywhere in the world. Surf over to SearchTempest to make your next Craigslist search a national or even global search.
The best part about freelancing as a means of cultivating location independence is that once you develop a reputation, your clients will come to you. All of my freelance work this year, which has been me write for huge brands and organizations like The Thailand Convention and Exhibition Bureau, MasterCard and Hipmunk, has been as a result of someone contacting me!
Working As You Travel
Another option is to simply work as you travel. This could involve teaching English abroad as I did, or doing under-the-table work within your specialty area when you're abroad. You can even doing service industry work like bartending or waiting tables, which is also usually under the table.
The problem with working as you travel is that unless you have a flexible gig with a really laid back employer, you end up getting stuck for months or even years. The obvious plus side to this — if you're disciplined, of course — is that you can save a good chunk of change by the time your time abroad ends, permitting you to travel.
Another potential downfall of this, as is the case when you obtain freelance work from a foreign employer and paid in freelance currency, is that you risk violating local laws. If you don't become officially employed with a company and get a work/residence visa in the country where you work, use the utmost discretion in working abroad. One surefire way to work abroad legally is with Australia's Working Holiday Visa.
But What About Travel Blogging?
Travel blogging is a great way to document your travels and even to instruct others in how to best undertake their future travels. Becoming a travel blogger allows you to be part of a large community of hobby and professional bloggers all over the world, to enter into contests and participate in paid-for press trips and even get your writing published in online and print media, sometimes for pay.
I have been earning income from my blog since April 2012. This income has come mostly from content-based advertising, sponsored contests and reviews of hotels, apps and other things. It took me longer than most others bloggers to earn money from my travel blog, but I am proud to say that I have not once compromised my journalistic integrity to make money from my blog.
Unfortunately, not everyone in this community is so honest. I won't name names, but many of the Web's most popular travel bloggers earn income by selling books that claim to tell you how to make money as a travel blogger. Don't buy any of these books; they're scams.
You should think of your travel blog as your living résumé, a testament to who you are, what you've accomplished and the skills of which you are capable. Will your travel blog help you become a more successful, self-actualized person? Absolutely! But don't expect to make a ton of money off it initially — it took me over two years to earn my first dollar!