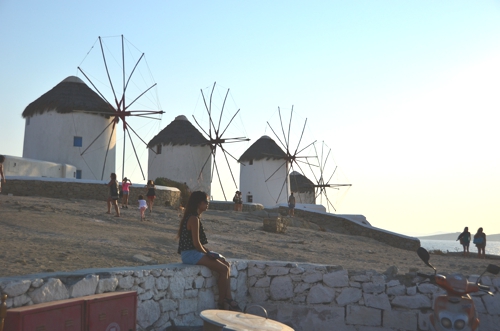 <!– Place this tag in your head or just before your close body tag –> <!– Place this tag where you want the +1 button to render –>
Greece has been in the news a lot lately thanks to its prominent role in Europe's financial crisis, but the topic of central banking couldn't have been further from my mind when I paid a visit to the birthplace of Western civilization in late summer 2011. Greece's reputation as a "Club Med" nation (and the associated 
laissez-faire
 lifestyle to which many economists attribute the country's inability to pay its bills) is well-founded in the best possible way.
Whether you stick to Greek cities like its iconic capital Athens or travel down into the Greek islands — my personal favorite is Myknonos, which has gained infamy as a gay-friendly destination — I imagine you'll be as oblivious to any fiscal issues as I was at I ate, drank and relaxed my way through Greece.
So stop dreaming of your first authentic Greek gyro, as tempting as the prospect may be, and whet your appetite with my Greece travel guide instead.
Places to Travel in Greece
If you travel to Greece by air, your first stop will be the capital city of Athens, the de-facto birthplace of Western civilization. A traveler's opinion of Athens depends highly on where he stayed when he visited. To ensure you enjoy Athens, I recommend staying in or near the city's central Monastiraki Square, one of the the tips I provide in an article I wrote specifically for first-time travelers to Greece. Greece's second city, located in its mountains northern regions, is Thessaloniki.
Although Athens has been more talked-about throughout history, Greece's most popular tourist attraction is its stunning islands, in particular the Cyclades group. I personally visited Mykonos, one of the most soul-enriching places I've ever traveled, even if I don't consider its reputation as an iconic gay destination.
Cost of Travel in Greece
The reputed collapse of the Greek economy might lead you to believe that it's easy to find cheap holidays to Greece. Travel to Greece, I'm happy to report, is indeed cheap. In fact, I've written an entire article about the cost of travel in Greece.
Transportation in Greece
Although Greece's transportation infrastructure isn't quite as sophisticated as what you can expect to find in northern Europe, it's safe, cheap and relatively quick to travel between any two points in Greece. A vast domestic rail network extends northward through Greece from Athens, while you can reach basically any of the Greek islands by ferry from Athens' port, Piraeus.
In a rush? Several Greek airlines (Aegean and Olympic, to name a couple) operate domestic air services, although rates can be high if you don't book relatively far in advance.
Is It Safe to Travel in Greece?
In a word, yes. The occasionally politically-charged graffiti aside, I saw almost no indication that a financial crisis had swept through Greece when I was there, at least not one that would pose any threat to travelers like myself.
Greece Visas
Greece is (for now) a member nation of the European Union, which means that you don't need a visa to travel in Greece, unless you need one to enter the E.U. You will need to obtain a Greek visa if you plan to study or work in Greece.