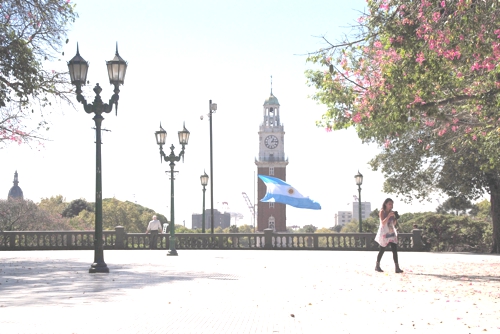 Argentina Travel Guide
Argentina has gained international infamy (among people of my generation, anyway) as the home of Eva Perón, perhaps more than for any other reason. Of course, the more adept I became at globetrotting, activities like biking through Malbec wineries and visiting the childhood home of Che Guevara seemed increasingly more appealing than belting out "Don't Cry For Me, Argentina" above Evita's grave.
No matter what reason brings you to Argentina, I imagine you'll be surprised by what awaits you in the proverbial Land of Evita. For me, the shock was that Argentina is run-down in many places, owing to the 2001 economic collapse from which it apparently never recovered. Faded or not, however, Argentina is replete with glory.
This Argentina travel guide will provide you with an interesting preview of what you can expect when you travel to Argentina.
Places to Travel in Argentina
Argentina's capital Buenos Aires, often referred to as the "Paris of the South," is without a doubt the most popular destination for backpackers who travel in Argentina. Massive in scale, European in style and boasting a diverse range of cuisines, nightlife and architecture, Buenos Aires is a true global city if I ever knew one. It's also home to Recoleta Cemetery, where you'll find the grave of the aforementioned Eva Perón.
Beyond Buenos Aires, which may or may not be your point of entry into Argentina, the cities of Córdoba and Mendoza are popular among backpackers to Argentina. While Córdoba's main claim to fame is a creepy dictatorship museum, Mendoza piggybacks on the fact that Argentina's main wine-producing region is located very near there, specifically in the town of Maipú.
Other popular tourist destinations include the pampas town of Salta, almost-Antarctic Patagonia and Iguazú Falls, one of the world's largest waterfall formations, which straddles Argentina's borders with Brazil and Uruguay.
Cost of Travel in Argentina
Argentina is a relatively expensive place to travel as far as South America is concerned, but is still pretty cheap when compared to the U.S. or Europe. After traveling in Perú and Bolivia (which are dirt cheap) and Chile (which is kind of cheap), Argentina seemed extremely expensive. In truth, you can expect to get by on around 50-75 U.S. dollars per day in the northern part of the country. Costs are substantially higher in sparsely-populated Patagonian cities like Ushuaia and El Calafate. Argentina uses the Argentine peso, a currency whose history has been riddled with collapse and depression.
Transportation in Argentina
As is the case in most of the rest of South America, the easiest and most economical way to travel long distances in Argentina is by bus. Booking a journey with companies like AndesMar will not only get you to your destination safely (and often overnight, while you sleep) but if you pay for the "suite" class, with a lie-flat bed, a three-course meal and your choice of wine or champange. Argentina's national airline, Aérolineas Argentinas, operates domestic and long-haul services. Although commuter rail service links Buenos Aires with outlying suburbs in the Capital Federal region, no long-distance train service currently exists in Argentina.
Reciprocity Fees in Argentina
If you happen to arrive in Argentina via international flight, you will be required to pay what is known as a "reciprocity fee" of 150 U.S. dollars as of May 2012. Click here for more information about reciprocity fees in South America.
Argentina Visas
Although Argentina does levy the rather substantial reciprocity fees I mentioned above, nationals of most countries aren't required to obtain a visa in advance of short-term travel to Argentina, although you should contact your nearest visa agency if you do want to work or study in Argentina.
Argentina Travel Photos
Argentina is beautiful but, as I mentioned earlier, it possesses a decidedly gritty beauty about it. To get an idea of what I'm saying, click below to browse through my favorite Argentina travel photos: