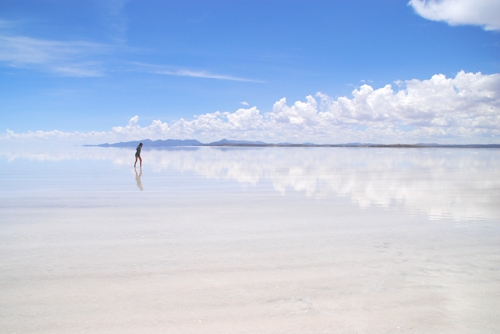 Bolivia Travel Guide
Bolivia has gained a reputation as the Tibet of South America, owing to its alien landscapes, sparse population and large percentage of indigenous residents. I have to admit that I wasn't able to enjoy Bolivia as fully as I'd have liked to when I traveled there, mostly because I was suffering from a nasty respiratory infection.
Bolivia is nonetheless one of the most unique places I've ever visited, if only for its aforementioned unique landscapes, with the most spectacular being the Uyuni Salt Flats, pictured above. The capital La Paz (the highest capital city in the world) is also pretty cool, even if it has a reputation as being one of the most dangerous urban areas in the world.
I certainly hope you won't be sick when you travel to Bolivia. Even if you do fall ill, my Bolivia travel guide will provide you with valuable information to make your travel in Bolivia simpler and more pleasant.
Places to Travel in Bolivia
Bolivia's capital, La Paz, is perhaps the most popular place for backpackers who travel to Bolivia. The highest capital city in the world, La Paz is mostly poor, but very colorful, interesting and filled with extremely kind people. Particularly fascinating is the "Witch's Market," where you can find mummified baby llamas, among other trinkets.
Actually, I lied — La Paz is not the most popular place in Bolivia for backpackers. That honor goes to the Salar de Uyuni, a massive "salt flat" formation that occupies the majority of southwestern Bolivia. Salar de Uyuni, along with several national parks features equally otherworldly scenery, are among the coolest, strangest things I've ever seen in my life — you would be crazy not visit.
Other hot spots for travelers to Bolivia (places I did not visit on account of my aforementioned sickness) are the cities of Santa Cruz, Potosí and Sucre, Bolivia's second capital. Yes, you read that right: Bolivia has two capital cities. Weird, huh?
Cost of Travel in Bolivia
Bolivia is dirt cheap. Although touring the Uyuni Salt Falts will cost you a relatively pretty penny (for a three-day tour, I paid around 800 bolivianos or just over 100 U.S. dollars), you shouldn't expect to pay more than 10 U.S. dollars per night for a hostel dorm bed anywhere in the country. Food and transport in Bolivia are likewise inexpensive. Overall, I wouldn't anticipate paying more than $30-40 per day, even if you occasionally splurge on a bag of cocaine (which I'm happy to report I didn't).
Transportation in Bolivia
Part of the reason Bolivia is so cheap is that it's extremely poor, something that's evident most clearly through its abject lack of infrastructure. When you cross over the Bolivian border with Perú, for example, your only transport option is to hire a collectivo share taxi to La Paz or to wherever else you're bound. Likewise, there are no city buses to speak of in La Paz. The long-distance buses that travel from La Paz to Sucre, Potosí and Uyuni are relatively comfortable, but do sometimes travel on makeshift "roads" that will make it nearly impossible for you to sleep, as you might be able to do on buses in Argentina or Chile.
Altitude Sickness in Bolivia
Even if you aren't sick when you enter Bolivia like I do, it is possible that you may fall at least temporarily ill due to the country's high altitude. As I mentioned earlier, La Paz is the highest capital in the world, with an elevation in excess of 4,000 meters, or 12,000 feet. Click here for more information about altitude sickness in South America, including how to cope with it.
Bolivia Visas
If you're an American or Australian, you need to obtain a visa to enter Bolivia, even as a tourist. Thankfully, you can obtain your Bolivia visa at the border with Perú (in the town of Desaguadero). Nationals of all countries must obtain visas to work or study in Bolivia, including for long-term volunteer projects.
Bolivia Travel Photos
Bolivia is among the most visually stunning places I've ever visited, so whether you're looking for a break from stressful trip planning, or simply want to see some pretty pictures, do check out my Bolivia travel photos below: