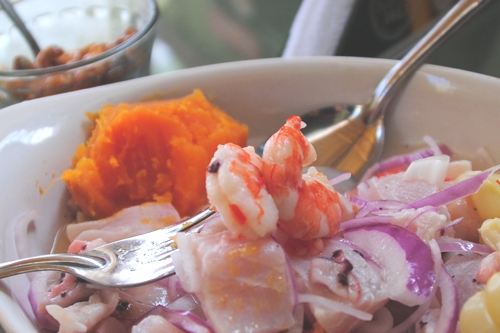 <!– Place this tag in your head or just before your close body tag –> <!– Place this tag where you want the +1 button to render –>
In spite of what a cliché tourist destination it has become (mostly on account of Machu Picchu), Perú is nonetheless one of the most magical places I've ever visited, something that owes mostly to the country's highly indigenous population. Indeed, no quantity of gringo backpackers can make cities like Cusco and sites like the Sacred Valley of the Incas less special to me.
Even Perú's widely-maligned capital Lima impressed me. To be sure, the only destination in Perú I wasn't really feeling was the "white" city of Arequipa, which was in my opinion as boring as its signature color suggests it would be. Perú is home to a variety of landscapes, from arid deserts, to some of the highest peaks in the Andes, to tropical Pacific beaches in the northern part of the country.
It is my sincere hope that you grow to love Perú as much as I do — and that this Perú travel guide can help you do just that.
Places to Travel in Perú
Perú offers literally dozens of options for visiting tourists, from fun cities, to incredible landscapes, to some of the most important cultural relics in the world. Although Perú's capital Lima has a lackluster reputation among travelers to South America, I greatly enjoyed my time in Lima, particularly in cosmopolitan Miraflores. Other Peruvian cities popular among budget travelers include Arequipa and Cusco.
While Lima is something of a destination in and of itself (if you don't hate it, that is), Arequipa and Cusco are more often than not used as jumping-off points for more popular tourist attraction — the Colca Canyon and Machu Picchu, respectively. Cusco also sits in close proximity to the aptly-named Sacred Valley of the Incas, one of the most stunning landscapes I've ever laid eyes upon.
Other popular destinations in Peru include Pisco, birthplace of the rum from which Perú's signature drink draws its name, Ica (where you can "sandboard" along coastal dunes) and Puno, gateway to mysterious Lake Titicaca, an attraction I had to forgo on account of severe respiratory illness. Coastal Máncora has also recently become a niche destination for backpackers.
Perú is the birthplace of my favorite South American hostel concept, Loki Hostels. Loki currently operates hostels in Lima, Máncora and Cusco, the latter being my personal favorite of its half-dozen locations.
Cost of Travel in Perú
Perú is among the cheapest countries in South America, with only Bolivia in my experience being less expensive. Although Machu Picchu isn't particularly cheap (it costs over $100 even if you do it without a tour, a process I detail in this article), lodging, food and transport in Perú are uniformly inexpensive. Overall, you shouldn't expect to spend more than 120 nuevo soles ($40) per day for a hostel dorm bed, three square meals and your daily transportation allowance in Perú.
Transportation in Perú
If you've read any of my South America travel guides, you're no doubt aware of the fact that South America is most effectively and cheaply explored by long-distance bus. This is likewise the case for trips within Perú, although it is possible to take kind-of cheap domestic flights between tourist hotspots. Train routes do exist, but only to and from Machu Picchu. Because Peruvian trains cater almost exclusively to foreign tourists, they are far from a cost-effective means of seeing the country.
Altitude Sickness in Perú
As is the case in two-mile high Bolivia, much of Perú is significantly higher than sea level, which can result in obnoxious (and sometimes even debilitating) altitude sickness. Click here to read more about altitude sickness in South America.
Perú Visas
Perú issues tourist visas to nationals of most Western countries on arrival, although the period of your visa can vary, depending on where you enter and which immigration official admits you. When I told the officer at Lima International Airport I wanted to stay for two weeks, he granted me a 60-day visa; I had friends who entered by land from Ecuador and stated an intention to stay for two months, but were only allowed 30 days in Perú.
You usually need to obtain a Peruvian visa in advance of travel to Perú if you plan to work or study in Perú, although volunteering in hostels like aformentioned Loki (or in short-term humanitarian missions sponsored by your hostel) is generally exempt.