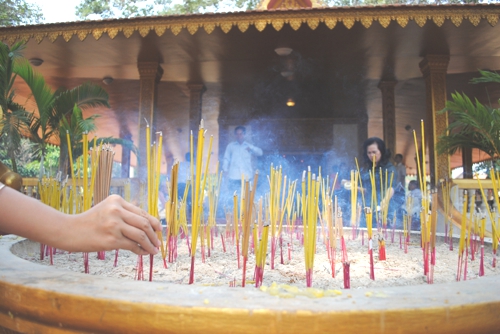 Cambodia Travel Guide
Just a few years ago, Cambodia was one of the most difficult places in Southeast Asia to travel, lacking basic transportation infrastructure, among other Western conveniences. Thanks to the popularity of tourist attractions like Angkor Wat, however, travel to Cambodia is now a relatively easily affair.
With recent census numbers tallying just 14 million, Cambodia is sparsely populated as Asia goes, something that owes itself to the brutal purges of dictator Pol Pot, who ruled over the country in the 1970s. Thankfully, memories of that sad chapter in history are fading rapidly as Cambodia moves forward economically, not only thanks to tourism dollars, but also because of the recent discovery of oil off the Cambodian coast.
Whether you're headed to Cambodia tomorrow, next week or at an unspecified point in the future, use this Cambodia travel guide as a starting point for your travel planning.
Places to Travel in Cambodia
Cambodia's most-visited city is no doubt Siem Reap, located approximately 90 minutes from the Thai border. For most Cambodia travelers, Siem Reap is merely base for exploring UNESCO World Heritage site Angkor Wat and other nearby temples, although I deeply love the town of Siem Reap itself, an affinity I detail in this article.
Phnom Penh, Cambodia's capital, is also a popular destination for backpackers who travel in Cambodia. Although Phnom Penh's town center is less interesting than Siem Reap's, several important tourist attractions exist in and around the city, such as the Killing Fields and the Genocide Museum. Fun times!
Cambodia also has a small stretch of coastline, one I hope isn't destroyed by the extraction of the aforementioned oil. In particular, the town of Sihanoukville has gained popularities among Cambodia travelers.
Cost of Travel in Cambodia
Cambodia is extremely cheap. I would almost go so far as to say Cambodia is one of the cheapest places in the whole world, an assertion I back up in greater detail in this article. Cambodia's official currency is the real, but ATMs in Cambodia exclusively dispense U.S. dollars and I would say, conservatively, that 95% of transactions are made in U.S. dollars.
Transportation in Cambodia
Although the country essentially lacked infrastructure just a few years ago, Cambodia has recently advanced when it comes to transportation. Of course, this is relative. Namely, the dirt roat that leads from the Thai border to Siem Reap is now paved, lessening the travel time and making it more comfortable. Cambodia stills lacks trains and any public transportation infrastructure to speak of.
Travel to Cambodia from Thailand
Most backpackers who travel to Cambodia enter from Thailand. Although non-stop flights from Bangkok are available, the most economical way is to travel using a combination of trains and private taxis. Read this post for more information on how to travel to Cambodia from Thailand (without being scammed!).
Cambodia Visas
It is necessary to obtain a visa if you wish to travel, do business, work or study in Cambodia. Tourist and businesses visas can be obtained on arrival at any Cambodian land or air border for a cost of $25, payable in U.S. dollars or Thai baht, as of May 2012. If you wish to obtain a student or work visa, contact your visa agency of choice.
Cambodia Travel Photos
Cambodia is nothing if not a beautiful place to travel. So, why not take a break from trip planning and enjoy some Cambodia travel photos?
[/caption]