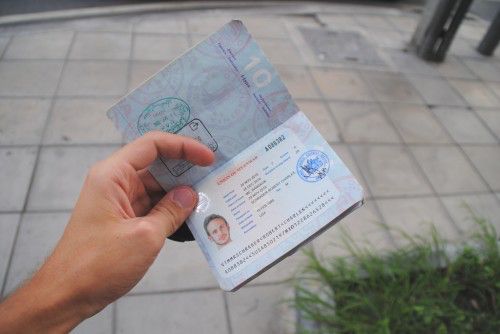 A passport is without a doubt the document most commonly associated with international travel, but did you know that your passport alone permits you entry into only a small fraction of the world's countries?
If you wish to visit the rest, you must obtain a supplementary authorization known as a "visa." Not to be confused with the credit card type that is equally as useful when you travel abroad, a visa usually takes the form of a sticker and, less commonly, a stamp in your passport.
Several different types of visas exist. Broadly these are tourist visas, employment/business visas, student visas and residence permits. Other types of visas exist, too, but if you need a visa that is more intensive than those I've listed here, I will assume you already know how to obtain it.
For the rest of you, read this guide to visas for international travel to get the answers to any questions you have. This guide is written with U.S. citizens in mind, but nationals of most countries will be able to benefit from the gist of the information I present here.
Traveling from Norway to the United States? Make sure and read up on visum usa requirements before your trip!
Visa Waiver Program
The U.S. Department of State operates a system known as the "Visa Waiver Program," which allows for tourists with U.S. passports to enter certain countries without needing a visa, and vice-versa. As of January 2015, 36 countries participate in the visa waiver program. They are:
| | | |
| --- | --- | --- |
| Andorra | Hungary | New Zealand |
| Australia | Iceland | Norway |
| Austria | Ireland | Portugal |
| Belgium | Italy | San Marino |
| Brunei | Japan | Singapore |
| Czech Republic | Latvia | Slovakia |
| Chile | Liechtenstein | Slovenia |
| Denmark | Lithuania | South Korea |
| Estonia | Luxembourg | Spain |
| Finland | Malta | Sweden |
| France | Monaco | Switzerland |
| Germany | the Netherlands | United Kingdom |
| Greece | Taiwan | |
You should note that while you don't have to procure a proper visa in order to enter these countries, you may have to obtain some form of authorization. If you wish to visit Australia, for example, you need to fill out the application for an Electronic Travel Authority (ETA) on the Australian government's website.
Tourist Visas On Arrival
Some countries that require supplementary visas issue them on arrival at land and air borders.
Of these countries, some assess a fee, while others don't. When you travel to Singapore or Malaysia, for example, you obtain your tourist visa free of charge. The Middle Eastern kingdom of Jordan, on the other hand, assesses a 10 dinar (~$15) fee, while the process to obtain a Vietnam visa on arrival is not only more costly, but also slightly more complicated.
The terms of the visa you receive on arrival may vary, depending on how you enter a particular country. Thailand, for example, issues 30-day visas to tourists who arrive by air, while those who arrive by land only receive 14-day visas. Click here to learn more about visas in Southeast Asia.
Traveling to South America? Certain countries in South America (namely, Chile and Argentina) don't require tourist visas, but do require that tourists who arrive by air pay one-time "reciprocity fees," which you can learn more about by reading this article. On the other hand, Bolivia issues visas at its land border with Perú.
Applying for Visas in Advance
Other countries — and I would say, conservatively, that this is the vast majority of them — require you to obtain your visa in advance of travel. This includes basically everywhere in sub-Saharan Africa, several countries in South America and Southeast Asia, India, China, Russia and most of the former Soviet Union.
Visa Agencies
If you discover that a country requires you to obtain a visa in advance of entry, you generally have two options: Apply for your visa directly with the country's embassy or consulate; or use a visa agency.
Visa agencies are generally more expensive, but they are also faster and have higher approval rates. My personal favorite U.S. visa agency is VisaRite Services, based in New Jersey.
You can also use visa agencies in foreign countries, where they are more numerous, to do your dirty visa work for you.
Specialty Visa Types
Tourist visas are only good for, well, tourist purposes. If you wish to live, study or work (legally) in a foreign country, you will need to obtain a residence, student or work visa in order to do so. Your school or employer should provide you with any information you need RE: applying for such a visa.
Interested in working in Australia? Read my article about Australia's "Working Holiday" visa, intended for non-Australians who are under the age of 30.
Visa FAQ and Resources
Are countries required to grant me a visa if I apply and pay for it?
No, they are not. A visa is a concession on the part of the issuing government — in a way, they are doing you a favor by allowing you to enter. Although most people who lack criminal records will always be approved, a variety of reasons can result in your visa being denied. If you are denied, your denial letter should include the contact information of a person or governmental agency who can provide you with more information.
Can I get a refund if I am denied?
Generally no, but you may be able to receive a refund, depending on the circumstances of your denial. Contact the governmental agency who denied your application using the information they provide you in the denial letter.
Where can I learn more about visa requirements for a specific country?
If you have a U.S. passport, the State Department's Travel.State.Gov website is an indispensable resource for visa information. For non-Americans, contact your country's department of international relations.
What if I need a visa, but have run out of visa pages?
U.S. passport holders can read my article about adding additional pages to their passports. Foreigners should contact the governmental agency who issued their passports.
LEARN MORE ABOUT VISAS