A few years ago, travel from Laos to Thailand required a flight from Vientiane to Bangkok, a route made extremely expensive by scant competition. Thankfully, an international rail link has accompanied the "Friendship Bridge" recently built between the two countries.
Although the journey last nearly 11 hours, taking the train from Vientiane to Bangkok (or vice-versa) is the cheapest and, indeed, the most relaxing way to bridge the gap between the capital cities of Laos and Thailand.
Need help planning your trip to Thailand? Click here to hire me as your Travel Coach!
Thanaleng Railway Station
The first step of traveling from Laos to Thailand by train is getting to the Vientiane Railway station. In fact, the international railway station serving Vientiane is not within city limits.
Rather, you must take a tuk-tuk, public bus or taxi to Thanaleng, located approximately 13 miles south of Vientiane's city center. The journey should cost you around 100,000 Lao kip, 400 Thai baht or 13 U.S. dollars and take about 30 minutes.
There is no need to purchase your Vientiane-Bangkok train ticket in advance, although several travel agents in Vientiane offer them. Rather, turn up at the ticket window in Thanaleng at least 30 mintes in advance of your scheduled departure time.
Classes of Service from Vientiane to Bangkok
The train from Vientiane to Bangkok takes between 11-12 hours, so I recommend booking a bed in a first- or second-class cabin. Only one of the two overnight trains that serves the Vientiane-Bangkok route is equipped with lie-flat beds; It departs Thanaleng at 5 p.m.
Opting for a bed from Vientiane-Bangkok is not only a great comfort choice, but the cost premium is also negligible. A second-class bed costs 778 Thai baht ($23) as of May 2012, while second- and third-class seats cost 388 ($11) and 258 ($8) baht, respectively.
For the first few hours of the journey, the beds are put away and you sit in seats, with the option to order a hot meal (Tom Yum soup, anyone?) or snack, such as potato chips or a candy bar. At about 9 p.m., the train crew comes through and converts the cabin.
Lao-Thai Immigration and Border Clearance
You should note that you actually take two trains from Vientiane to Bangkok: A "shuttle" train from Thanaleng to the frontier, where you exit Laos and enter Thailand. After you clear the border, you board the train that will take you all the way, which leaves at 6:20 p.m.
You should note that while Thai officials grant nationals of most countries visas on arrival, land entries only receive a 14-day stamp, as oppose to the 30-day stamp you get at Thai airports. The express service makes its first stop just after 4 a.m., in Ayutthaya.
The Bangkok-Vientiane train also stops near Don Muang, Bangkok's domestic airport, and arrives at the Hua Lamphong railway station around 6:25 a.m. From here, it's just a quick and cheap (~50 baht) taxi ride to Bangkok's Khao San Road backpacker district.
Train from Bangkok to Vientiane
Train services are also available in the reverse direction, from Bangkok up to Vientiane. An overnight train equipped with beds departs Hua Lamphong at 8 p.m. every night and arrives at the Lao frontier just after 8 a.m. the next morning.
You should note that Laos requires foreigners to purchase a visa, which you can obtain either at the Lao embassy in Bangkok before your journey, or at the border. As is the case traveling from Vientiane to Bangkok, you take a "shuttle" train from the frontier to Thanaleng.
Need more information about what do in either country? Read my Laos travel guide or my Thailand travel guide for tips on where to visit and what to see.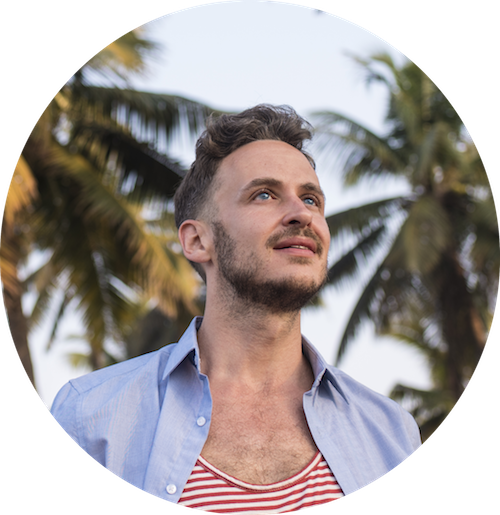 informs, inspires, entertains and empowers travelers like you. My name is Robert and I'm happy you're here!