Whether you do it once a week, once a year or once in your lifetime, traveling can be stressful. From tangible things, like getting work and family taken care of before you leave, to the fear and uncertain that arise when imagining what might or might not happen during the course of your trip, it's not uncommon to feel anxious before, and in some cases during your trip. No matter your situation, these tips can help you stop travel anxiety in its tracks.
Go On an "Easy" Trip
Fact: Hiking in Kyrgyzstan or traveling to Manchuria during the middle of winter aren't low-stress trips, even for experienced travelers. On the other hand, while visiting an all-inclusive beach resort in, say, Mexico or the Dominican Republic is practically a guaranteed stress-free vacation, you needn't go to this extreme to limit your travel anxiety. Spend a long weekend in a medium-sized city like Austin or Nashville, or visit a destination like Tampa, where you can easily enjoy a nice mix of culture, cuisine, and nature.
Travel With Loved Ones
Solo travel can be empowering, exhilarating, and extremely enjoyable, but it can also leave you alone and vulnerable during the not-so-great parts of your trip. If you're feeling anxious about a trip you plan to take by yourself, consider inviting a friend or family member along. This will not only aid you in beating the anxiety you feel in advance of your trip, but will likely result in you having more fun overall.
Get Travel Insurance
Most trips go off without a hitch, but if disaster strikes in the middle of nowhere, it can really be…well, a disaster. For example, did you know that a medical evacuation, even within the United States, can run you $10,000 or more? Having security on your trip will give you peace of mind, but if you plan to go off the beaten path during your trip, consider becoming a member of and getting additional protection from MedjetAssist, which specializes in medical protection as well as travel security and crisis response.
Practice Meditation
Someone much wiser than me once said depression was caused by living in the past, whereas anxiety came from living in the future. The solution? Live in the present moment! The best way to accomplish it? Meditation! Although meditation takes various forms, it usually centers around calm, controlled breathing and the letting go of all distractions. Whether your trip takes you to the beaches of the South Pacific or the crazy streets of Tokyo, the solution to your anxiety is not to run from your feelings, but to make peace with them.
Distract Yourself
Then again, if you find yourself extremely anxious before or during your trip, it might be best to distract yourself, at least until you calm down. On a plane, for example, you might read a book, watch a movie, or order a glass of wine. If the anxiety strikes you when you're in the midst of your trip, considering abandoning your itinerary for a few hours or even a full day, and pampering yourself with a massage or spa session in order to ease your worries.
Of course, these are only the beginning of techniques you can use to overcome travel anxiety. Can you think of any others that have been of use to you?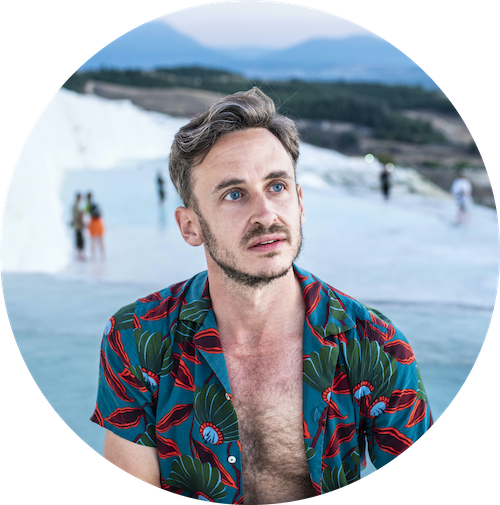 informs, inspires, entertains and empowers travelers like you. My name is Robert and I'm happy you're here!