Thai Airways was one of the first international business class products I ever tried—the second, to be exact. So when the opportunity came up to fly them to my new home in Bangkok after my recent trip to Japan's Kyushu Island, I took it eagerly.
How has time (not to mention, many experiences in the world's best business classes) changed my initial (starstruck) perception of Thai Airways business class? Continue scrolling to read my Thai Airways business class review.
Service and Hospitality in Thai Airways Business Class
By the time I boarded Thai's Bangkok-bound A380 at Kansai Airport near Osaka, I was exhausted (I'd spent all day chasing cherry blossoms in Kyoto, with only some success) and drunk—although the TG lounge in Kansai leaves something to be desired, I did take advantage of the free-flow vodka and down several Bloody Marys. I tried to edit the redness out of my face in the photos attached to this review, but as you can see it was unsuccessful.
In spite of my buzz, I do remember that the cabin crew left me feeling taken care of, but not bothered. In fact, aside from offering me champagne and a towel before departure, and serving me dinner after we reached cruising altitude, I didn't really see the crew much before landing. As it had been many years ago, Thai's business class service is the furthest thing from abrasive—smooth, as it were.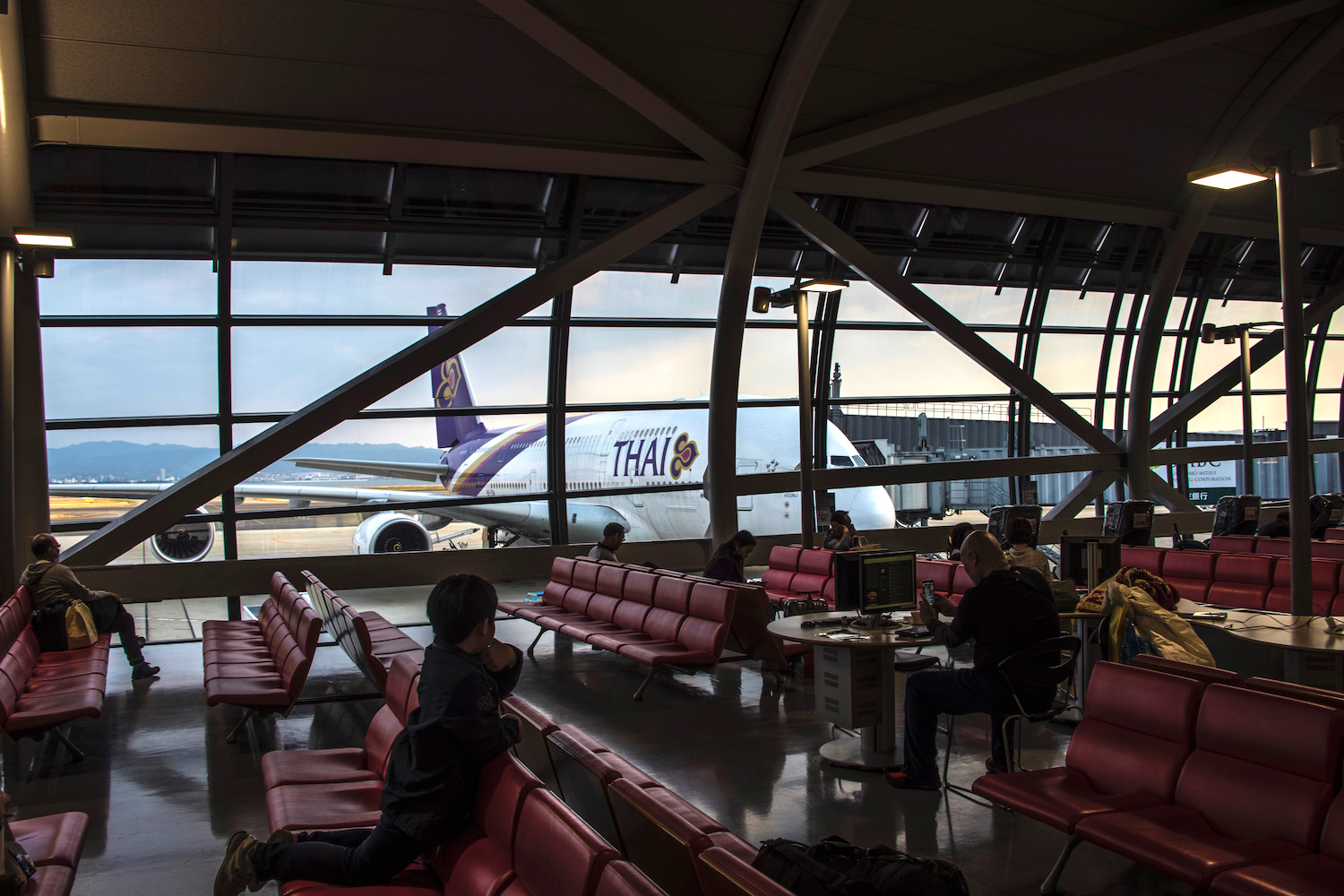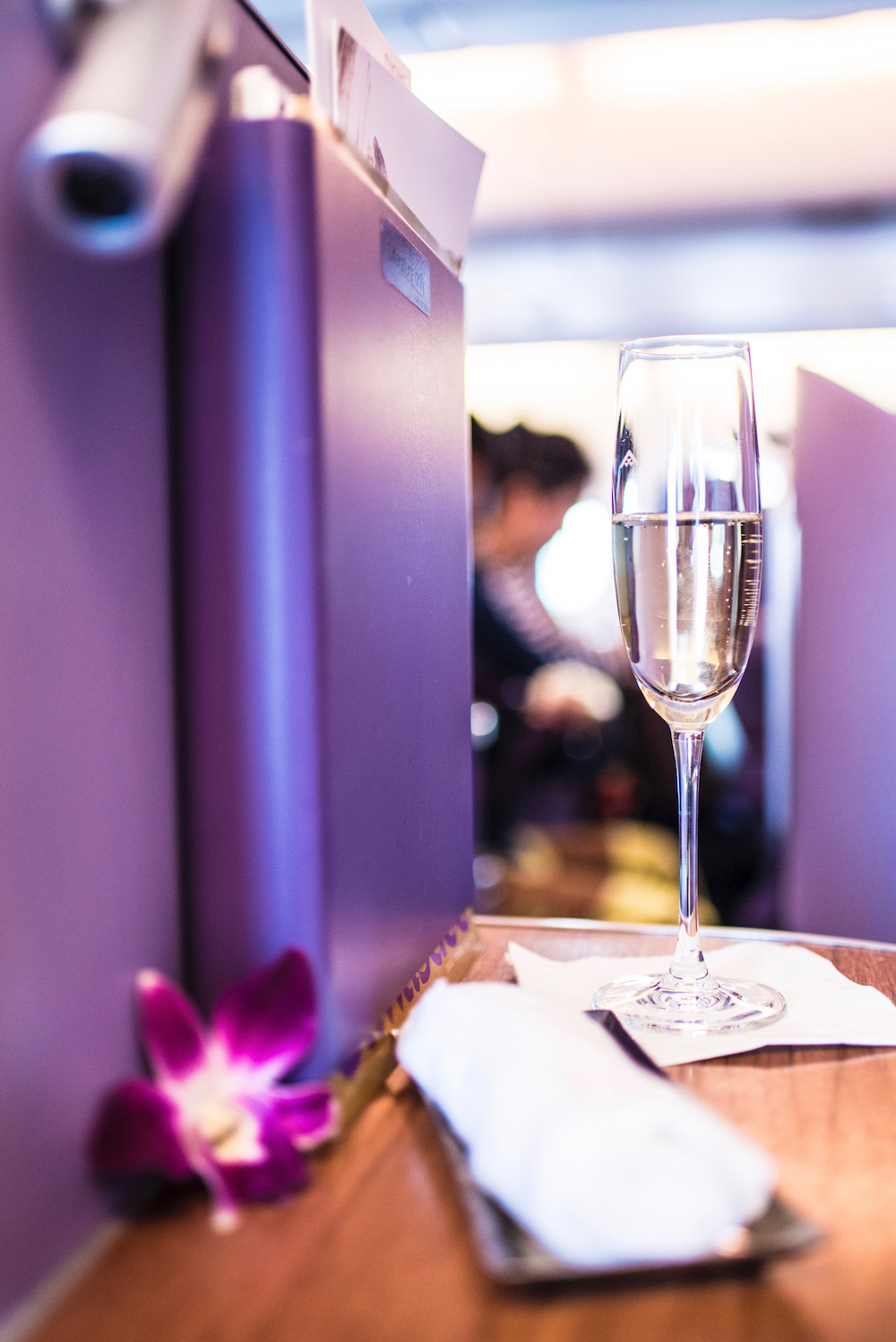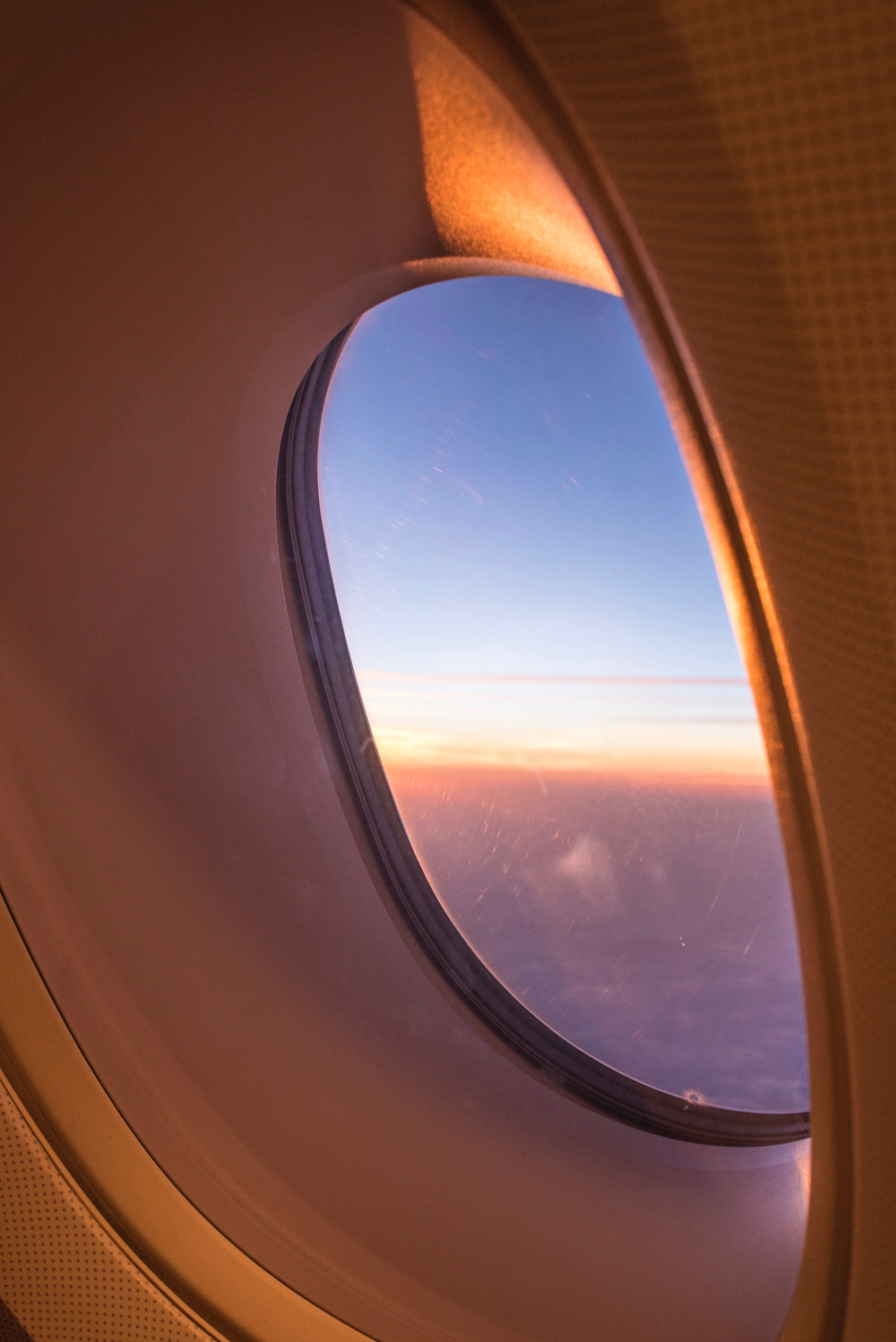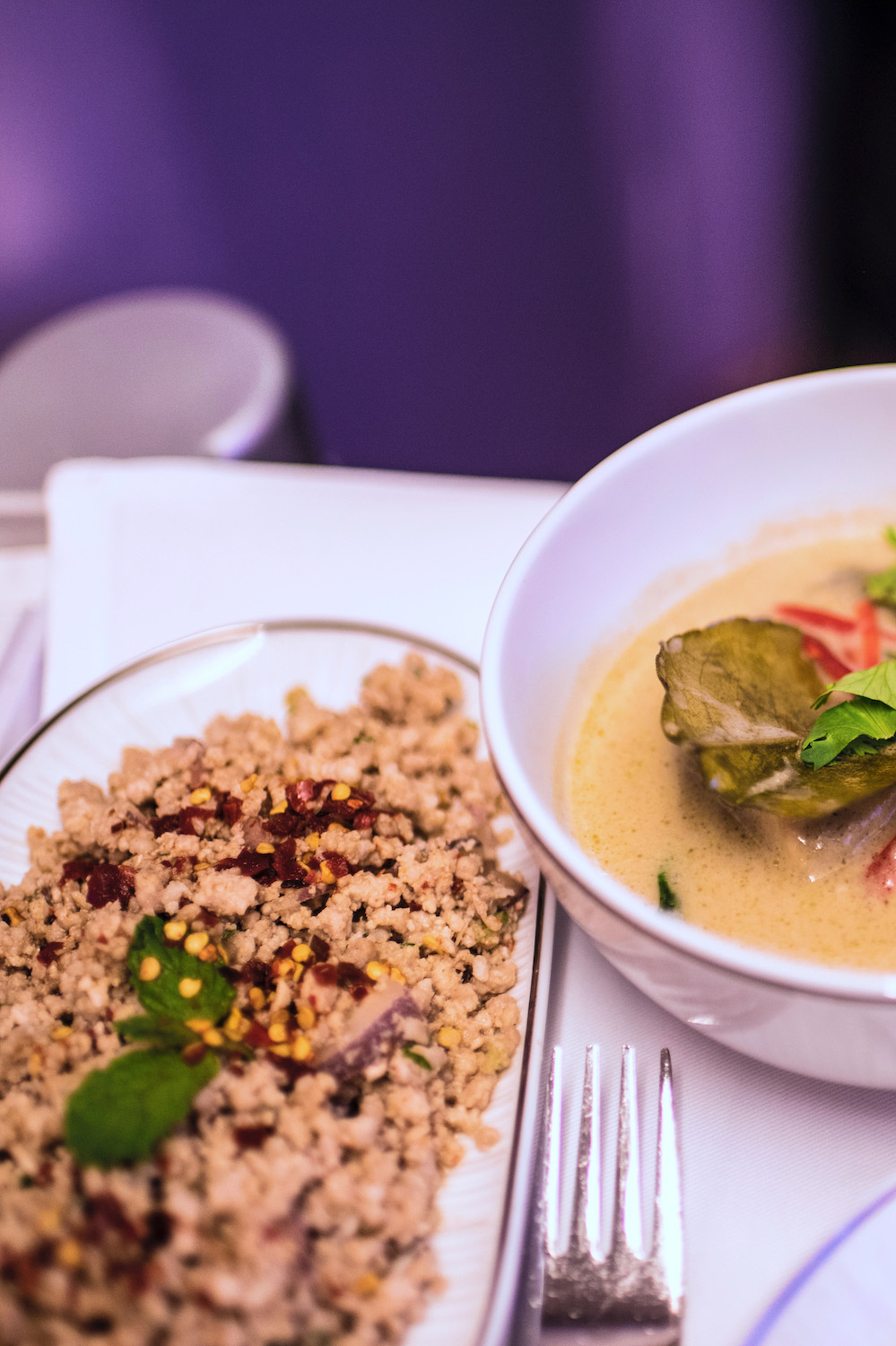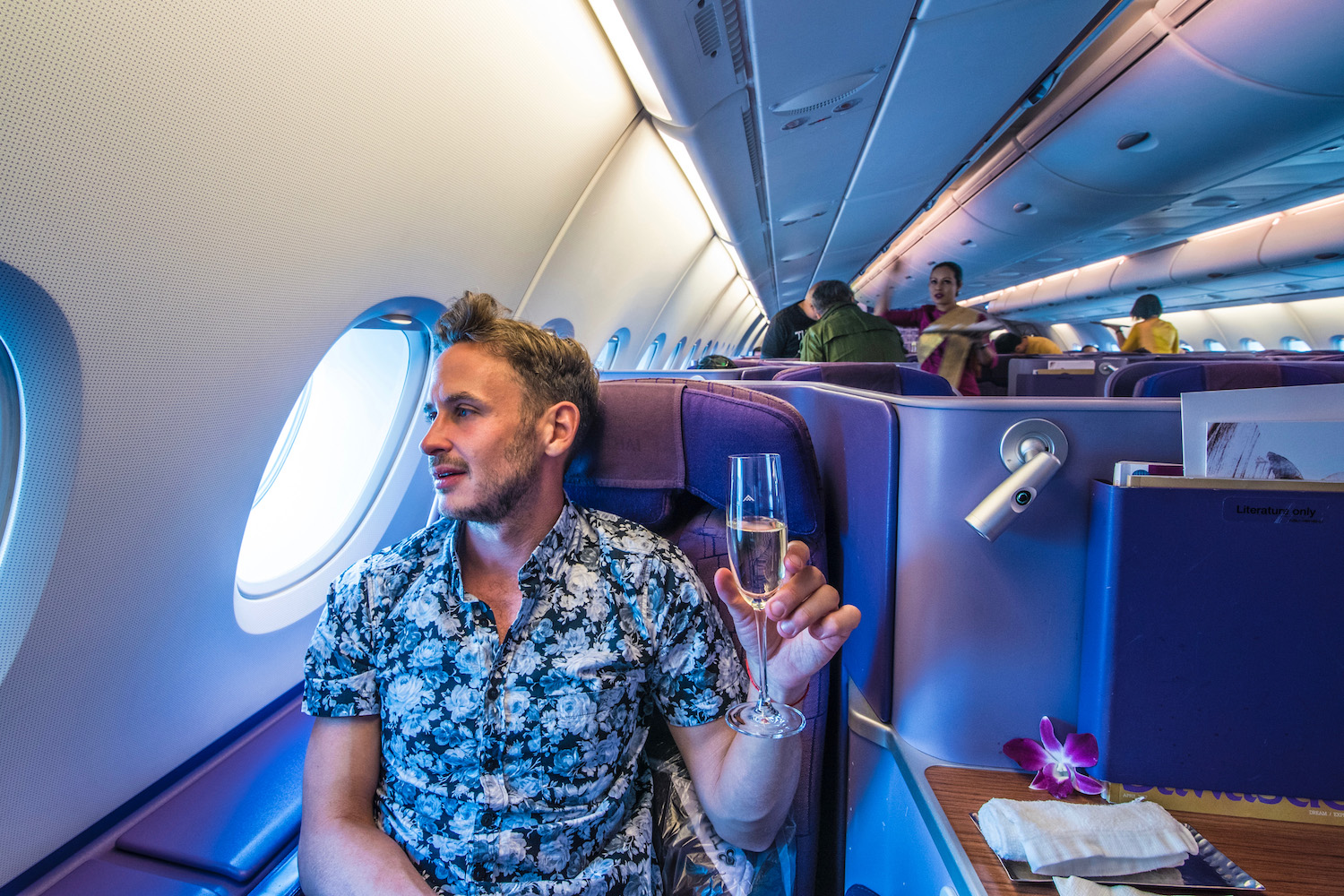 Thai Airways Business Class Seat and Food Quality
The seat on Thai Airways' A380 is average by today's standards: It's lie-flat and in staggered, 1-2-1 configuration. The window seat I sat in seemed rather worn, which in confusing in one way (Thai's A380s are relatively new) but makes sense when you consider they're pretty heavily utilized—the airline only has a few, six I think.
I was impressed that the meal I enjoyed in Thai Airways business class featured larb, a meat salad (it's not nasty, I promised) popular in Thailand's northeast, but that you rarely see in Thai restaurants that aren't owned by Thai people. There was also a green curry and some sort of seafood soup, but I don't remember anything about the service (or the flight) after that: Another glass of champagne in my belly and I was out.
Thai's Inconsistent Business Class Product
One thing you'll notice if you fly Thai Airways business class on more than a few plane types is how inconsistent the product is. For example, while you'll enjoy direct aisle access at every business class seat on Thai's A380, A350, 787-9 and 777-300ER aircraft, the seats on these aircraft are all different in terms of design and function.
On the other hand, Thai's A330s and older 777 aircraft (-200 and -300 variants) currently feature outdated "shell seats" in 2-2-2 (or, worse, 2-3-2) configurations. The 787-8 has yet another 2-2-2 configuration (not unlike the pre-Polaris product you find on United, or on older KLM aircraft) and flying business class on a Thai 747 is more or less Russian roulette, in terms of what you get. Service in Thai business class is almost always great, but the hard product can be a hot mess, to say the least.
Business Class Ground Services at Suvarnabhumi Airport
Thai reserves its best ground handling (i.e. golf carts and personal escorts) for first-class passengers, but your TG business class boarding pass does entitle you to use the "Priority Lane" at Suvarnabhumi Airport, which can save you a great deal of time, depending on what time your flight arrives. If you're departing from BKK airport, you can also use the outbound Thai-dedicated Priority Lane, which takes you directly down into the airline's main lounge.
The Bottom Line
Thai Airways A280 business class lives up to its slogan—like a sheet of Thai silk, its touch is barely noticeable, but provides a comfort that is cool to the touch. Certainly, it was a great way to travel to my now-home just as I was starting my life here. On the other hand, silk is far from my favorite fabric—I wouldn't go out of my way to fly Thai Airways business class again, certainly not Thai Airways 777 business class, but will do it in a heartbeat if the price is right.
How to Book Business Class on Thai Airways Using Miles & Points
I booked my one-way flight in Thai Airways business class using 40,000 miles transferred from American Express Membership Rewards, to Air Canada's Aeroplan program, plus about $35 in taxes and fees. Prices are the same using United MileagePlus miles (which you can transfer in from Chase UltimateRewards) and are lower on ANA, although you'll need to book a roundtrip in order to take advantage of that.
Alternatively, Thai Airways does offer space-available cash upgrades on economy tickets at check-in, although you'll have to consult the Thai Airways Award Chart to determine if this is a better value proposition for you. In most cases it's not, though I think it's important not to leave any stone unturned.
Once again, if you need help booking your business travel award, I am available for hire!