I'll never forget my first trip to Bangkok. It was February 18, 2010, the day before my 25th birthday, and I'd made an unplanned stop there when my camera went kaput in the islands. Having been advised to skip the Thai capital by most people I knew, I didn't expect much from my makeshift Bangkok itinerary. The bus ride up—I was sitting next to a ladyboy with the same haircut as Kate Gosselin, who was still culturally relevant at that time—seemed prophetic, however.
To be sure, I fell in love with Bangkok as fast as America fell out of love with "John & Kate Plus 8": The simultaneous freedom and fearfulness I felt upon riding a motorbike for the first time; supernaturally beautiful people in the massive cosmetics ads strobing on screens everywhere I looked; fluorescent taxi cabs strobing through busy streets; the way the synchronicity of the Pad Thai sellers' clanking woks and the click of high heels on the sidewalk and the honking of horns seemed to recur in rhythm like a pulse.
And how, when walking down a street filled with gun shops—of all the types of shops on can find in the City of Angels, the English-language translation of Bangkok's Thai name Krungthep Mahanakkon—I started having past-life regressions.
(I don't even believe in that shit.)
I've been back to Bangkok more than a dozen times since (I live here now, for God's sakes!) and while I'm embarrassed by my mediocre Thai skills, I've amassed a level of expertise about the city that impresses even locals. My Bangkok itinerary recommendations are not exhaustive—how could they be, in a city as vast and ever-changing as this?—but they are exceptional.
A Blissful Bangkok Itinerary — tl;dr Version
Nothing is set in stone in Bangkok (not even the city itself—it's sinking!), but these things to do in Bangkok appeal to most Thailand travelers:
Thonburi Temple Trail: Wat Prayoon, Santa Cruz Church, Wat Kalayanamitr, Wat Arun
Rattanakosin 101: Wat Pho, Golden Mount, Giant Swing and Grand Palace
Bangkok's New City: Silom, Sukhumvit and Sathorn
Green Bangkok: Lumphini Park and the Chao Phraya Riverfront
Best Bangkok Shopping: Chatuchak Weekend and Central Bangkok Malls
Yaowarat: Bangkok's Beautiful Chinatown
Day trips: Ayutthaya, Nakhon Pathom and/or Damnoen Saduak Floating Market
Spending longer in this neck of the woods? Make sure to check out my Thailand itinerary, and my recommendation for two months in Southeast Asia.
Where to Stay in Bangkok
Colloquially, Bangkok is one of the cheapest places in the world to get a five-star hotel, although the status quo of the city's (excellent) hotels is more nuanced than that. If you do want true luxury, stay in one of two Bangkok hotels—SO Sofitel Bangkok and Eastin Grand Hotel Sathorn—that always make me feel like royalty. Diamond City Hotel, on the other hand, offers a central location and warm service with less opulence and at a lower price. Want to stay along Bangkok's picturesque Chao Phraya River? Splurge on a suite at Anantara Riverside Bangkok Resort, an opulent place to pass this Bangkok 3 day itinerary.
Day One: City of Life
Your Bangkok itinerary will either precede or follow a trip through Thailand (and, probably, the rest of Southeast Asia), so rather than immediately ducking into the first temple you see, take a day to explore Bangkok's futuristic core. The best introduction to this is riding the ultra-modern BTS SkyTrain to central Siam station, where you can either get off and explore the over-the-top shopping centers nearby (CentralWorld, by some measures, is one of the largest malls in the world), or continue on toward even more fascinating locales.
One option is to walk eastward out of the station through the aptly-named SkyWalk, which gives you a lofty view of busy central Bangkok, with views of the Baiyoke Sky Tower to your left and the ancient Erawan Shrine to your right. Continuing this way, whether by foot or via SkyTrain, takes you to Sukhumvit Road, a picturesque daytime spot that's truly wild at night—try Soi Cowboy on for size.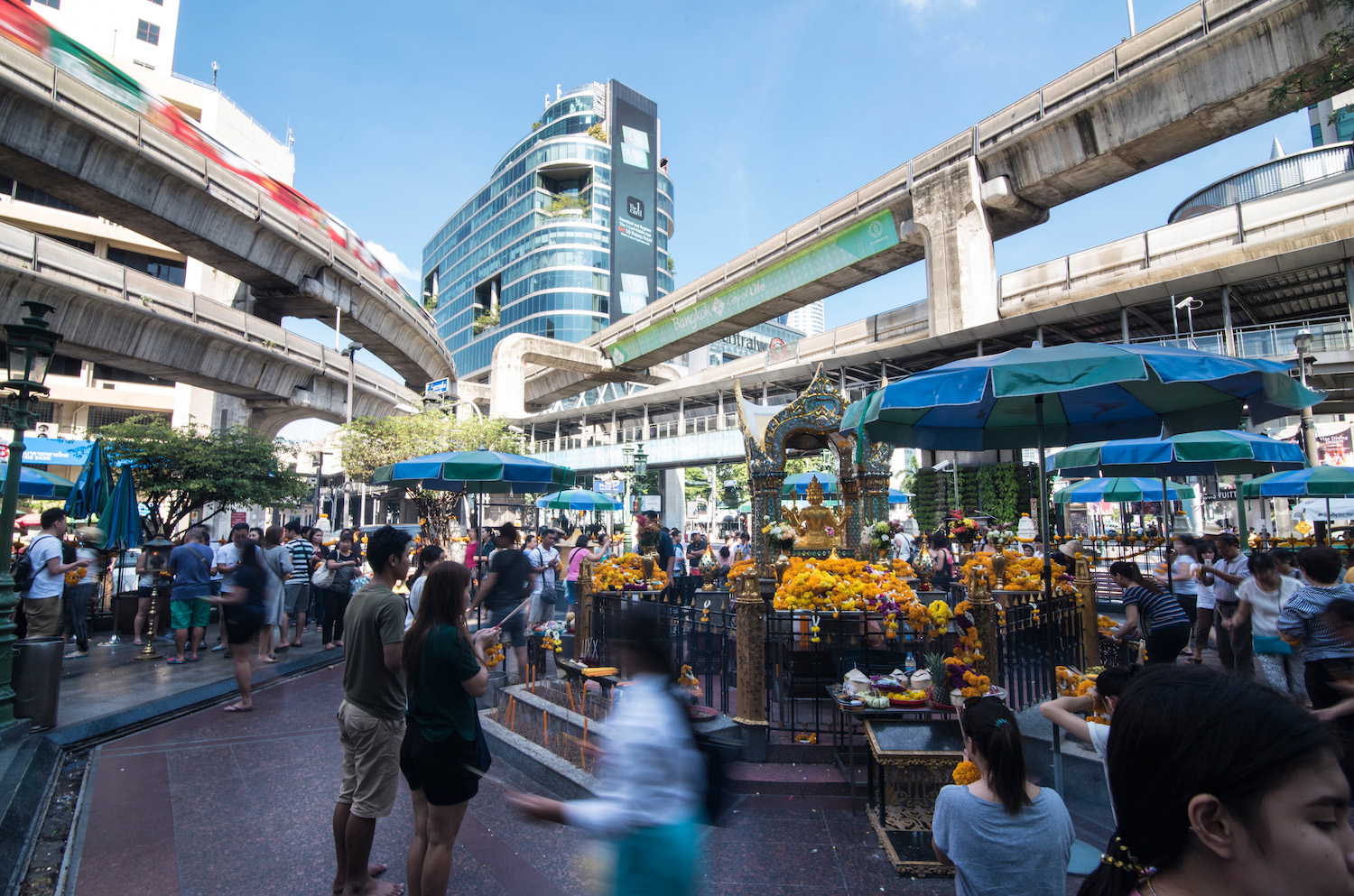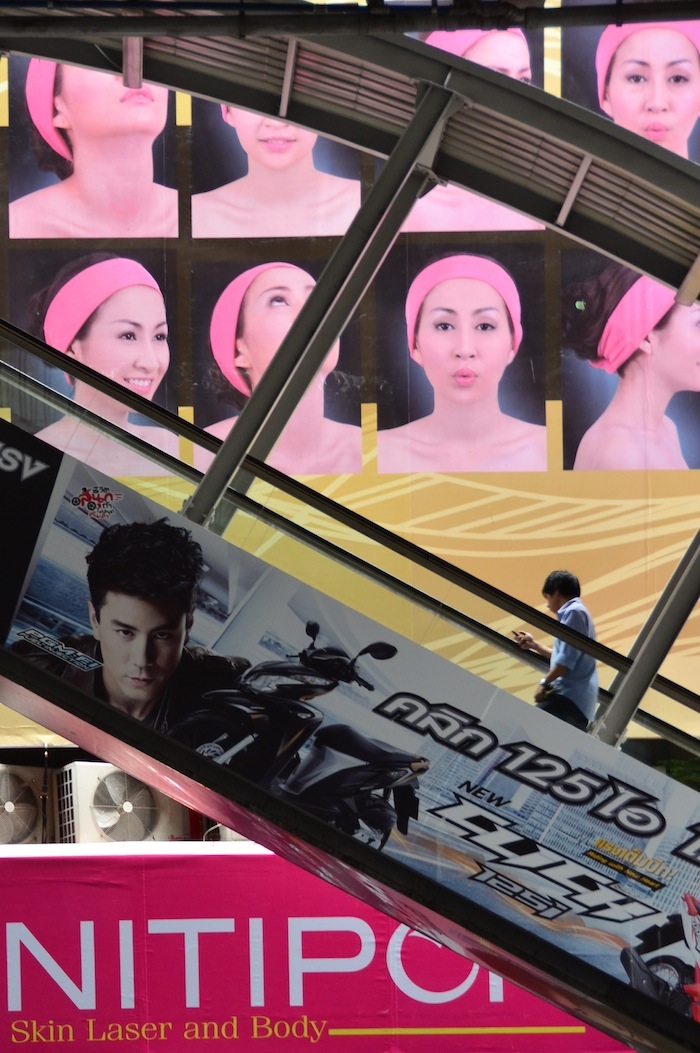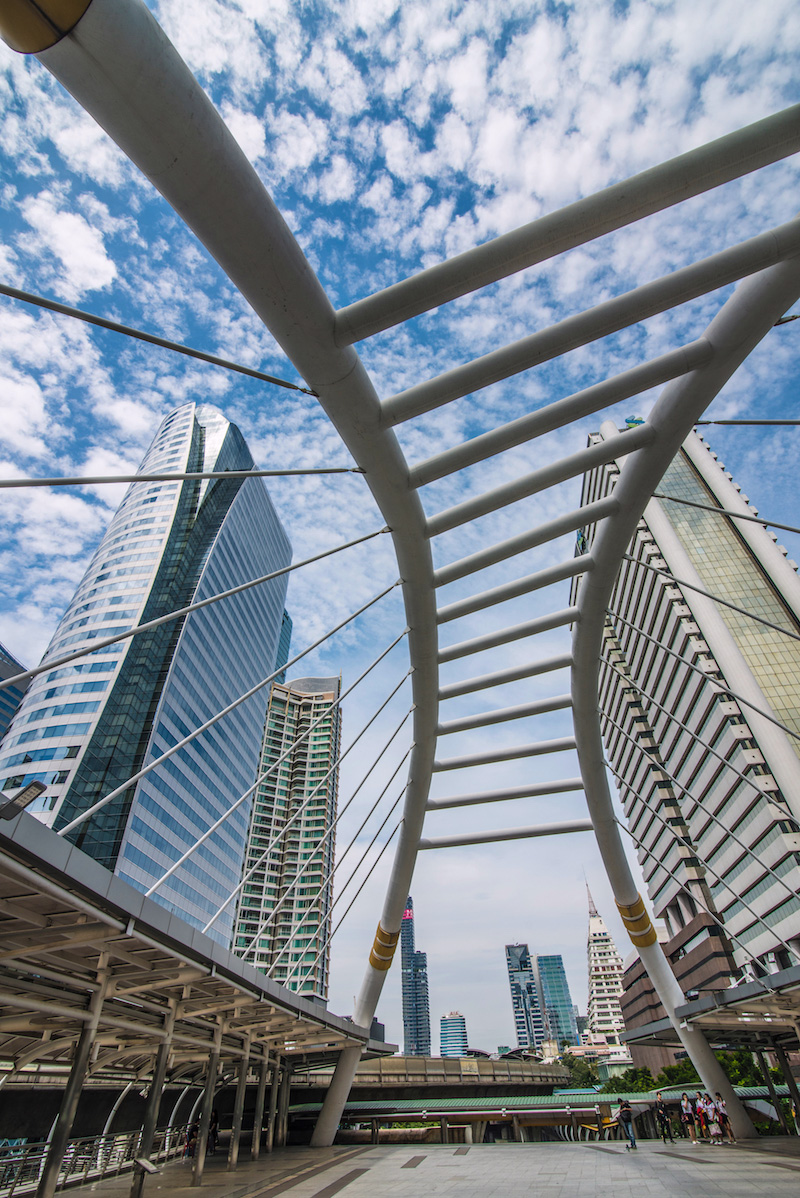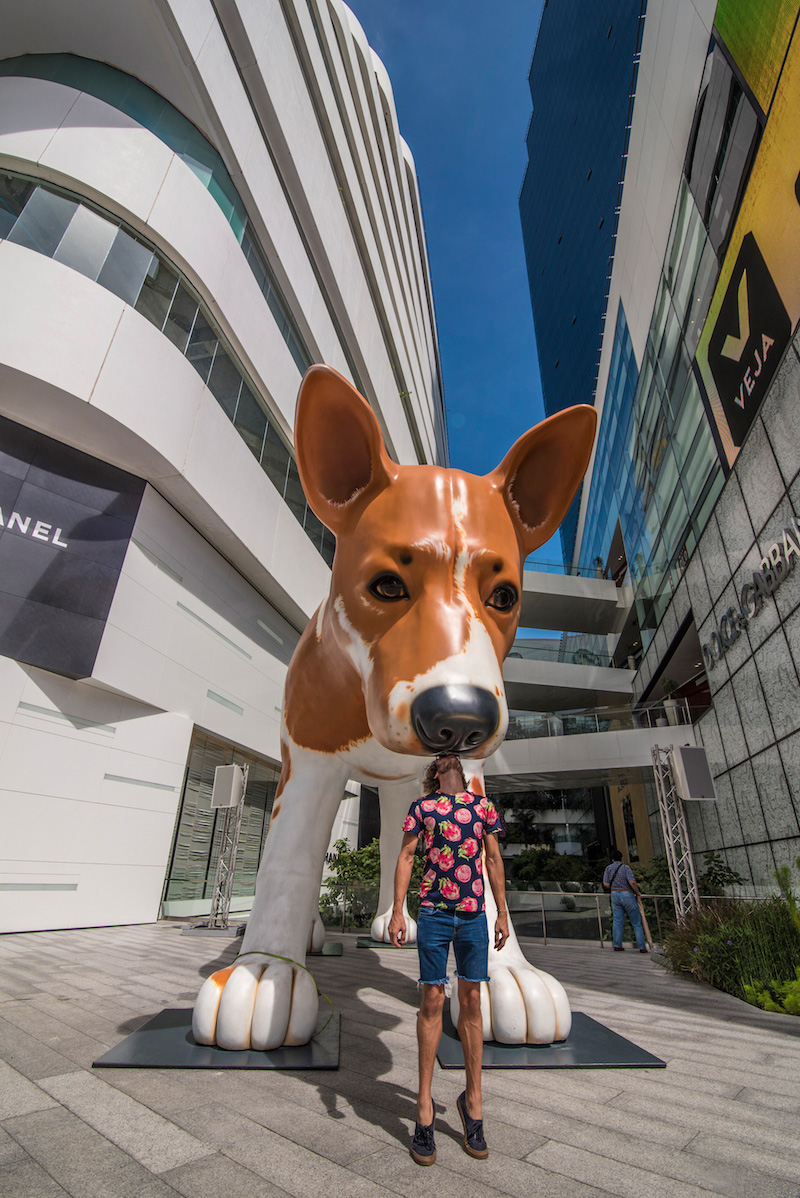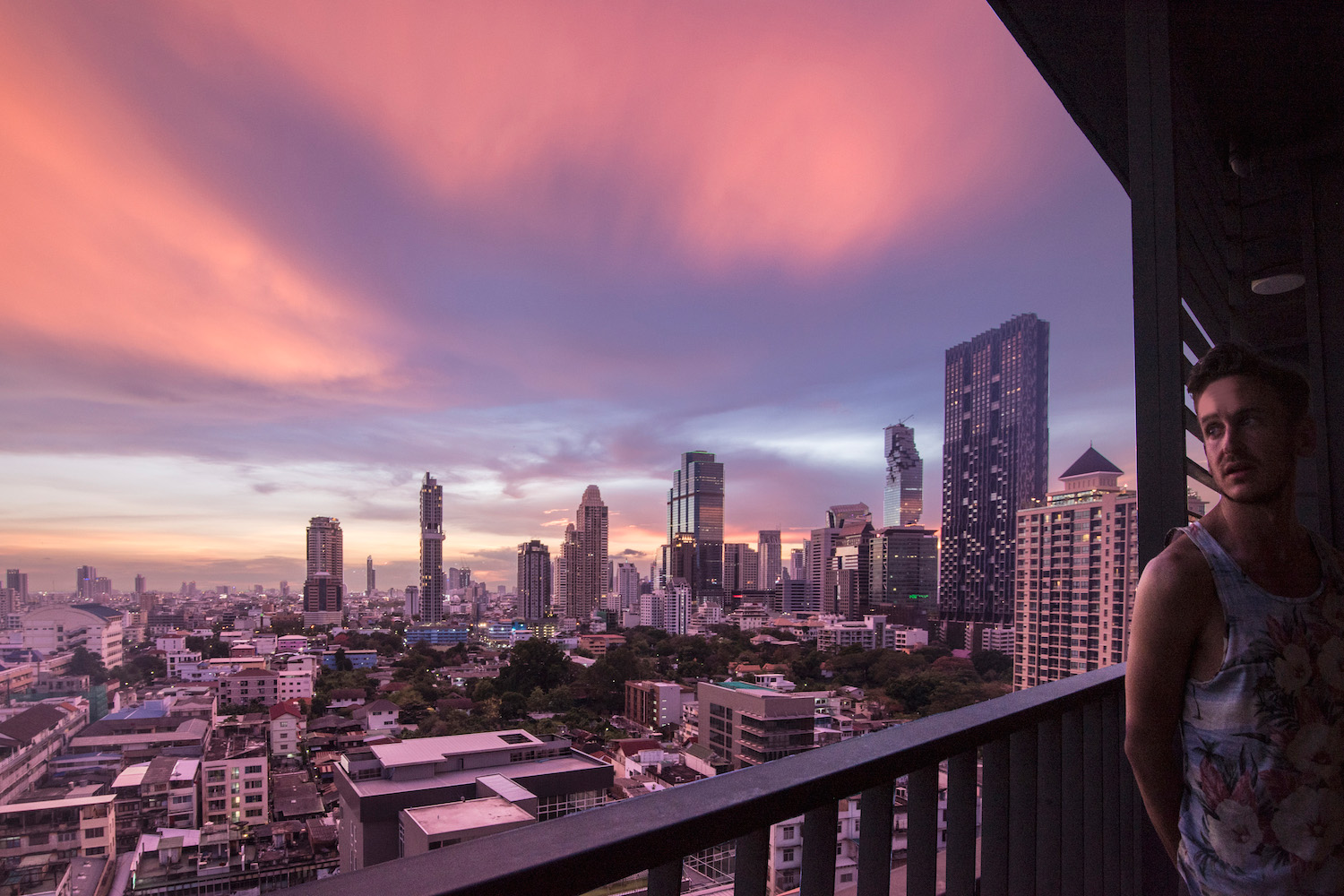 Likewise, the Bangkok sightseeing around Silom Road (which you can access by riding the SkyTrain southward from Siam to Sala Daeng station) is generally more alive at night, whether you see a ping-pong show (yes, it is what it sounds like!) at Patpong Night Market or gay it up on Soi 2 or Soi 4. Of course, Silom is also a great place to access Lumphini Park, a massive green space named for Buddha's birthplace that's the perfect respite from the Bangkok tourist attractions in Thailand's capital (and a great place to run in Bangkok—take it from me!). As the sun sets, toast amid the glittering Bangkok skyline at rooftop "sky bars" such as Red Sky, Vertigo or Zoom.
If you do want to see a temple during the "new city" portion of your Bangkok itinerary, I can recommend a couple: Wat Hua Lamphong, located between Silom and Bangkok's train station of the same name; or Wat Pathum Wanaram, which is only a stone's throw from Siam station and the MBK Center fake market. Another worthwhile historical stop in central Bangkok is the Jim Thompson House, where you can learn the (shady) story of the American who started Thailand's modern silk industry. One of the unique things to do in Bangkok, without a doubt.
Day Two: A River Runs Through It
You probably noticed that I didn't mention a word about food in the first section, and I have two explanations for this: Number one, that delicious food is on every street corner and in every mall food court in Bangkok; and number two, because I'll be recommending a doozy of a restaurant at the end of this section, which you need to dine at no matter how many days in Bangkok you spend. But I digress.
Wake up early this morning and ride the SkyTrain to Saphan Taksin station, where you'll disembark and board a boat headed north along the Chao Phraya River. Ride it five stops to Memorial Bridge, then cross over the bridge and walk toward to the bizarre-looking white temple in the distance. This is Wat Prayoon, and it's the first of several amazing sights you can enjoy on the west bank of the river, also known as Thonburi: Santa Cruz Catholic Church, an unnamed Chinese shrine; Wat Kalayanamitr and Wat Arun, also known as the Temple of Dawn.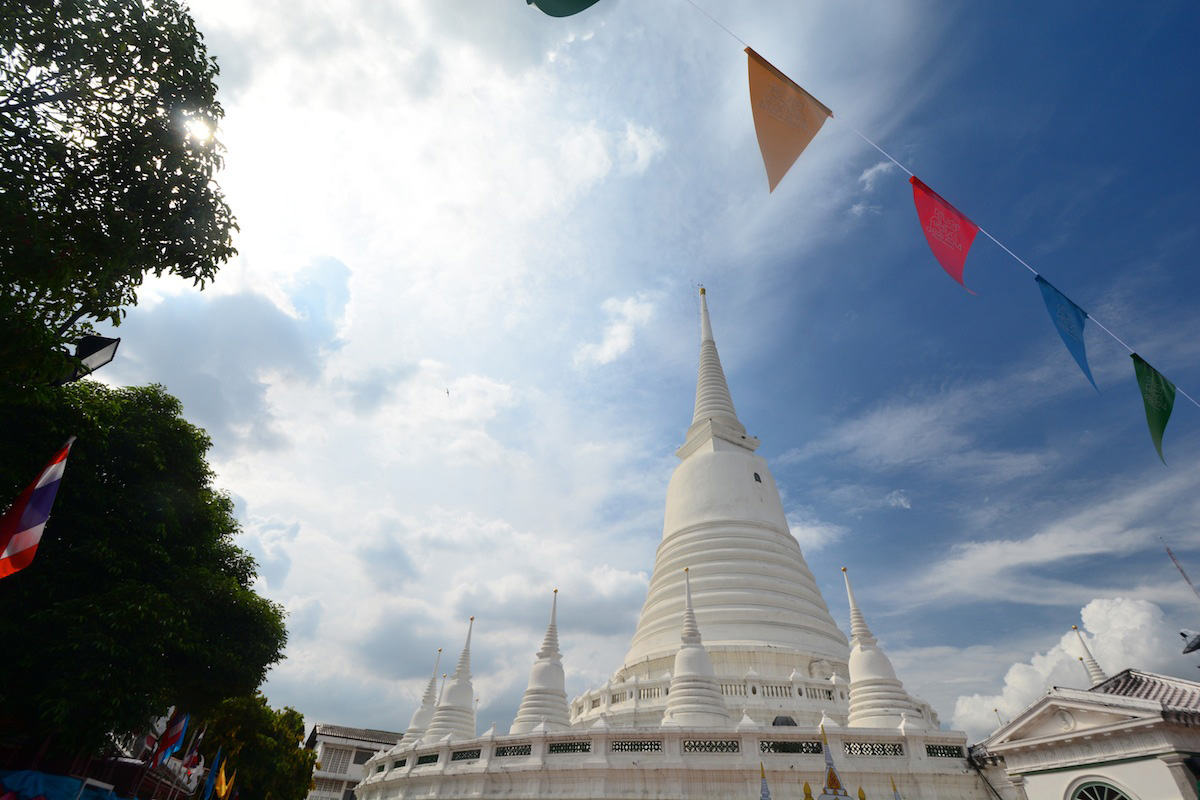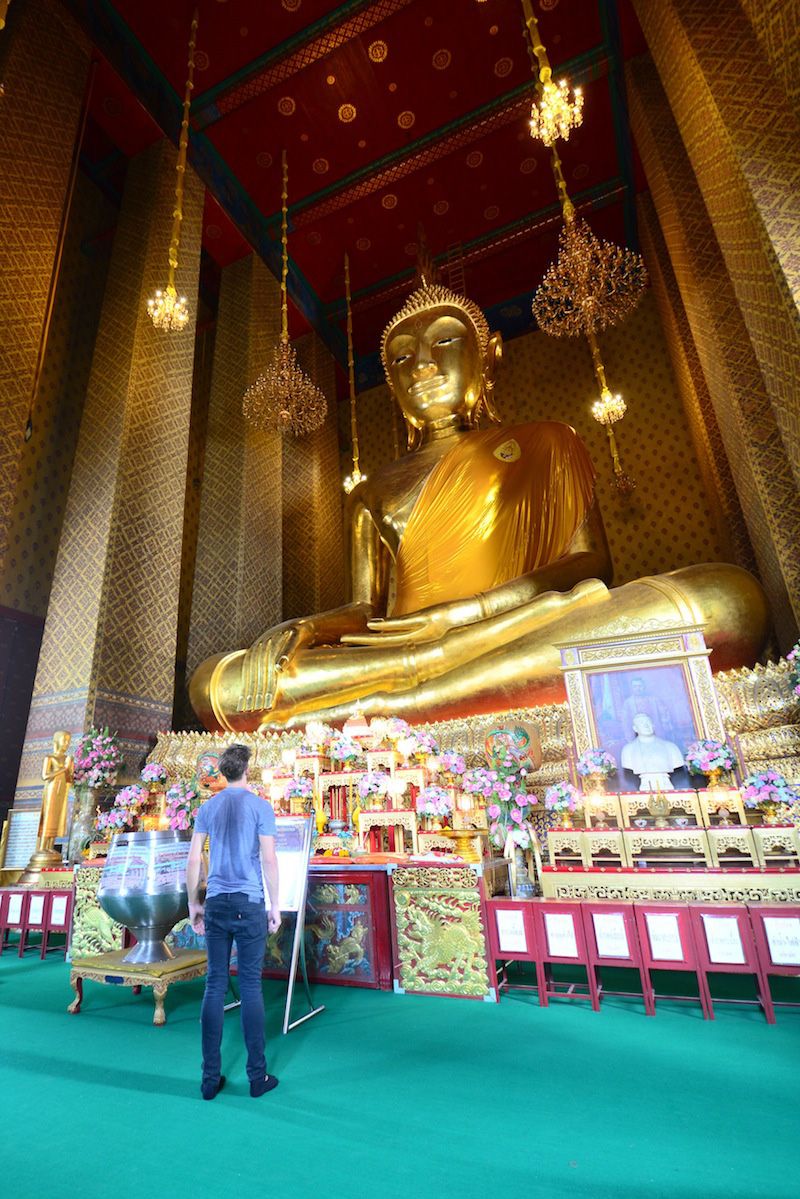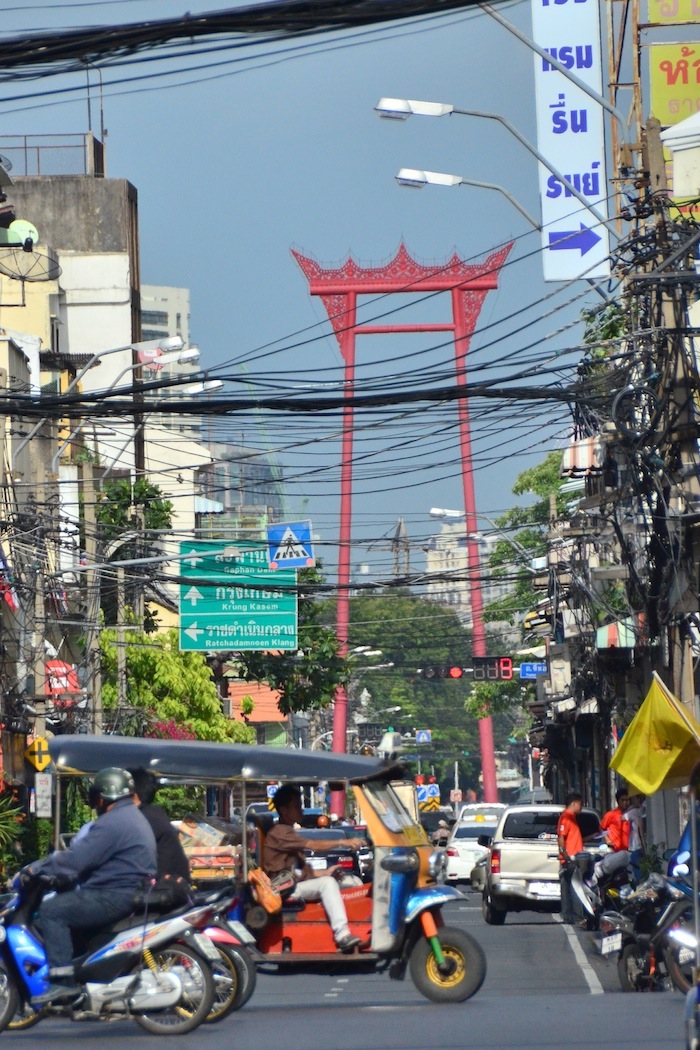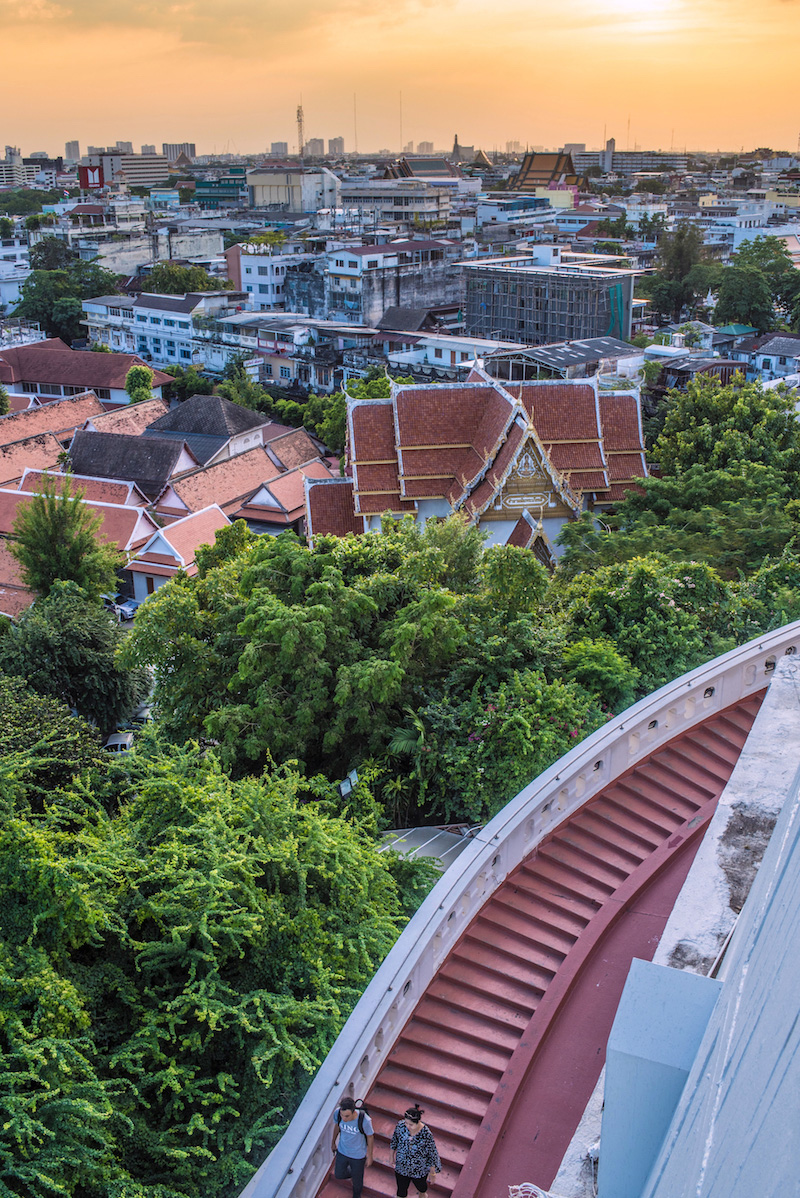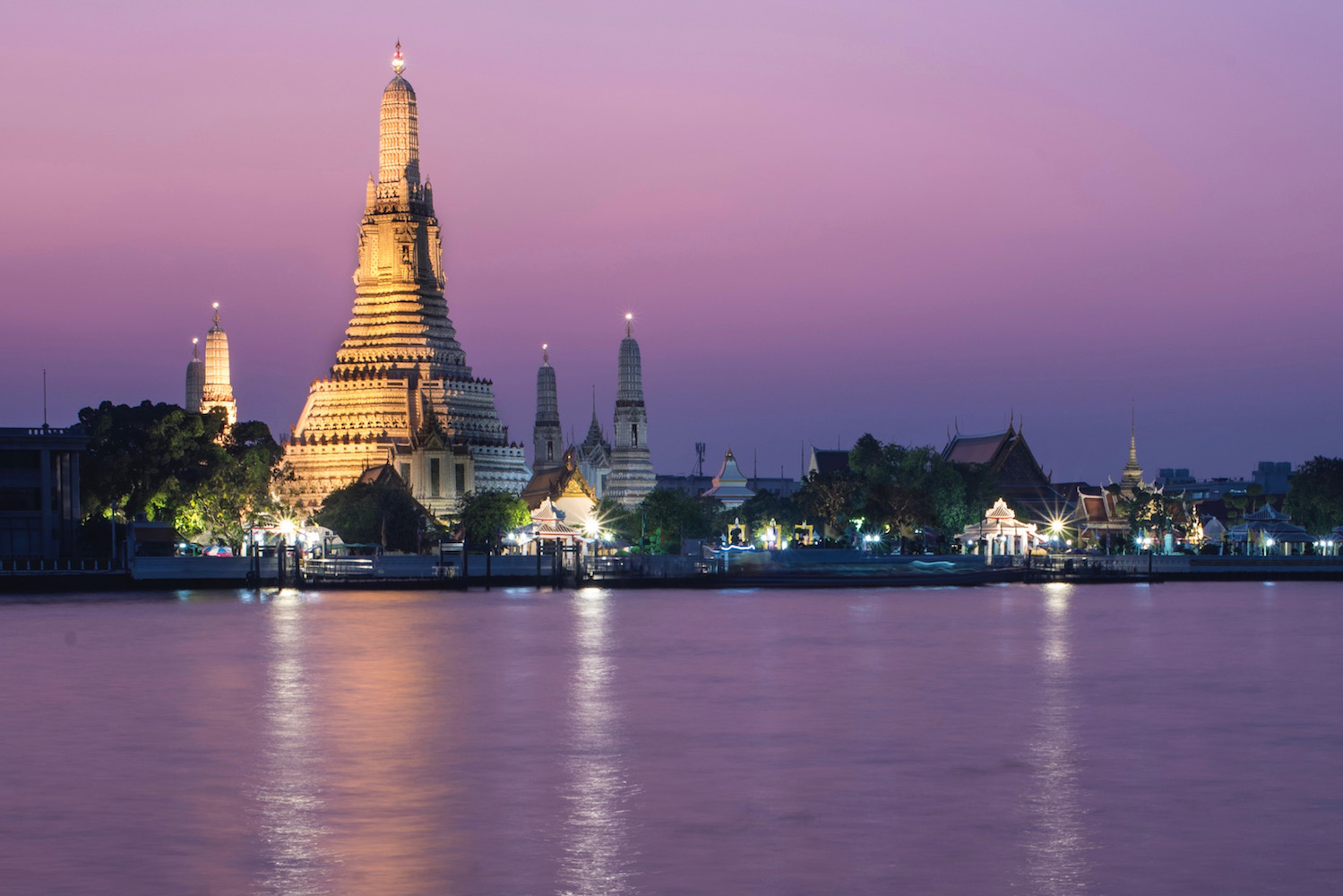 From Wat Arun, ride a shuttle boat across the river to the ancient city of Rattanakosin and Wat Pho, Temple of the Reclining Buddha. If it's still early when you finish here (say, before lunchtime) head south along the river into Yaowarat, Bangkok's Chinatown. En route to Chinatown, which is as filled with temples as shrines as it is Chinese-Thai fusion cuisine (TIP: many Bangkok food tours occur here), stop at Pak Khlong Talat, a massive 24-hour flower market. If it's not so early, hail a tuk-tuk first to Wat Suthat and its surreal-looking Giant Swing, then to Wat Saket, a.k.a. the Golden Mount, which is the perfect place to catch a Bangkok sunset.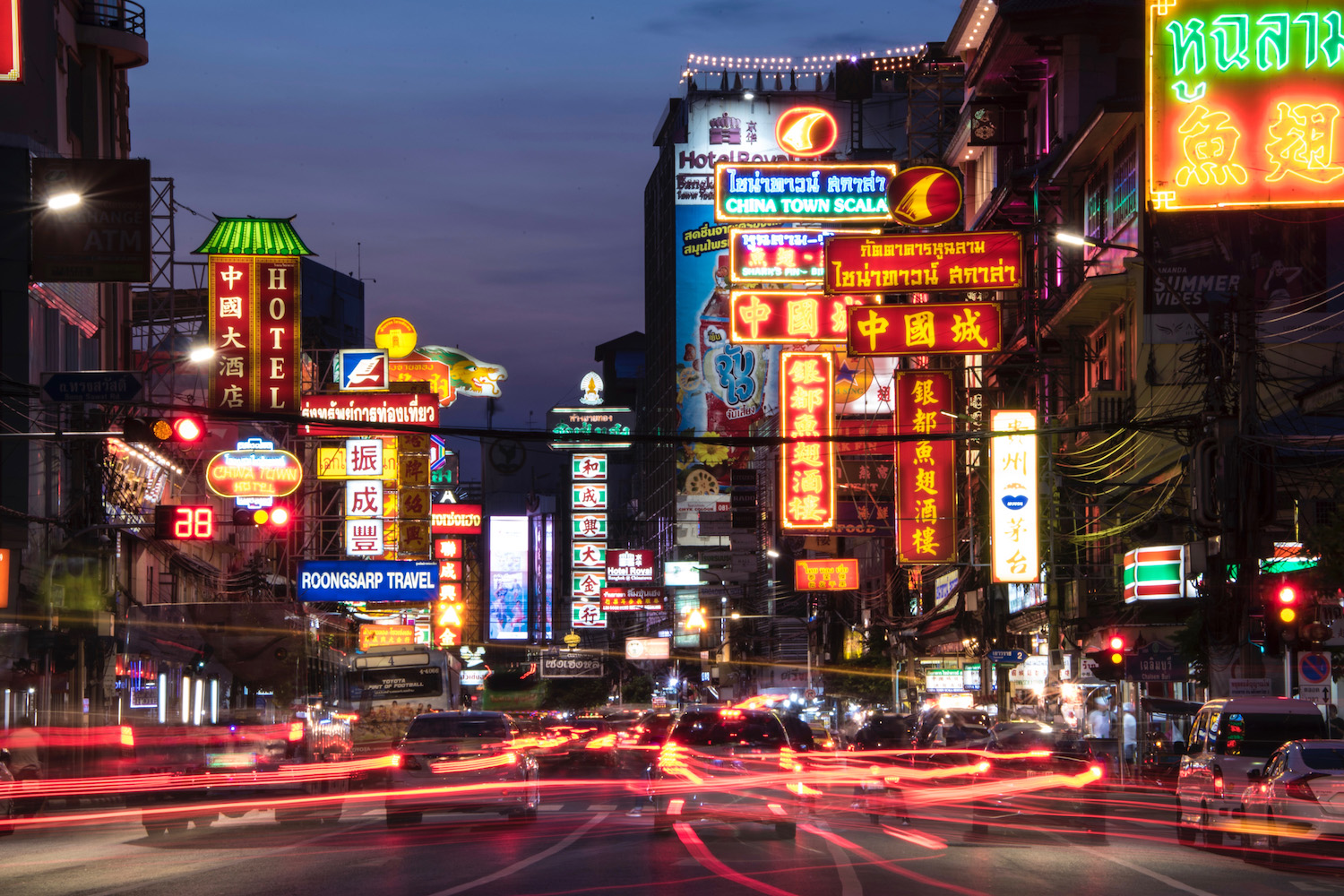 After sunset, get a tuk-tuk to Maharaj Pier, where you can catch a shuttle boat to Supatra River House, an authentic Thai restaurant that offers views of the river and the Grand Palace (which, not un-coincidentally, I haven't recommended you visit—it's expensive and crowded and better seen from afar). Afterwards, head back over the river and get a taxi back to your hotel, or—if you dare—a tuk-tuk to the foreigner-filled Khao San Road, a raucous if inauthentic place to explore Bangkok's underbelly, and one of the best things to do in Bangkok at night, warts and all. Note that if you're short on time, stopping here would still give you the perfect Bangkok itinerary 2 days in length.
Day Three: Get Out of Town—Or Don't
As a megacity of over 10 million, Bangkok is definitely somewhere you could spend much more than three days exploring. On the other hand, it's also near some of the world's best day-trip destinations, so I'm going to outline options for your third of three perfect days in Bangkok that involve places near Bangkok that are truly spectacular.
Ayutthaya (and Alternatives)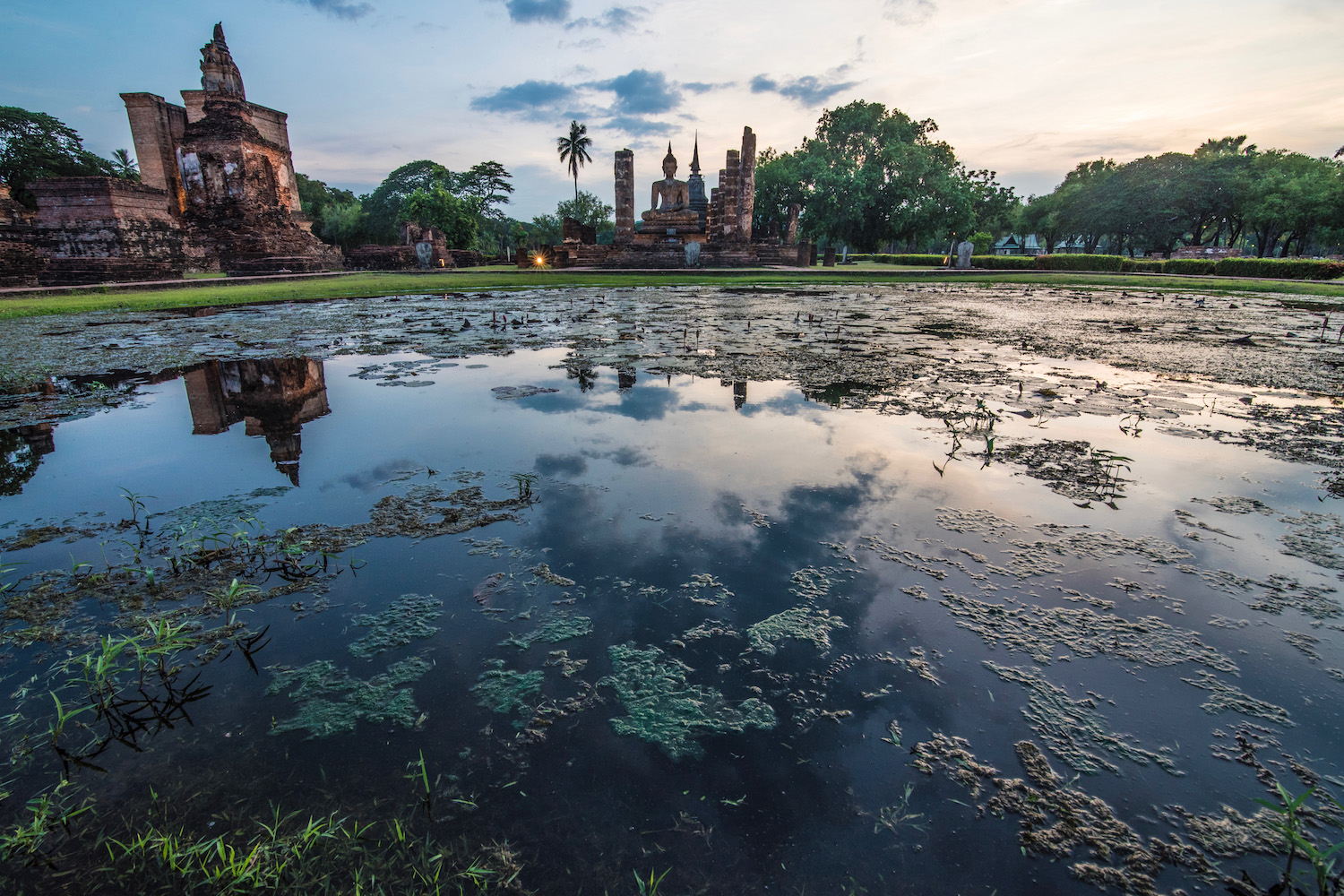 As one of Thailand's first capitals, Ayutthaya definitely has the historical importance to justify a day trip from Bangkok. On the other hand, while it's convenient, it's often crowded with tourists and is very sprawled, among other issues. One alternative Bangkok day trip is to Nakhon Pathom, which is also about an hour from Bangkok by train and features the world's largest Buddhist chedi. Alternatively, if you've got a few extra days and don't mind flying, head north to Sukhothai, which is older (and better) than Ayutthaya.
Bangkok Floating Markets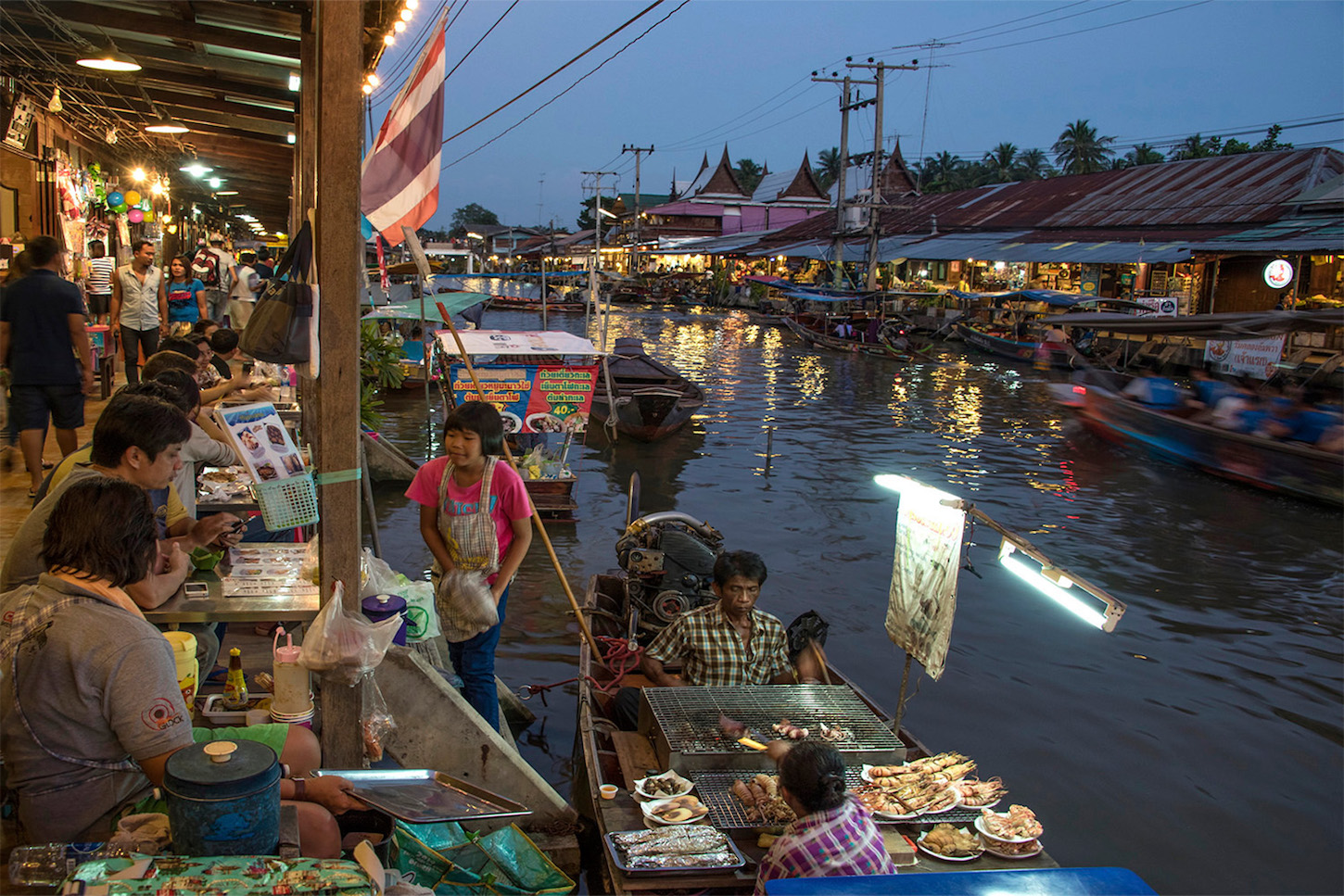 Floating markets are near the top of many Bangkok bucket lists, and there are many to choose from. One of my favorites, which to be fair isn't on most floating market tours offered by hotels, is the one at Amphawa. An added benefit of making the journey here, which entails taking a minibus from near the Bangkok's Southern (Sai Tai Mai) Bus Station, is that it's also near the Mae Khlong Railway Market.
Bizarre Bangkok-Area Attractions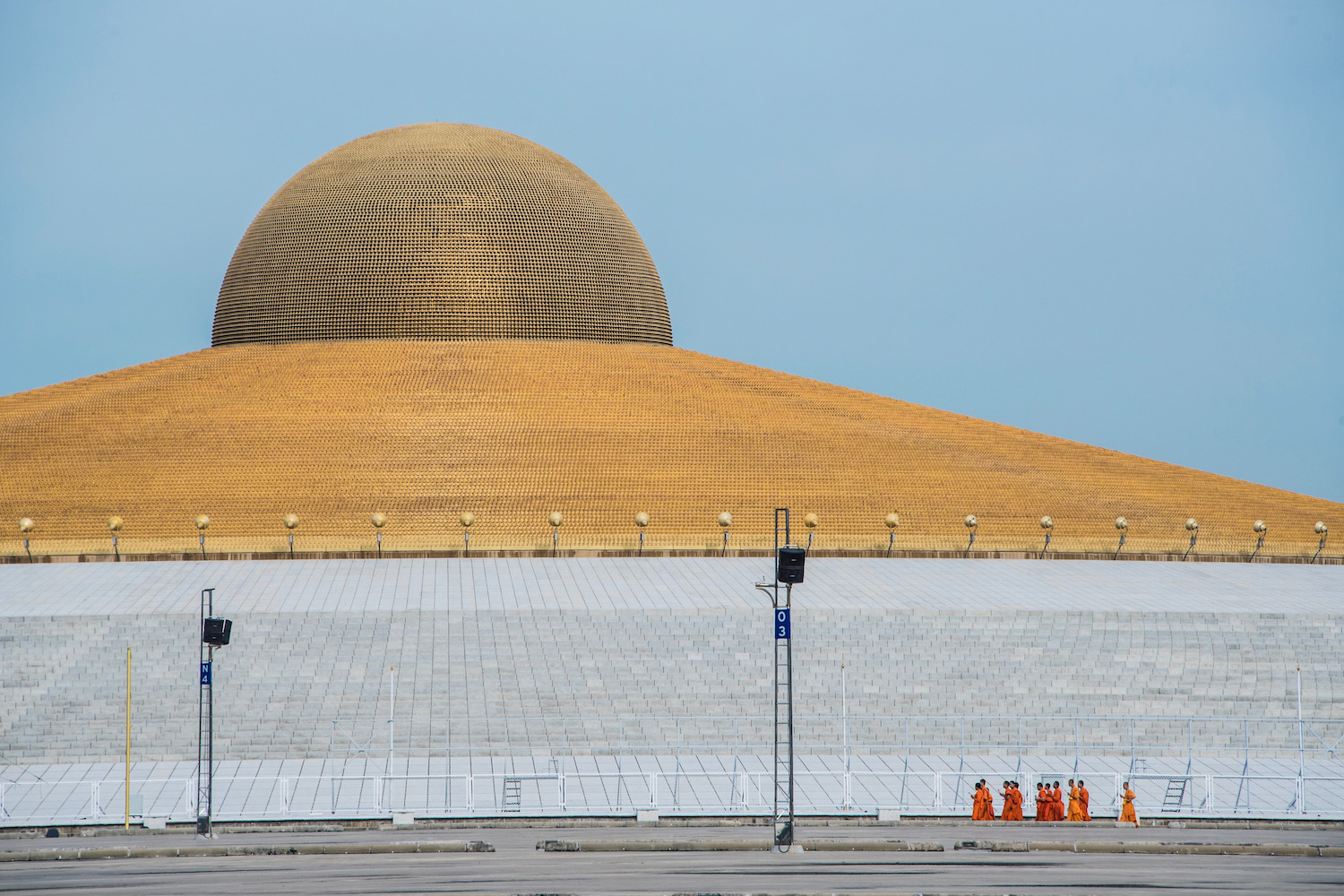 One strange place you easily visit while seeing Bangkok in 3 days is the aptly-named "Unicorn Café," which sits just steps from the Chong Nonsi BTS station, in the city's Sathorn district. A bigger trek to take would be to make a day trip from Bangkok to Wat Phra Dhammakhaya, the so-called "UFO Temple" located north of the city's Don Mueang Airport.
Beaches Near Bangkok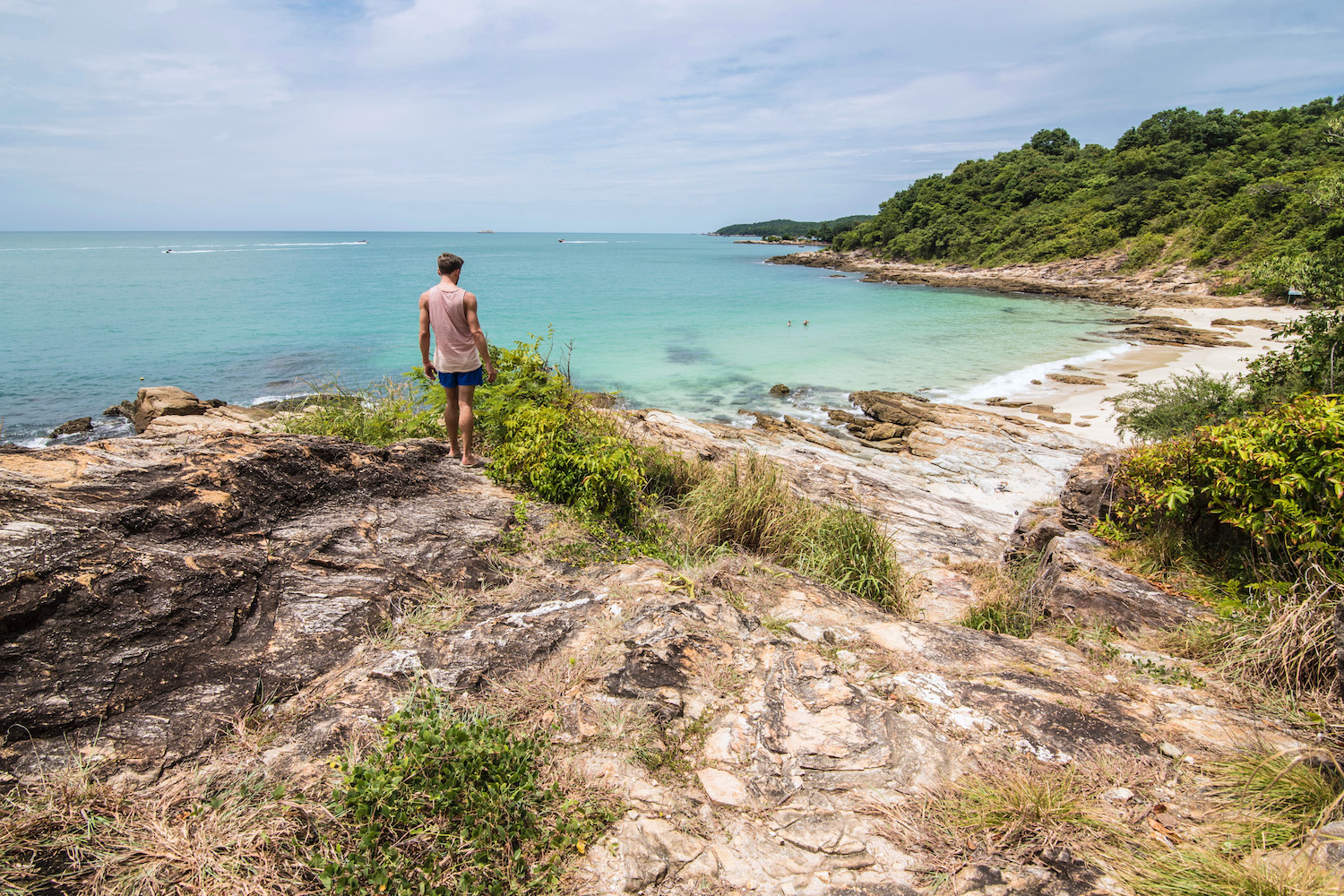 This is going to come across as a bit of a bummer, but hear me out. In my opinion, there aren't any really good beaches near Bangkok. The one alright island there is (Koh Samet, in Rayong province) isn't really doable on a day trip from the capital either. And in my opinion if you're going to travel for 3-4 hours, you should just fly to Krabi or Phuket instead, which are more of weekend trips from Bangkok than ones you can take in a day.
The Bottom Line
Is three days in Bangkok enough? You can really only experience Thailand's capital fully if you spend dozens of three-day periods here, but following these instructions even once will leave you more than satisfied. Spend the first day exploring futuristic central Bangkok, the second in the old cities of Thonburi and Rattanakosin and the third getting out of town—or not. Whether or not you precisely follow my Bangkok itinerary, it will help you see the blissful side of Bangkok.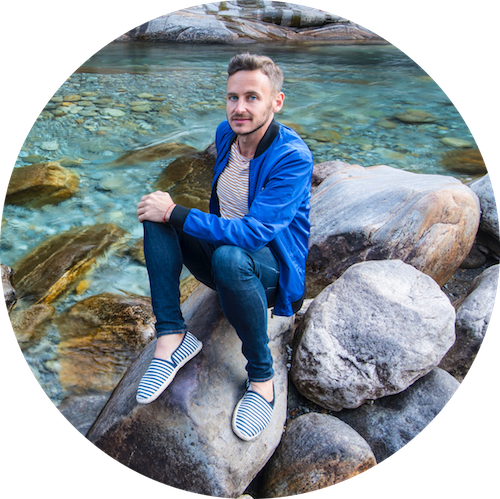 informs, inspires, entertains and empowers travelers like you. My name is Robert and I'm happy you're here!