On some level, it might seem futile to succinctly list all the beautiful places in New Zealand, which is arguably the most beautiful country in the world. That's like listing the most delicious types of chocolate, or trying to decide which breed of puppy is the cutest (spoiler alert: It's dalmatians).
On the other hand, New Zealand is also a much larger country than it appears to be on the map, and most travelers don't plan to spend near long enough there. So although this list won't be comprehensive, it does serve a practical purpose.
I'll also be talking about the electronic travel authority for New Zealand and other visa options, but I'll save that for afterwards, so I don't bore you.
When to Visit New Zealand
The good news? All the places to visit in New Zealand I'm about to list are beautiful in all four seasons, even if some (namely, the South Island in winter) can be made inaccessible by the snows and cold of the winter season. Likewise, Lake Wanaka in particular is known for the lupine flowers that spring up around it in summer, so you'll want to keep that in mind.
In general, I'd say that my favorite times to visit New Zealand are the "shoulder" months: November and March, which border the summer months of December-February on either side. When you visit New Zealand during these periods, you enjoy warm weather and clear skies, but lower prices and lighter crowds than during the actual high season.
The Most Beautiful Places in New Zealand
Rotorua
Whether you're in search of thrilling thermal geysers, or authentic Maori cultural experience, Rotorua is sure to tickle your fancy. The best part? It's just a few hours by car (or bus, if you don't have your own wheels) from Auckland, where New Zealand's main airport is located. As a result, Rotorua is as easy to visit as it is satisfying.
Waitomo Glowworm Caves
Another one of my favorite beautiful places in New Zealand is the "glowworm" caves of Waitomo, which as their name suggests are filled with organisms that cause them to glow oh-so-magically. As is the case with Rotorua, these caves are an easy drive from Auckland, which means that you can do them as a day-trip, adding a wild element to a long city weekend.
Lake Tekapo
Headed to the south island? Well, apart from the dynamic city of Christchurch, this part of New Zealand is all about nature. Exhibit A is Lake Tekapo, which becomes engulfed in lupine flowers during the summer months, as I described above. There are few things in New Zealand—hell, the world!—more beautiful that the contrast of the blue water with pink-and-purple blooms.
Franz Josef Glacier
Another impressive place to visit on the South Island is Franz Josef Glacier, a UNESCO World Heritage site that's thrilling in all four seasons (though during winter, the only way to access it for most travelers is via scenic flight). Other honorable mentions for this sort of destination include the Milford Sound and Mt. Cook, which offer scenery of a similar beauty.
Queenstown
The adventure capital of New Zealand (and maybe the world), Queenstown itself is not among the beautiful places in New Zealand. However, whether you're skydiving from seven miles above the ground, or bungee jumping from the famous Karawau Bridge, there's nothing more beautiful than a rush of adrenaline.
Do You Need a Visa for New Zealand?
Now that you have a better idea of what to do in New Zealand, let's talk about some practical points—namely, enter requirements. While citizens of countries like the US, Canada, UK and most of the EU don't need a proper visa to enter New Zealand, you can't just waltz in with your passport. Rather, you'll need to complete an "electronic travel authorization" (or ETA), which allows the New Zealand government to make sure it's safe for you to enter.
Not sure if you need a visa for New Zealand? This page on the official New Zealand tourism website can help you clearly and accurately determine the answer to this question.
Conclusion
The five beautiful places in New Zealand I've listed a few paragraphs up are only the beginning of the gorgeousness in this country. Whether you stick to the North Island or the South, and irrespective of when your trip takes place, your camera (and your photo-shooting finger) is going to get a work-out! To make sure beauty is the only thing that shocks and awes you as you travel, make sure you meet all the entry requirements for New Zealand before you get on the plane.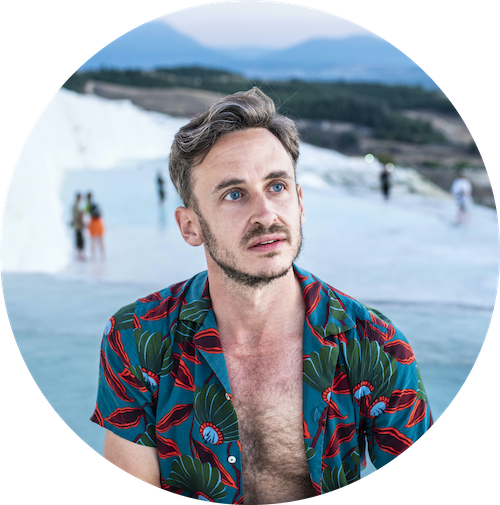 informs, inspires, entertains and empowers travelers like you. My name is Robert and I'm happy you're here!