I'll start with reassurance: You are not crazy if you're already dreaming about travel after coronavirus. (You're also not selfish or heartless—grief is not a competition—but that's a topic for another post.)
I'd actually say it's natural to be as worried about the coming COVID recession as it is about the disease itself, which is dangerous but not overwhelmingly lethal. You hear about coronavirus 24-7, and you might even currently be trapped inside your home for most of each day—it's no wonder you're dreaming of the future!
Below, I'll discuss how and why coronavirus destroyed traveling as we know it so quickly and completely, then answer some frequently-asked questions, before giving you both a shot of optimism (and some sobering realism) to digest while you're hunkered down. Amid all this uncertainty, one thing is for certain: Travel after COVID won't be the same as it was before.
Why COVID-19 Destroyed the Travel Industry
The topic of travel and pandemics has been much researched, but given that the last truly global one was over a century ago, not seen in practice. With this being said, COVID-19's having grounded global flights, docked cruise ships and seen most of the world placed under indefinite "Do Not Travel" advisories isn't devastating just because such disruption is unprecedented. Rather it's that the travel industry, by its very nature, has an extremely high overhead, and requires a steady (or, better, increasing) number of consumers even to approach sustainability.
As a traveler, I am deeply saddened by the thought that I might not be able to travel again after coronavirus for many months, or even a year. But as a travel professional, I'm legitimately frightened. Although I have personally been saving for a recession (which most economists thought would come this year, albeit not in the form of a plague), many of my colleagues have not. Whenever we all start up our engines again—those of us who aren't forced to close our doors in the meantime—it will be after many months of operating underwater, to say nothing of the knowledge deficit we'll have RE: the post-corona rules of travel.
Travel After Coronavirus: The Big Questions
Is it safe to travel right now?
The issue of travel during coronavirus is at once a clear-cut and controversial one. Logic would tell you that it's not safe to travel during a global pandemic. However, there are reasons people need to travel (in early March 2020, for example, I was contracted to visit Koh Samui, Thailand for a commercial hotel project) and I don't think they should be judged for doing so, provided they take proper precautions. Unfortunately, online scorn and sanctimony seem to be as contagious as COVID-19 itself.
Will some airlines go bankrupt?
The economic effects of COVID-19 will be studied for decades; it will be months after the epidemic until we fully grasp how devastating it's been. Obviously, the travel industry has been most immediately and hardest hit. In addition to the impact of COVID on hotels, restaurants and travel blogs, the disease has grounded many airlines entirely, and caused the suspension of nearly all flights worldwide. It's hard to envision a scenario where dozens of airlines aren't forced to cease operations.
Which countries will open back up first?
Did coronavirus come from China? This is at once an unproductive question to ask (at least right now) and one with an indisputable answer. Irrespective of how the world holds China and the WHO accountable for their malfeasance in the coronavirus crisis, the Communist nation nonetheless endured the virus first—it appears, along with South Korea, to be the first to escape its wrath. Generally speaking, I imagine East Asia will be the first region of the world to re-open to travelers.
Will global security and immigration protocols change?
Right now (or recently, before outright travel bans set in), the coronavirus quarantine was something people still braving the not-so-friendly-anymore skies had to quick accommodate. However, it's likely that even more invasive measures will become commonplace after this, including rapid tests at the border, monitoring via CCTV and mobile application and even phone calls or home visits from health ministries. Current security procedures will seem quaint by comparison!
How long will people be scared?
When it comes to travel after coronavirus, it's important not only to look at the mechanics of the global economy restarting, but to think about the impact on human psychology. As happened after 9/11 (and, I assume, SARS—I wasn't what you would call a world travelers then), a certain percentage of the population will feel too spooked to travel, at least initially. Some others simply won't want to deal with the new logistical challenges of traveling in the post-COVID world, which are sure to be tedious indeed.
Reasons to Be Hopeful (and Hopeless, Too)
Travel after coronavirus might seem a long way off, but there's a possibility it might not be. The first and most important reason for this is the human capacity for innovation. Even if it takes a year or longer for the development and commercial rollout of a vaccine (and it almost certainly will), a treatment could emerge at any time before then—this is also almost certainly true. Moreover, it's possible that social distancing policies in many countries really will flatten the global curve, and lead to the end of the pandemic long before worst-case projections foretell, and without as much sickness and death therein.
Of course, there are just as many reasons to feel pessimistic. If worse than expected second waves hit countries like South Korea and Taiwan, which seemed to have beaten the pandemic early, it could mean that weeks of social distancing become months or even years. Moreover, there are powerful political forces on both ends of the spectrum that want to leverage this to further their agenda. For the radical right, this proves the evil of globalism and the need for a neo-nationalistic world order with iron-clad borders; the far left is fixated on coronavirus and the environment—extreme figures believe that travel should all but cease.
Did Coronavirus Ruin the Dream Trip You Were Planning?
I don't want to minimize the human cost of coronavirus: Travel plans getting canceled sucks, but it's nothing compared to what front-line medical workers and vulnerable members of the population are going through. With this being said, COVID-19 messed up a lot of my 2020 travel plans (maybe all of them)—I imagine you're no different. Although we don't know, as of this writing, when it will be possible to get on the road again, I do know that I'll be ready to go the moment restrictions are lifted.
And I don't just mean as a traveler. As many of you know I offer a Travel Coaching service, whereby I plan dozens of dream trips every year for readers who don't want to take chances. I haven't decided on specifics yet, but once this storm has cleared, I'll be offering special discounted rates for modifying trips you'd already planned out before the COVID saga began. Click here to visit my Travel Coaching page. I'll soon be updating it with an option for me to help you reschedule your trip after coronavirus—doing this on your own might be more complicated than you're anticipating!
The Bottom Line
Travel after coronavirus is going to be different than it was before, no doubt. Once the whole world is open for business again (which could take months or even years), new layers are going to be added to immigration and security procedures that will make these processes even more tedious than they were previously. On the other hand, no amount of red tape can counteract the exhilaration of walking toward an unfamiliar horizon, or the joy you feel connecting with a total stranger in a foreign land. Travel might look different in the future, but the wonder it ignites in you will blaze as brightly as ever.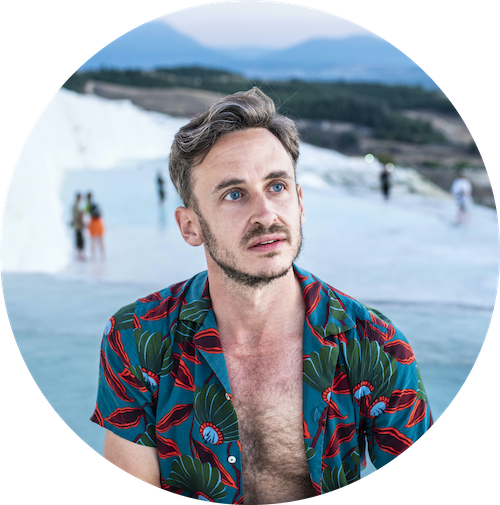 informs, inspires, entertains and empowers travelers like you. My name is Robert and I'm happy you're here!