The top priority for my sister Stephanie's 2012 visit to Thailand was quality beach time, so I spent the days and weeks leading up to her arrival in search of the best island in Thailand. My criteria were simple: Beautiful beaches, plentiful flights to Bangkok and as few tourists as possible.
My research led me to Koh Kradan island, located in Trang province near the Malaysian border. A couple hours south of infamous party spots like Phuket and Koh Phi Phi, Koh Kradan boasts the same natural beauty as Thailand's more popular islands, but without the crowds and noise.
If you're looking for a Thai island that's big on scenery and light on "the scene," beautiful Koh Kradan is definitely your best choice.
How to Get to Koh Kradan
I knew from the moment we stepped onto the "long-tail" boat at Trang's Kuantungku pier that it was going to be a wild ride. Sure enough, the sky opened up soon after we embarked, which made the hour-long journey to Koh Kradan a wet and rough one. Stephanie seemed disappointed—hadn't she wanted a sunny beach vacation?—but I assured her Koh Kradan would be worth the trouble.
We arrived on the pristine shores of Koh Kradan to find the island basically deserted, save for a couple other tourists. The rain lasted most of the afternoon, but the incredibly scenery I saw all around me confirmed almost immediately that I'd made the right choice—Koh Kradan was definitely looking like it would be the best island in Thailand!
What to Do in Koh Kradan
Swim on Some of Thailand's Best Beaches
The next morning, Stephanie and I headed out for a swim. I say "headed out" because low-tide at Koh Kradan is extremely low—you need to walk about 15 minutes "out" to a sandbar in order to enjoy a swim. But it's well worth your trouble. The water's as clear as if it came from a bottle! By noon, the tide is high enough that you can swim back to the shore from which you walked. Koh Kradan is something of a natural swimming pool, its clear waters gleaming an electric blue in the afternoon sun. This alone makes it a contender for the best island in Thailand, in my book.
Take Walks—Lots of Them
Although in my opinion, Koh Kradan was obviously the best island in Thailand, Stephanie didn't necessarily agree. "I mean, the sand is like sugar and the water is amazing," she noted, during one of what felt like a hundred walks up and down the island's main beach. "But there's nothing to do except…well, walk on the beach." Interestingly, this fact is precisely why I liked Koh Kradan so much. (It also didn't help that there wasn't a good cell signal at the time; Stephanie couldn't communicate with her then-boyfriend.)
Enjoy (Only) Home-Cooked Meals
Another problem Stephanie seemed to have with Koh Kradan was the food. Stephanie is a picky eater even in a civilized place, but given that our only dining option was cooking from the woman at the hut we stayed at, the island was something close to my sister's culinary nightmare. I remember, before setting off toward a place Stephanie ultimately felt better lived up to the "best island in Thailand" title, her remarking that she never wanted to eat fried rice again. Now that I mention it, I'm not sure if she ever has.
Take Excursions to Other Islands
The island in question was Koh Mook, not to be confused with the similarly named Koh Mak in Trat province. In addition to the fact that we were able to stay at a luxurious resort with air conditioning and a varied menu (more on that later), Koh Mook also wasn't quite as deserted as Koh Kradan had been. For reasons I can't now remember, we didn't visit the island's famous Emerald Cave, although for Stephanie anyway, simply being in relative comfort was satisfying enough.
The Best Island in Thailand in Pictures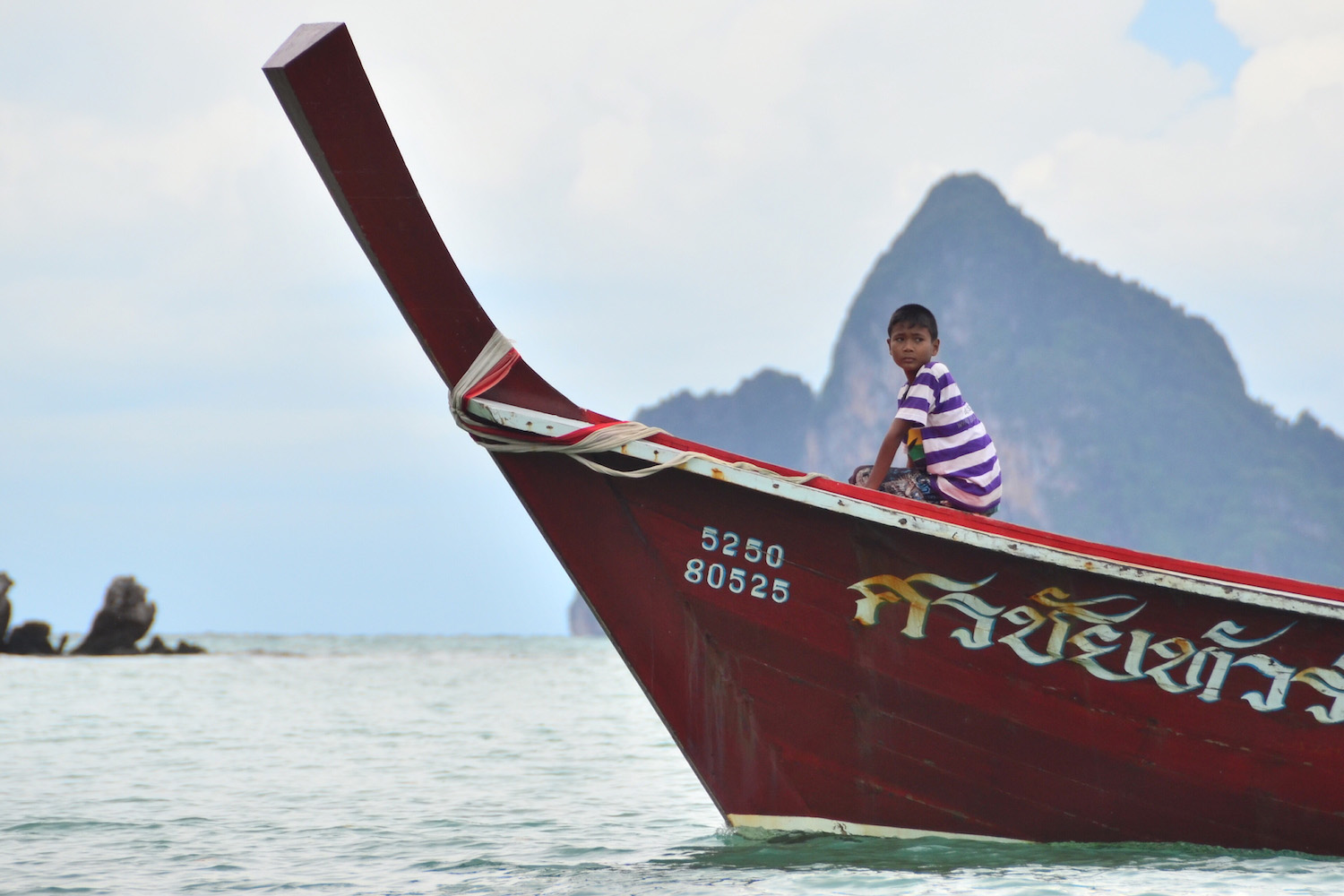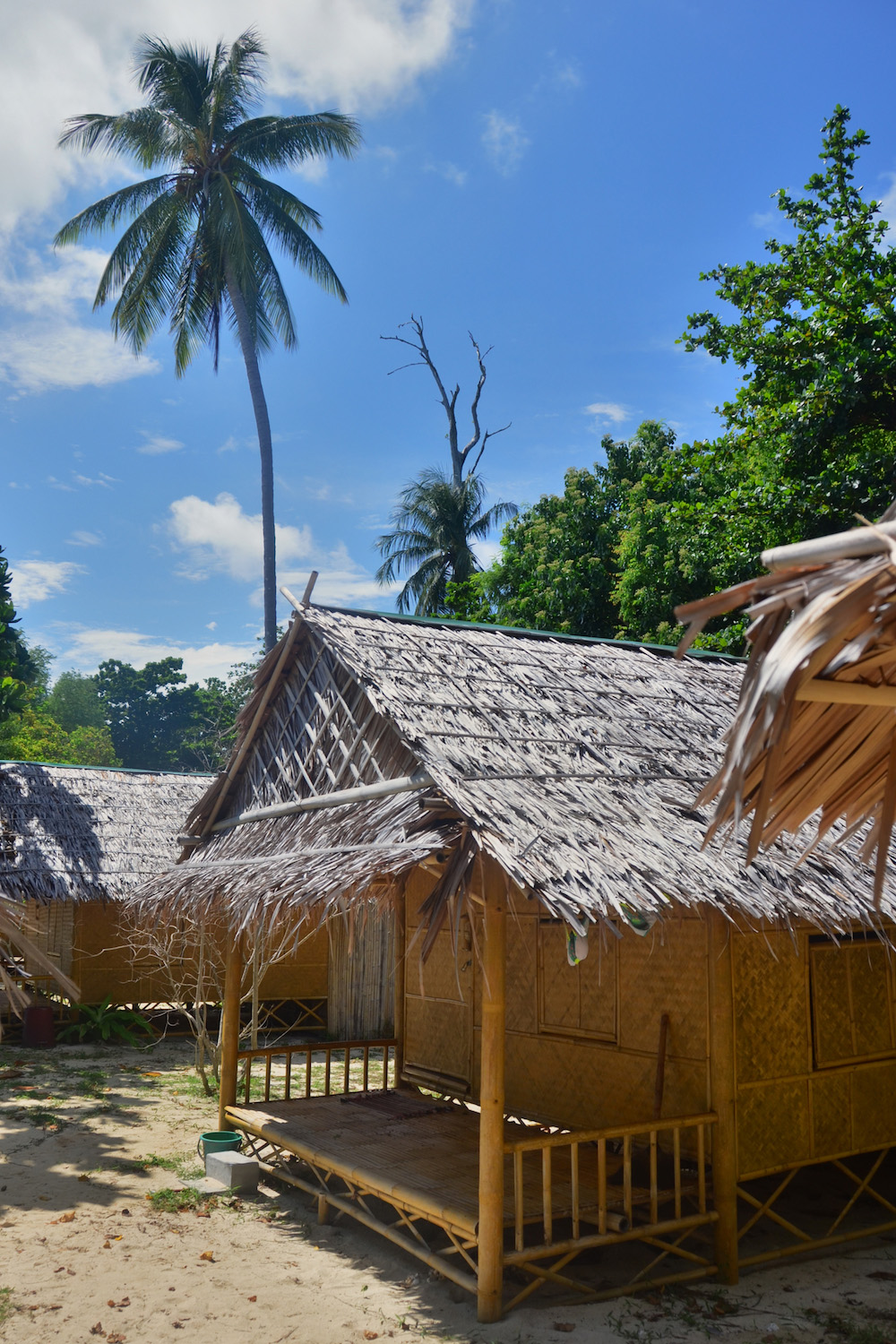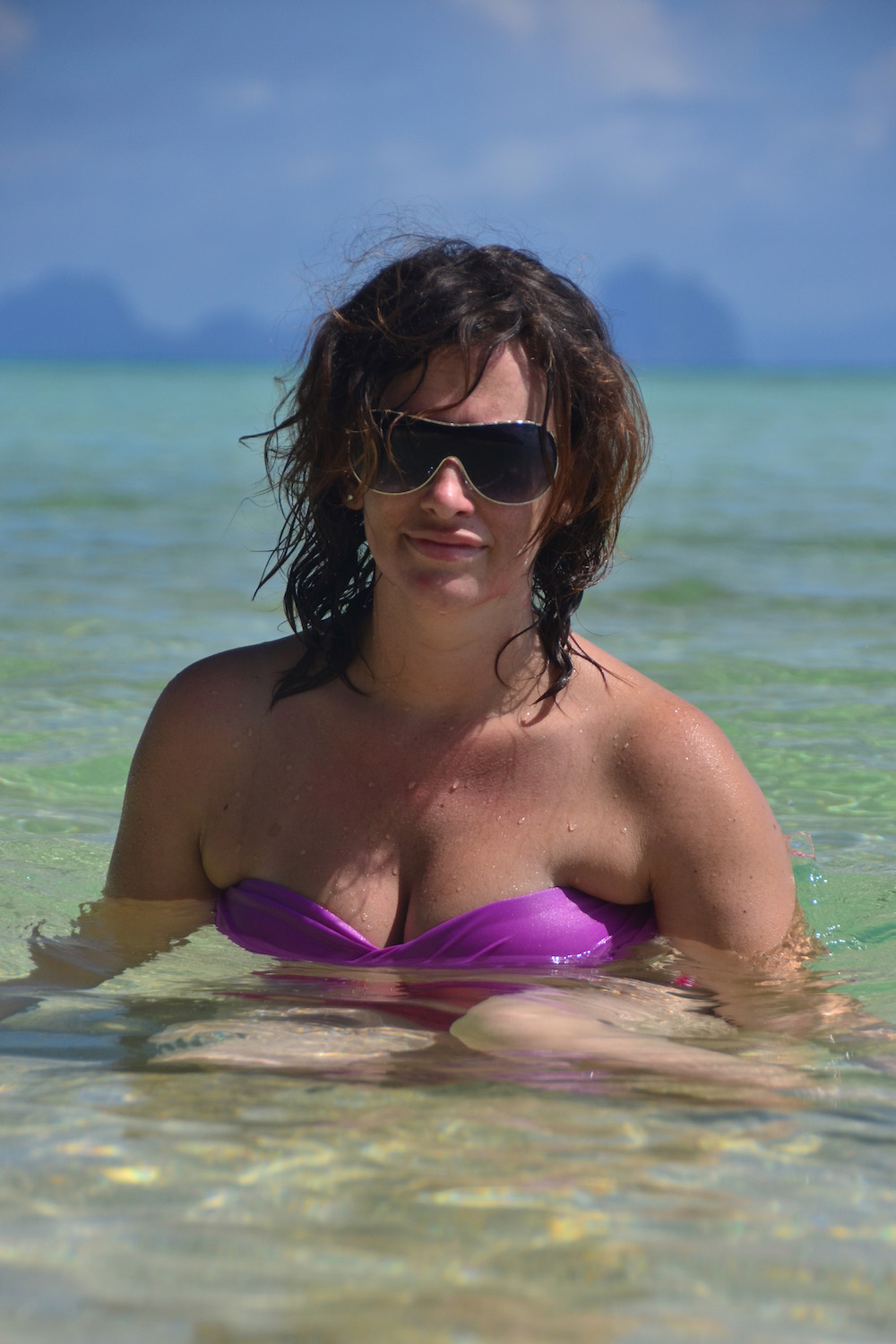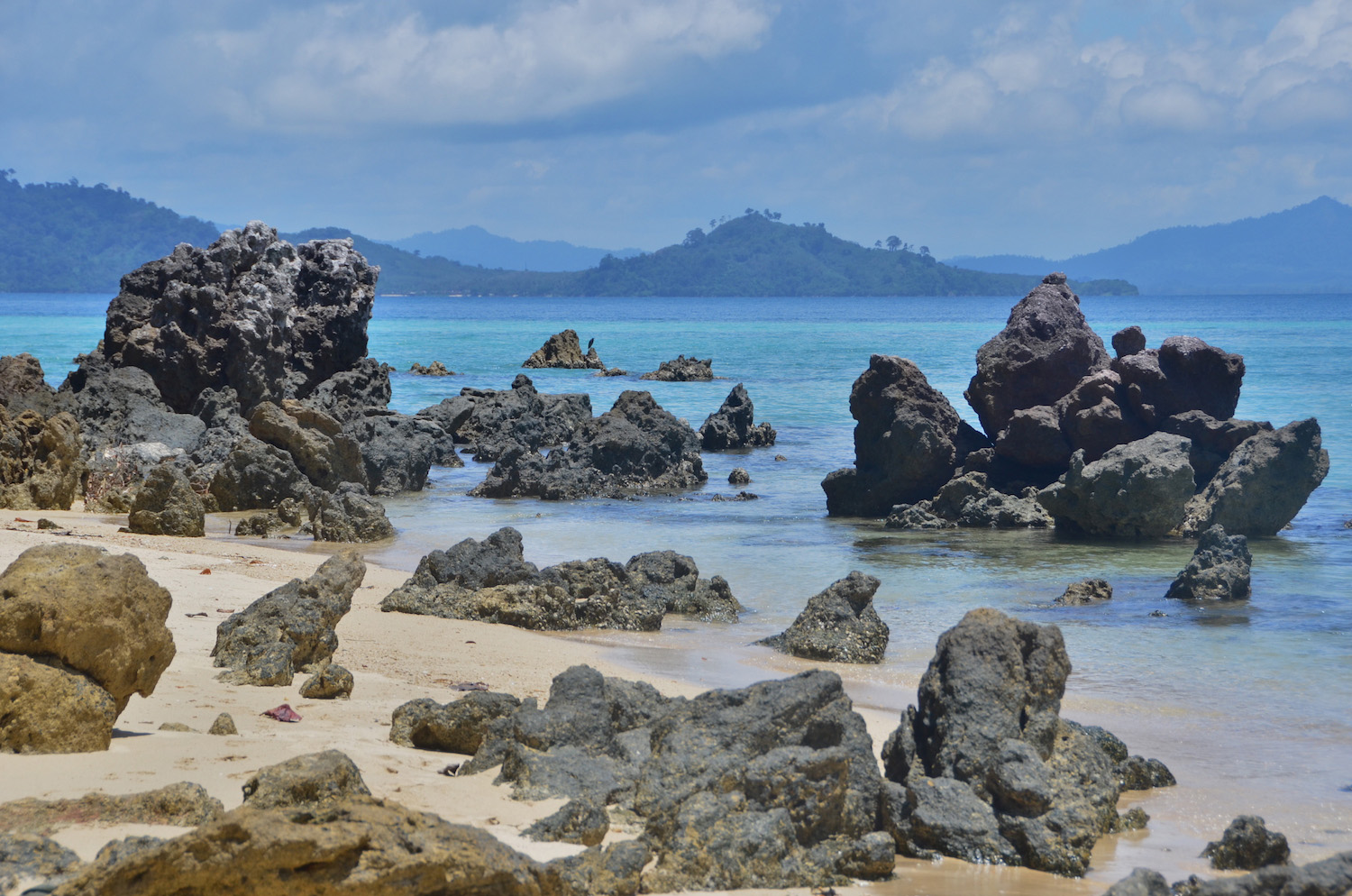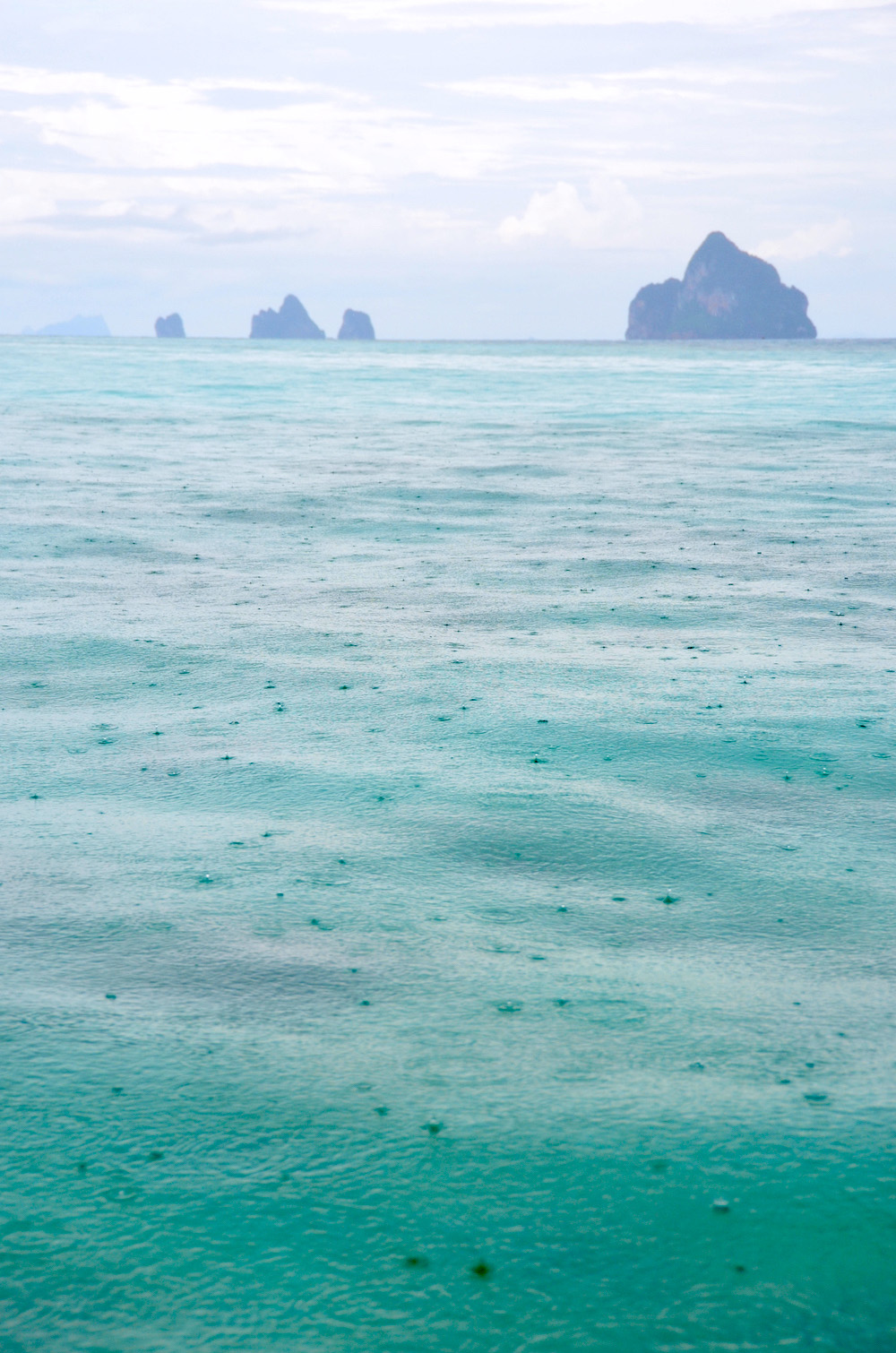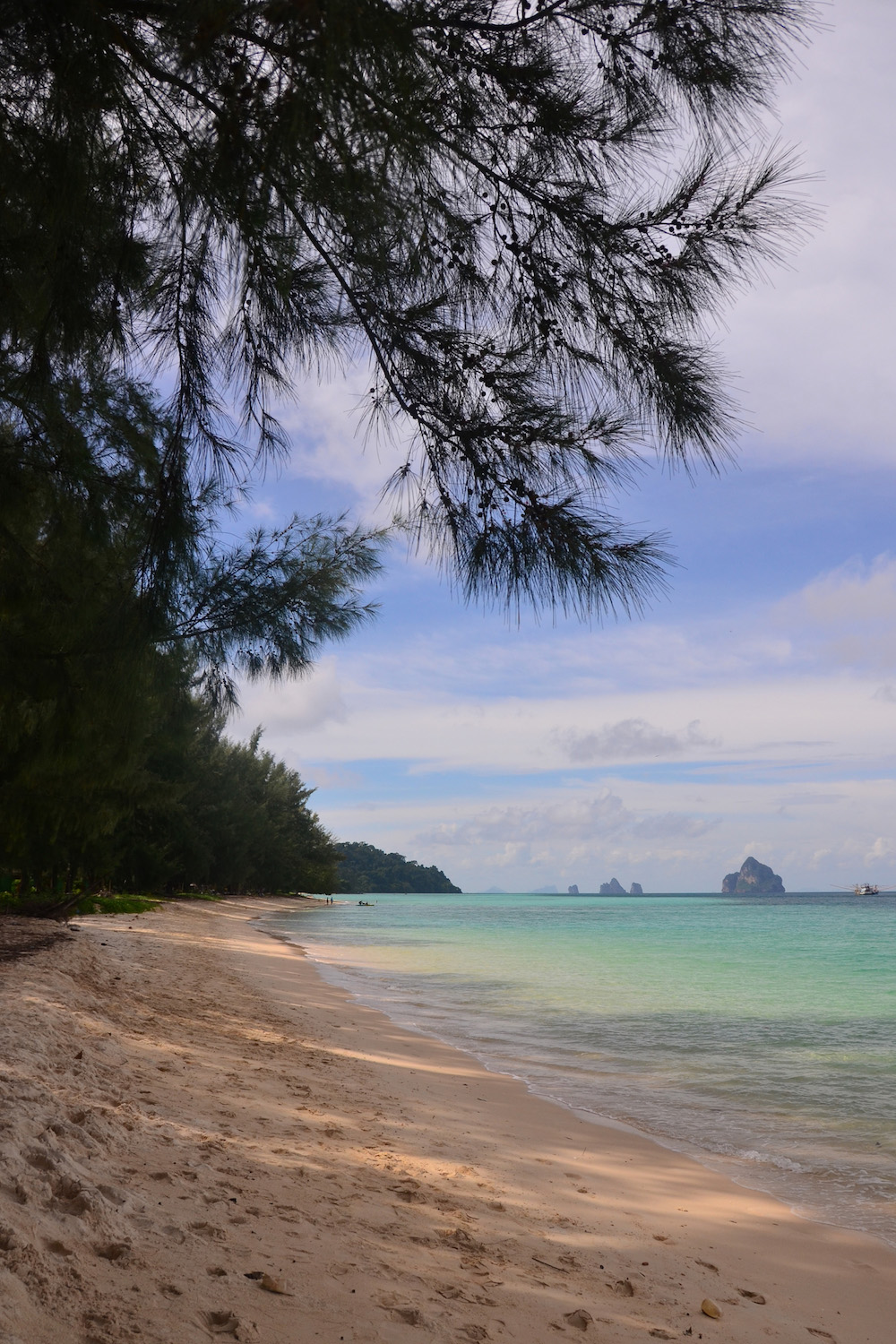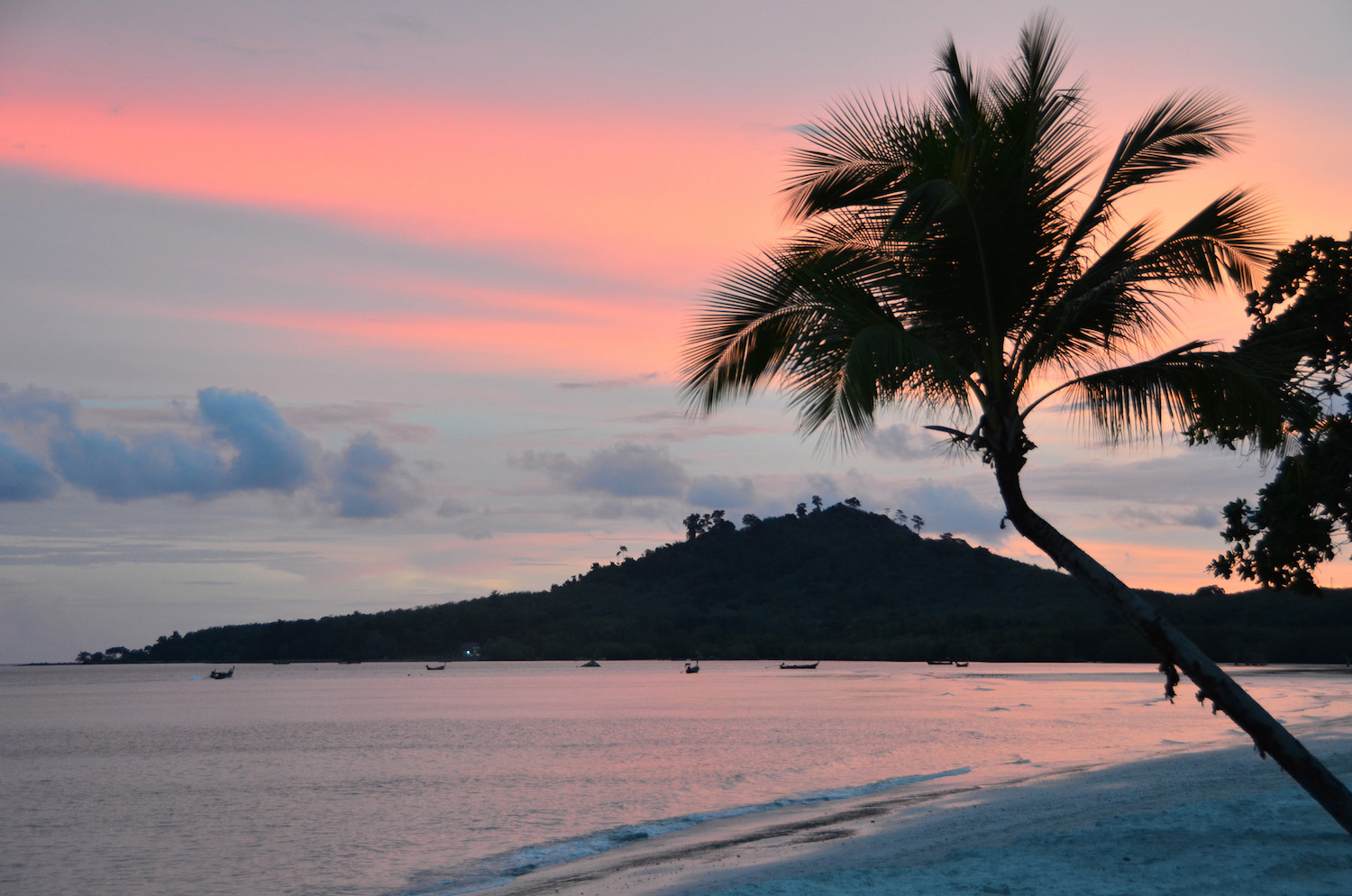 Where to Stay in Koh Kradan
I couldn't possibly tell you the name of the hut we stayed in on Koh Kradan—we didn't book it in advance, and were lucky someplace even existed, given that our trip took place at the end of the low season. The good news is that a few more options now exist—this is a relief in the wake of Anantara Si Kao, which had a day-visit property exclusively available to guests, being demolished. Check out Reef Resort and Seven Seas Resort and see if either strikes your fancy.
On Koh Mook (which I certainly didn't consider to be the best island in Thailand, even though Stephanie preferred it), we stayed at Pawapi Beach Resort, which is situated right on the island's loveliest beach, a spit of pure, white sand that juts out into the Andaman. Other options include Mook Paradise Bungalow and Mook Lamai Resort & Spa, whose location takes advantage of the lush, jungle interior of Koh Mook.
Other FAQ About Visiting Koh Kradan
Should you visit Koh Kradan or Koh Mook?
If you're looking for an unspoiled island where the beaches and natural scenery are the star of the show, choose Koh Kradan. If you insist on staying in a nice resort and are willing to sacrifice some pristine beauty in order to get that, Koh Mook will probably prove more satisfying.
How do you get to Koh Kradan?
To reach Koh Kradan, you'll first need to fly to Trang Airport. You'll then need to get a taxi or songthaew to Hat Yao Pier, where you can hire a longtail boat or take a public ferry to the island. Depending on which island you book your flights with, you may be able to book a "fly and ferry" package.
Is Koh Kradan worth visiting?
Koh Kradan is one of the most stunning islands in all of Thailand, with pristine beaches, unspoiled jungles and views of dramatic Andaman scenery in all directions. If you're looking for an island far off Thailand's beaten path, Koh Kradan is absolutely worth visiting!
The Bottom Line
Koh Kradan is one of the best islands in Thailand, or at least that was my first impression of the place when I visited with my sister in 2012. Of course, she didn't feel the same way; it's possible that the island is now developed beyond recognition, as happened with Koh Lipe sometime before I visited in 2015. I do hope to get back to the Trang archipelago at some point and update this post with more timely observations about traveling there. In the meantime, I do hope you've enjoyed this trip down memory lane!