Mention of the name "Beirut" might not get you much reaction in a room of random people these days, aside from "Where's That?" As someone who spent his first grade year glued to a me-sized world map hung on my wall, however, I knew exactly where it was.

Of course, this can't all be attributed to lacking geographical knowledge. While Beirut has been a popular getaway for affluent Europeans since at least 1943, when the country's independence gained international recognition, Lebanon was consumed in a massive civil war from 1975-1990, one that took some 200,000 lives. The tourist industry began a slow but steady recovery, but again sustained major damage following the 2006 war between Israel and Hezbollah.
So although Beirut and Lebanon appeared on the map that I had in my room one year after the Civil War ended, it's doubtful to me that most tourists would've had it on their proverbial maps for some time after the fighting stopped.
Lebanon's tourism industry still being in a re-development phase has one negative consequence for informed people who do end up going — namely, Beirut is notoriously expensive, something I didn't fully understand until I couldn't find a hotel room anywhere in the city under $100 per night.
Beirut Hotels
I put the finishing touches on my planned promenade through the Middle East from a fan-cooled hostel room in Bangkok's Khao San Road district. Although I generally advise against booking too many things in advance, it was my first time to the Middle East. I wasn't sure, but I had a feeling the tourist infrastructure wouldn't be nearly as well-developed as it was in Southeast Asia.
Needless to say, I was pretty shocked at the results I found when I looked for hotels in Beirut traditional means, such as Orbitz and Travelocity — no hotel or guesthouse rooms were available for under $100 a night, most at least $150. Worse, HostelWorld had only five listings for the entire city and every single one of them was booked.
I did end up finding a decently-priced room eventually (specifically, at the University Hotel near the American University of Beirut), thanks to Lonely Planet's hotel search engine. Still, its $40 per night price was high for how ramshackle the facility it was, good location notwithstanding. I got robbed by the maid once, but twice.
The moral of the story is that if you want to visit Beirut but can't spend a lot of money on accommodation, stay at the University Hotel and make the best of your situation. Otherwise, be prepared to pay at least $150 per night for a hotel in Beirut. Start your search on a local site, such as LebHotels.com.
Transport in Beirut
When I booked my room at the University Hotel online, I received an offer for a fixed-rate taxi to meet me at the Beirut airport when I arrived. Twenty dollars, the receptionist said, was the rate I'd pay for a taxi anyway. This arrangement saved me the hassle of finding one.
I attempted to research away around the expenditure — I avoid taking taxis whenever possible — but was quickly dismayed at what I found: By all accounts, the only means of public transport from the airport into Beirut's city center was a bus that ran once an hour and picked up over a mile past the airport exit.
Inter-city taxis aren't expensive, but they can be hard to find. Many are unlabeled or poorly labeled and are difficult to flag down even if you do see one. Want to take a bus? Good luck. Buses in Beirut don't exist in the traditional sense. Rather, owners of large vans and trucks operate private share taxis that even local Lebanese have a problem spotting sometimes.
Getting in and out of the country by air ranges from moderate — I paid about $120 one-way to fly from Dubai on FlyDubai — to outrageous, with my 45-minute Royal Jordanian flight to Amman costing me 230 big ones. Lebanon also has a flag carrier, Middle East Airlines, which flies to surrounding cities and countries.
For obvious reasons, it is not possible to cross into Israel by land — and if you do want to get to Jordan by taxi, also an expensive prospect, you must pass through Syria.
My best advice? Walk wherever you can. Beirut's urban core is small enough that you can conceivably walk wherever you need to go, particularly if your itinerary is on the more flexible side.
As I got into the cab that took me to Beirut airport the morning I left Lebanon for Jordan, I was shocked to see that my hotel's night manager was already inside. He invited me in anyway and we chatted on the way to the airport, a route that happened to take him close to his home.
Before he got out, I asked him how much I should give the driver, since we hadn't agreed on a rate.
"15,000 pounds," he said. "Ten dollars."
"That's curious," I said. "Someone at your hotel told me that the $20 I paid for my taxi from the airport was a good price."
He signaled to the driver that his stop was near and opened his door as the car finished rolling to a stop. "We lied." He smiled and stepped out of the car.
Food in Beirut
My first order of business upon arriving in Beirut was sinking my teeth into some delicious Lebanese food. I didn't care what it was — hummus, shawerma, something I'd never seen or heard of. I got the latter.
Located right next to the University Hotel — and also opposite the McDonald's that operates literally right underneath the hotel — was a hole-in-the-wall type place that had an absolutely otherworldly smell coming from it. It took only one glimpse at what people walking away from the restaurant were eating for me to want one.
Lahm Biajeen, as I've since learned the thing is called, can best be described as a Middle Eastern pizza without pizza sauce, and with minced meat seasoned with Lebanese spices as the chief topping, although additional ones such as cheese can be added. The price for this little miracle? Just 2,000 Lebanese pounds, or around $1.33.
Local food (shawerma, hummus and falafel) can also generally be had cheaply in Beirut. When my friend Rami took me to his favorite falafel joint in Achrafiyeh, for example, the 4,000-pound price tag the shop set for the sandwich was low enough that I went next door, to his brother's conspicuously-placed falafel shop and ordered the same thing, to compare. They were both awesome, of course — and I was stuffed full for less than five bucks.
If you want to eat cheap but still eat well, few cities besides Beirut will suit you better.
Activities in Beirut
One definite advantage Beirut has for budget tourists is that the vast majority of where there is to do in the city is completely free.
There is no entrance fee, for example, to visit the statue at Martyr's Square or enjoy views of the Al-Amin Mosque and its surrounding Roman ruins. Swimming in or walking along the stunning blue Mediterranean is also 100% free and a great way to spend an entire day in Beirut.
Of course, Beirut is almost home to a huge nightlife scene dominated by Gemmayze and Rue Gouraud. Although drink prices aren't exorbitant — I remember paying around 4,000 pounds for a beer — things can get expensive quickly, particular in Gemmayze or near Hamra or Monot streets, although Hamra is a nice place for a cheap, daytime walk.
Need more specific ideas on how you can pass the time in Beirut without going broke? Check out my photo essay on Lebanon.
Currency in Lebanon
Most merchants in Lebanon accept the U.S. dollar in place of the Lebanese pound and honor the fixed 1 USD = 1,500 LBP exchange rate. In fact, the majority of ATMs in Beirut give out cash in dollars. Take advantage of this — don't make the same mistake I did and withdraw all your money in pounds.
It's not because pounds aren't accepted everywhere; the are. But if you happen to be a penny-pinching warrior like me and stay significantly under budget like I did, you might end up getting stick with them permanently.
The primary reason for this is that no currency exchange counter exists at Beirut Airport once you pass through security, so if you have any significant number of pounds left, your only choice is to beg a merchant to give you change if you buy something — I was lucky enough to find one to help me. In exchange for a $5 fan that looked like it'd been made for ten cents, she gave me $47 I would've otherwise lost.
Another way to keep costs down in Beirut is simply to be smart with money. Bring U.S. dollars with you if you can and if you can't, only withdraw money from the AT&T in U.S. dollars. Beyond the difficult you might have in exchanging pounds within Lebanon, it is difficult to exchange them in neighboring Jordan and Syria.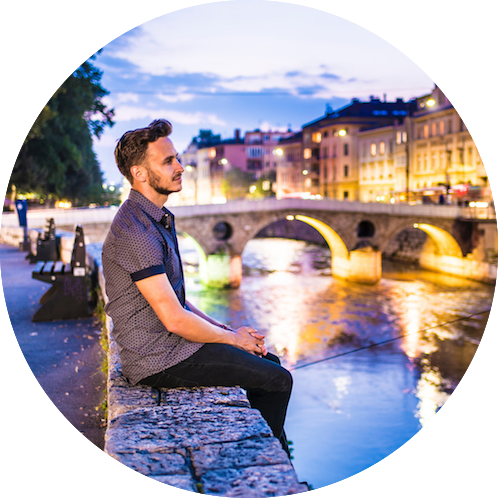 &nbsp informs, inspires, entertains and empowers travelers like you. My name is Robert and I'm happy you're here!