When it comes to 2 weeks in Vietnam, I have good news and I have bad news. The good news is that in a couple of weeks, you can get an intoxicating cross-section of this exhilarating land, from Hanoi in the north to Saigon in the south.
The bad news? Although two weeks is the perfect length of an itinerary for Vietnam—especially if it's your first time—it will almost certainly leave you wanting more.
Below, I'll outline places to visit in Vietnam you should prioritize for a trip of this length. Then, I'll list some other trip ideas for when (not if) you come back to Vietnam.
UPDATE: Vietnam fully reopened to tourism in March 2022. For more information pertaining to entry from your country, contact your local Vietnam embassy or consulate.
Why 2 Weeks in Vietnam is the Perfect Trip
Many readers ask me how long to spend in Vietnam, and have since I started blogging. In the beginning, I thought that about three weeks in Vietnam was the optimal trip length. After all, this was how long I traveled in Vietnam the first time I went there. As I've returned to Vietnam over the years, however, I've realized that perhaps my very extensive maiden voyage to the country was too intense—too in-depth—for the average traveler.
As a result, I now believe that a 2 weeks in Vietnam itinerary is the perfect introduction to the country. Focusing on Vietnam's three largest cities—Hanoi in the north; Da Nang in the center; and Saigon in the south—this Vietnam trip hinges on flexible day trips (rather than moving from place to place each night). Best of all, depending on how long you spend in each city, you could add in an auxiliary destination, be it Phu Quoc island in the far south, or misty Sapa in the far north.
Places to Visit With 2 Weeks in Vietnam
Hanoi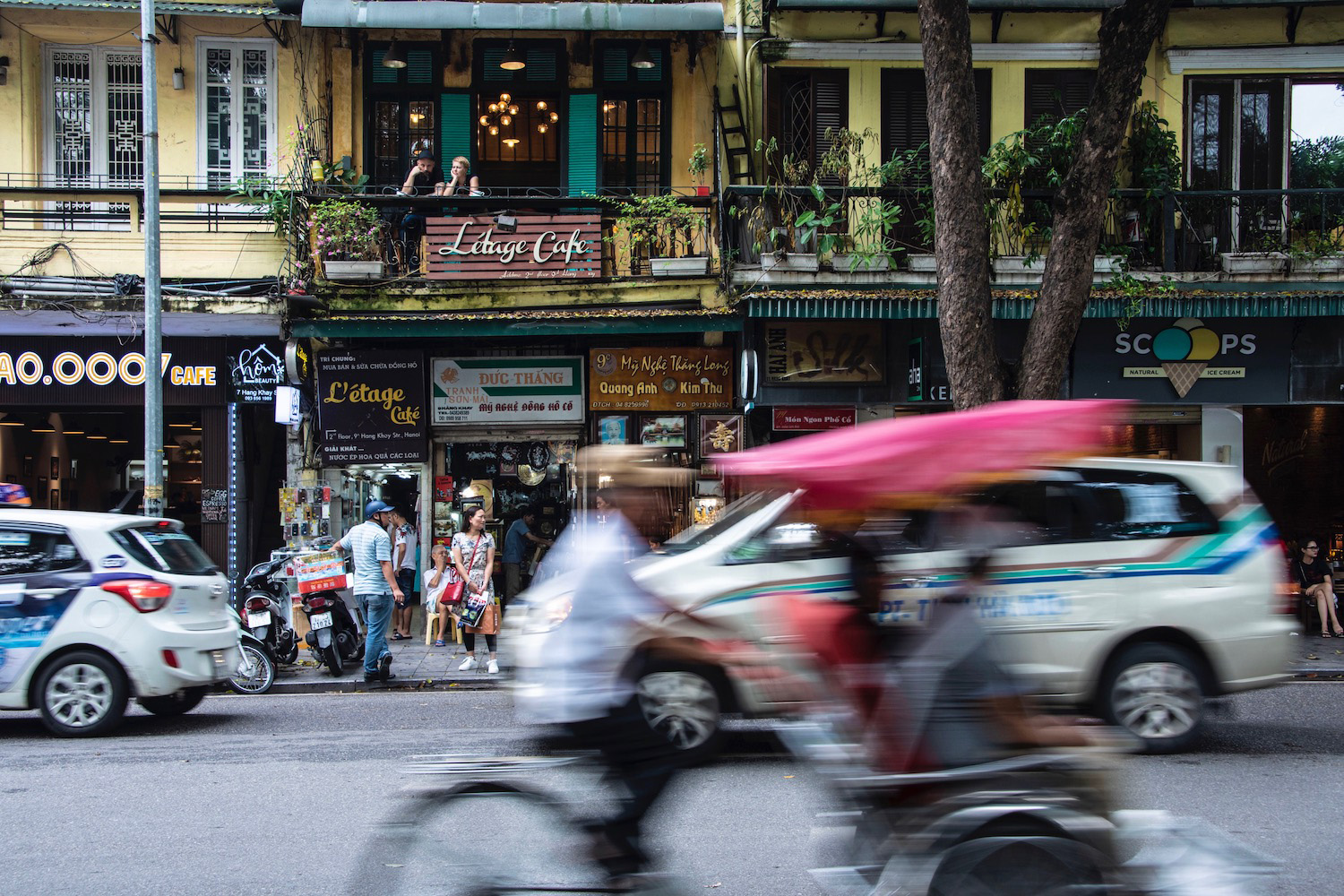 Presuming the same romantic misfortune that befell me in the above-linked Hanoi itinerary doesn't plague you during your trip to Vietnam's capital, this millennium-old city makes for a great intro to Vietnam (if you travel north-to-south) or a fitting end. Concentrate your sightseeing around the Old Quarter and French Quarter, two charming districts separated by serene Hoan Kiem Lake. Speaking of lakes, you should also make it up to West Lake to admire its famous pagoda.
Halong Bay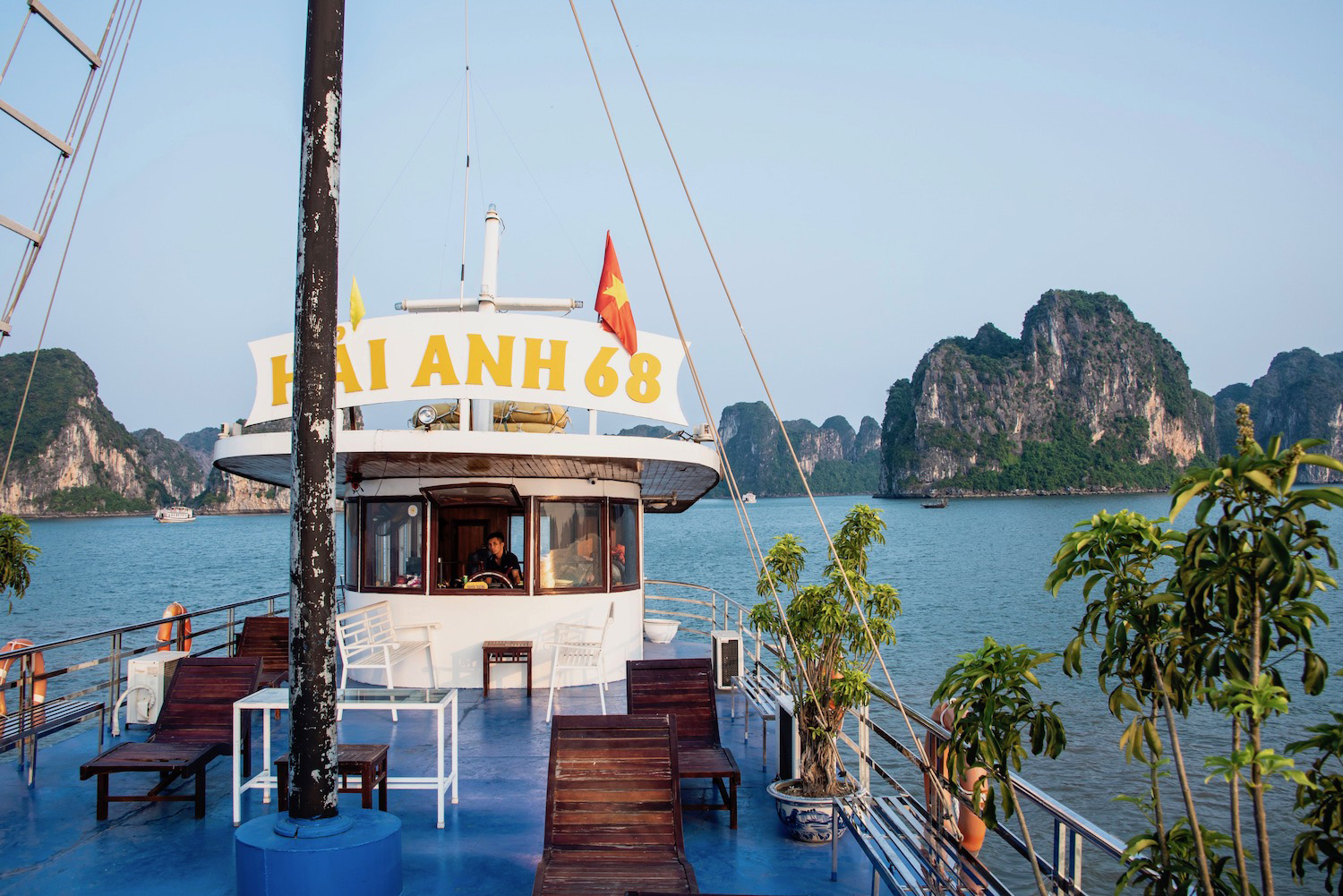 Although I'm a big fan of taking a Halong Bay day trip, I'm demarcating this destination with the assumption that you have 14 full days in Vietnam. Sleeping on a boat in the bay not only allows you to enjoy a restful night amid the calm of its towering limestone karsts, but it allows you to appreciate their beauty (and see them reflecting in waters still glassy from a lack of boats gliding atop them) before all the day-trippers arrive from the capital.
Hue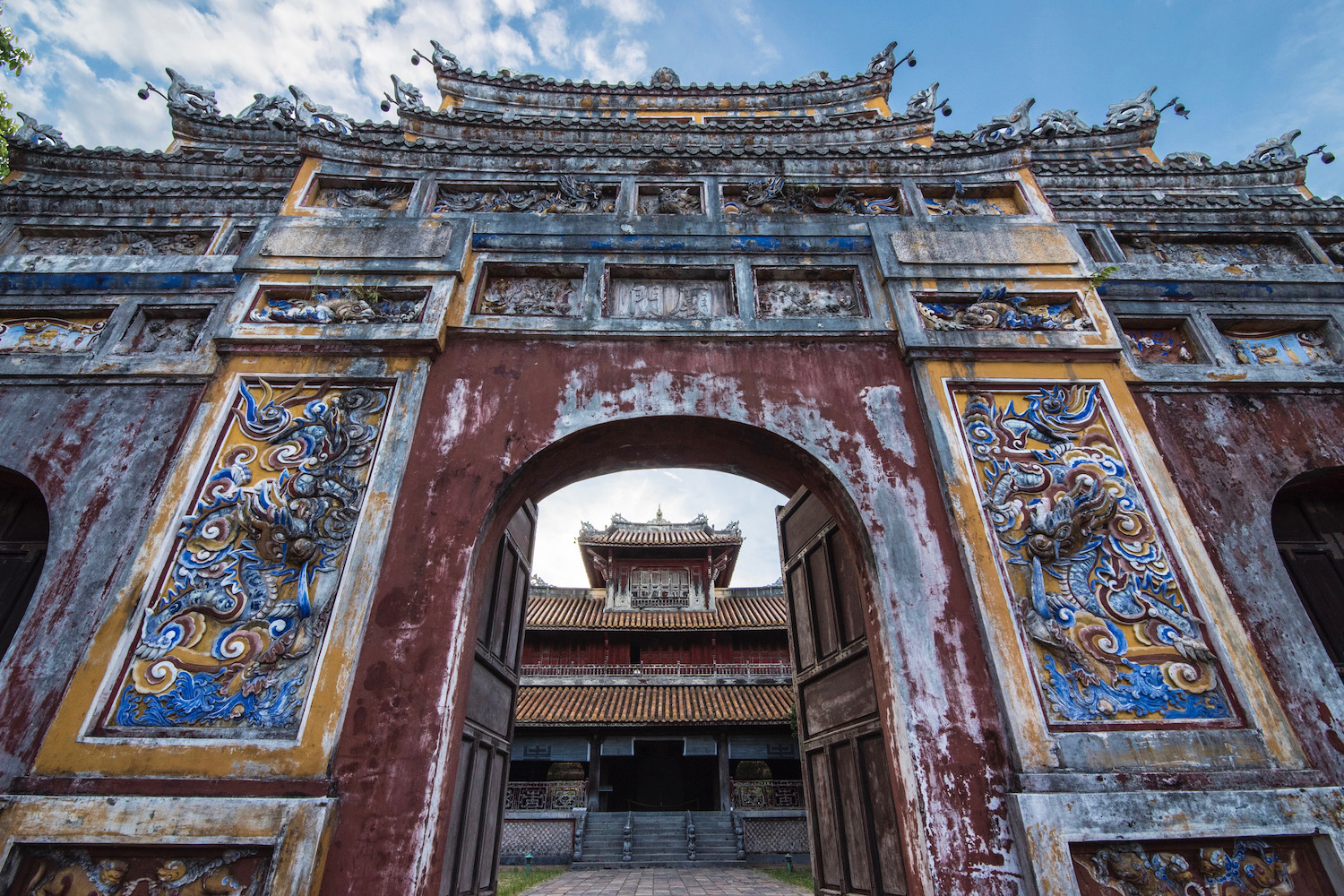 Next up on your 2 weeks in Vietnam is Hue, a city that was once Vietnam's capital, and still hides many vestiges from that time. The first and most conspicuous of these is the Imperial Citadel, sometimes referred to as the "Poor Man's Forbidden City," which sits across the Perfume River from the city center. Beyond this, you can travel south of the city to visit any of about a half-dozen Royal Tombs; heading south (or north, if you're coming from that direction), you can take the scenic Hai Van Pass.
Da Nang and Hoi An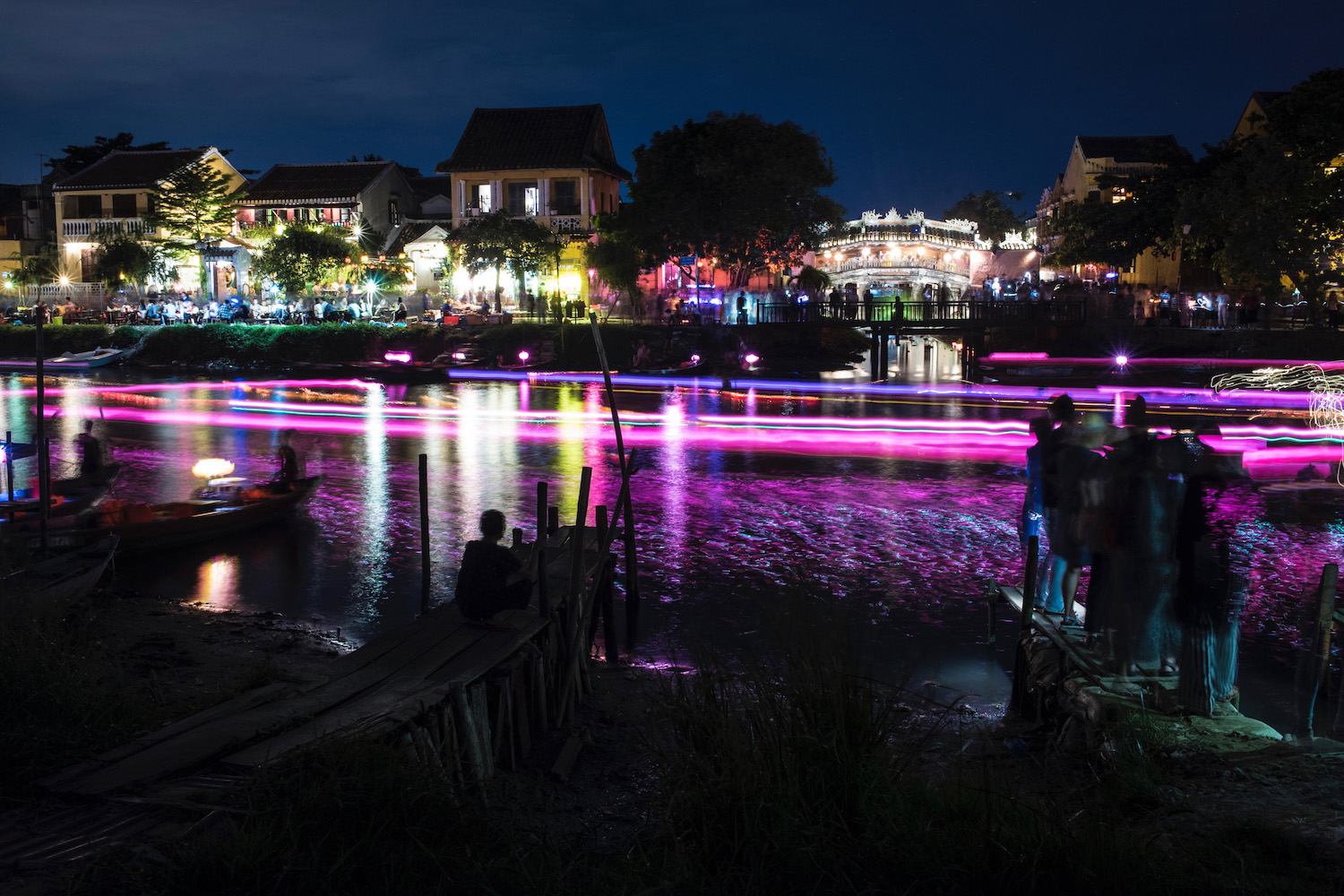 I group these two cities together because of a contradiction. While things to do in Hoi An are more numerous and interesting (including, unfortunately, waking up before the crack of dawn to avoid throngs of fellow tourists), Da Nang is the larger and more important city to everyday Vietnamese, which alone makes it worth visiting. Of course, watching fireworks from Da Nang's Dragon Bridge might be more enjoyable than photographing the Japanese Bridge in Hoi An, if only due to said crowds.
Saigon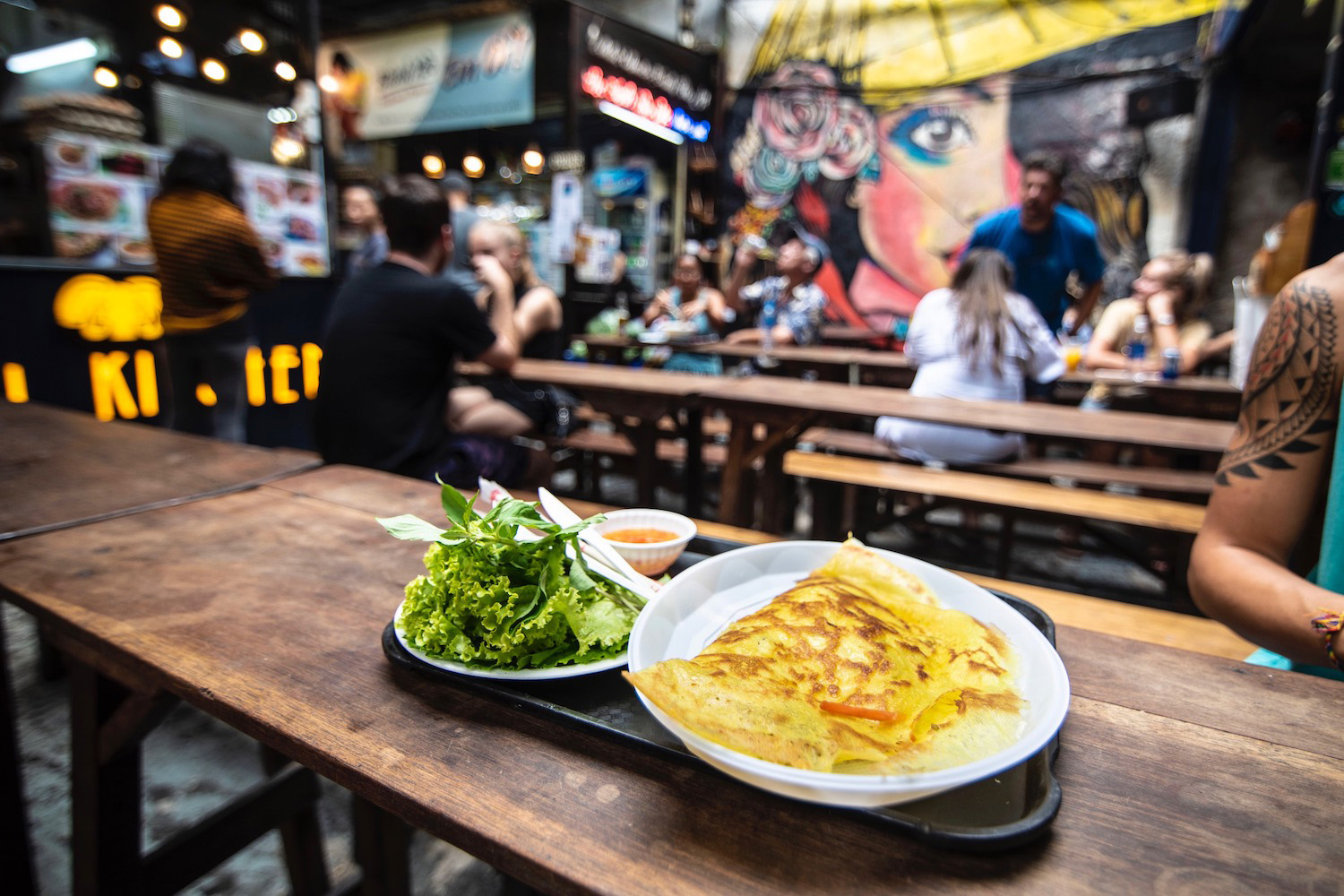 Also known (at least among foreigners) as Ho Chi Minh City, Saigon is a city that's taken me a long time to love, although I thiunk I'm finally there. Whether I'm eating Ban Xeo pancakes at Ben Thanh Street Food Market in District 1, or whole fish on a day trip to the Mekong Delta, Saigon makes sense to me a little more the more times I return. Learn more about how to enjoy this incredible city with my comprehensive Saigon itinerary (wonderful man and doomed relationship not included!).
How Much Does 2 Weeks in Vietnam Cost?
When planning a trip to Vietnam, it's not surprising that price might be at the top of your lists of concerns. As a general rule, Vietnam is one of the cheapest countries in Southeast Asia (and maybe the world, if I'm honest). What's most astounding is that prices here haven't really changed in the 10 years since I took my first trip, be they for hotels and resorts, restaurant meals and street food or even excursions around the country.
There are many ways to spend 2 weeks in Vietnam, but I estimate the average traveler will spend between 25-100 USD per night on accommodation, 5-25 USD per day on transportation and another 5-25 USD per day on meals. All in all, the range is highly variable—you could spend as little as 35 USD per day, or as much as 150 USD per day. Note that some travelers will far exceed this top threshold and others will stay well below the bottom.
Other Vietnam Trip Ideas
As highly as I've recommended this length of Vietnam itinerary, 2 weeks isn't long enough for some travelers, and is too short for others. Here are some alternate ideas:
1 week in Vietnam: A marathon trip to Vietnam that sees you spend two days each in Saigon, Hanoi and Da Nang, with a night each in either Hue or Hoi An (you'll see the other on a day trip; Halong Bay and the Mekong Delta are also day trips).
3 weeks in Vietnam: My 2 weeks in Vietnam trip, but with stops in Mui Ne and Nha Trang on the way up the coast, as well as excursions to Da Lat, Sa Pa and/or Phu Quoc island.
Regional Vietnam adventures: Spend a shorter amount of time in Vietnam, but focus on one region. Head south, for example, and stay a couple of nights each in Sagion, Cu Chi, Mui Ne and/or Pho Quoc.
City weekends: If you're living or staying long-term in Asia, come to one Vietnamese city for the weekend. I personally recommend Da Nang, to start, since you have the diverse destinations of Hue and Hoi An on either side.
Generally speaking, for backpacking, Vietnam route should be longer rather than shorter. If you want to save money, you need to be prepared to spend more time!
FAQ About Traveling to Vietnam
Is 2 weeks enough for Vietnam?
2 weeks is enough for Vietnam if you plan your itinerary carefully and travel at a decent pace. Specifically, you'll bookend your trip with 2-3 days each in Saigon and Hanoi (including excursions to the Mekong Delta and Halong Bay, respectively). This gives you a week or so to travel north (or south, depending on where you start), centered around Da Nang, Hanoi and Hoi An, but also potentially including the highland city of Da Lat and the party city of Nha Trang.
How much money do I need for 2 weeks in Vietnam?
Given that most travelers can expect to spend between $50-100 per day in Vietnam, you need around $700-1,400 for 2 weeks in Vietnam, not including the cost of flights to and from the country. Factoring in the cost of flights, the average couple can expect to spend around $3,000 for a 2-week trip to Vietnam.
What should I do in Vietnam for 3 weeks?
Adding another week to your 2 week Vietnam itinerary allows you either to travel more slowly through the destinations you've chosen, or to expand their range. For example, you might add on a 2-3 day excursion from Saigon to Phu Quoc island in the south of Vietnam, or visit lush Sapa, northwest of Hanoi, as an epilogue to the days you spend in Vietnam's capital.
The Bottom Line
If you're able to spend just 2 weeks in Vietnam, the country will reward you with a breadth and depth of experiences, flavors and memories far beyond your expectations. This, of course, will give you no choice but to come back in the future—but you can worry about that later. From the serene limestone karsts of Halong Bay in the north, to the wild motorbike-filled streets of Saigon in the south, Vietnam is one of the most eclectic and diverse countries in the world. Want to make sure you leave no stone unturned? Hire me as your Vietnam Travel Coach, and let me sweat all the details.