As you plan your trip to Vietnam's Mekong Delta, choosing a Can Tho hotel might not be high on your list of priorities. Can Tho, after all, is the largest city in the region, and has almost as many places to stay as there are fish in the river.
However, as you're curating your list of Can Tho attractions, you should keep in mind a variation on a famous travel adage. Depending on where you make your home in the Delta, the journey and the destination can be one in the same.
After describing some of the best Can Tho attractions, I'll draw your attention to one of the best Vietnam ecolodges you've never heard of. Even if you aren't departing for several weeks or months, Can Tho starts here.
Why Should You Visit Can Tho?
There are a few ways to approach this question. On one hand, the best things to see in Can Tho are indeed incredible. Whether you marvel at Cai Rang Floating Market, educate yourself at Can Tho Museum or sit down for a delicious meal of Bánh hỏi grilled pork, Can Tho offers an array of attractions as diverse and enthralling as anywhere else on your Vietnam itinerary.
Of course, if you simply wanted to take a Mekong Delta boat trip, you could do that as one of your day trips from Saigon. Part of enjoying Can Tho is settling in, enjoying the vibe and feeling the unique rhythm of this bustling city, which is only possible when you find the right place to stay—more on that in a second.
My Favorite Things to Do in Can Tho
Float Through Cai Rang Market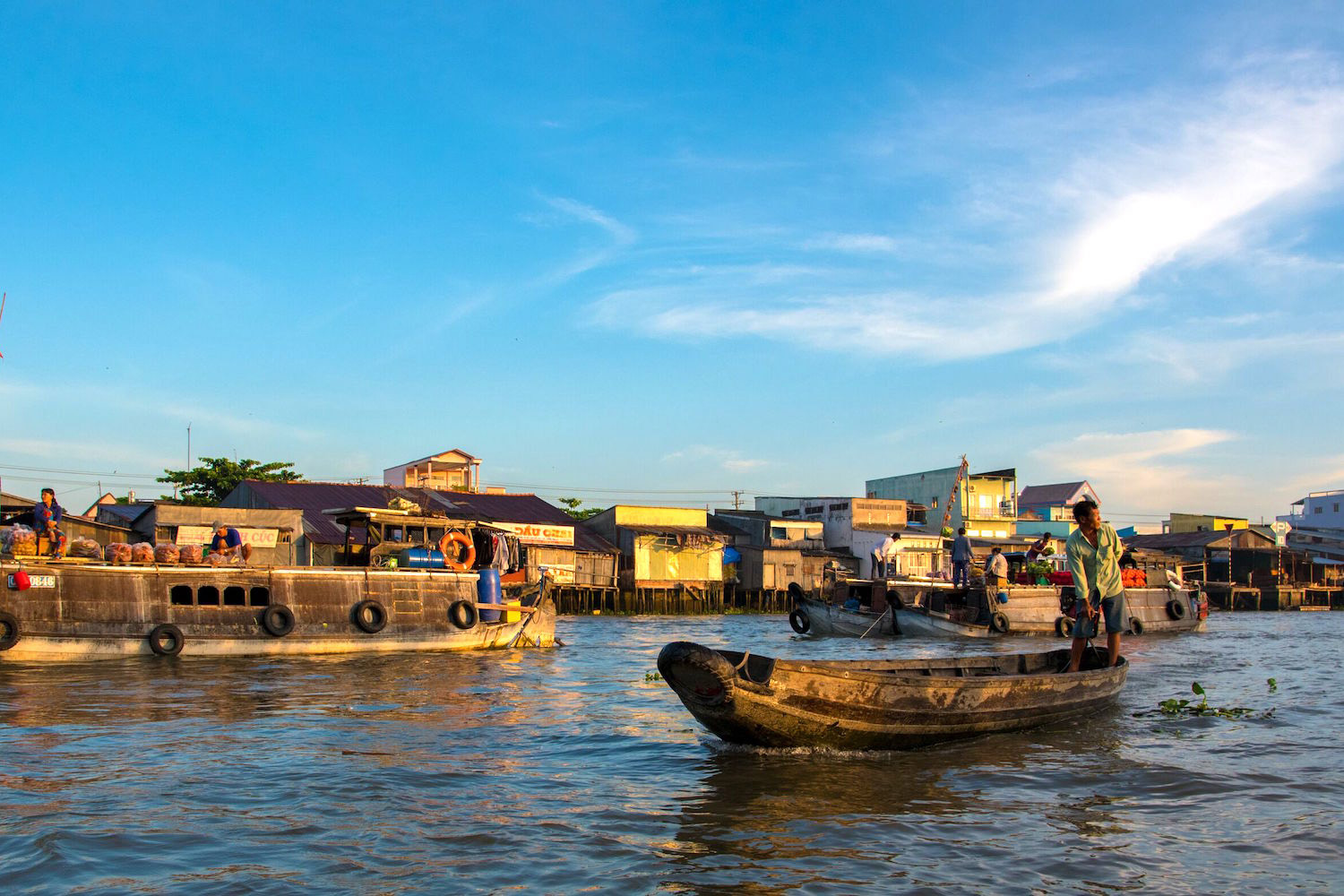 Regardless of which Can Tho hotel you choose, the most popular place to visit in Can Tho is Cai Rang Floating Market. The best way to see it? Floating, of course! Joining a Cai Rang boat tour allows you to experience the market at the same level as the sellers, an optimal perspective both for photography of the colorful scene, as well as for transacting.
Say a Little Prayer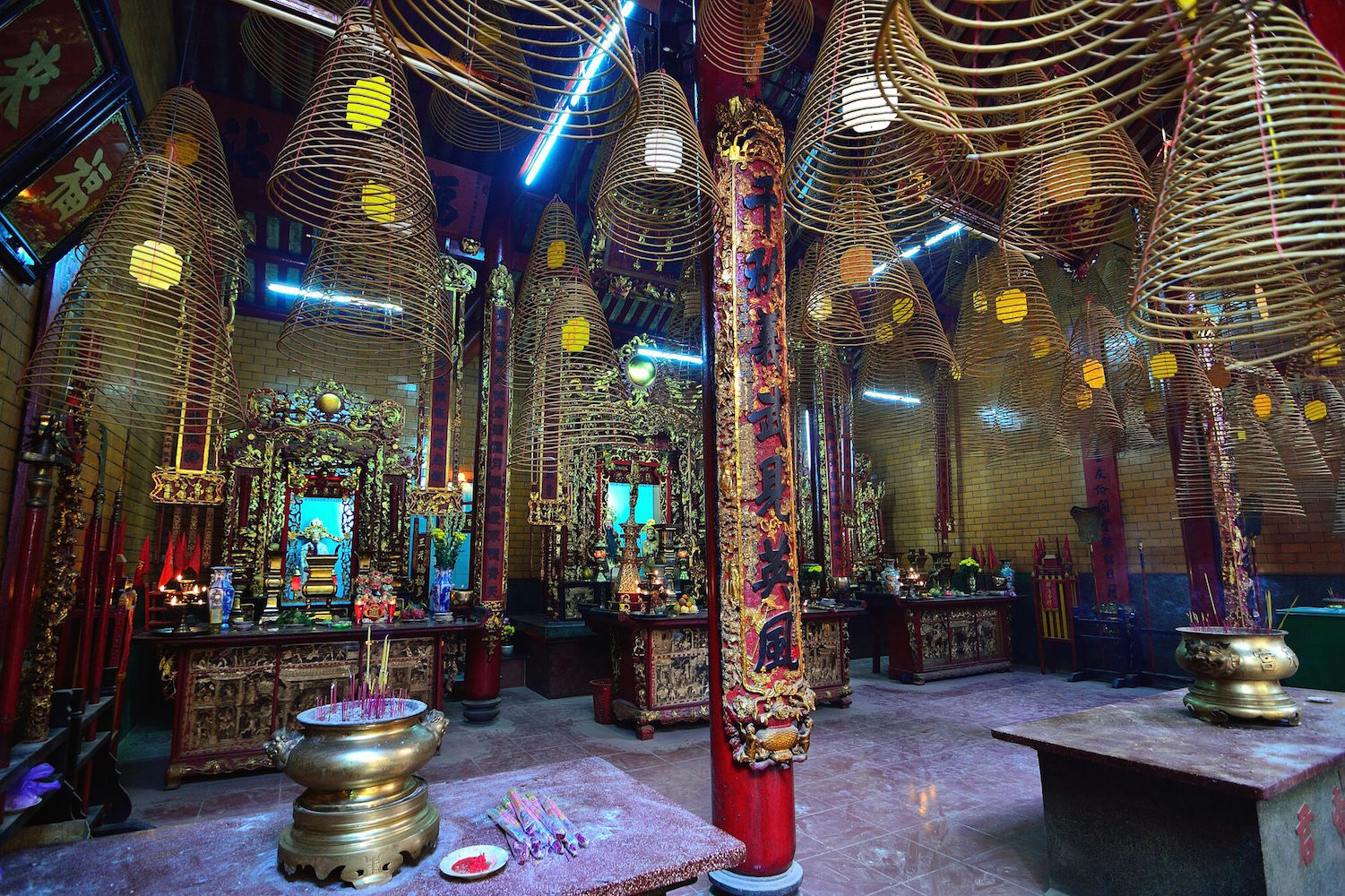 Of course, there's just as much to enjoy on land in Can Tho as there is on the water. Exhibit one is a broad range of sacred sites, several of which are a stone's throw from the luxury Vietnam ecolodge I'm about to mention. Whether you offer blessings to the monks of Quang Duc Pagoda or attend mass at French-colonial Tham Tướng Church, Can Tho is home to plenty of spiritual sites.
Cool Off—and Put On Your Thinking Cap
Of all the words you can use to describe the Mekong Delta Vietnam, "cool" is not one of them, at least in a literal sense. However, there are some places to escape the blazing heat and humidity. The most worthwhile one, in my opinion, is Can Tho Museum. Home to thousands of historical objects and a permanent exhibition on resistance to foreign rule, it's as illuminating as it is refreshing.
Travel With Your Tastebuds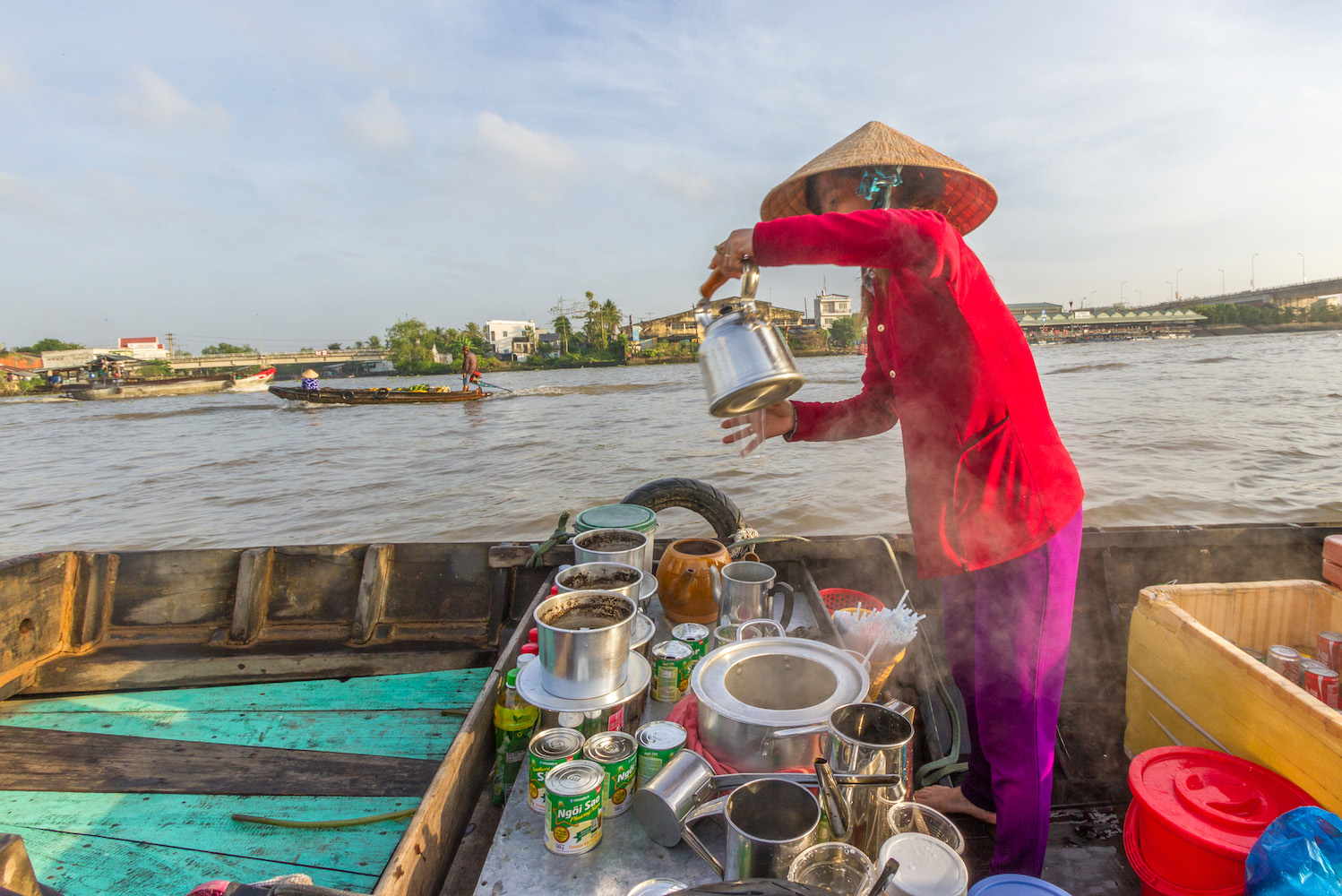 Although your Can Tho hotel will probably offer very good room service, you should head out into the city's streets and eat your way through them. From pan-Vietnamese cuisine such as Banh mi sandwiches, to local specialties such as Bánh hỏi grilled pork and snails with green pepper, Can Tho will never leave you hungry. The city is also known for being home to some of Vietnam's freshest fruits and vegetables.
Watch One of Vietnam's Best Sunsets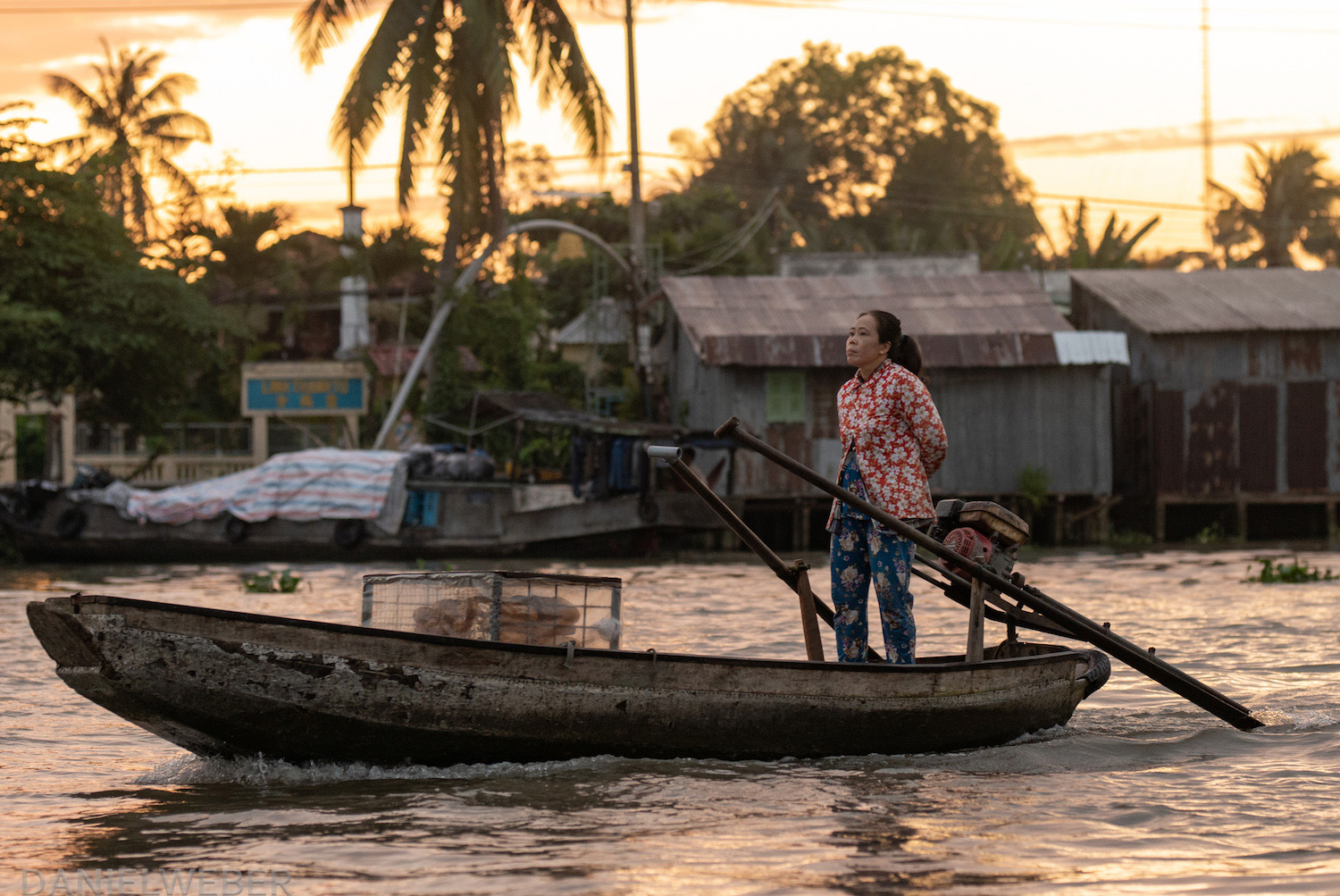 With water everywhere and skies clear of pollution like you can find in cities like Hanoi and Saigon. Can Tho is one of Vietnam's best sunset spots, not to mention the best ecolodges in Vietnam. Some popular places in Can Tho to watch sunset include Nguyen Trai Bridge, which is also beautiful after night has fallen, and Nguyen Trai, a man-made lake surrounded by traditional Vietnamese residential buildings.
Where to Stay in Can Tho
Not search for luxury eco-accommodation in Vietnam? You will be once you learn more about Can Tho Ecolodge, which is my favorite Can Tho hotel—and not just because of how close it is to Cai Rang Floating Market.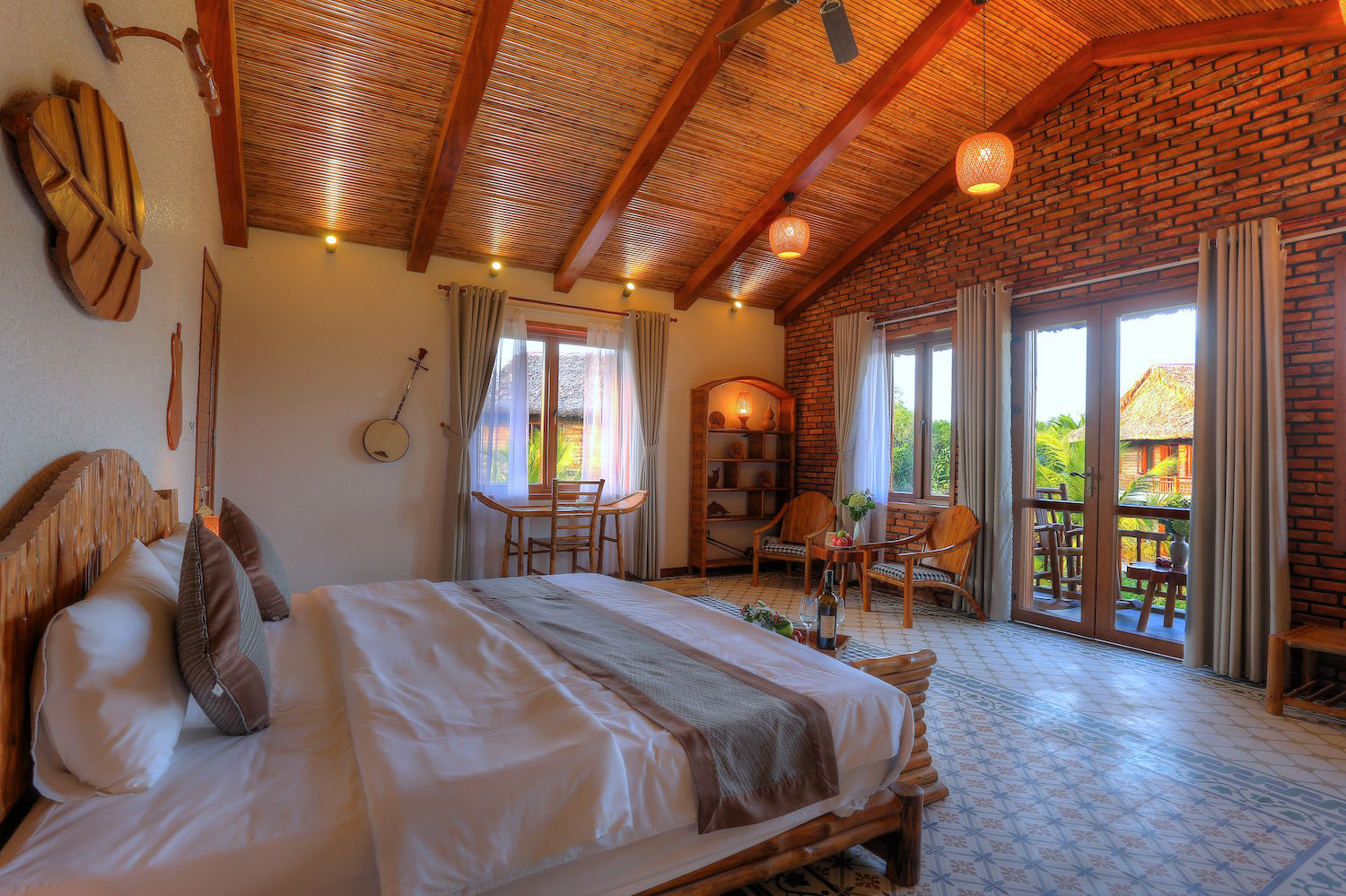 Boasting 12 palm-leaf topped bungalows and amenities like a swimming pool, a relaxing massage center and 24-hour room service, Can Tho Ecolodge effortlessly blends the aesthetic and hospitality of traditional southern Vietnam with modern luxury, and allows to feel the special charm of Can Tho even when you're not sightseeing, not unlike Mai Chau Ecolodge in the north.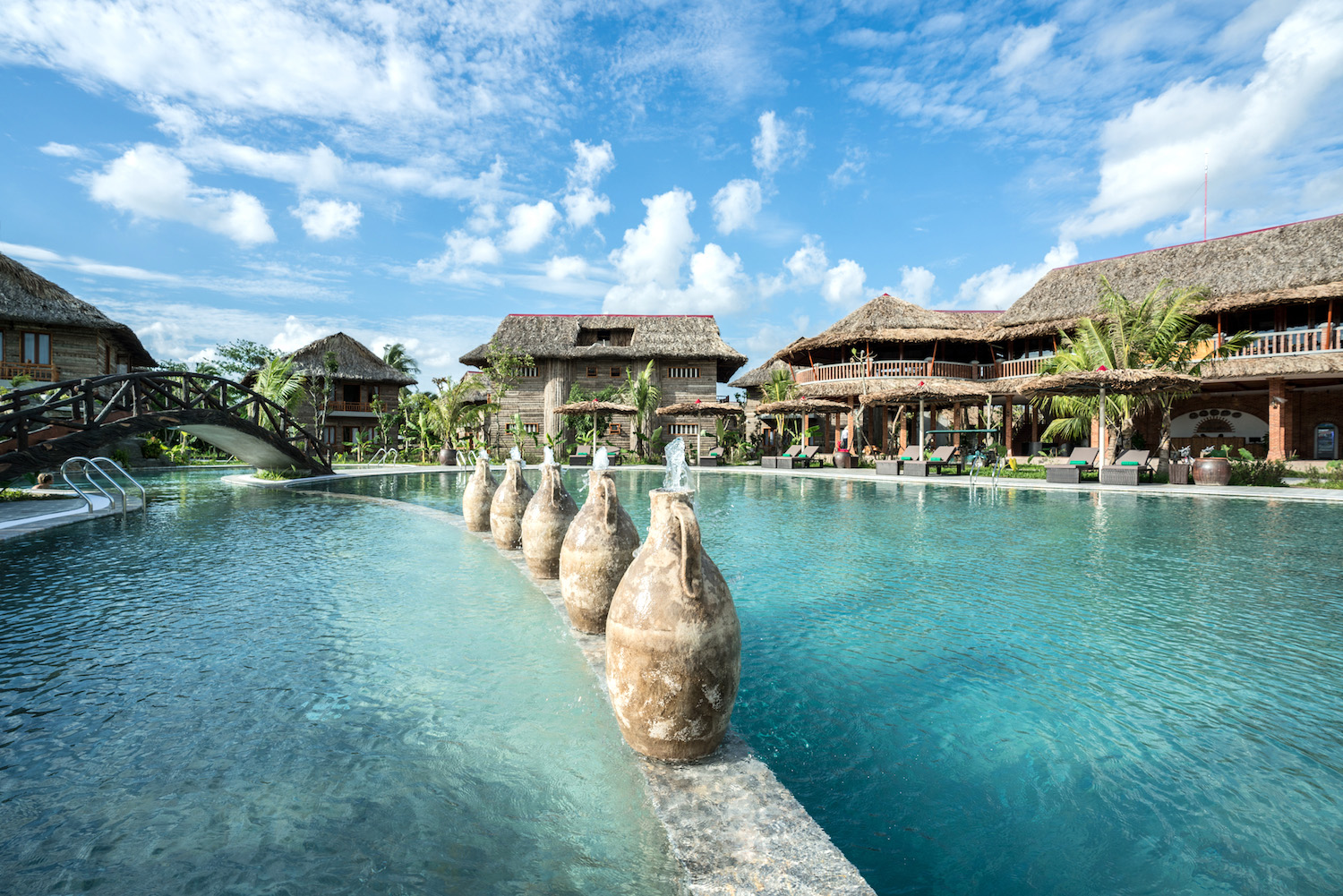 Another similarity between Can Tho Ecolodge and Mai Chau Ecolodge is the wide array of activities you can join at the friendly tour desk. For example, you can rent bicycles as a way to discover the riverine cityscape of the Mekong Delta, whether you don't like boats or simply want to a different perspective. An energetic day like this is the perfect way to prepare yourself for an evening in your room, which sits on the banks of the Ba Lang River, and offers relaxing, beautiful views. Or, you can just soak in the huge tub of your suite room!
When to Visit Can Tho
With some exceptions, the best time to visit Vietnam (at least the southern part of the country) is during the northern winter months of December-February. Although this can vary in other destinations, such as in the north where you can take a Halong Bay Cruise with Indochina sails, it's also true for Can Tho.
Obviously, the best way to have a special Can Tho experience anytime of year is to choose a top-rated eco-accommodation in Asia when you stay here, rather than sleeping someplace less special. Then again, you shouldn't worry too much about visiting Can Tho during the off-season. Although rainstorms in Vietnam can be torrential, they rarely last more than a few hours.
The Bottom Line
Regardless of your Can Tho hotel choice, the Mekong Delta is one of the most rewarding places to visit in Vietnam. Eat your way through Can Tho's markets (either at street level or water level), discover a mish-mash of traditional Vietnamese and colonial architecture and watch the sun sink into the life-giving waters of the Mekong. Ideally, this will be just one part of your Vietnam journey, which will not only include Ho Chi Minh City in the south and Hanoi in the north, but underrated central Vietnamese destinations like Da Nang, Hoi An and Hue.
All images courtesy of Can Tho Ecolodge, which has kindly sponsored this post.