My journey to reach Brazil's Lençóis Maranhenses National Park, which has been one of my must-visit destinations since I first learned of its existence, was dramatic to say the least. As I arrived my pousada in the sleepy village of Santo Amaro, the sky was too dark for me to even see my surroundings, so I went to bed unsure of whether the 48 hours I'd spent in transit was worth it.
I'm happy to report, after having trekked nearly 40 miles through rolling sand dunes, swum in freshwater lagoons of nearly a dozen different hues and enjoyed the hospitality of people who are largely oblivious to the existence of the outside world, that the answer is yes. In fact, I would go so far as to say the Lençois Maranhenses is the single most spectacular place I've ever visited.
If there's just one destination you add to your travel bucket list, make it the Lençóis Maranhenses. Whether you board the next place to Brazil, or save your trip for a special moment in your future, Lençóis Maranhenses National Park is one place you absolutely must see before you die, home to Brazil sand dunes and lagoons, not to mention an intangible magic that's hard to capture in words. Here's the story of how I spent my time here.
Seeing the Flooded Sand Dunes of Brazil for the First Time
As I mentioned in my previous post, I made it to Santo Amaro largely due to the good graces of a Rio man named Alexander and his family, so I was delighted upon waking up the morning after I arrived to have a call from him waiting at reception.
"We're going on a day trip to a beautiful lake," he said. "Betânia. Would you like to come?"
I couldn't have answered "yes" faster than I did. Within about 30 minutes, Alexander, his family and I, along with two Brazilian couples and two guides, were on a 4×4 again, this one headed away from Santo Amaro. The surrounding terrain remained green and brushy for the first hour or so of the bumpy ride. I was a bit puzzled, maybe even disappointed, until I noticed that the horizon was a stark, snowy white.
Before we reached it, however, the 4×4 stopped at a small straw hut on, where we got off and into a canoe that took us across a red-tinged lake. From there, we hiked about 10 minutes, during which all of the surrounding brush disappeared. The now-sandy path banked up sharply and when we arrived, I was greeted by the most fantastic view I've ever seen.
While my new friends and the rest of the people who'd come with us immediately started swimming, I headed off with my camera to explore the strange landscape.
How could it be that, less than an hour's flight from the Amazon Rainforest (and even closer to the Caribbean Sea), a veritable desert, complete with blowing sand, existed? And how could it be that in the crystalline, ocean-looking freshwater lakes that formed between the massive dunes for just a few months out of the year, an intricate ecosystem of aquatic plants, flowers, insects and even birds manifested itself?
The answer to this question would be better explained by a scientist than by a writer like me, but regardless of why the Lençóis Maranhenses currently exists where it does, it is definitely the most alluring landscape I've ever walked across, swum in or, indeed, photographed.
It's got the forlorn beauty of the desert, without the oppressive dryness of the Sahara (or the less-distant Atacama). And while swimming in its lagoons evokes the sea in terms of color, the lack of salt makes doing so much more refreshing than in any ocean.
After enjoying about three hours at Lake Betânia (about half of which I spent alone, cataloging and documenting everything in sight, like a grown version of my five-year old self), we headed back to the hut where our 4×4 was parked and enjoyed a delectable, yet simple dinner of fried fish, rice and beans, washed down with the only substance more refreshing than the Lençóis Maranhenses itself: Coconut water, straight from the fruit.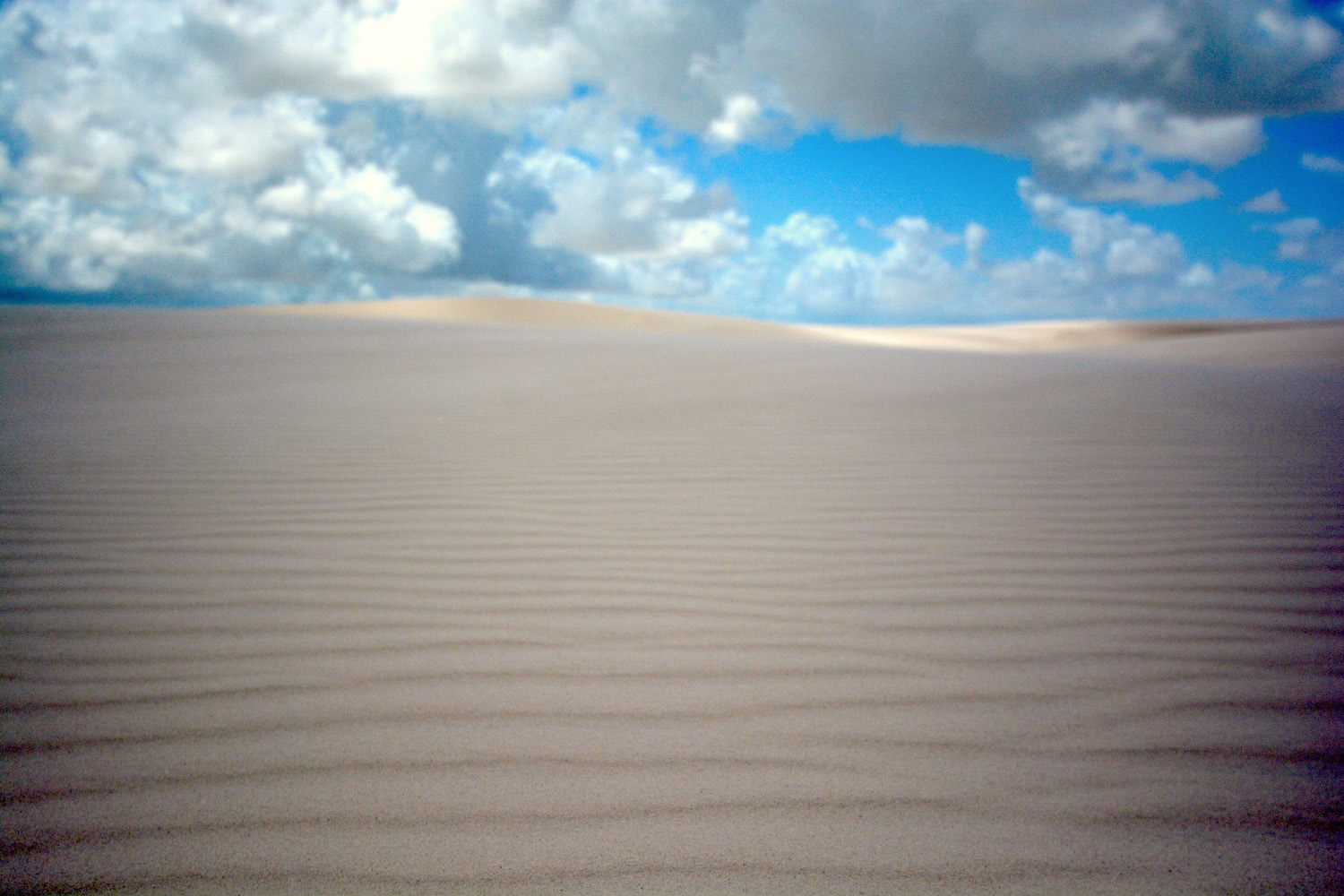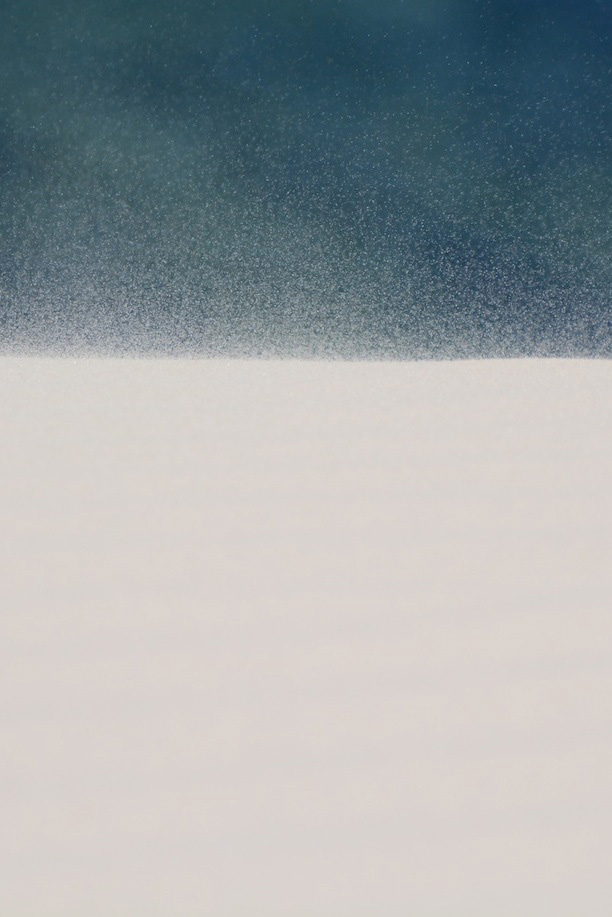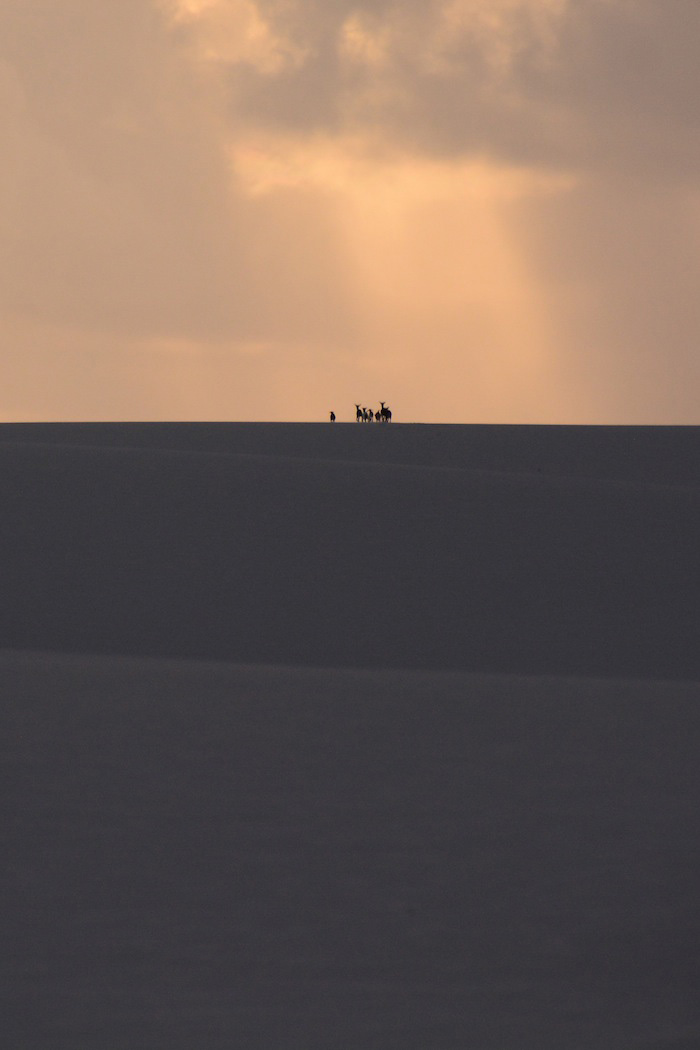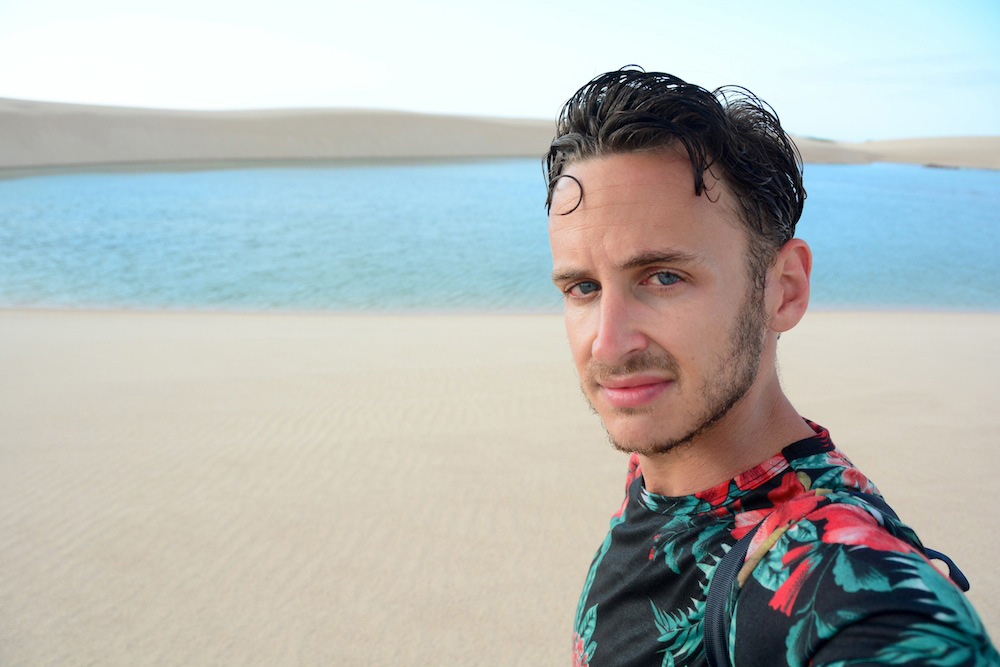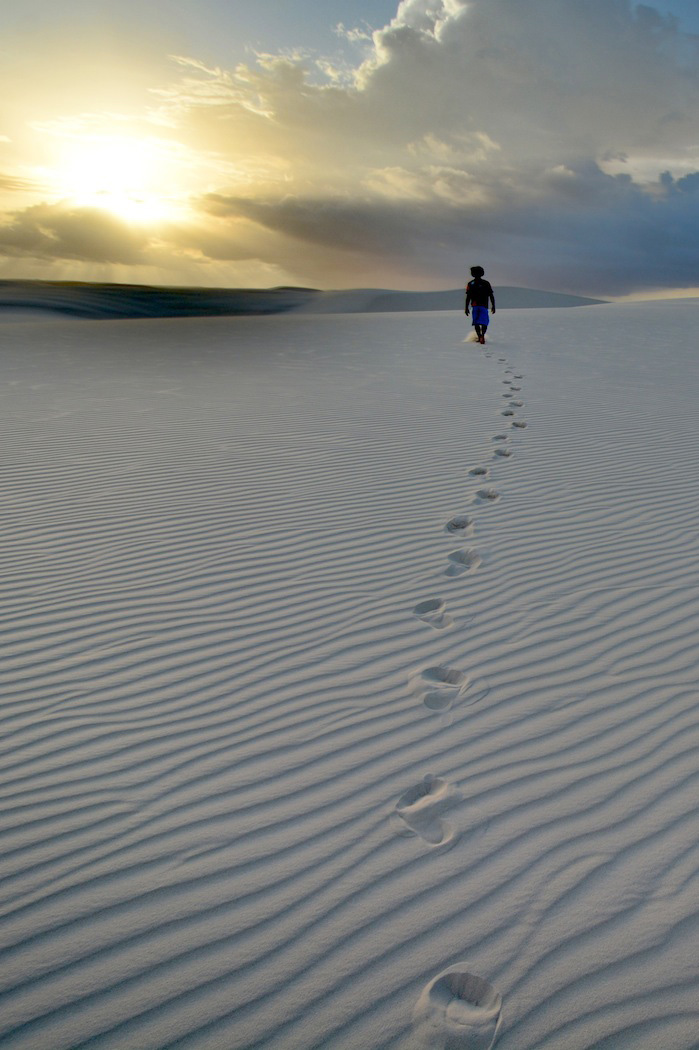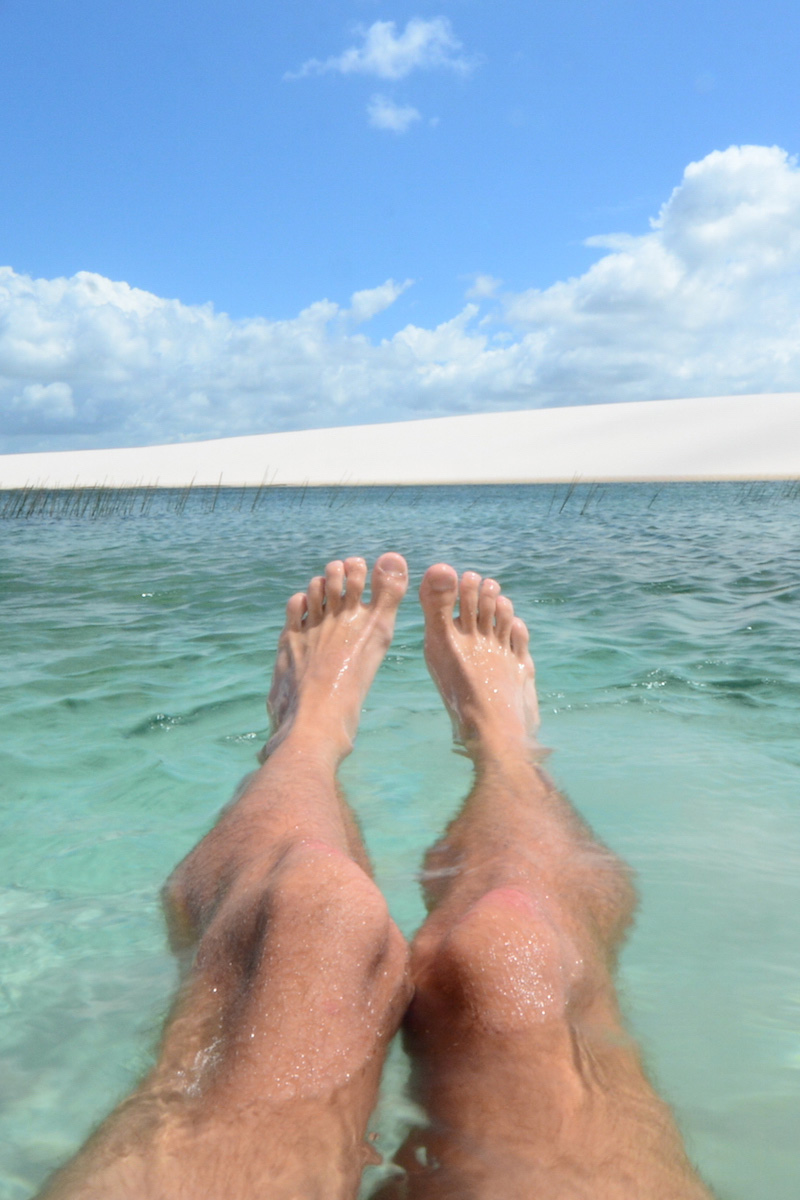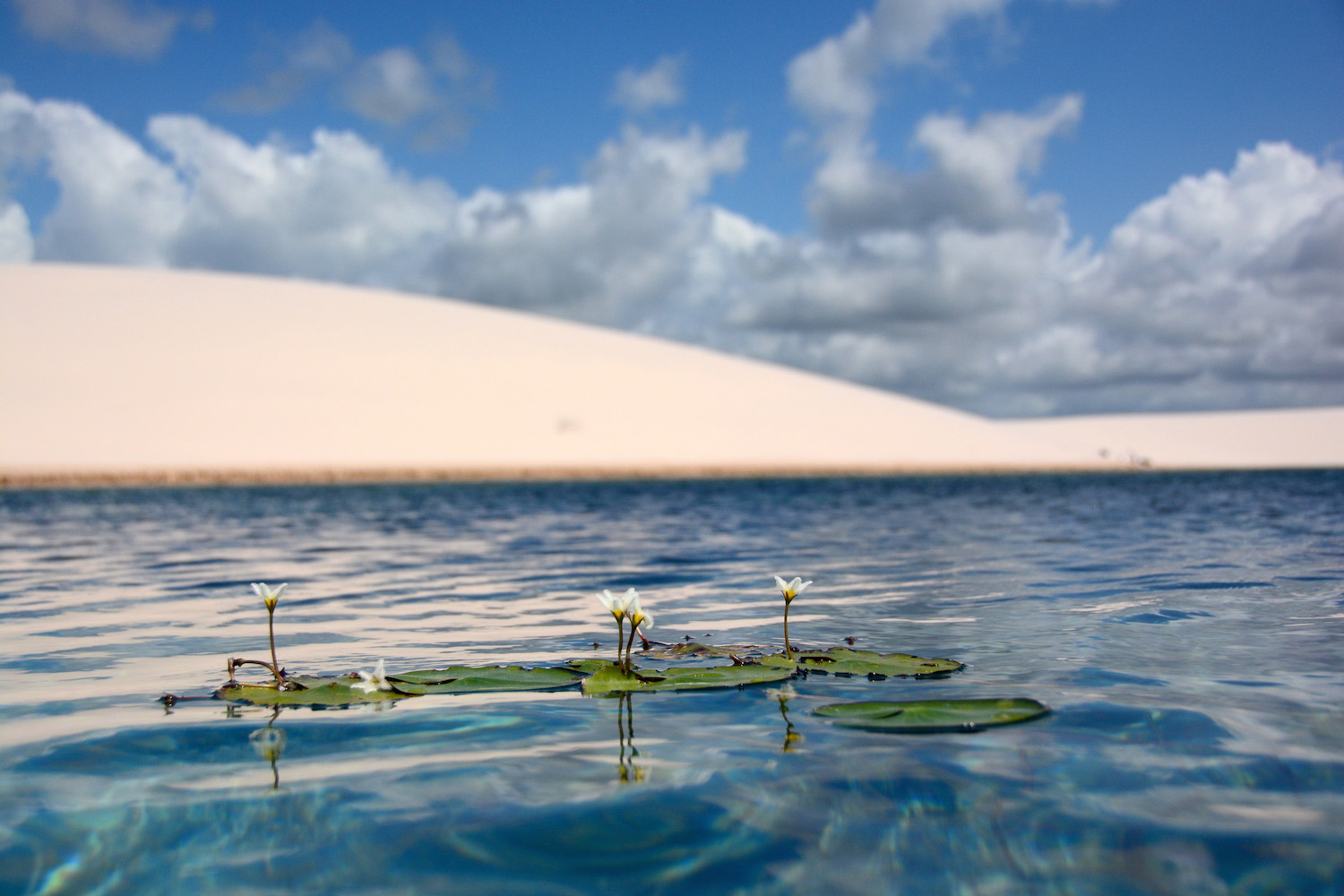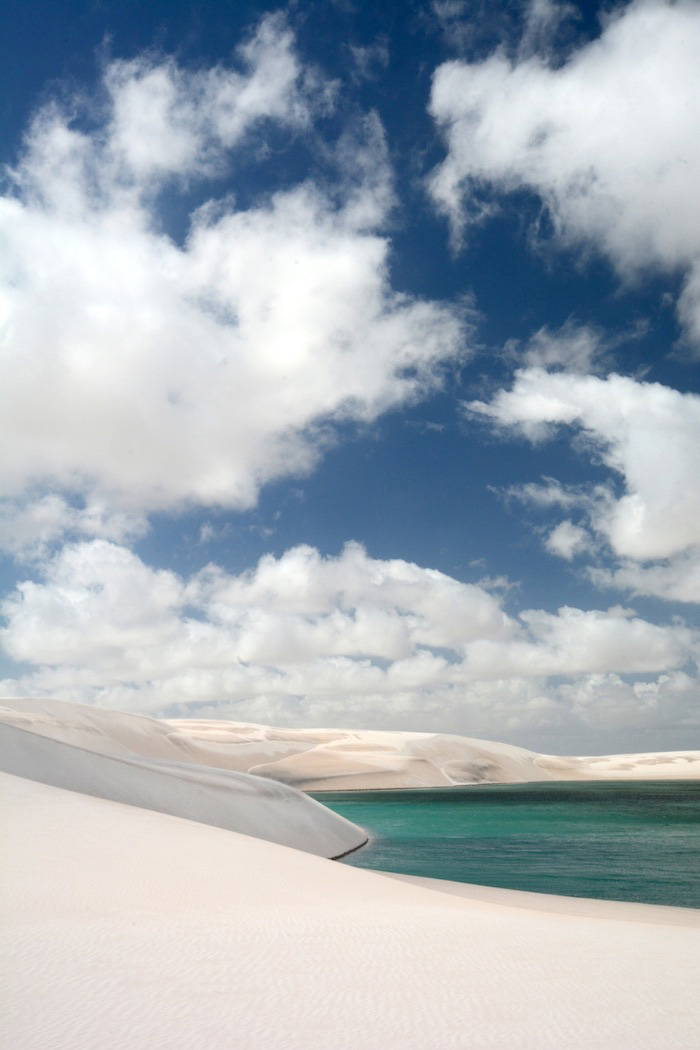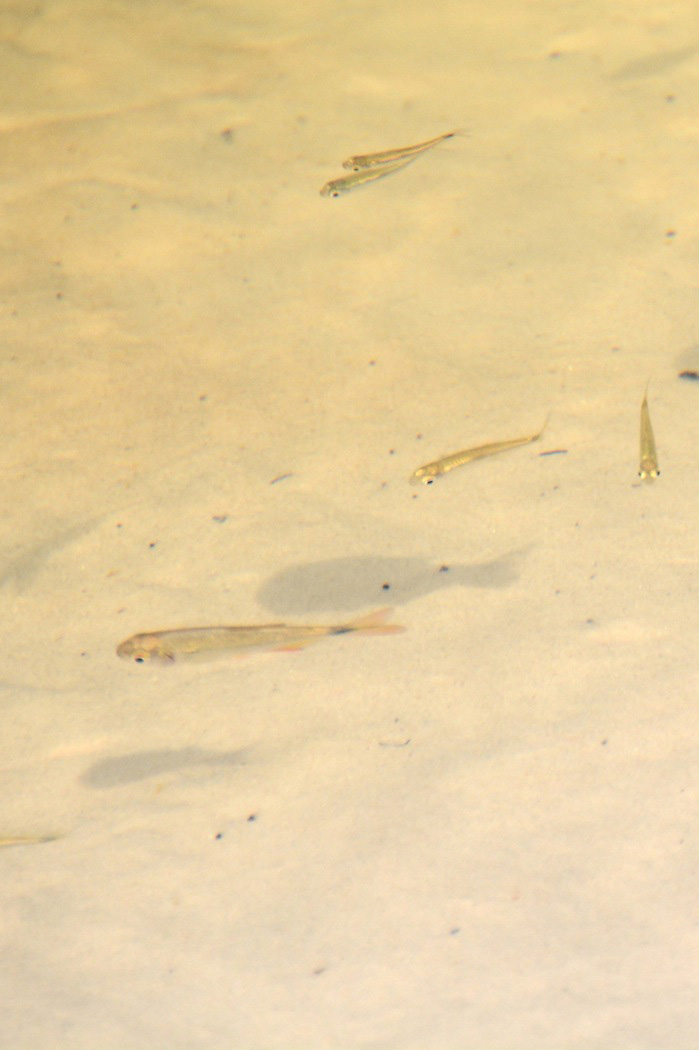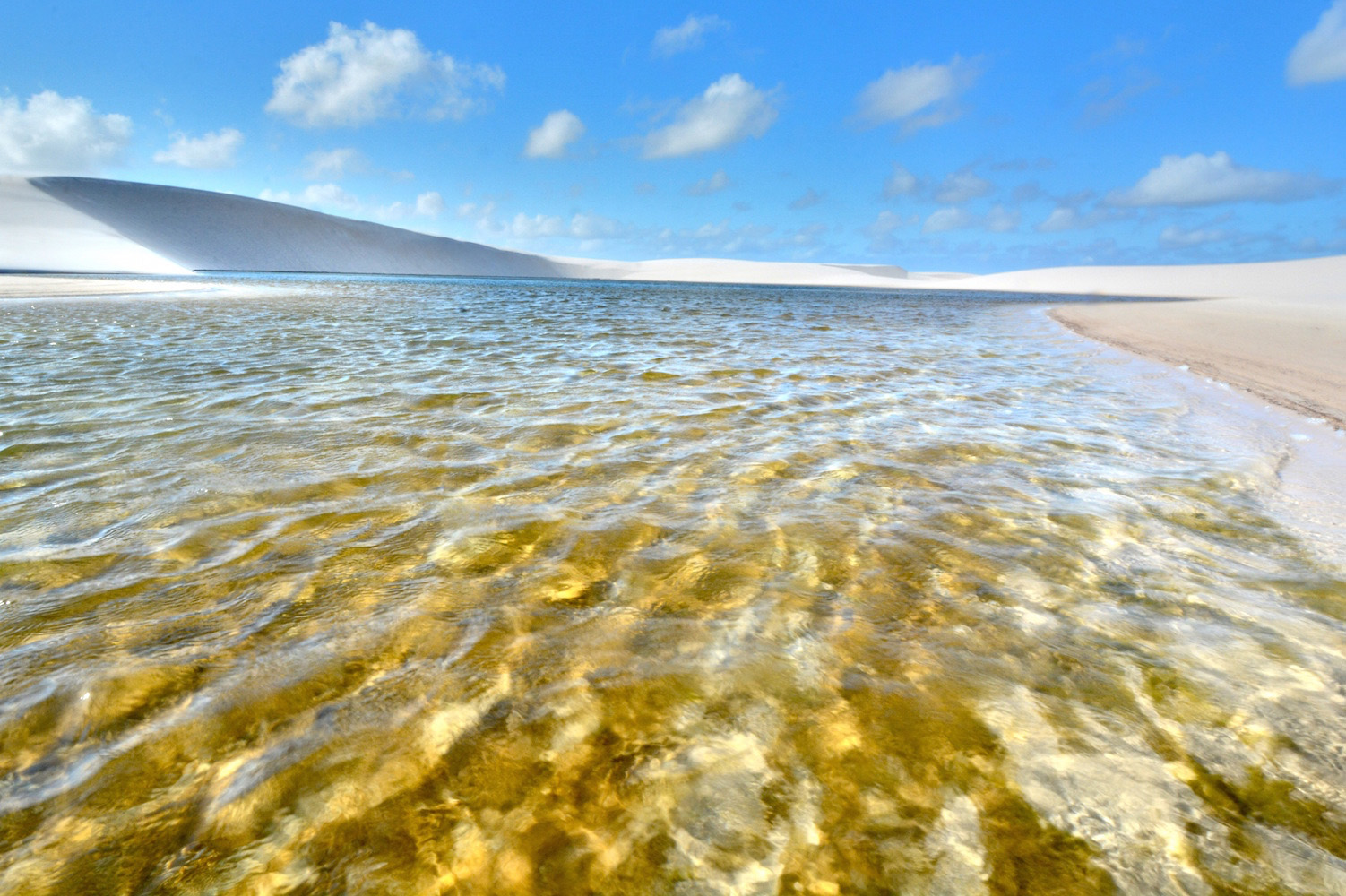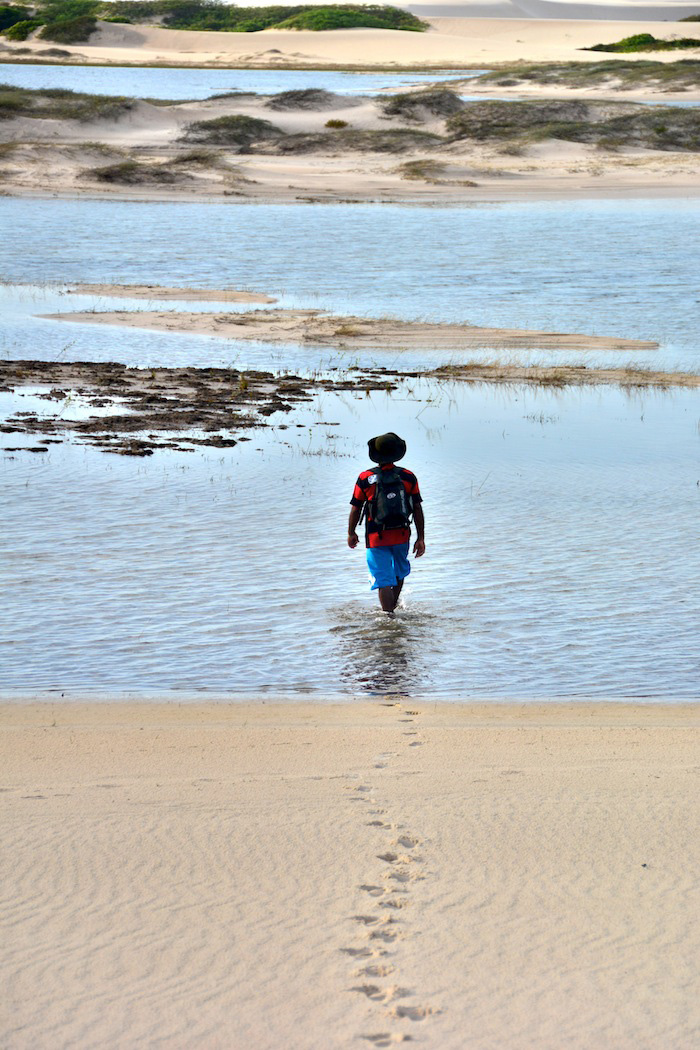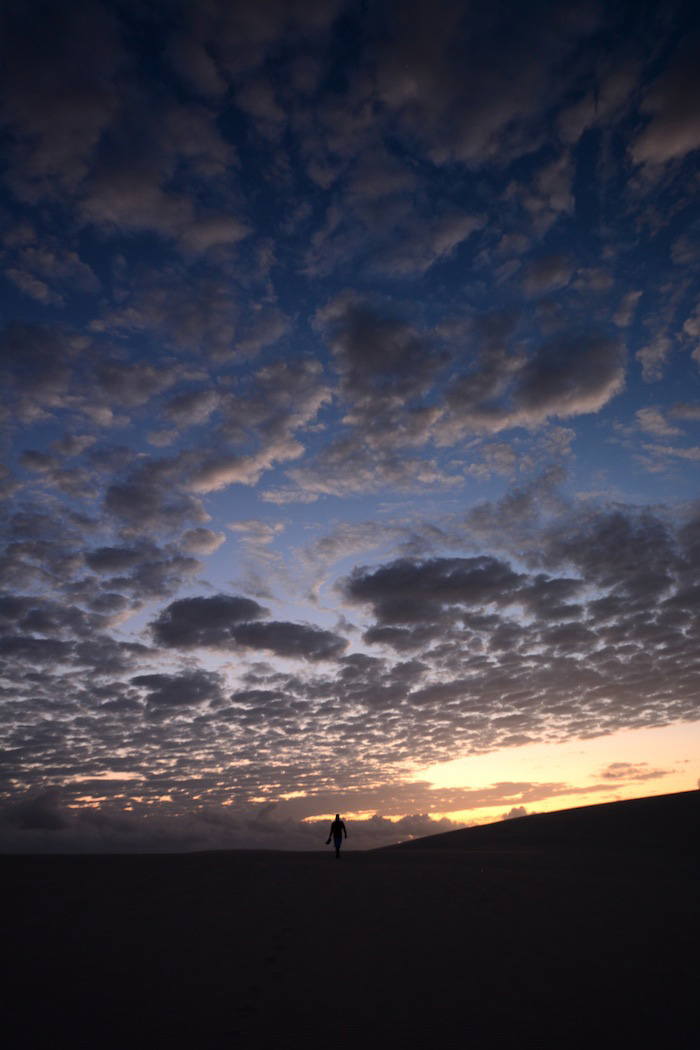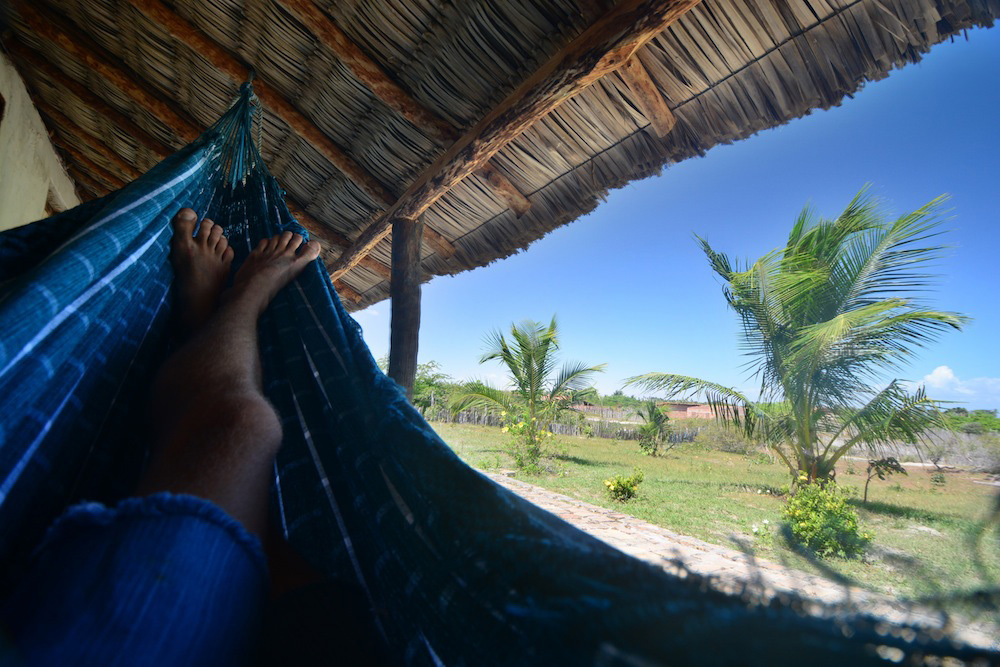 Trekking in the Brazil Sand Dunes
It was absolutely wonderful to be able to spend more time with Alexander and his family but, truth be told, I'd come to the Lençóis Maranhenses looking for something a bit more exhilarating than a day-trip in a 4×4. Thankfully, one of the girls who went on the trip with me spoke extremely good English, and helped me arrange a more extreme excursion with a Lençóis Maranhenses guide.
The next morning at 4 a.m. sharp, I met a 40-something local man named Willan in front of my pousada for what I knew would be at least a 7-hour hike, the first of two in as many days. Willan spoke no English (and I, you might remember, speak only slightly more Portuguese), but I figured we would be too physically exhausted most of the time to speak anyway. Plus, I'd still managed to form a bond with Muslianto, who trekked with me through Borneo in search of Orangutans in February, so I was optimistic.
Willan and I had been hiking for nearly an hour by the time the sun began to rise, and reveal that we were already deep into the Lençóis Maranhenses. Within a matter of minutes, the dense sea of black that had enveloped us transformed, starting as a deep purple-orange gradient, before cooling into more soothing blue and yellow colors. As the last of the night's darkness disappeared, the clouds took the form of a large archway, as if they were welcoming us into the park.
The next hour or so of our hike saw us surrounded by largely uniform elevation, color, temperature and light situations, until I noticed that one of the fast-approaching clouds was much darker than the others. I also noticed that a group of animals far off in the distance had dramatically increased their pace of movement.
Rainy Season in Brazil's Sand Dunes
A cool, impossibly quick wind began blowing over the dunes and before we knew it, Willan and I were being drenched by a sudden downpour – the source of the lagoons in the Lençóis Maranhenses.
The rain disappeared as quickly as it had shown up and we got back on our way without any further ado. Just as my clothes had finished drying, however, Willan motioned to me to put my backpack on top of my head – and walked straight down into one of the Brazil sand dunes lakes. Contrary to popular opinion, the Lençóis Maranhenses are not a beach—they're not on the coast, and the water is fresh.
It was clearly one of the several permanent bodies of water in the natural park, not only because of its chest-high depth, but due to the complexity and scale of the plant and animal life that had taken root in it – there were even small fish!
Speaking of animals, once we got dry for the second time, I noticed that a beautiful, white bird seemed to have taken a liking to us. Now, again lacking the vocabulary to ask what it might be, I wrote my own answer to this question in my head. Unfortunately, it was precisely that – my head, this is – that the bird was after.
It seems that our trek had taken us right through the nesting areas of these birds (I hope a biologist among you can look at the picture above and recognize them), such that they literally behaved like kamikazes for the next two to three hours of our hike, occasionally coming so close to the tops of our skulls that we could hear their wings – they sounded like airplanes.
Not that I could really be bothered to care much, given how gorgeous my surroundings had become. By this time, it was full daylight out, and the only thing more vivid in color than the azure sky was the variety of shades the lagoons took under it.
Oasis in the Brazilian Desert
While some were a standard Caribbean or Mediterranean color, others were darker or lighter, while some took on strange hues like chartreuse or iron red. I wanted to stop and swim in all of them, but I could tell from his eyes that Willan was exhausted.
It was right around this time that I started to realize my feet, which I'd been walking on for almost six hours at this point, were also tired. Thankfully, it was also around this time that I noticed tire tracks on the sand. Within about 45 minutes, after trekking through an increasingly lush lagoon of the permanent sort, Willan and I arrived in the lilliputian village of Santa Luzia, which is so small it makes tiny Santo Amaro look like São Paulo.
I had planned to explore the village some, and try my Portuguese with the locals, but my creative will proved no match for the hammock at the pousada, so I crashed out. I did get a chance to eat some fresh chicken (really fresh, as in killed just for me!) and visit with/thank the family who made it, but most of what occurred between arriving in Santa Luzia and heading back the next morning (again at 4 a.m.) was a blur.
Arriving back in Santo Amaro after having hiked a whopping 36 miles (60 km) put into perspective why getting to the Lençóis Maranhenses had been so difficult. And why that's a good thing: Were it not for the remoteness of this vast wonderland, the Brazil sand dunes national park would've long since been destroyed by resort developers.
Other FAQ About the Lençóis Maranhenses
How do you get to Lencóis Maranhenses?
I traveled to the Lençóis Maranhenses from Rio, but no matter where you originate, you'll need to fly to São Luis (SLZ). There, you'll take a Denilson Viagens van to the town of Sangue, then transfer to a 4×4 truck, which will take you two hours into the dunes—the town of Santo Amaro. Check into a local pousada (I recommend booking one, such as Pousada Agua Doce, in advance), then relax for the night before taking an adventure like the one I describe above. Do not that while it's easier to access the Lençóis Maranhenses via the town of Barreirinhas, then dunes there aren't as splendid, and tourist numbers are much higher.
Where are the sand dunes in Brazil?
The sand dunes of Brazil, which are officially known as the Lençóis Maranhenses, are located approximately halfway between the Amazon River Basin and the Atlantic Ocean, a few hours by bus or private far from the city of São Luis.
What is the name of the desert near North Coast in Brazil?
The desert near the North Coast of Brazil is officially known as the Lençóis Maranhenses. Pronounced Len-shoi-iis Mah-ran-yen-ses, this otherworldly landform is more than worth the slight stress of enduring the journey to get there.
The Bottom Line
Whether you see them from above (in a plane) or on a long trek through them, there's no way around it: Brazil's Lençóis Maranhenses National Park is home to some of the world's most surreal scenery, and is an absolutely necessary addition to your bucket list. Keep in mind that the best time to visit Lençóis Maranhenses is in the "rainy" months between June-August, and that you need to travel to Santo Amaro rather that Barreirinhas to enjoy the most authentic experience.