I'll be honest: When I searched the web for a "Halong Bay luxury cruise," I was slightly more concerned with impressing the guy I was going to be traveling with than finding comfort and convenience. And I knew what the opposite of that—comfort and convenience—felt like, having visiting Halong Bay nine years earlier, on a cruise that was quite the opposite of luxury indeed.
On the other hand, while my transfer from Hanoi to Halong Bay was decidedly higher-end than what I'd experienced way back in my backpacking days, I can't say that the experience wowed me. I'll explain what I mean on a deeper level during the next few paragraphs, but suffice it to say, expectation is the root of disappointment.
Regardless of which Halong Bay cruise you end up booking, I think you're going to find what I have to say illuminating. Speaking of which, I think we've already wasted too much time on introductory matters!
Is Halong Bay Still Worth Visiting?
Irrespective of which Halong Bay tours you're considering, let's address the elephant in the room. Thousands (maybe tens of thousands) of tourists visit the UNESCO World Heritage site every day, which amounts to hundreds (maybe thousands) of boats weaving in and out of the karsts on the hour, every hour. Infamously, this has led to a great deal of plastic pollution in the once-pristine waters that flow between the rocks, to say nothing of how difficult it can be to find tranquility at top attractions.
Halong Bay is crowded—no one can deny that. But what shocked me on my Halong Bay luxury cruise (and not just because I was on a "luxury" boat…more on that in a second) is that it hadn't become noticeably more crowded in the nine years since the last time I was there, at least not out on the water. The cruise terminal in Halong city, of course, was an absolutely madhouse, but I was surprised by how often I looked out on the horizon and saw almost no other boats.
What Makes a Halong Bay Cruise Luxurious?
Transfer from Hanoi to Halong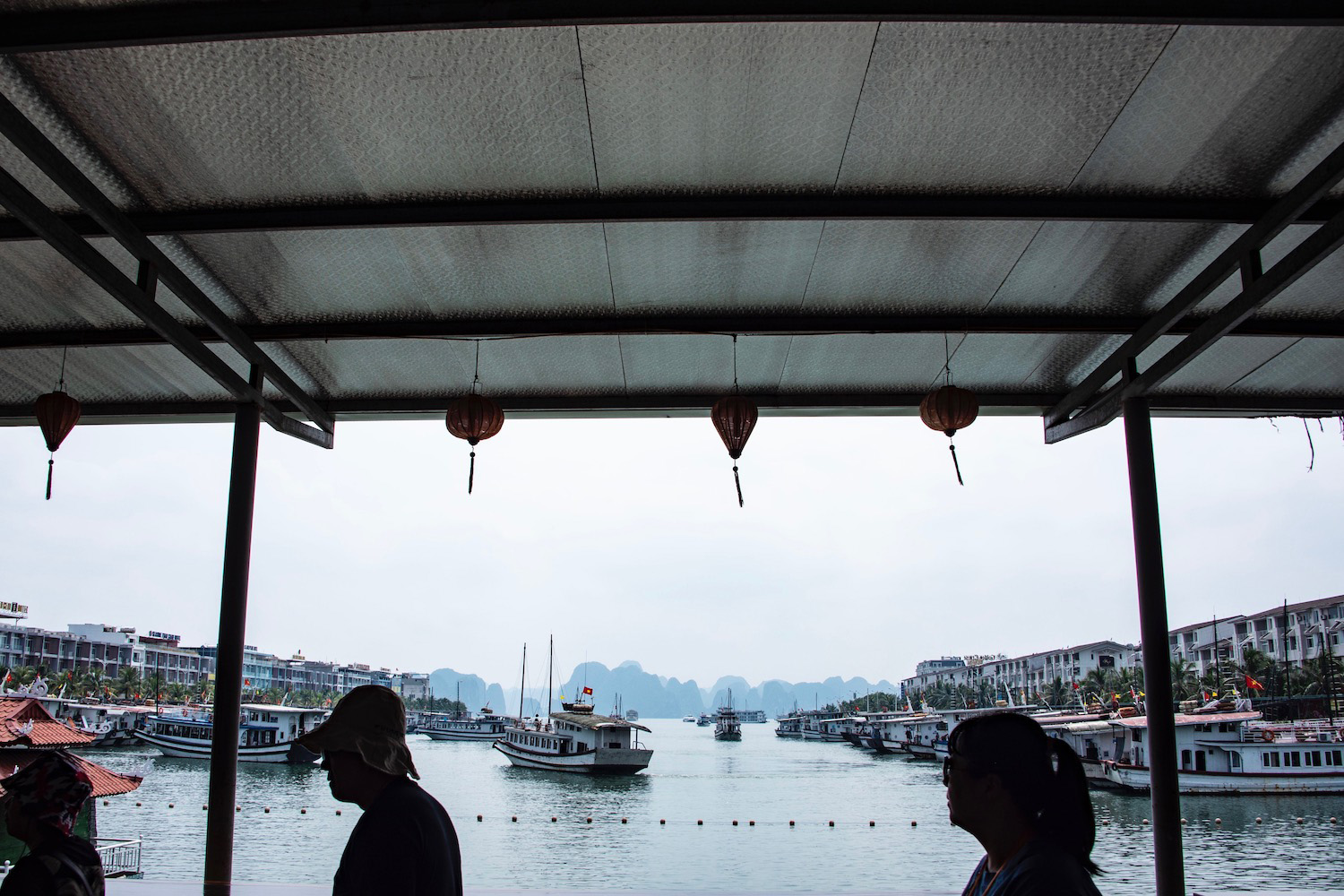 The first thing that differentiates an ordinary Halong Bay tour from a luxury one is being able to travel on the new expressway that goes from Hanoi to Halong. Reportedly the most expensive road in Southeast Asia (can you say "corruption"?), the road shortens the time it takes to get to Halong Bay from more than four hours to just under two (though a stop at a "pearl farm" along the way might slightly protract your inbound journey).
Halong Bay Check-in and Departure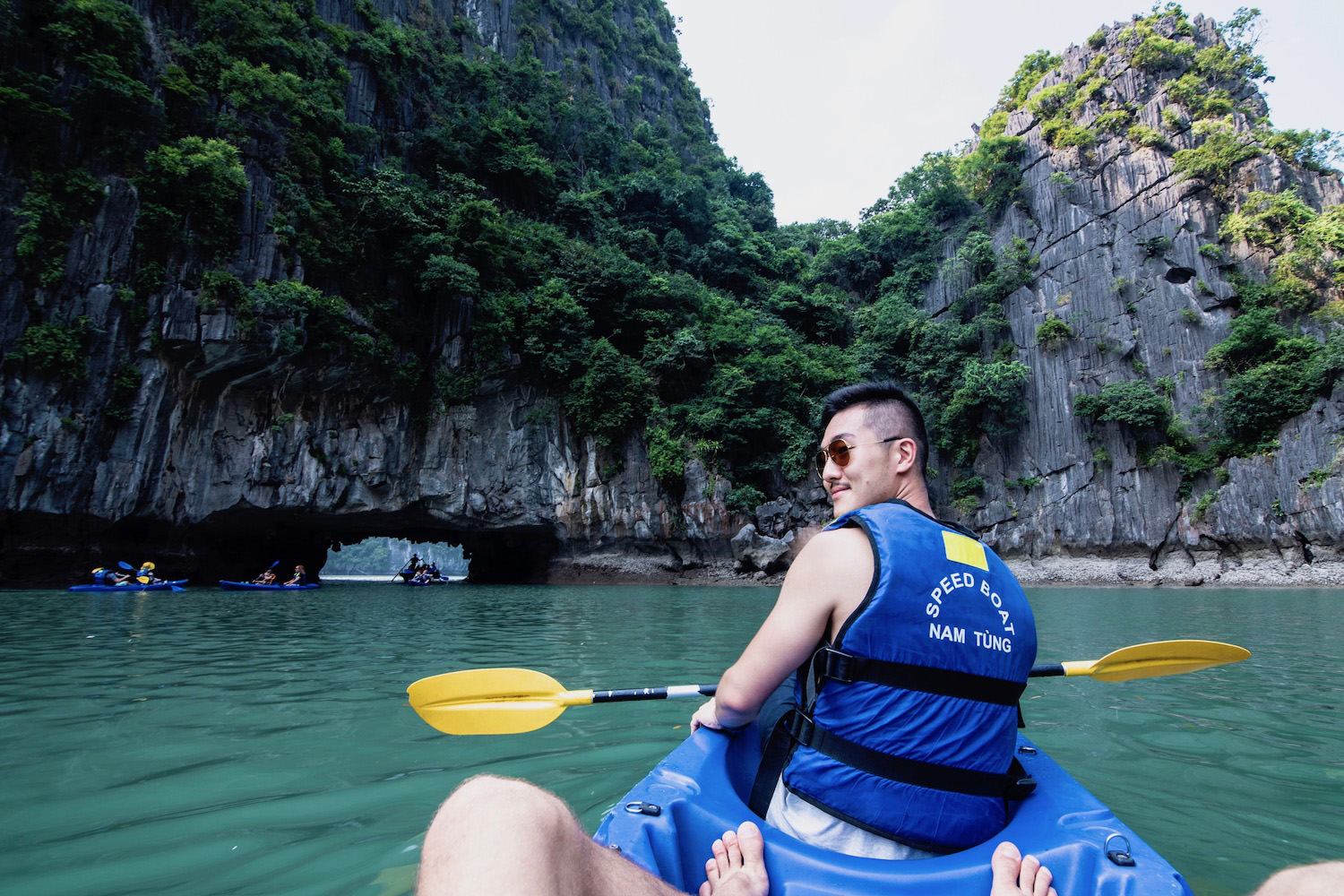 Regardless of which Halong Bay tour from Hanoi you select, you'll need first to get to the port of Halong city, and then find a boat to take you out to the karsts. While all tours theoretically smooth out this process for you, I did find that being on the "luxury" one was a bit faster in terms of making my way through the madness of the Halong port. (Though, perhaps disappointingly, the boat itself was exactly the same as all the others docked near it.)
Food and Drink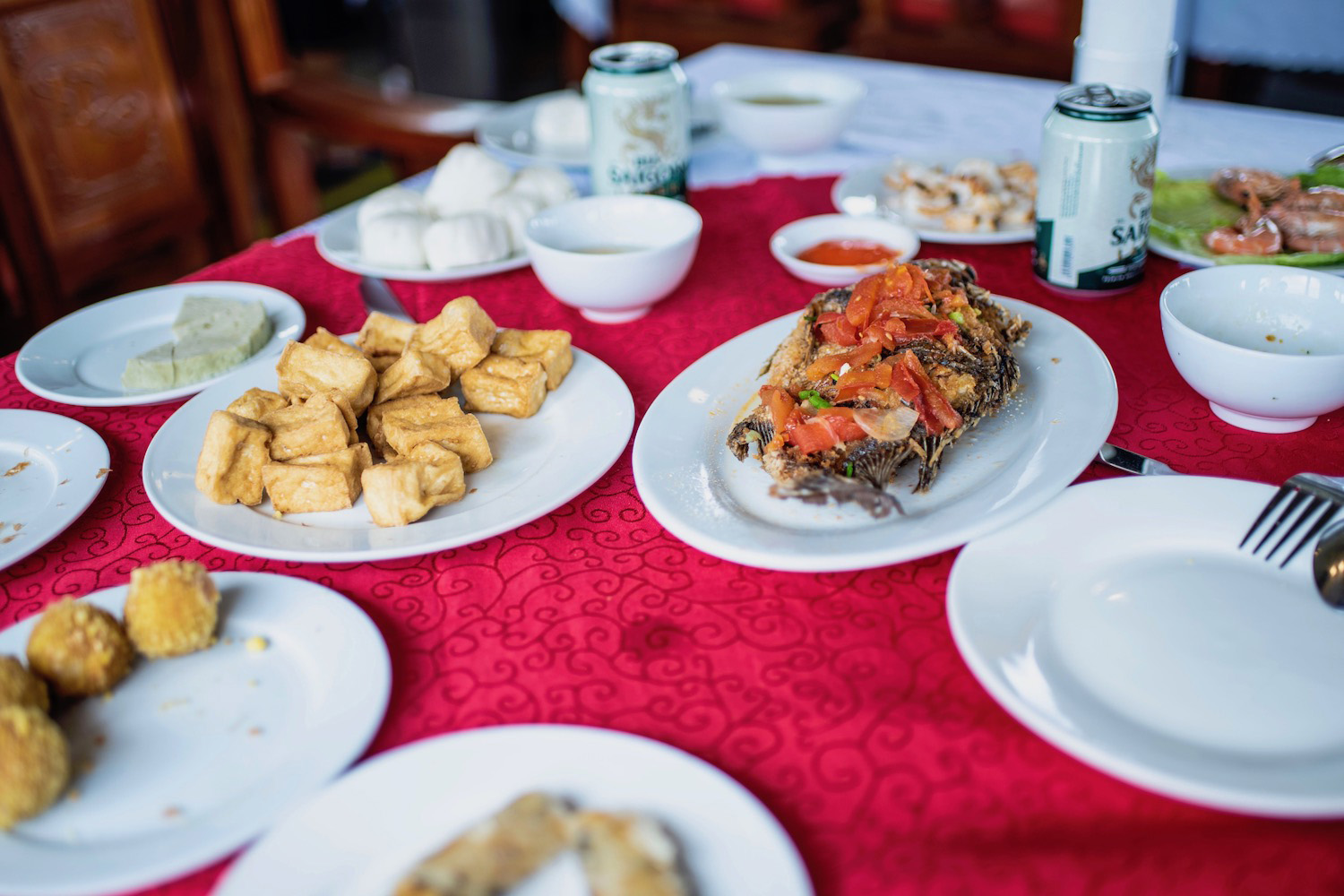 When you see online materials for a Halong Bay luxury cruise, they promise uniformly high-end food, and a "welcome drink" that sounds luxurious and befitting of a five-star hotel. Unfortunately, I didn't find myself impressed by the food and drink onboard my Halong Bay boat. While the lunch was…sumptuous and beer was available for purchase, there wasn't even the option to have champagne or a cocktail, though I imagine this might've been different on an overnight Halong Bay cruise.
Arrival Time at Key Attractions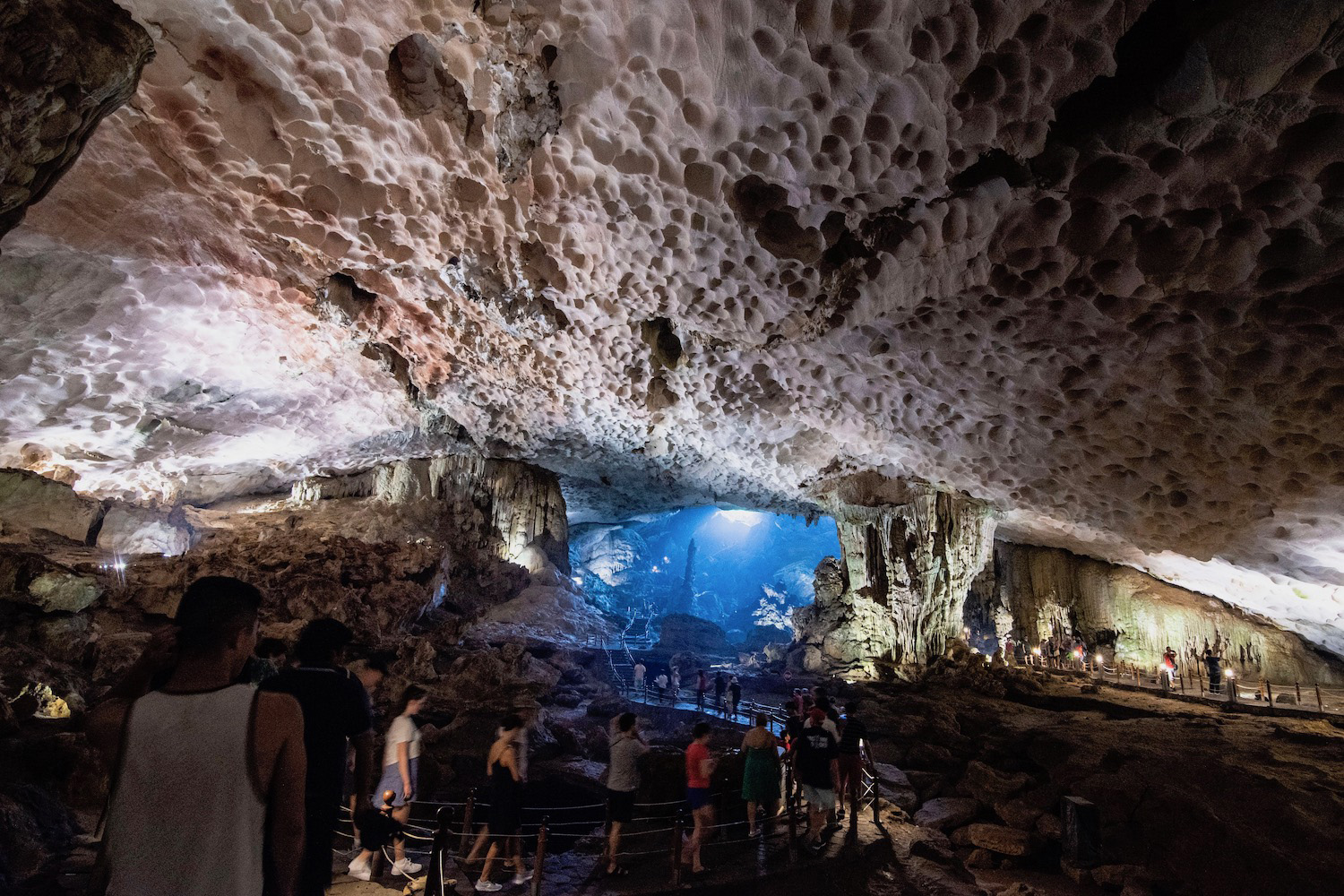 Whether we're talking about the Halong Bay cave or the island where people tend to kayak, I will say that the "luxury" option afforded for more exclusive arrival times at these attractions compared to the ordinary ones. Since we all arrived at Halong earlier than other travelers, we set off earlier and got down to business earlier. I do imagine that being able to visit Halong Bay attractions without as much company is definitely an area where an overnight Halong Bay trip would be a smarter option.
Return to Hanoi

One unfortunate fact is that when your Halong Bay day trip ends, it hasn't really ended—you still have to get all the way back to Hanoi! At this point of the day, when the sun was setting into the extremely polluted sky, I was even more thankful than I'd been in the morning to have been able to travel on the new expressway. My travel companion and I also shared our vehicle with just a few other people, which also heightened the exclusive feeling of our transfer.
Halong Bay Overnight Trips
As I alluded to above, an overnight or multi-day trip can provide you a better opportunity to see what a Halong Bay luxury cruise is all about, as opposed to a day trip. Contrasted with the simple and even spartan living quarters on the budget junk boat tours that leave both from Halong city and Cat Ba Island, luxury boats offers comfortable accommodations, clean toilets and relatively delicious foods, even if the glamour onboard most vessels is decidedly 90s.
On the other hand—and this will likely make me sound jaded—but I'm not sure I would want multiple days at sea on a Halong Bay boat cruise. Don't get me wrong, this a beautiful part of the world (and certainly, one of the most beautiful places in Vietnam), but you sort of…get the point after a couple of hours amid the karsts. I can't lie that, at least on this occasion, I felt content and maybe even a bit relieved as the boat made it ways back to harbor. Die mad about it!
Halong Bay vs Cat Ba Island
When it comes to how to get to Halong Bay, from Hanoi, you either need to travel two hours (on the expressway) or four hours (on local roads)—each way. To frame it somewhat different, you will likely spend as much time getting to and from Halong Bay as you actually do on the boat amid the karsts, which is a less than efficient option, even if I doubt you'll be fussed about it once you're out on the water.
A better option for some travelers, whether you're looking for Halong Bay kayaking or just an ordinary Halong Bay cruise (but without the ridiculous transfer), would be to stay one night on Cat Ba Island, which sits just south of the karst formations on the other side of the water from Halong city. The town itself is nothing special (trust me, I've stayed a night there), but it can allow you to feel more relaxed before and after your excursion, at the very least.
The Bottom Line
Assuming you only plan to travel on a day trip, I'm not sure the end result of a Halong Bay luxury cruise is any different than an ordinary one. On the other hand, local friends have since suggested to me that I wasn't on the most amazing cruise possible—you can see some of the best cruises in Halong Bay here. On the other hand, if you plan to take a multi-day trip to Halong Bay, splurging on luxury might provide a better return on investment. Either way, consider hiring me to plan your trip to Southeast Asia if you want to get the most bang for your buck, regardless of what you end up doing.