You don't normally begin your travel in Myanmar in the northern Burmese city of Mandalay. When you arrive in the northern Burmese city of Mandalay, it will almost certainly be after you've visited Yangon in the south.
One thing I can guarantee is that the swanky Las Vegas hotel which apparently lifts its name from this city will be the furthest thing from your mind as your vehicle pulls in to Mandalay. But don't that discourage you: There is significantly more to Mandalay, Myanmar than the overbearing grit of its bus station.
Need helping planning your trip to Myanmar? Hire me as your Travel Coach!
Mahamuni Paya
Perhaps starkest in contrast to Mandalay's generally roughness is the Mahamuni Paya, an ancient shrine around 10 kilometers south of the city. The centerpiece of this shrine is a five-story Buddha image, one locals repeatedly and constantly re-finish with sheets of the 24-carat gold leaf for which Mandalay is also famous. If you travel in Myanmar, you should make a visit to the Mahamuni Paya a priority.
When I first arrived at the shrine, I was amazed by the sheer number of men praying in front of the statue. They were bowing, gold foil sheets in hand, eagerly anticipating their turn to press the gold onto the statue. Behind them, rows of women and children (in this particular temple, segregation is not only practiced, but mandated) said their prayers from a distance.Other highlights within the Mahamuni Paya complex are a collection of aptly-named "Large Bronze Figures," which were passed around the modern-day ASEAN countries starting in about 1563. A series of wars saw the three figures — a man, an elephant and a lion — take up residence in Thailand and at Angkor Wat in Cambodia, among other places.
Mandalay City Palace
Near the end of the aforementioned wars, the Thai king suffered a "crushing defeat" at the hands of Myanmar's Rakhine king. As a result, he was made to cede the relics of Mahamuni Paya back to his eastern neighbor. The physical spoils of war, however, wouldn't return to Myanmar until 1784, when the crown prince under King Bodawphaya picked them up on his way back from the battlefield.
In spite of this epic story, I'm told that the seemingly grand Mandalay City Palace located on several hundred conspicuous acres in the city center is not worth actually entering. I'll leave whether or not it measures up to Mahamuni Paya for you to decide whenever you travel in Myanmar, but I will have you know that the east entrance (the only one authorized for foreigner entry as of December 2010) is at least five kilometers from town by taxi. This will seem like the huge relative distance that it is only after you see what both a road and a taxi look like in Mandalay.
Climbing Mandalay Hill
However many days you spend in Mandalay (I recommend that you spend at least two because of a three-destination day trip just outside Mandalay you can and should take when you travel in Myanmar) make it a point to end at least one of them with a sunset climb up Mandalay Hill, a towering, pagoda-strewn summit that provides humbling views of what is, in fact, an extremely small urban aglommeration set in the middle of seemingly endless rolling hills, tranquil ponds and farming settlements.
The quantity of merchants who've set up shop along either of the two staircases leading to the top can be a bit overwhelming, but you'll also probably run into some local teenage monks who are looking to practice their English with foreign visitors. Their gratitude whenever you do decide to make your way back down should be more than enough to counteract any annoyance.
Mandalay Hotels
As is the case when you travel in Myanmar's other cities, you will no doubt be in need of a hotel in Mandalay when you finish each day's sightseeing. The recommendations I can make to you all happen to be along Mandalay's 25th Street corridor, one indistinguishable from the rest of the dusty boulevards and avenues that cut the city into a grid pattern from the amount of foreigner-catering guest houses running up and down it.
The first Mandalay hotel you'll encounter (and the cheapest, at around $10 for a double) is the Royal Golden Inn. Due to its prime location, the hotel will probably be full when you try to find a room. Accordingly, you should make your way to either E.T. or the Nylon Hotel. Both are a bit pricer than Royal Garden (plan to pay at least $7-8 per person if there are two of you) but are comfortable and clean with spacious rooms and pleasant staffs.
Restaurants in Mandalay
Coming back to gender segregation again, a quick walk south down 83th Street, the north-south road that intersects 25th directly in front of the latter of the aforementioned hotels, will lead you to the aptly-named "Mann" restaurant which, in spite of its perhaps unintentional mispelling, will only serve men. Of course, if you're traveling with a woman, you may bring her. You may in fact also dine there if you travel in Myanmar as a solo woman: The rule only applies to local Burmese women.
Cigar smoke, whisky and other signs of unbridled masculinity not your thing? Walk east on 25th Street until you dead end into the river and stop in at V Cafe, a self-described European eatery that serves up burgers, liquor and a long menu full of other Western delights in a dimly-lit bar setting that feels more like Mumbai than Mandalay.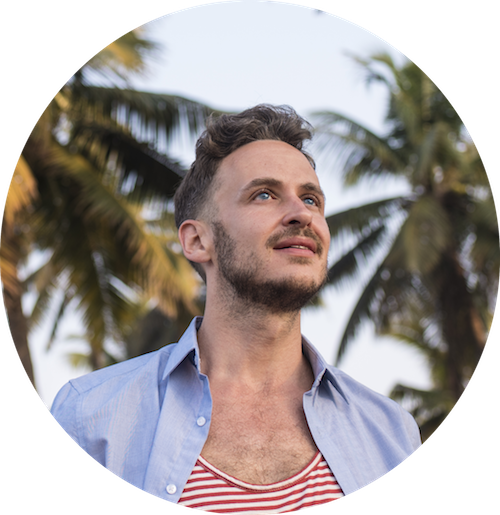 informs, inspires, entertains and empowers travelers like you. My name is Robert and I'm happy you're here!