One of the unfortunate parts about traveling in South America on a United States passport (and, in some cases, an Australian one) is that you must obtain a visa to enter many countries U.K. and European citizens can enter freely without one. In some cases (Bolivia, for example) this isn't a big deal, as many countries issues visas on arrival at border crossings.
Brazil, however, is another story. Although I've heard stray reports of people being able to obtain visas at the embassy in the border town of Porto Iguazú (near the famous waterfall of the same name) I've heard just as many saying that this isn't actually possible.
If you find yourself in Buenos Aires prior to visiting Brazil, obtain your Brazilian visa in Buenos Aires from the Consulate General of Brazil's office. Getting your Brazilian visa here occupies a few hours of sightseeing time in the Argentine capital, but ensures you won't get turned away at any Brazilian land or air borders for not having one.
Required Documents for Brazil Visa
NOVEMBER 2014 UPDATE: Leave Your Daily Hell reader Lourdes informs us that the consulate now requires a recent bank statement, so please print and bring yours. Thanks, Lourdes!
OCTOBER 2012 UPDATE: Leave Your Daily Hell reader Carly informs us that the consulate has become stricter. Apparently, you now MUST download and print the Brazil visa application in advance and also, bring confirmation of inbound and outbound transport to Brazil. Thanks, Carly!
Officially, the Consulate General of Brazil requires the following documents from foreigners who wish to obtain a tourist visa: Passport with at least six months validity; Passport photo; Roundtrip ticket to Brazil; Proof of hotel reservation; and financial records, which may include bank statements and proof of earnings.
In practice, however, many of these documents are not actually necessary, at least not for citizens of the United States and Australia. When I went to apply for the visa, I brought a printed out copy of my bank statement and a HostelWorld email confirmation, both of which the attendant discarded after thumbing through them. I didn't bring a copy of a ticket because I didn't have one — I entered Brazil by land via Iguazú Falls. This wasn't an issue.
When you complete the application form at the office, one detail is absolutely essential not to overlook is having a local phone number of some kind. This can be your hostel's or even that of the person you hooked up with last night, but if you don't have a phone number, the attendant turns you away.
Online Appointment for Brazil Visa
Don't go to the Consulate and attempt to submit your documents until you select an appointment time online. The appointment selection interface is only available in Spanish, however, so read on if your español isn't quite as bien as it needs to be.
After clicking the "Appointment Online" link, choose "Área de Visa Turista" from the "Seleccionar" drop-down menu. Then, hover your mouse over the calendar that sits on the right side of the page and click any date the appears green or yellow, which means that appointments are available.
Click on any green time slot listed under the date you want to apply for your visa, then input your email address, name, last name and a local phone number (use your hostel's if you don't have one of your own), in that order. Click "Guardar" to set your appointment time.
Directions to the Brazilian Consulate in Buenos Aires
The Consulate General of Brazil is located near Buenos Aires' magnificent Avenida 9 de Julio, the oft-mentioned "widest road in the world." Confusingly, it's located very near the Brazilian Embassy, which is only for Brazilian citizens who require assistance. To avoid any confusion in getting to the Consulate, follow my directions exactly.
Descend into any Buenos Aires Subte station and get to the "General San Martín" station of Line C. Disembark the subway station and look around you until you see the Plaza itself, which looks something like this: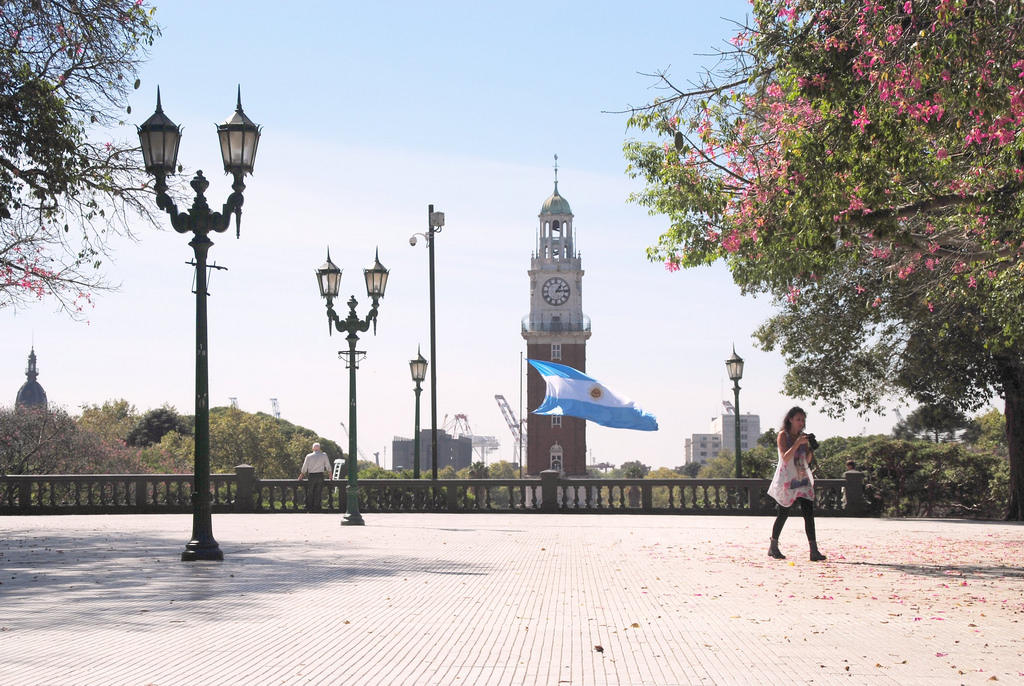 Take a left on the road you find yourself on, which is Avenida Santa Fe. Turn left at the first street corner which is confusingly also labeled Avenida Santa Fe. Make a right on the third street, Carlos Pellegrini, which flanks the eastern edge of 9 de Julio. Walk north for three blocks (until you pass Juncal) and the Consulate General's Office is on your right, on the fifth floor of building number 1363.
Payment at Itaú Bank
After submitting your documents to the attendant, he presents you with a receipt with a scannable bar code. He also includes a handwritten chit that specifies the exact cost of the visa in Argentine pesos. You mean I don't pay at the Consulate? Nope, you sure don't.
Instead, exit the building and take a left onto Carlos Pelligrini. Stop at the first bank you see to withdraw the amount you need for your visa from a nearby ATM — it should be around 600 pesos, or $150 — then continue walking back to Avenida Santa Fe.
Take a left and walk one block until you see an orange, blue and yellow sign labeled "Itaú." This is the Brazilian bank where you need to make payment for your visa. Hand the receipt to the attendant inside the bank and wait to be called up to a teller who takes your payment.
When Will My Brazil Visa Be Ready?
Return to the Office of the Consulate General at the time specified on the handwritten chit — usually sometime the next day — to pick up your passport, Brazilian visa ready to go.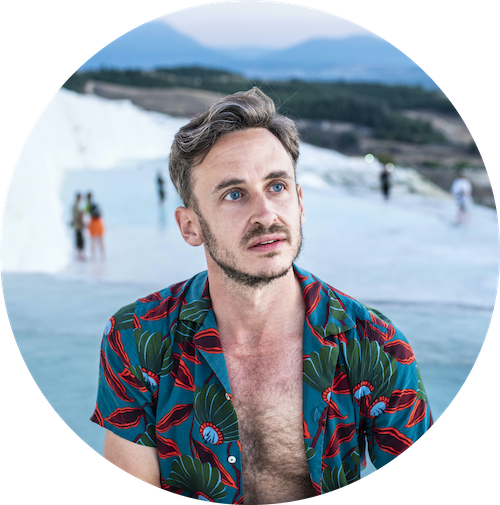 informs, inspires, entertains and empowers travelers like you. My name is Robert and I'm happy you're here!