If there was one thing I hated, back when I was trying to figure out how I could leave the hell that had become my daily life, it was people who claimed to have solved the mystery of how to quit your job and travel the world, but wouldn't reveal the secret of doing so. (Or, if they would, made you pay in advance for a product that was clearly a sham.)
So today I'm laying out, as best as I can, the steps for quitting your job and traveling the world.
Although I won't charge you, as someone of my more disingenuous peers would, I also won't make the guarantees that they do. At the end of the day, cultivating a life of freedom, adventure and travel is as much about planning and best practices as it is rolling with the punches.
Speaking of which, let's roll!
Step One: Make a Timeline
Your ability to achieve goals is directly correlated to how specific they are, so the first step to quitting your job and traveling is to make a timeline. Your timeline should not only include dates, such as when you plan to depart on your trip (or, if you plan to do so, return from it), but should be a well thought-out trajectory of your path to freedom.
Let's say, for example, that today is January 1 and you would like to leave on July 1 and return no earlier than January 1 of next year. Let's also say that you read my advice on how to plan a trip abroad and determined your cost of travel for six months to be no less than $10,000. Let's further say that you've saved $5,000 for travel and have $1,000 left each month, after taxes and expenses, from your salary.
Assuming you plan to fund your entire trip before you depart, you would need to work for at least five of the six remaining months until your planned departure date in order to make your trip happen, logistically speaking.
Step Two: Pack Your Parachute
But what if you don't want to wait several months to leave, or don't have any idea how long you plan to travel? Several options exist for you, such as securing a job teaching English abroad, either before you depart on your trip or after you arrive someplace you love, or cultivating a location-independent source of income, although this can be difficult at the outset (more on that later).
Regardless of how "safe" or "risky" you decide your escape path will be, you'll need to take some precautionary measures – or, keeping with the the flight theme, pack a parachute.
The first of these is to leave your job on good terms, even if you can't imagine yourself ever coming back to it. Secondly – and this might also determine your timeline, depending on your circumstances – you need to maneuver yourself out of your living situation, whether that involves finishing out your lease, finding someone else to take it over or breaking your lease and facing the consequences.
(Ditto for selling or storing your car, making sure your students loans, credit card and insurance are paid and reconciling any other obligations you might have. I never said this step was fun!)
You should furthermore make sure you have at least a couple of places stay, in the event that you decide to come home unexpectedly or (and this is more likely) you come home not knowing where you want to call home. "Quitting your job" and "traveling the world" are really just the first two parts of a three-layer continuum – even if you end up traveling indefinitely, like me, there is always an "end."
Step Three: Get On the Plane
Whether you plan your trip in gory detail or simply read up on the basics and resolve to let the wind carry you, the single most important step of quitting your job and traveling the world is getting on the plane. (The second-most important one is buying the ticket, but I'm going to assume you already did that by this point!)
As a matter of personal preference, I prefer to arrive in my first destination before making any set-in-stone plans about what the rest of my trip is going to hold, although this will obviously be less of an option for you if you have an English-teaching (or other) job waiting for you. To be sure, if you've taken the proper preparations up to this point, particularly those of a financial sort, you've got quite a lot of room for error.
Step Four: Let Go
And I do encourage you to make errors, whenever possible. The most important part of quitting your job to travel the world, more important than getting up-close and personal with tigers, taking crazy road trips with people you fall in love with or jumping fences into war-torn, fought-over territories, is getting to know who you truly are. And the only way to get to know who you truly are is to fuck up, get angry, lose your mind and find it again.
Of course, you shouldn't "let go" of everything. Keeping in mind Maslow's Hierarchy of Needs, you should always make sure you have food, clothing and shelter; or, to put it a more literal way, you should make sure you never run out of money. Whether you had it when you departed or find it once you arrive is up to, but one thing I will tell you is that going broke during travel never ends well.
Speaking of which, you should not only make sure you have a nice cash cushion throughout your trip, but also make an unshakable habit of traveling within the daily budget you've set for yourself.
Step Five: Go Home – Or Don't!
For most people, even those who commit to a year or more of traveling, there is a reason to go home, be it a girl or boy to marry, a sick or dying relative, a job that's too good to abandon forever or an inexplicable psychological yearning. I get it – I've left and gone home probably a dozen times, for dozens of different reasons!
No matter why you quit your job and travel the world or how you end up doing it, the way you end your trip and resume your life (or, to be more accurate, how you choose to define your life once your trip is over) is just as important as what you do when you're on the road – maybe more so, in fact.
It's like this quote from my favorite book, Herman Hesse's Siddhartha:
The first light of day shone into the room. The Brahman saw that Siddhartha was trembling softly in his knees. In Siddhartha's face he saw no trembling, his eyes were fixed on a distant spot. Then his father realized that even now Siddhartha no longer dwelt with him in his home, that he had already left him.

The Father touched Siddhartha's shoulder.

"You will," he spoke, "go into the forest and be a Samana. When you'll have found blissfulness in the forest, then come back and teach me to be blissful. If you'll find disappointment, then return and let us once again make offerings to the gods together.
No matter what you do when you go out into the forest, how you end up defining blissfulness and who (or what) represents the symbol of the father in your life, it is only possible to measure the impact travel has had on you when you've returned home, even if you do so temporarily.
So, go into the forest and be a Samana, Siddhartha – quit your job and travel the world!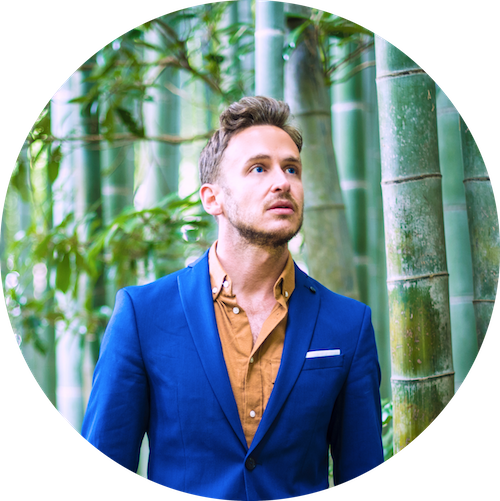 informs, inspires, entertains and empowers travelers like you. My name is Robert and I'm happy you're here!