Generally speaking, an American passport is a priceless asset for a world travel. With some exceptions, it affords easy and free (or, at the very least, cheap) entry into any country in the world. One such exception is Bolivia, among the several countries in South America (Brazil being another) where U.S. citizens must obtain a visa prior to entry.
Before I visited South America this past February, I did some online research into how I would acquire the various visas required to enter South American countries. Curiously, most websites I visited told me that I'd need to obtain a Bolivian visa in Peru in advance of leaving the country, either at the Bolivian Embassy in Lima or the Bolivian Consulate in Puno.
Thankfully, this is not the case. As long as you have a passport with at least six months remaining validity and U.S. dollar cash in hand, getting a visa to enter Bolivia is something you can do while crossing the border.
Bolivia Visa Requirements
Officially, requirements for a Bolivian visa are relatively strict. In addition needing a passport-sized photo, a completed visa application and $135 (ouch!) cash, you are supposed to have hotel reservations for the duration of your stay in Bolivia, as well as an outbound flight or bus ticket. Additionally, you should have proof of yellow fever vaccination.
In practice, however, nearly all of these items are superfluous. As long as your U.S. passport has at least six months of remaining validity (this is non-negotiable), the only materials you need prepare prior to crossing the Peru-Bolivia border are a passport-sized photo and $135 in cash.
Peru-Bolivia Border Crossings
Two Peru-Bolivia border crossings exist: Between the cities of Puno, Peru and Copacabana, Bolivia over Lake Titica; And over the Desaguadero River between the bi-national city of (surprise!) Desaguadero. I highly recommend you use the Desaguadero border crossing, particularly if you are bound for La Paz. Copacabana is a tourist trap of sorts and if you've already been to Puno and done the Lake Titicaca thing, it will seem redundant.
From the Puno bus station, a collectivo (the shared taxi I describe in my post about traveling South America by bus) to Desaguadero takes about two hours and costs around S./10 per person, although hustlers in the bus station, who are eager to get you to take their private taxis, will inform you that the fare is much higher.
If you are arriving to Puno in the late afternoon or evening, it is essential that you depart Puno no later than 6 p.m.: The Peru-Bolivia border at Desaguadero closes at 8 p.m.
Scams at Peru-Bolivia Border
Your collectivo will drop you in the town center of Desaguadero, which is about 600 feet from the bridge over the river of the same name, where the border station is located. From here, crossing from Peru into Bolivia is a two-step process.
The first step is leaving Peru. Once you see the bridge, look for a two-story building to your left just before it: This is the Peruvian immigration exit station. Officials here will stamp your passport, at which point you can walk across the bridge into Bolivia.
This is where many tourists get caught up in the first scam, a time-wasting bag search. To avoid it, simply don't make eye contact with any of the men standing in front of the building to the right of the road. If you do, they will ask you to come into their office so they can come through your bags, which is particularly risky if you arrive at the border near closing time — you might not make it into Bolivia the same day!
Once you arrive on the Bolivia side, the processing building is located just to your right. While your U.K. and European friends enter with only a stamp, you must wait at the window to get your visa. The process should be quick. Namely, you fork over 135 big ones, fill out the simple application and affix a passport-sized photo to it. Within a few minute, you'll have a Bolivian visa good for five years stuck inside your passport.
Here's where the second scam tends to come up: The attendant will ask that you return to Peru to get a photocopy of your passport with the Bolivian visa stuck inside it. The problem is that you have been stamped out of Peru and must re-enter to get a copy made, an inconvenience for which Peruvian authorities may try to assess you a fee.
My advice? Grab your passport as soon as you get your visa and walk on into the Bolivian side of Desaguadero. They didn't chase after me; I promise they won't chase after you.
From the Border Onward
Once you're in Desaguadero, ask any local where you can find a collectivo to La Paz. This shouldn't cost you anymore than 10 bolivianos and will take about 2.5 hours. Once the vehicle is full, that is — the driver won't leave Desaguadero until it is.
Finding a La Paz-bound collectivo becomes more difficult if you cross the border near closing time, keeping in mind that Bolivia is one hour ahead of Peru. Still, you shouldn't have to wait more than an hour to be on your way.
If you're lucky, the collectivo will drop you within the La Paz city limits — but you probably won't be. Make sure and obtain the exact address of your hotel or hostel (I personally recommend the Loki hostel, as I detail in this post) before you leave Puno so that the taxi you get after exiting the collectivo can take you directly there. Again this becomes important at night, given the amount of crime present in La Paz.
Crossing the Peru-Bolivia border as an American isn't complicated, although it is quite pricey considering. The good news is that everything else in Bolivia (a tour of the Uyuni Salt Flats, anyone?) is dirt-cheap, so the cost of the Bolivian visa is quickly offset once you're in, monetarily and otherwise. For a preview of what to expect in Bolivia, check out my Bolivian travel photo essay, as mentioned by Lonely Planet.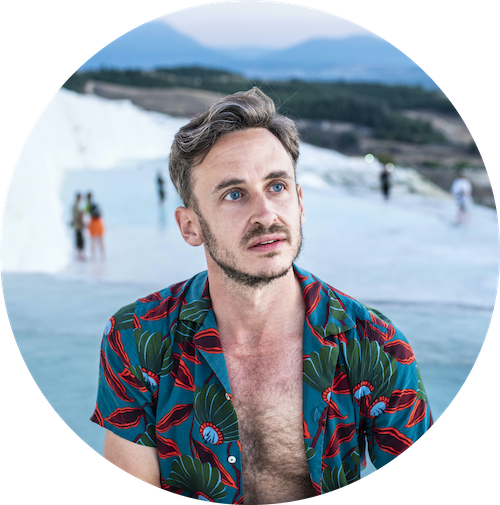 informs, inspires, entertains and empowers travelers like you. My name is Robert and I'm happy you're here!