Australia's red, dusty Northern Territory is not only the geographical center of the country, but has also been the country's spiritual center for literally tens of thousands of years. This is in part thanks to the two massive rock formations that have more recently become huge tourist draws for the region: Uluru, also know as Ayers Rock; and Kata Tjuta, or simply "The Olgas."
My personally connection to this region dates back only about two decades, to the day my Australia-obsessed second grade teach Mrs. Fraley told our class about the massive rock that sat in the middle of the Australian desert. She did her best to explain its significance to the indigenous Anangu aboriginies to a group of curious seven- and eight-year olds, information I re-encountered at the cultural center at the base of Uluru.
Although I have immense respect for the legacy of the Anangu, whom most anthropologists agree are the oldest continuous culture on Earth, my priority was forging my own spiritual connection to Australia's dusty red center during the time I spent there. I can't claim to be an expert on aboriginal spirituality after five short days, but it took only a moment of contemplation to understand why they held Australia's desolate center so sacred.
Welcome to Uluru
I began my time in Australia's red center by heading straight to the place I wanted to see, Uluru. Depending on how you get to Uluru — I used a service known as Uluru Express, which provides roundtrip bus drop-off for a cheap (for the area) $50 — you will start your visit not as the base of the rock itself, but at a Cultural Center which provides you with background about the spiritual importance of the rock to the Anangu  people, as well as a broader understanding of that culture's history and beliefs. Afterwards, you begin the "Liru" walk, a 1.5 km trek that taks you through a parched white, black, red and green desert with subtle, beautiful flecks of color, such as this blue finch.
Thanks to four years of significantly above-normal rainfall, the central Australian desert is quite literally blooming, with trees, shrubs and other foliage at their most prominent in almost forever. According to several of the locals I encountered, only in ancient aboriginal legend has the desert been so alive. This is probably going to sound crazy, but as I walked alone through various desert expanses — and I was very, very much alone the vast majority of the time — I almost felt as if the plants and animals had messages for me, that I should stop listening to my thoughts of blogging and busy city life and start listening to them. This tree's message was pretty evident, huh?
It's no secret if you read this blog with any regularity that I tend to shy away from "popular tourist attractions," if only because they very rarely live up to the hype. Allow me to be clear: Uluru absolutely lives up to the hype, particularly as the desert sun sets behind, casting brilliant oranges and reds on the surface of the rock. At the moment, geologists are generally in agreement that the rock formed during an epic-sounding "mountain building" period during the Cambrian period over 500 million years ago. The Anangu obviously didn't know this, but I would imagine they felt the same sort of blissful smallness I did when I first laid eyes upon this amazing formation in real life.
As I hiked around the base of Uluru, only one fleeting worry was preventing me from allowing myself to fully immerse into the experience: The presence of creepy, crawly, buzzing creatures, namely the large red hornets I didn't dare approach closely enough to photograph. Just as I would become comfortable existing peacefully and alone on a particular patch of red sand, one (or, worse, several) of them would come a buzzin'. Other critters, such as this chirping grasshopper, actually enhanced the experience. To be fair, by the end of my trip, I had reach a level of acceptance RE: the prospect of being stung that allowed me to co-exist with a hornet that hovered above me as I used the toilet.
I stayed at a place known as the Outback Pioneer Lodge and Hotel, part of the Ayers Rock Resort, one of only a few accommodation providers located in the extremely small "town" of Yulara that has been built up to accommodate tourists to the region. Because of the extremely touristy nature of the place, I didn't feel to cheesy for indulging in the so-called "Aussie Outback Combo" my first night there. For A$24.90 (which is actually pretty cheap for this region, one of the priciest in already-expensive Australia), you get a crocodile kebab, a skewer of buffalo meat, and one link each of beef, emu, and kangaroo sausage, which you grill yourself over an open flame. The verdict? Although I'm typically a fan of wild game, the only one I feel compelled to try again is buffalo.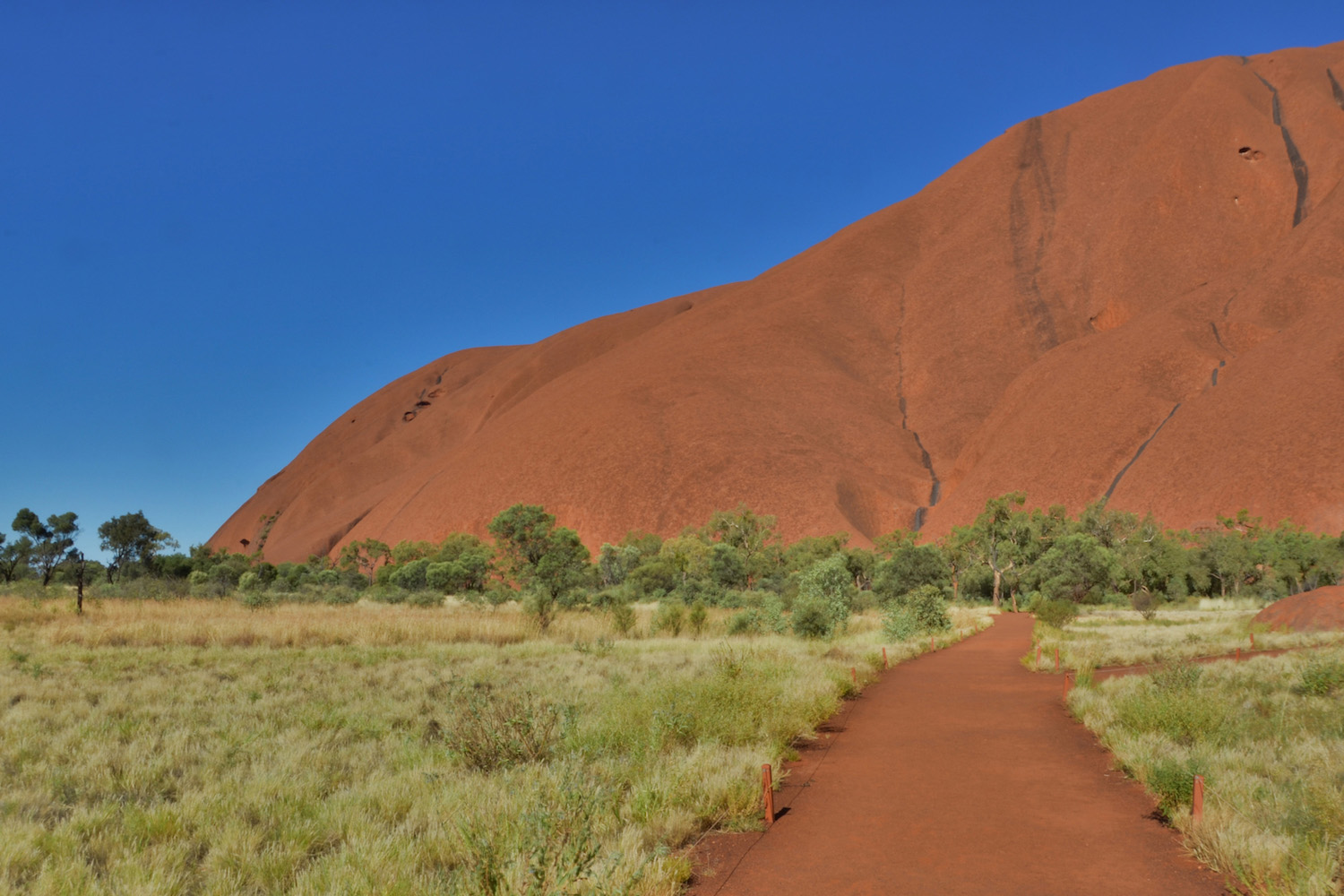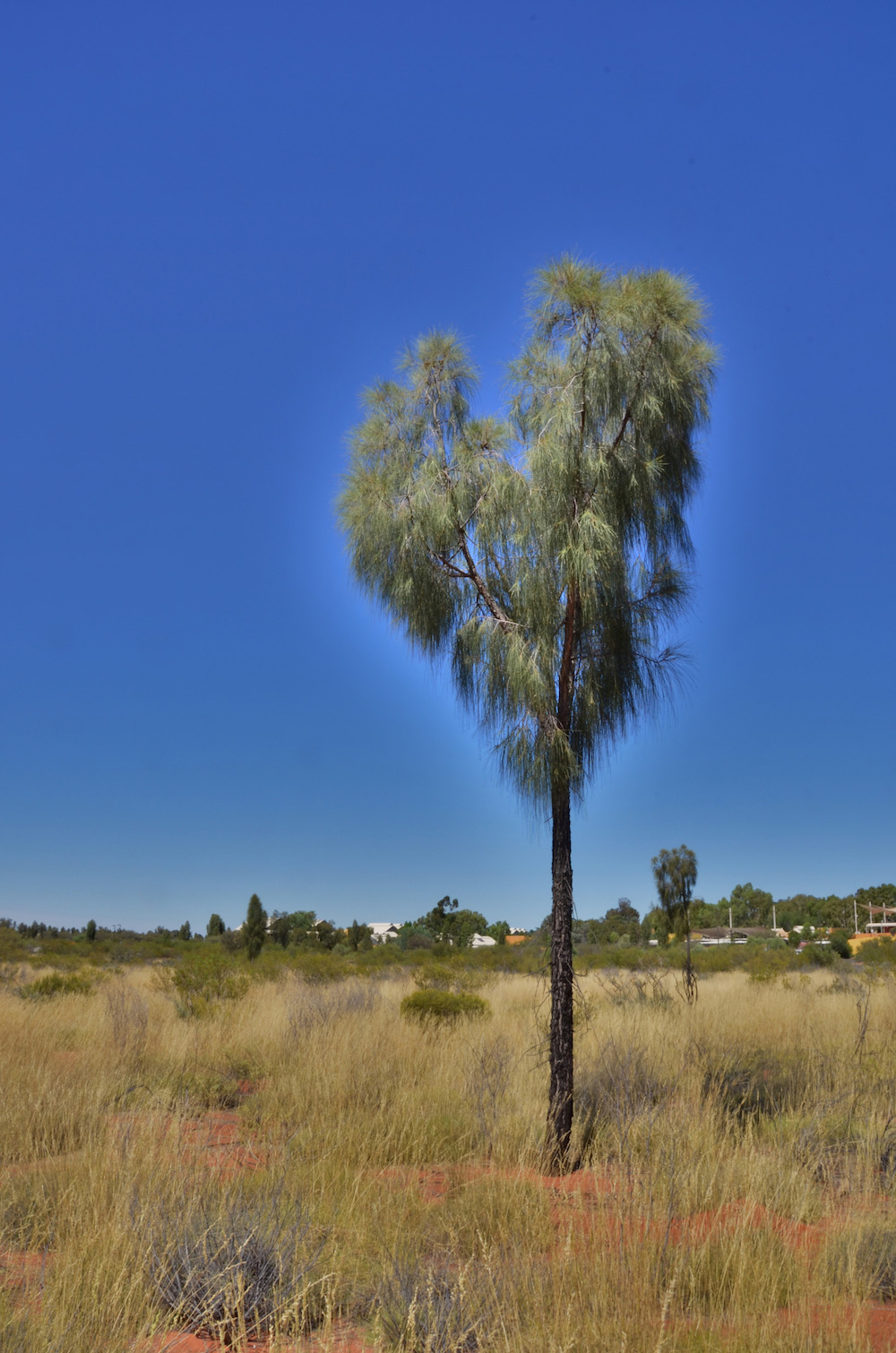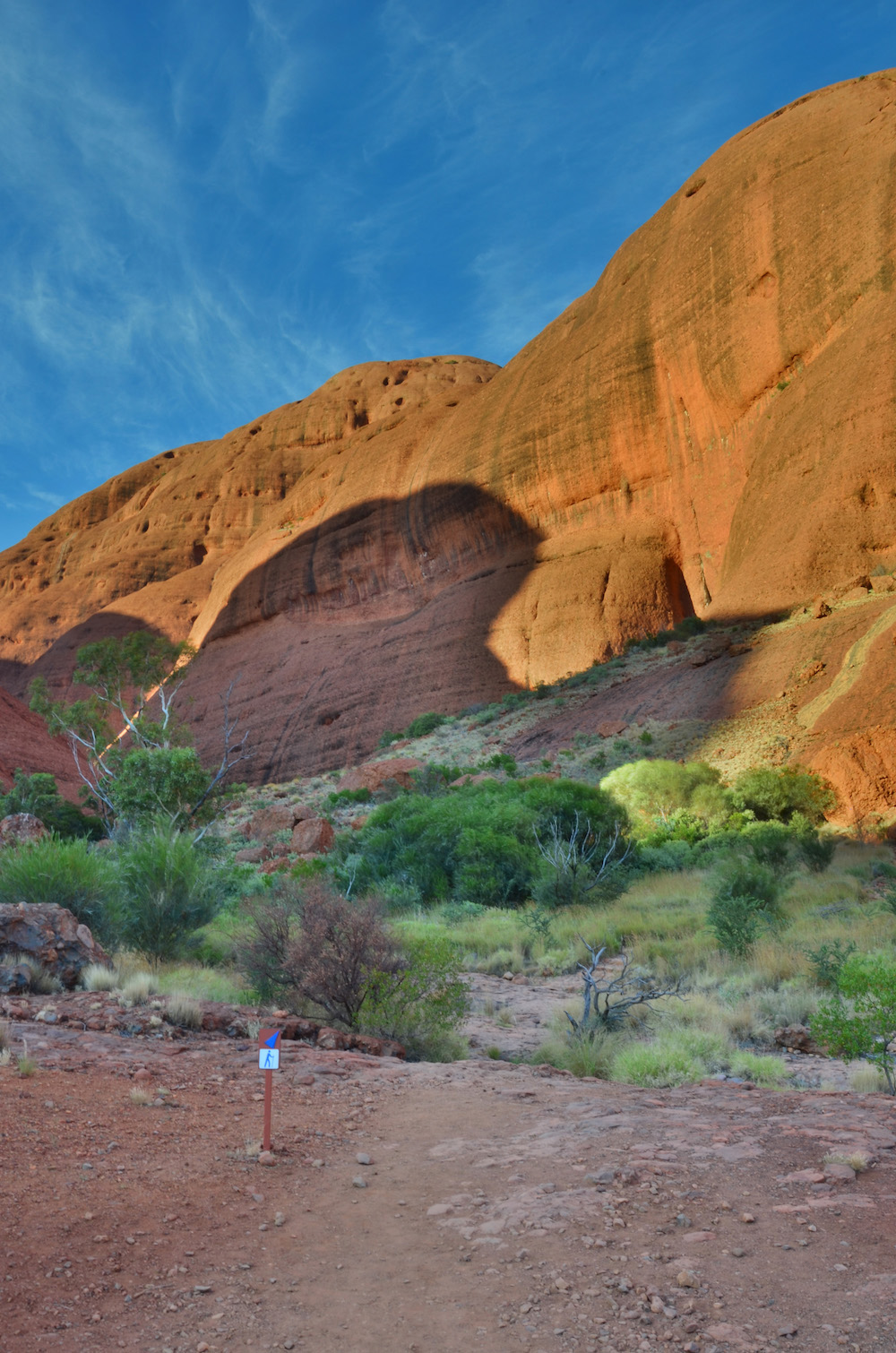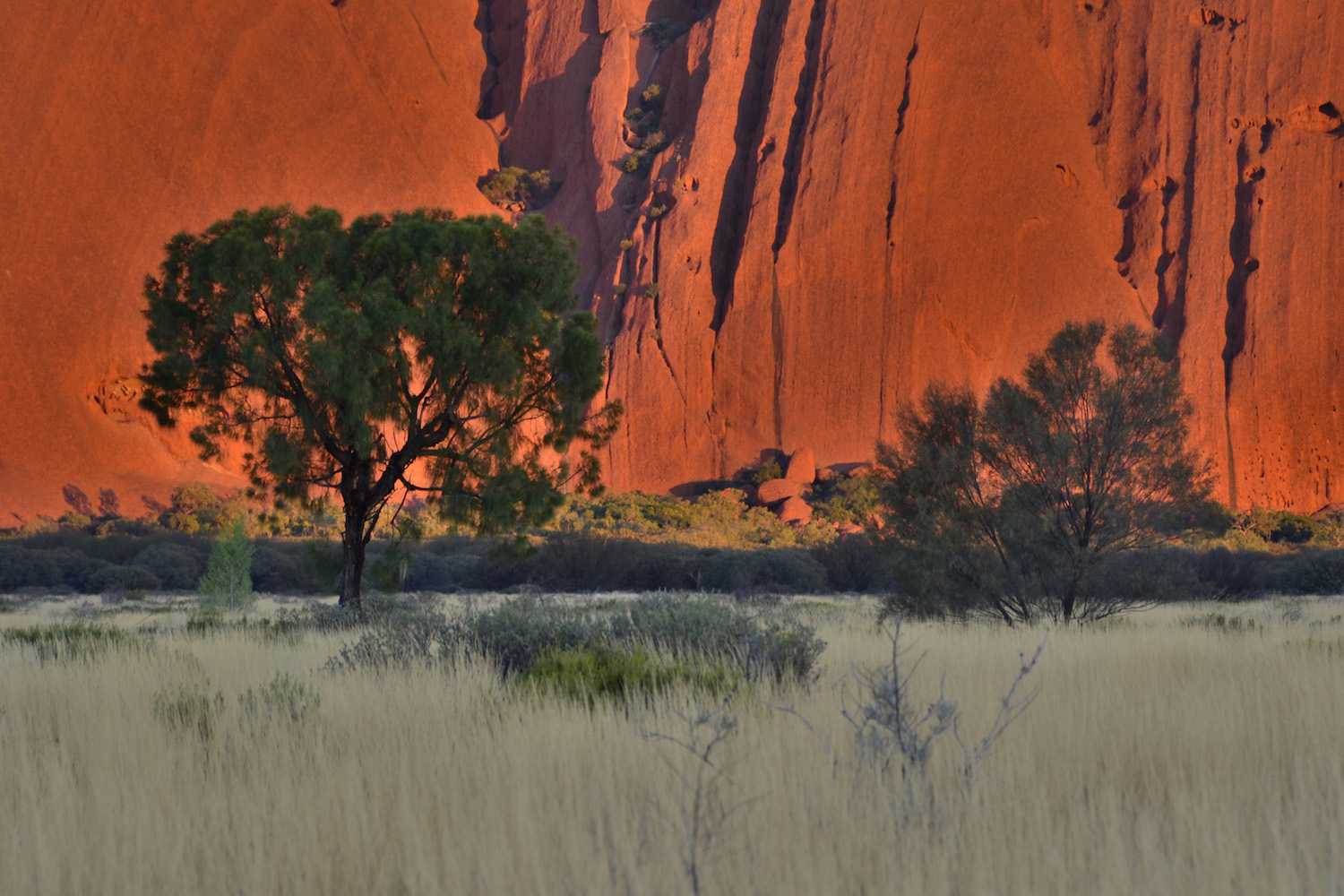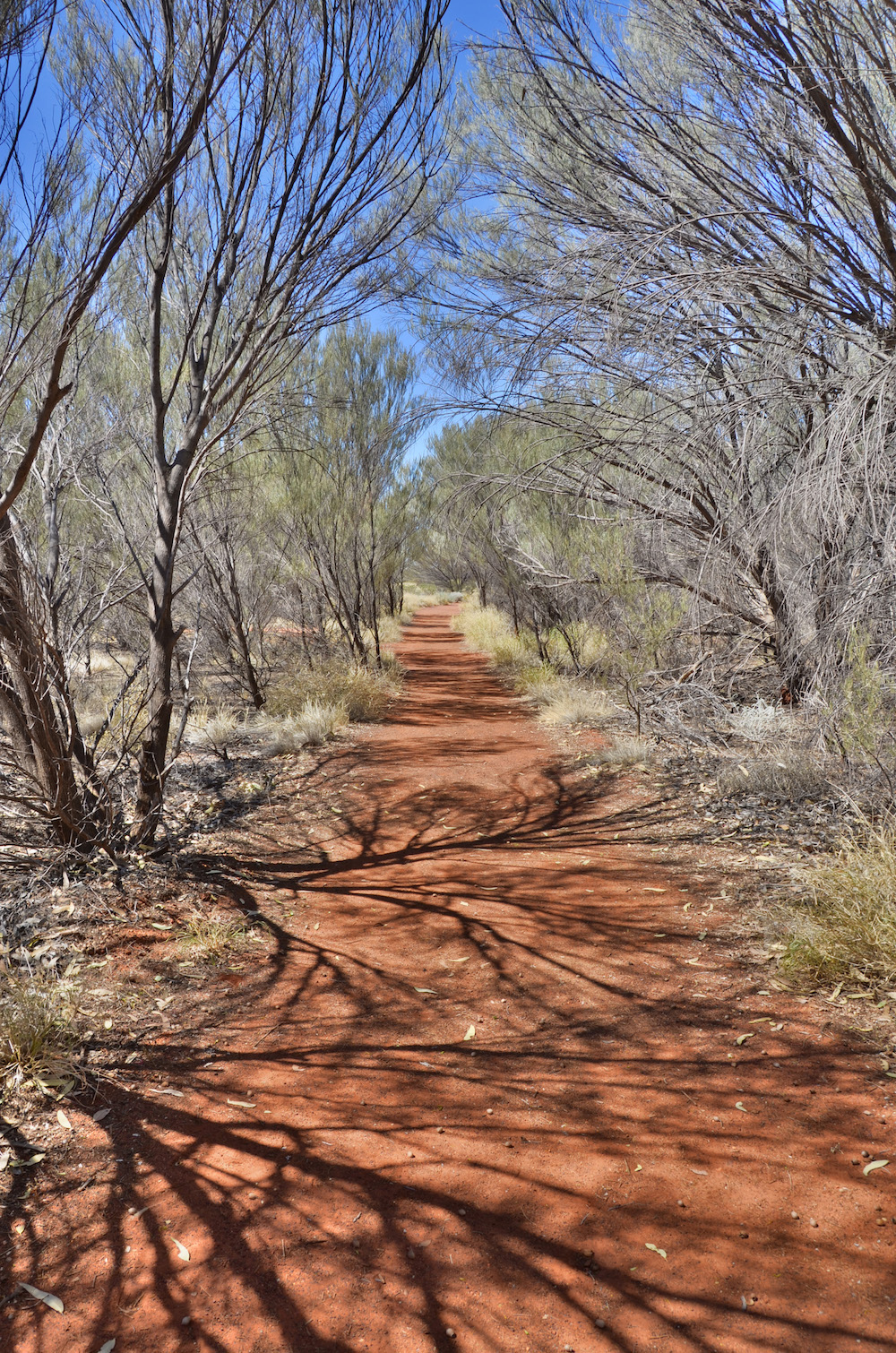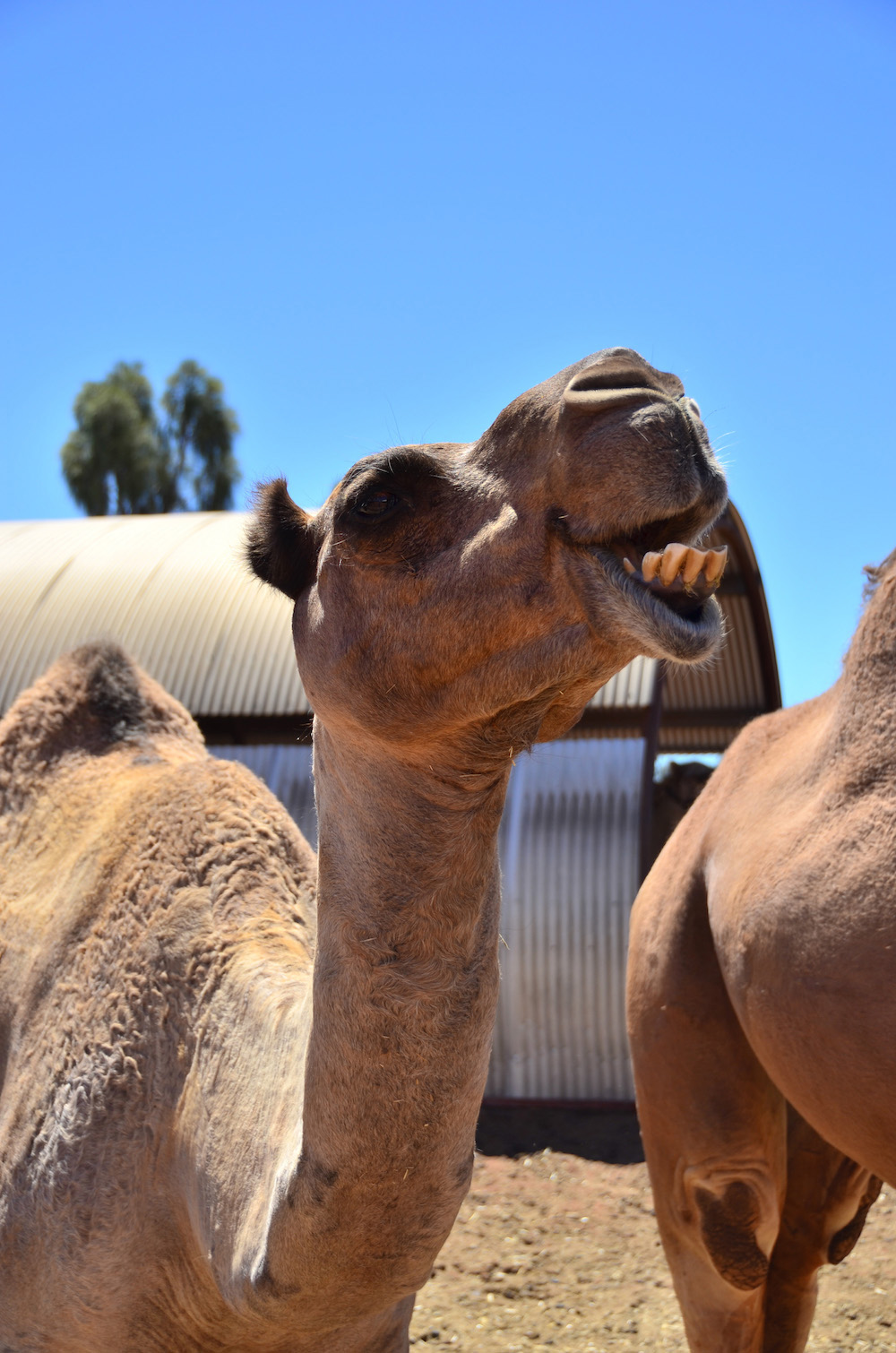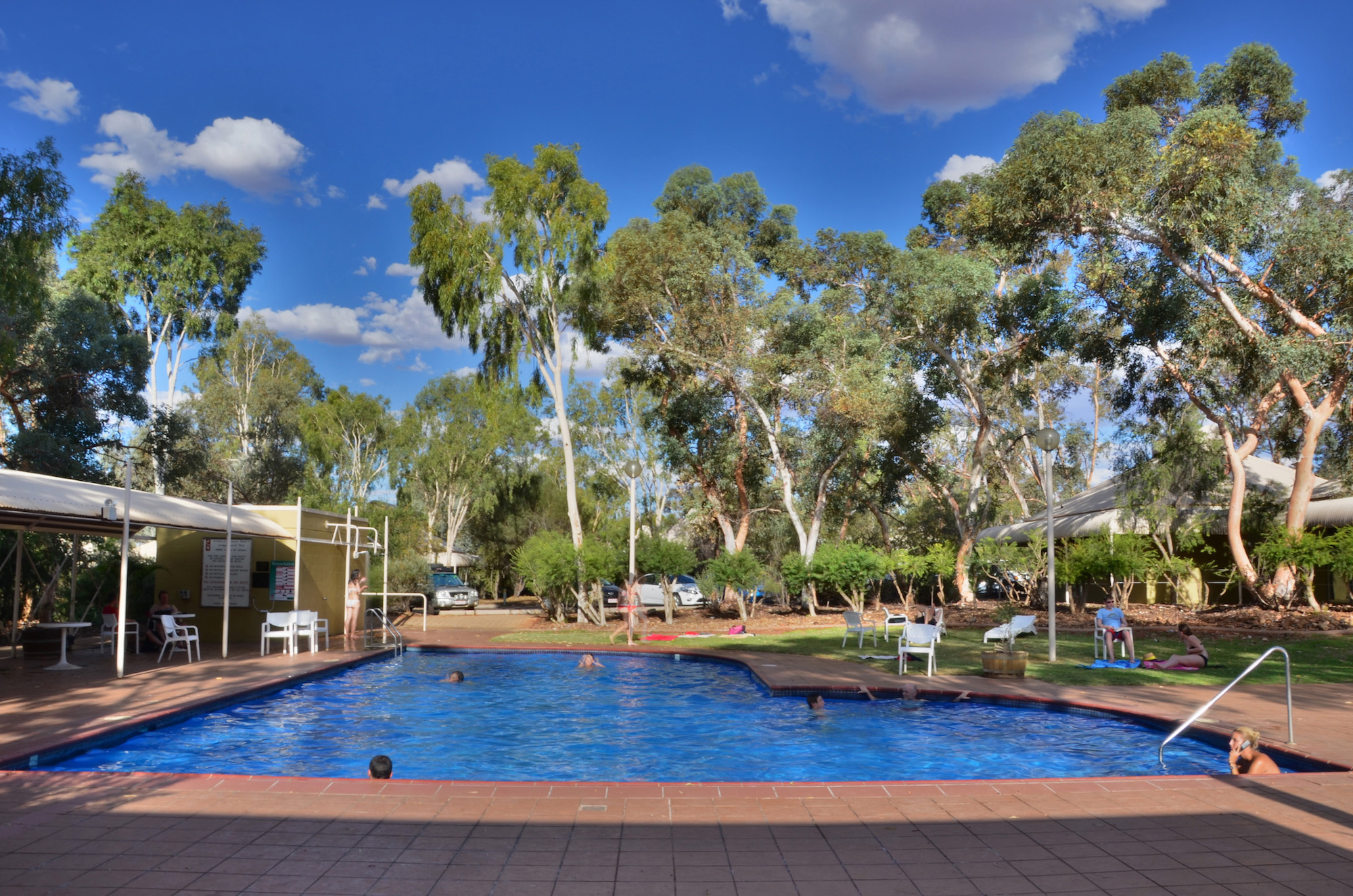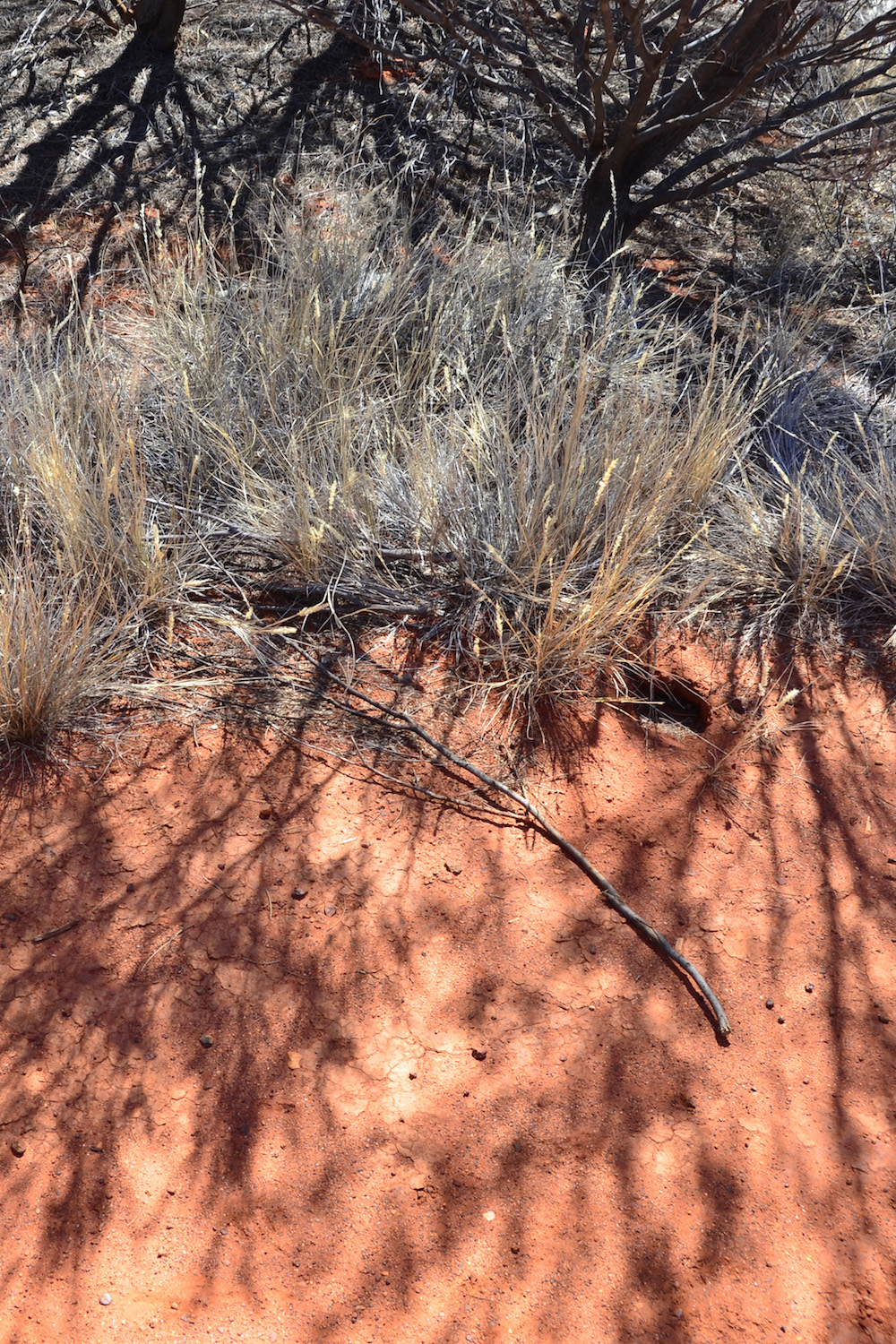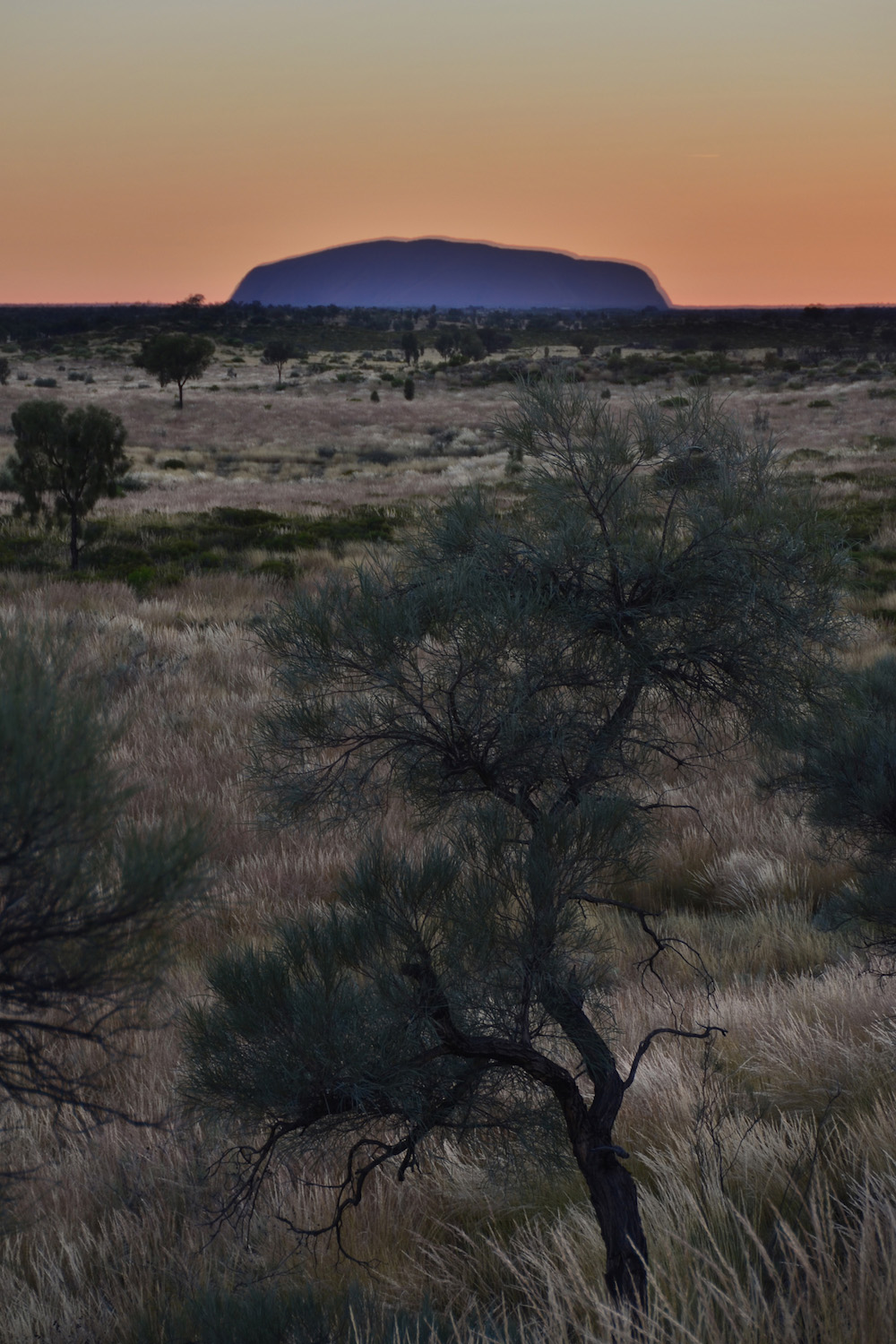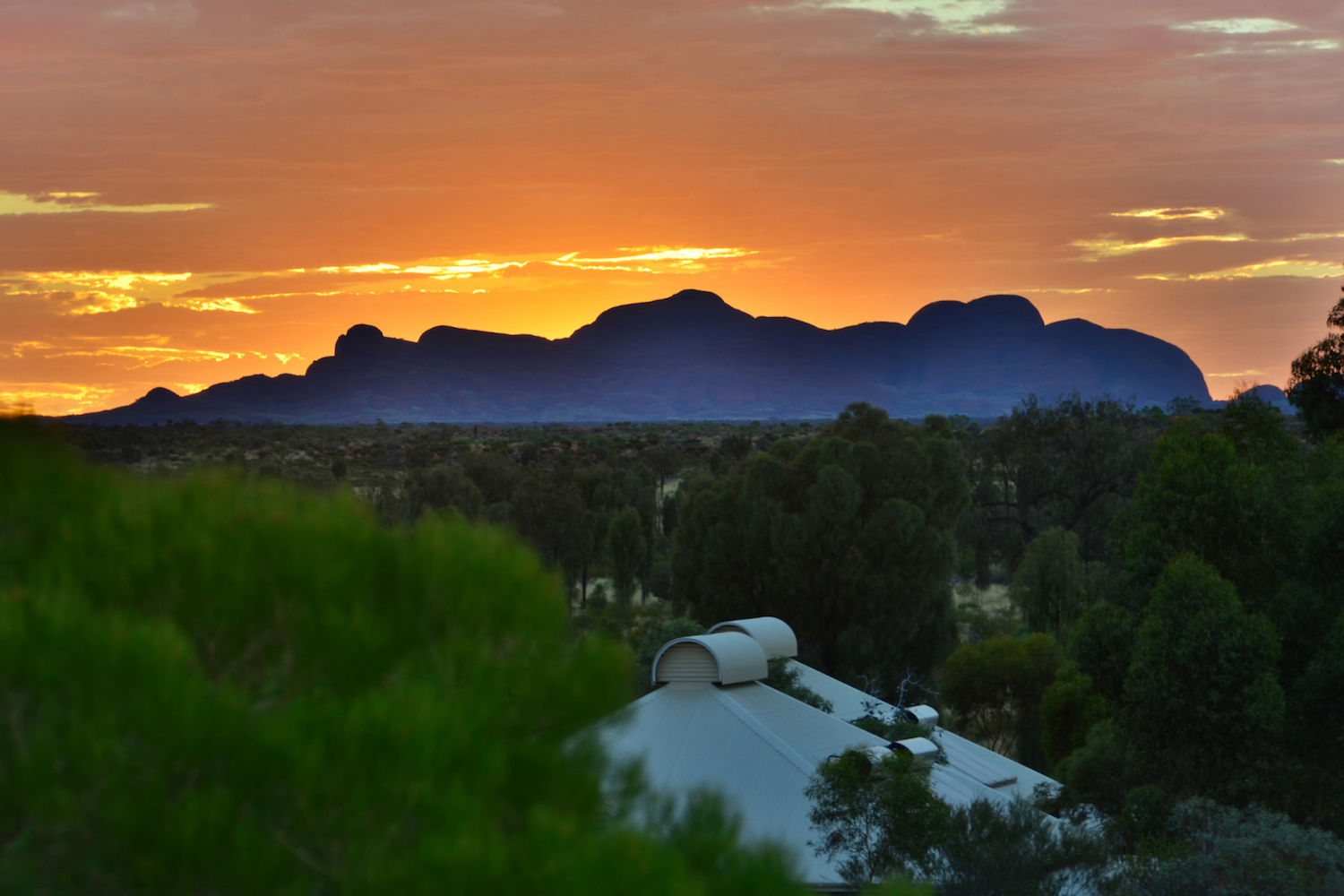 As you can probably image, sunrise is an extremely popular time for tourists in Australia's red center to be out and about, such as the ones pictured above, who are watching to sun rise over Uluru from a viewing station approximately halfway between the rock and Kata Tjuta (pictured in the preview image for this entry), another nearby rock formation. I was lucky enough to piggyback with a French-Canadian tourist who'd rented a car to watch the sunrise my third day in the region, otherwise I'd have been made to frantically snap pictures before time was called like the tourgoers pictured above.
Like Uluru, Kata Tjuta was formed in one of the "geologic thrust" periods that occurred more than half a billion years ago, although most scientists agree that Kata Tjuta is slightly older. If you visit Kata Tjuta, I recommend you opt for the longer of the two treks that are open to the public, the 7.1 km "Valley of the Winds." This trek takes you completely around one of the several "lobes" of the formation and, if you do it in the morning as I did, allows you to experience the namesake wind rushing past as you roam through the brushy, alien crevices. This cool breeze passed under the long shadows of these very dead rocks serves as a poignant, certain reminder of how fleeting, precious and lucky life is. If this doesn't sweep your ego aside for even a second, I don't know what to tell you.
Once you've had your fill of local geological sites (there's also Kings Canyon, located about 200 km away, if you have an extra day and about $200 to cough up), you can take a shuttle bus from anywhere in Yulara to Uluru Camel Tours, a camel farm and tour provider I profiled in a recent post, where you can read more about what this charming little plot of land might have to offer you. For me, it was yet another opportunity to spend time with my very favorite animals in the world — my spiritual animal, as my friend Gina calls them.
In addition the "messages" I mentioned nature sending me further up, another aspect of this region that astounded me was the extent to which nature (which still very much has control over this parched land) operates in a way that seems bizarre and foreign to my human eyes. A good example of this is these small birds (if you know what they're called, please post it in a comment), which slowly flock to a particular tree one at a time then, in formation, vacate the tree together, flying straight down like Olympic divers. Simply breathtaking. It's easy to spend an hour or more studying how these birds behave, which is a great way of further disconnecting yourself from pesky memories of your quotidian life back home.
I hate to be cliché and have a picture of a beautiful sunset as the conclusion to this entry, but whatever — I've posted a picture of a beautiful sunset as the conclusion to this entry! As I sit here at the Uluru airport awaiting my flight back to Sydney, I am already saddened by how quickly my time under this huge, glorious sky, amid towering rock formations and sovereign wildlife, mostly detached from other humans, has passed. Knowing that all of this will remain not only after I leave today, but long after the memory of our civilization is gone from the Earth, has afforded me a peace and acceptance I've only felt a few times in my life. To me, this is precisely what spirituality should be: Unspoken respect for that which is so grand and eternal it need not speak, nor be anthropomorphized like the deities of most contemporary religions.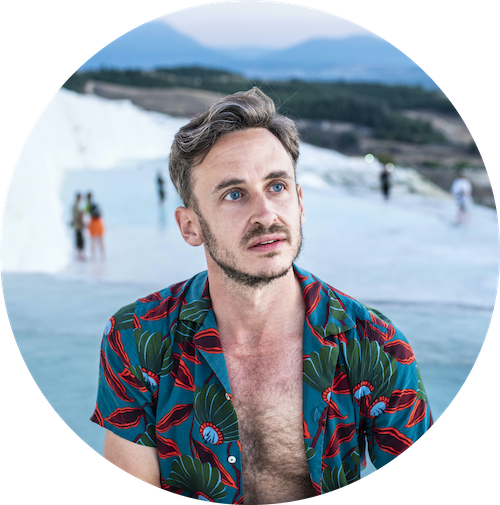 informs, inspires, entertains and empowers travelers like you. My name is Robert and I'm happy you're here!