Nearly every Australian I've ever met has loudly sung the praises of Byron Bay, so I made visiting the idyllic beach town along the northern coast of New South Wales a high priority on my recent trip to Australia. The uniformly positively commentary varied only slightly, from cliché adjectives like "gorgeous" and "breathtaking," to some who even went so far as to say it was the most beautiful place on Earth.
The verdict on Coffs Harbour, a town located a couple hundred kilometers down the coast from Byron Bay, was decidedly more blah. When I made it official that I'd be visiting Coffs Harbour (mostly to take surf lessons from the lovely Helene Enevoldson from East Coast Surf School), most Sydneysiders I told replied with disgust and disbelief.
The funny part is that I personally preferred Coffs Harbour over Byron Bay. Since you have to pass through one to get to the other if you're traveling by land, however, I recommend building both Coffs Harbour and Byron Bay into your Australia travel itinerary, so you can see first-hand which one you prefer.
Beaches and Coastline in Coffs Harbour vs. Byron Bay
When I arrived in Coffs Harbour, it was following an all-night bus ride from Sydney and at the Aussitel, a hostel whose location and ambiance were substandard. To quell my initial disappointment — it was my birthday, after all — I headed toward the water and took a look around. I was literally left speechless by how gorgeous the sun looked rising over the Coffs Harbour marina and boardwalk. The pink cockatoos fluttering above the coastal pine trees added a nice touch as well. Initially, however, I wasn't very satisfied with the beach.
This was in large part because although the town center of Coffs Harbour is very small, the actual "Coffs Coast" region stretches for more than 20 kilometers. The great news is that you don't have to walk far from the main city beach to get to more secluded ones. In fact, the Coffs Coast Regional Park, a sweeping virgin coastline protected from development, starts just a few minutes' walk north of here. Further north lie rocky Digger (and nude "Little Digger") and deserted Sapphire and Emerald Beaches.
Byron Bay suffers from much the same affliction as Coffs Harbour: Its "main" beach is less than spectacular. Thankfully, both the stretches of coastline that sit just to the west (the east-west Belongil Beach) and east (the north-south Tallow Beach, which stretches nearly seven miles) are much more breathtaking and splendorous.
One downfall of Byron's beaches is that the scenery rising up behind them simply isn't as spectacular as what you find in Coffs, not in my opinion anyway. That seems, from my experience, to be because the Byron area is simply more developed. Perhaps due to its poor reputation, Coffs Harbour remains something of a hidden treasure — and I have no problem if it stays that way.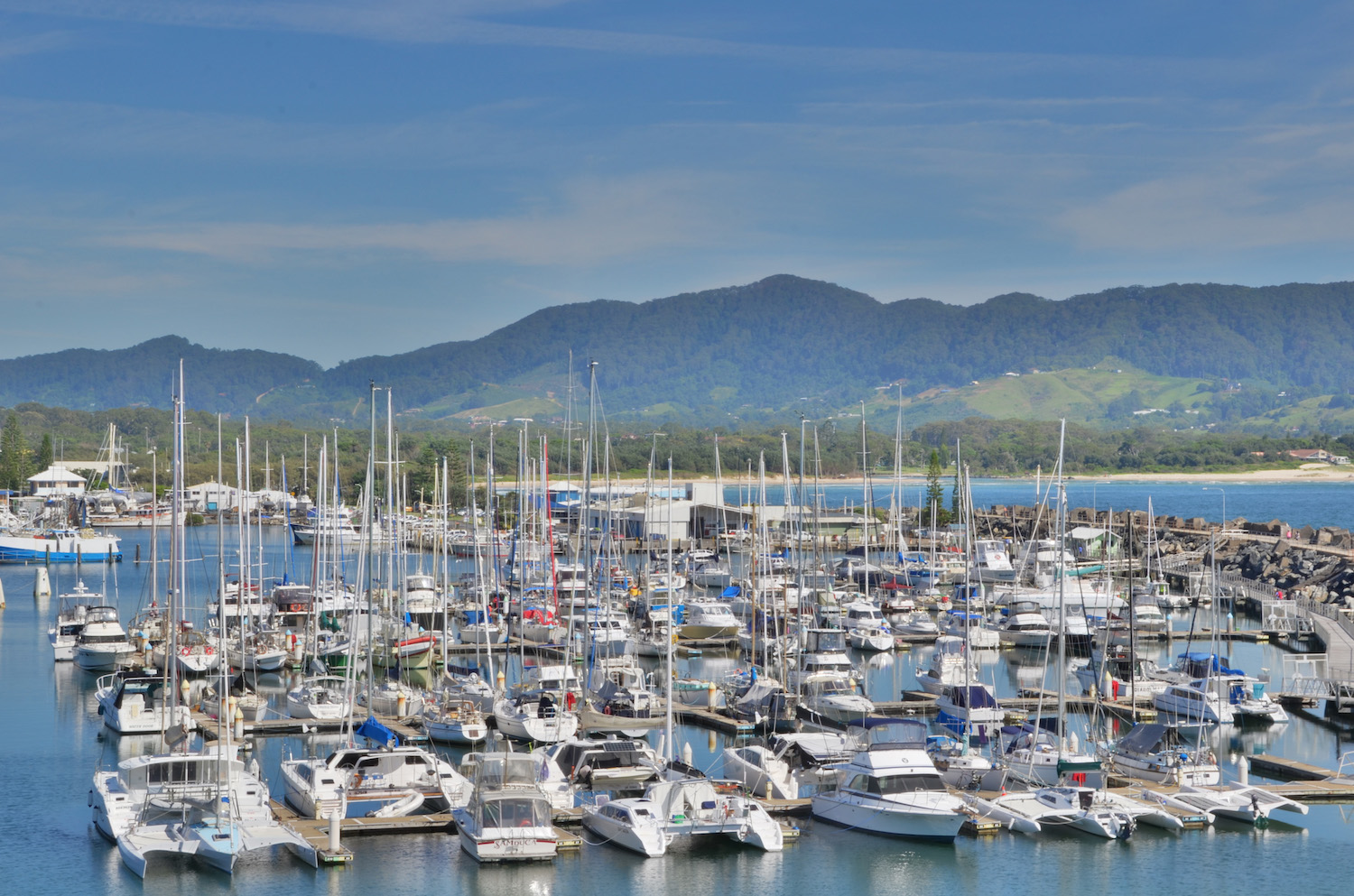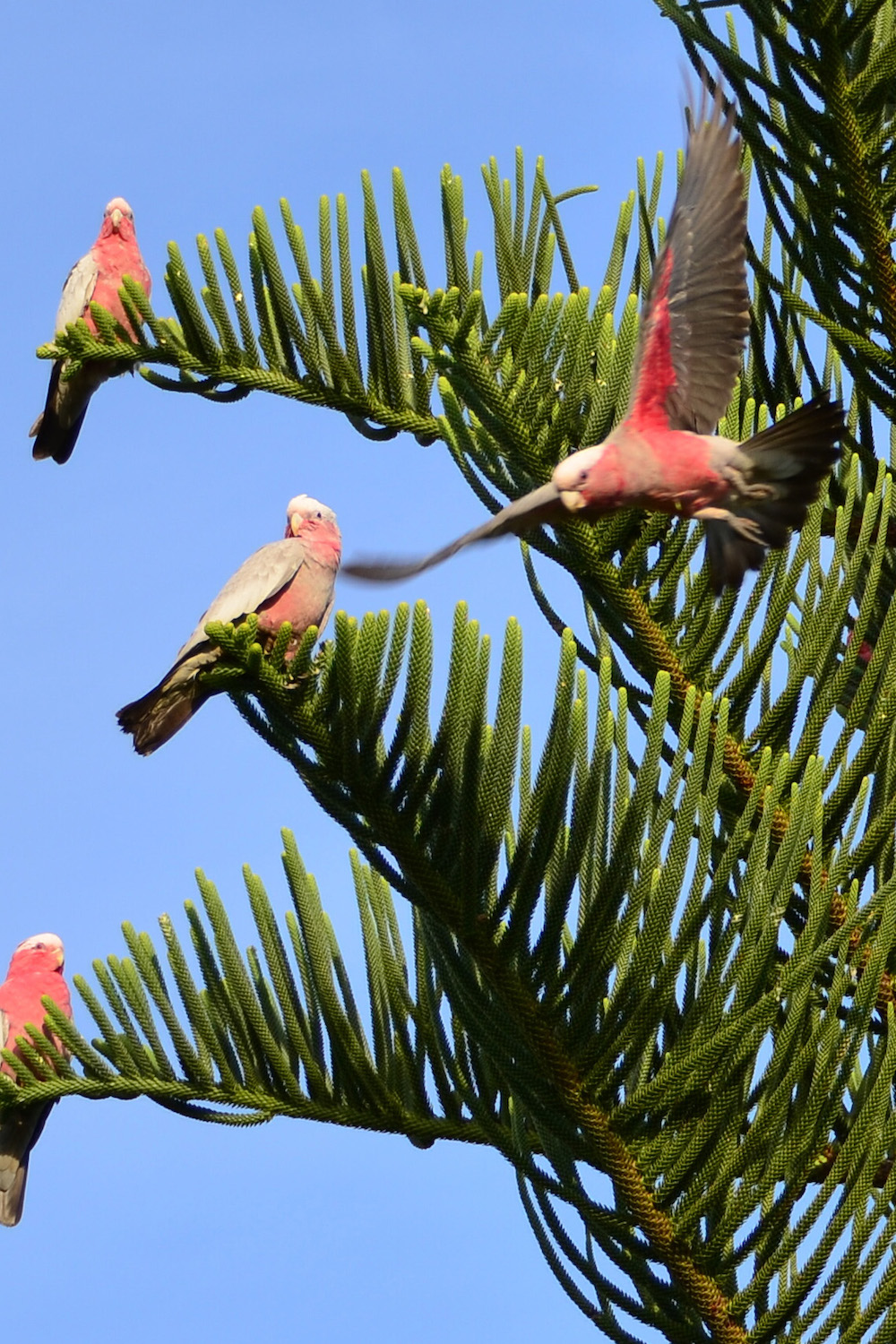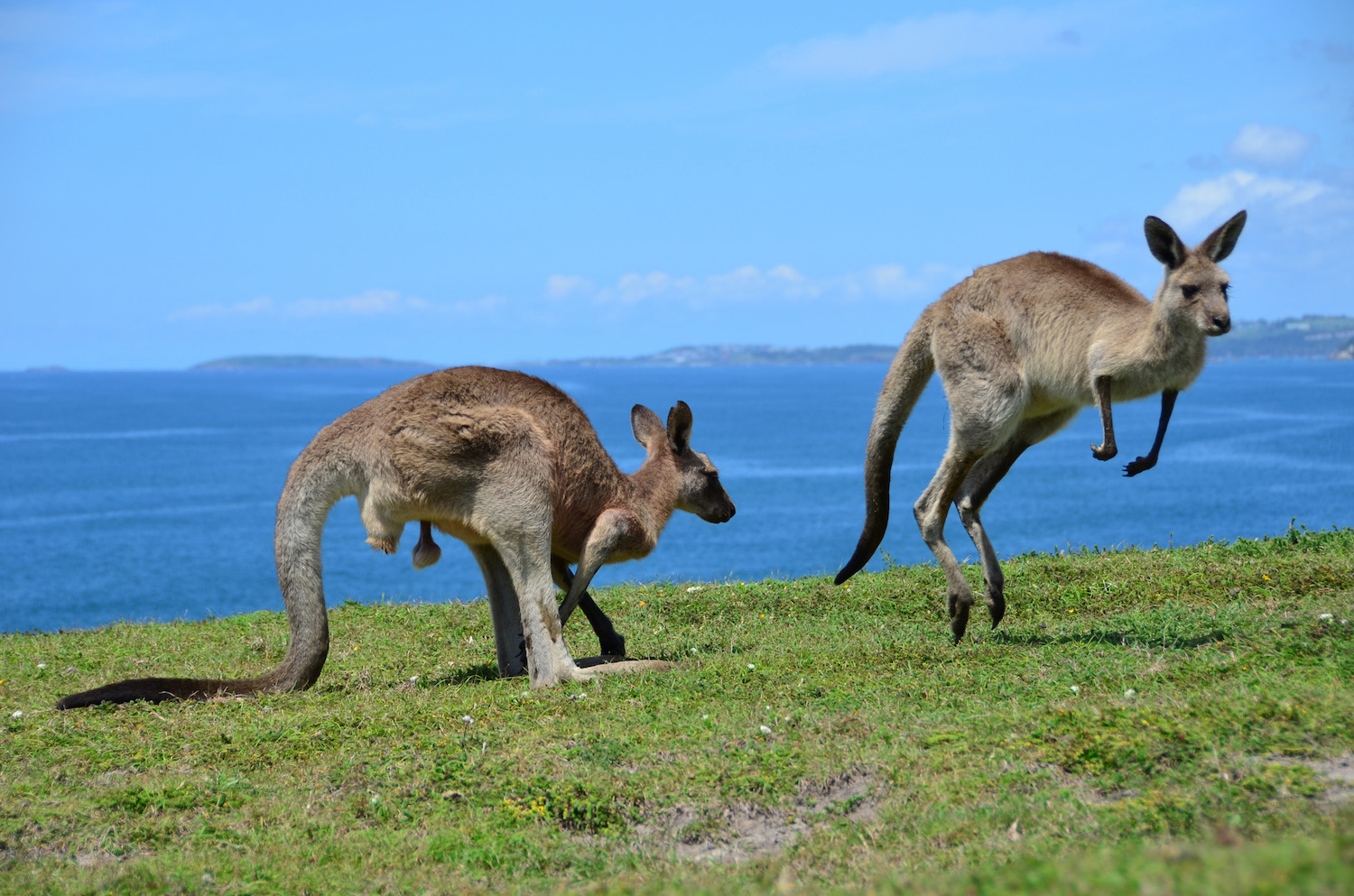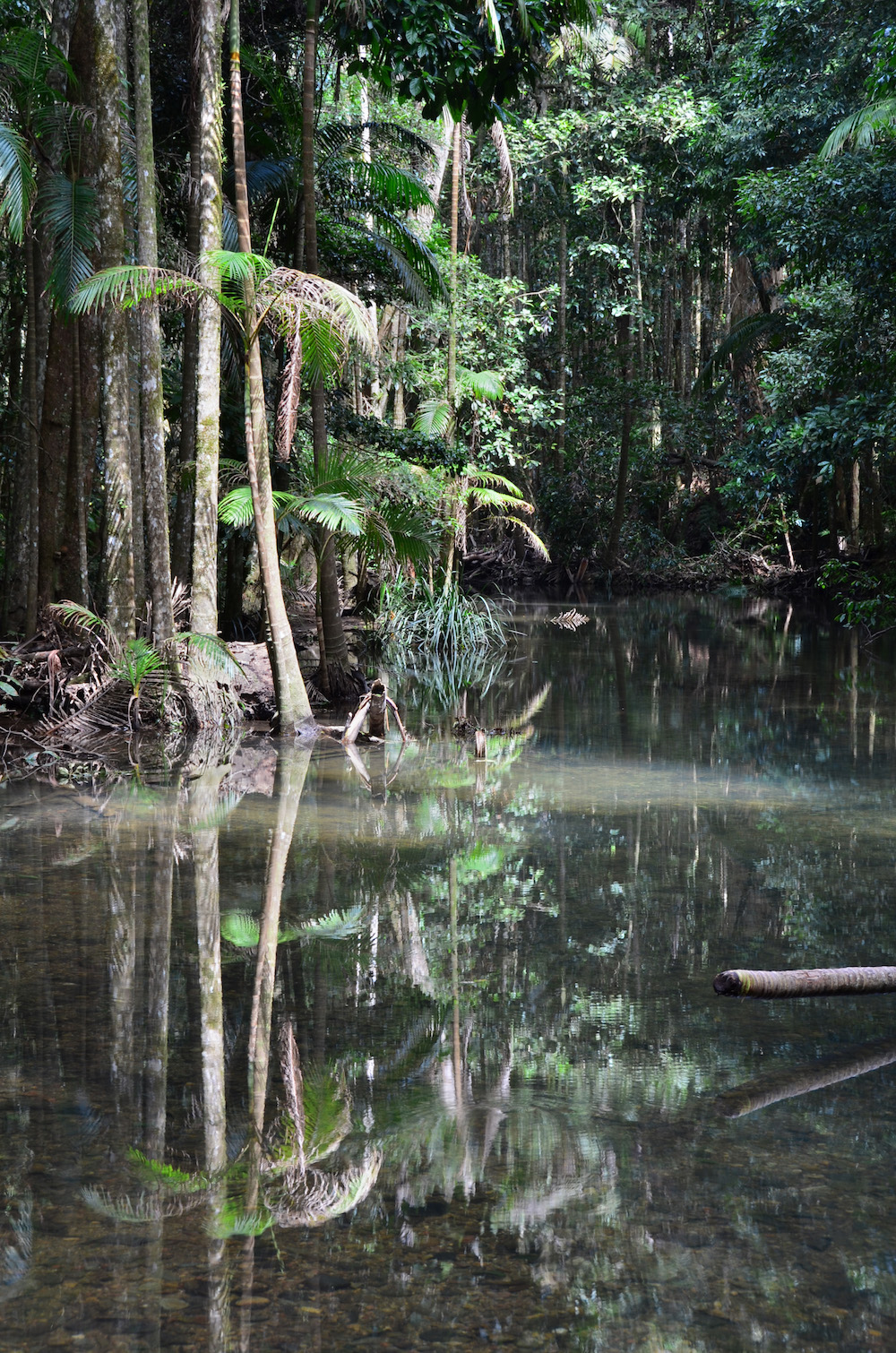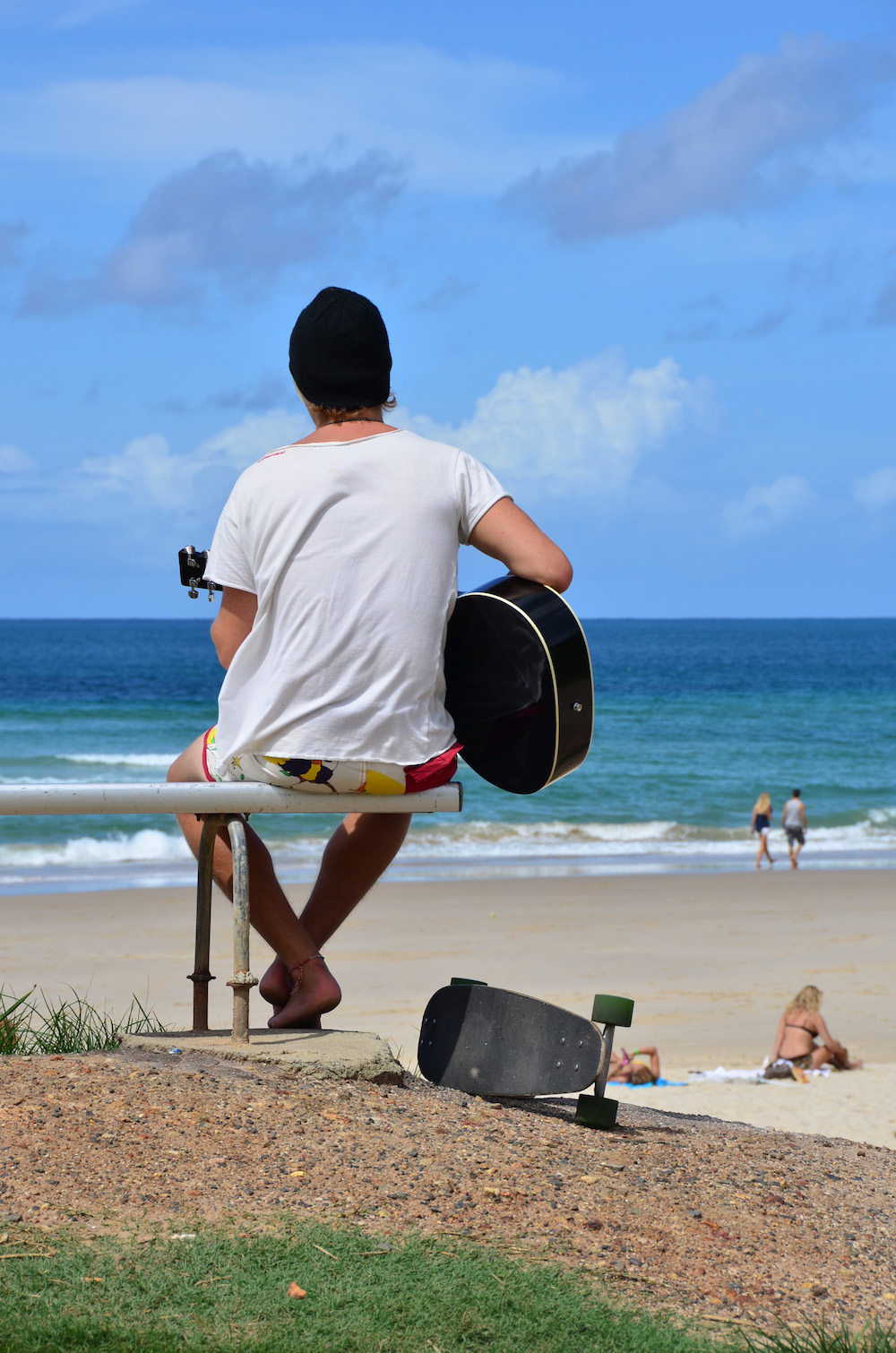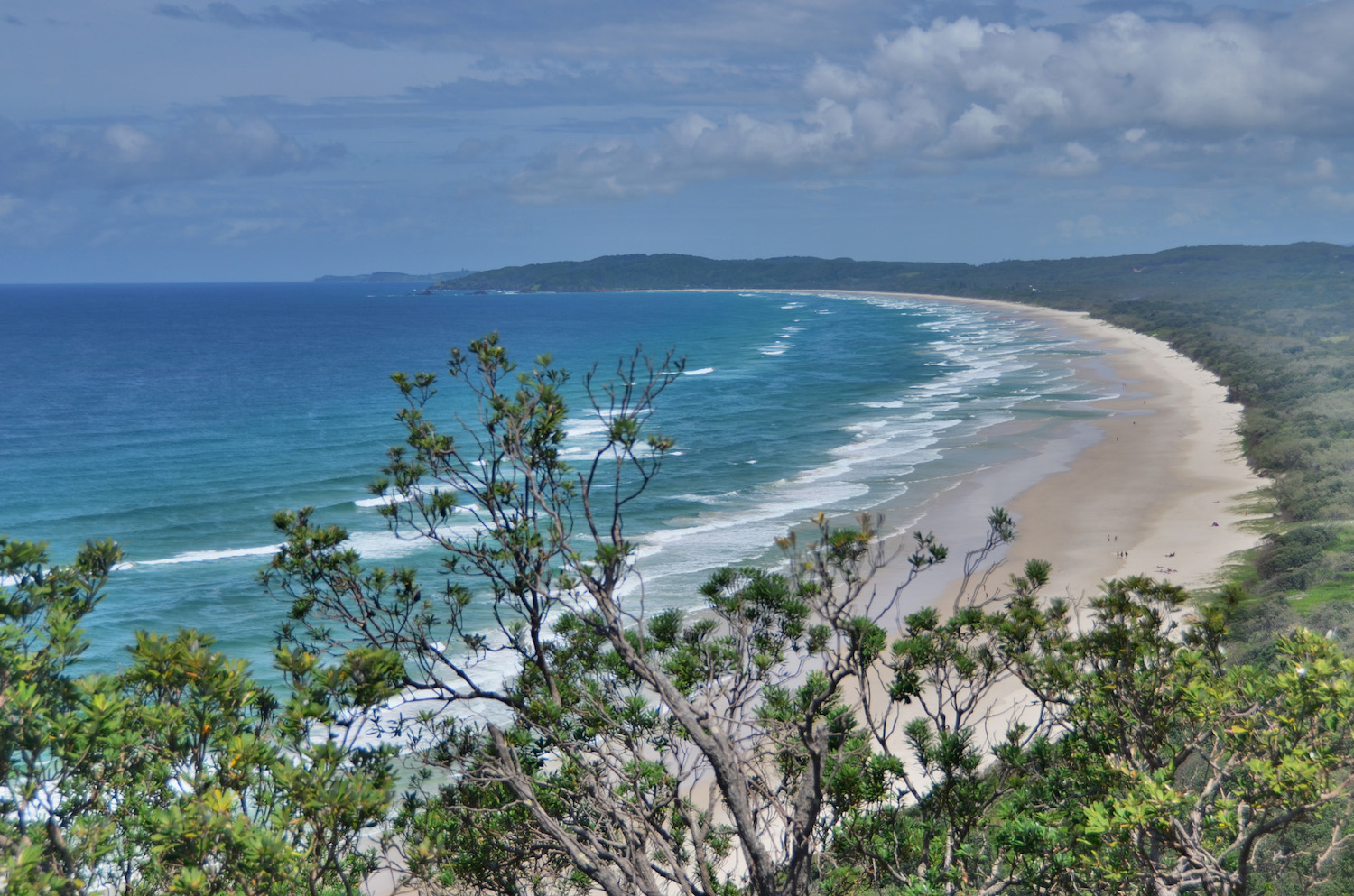 Surrounding Region of Coffs Harbour and Byron Bay
Although its stately British name would suggest otherwise, Coffs Harbour is encircled by a large, lush rainforest: Australia's Great Dividing Range meets the sea in Bruxner Park, a protected nature reserve located about 10 minutes from the town center by car. The centerpiece of the park is the Sealy Lookout, which rises hundreds of meters above both the coastline and most of the rainforest itself, which is dominated by old growth canopy, crystal clear creeks and humbling tranquility.
Another definite highlight of the Coffs Coast is the "Look At Me Now" headlands, located about 15 km north of the town center near the aforementioned Emerald Beach. My visit to the Look At Me Now headlands was perhaps the highlight of my visit to Australia: It is here where you can spot wild kangaroos hopping about a beautiful headland that extends over the beach and along the coast. The kangaroos aren't quite on the beach, but seeing them move as beautifully as they do with the blue Pacific in the background was worth the price of my entire trip all on its own.
Byron Bay is also technically surrounded by a rainforest, although I didn't venture too far into it to be honest.   My favorite venture into the outskirts of Byron Bay was rather a bike ride I took one gloomy afternoon into the farmlands just to the west of Belongil, a beach just to the west of Byron's main one.
The centerpiece of this region is the so-called "Island Quarry," a man-made hole that's filled with very swimmable water, a topped by a lush system of periwinkle water lotuses and the creatures that now call the pond home. The quarry is notorious for the cliffs that rise about its northern edge, where tourists who are braver than I am like to jump into it.
One attraction a bit further outside of Byron Bay that I didn't visit — but was highly recommended to me — is the hippie town of Nimbin. More a street than a town, I'm told, Nimbin is most easily reachable by a day tour (25-45 AUD, bookable at your hostel) and is popular as a semi-legal place to do drugs. If you'll recall, I all but stopped smoking weed after my last time in Amsterdam, so I wasn't particularly interested.
Surfing in Coffs Harbour and Byron Bay
Both Coffs Harbour and Byron Bay are famous for surfing, so if your priority when traveling in Australia is learning how to surf or better your surfing skills, you will be able to reach your goal in both of these places.
I am naturally biased toward Coffs as a location for surfing simply because I learned there. Ms. Enevoldson's East Coast Surf School operates on quiet Digger Beach, a sleepy u-shaped, rock-lined stretch of coast where I was among no more than 10 people surfing. Obviously, these numbers may be higher or lower depending on the time of year, but I'm under the impression that surfing in Coffs is a generally private, tranquil experience — except for the dolphins you're likely to encounter at certain times of the year.
Byron Bay is famous and popular as a spot for surfing, for beginners and skilled surfers alike. During my first stroll along Byron's main beach, I counted no less than 100 surfers out in the water, most of them in very large groups. This isn't a bad thing if you're traveling in a group anyway, but the idea of taking a group surf class as a perpetual solo travelerwasn't terribly attractive to me.
Coffs Harbour and Byron Bay Town Centers
I've left the subject of each town's center last because to be honest, I wasn't crazy about either of them. Coffs' town center was particularly uninspiring — I literally saw only a few things worth photographing, much less writing about. If you're a partier, you'll probably enjoy central Byron, although I personally found it dull and lifeless. Different strokes, I s'pose.
Overall, while I'm more of a Coffs person, I can understand why certain types of travelers would prefer Byron Bay. I would venture to say that travelers in search of tranquility, peace and beauty would prefer Coffs, while those who want to party and socialize are better off in Byron, but these rules aren't hard and fast — there are plenty of parties down south in Coffs Harbour and there's a great deal of incredible scenery in and around Byron Bay.
The bottom line is this: You really need to visit both if you have time. And as I mentioned earlier, you'll pass through both Byron Bay and Coffs Harbour when traveling between Sydney and Brisbane, so you might as well book at least one night in each. If any of you reading this have visited either or both of Coffs Harbour and Byron Bay, I would be interested to get your take!