Given the close proximity between the two countries, it's not surprising that many backpackers who travel in Thailand also want to travel to Cambodia, whether to see Angkor Wat near the town of Siem Reap or the Cambodian capital Phnom Penh.
"Tourism professionals" in the Bangkok are well aware of this fact, so avoid getting talked into scams while you travel from Thailand to Cambodia to save yourself time, money and perhaps most importantly, your sanity.
Need help planning your trip to Thailand or Cambodia? Click here to hire me as your Travel Coach!
Khao San Road Scam Bus
Any backpacker who travels in Thailand is no doubt familiar with Bangkok's Khao San Road area, home to cheap hostels, bars, restaurants and even cheaper hookers. Several travel agencies also operate on Khao San Road. Although many of these companies provide legitimate services like flight and tour bookings, they also have a tendency to gouge unwitting tourists, deceiving them into paying exorbitant prices by promising quick, hassle-free travel in Southeast Asia.
The reality is that most of the buses from Thailand to Cambodia that depart Khao San Road are in poor condition, require frequent stops will probably take a better part of the day to travel to Cambodia. Prices also vary widely. I've personally heard people bargain prices down to as little as ฿500 per ticket, but you can more realistically expect to pay ฿600–800 unless you read my article on how to bargain.
Train From Bangkok to Aranyaprathet
The better way to travel from Thailand to Cambodia is using a combination of train and taxi. Get a taxi or take the Bangkok MRT underground to Bangkok's Hua Lamphong Railway Station, the hub of the country's rail network. The cab fare from Khao San Road to the station shouldn't be more than ฿50 .
Trains depart Hua Lamphong for Aranyaprathet, a tiny town on the Thai-Cambodia border, twice daily, at 5:55 a.m. and 11:35 a.m. as of May 2011. The seven-hour journey costs just ฿85 and allows you to take in the beautiful nothingness that dominates most of Thailand outside Bangkok from the comfort of a wooden bench in a fan-cooled, windows open cabin.
The experience is decidedly local, but a surprisingly comfortable, low-stress and even relaxing way to travel. For this and other journeys, always purchase your train ticket directly from the attendant inside the station.
Crossing the Cambodian Border at Poipet
After arriving in Aranyaprathet, take a tuk-tuk to the actual Thai-Cambodia border crossing, a 10-minute journey that should cost no more than ฿40 per vehicle — but bring exact change if you don't want to get shortchanged. Upon arriving at the border, you must clear Thai exit immigration. Lines can get long, but Thai officials are generally efficient and professional, so the process is relatively painless.
Once you cross under the "Kingdom of Cambodia" archway, things get more complicated. Welcome to the beautiful town of Poipet, pronounced "poy-pet," which fittingly rhymes with "toilet." Poipet is filled with the-house-always-wins casinos, overpriced souvenir shops and fake border crossings.
A good rule of thumb to get where you need to be is to follow the crowds and not talk to anyone who approaches you, no matter how official he looks — real Cambodian border authorities only leave the comfort of their seats at the end of their shifts. Heading toward Poipet's town center, the legitimate processing area is located on your right side and will probably have a long line extending from it. Just be patient.
Cambodia requires all foreigners who enter to be in possession of a visa but thankfully, issues visas on arrival. As of February 2012, Cambodian tourist visas run $25 in U.S. dollars. You can also pay in Thai baht, although doing so puts you at the mercy of the exchange rate the officer chooses to quote you. Since the U.S. dollar is also Cambodia's de-facto currency, having a stash of U.S. dollars on hand will make your entire travel in Cambodia easier.
Taxis to Siem Reap and Phnom Penh
The only way to travel from the border to Siem Reap or Phnom Penh at the time of writing is taking a taxi. The unmarked private cars Cambodians call "taxis" are plentiful at the border and drivers are generally willing to bargain on the fare, particularly if a lot of them are swarming you.
Generally, you can expect to pay between $25 and $50 per car to Siem Reap, a price which can rise to $75 if you head straight to the Cambodia capital of Phnom Penh.
If you're traveling alone, ask a group of two or three other travelers to share a taxi. They'll almost always say yes, as it not only lowers the fare, but provides you an opportunity to share travel experiences and stories on the journey, which takes about an hour and a half to Siem Reap and three hours to Phnom Penh. When I visited in February 2010, I met two people named Kale and Amber, who actually happened to be from Texas and Arkansas, respectively. Six months later, the three of us traveled through Vietnam and Laos together.
Unless you've arranged the taxi through your hostel or guest house, your taxi will take you to a spot in the center of either Siem Reap or Phnom Penh. You'll need to take a tuk-tuk from here to your hostel or guest house, but don't accept a ride from someone who tries to charge you more than $1.
Also, dismiss claims that your hostel has closed or is full. The driver is simply trying to take you to one of his friend's hostels, which is likely dodgier and more expensive than the one you've already booked. This is a common scam into which backpackers who travel in Southeast Asia are often tricked.
Returning From Cambodia to Thailand
The process of getting back to Bangkok is generally cheaper and easier than getting to Cambodia, namely because your hostel or guest house can provide a discounted taxi to the border.
Trains depart Aranyaprathet for Bangkok at 6:40 a.m. and 12:05 p.m. and since you can conservatively expect to spend two hours exiting Cambodia and re-entering Thailand, leave from Siem Reap at least four hours in advance of your planned departure and from Phnom Penh at least six hours before you need to board the train. I personally recommend taking the 12:05 p.m. departure, which begins rolling into central Bangkok just as the sun is setting, providing a breathtaking "Welcome Back" to the city.
Train schedule information courtesy of "Seat 61," a global rail travel resource every smart traveler should know. Take some time to explore this fantastic website, run by English rail enthusiast Mark Smith, after you're finished here on Leave Your Daily Hell.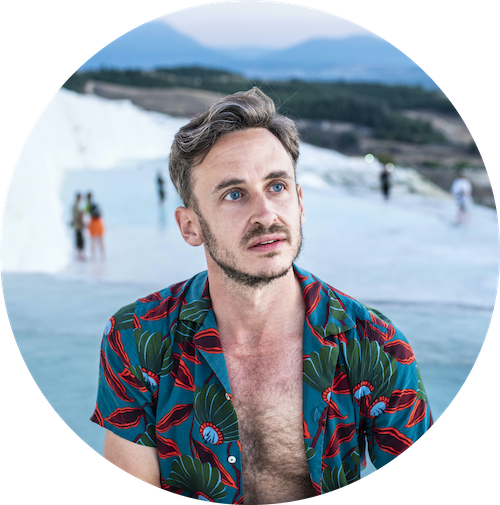 informs, inspires, entertains and empowers travelers like you. My name is Robert and I'm happy you're here!