I've been in Bangkok for the better part of the past month. As great as my love for the Thai capital city may be, I've definitely been in need of some beach time. Singapore, where I flew last Thursday, is an island — a tropical island, no less — so it would stand to reason that Singapore has many beautiful beaches.
Unfortunately, Singapore is also a highly-developed tropical island nation of more than 5 million, so even if the country's government has spent billions on beautification campaigns, the fact remains: Singapore beaches, where you find them, are only so nice.
Allow me to show you what I mean!
Singapore Beaches in Sentosa
Every Singaporean I asked about "beautiful Singapore beaches" suggested I head to the island of Sentosa, located a short monorail or cable car ride from the HarbourFront station of Singapore's MRT. Or, a 15-minute stroll along a newly-opened "boardwalk."
I was horrified as I began the 600-meter journey, and not just because an oppressive system of overhead signs informed me every time I successfully traversed 50 meters: The castle in the distance suggested I was heading toward Disneyland, rather than anywhere remotely tropical or idyllic. Does Singapore have a beach? I thought to myself, half-seriously.
It was pretty spot-on, as harbingers go: The northernmost part of Sentosa Island, known appropriate as "Resorts World," is home to Universal Studios Singapore. I obviously bypassed this hot mess and continued heading southward, toward the Singapore beaches I so desperately craved.
The good news is that Universal Studios (and the requisite clusterfuck) quickly came and went. The bad news is that the first glimpse I caught of the sparkling, blue sea was tinged by the sight of tankers in the distance.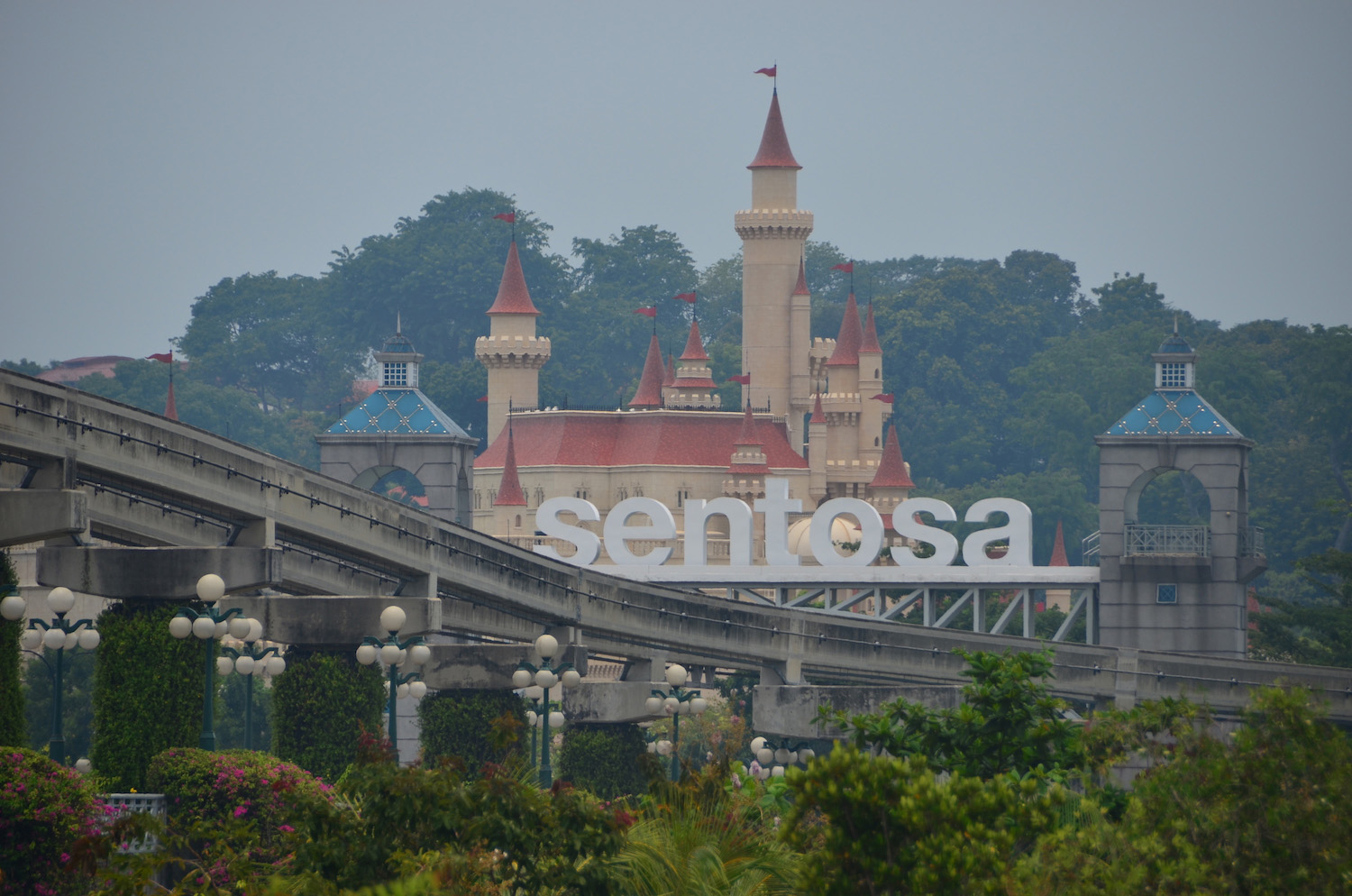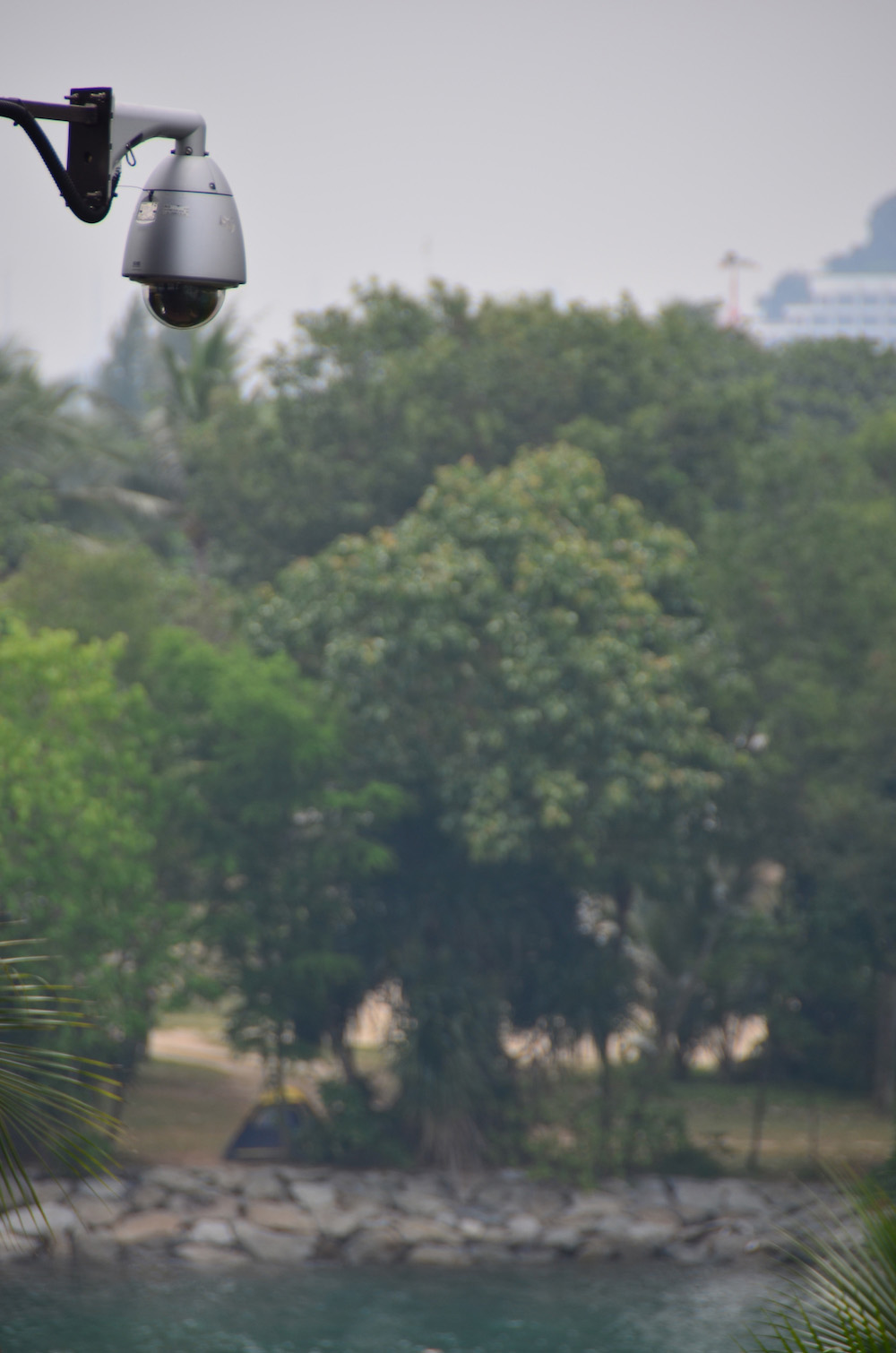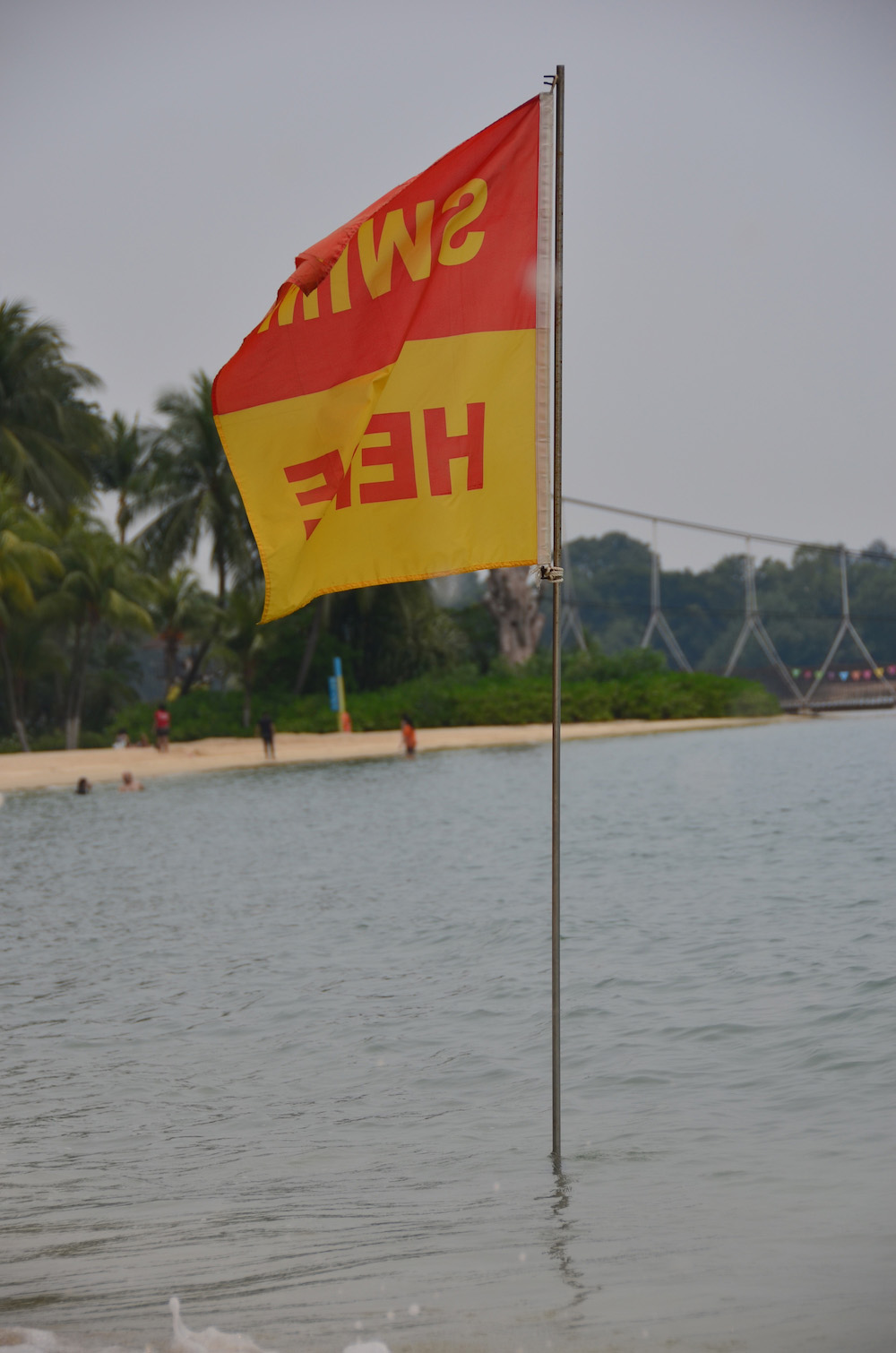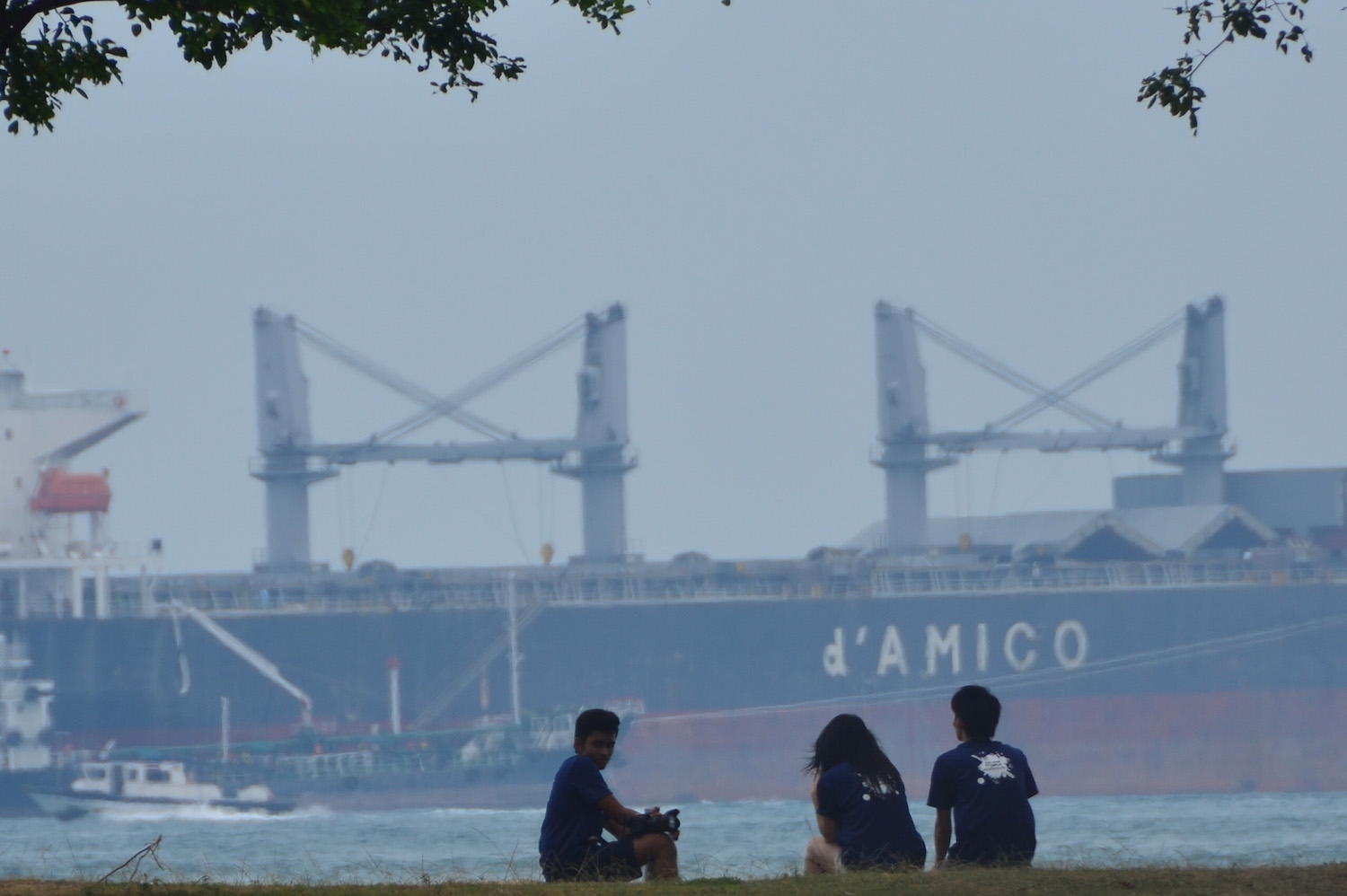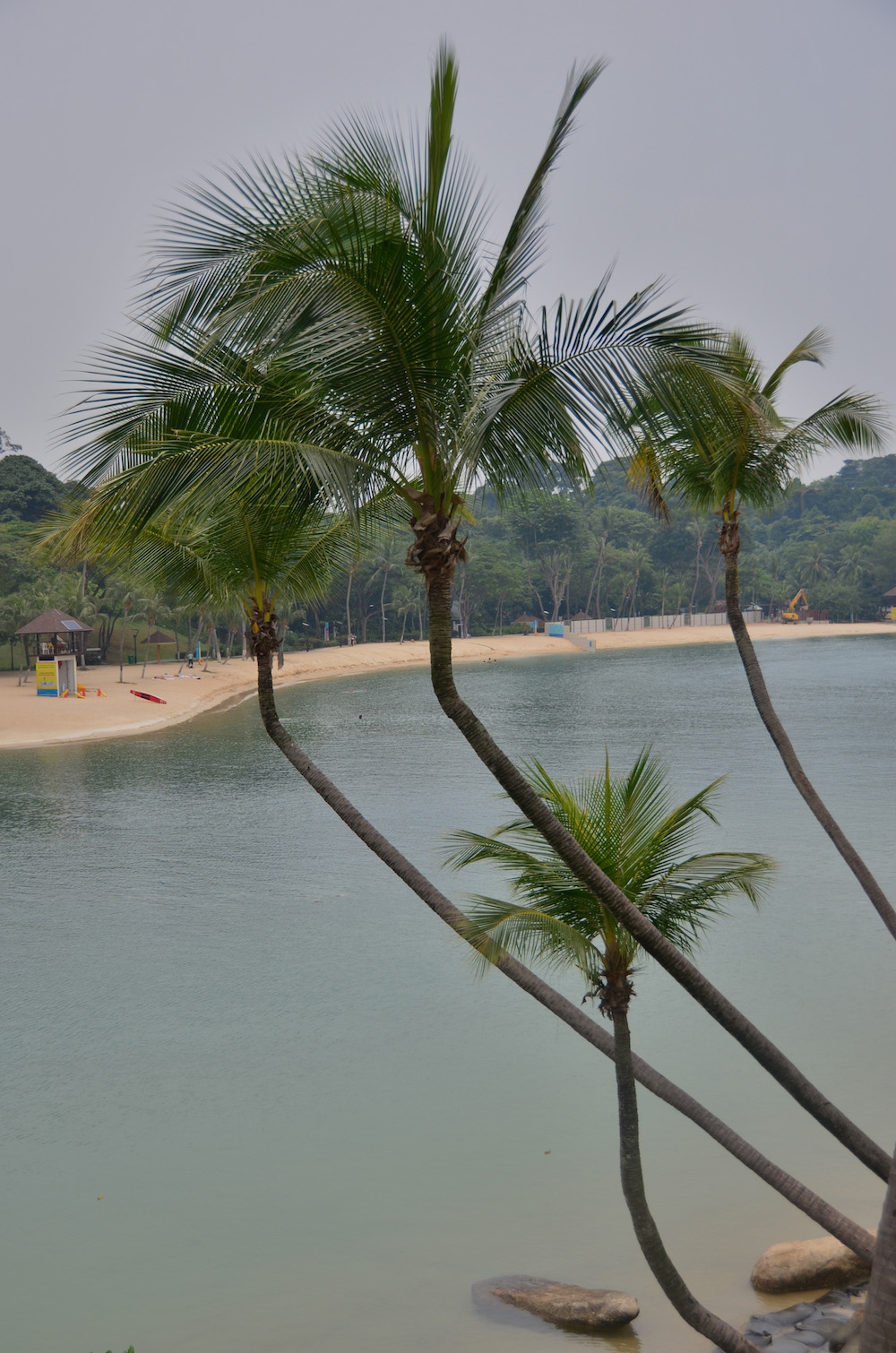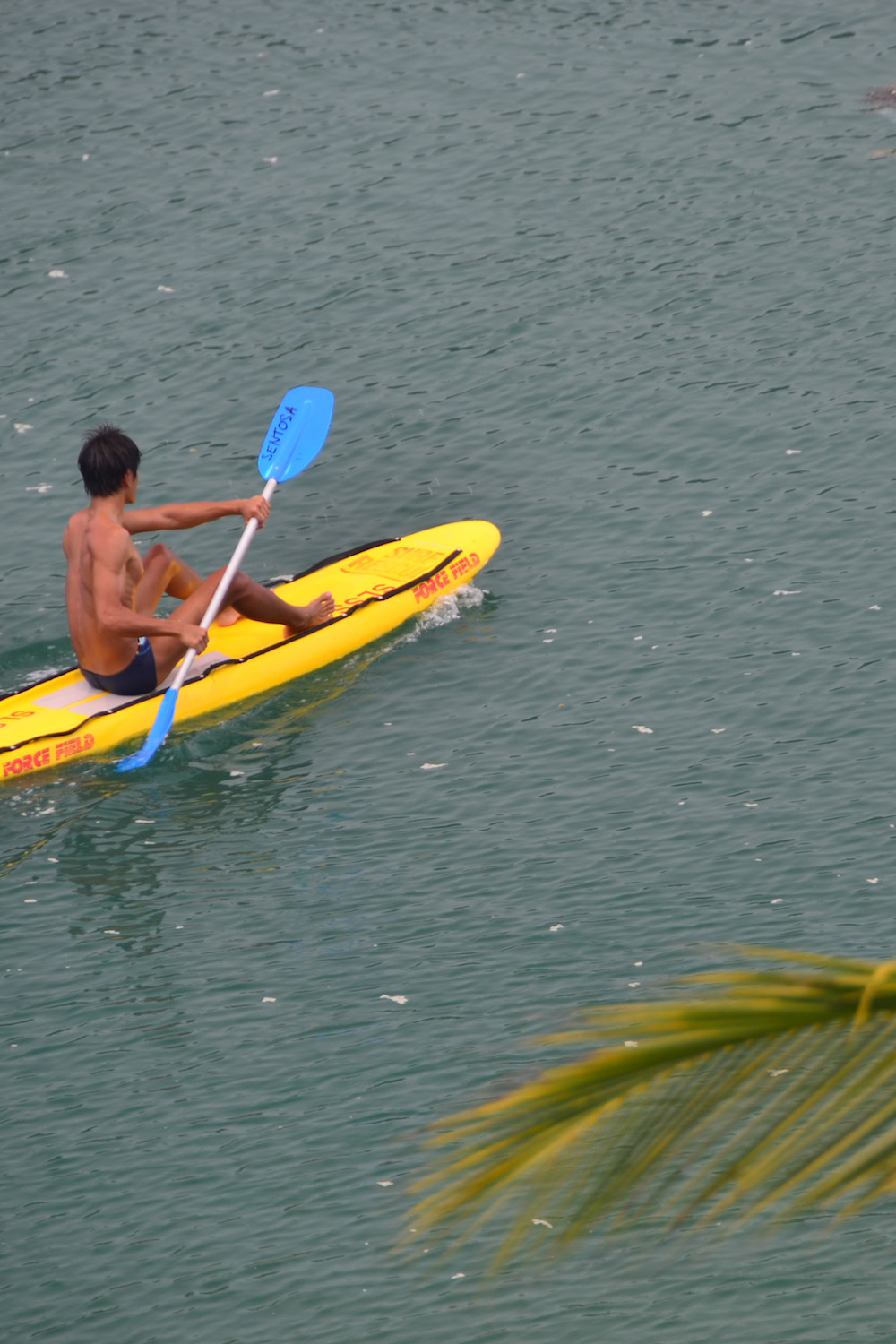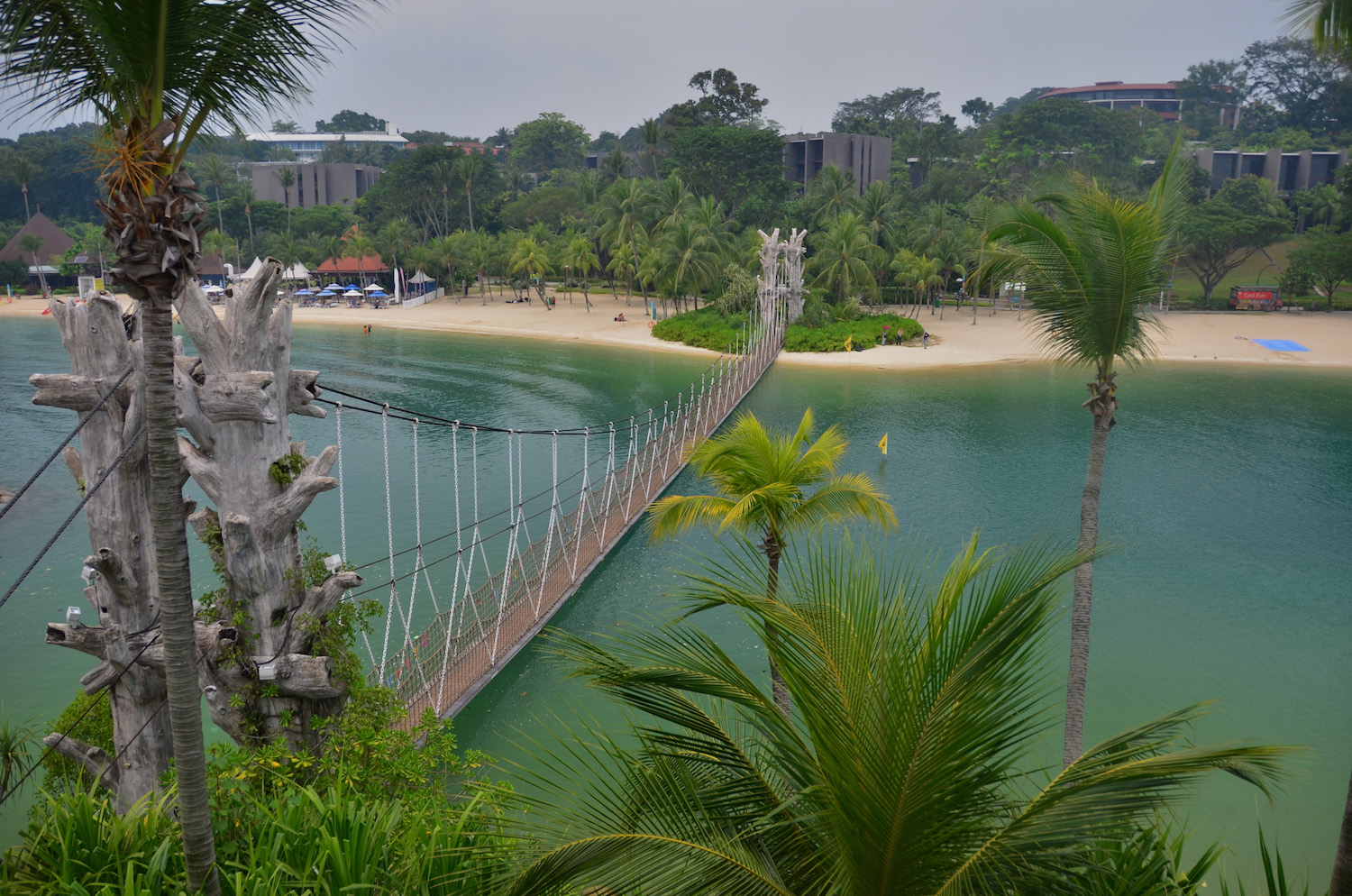 Palawan Beach Singapore
Signs of bad things to come became more plentiful the closer I got to the beach. When I reached the end of the southbound path I turned left and headed toward "Palawan Beach" — other Singapore beaches include Siloso and Tanjong beaches — and was greeted by a poorly paved (albeit empty) parking lot. I feared the worst!
I was surprised, after being passed by a 200-strong pack of power walkers, to find that Palawan Beach was clean, natural-looking and maybe even beautiful, even if it doesn't live up to its namesake in the Philippines. Some views are even tanker-free!
(But others, unfortunately, are not).
The most beautiful part of Singapore's Palawan Beach is Palawan Island (again, sorry Philippines!), which you reach via rope bridge from Palawan's main beach. The view looking back toward Sentosa's mainland is stunning, even if you probably don't want to look south toward the open sea (and the aforementioned tankers).
So, there you have it: Singapore has (relatively) nice beaches, although to be fair they did not satiate my beachlust — it's on to Bali for that! But if you travel to Singapore only and are desperate for beach time, head to Sentosa Island. It's not so bad.
Other Singapore Beach Vacation Options
If none of the options for a beach in Singapore proper appeal to you (and let's be frank—I wouldn't blame you if this was the case), you can get out of Singapore to find good beaches. And I mean that literally: The best beach near Singapore is actually in Indonesia, though it's thankfully close enough to see on a day trip from Singapore or a weekend getaway (just as Singaporeans, many of them head here).
I'm specifically talking about Bintan Island Indonesia, the most popular Singapore beach alternative for locals, where gorgeous nature combines with the incredible Sanchaya Resort. It's an excursion only 50 minutes from Singapore by ferry, in each direction, but will make you feel like you've traveled someplace far more exotic and far away.
Where to Stay in Singapore
Beaches notwithstanding, Singapore is known as one of the priciest cities in Southeast Asia, although there are ways to sleep here on the cheap. For instance, Golden Royal Hotel allows you to stay centrally, in the Little India neighborhood, for around S$75 per night. On the slightly more upmarket end, Hotel 1929 is a boutique hotel, while you aren't going to find a much more luxurious stay—or better view—than you do at Marina Bay Sands.
Read More About Southeast Asia
The Bottom Line
Whether you find a Singapore beach close to the city (in Sentosa, most likely) or take a day trip from Singapore to somewhere else (probably Bintan Island, Indonesia), don't ever let anyone tell you that Singapore doesn't have beaches. To be sure, while the best beaches in Singapore pale in comparison to what you find in Thailand, Malaysia or even Bali (as much as I personally dislike the latter), an amazing beach experience can be found within day-trip distance of Singapore, if you're willing to do the work necessary to get there.