I've always been fascinated by elephants, but the first time I encountered an elephant in a non-zoo environment back in 2009, when I rode one up an ancient fort in Jaipur, India, left me feeling oddly cold, not to mention exploitative. I'd used the beautiful creature as a mode of transport, but never really got the opportunity to appreciate it.
When I arrived to Sri Lanka a couple weeks ago, my friend Charm informed me that there was place not far from Colombo where I could get up close and personal with elephants without subjecting them to slavery: An elephant orphanage, which rehabilitates elephants whose parents have been killed, so they can return to the wild.
Today's photo essay takes you with me to the Pinnawala Elephant Orphanage, a place I already count among my favorites I've ever visited. I'm getting teary now just reminiscing about it!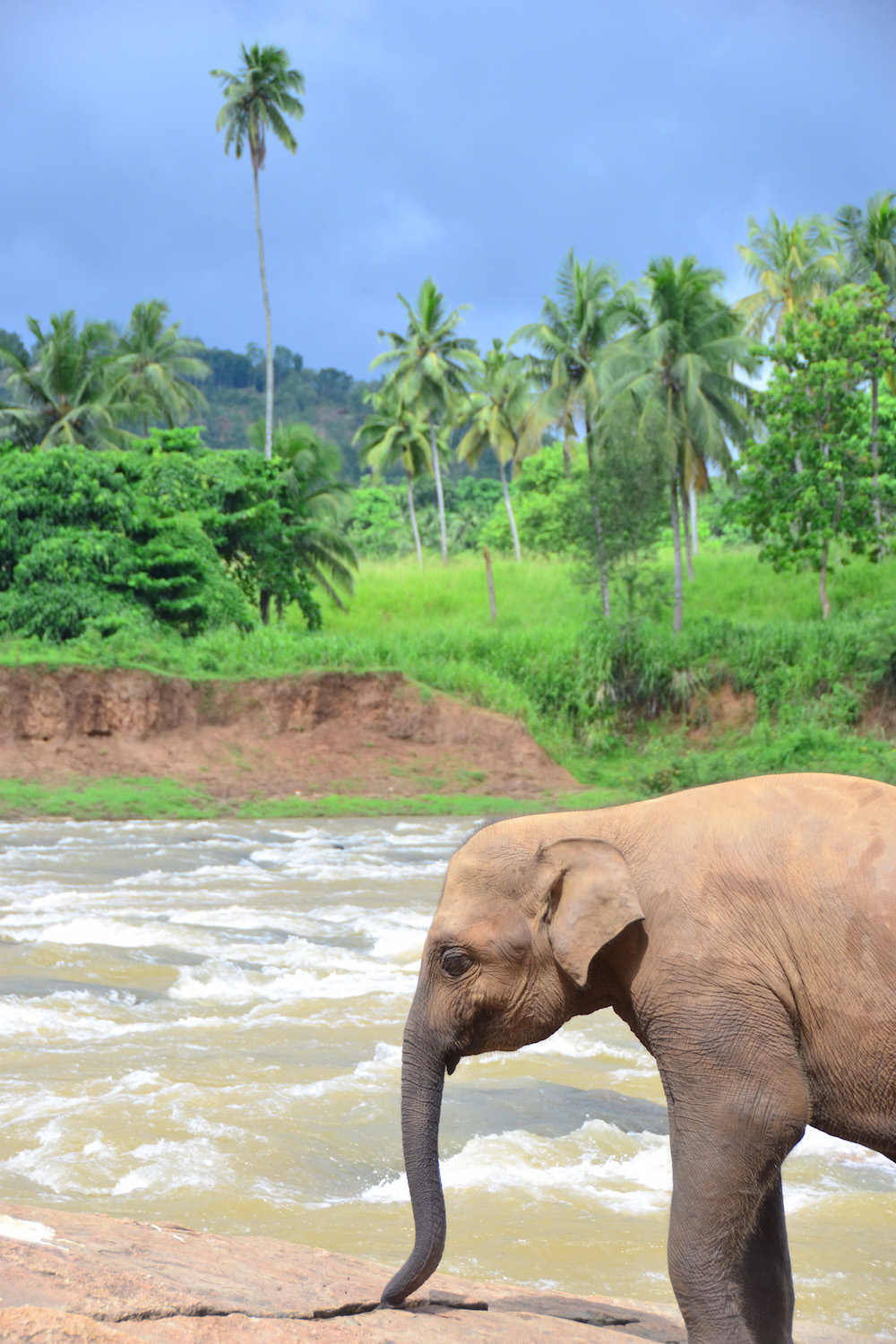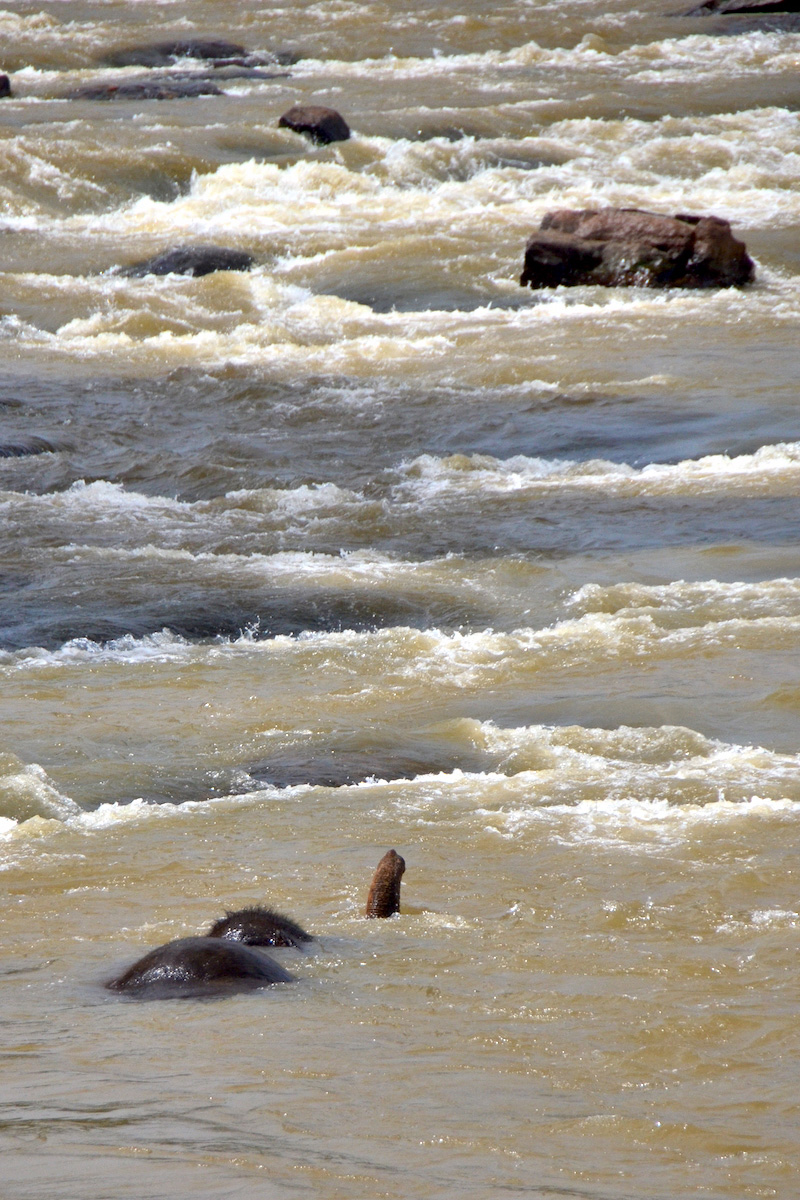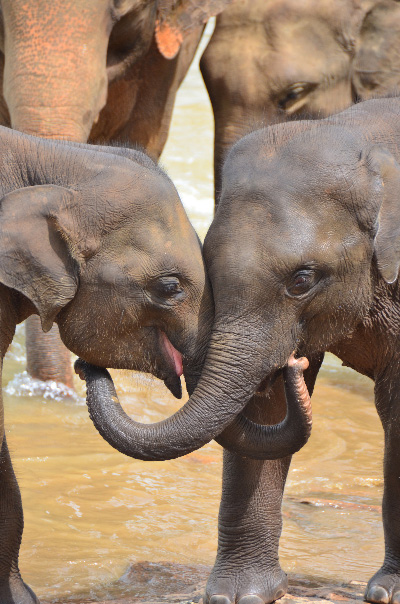 "A lot of these places," Charm informed me, as we drove along the windy road to Pinnawala, "are actually zoos, places that exist only to attract tourists." He assured me that Pinnawala Elephant Orphanage was different.
I could tell immediately that he was correct. We arrived to the orphanage to find two large herds of elephants being looked after by no less than a dozen caretakers. Some were being fed, while others were enjoying a romp out on a flat plain. Although the physical condition of each elephant was different – one had lost a foot, apparently due a landmine – they were all unchained and uncaged.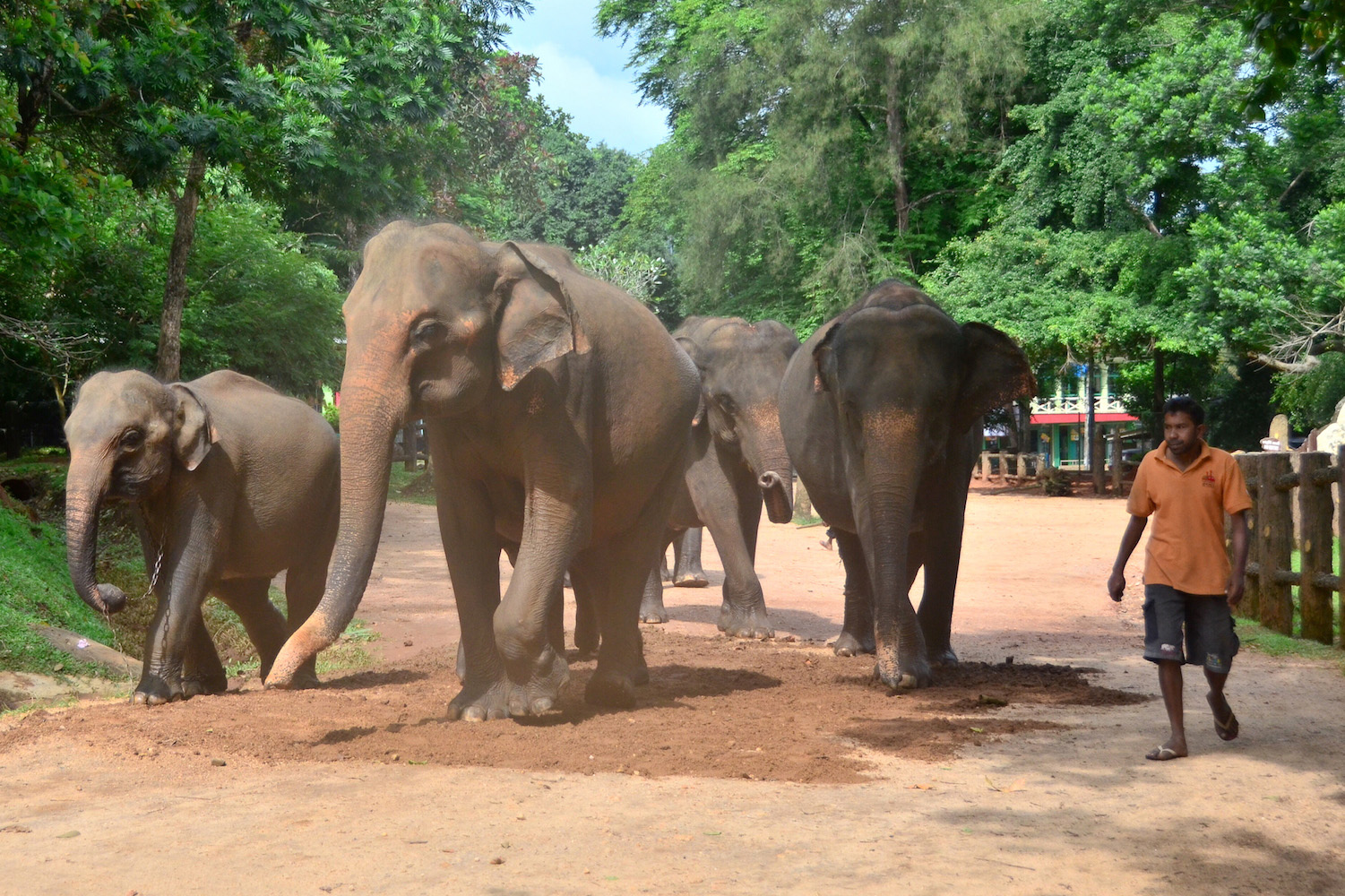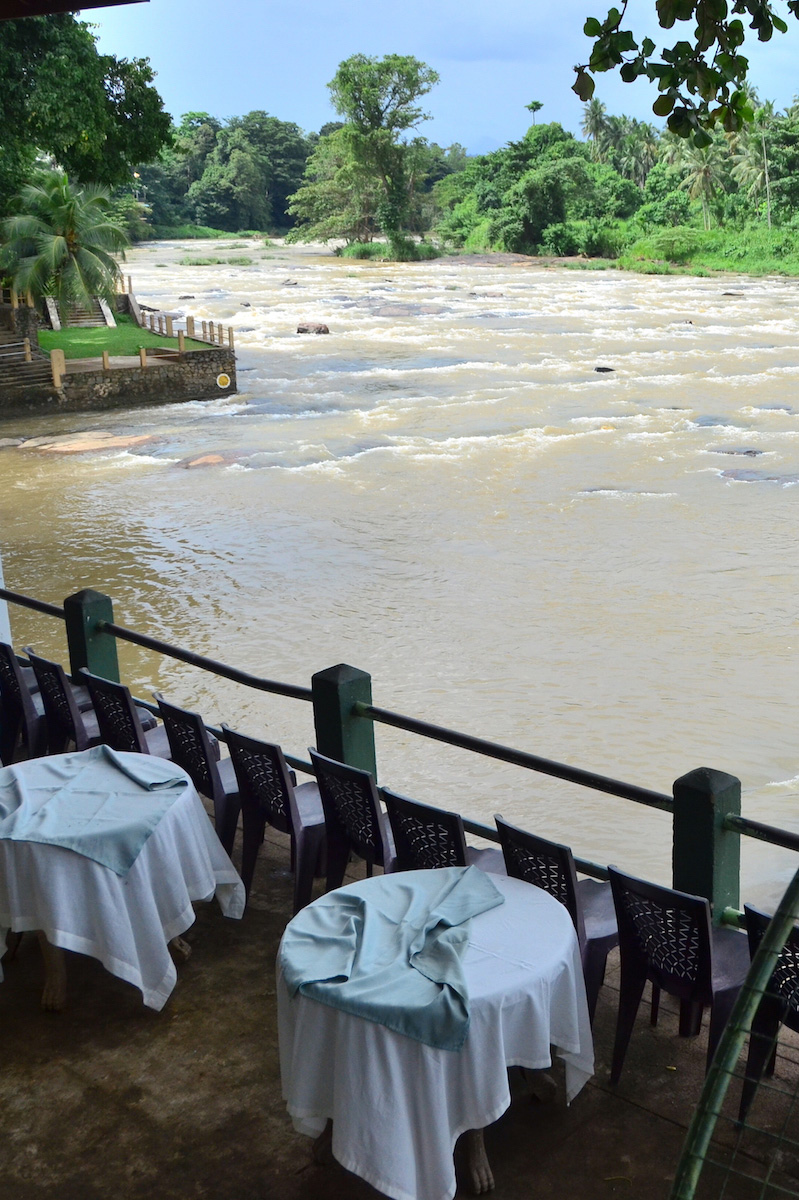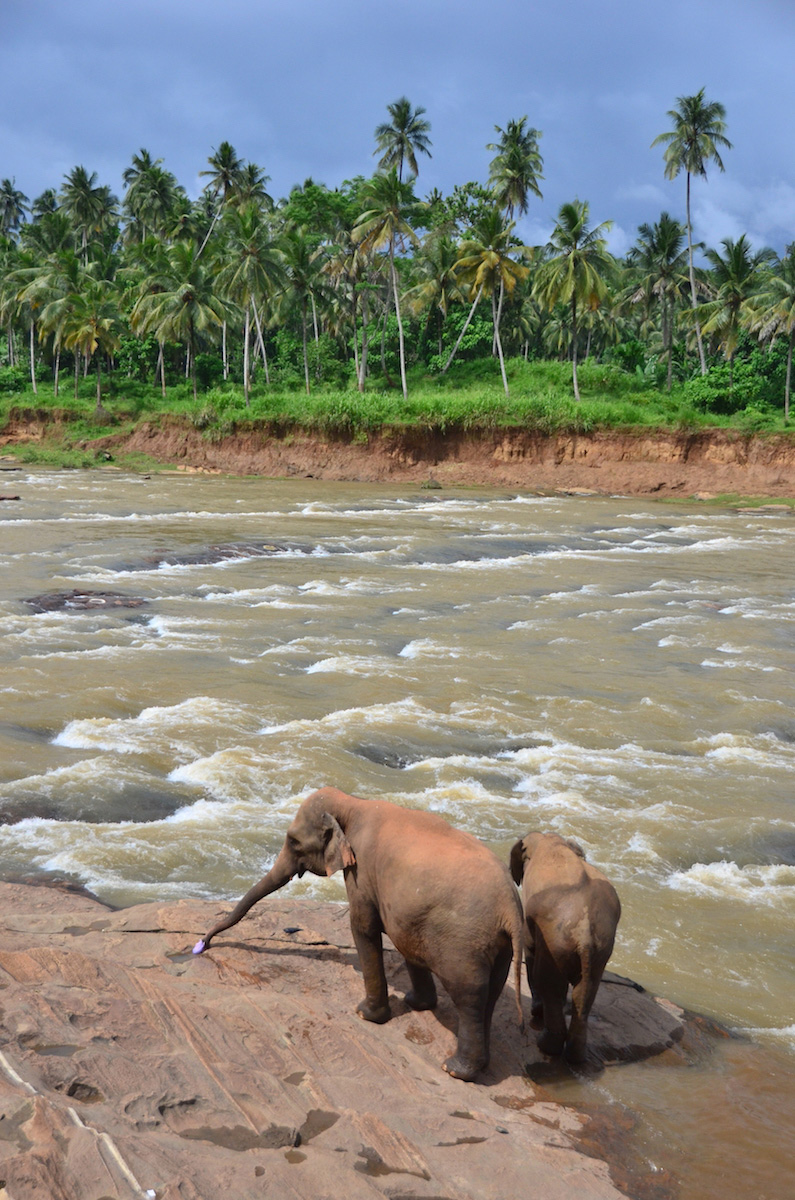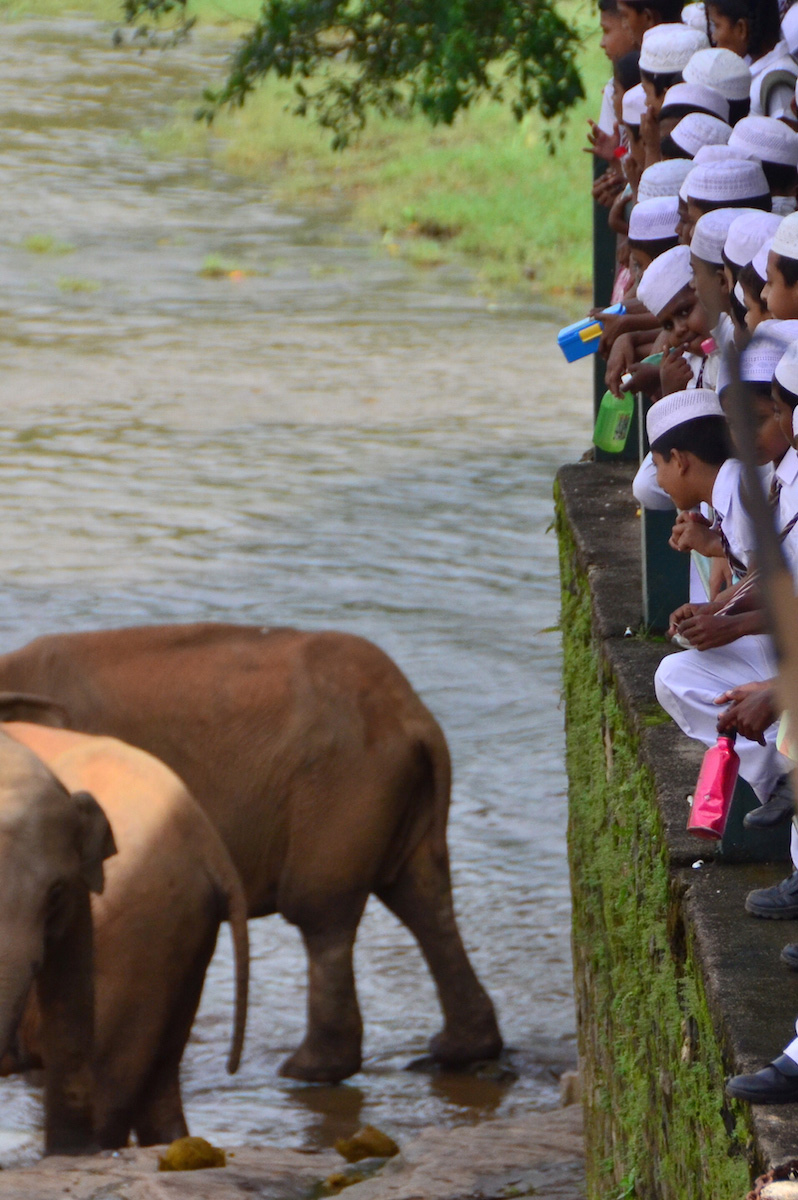 We showed up just as the feeding phase was finishing, so Charm suggested we make our way down to the Maha Oya river quickly so as to get a good spot. "They're coming down here to bathe," he explained, as we hurried down the road, "and they take up the whole road when they walk, so we have to beat them to it."
At this point, you're probably scratching your head. "So you mean to tell me Robert," you might ask, "that watching elephants eat and bathe is one of your favorite travel experiences ever?"
"Yes," I would answer. "That's exactly what I'm saying!" The facial expressions and noises of the elephants alone were enough, not to mention how they seemed to enjoy spraying each other (and rolling in mud after they'd bathed, not unlike some dogs I know!) Plus, there was that whole broken heart that needed to mend…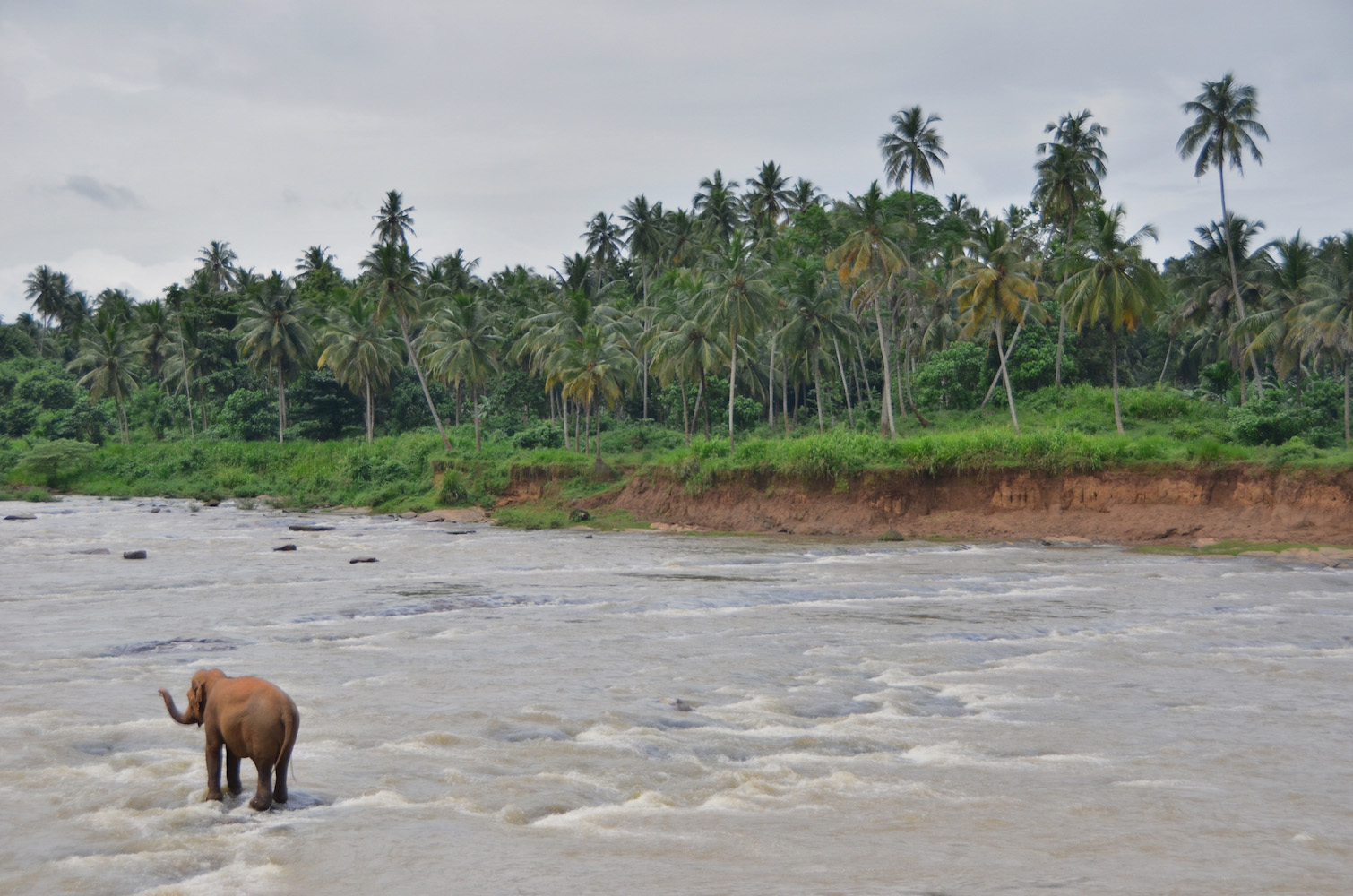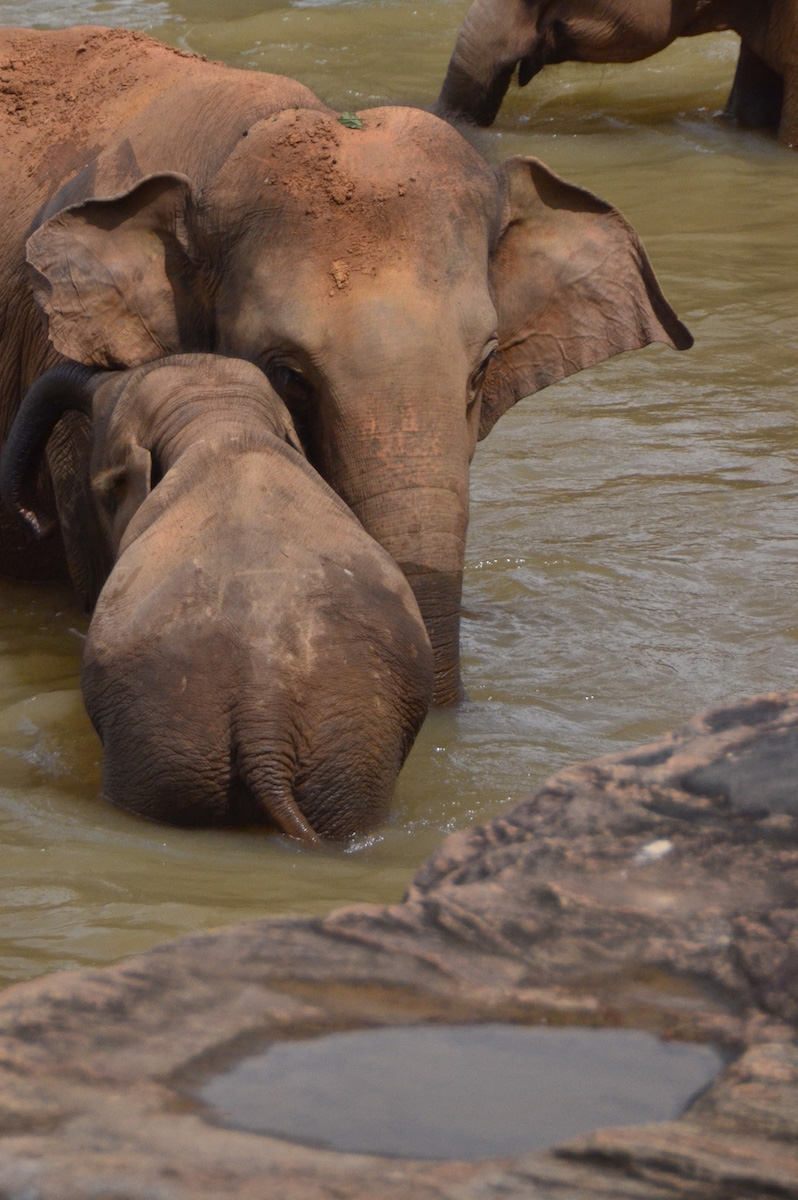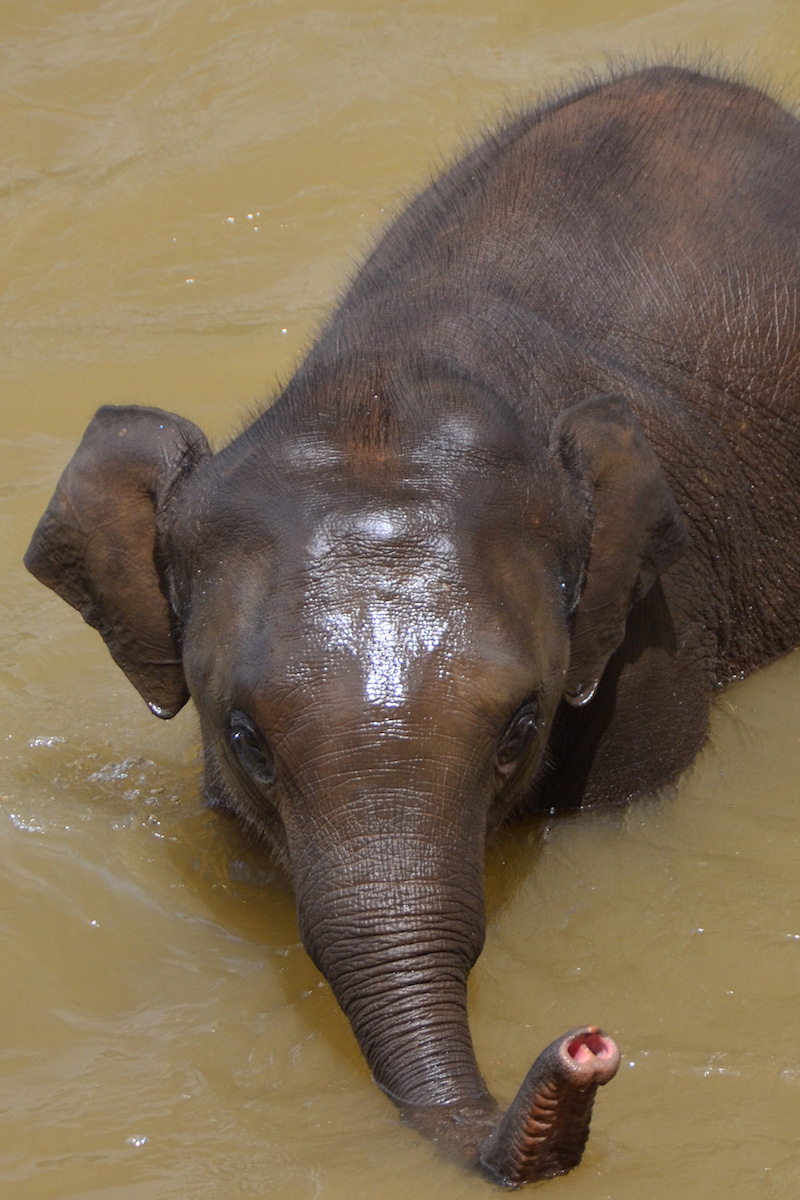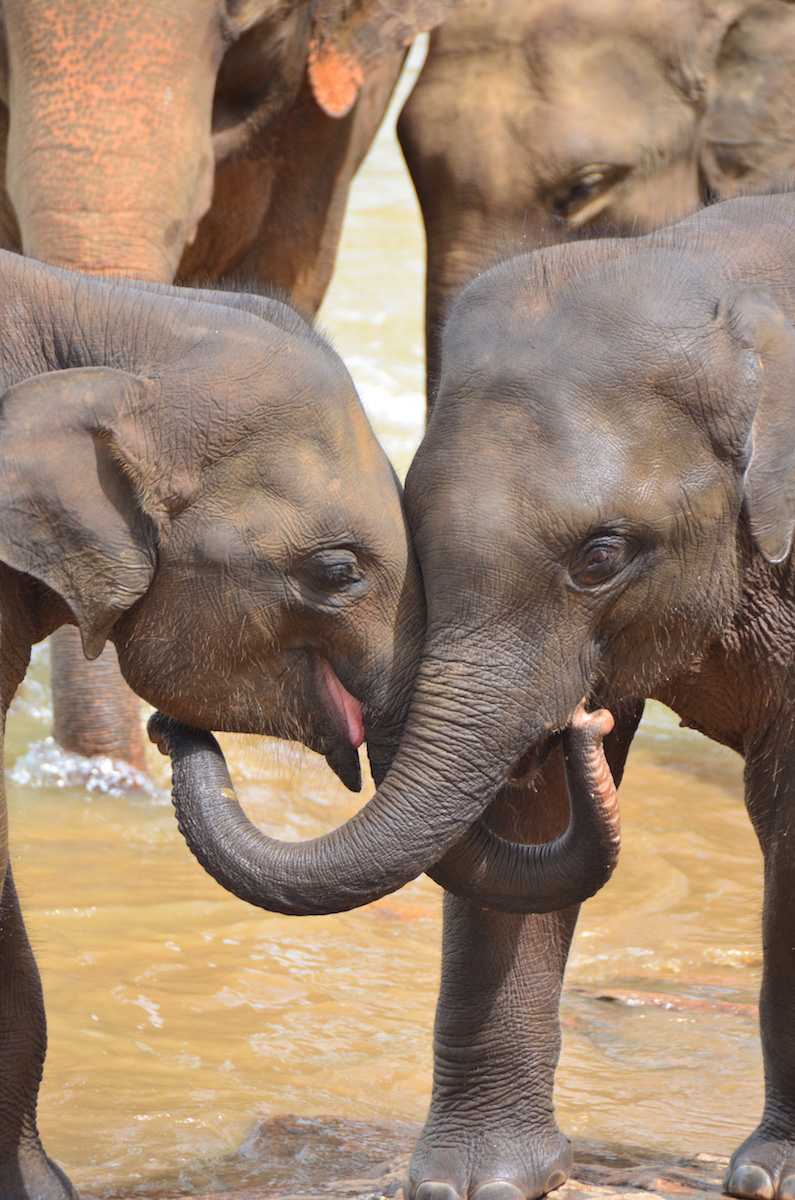 I might seem like a primadonna of sorts, what with my (relatively) high-flying lifestyle, but the fact is that I'm extremely easy to please,. Watching beautiful creatures live their lives, be they sexy menor majestic elephants, is an easy way to bring a day-long smile to my face, as I hope these photos do for you.
The great thing about the location where the elephants bathe, in addition to the fact that it's very picturesque, is that it's flanked by several cafés and restaurants, where you can enjoy affordably-priced, reasonably tasty food and beverages while you watch the elephants bathe.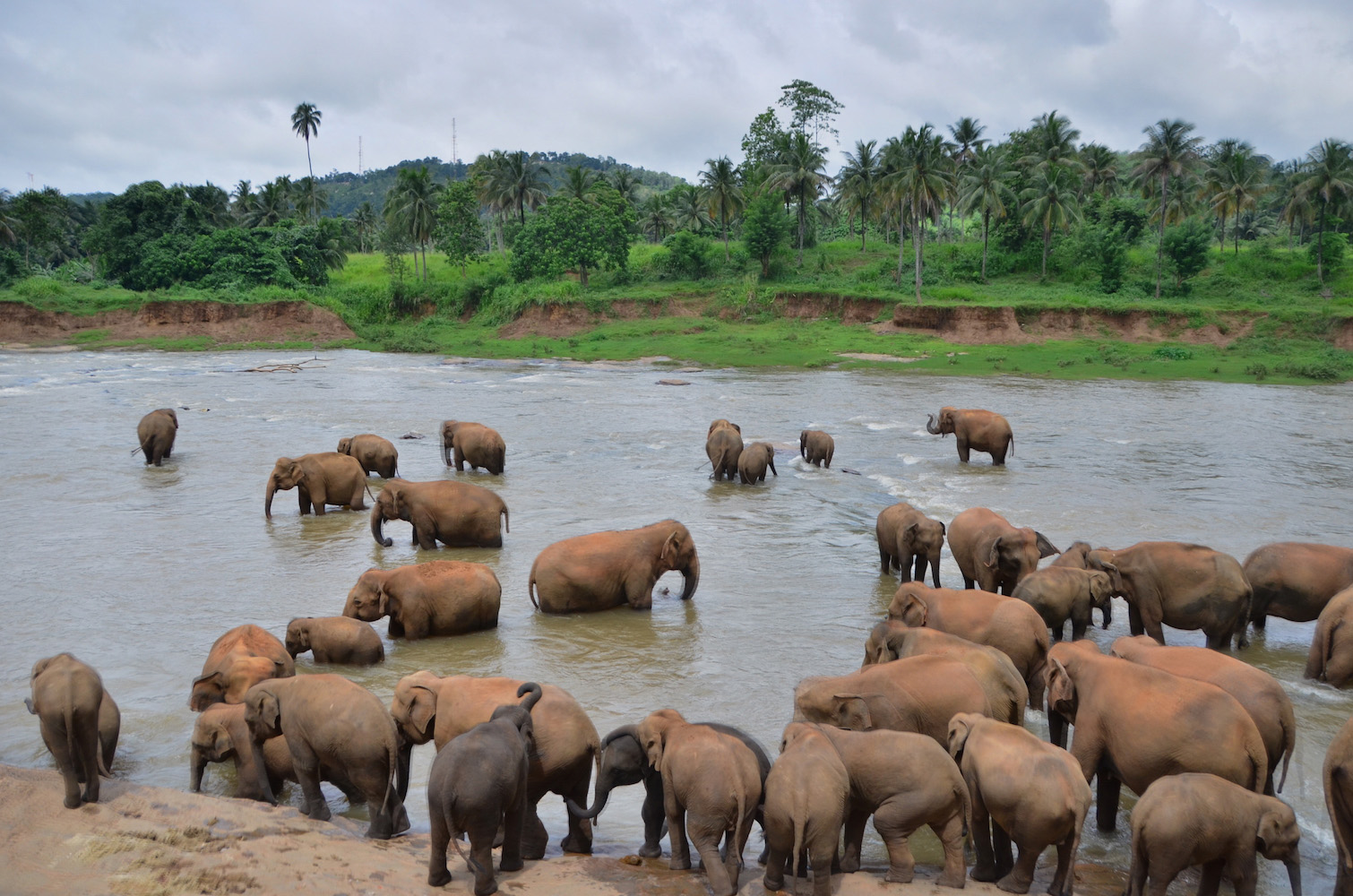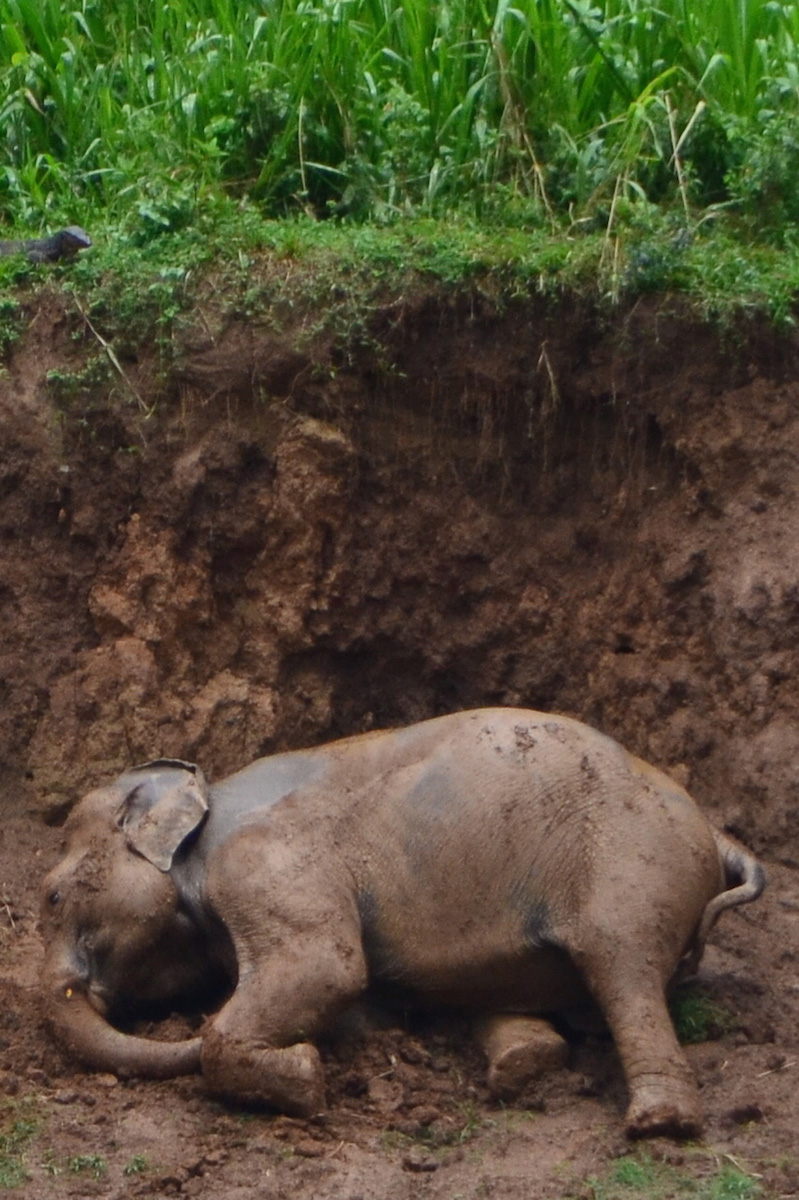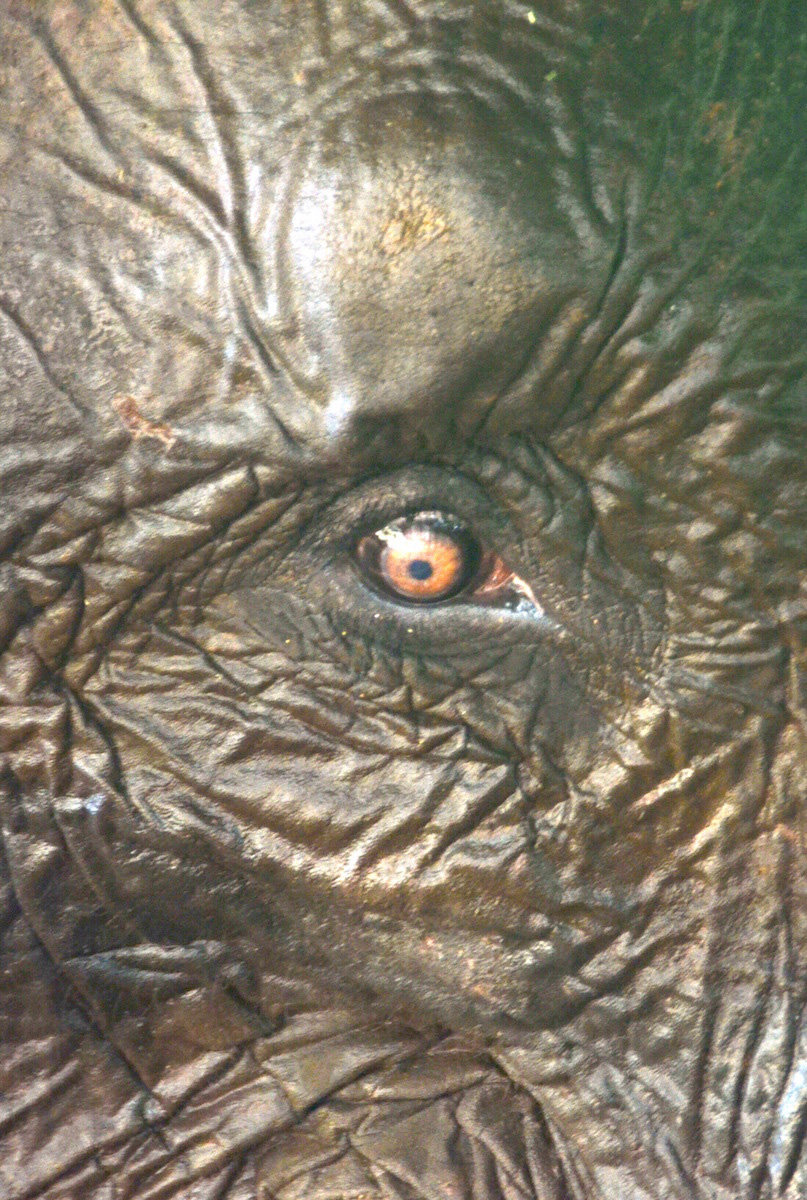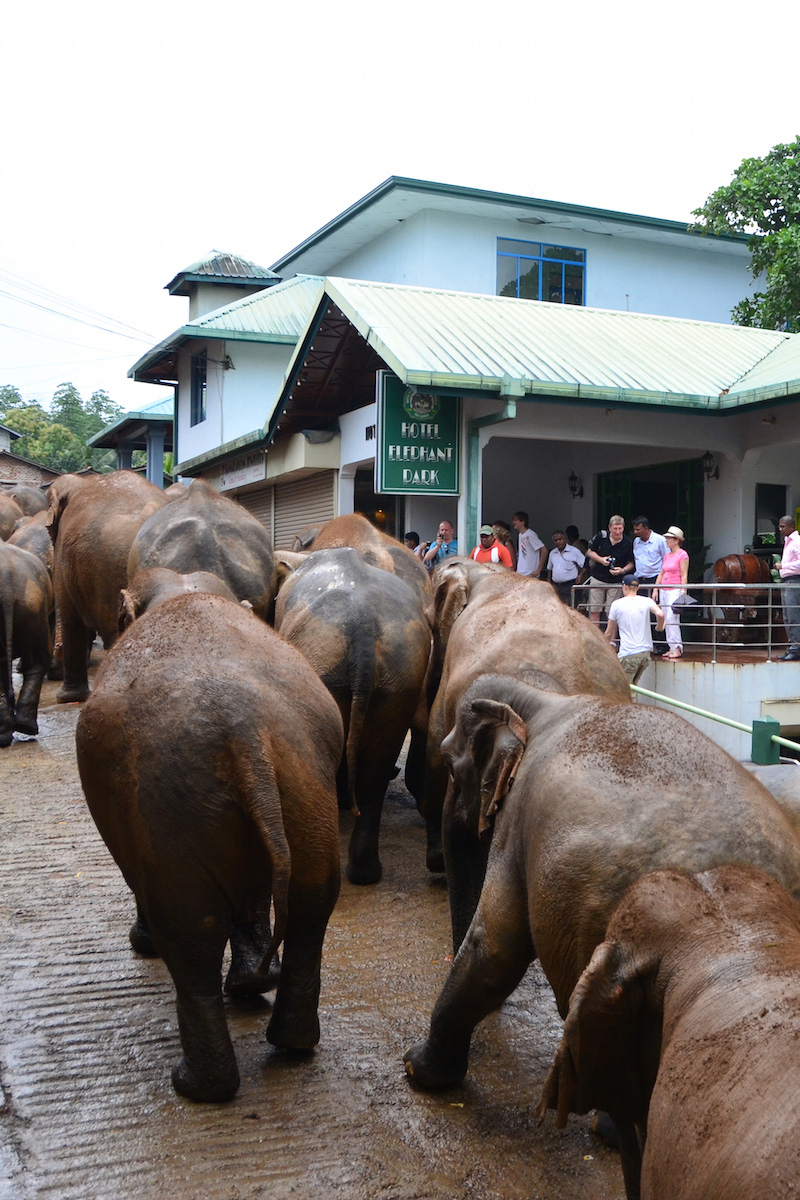 FAQ About Pinnawala Elephant Orphanage
Can I Ride or Touch The Elephants?
Unlike the adjacent (and totally separate) Millennium Elephant Foundation, which is one of the zoos Charm warned me about, Pinnawala Elephant Orphanage is a refuge for wild elephants whom, with the exception of a few very sick individuals, will return to the wild. As a result, it is not possible to ride or touch them, although some trainers might let you snap a picture with one for a tip.
Pinnawala Elephant Orphanage Facts and Figures
In total, there are 78 elephants living at Pinnawala, which has been in operation since 1975. A team of 40-50 caretakers feed, bathe and assist the elephants, and there is also an on-site breeding program. Although the work done at Pinnawala Elephant Orphanage is decidedly good, the institution has come under scrutiny for its "donation" of rehabilitated elephants to suspect owners.
How Do I Get To Pinnawala Elephant Orphanage?
Pinnawala Elephant Orphanage is located approximately 90 km from Colombo, along the road to Kandy, close to the village of Kegalle. The easiest way to get there, if you don't have a private car or the money to hire a taxi, is to take any public bus to Kandy and get off at Kegalle. From there, it's just a short bus or tuk-tuk ride to Pinnawala.
How Much Does Pinnawala Elephant Orphanage Cost?
As is the case with most attractions in Sri Lanka, Pinnawala Elephant Orphanage is much more expensive for foreigners than it is for locals – we pay 2,000 LKR (about 15 USD), while they pay just 100 LKR. Unlike some other attractions, however, Pinnawala Elephant Orphanage is worth every penny!