I was relaxing in the Asiana Lounge at Seoul's Incheon International Airport Friday evening, waiting to board a flight to Bangkok, when the news report came on. "Dozens of people were injured by the explosions," the anchor said dramatically, "which are the latest chapter in a wave of dangerous protests that have taken the Thai capital hostage since November."
"You scared?" One of my fellow passengers asked.
I shook my head and took another swig of chardonnay.
See, if travel has taught me one thing – or, more accurately, if it has reinforced one thing I've always known – it's that members of the mainstream media, in their quest to hold the greatest share of the world's TV consumers captive, use fear at their primary weapon, often at the expense of the truth.
To be sure, I visited Egypt just after the 2011 revolution, Greece at the height of its economic collapse, Myanmar before it was officially open to outsiders and The Palestinian Territories…well, according to the powers that be, it's never a good idea to go there.
In each of these instances, I was not only not harmed, but found the situation on the ground to be completely at odds with what CNN, FOX and MSNBC (not to mention, some of the trashier international news channels) had told me to expect. Which is to say I encountered friendly, docile people concerned only with feeding their families and making a buck or two in the process.
I knew, having traveled to Thailand five times in the past, that Bangkok would be no different. So when I woke up Saturday morning, I headed immediately to the nearest protest site.
Highlights of my photos from "Shut Down Bangkok, Restart Thailand"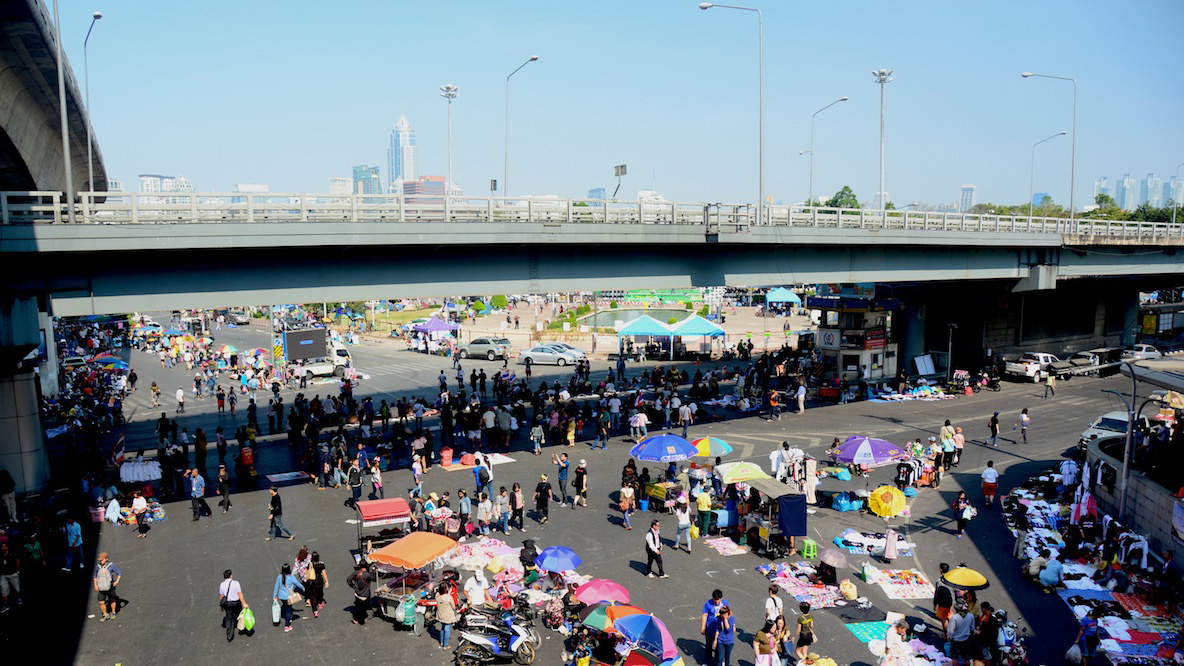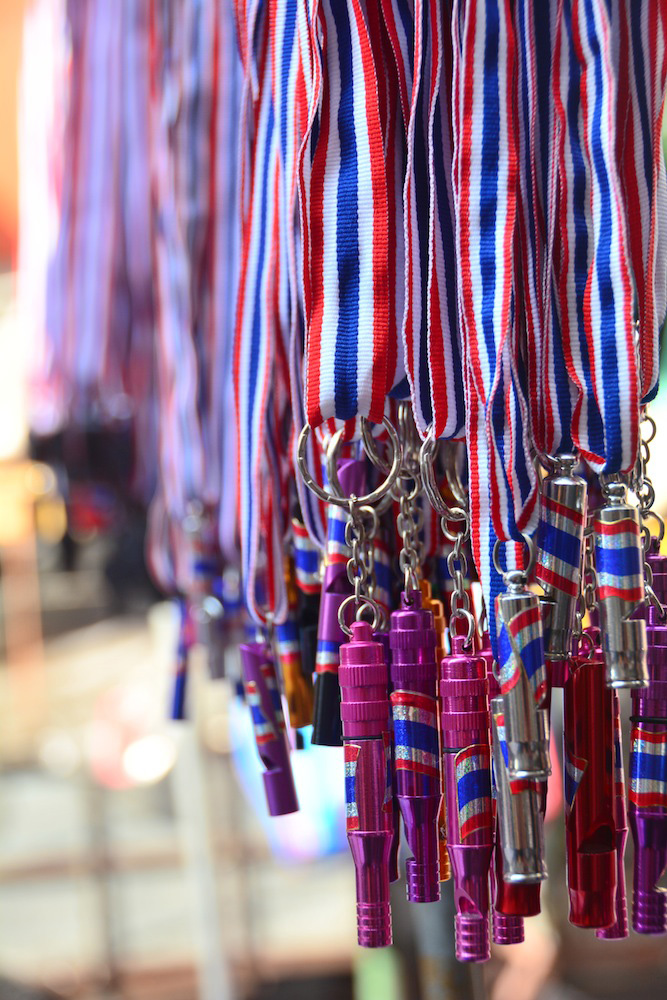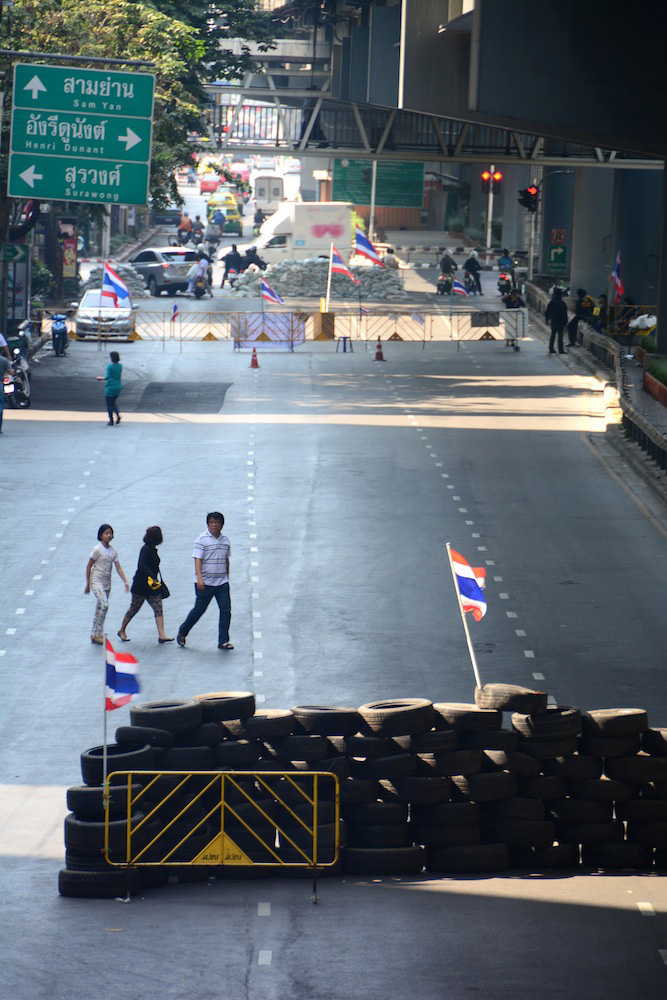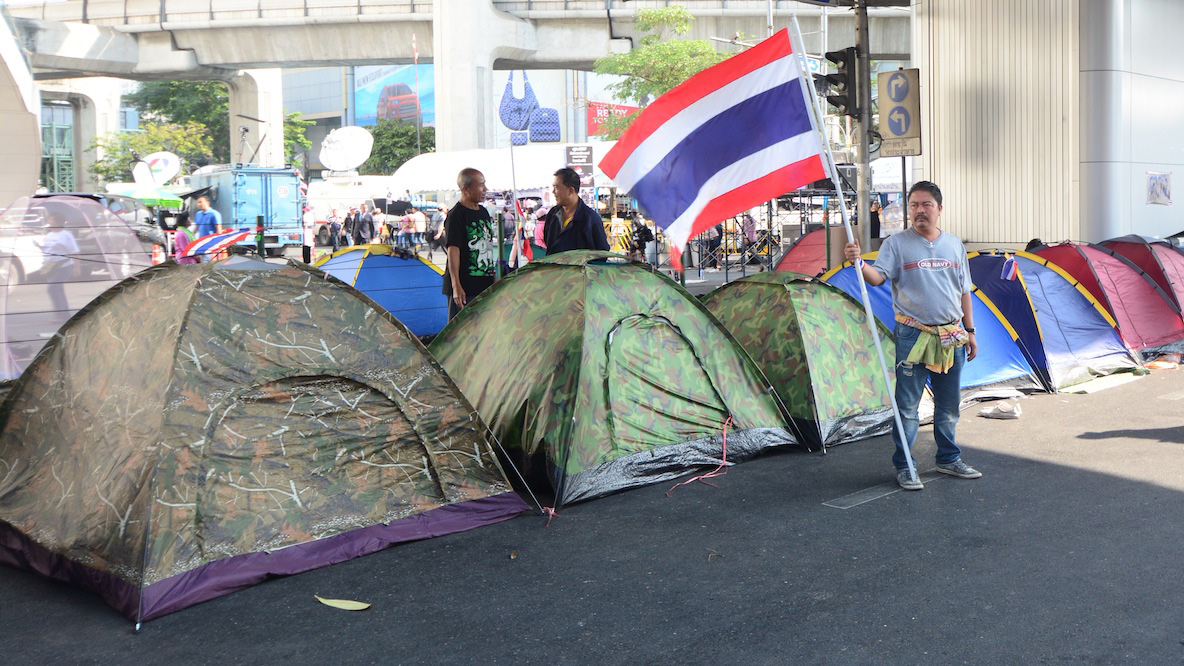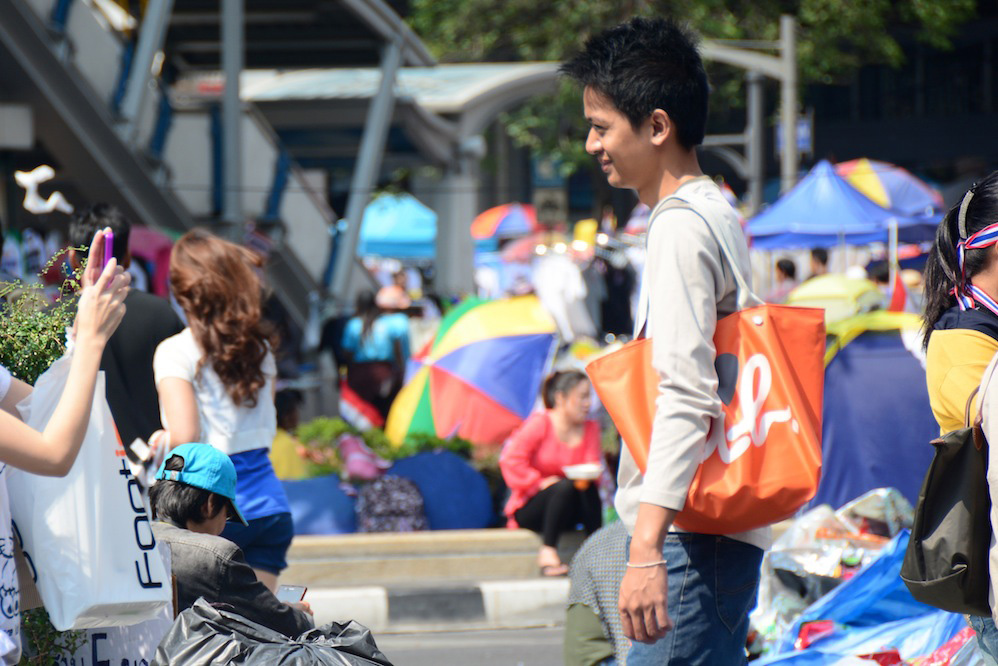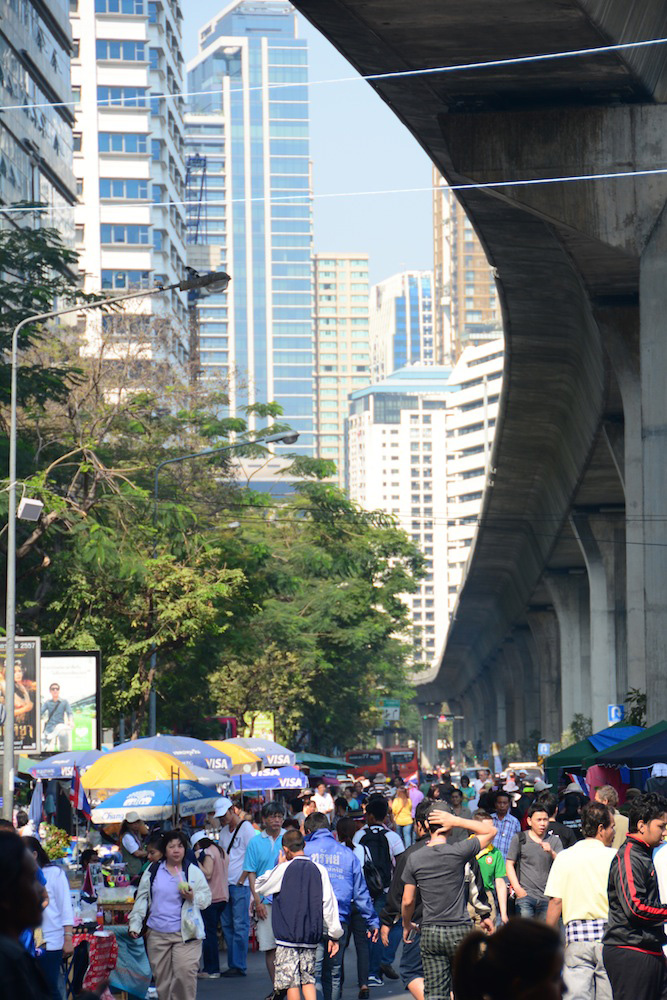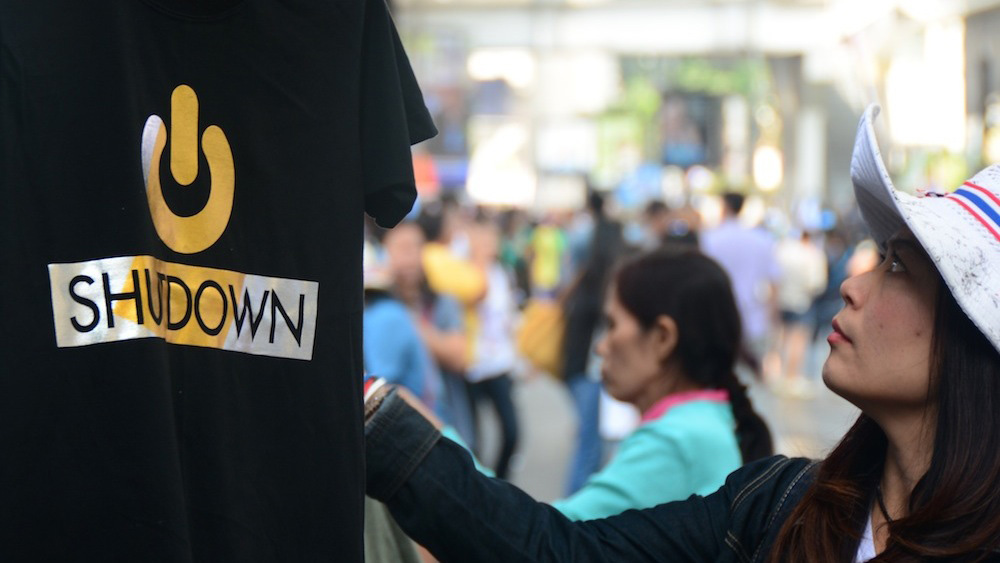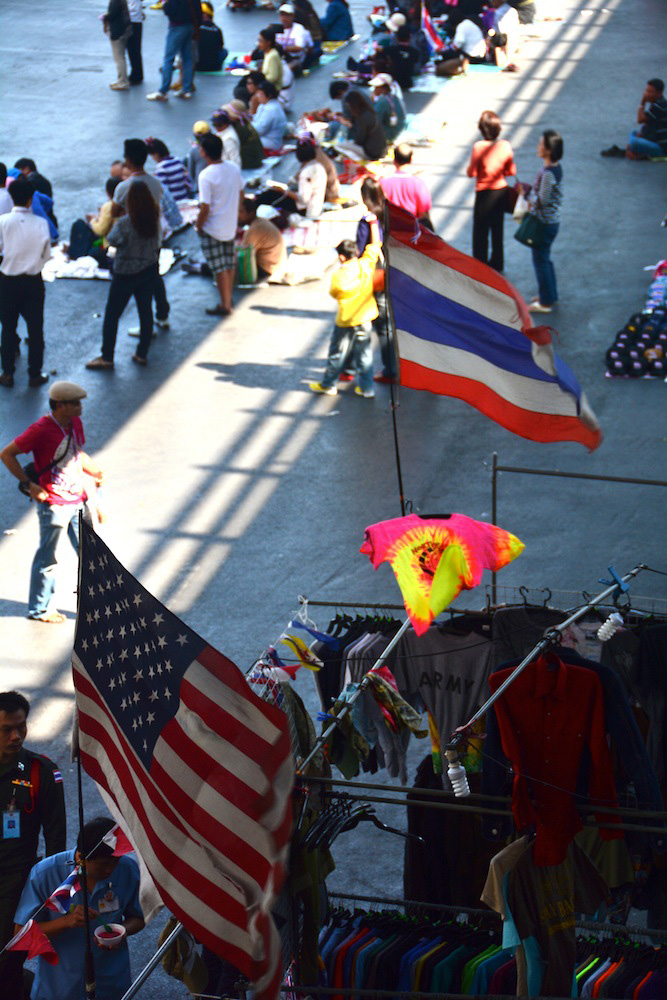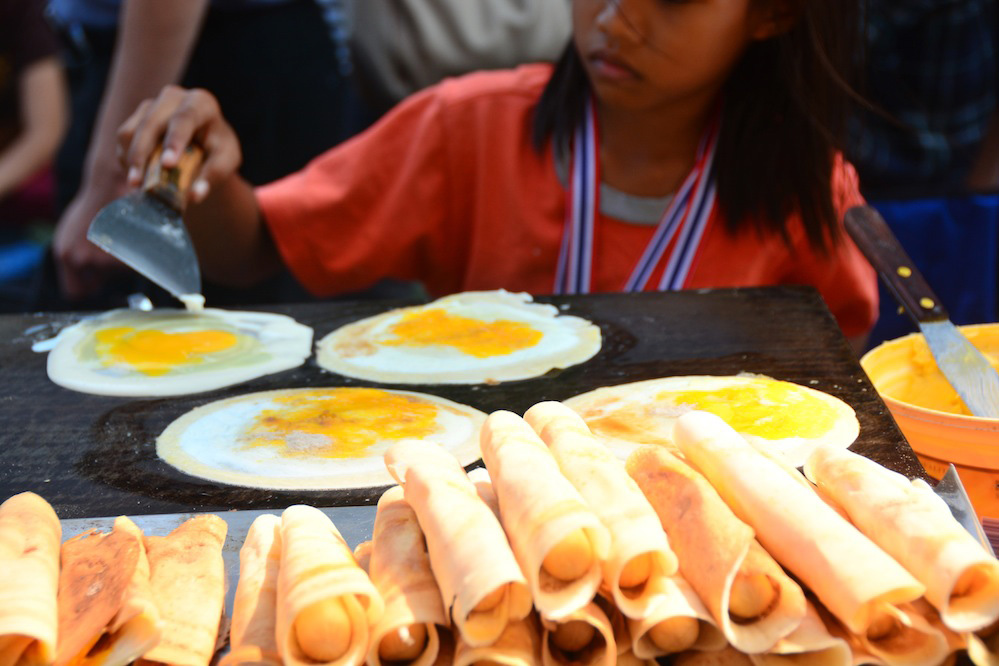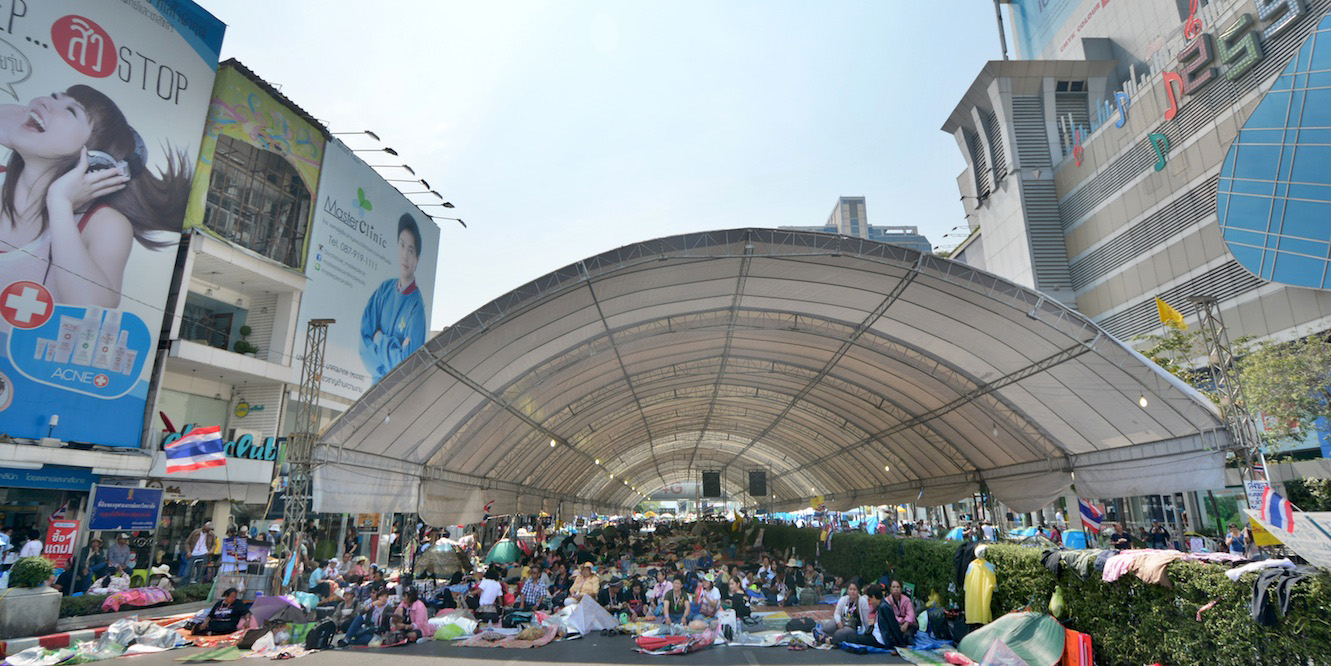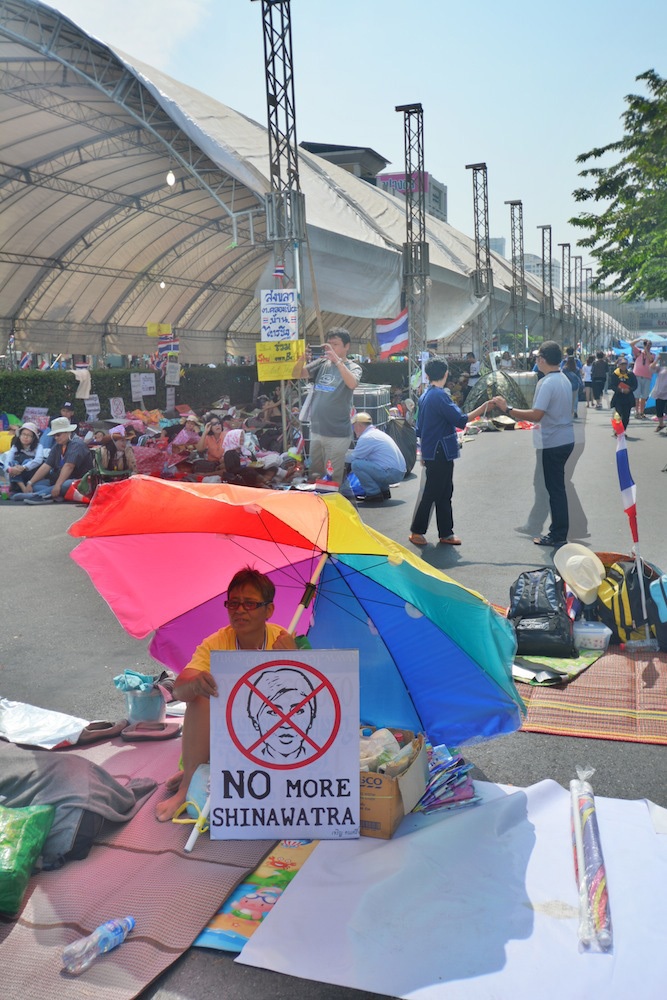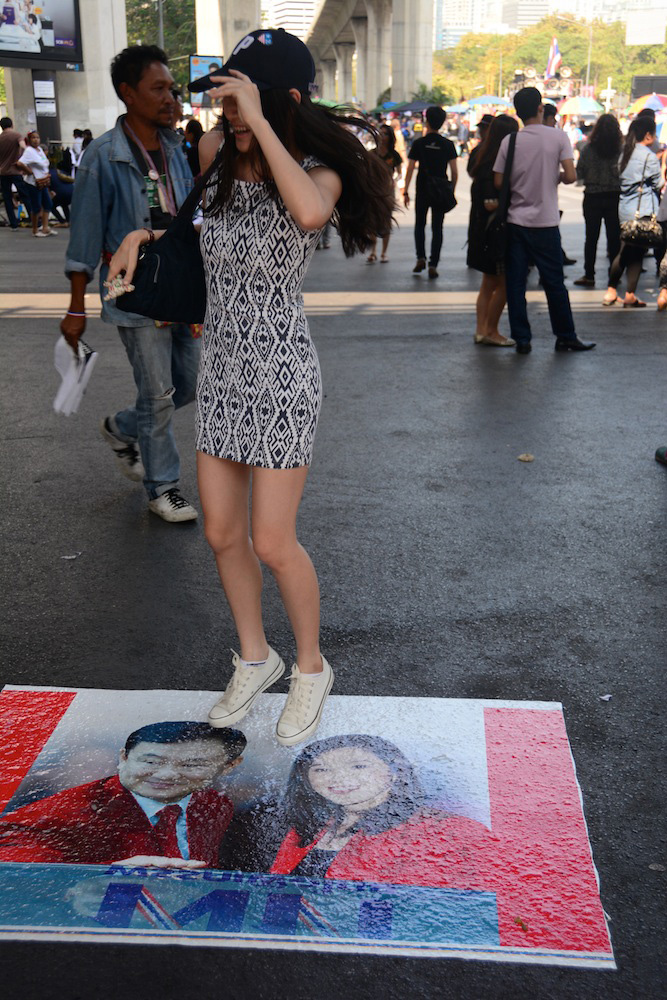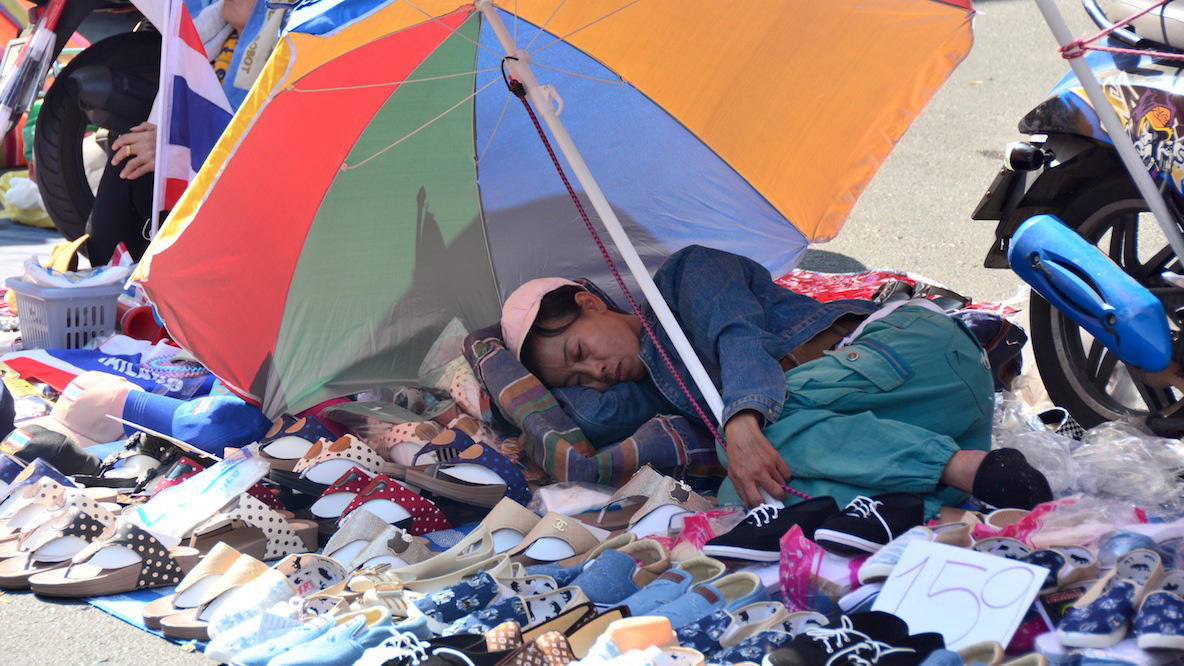 The first thing I noticed was the booming voice over the speakers; the second, the fact that the Bangkok protests had been branded: "Shut Down Bangkok, Restart Thailand." The third, as I stood on the sky bridge over Phaya Thai Road in front of Bangkok's MBK Center, was that the scene outside the mall looked a lot like what was inside.
Indeed, as I made my way down Rama I Rd toward Siam Square, and further out to protests at other Bangkok locations such as Asok Road, Silom Road and Lumphini Park, the most ubiquitous sight was not the tents where protestors sleep.
It was stalls selling protest-related merchandise!
http://youtube.com/watch?v=-We2PjSAS70&desktop_uri=%2Fwatch%3Fv%3D-We2PjSAS70
A "whistle mob" at Chit Lom, in central Bangkok
The 2014 Bangkok protests are of absolutely no danger to travelers – and the mainstream media needs to stop scaring us into thinking this is the case.
Unlike the "Red Shirts" (Thailand's much more radical answer to the American Tea Party) behind the 2010 Bangkok protests, the current Bangkok protestors are not concerned with burning down shopping malls, disrupting air travel or lessening Western influence on Thailand – they simply want prime minister Yingluck Shinawatra, who long ago lost the public mandate to rule, to step down.
What little violence has occurred at protest sites thus far has been in outlying areas of Bangkok, such as Chaengwattana and Lad Prao, places the vast majority of foreigners would have no reason to go. The only effect continued hysteria will have is to devastate Thailand's tourism sector, upon which the country's economy depends heavily. And then, shit will really hit the fan.
As someone who knows more about Thailand than just about every "journalist" in the world, my advice to you is simple: If you are planning a trip to Thailand, go as planned. Traffic in Bangkok is even worse than usual, but unless you make an explicit point of visiting protest sites (which are totally confined to Bangkok, I might add), you won't even notice them.
And if you're not visiting Thailand? Turn off your fucking TV.