The journey to Tana Toraja, located in the highlands of Indonesia's Sulawesi island, is not an easy one. Known locally as "The Land of Heavenly Kings," Tana Toraja is 10 hours by bus from the nearest airport (Makassar) on a good day – the day I arrived was not such a day.
Or, maybe it was.
"You're in luck," the short, smiling man informed me, after I'd selected him from one of the dozens of tour guides who harangued me upon disembarking from the bus. I hadn't slept much the night before, thanks as much to bumpy road conditions as to howling infants, so I was intrigued to hear why he thought I was so lucky.
"There is a very big funeral today – one of the biggest we've had in months," he continued, removing a paper map of the region from his pocket to denote its location relative to where we were, in the town of Rantepao. "But if you want to make it, we must leave now."
(Funerals, it might surprise you, are the reason most people visit Tana Toraja.)
Need help planning your trip to Tana Toraja? Hire me as your Travel Coach!
Tana Toraja Funerals
As we sped off by motorbike, I was surprised at how quickly the industrial clamor of Rantepao gave way to the tranquility of the Torajan countryside. With towering limestone karsts and emerald rice fields, the landscape was strangely similar to the one you find in Laos, although traditional boat-shaped houses gives Tana Toraja a distinct flavor.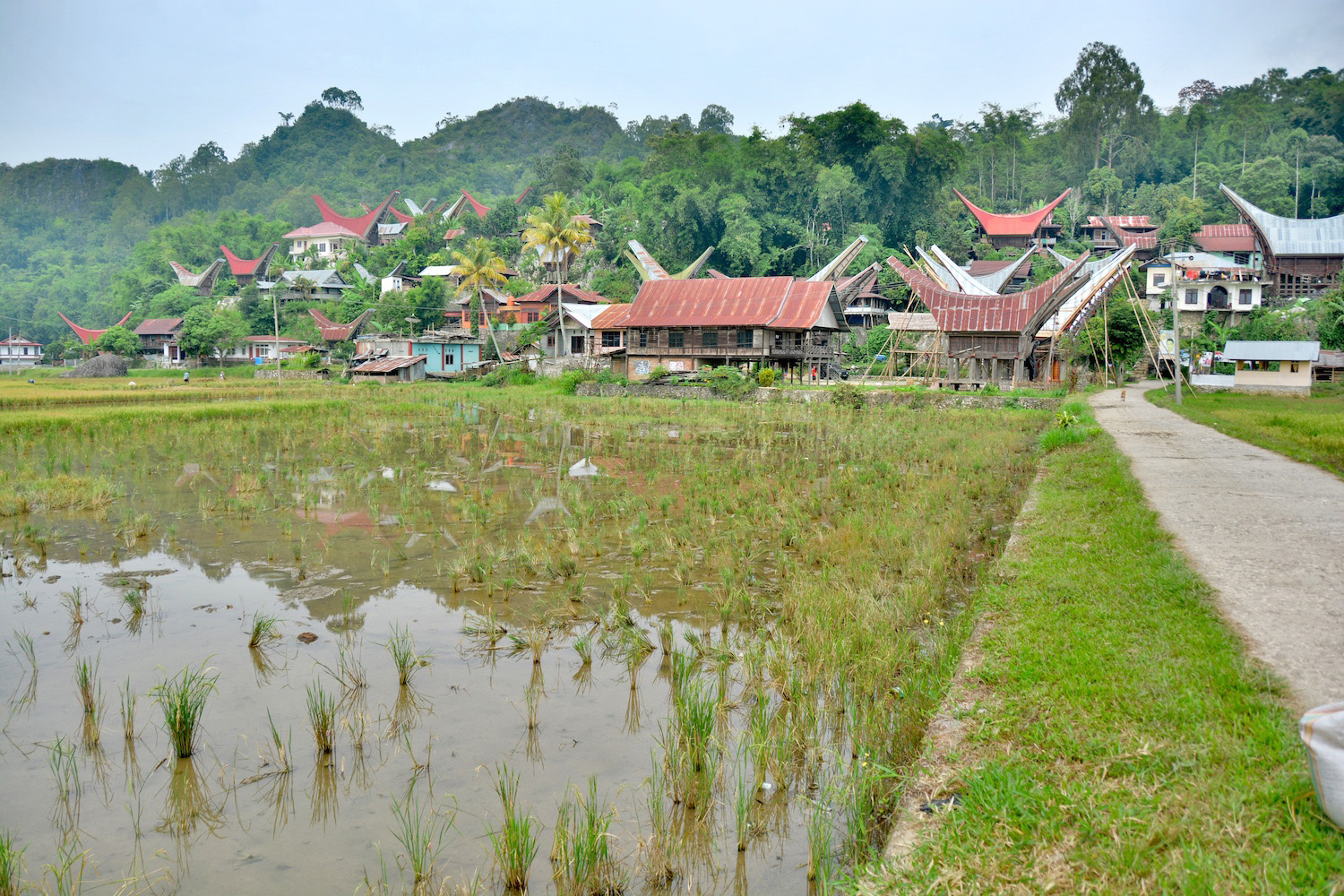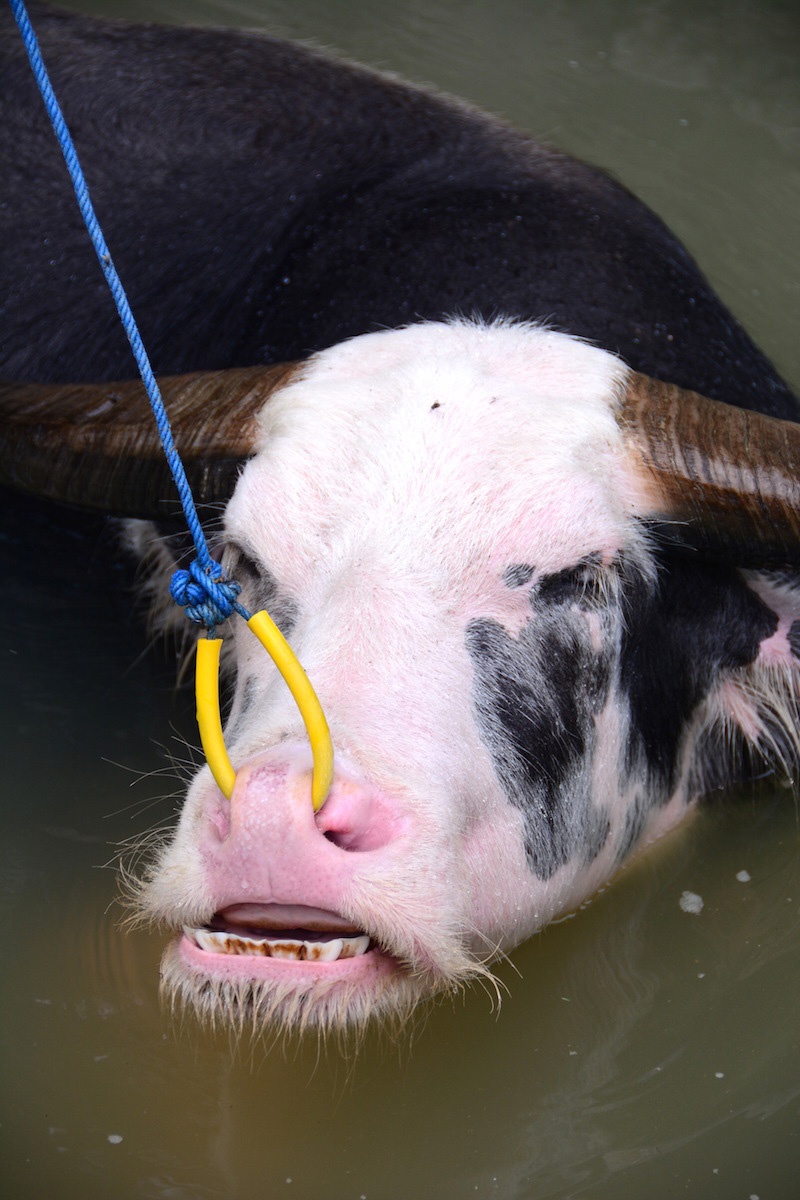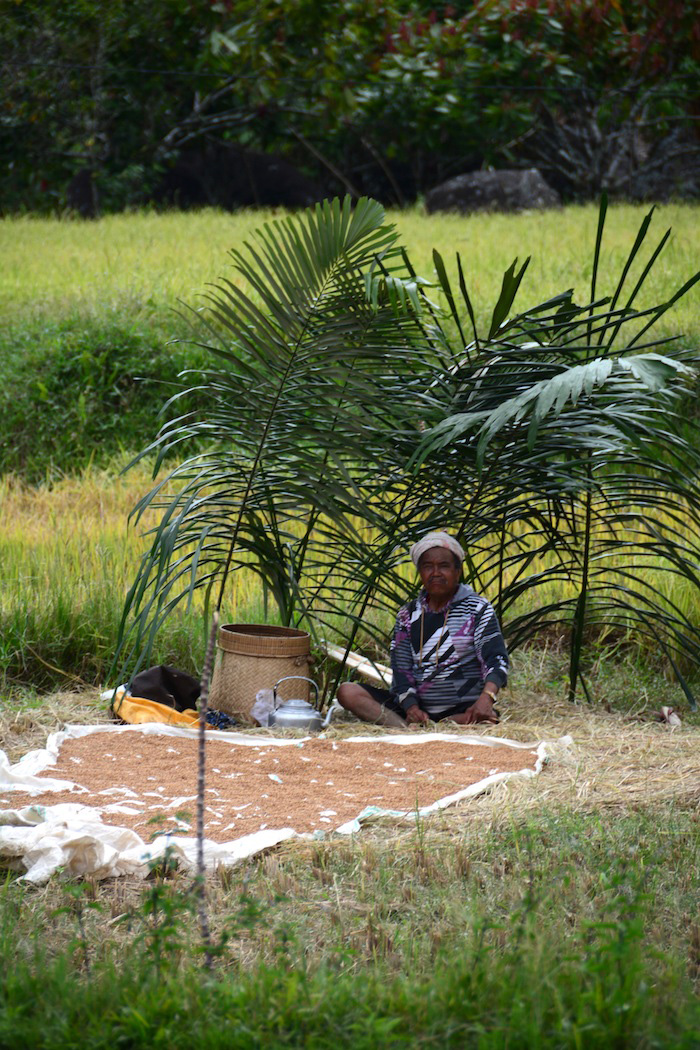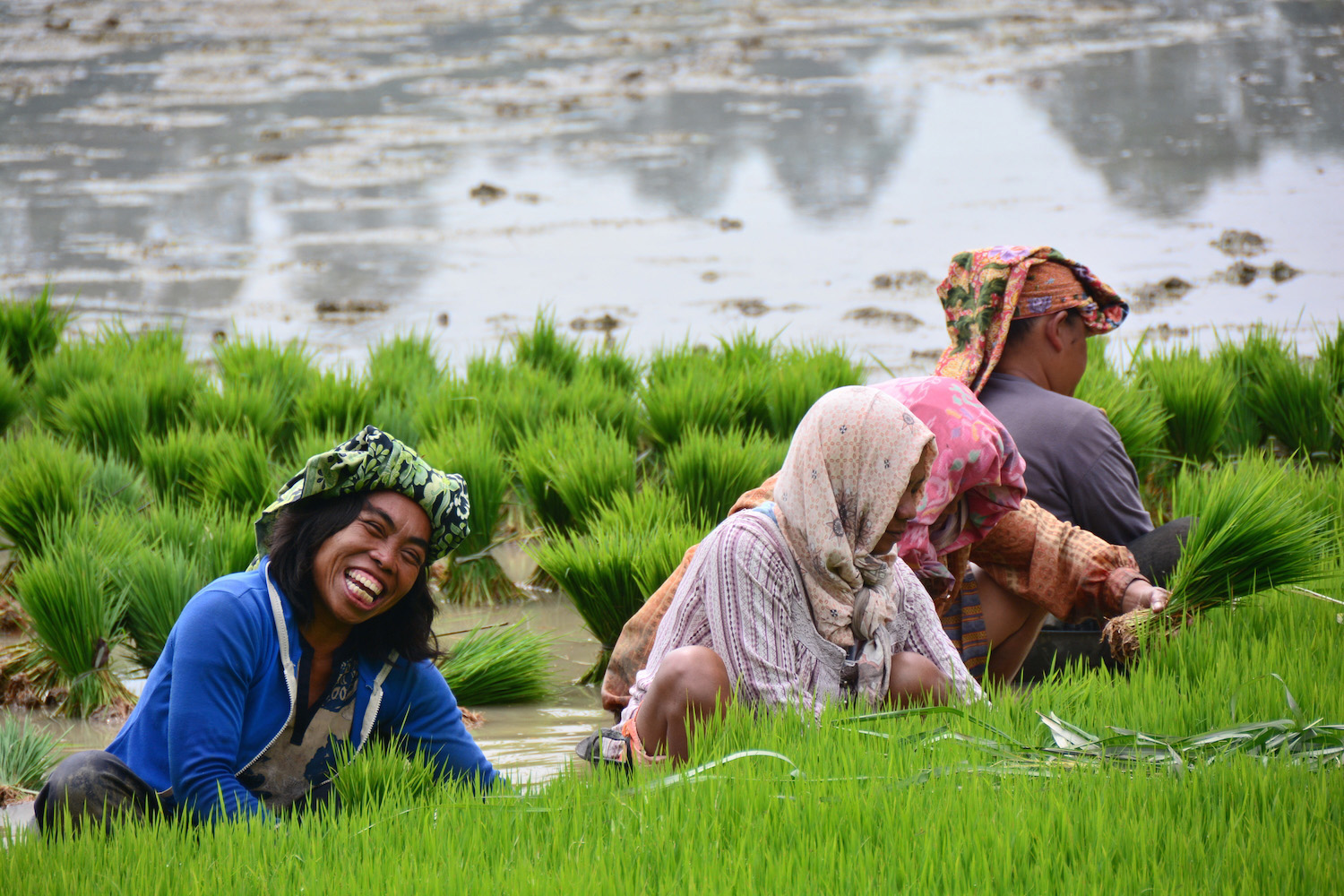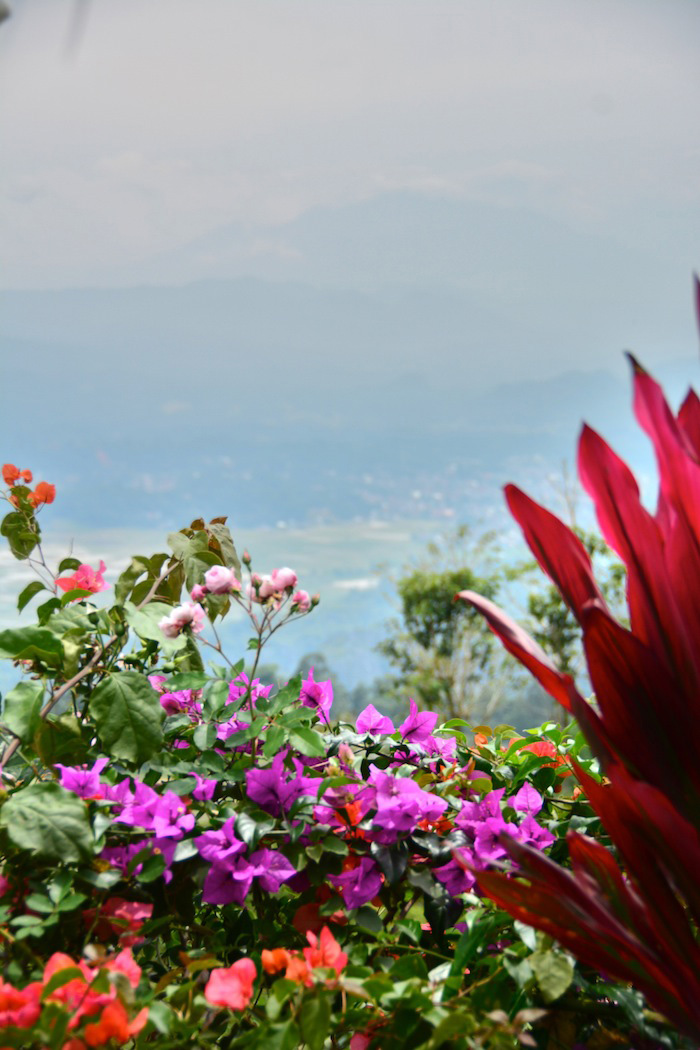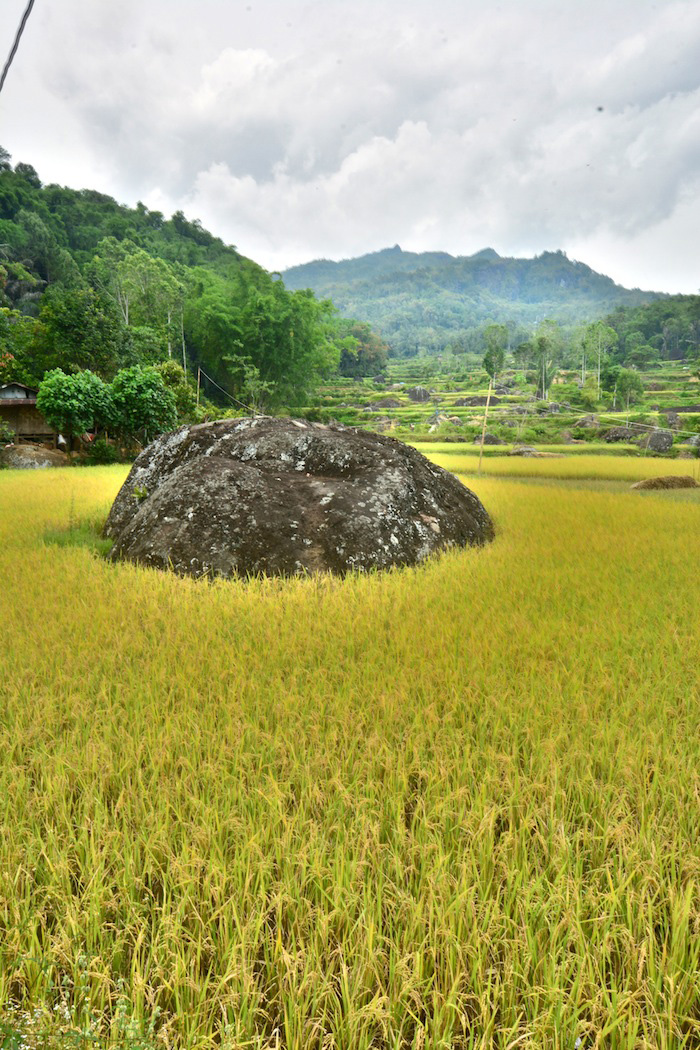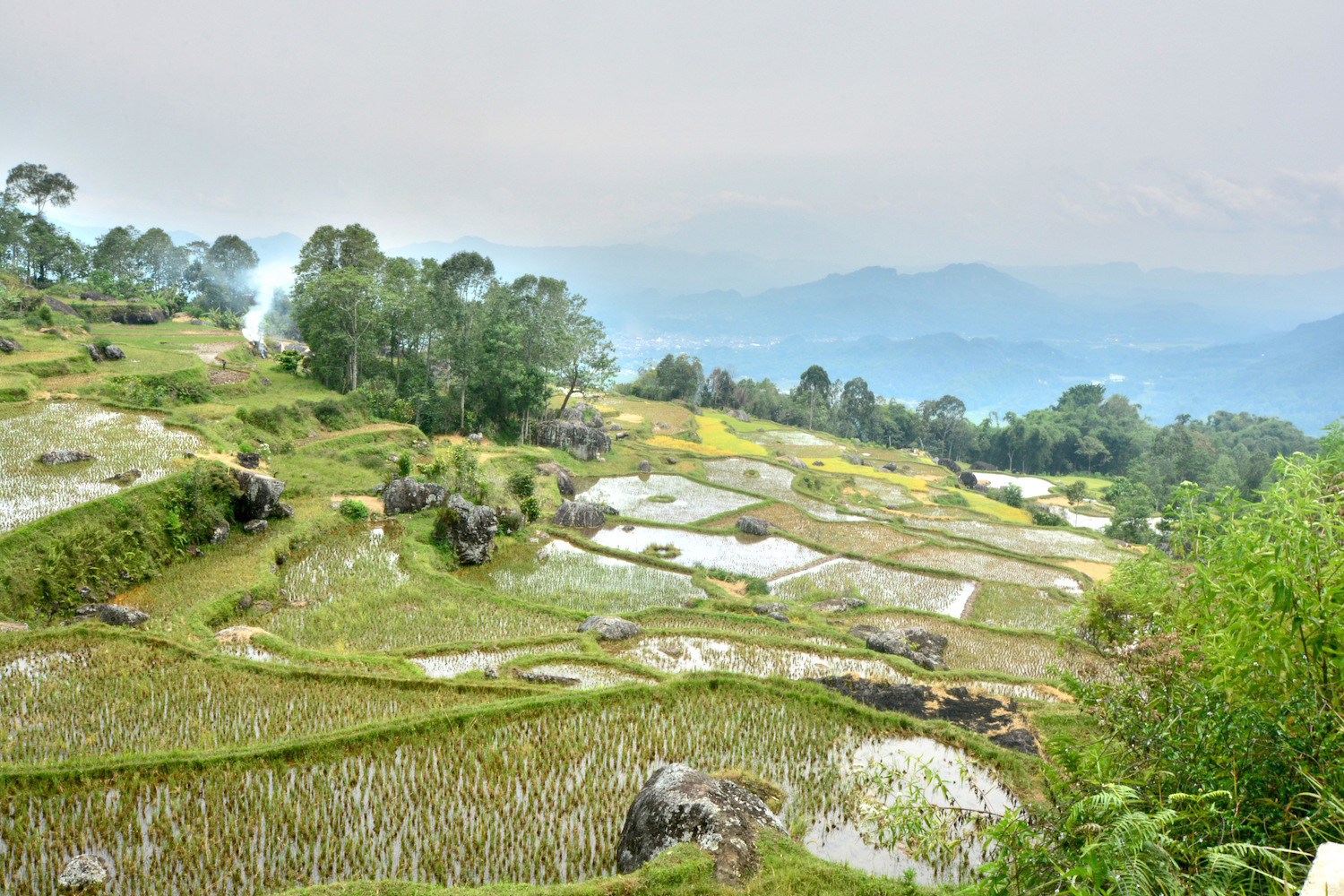 My guide hadn't been joking about the size of the funeral. When we arrived, approximately two hours before the beginning of the festivities, no less than 100 people were already in attendance, from "VIP" guests lounged in cabana-style waiting areas underneath the traditional rice barns on-site, to commoners (including me) who enjoyed simple food and tea in temporary buildings constructed especially for the funeral.
"In Torajan culture," my guide explained, as he handed me a juicy piece of bamboo-cooked pork, "families may wait several months or even years after a person dies to bury them. During this time, the family preserves the body, either using modern chemicals or more traditional methods. Until the burial, the person is technically considered 'sick.'"
"How long has this one been dead?" I pointed toward the eerily life-like effigy that had been placed in front of the elaborately-carved coffin at the center of the funeral site.
He excused himself to ask one of the hostesses to clarify. "One year," he answered. "Exactly one year. But be quiet for now – it's starting."
After a lively circle dance performed men dressed in royal blue and a "rice pounding" ritual performed by local women dressed in purple, the procession began. A long line of no less than 100 women formed, holding up a long, red cloth which symbolized the deceased person's path to the afterlife. Once they began walking down into the town, men carrying the coffin and the effigy followed.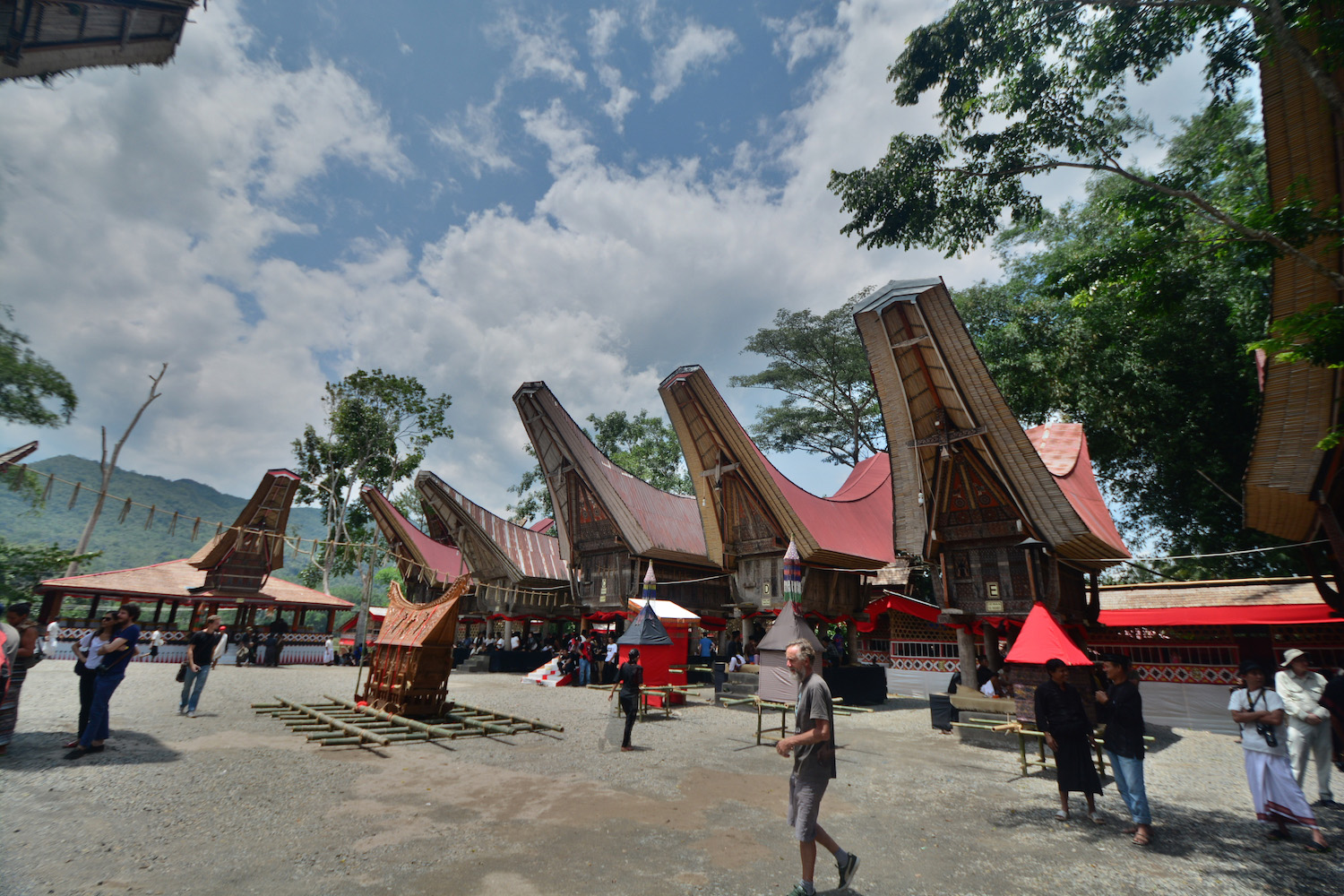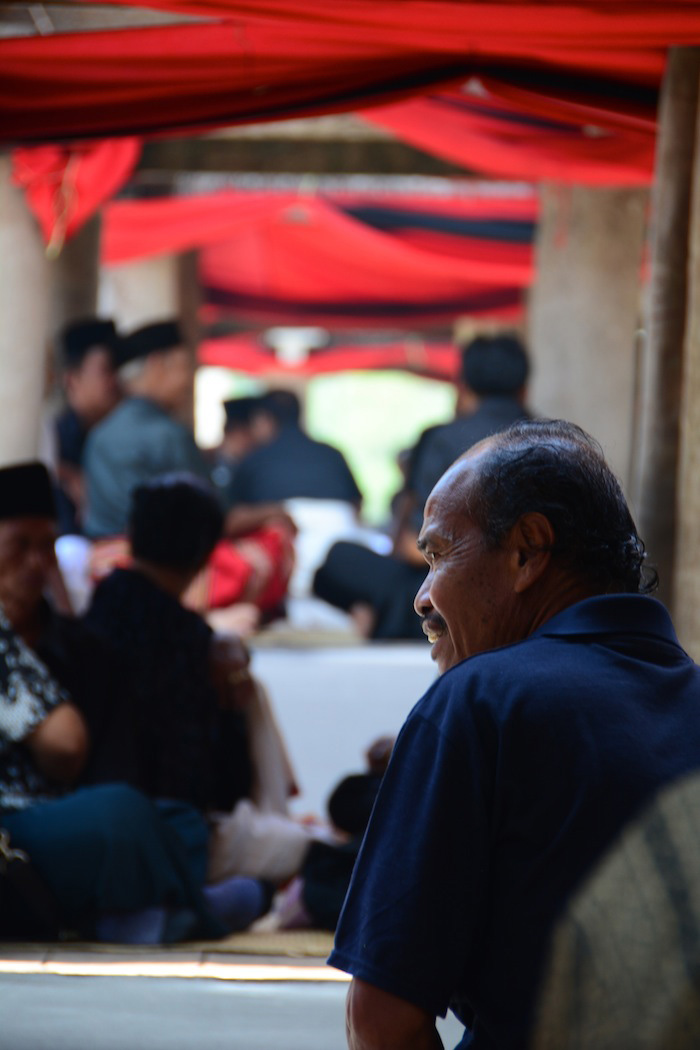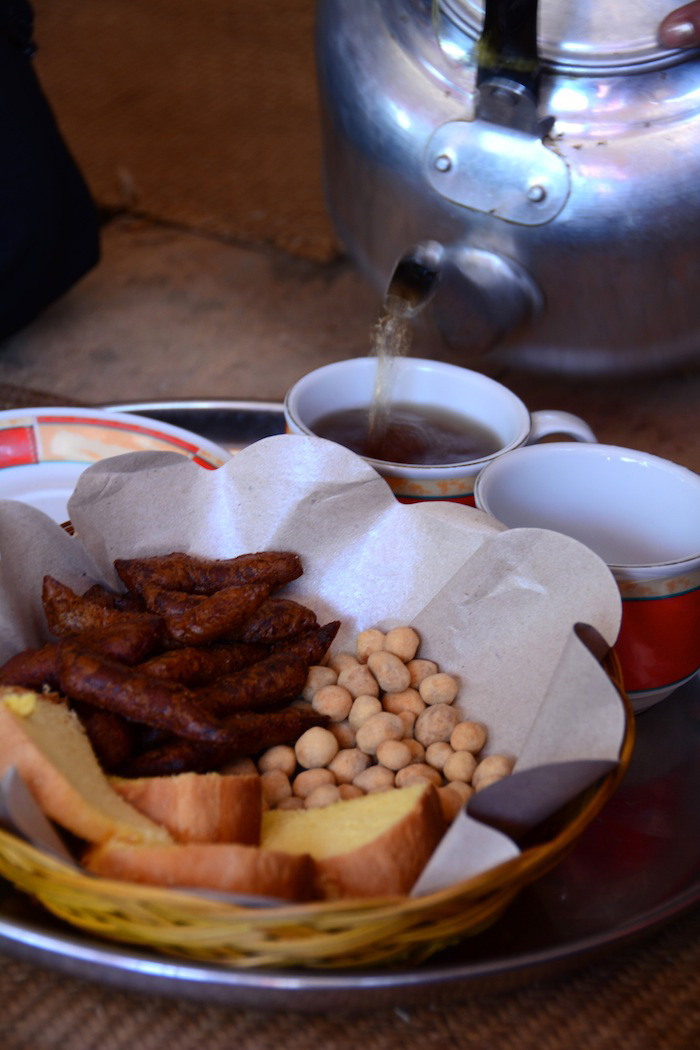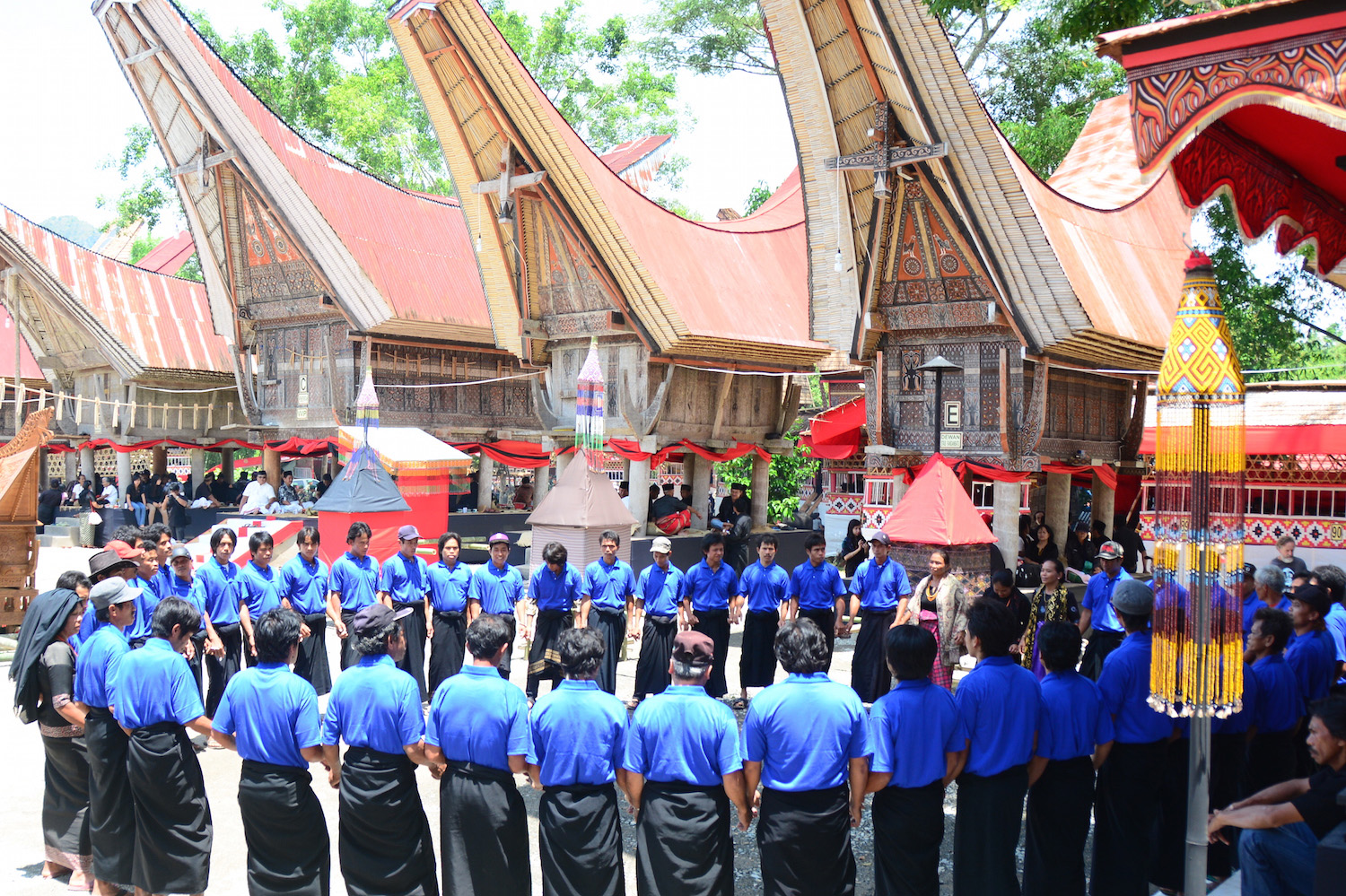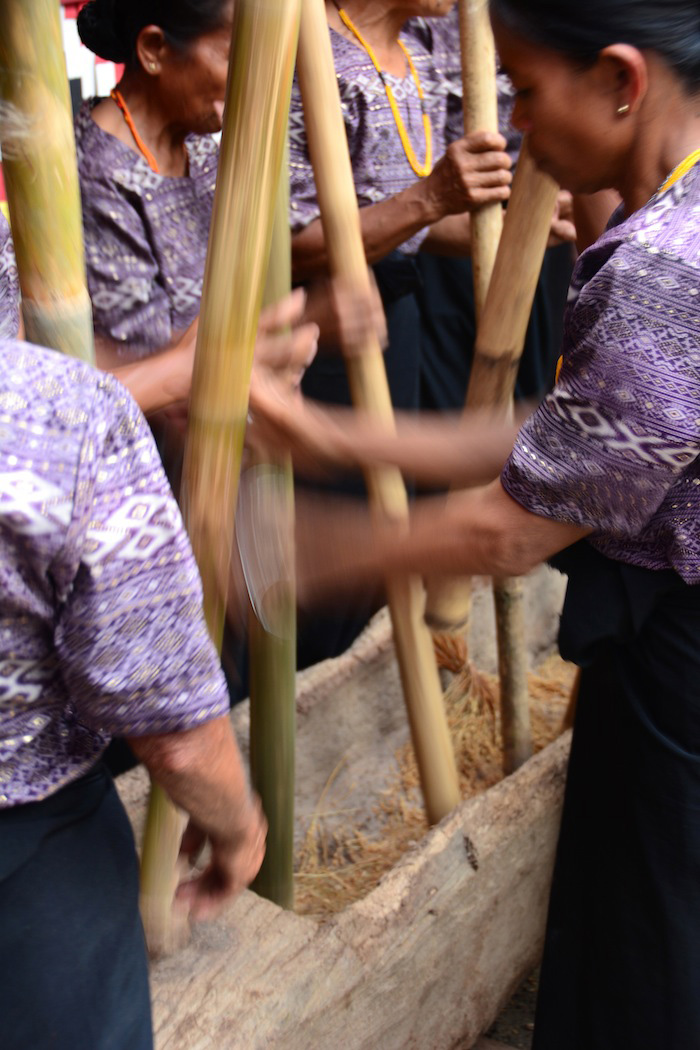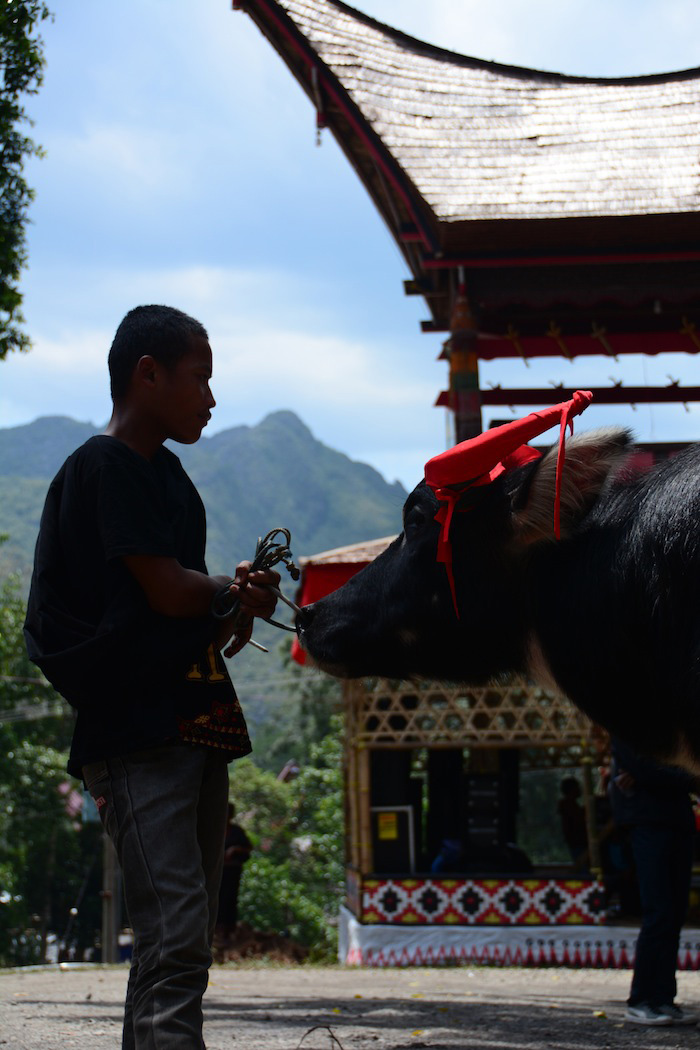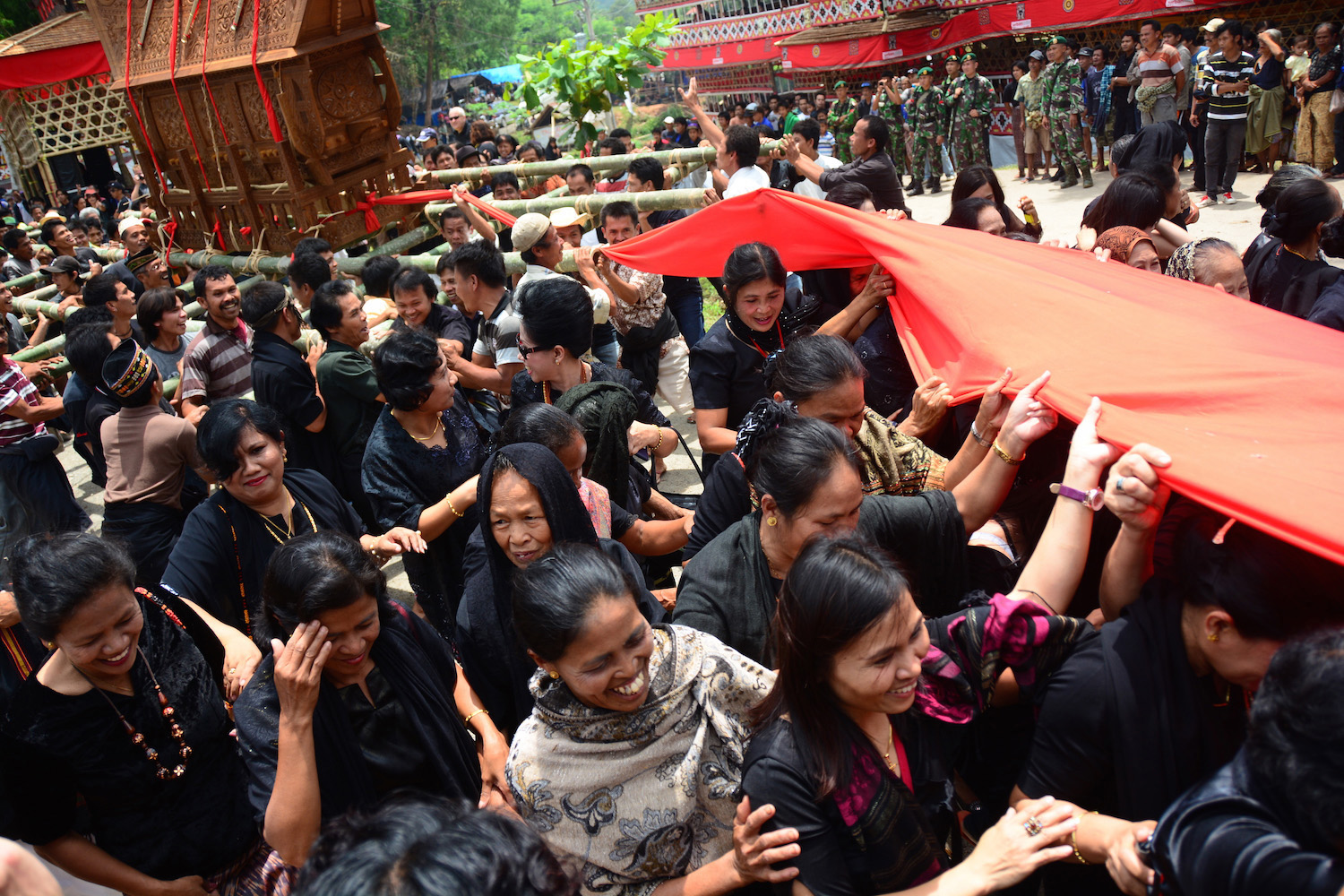 From the drum beat that signaled the commencement of the funeral to the moment that coffin was placed in a "sky cabin" above one of the houses, the mood the event was festive, perhaps even joyful. The pallbearers would occasionally hoist the coffin up, and then rapidly down, to symbolize the launching of the deceased person's soul into the next life; the women underneath the red cloth, in spite of its harsh color, were smiling and laughing widely.
Unfortunately, not all aspects of Tana Toraja funerals are positive. Depending on the wealth of the family, as many as 24 buffalo are slaughtered; some pigs and other animals are occasionally sacrificed as well. The buffalo who are lucky enough not to die during the funeral are subjected to fighting after the burial, which I personally skipped – ain't nobody got time for animal cruelty!
Baby Graves in Tana Toraja
The good news is that not all of the burial rituals in Tana Toraja involved barbarianism. Some are even sweet! This includes the "baby graves," which I must admit sounded rather macabre when my guide first told me we were going to visit them.
"Inside this tree," my guide explained, pointing up to the crude palm coverings papering the behemoth arbor's trunk, "are the bodies of several babies, some buried centuries ago. Now, you're probably wondering why someone would want to bury their child in a tree."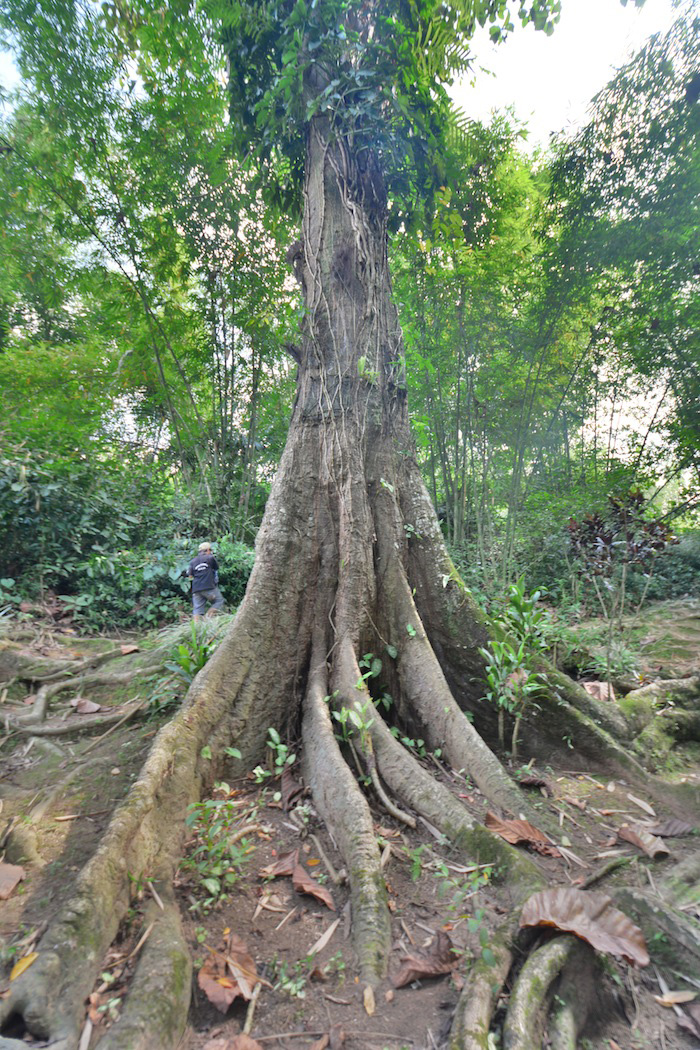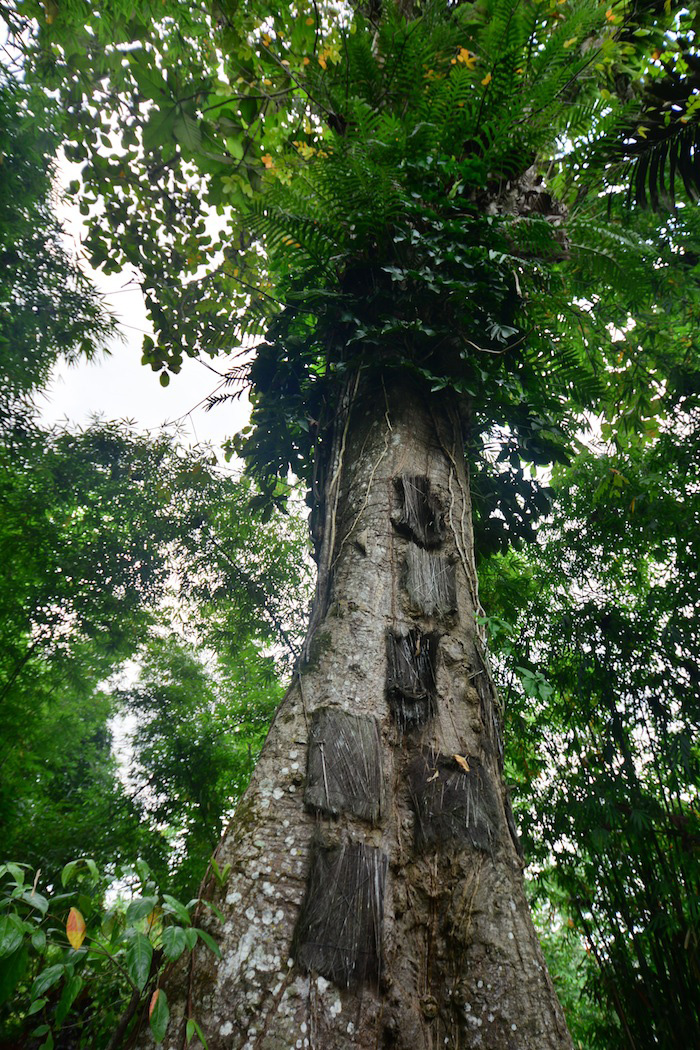 I nodded.
"Well, ancient Tana Toraja people, with their animist beliefs, considered trees to be the ultimate symbol of life. By burying their young children – only those without teeth – inside a tree, the tree would act as the child's new mother, the sap her milk. As long as the tree lived, the child would continue to have a new life inside."
Tana Toraja Hanging Graves
Another interesting Tana Toraja burial tradition is the hanging graves you find dangling from cliffs in the region. Arranged based on social class – the rich were hung higher, i.e. closer to heaven, while the tombs of the poor often rested directly on the ground – the hanging graves of Tana Toraja are stunning not so much because they seem misplaced, but because they blend into the scenery so effortlessly.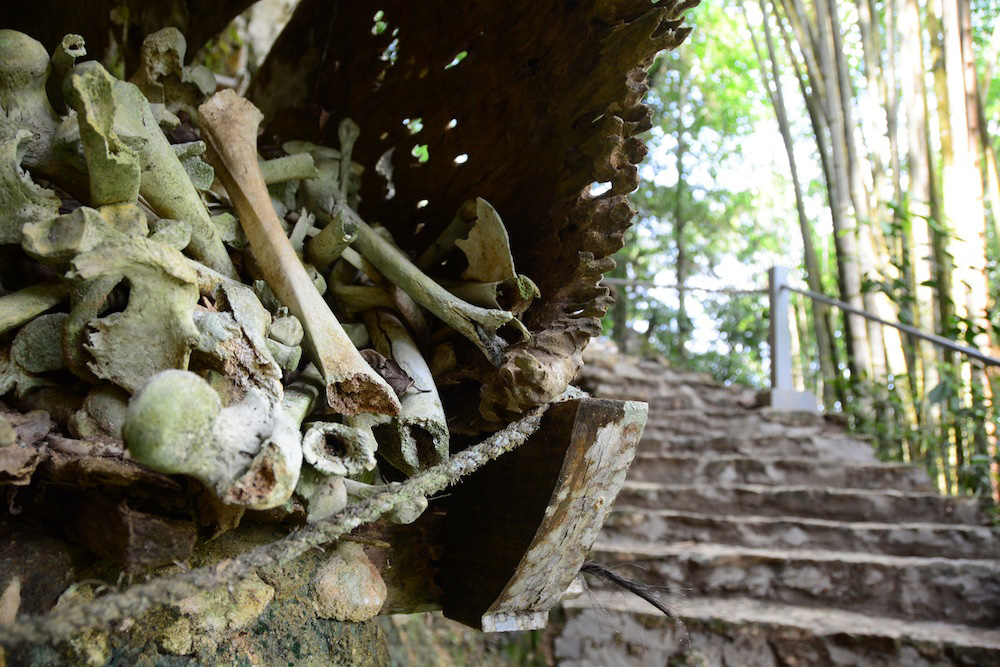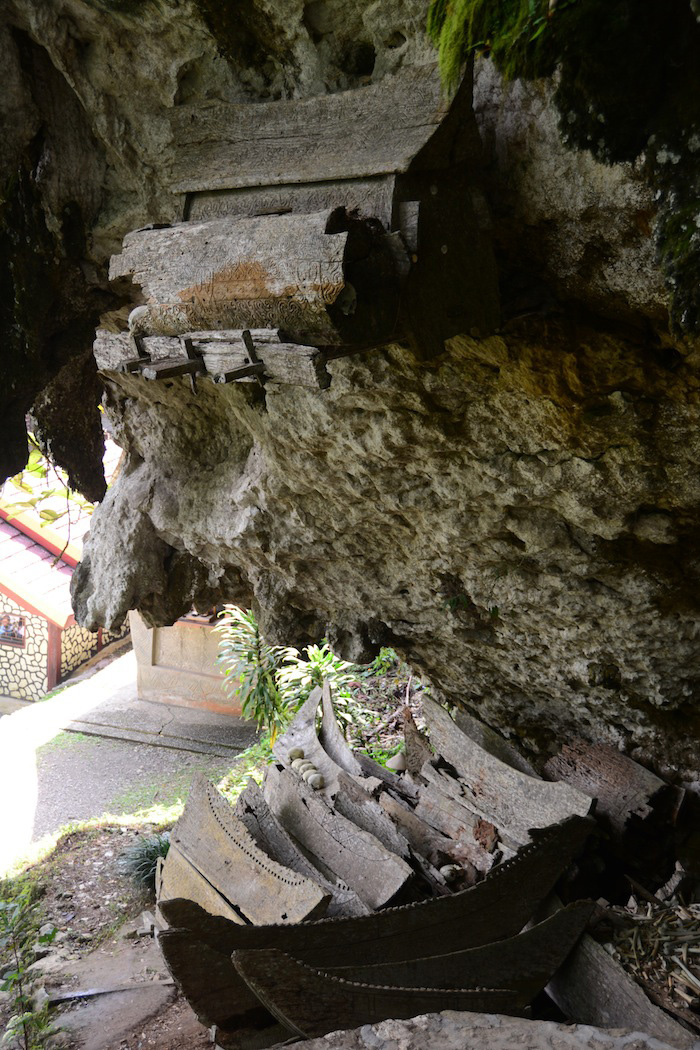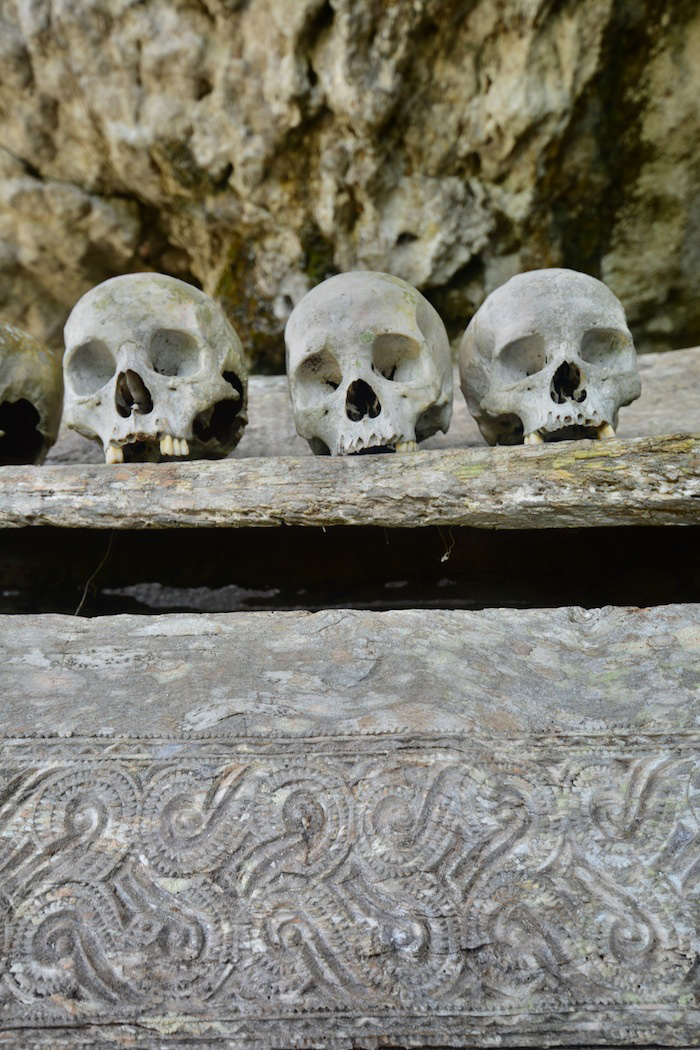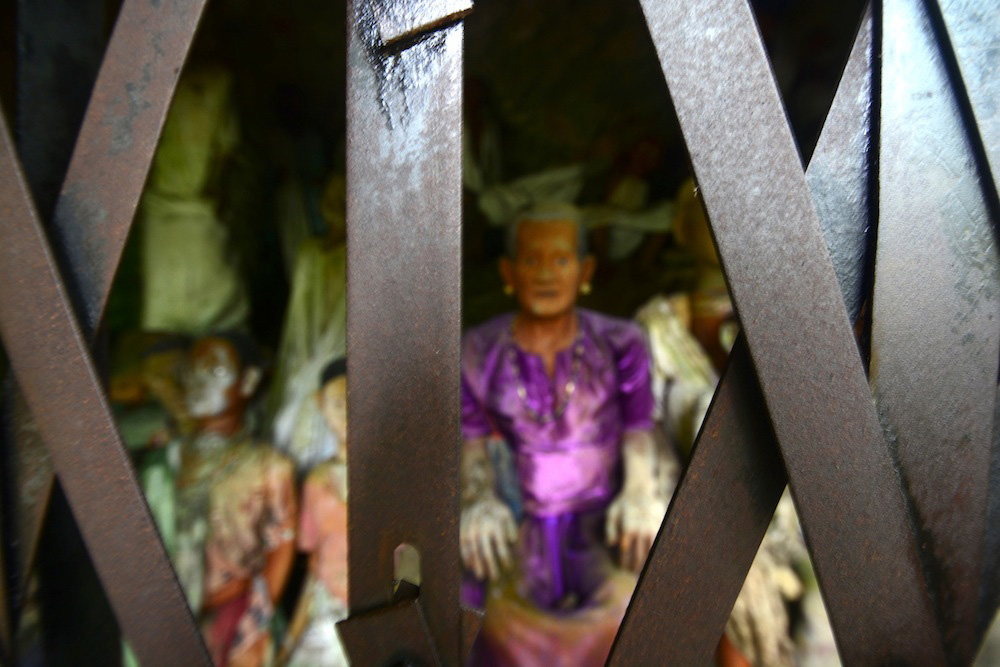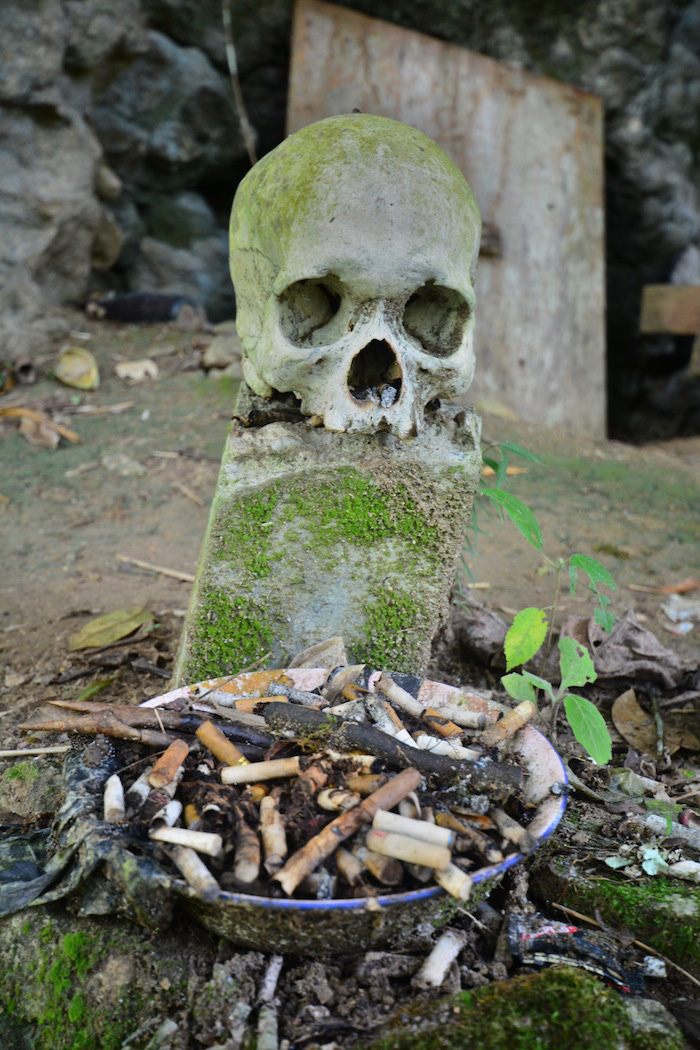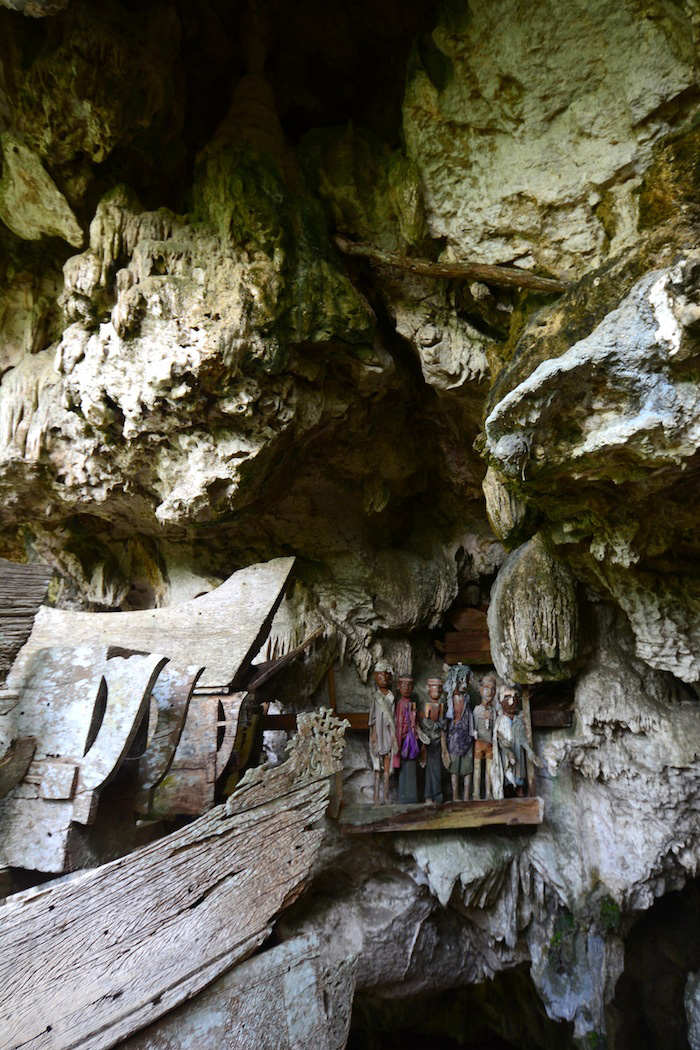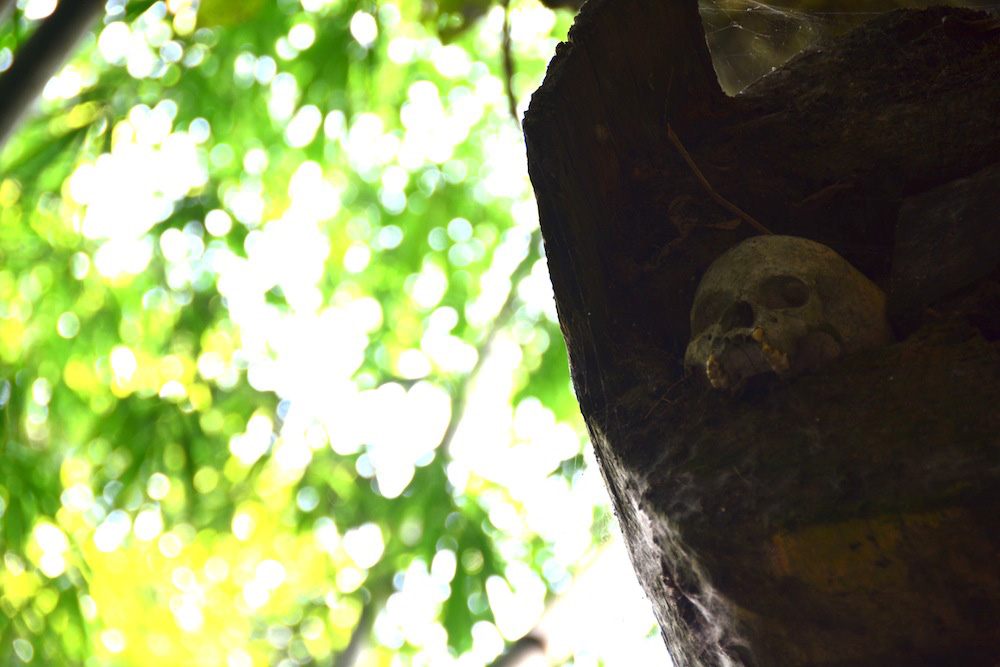 Some of the hanging graves, particularly those of wealthy residents, come with their own effigies, like the ones you'll see at a Tana Toraja funeral ceremony. Others are unmarked and are literally overflowing with skulls and bones. While rich Torajans might only be placed two bodies to a coffin, several generations of the poor are often crammed inside a single casket.
How to Get to Tana Toraja
Rantepao, the gateway to Tana Toraja, is located approximately 300 km northeast of Makassar, capital of South Sulawesi province. No flights exist between the two airports as of February 2014, which means that the only way to reach Tana Toraja is by bus.
Several buses depart Makassar's Daya bus terminal by both day and night. Bus amenities vary, but most large buses offer AC and reclining seats – some even offer Wi-Fi. Prices vary by operator, so shop around at the station before you leave, but you can expect to pay at least 100,000 rupiah one-way.
If you don't arrange a tour guide before arriving in Tana Toraja, don't worry – there will be plenty waiting for you. As you should do with buses, shop around with guides to determine which offers the best price and most extensive tour. I cannot personally recommend you a guide, as the one I ended up with was mediocre at best, but staff or fellow guests in your hotel or guest house should be able to advise you.
As of February 2014, the standard Tana Toraja guide fee is 300,000 rupiah per day, which does not include the fee for a motorbike (~50,000 IDR) or car (~300,000 IDR), gasoline, entrance fees, lunch for your guide or, if you attend a Tana Toraja funeral, a gift for the family, which is customary, but not mandatory.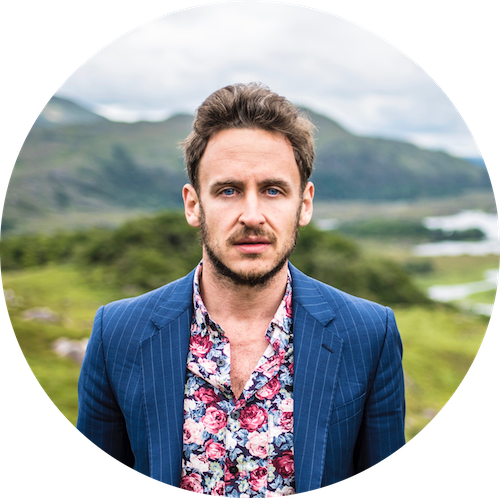 informs, inspires, entertains and empowers travelers like you. My name is Robert and I'm happy you're here!