Usually, when flight crews see me taking pictures of myself, they respond in one of two ways. The most common is that they offer to take my picture for me, which necessitates me explaining why I travel around the world with a tripod and remote which, in turns, makes them feel dissed. The second is laughter I imagine is slightly more judgmental than it sounds.
But onboard American Airlines flight 27, from Los Angeles to Tokyo Haneda, Sandra simply smiled sweetly and handed me a glass of champagne.
"My Dad was a photographer," she said, evoking the kind approach of Paola aboard KLM 611 the week prior, and set a hot towel on my drink table, careful not to disturb my selfie-assembly. "Pretty nice setup you have!"
As boarding completed and the 787 Dreamliner blasted off over the Pacific, I completely my self-portraiture and prepared my camera for more discrete use, i.e. to photograph the meals I was about to enjoy. Sandra, for her part, didn't speak much more about her father or his photography, but I'm happy to kick of this American Airlines business class review by reporting that the hospitality she offered me the rest of the flight was as organic and effortless as her introduction had been.
Service and Hospitality in American Airlines Business Class
In the past, my experience with flight attendants onboard American Airlines flights has been a mix of fake-friendly and downright mean, with some standouts thrown in thanks to sheer mathematical luck. In business class on AA27, Sandra was definitely the highlight of the crew, but every one of her colleagues exuded the same genuine hospitality she did.
More than her kindness, however, Sandra's competence and the ease with which she provided top-notch service was what wowed me.
When I began to express my dismay about the lack of sake on the flight, for example, she not only completed my sentence ("I've never been on a flight to Japan," I began, and she immediately followed "without sake."), but managed to find some buried in the plane's galley. Or, when I asked for a cup of green tea she actually went to get some matcha powder and whipped it up right at my seat, while conversing with me about the book I was reading, Haruki Marukami's 1Q84, and how it related to where I was headed.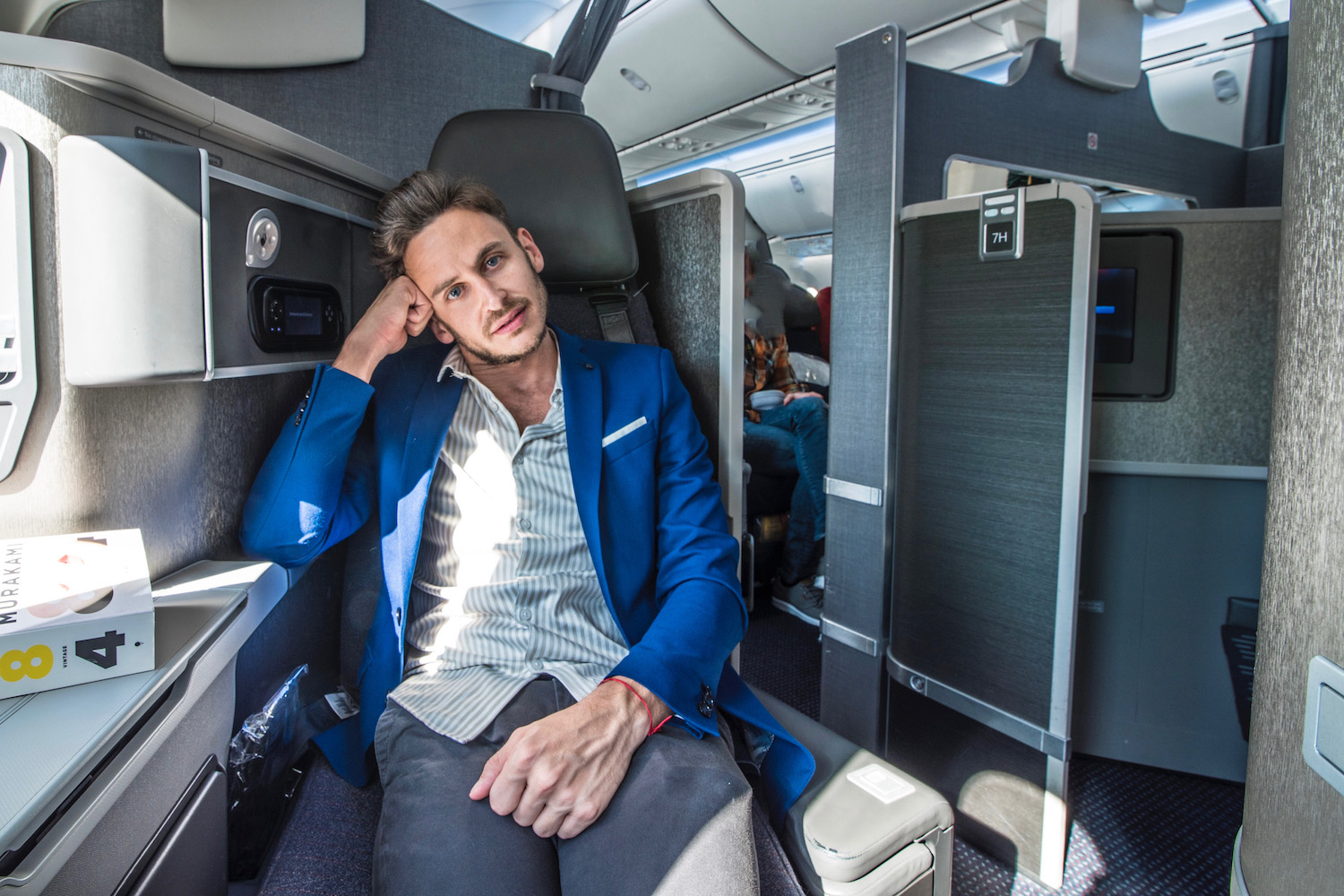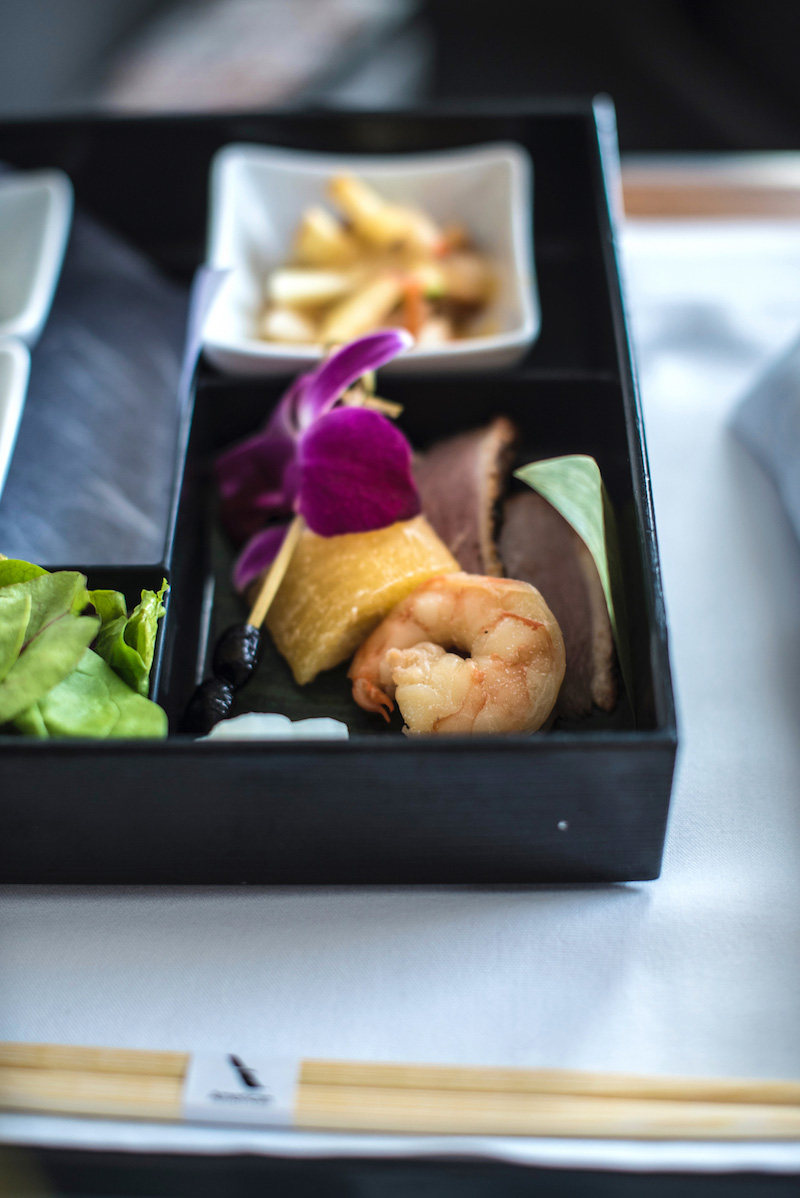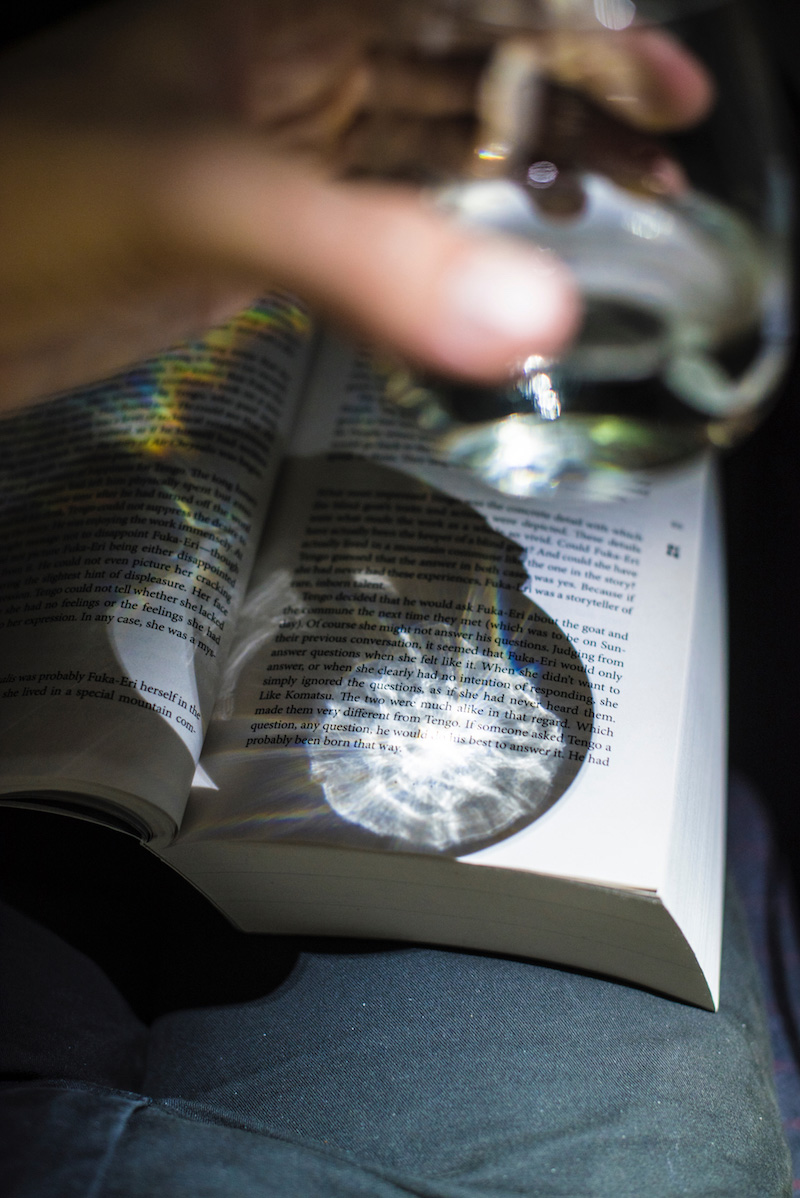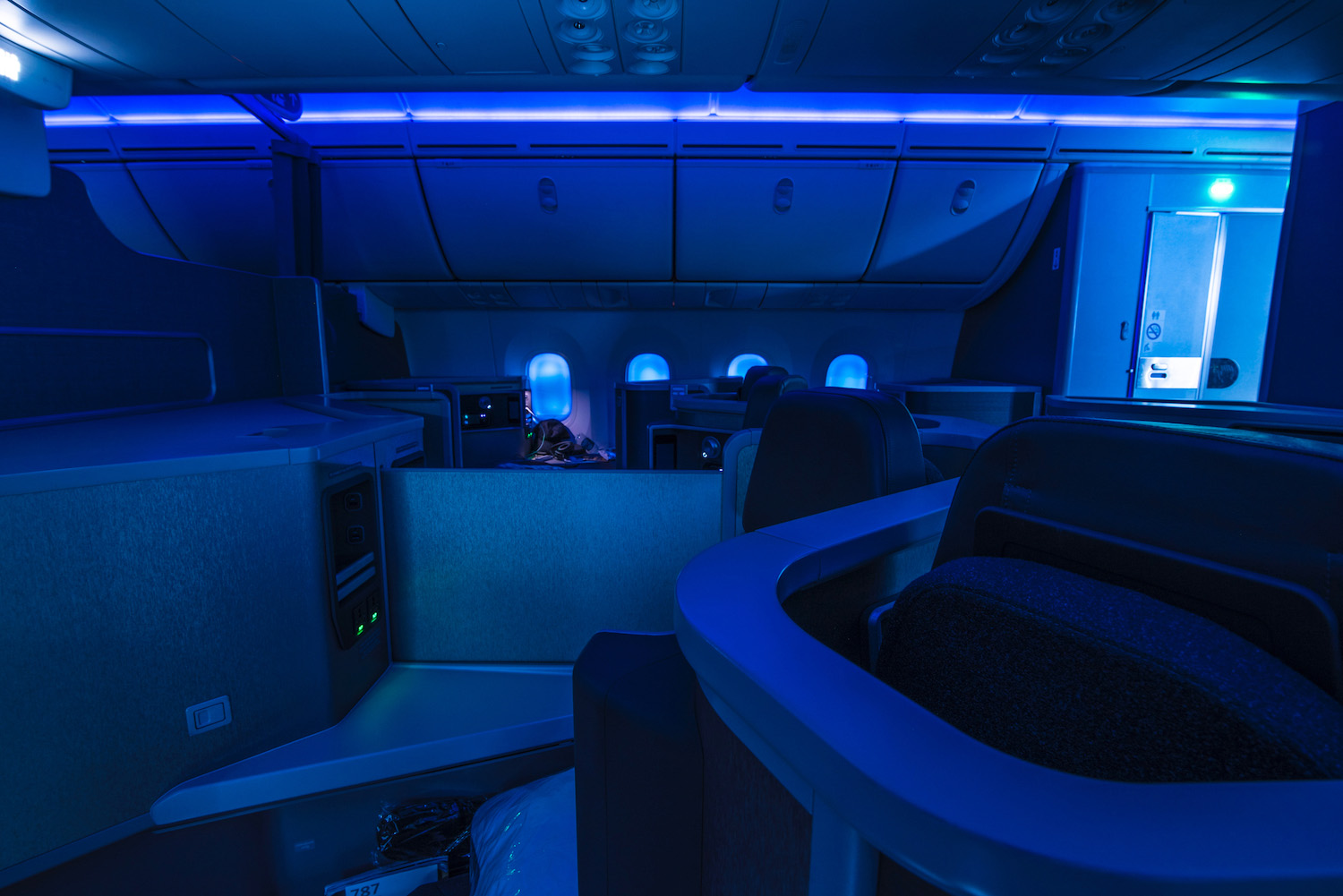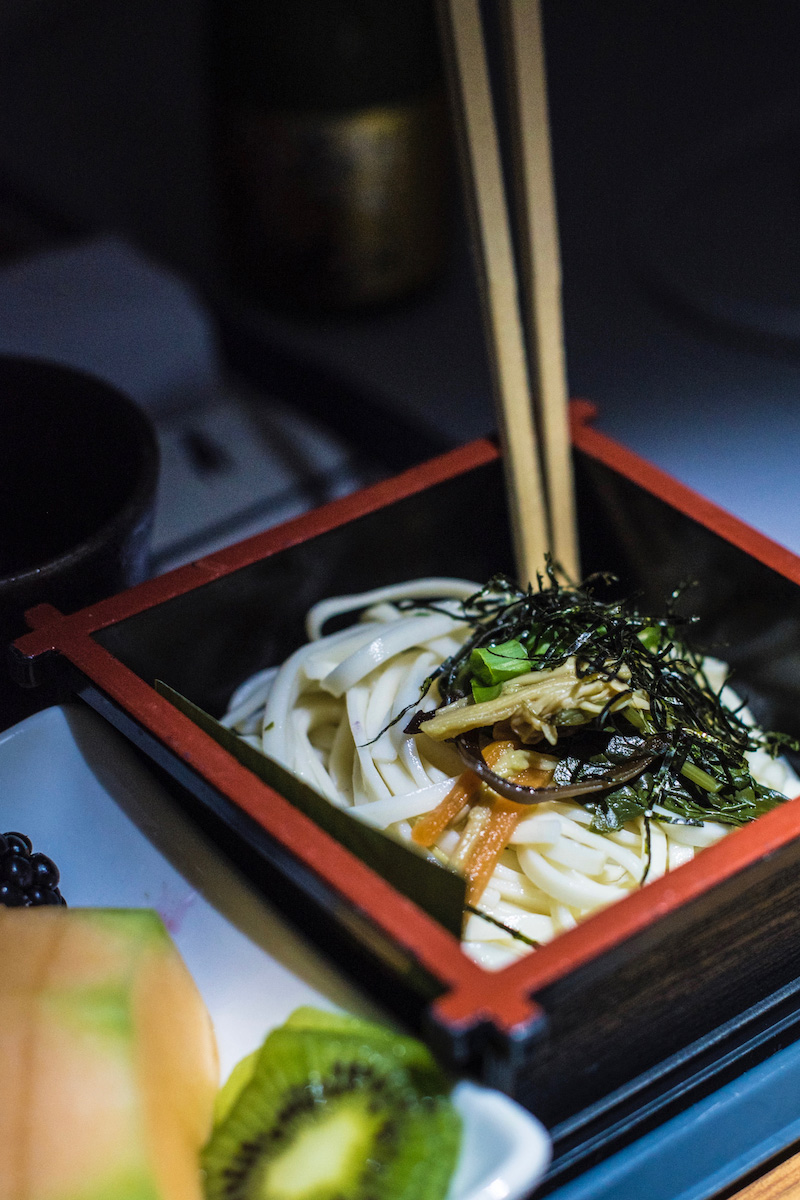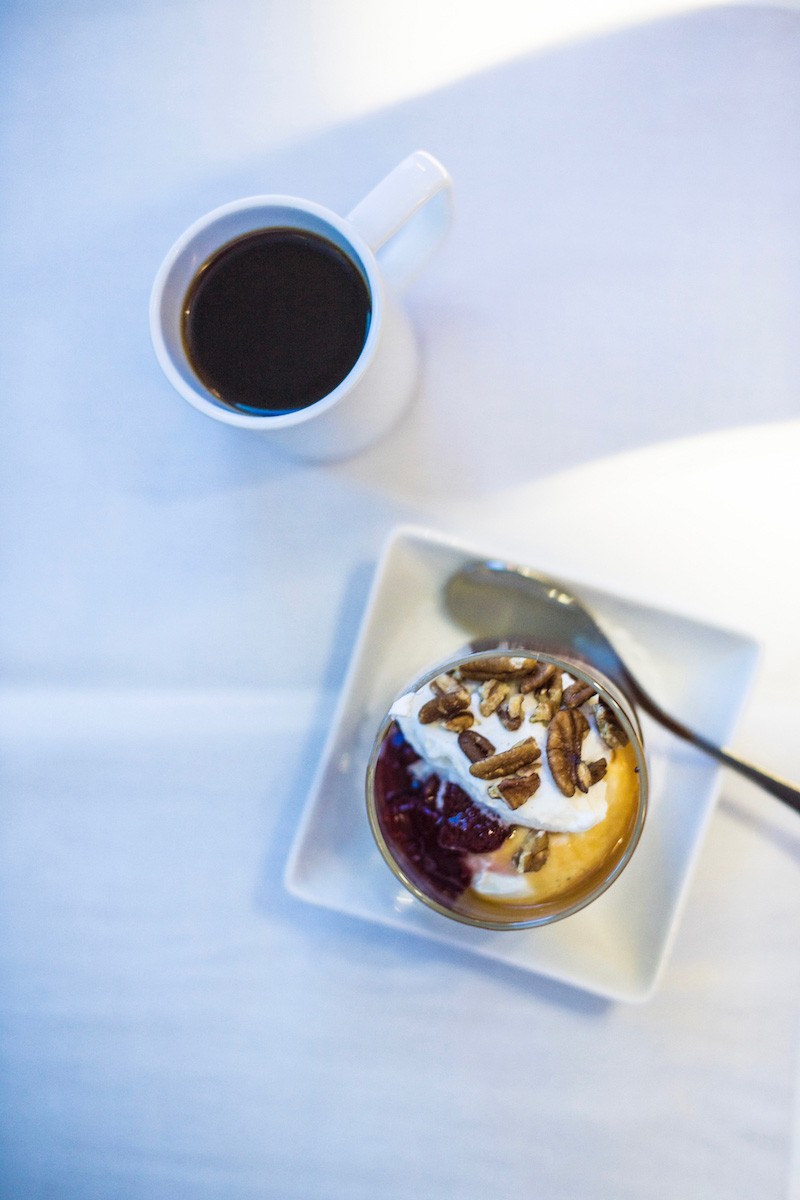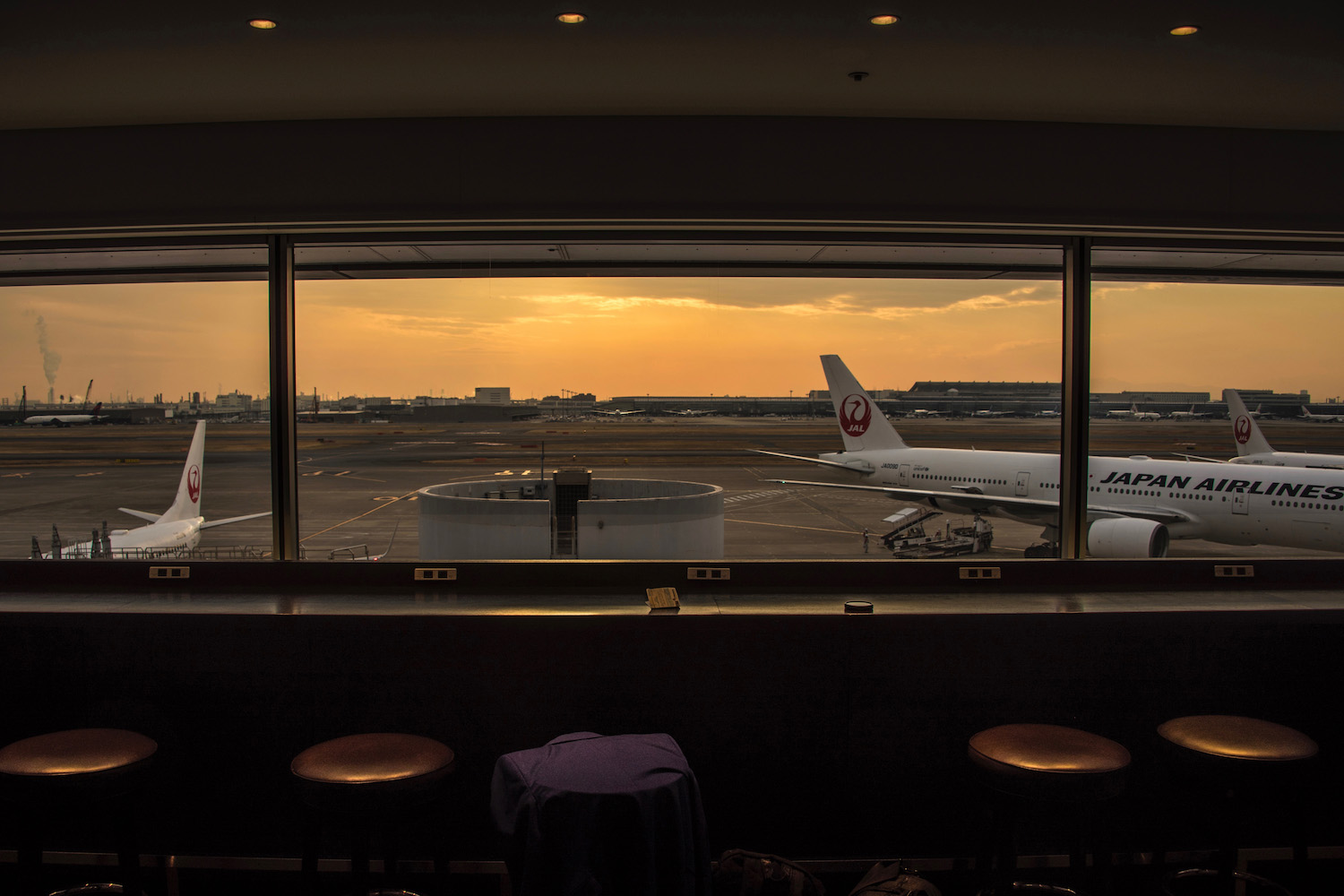 AA Business Class Food Quality and American Business Class Seats
I spoke a lot about beverages in the previous section; to be sure, the things I consumed in American Airlines 787 business class were all really satisfying. From the bento lunch featuring pan-seared halibut, to the handmade ice cream sundae (a slightly tacky item, in my opinion, but a tasty one), to the cold soba mid-flight snack and even the yakiniku beef and rice I took instead of western breakfast, all of the food was delicious, especially considering that American's usually isn't.
Likewise, I found myself wowed by the physicality of business class aboard American's 787-8, from the attractiveness of the brushed (faux) metal seat, to the sleek, dark color palette of the plane's interior, to the exclusive feeling of the back "mini-cabin" section in which I booked my seat. Then again, I also love the exterior color scheme of the "new American," a livery disdained by many AV geeks, in my opinion because they know far more about flying than they do about good design. The American Airlines business class flat beds are in a reverse-herringbone configuration that's the most successful aircraft layout, in my opinion.
Had Sandra been as successful in finding the umeshu liqueur as she'd been with the phantom sake, I would literally have had zero complaints about transpacific business class on American Airlines.
Transit to JAL Domestic at Tokyo Haneda
I took advantage American Airlines upgrade with miles to enjoy business class (more on that in a minute), which meant that my onward JAL domestic flight was still in economy. That's the bad news. The good news is that thanks to my oneworld Sapphire status (this is also one of the American Airlines business class benefits, if you don't have status), I still enjoyed access to the Sakura Lounge at the Haneda Airport domestic terminal, although it offered little more than views of the tarmac.
(And I've already seen plenty of those by the time I got into the lounge.)
Indeed, transit from international to domestic at Tokyo-Haneda is obnoxious due to the physical distance between the terminals—you either need to take a shuttle bus, the Tokyo Monorail (which always tempts me to go the other way, into Tokyo!) or the Keikyu Airport Line, and while all are free for connecting passengers, it's still a bit annoying in my opinion.
The Bottom Line
American Airlines' transpacific business class far exceeded my expectations, which were based on average-to-poor experiences with the airline in the past. Although I imagine some of my enjoyment of this experience was due to the fact that it was on a 787 Dreamliner, flight attendant Sandra proved that true hospitality is not gone from the American-staffed skies. American Airlines business class is a particularly good option if you can upgrade as I did, a process I'll describe below, though I'm not sure what my answer to the question "Is American Airlines business class worth it?" would be had I paid for my ticket outright.
How to Book Business Class on American Using Miles & Points
As I alluded to above, I upgraded to American Airlines business class, rather than paying for it outright with cash or points/miles. As of March 2017, upgrading from economy to business on a transpacific American Airlines flight requires 25,000 AAdvantage miles, plus a co-pay of $350, per leg. AAdvantage is not an AMEX or Chase transfer partner, so you either need to earn these miles by flying American, purchasing them outright or via spending from a co-branded AA credit card.
Alternative options for booking business class travel on American Airlines using miles & points include spending 60,000 AAdvantage miles and booking directly (although availability via this method is notoriously scant) or booking through partners like British Airways, who is an American Express transfer partner, albeit one through whom awards are more expensive.
Once again, if you need help booking your business travel award, I am available for hire!