I remembered from my first time in Australia that some of the best views of Sydney were from the window of a plane, but I was in no shape to do that Thursday evening. And not just because I'd spent the majority of said flight suffering the worst effects of a slow-release spell of food poisoning.
No, Australia was covered in a thick blanket of clouds as the China Airlines flight descended, through a veil of black smoke before burrowing into one of the proverbial quilt pockets. Although the Sydney cityscape looked less than apocalyptic when it finally came into view, my mind felt as unsettled during the long and slow taxi to the gate as my stomach had at 35,000 feet.
A piano Muzak version of Neil Young's "After the Gold Rush" had served as the soundtrack to one of my many onboard toilet breaks. It was difficult not to think too much about the lyrics as my train made its way toward the city.
The Kangaroos and the Koalas
The good news, waking up Friday after eight hours of unbroken sleep, was that I felt about as a recovered as someone in my situation could. The bad news is that it was pouring; a horizontal wind was blowing the rain directly onto my body as I rushed to meet my longtime friend and his ostensibly new boyfriend at a chic Asian bistro just 500 meters from my hotel.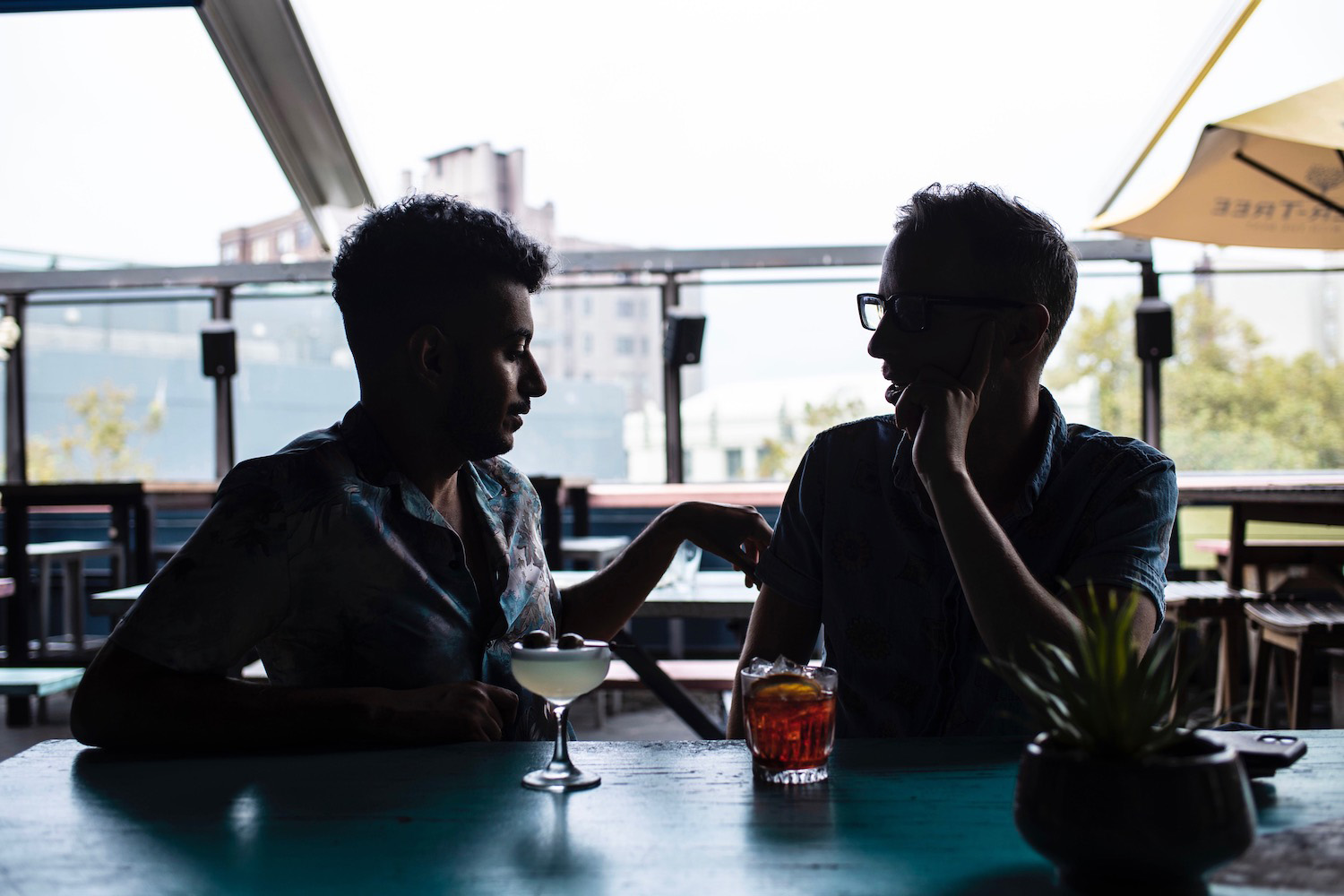 Matted and mad, I ranted and raved as I sat down to introduce myself. "I mean I'm happy for the relief the kangaroos and the koalas must be experiencing," I thought out-loud, making clear that I did not hold my own potential for comfort and creative production above the improvement of conditions that had killed a billion animals. "But two things can be true at the same time: My trip has gotten off to an impossibly shitty start."
Mercifully, my lunch partners were so attached at the hip that they seemed together to form a closed circuit of happiness, impervious even to my neurotic whinging. By the time we all began tearing into the surprisingly true-to-recipe Beef Rendang we'd selected as a common entrée, the couple seemed to have forgotten my lamentations entirely, so lost in one another that my bad mood was as invisible as the sun above the clouds ruining all the best views of Sydney.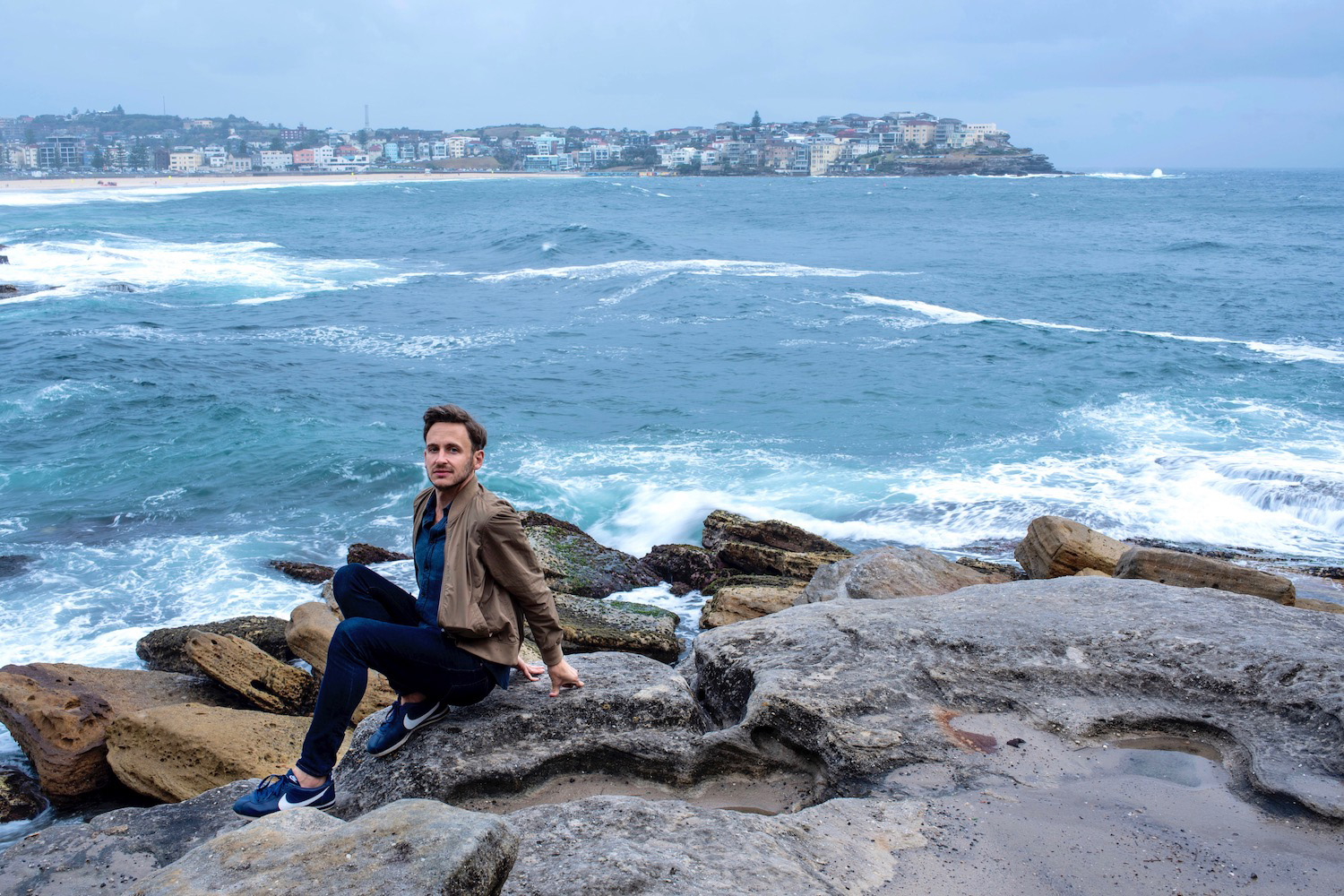 I, too, moved past my self-pity, albeit after half a dozen cocktails of various strength and satisfaction during the pub crawl we did through eclectic Newtown. The rain had mostly stopped by the time I arrived at Town Hall and began walking back to my hotel, the station's namesake landmark resplendent lit up amid the black sky.
Wooly Skies Overhead
The sky was still black when I woke at 5 and jogged to the tip of Mrs. Macquarie's Chair, from which Sydney still looked impressive in spite of the Opera House being unlit. It was still dry, too.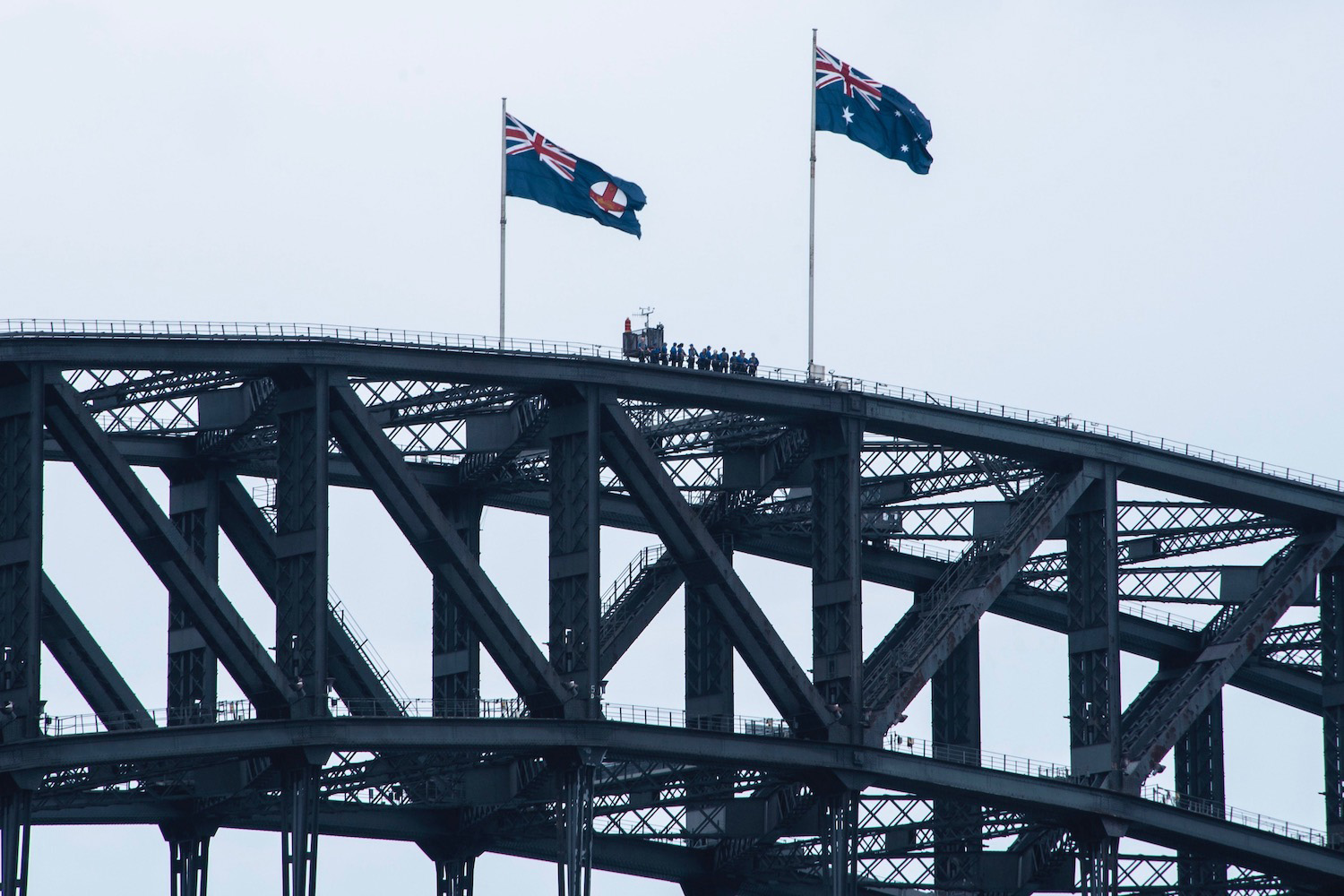 Having jotted down that I should return to that particular peninsula in the evening to get what was clearly one of the best views of Sydney, I powered back to the hotel, where I quickly showered and changed before making the slog toward Bondi. Actually, that's an unfair word to use: The journey from Sydney's CBD and its most famous beach was far shorter than I'd remembered it being back in 2012, when I'd crashed with an acquaintance from my first South America trip who lived there.
Expectedly, the Bondi to Bronte Coastal Walk was not at its most beautiful under the wooly skies overhead, though I did greatly enjoy the Shakshuka to which I treated myself after competing a short circuit along the trail. Not long after returning to Sydney-proper, I met my friend and his future husband first for a Malaysian lunch in Chinatown and then for an aperol spritz along Darling Harbour, which had been totally re-developed since the last time I was there—it actually lived up to its name now, more or less.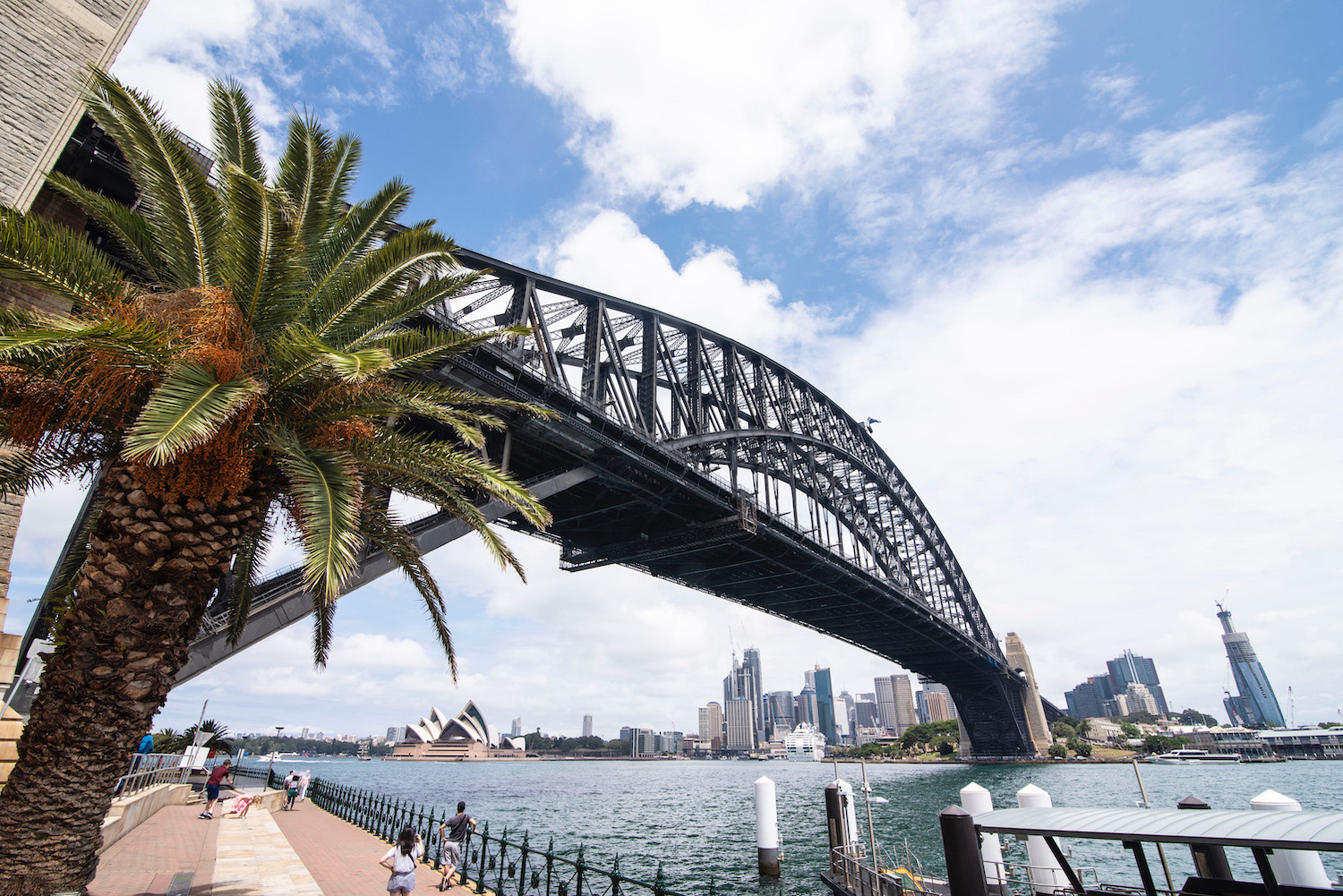 Buzzed and bothered (a Greek Orthodox priest was being ordained—loudly—within the resto-bar where we drank), we rode a ferry from Barangaroo to Circular Quay, then settled in at the Opera Bar for cocktails with a view of (surprise) the Sydney Opera House in a delightfully unpretentious setting. I still felt annoyed by the boring, white sky; I still hoped the animals of the bush had ceased dying en masse.
How Much Longer?
Saturday evening was largely a blur, but in a pedestrian mid-30s way; I made my way home from the tragic Oxford Street gay bar where we ended up no later than 9 pm. Most importantly, I returned to Mrs. Macquarie's Chair to get a long-exposure panorama of one of the best views of Sydney and was in bed before midnight, in spite of it.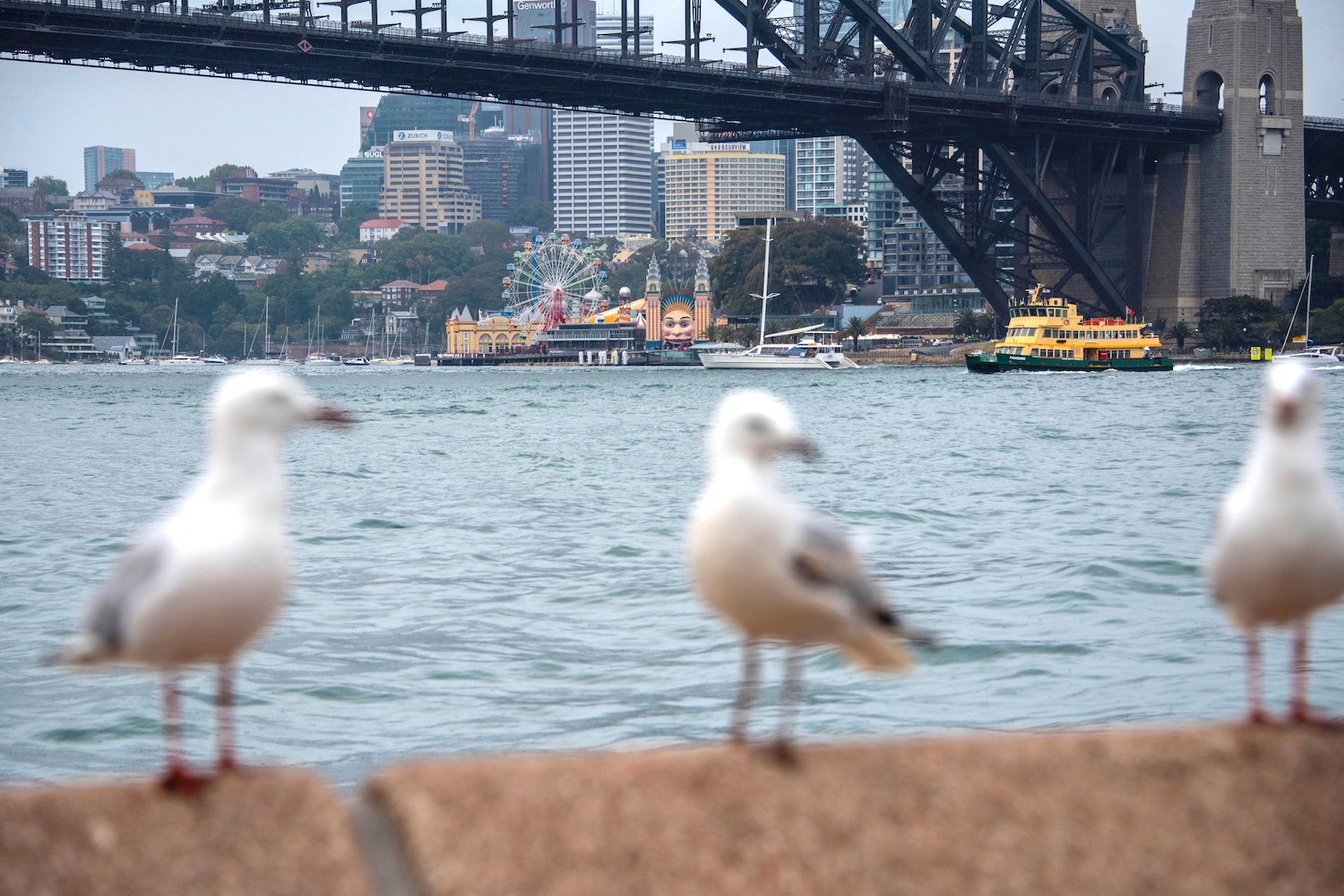 After my Sunday morning run I walked northward through CBD to Circular Quay. The streets were utterly deserted, which brought back the apocalyptic feeling that had crept through me when the plane was landing, and called to mind the headline of an article I read around the time the world started caring about the bushfires.
How much longer will Australia be inhabitable? I mis-remembered the headline to myself as the ferry docked at the entrance to Luna Park, where faint wisps of blue sky occasionally teased me as I faced southward to photograph the Sydney skyline beneath the Harbour Bridge.

Regardless of the answer, and just how feeling the blue-sky wisps had been, my attitude and perspective had certainly changed since landing food-poisoned Thursday (and then lunching mind-poisoned Friday). It was a bummer to have to capture dull and dusty incarnations of the best views of Sydney (and the not-go-great ones, like the largely obstructed one from overrated Taronga Zoo when I passed through there just before lunchtime); it was a privilege to be living my best life in Australia in 2020, which could be one of the last years human being can live here without worry.
All the Try-Hards
I went to lunch Sunday expecting to return back to my hotel shortly thereafter when I saw it: An unmistakably blue sky, the kind with fluffy clouds that look like puffs of whipped cream melted on top of a hot drink. Rather than passing Town Hall, I descended into the station, riding north to Milsons Point for the second time in just a few hours, and marveling at how much more impressive—and colorful—the view appeared.
Powered by jubilation and the weak iced long black I bought in the train station, I ferried it back across the harbor to Circular Quay, catching the T1 to Newtown. The streets were awash with a vaguely botanical smell, and sounds of people not-so-vaguely trying much too hard to be more alternative than all the try-hards brushing up against them.
Certainly, this was neither one of the best views of Sydney, nor one of my favorite crowds to be around: I spent most of my 20s, after all, in a place called Austin, TX. But as I waited for the sun to set on Sunday—upon my brief sojourn in Sydney—I wondered if perhaps I hadn't missed the gold rush entirely, Mother Nature's unstoppable sprint away from humanity notwithstanding.