Before I start discussing things to do in Sukhothai, allow me to tell you about the dream I had before I went there.
I'm not sure why I was driving along a coastal cliff face to reach Bangkok's Don Mueang Airport (which sits about 20 miles inland), or why I was driving in Thailand at all. Or why the waves were so violent—they eventually submerged the road, forcing me to abandon my vehicle and surrender it to the sea.
It was a dream, as I said, one that had all but vanished from my memory by the time I arrived at the real Don Mueang later that morning. But as my plane pushed back from the gate, I received a strange message. Be careful of floods.
I'd forgotten that, too, by the time I landed in Phitsanulok, gateway to the "lost" city of Sukhothai. At least until the downpour started, like a tsunami falling dropwise.
The History of Sukhothai
While it's frustrating that no major event in the history of Sukhothai (and none of the things to do in Sukhothai I'm about to describe) seems to connect with all the flood imagery that flooded my psyche the morning I traveled there, it's understandable: Ancient Thai civilization flourished not because it fled rising waters, but because it used them to its advantage.
In fact, nothing about the story of Sukhothai—whose name, fittingly, translates to "Dawn of Happiness"—is particularly dramatic. The Sukhothai Kingdom flourished between the 13th-15th centuries, then gradually (and, it seems, amicably) merged with neighboring Ayutthaya, ending as a result of assimilation rather than conquest.
My Favorite Things to Do in Sukhothai
Rent a Set of Wheels
The bad news? During many times of the year, Sukhothai is miserably hot and humid. I say this having lived in Bangkok for two years—I'm originally from Texas—and being no stranger to heat or humidity. The good news? Biking around Sukhothai, in addition to being the best way to get between your hotel and the ancient city's historical attractions, will provide the air-con most buildings here lack.
Explore Sukhothai Historical Park
Not surprisingly, my favorite thing to do in Sukhothai is to explore Sukhothai historical park. To some extent, you will simply get lost among its 27 acres, although the indisputable highlight is the largest temple: Wat Sri Chum. Note that if you get bored here, as unlikely as that may be, you venture outward into Ramkhamhaeng National Park, home among other treasures to Sai Rung Waterfall.
Try Sukhothai Noodles
I'd see Sukhothai Noodles on various menus in Bangkok before visiting the ancient city for myself, but it wasn't until I set food here and had my pick of the embarrassment of restaurants serving them that I tasted for myself. Available dry or with soup, and with some variation in the meats and veggies that top them, these noodles are the perfect Thai food to fuel up after a day biking.
Practice Your Thai
I've broadly talked you through most of the things to do in Sukhothai, at least those that tourists might be concerned with. If you happen to be living in Thailand like I was when I visited Sukhothai, or found yourself learning Thai for any other reason, you'll be happy to know that a trip to Sukhothai provides a great opportunity to practice phuut phaasaa Thai. In fact, it's speaking English that you might find difficult when here!
Pictures of Sukhothai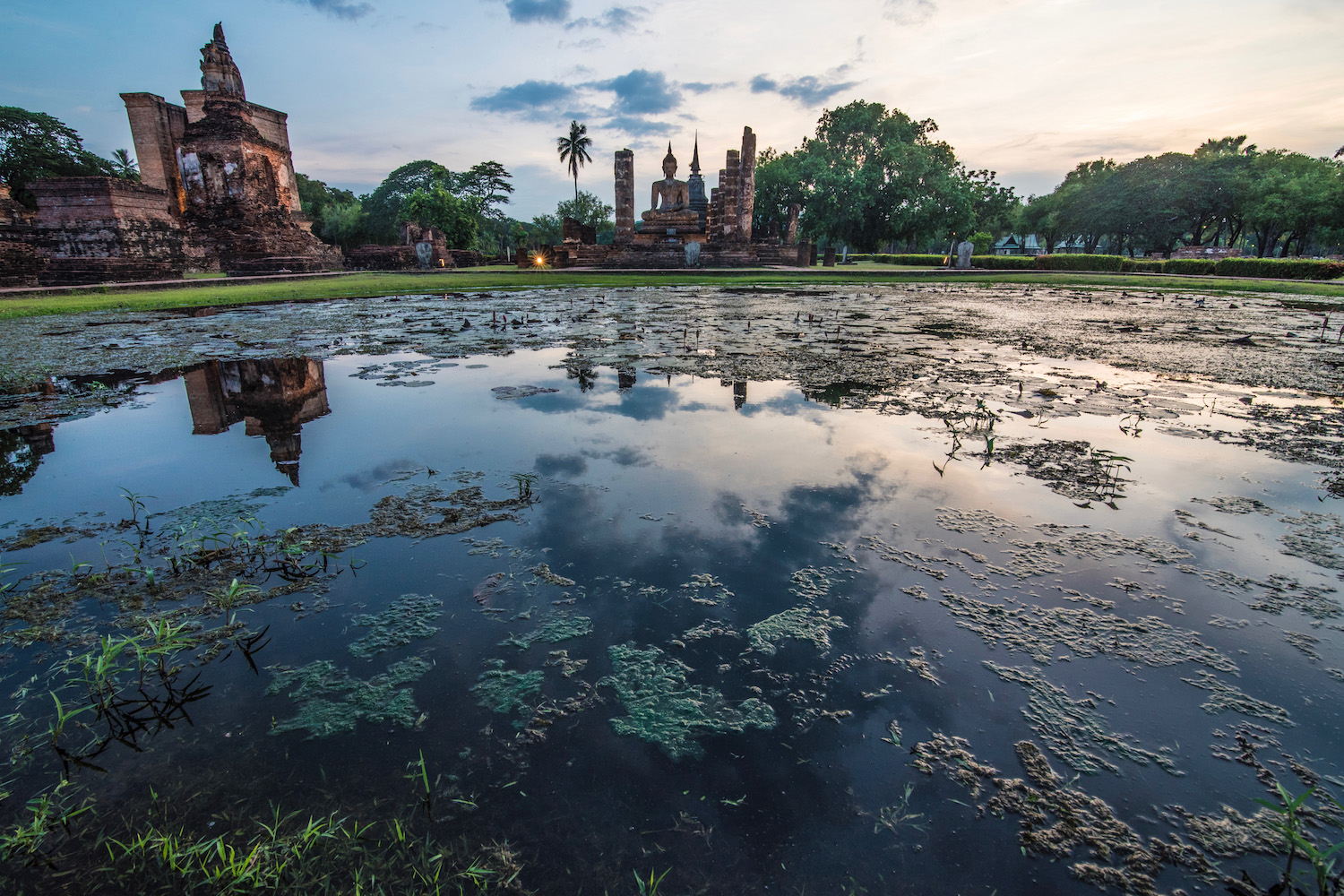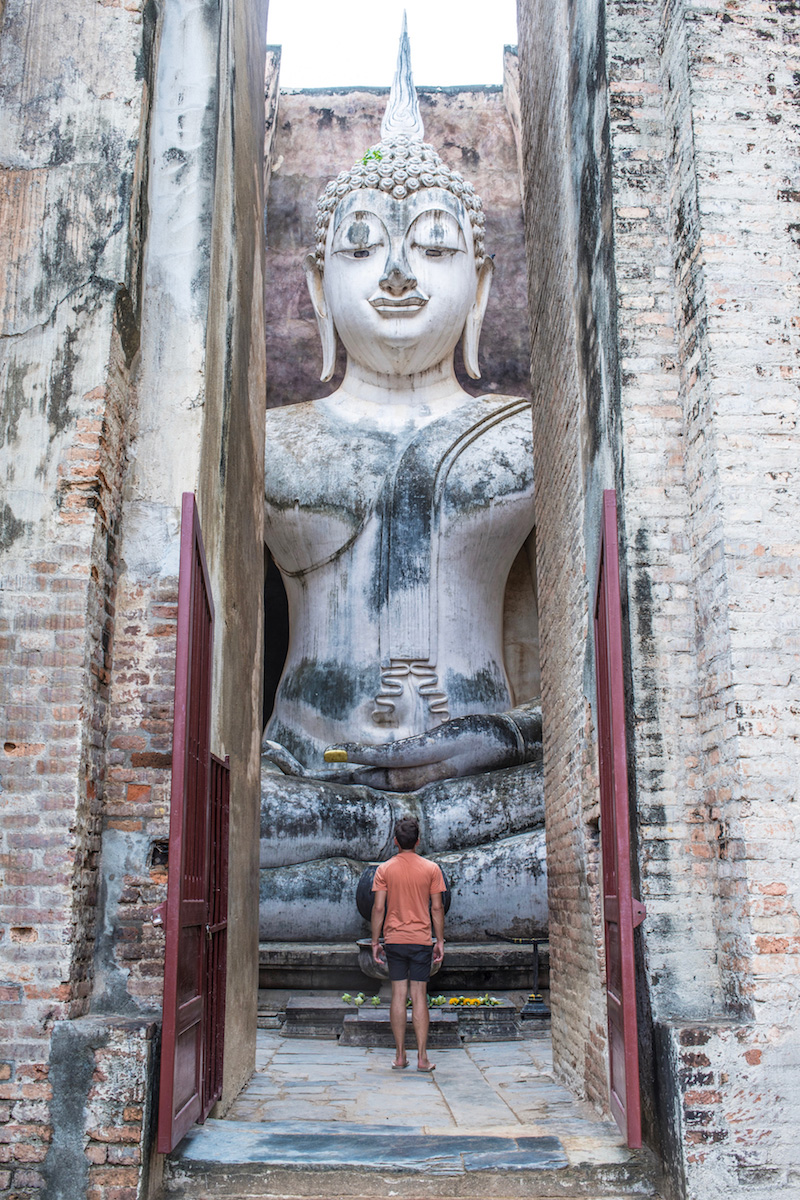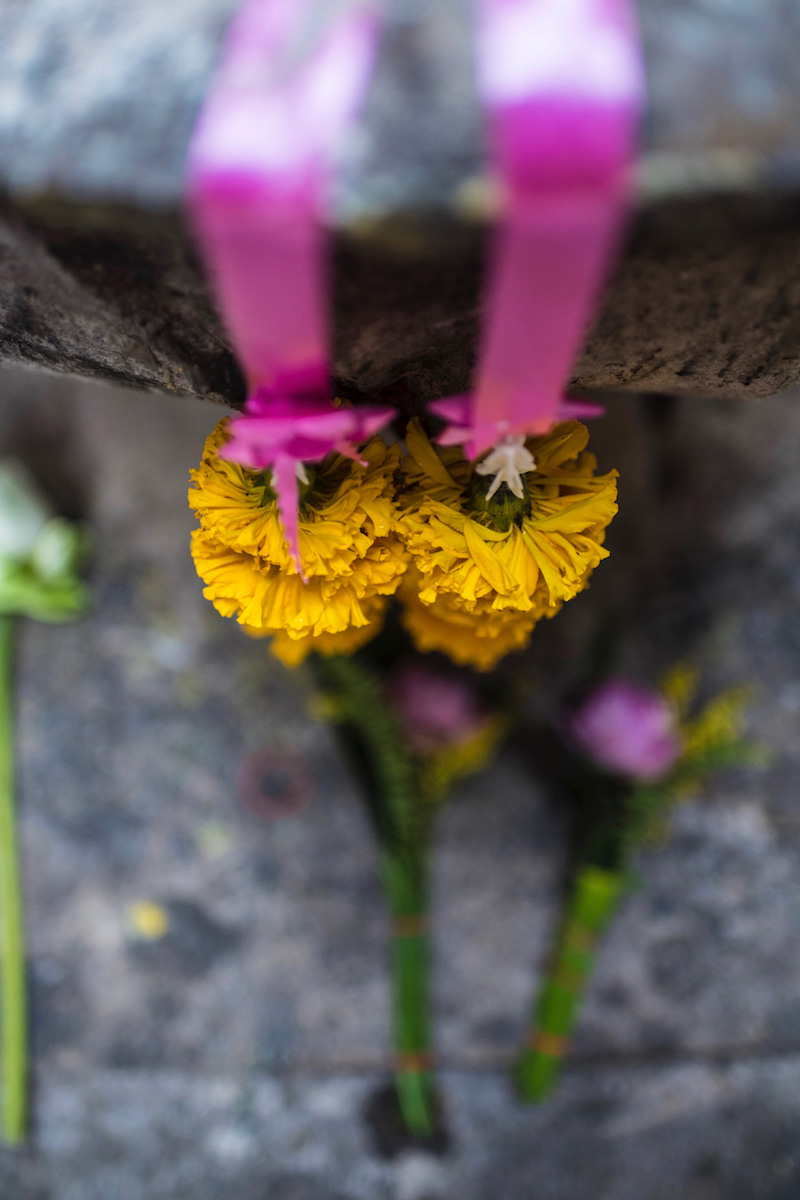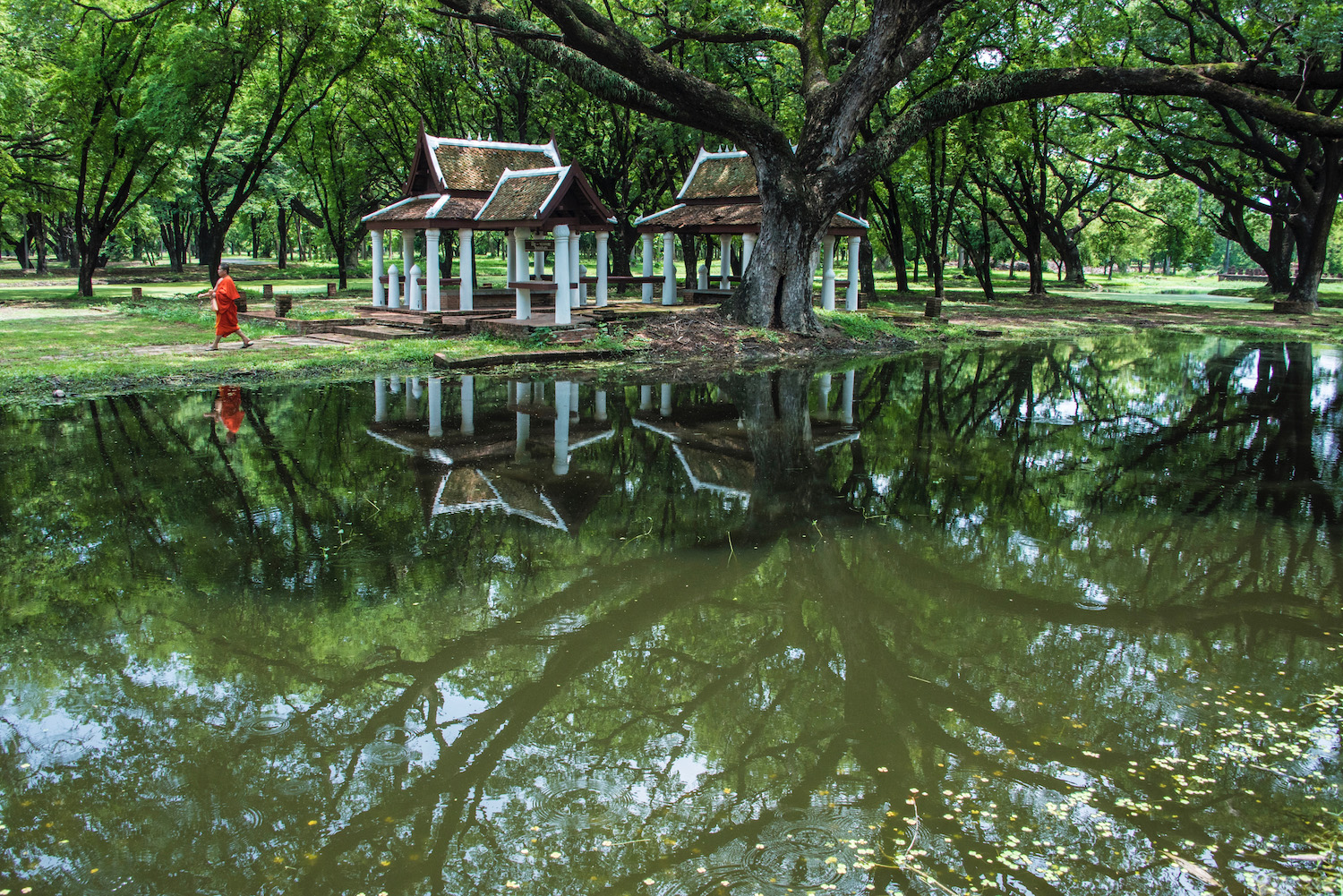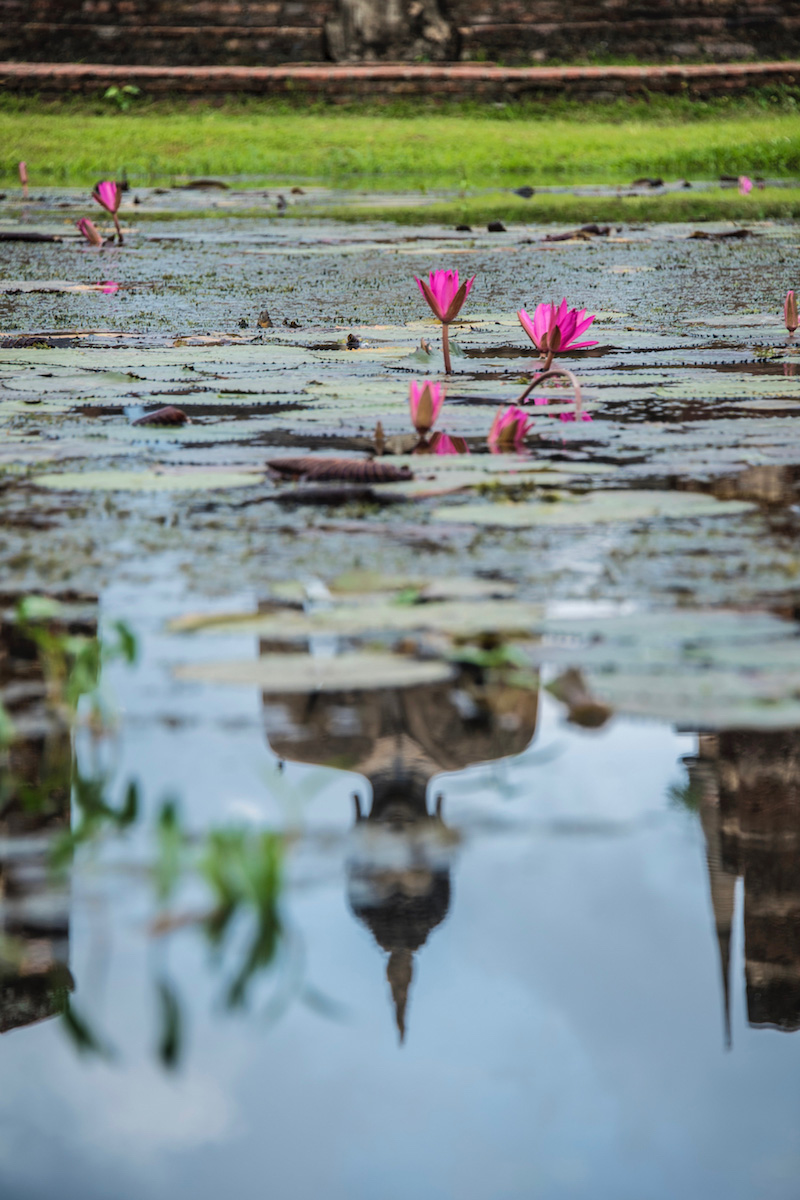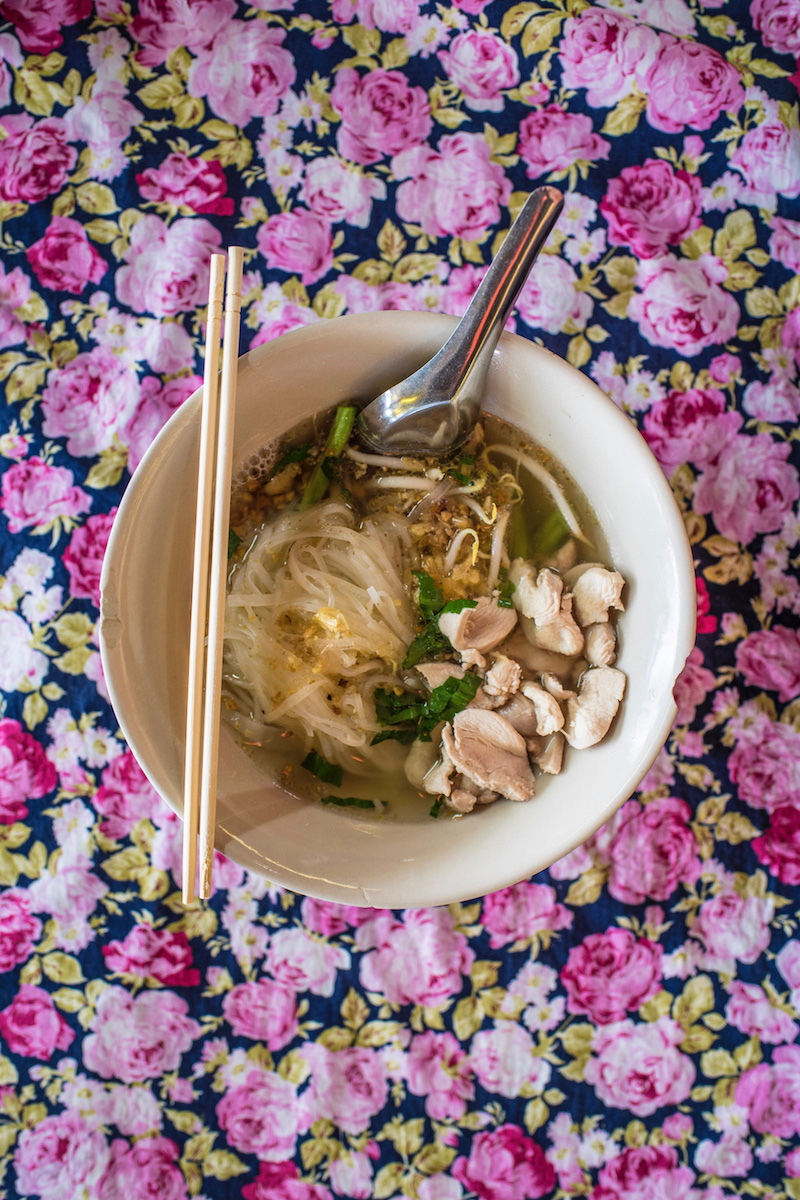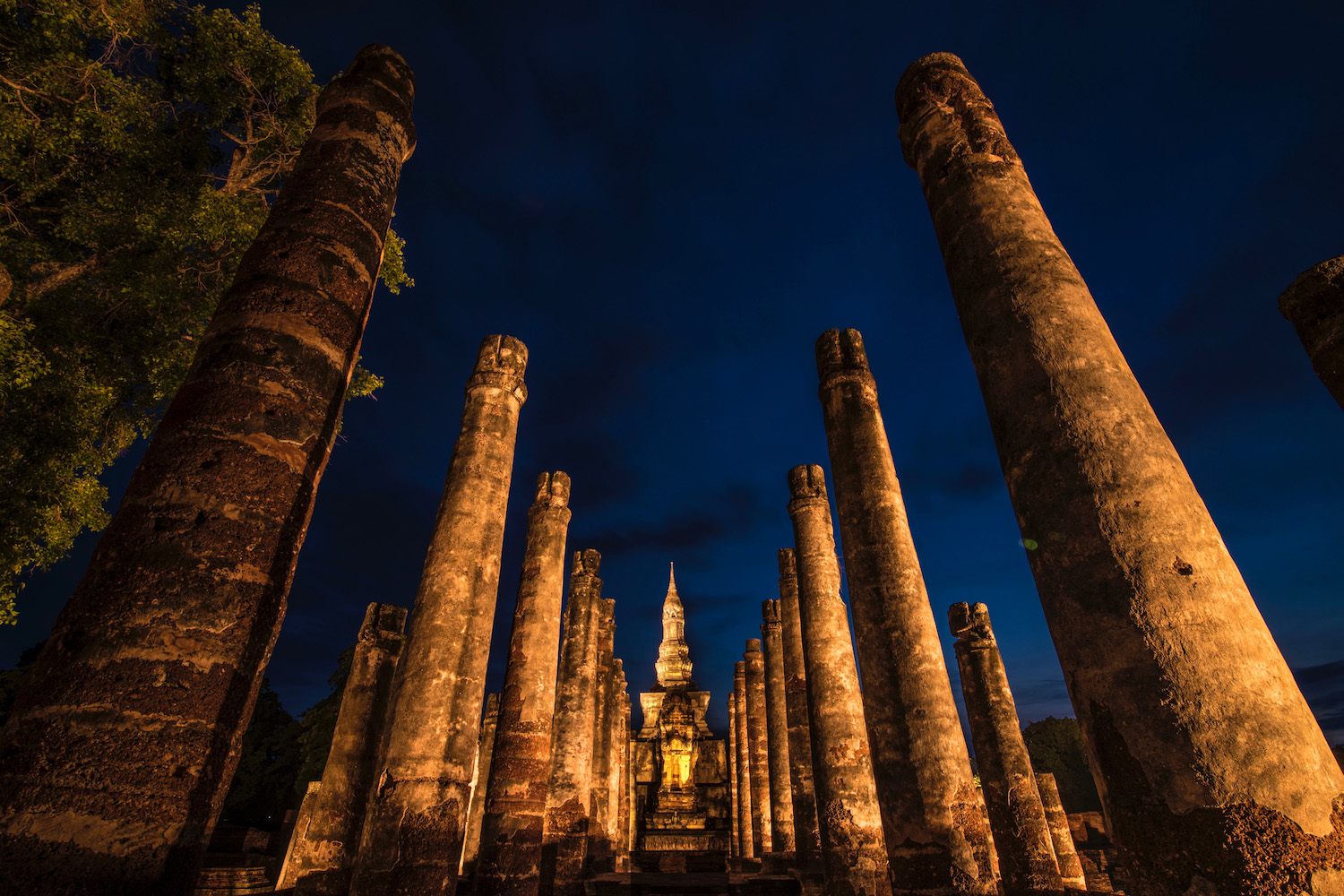 Sukhothai vs. Ayutthaya
That Sukhothai became part of Ayutthaya (and not the other way around) is part of what makes the former so much more enjoyable than the latter for modern visitors. That, and the fact that Sukhothai is comparably farther from Bangkok than Ayutthaya.
To be sure, Sukhothai feels deserted compared to Ayutthaya (and every other "lost city" I've visited in Southeast Asia), which is strange when you consider how much smaller it is—Sukhothai Historical Park occupies less than two square miles, although you can find Sukhothai-era ruins scattered across an area of about 27. I personally find the understated style and modest scale of Sukhothai to be more pleasing than that grand, gaudy Ayutthaya, although you'll have to make that judgment for yourself.
Where to Stay in Sukhothai
I stayed at Baan B&B Sukhothai, which sits about 10 minutes southeast of Sukhothai Historical Park using the bike that's free for guests to use. A small, intimate guesthouse operated by a local family, the B&B (whose name in Thai means "home") manages to be bougey and backwoods at the same time.
Case in point: Torrential monsoon rains fell my second night in Sukhothai, as they'd done the morning my plane landed. Unfortunately, a local frog decided to set up shop in a puddle that formed just outside the door of my bungalow, and croaked so loud (and so unyieldingly) that I couldn't sleep more than a few hours.
Other FAQ About Visiting Sukhothai
How many days do you need in Sukhothai?
I would recommend spending two full days in Sukhothai. This will allow you to explore the city's many (and spread-out) ancient ruins without needing to rush, and keeping in mind that the often suffocating heat may slow down the pace at which you prefer to travel.
What is Sukhothai known for?
Sukhothai is known for being the first capital of Thailand, and the one where the current Chakri dynasty of rulers began. You can learn the story of Sukhothai, which proceeded Bangkok, Thonburi and Ayutthaya as the capital of Thailand, by biking around Sukhothai Historical Park.
How do you get around Sukhothai?
If you haven't decided to rent a car, I recommend biking around Sukhothai. Although the weather here can be extremely hot, biking allows you to explore at your own pace. This is part of why I recommend spending at least a couple days in Sukhothai: You can go slow if you need to—and you probably will.
The Bottom Line
Maybe this is what the flood dream and Facebook message were warning me about, I sighed as I laid there restless, wishing I were heartless enough to gig the motherfucker. If only I had known that one of the most necessary things to do in Sukhothai would be to murder frogs in the middle of the night! Need help planning your post-pandemic trip to Thailand? Commission a custom Thailand itinerary today!