Cappadocia balloons have remained on my bucket list for a stubbornly long time. After being unable to ride in one during my previous visit to the central Turkish region in 2015, I vowed to return one day, though I wasn't sure when that day would come.
The coronavirus pandemic, as you might have read in earlier articles, ended up catalyzing my current trip to Turkey. Although it took a while for me to reach Cappadocia, what with my having followed up a week in Istanbul with stints in Pamukkale, along the Turkish coast and in the historical city of Konya, I had a good feeling about my prospects of flying this time.
Still, I tried not to dwell too much on it as I re-acquainted myself with the town of Göreme. Instead, I enjoyed the sunny afternoon (and the surprisingly crisp evening) for the needed respite that it was, two weeks into an exceedingly epic trip around Turkey.
My Cappadocia Balloon Adventure
As the black sky slowly began illuminating, I found myself surprised. There were far more Cappadocia balloons than I'd expected, given the slump in visitors due to Covid-19. I also remember thinking we got off the ground pretty quickly, at least compared to what I'd remembered being the case in Bagan, Myanmar nearly five years earlier. Looking down and out toward Uchisar Castle with dozens of balloons in the foreground was far more magical than I anticipated.
And that was before the sun rose—a touch of golden light rendered the scene almost otherworldly, to say nothing about how non-linear the flow of time seemed to become. Interestingly, the fellow traveler in my part of the balloon basket was also American; I considered getting his contact information and staying in touch afterwards but ultimately decided against it. I do remember he told me he'd lost his passport and would need to travel to Ankara by bus to replace it, poor guy.
Other Things to Do in Cappadocia
Try local cuisine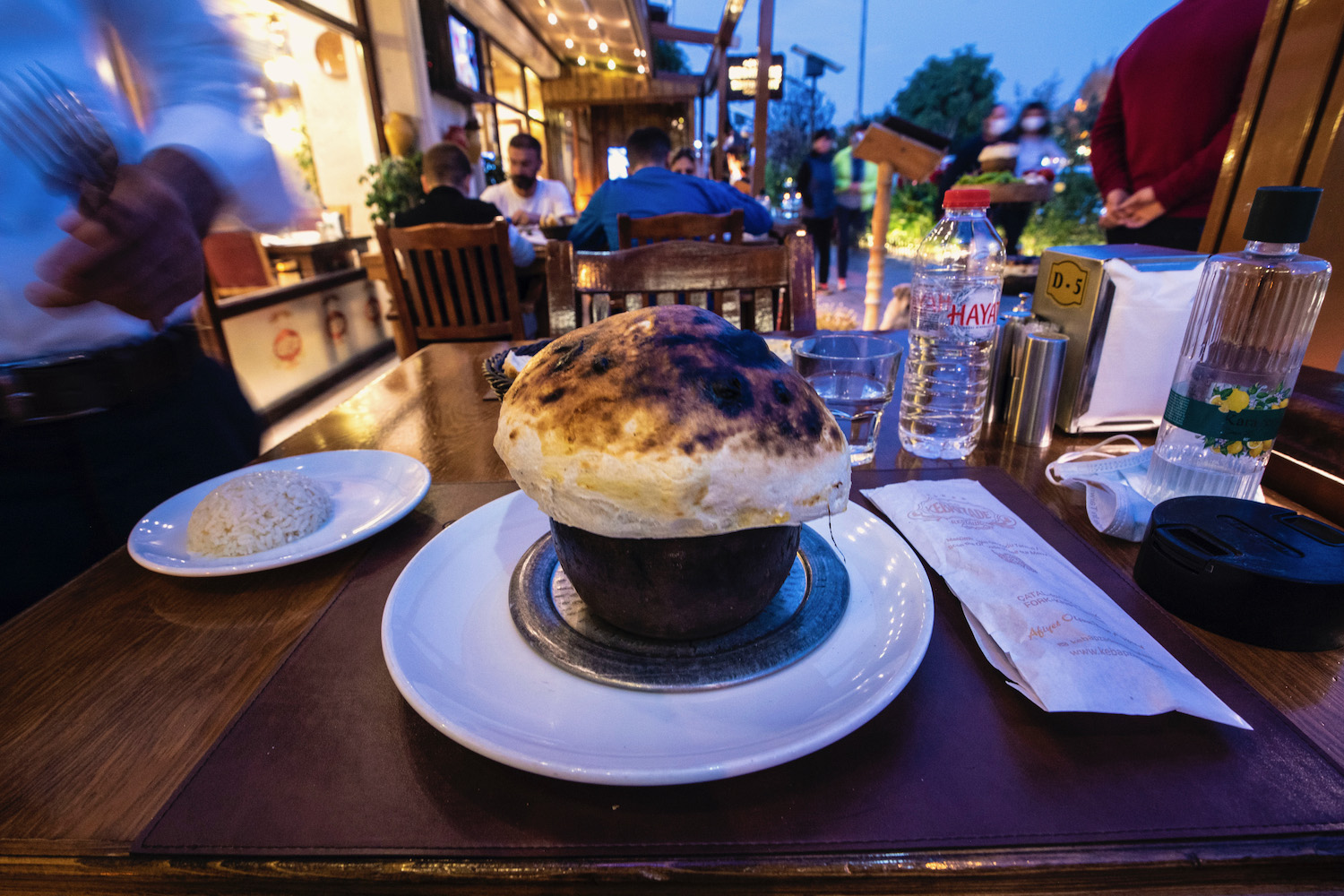 The bad news? The lamb at Cappadocia's Organic Cave Kitchen doesn't quite live up to the hype built up around it, at least not in taste—it was beautiful. The good news? Although the region's more famous dish (the pottery kebab) can also be underwhelming in certain incarnations, you don't have to deal with the cold service at the Cave Kitchen (or walk all the way there) in order to taste one.
(And wash it down with Cappadocian wine)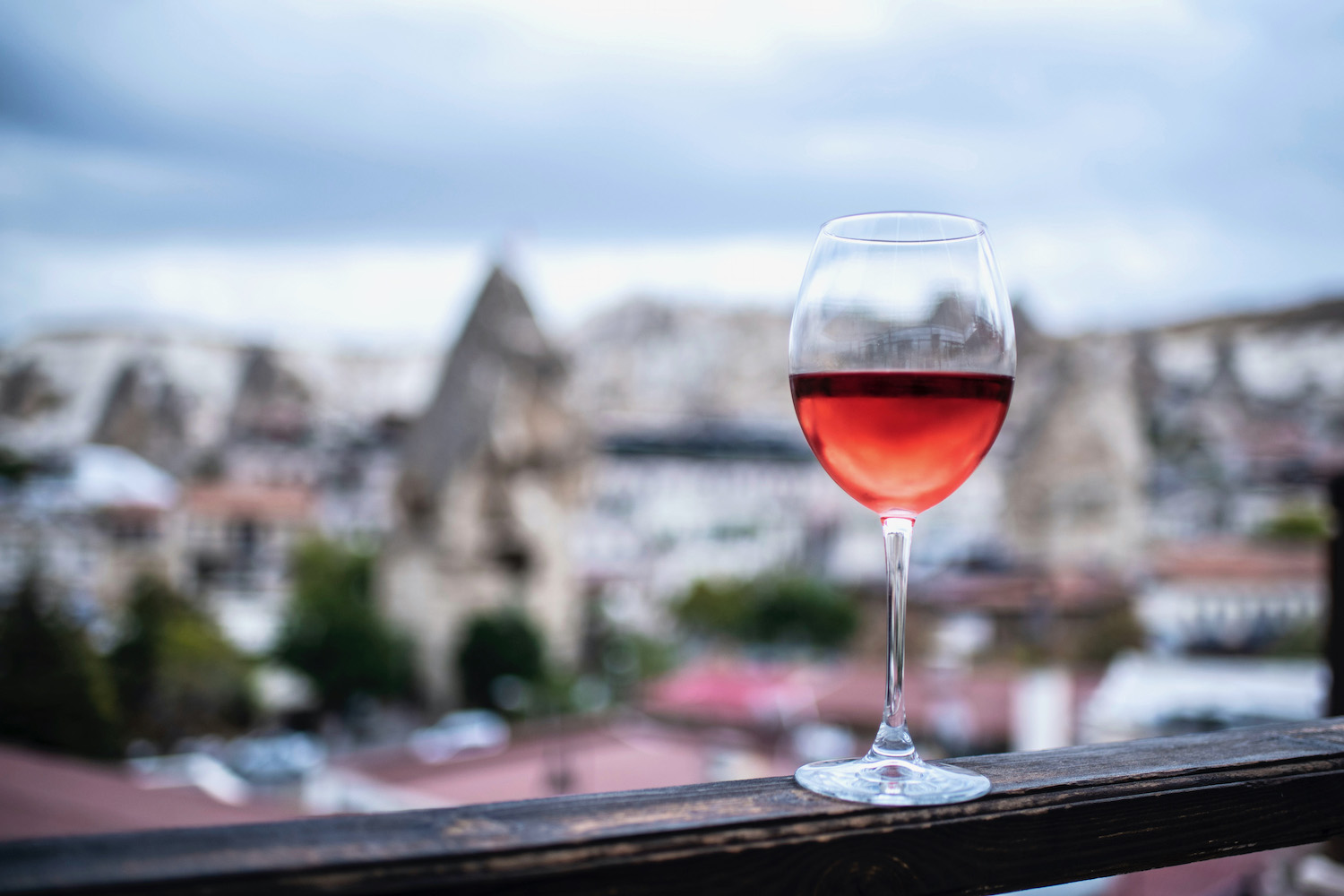 Which is not to say you can expect great service, in general, as you wait for your adventure flying Cappadocia balloons. My visit to the aptly-named Viewpoint restaurant, for example, saw me have to contend with a waiter who was friendly, but definitely had no pep in his step. I also found this true days later at the more upmarket argos in Cappadocia, where I wouldn't left incredibly disappointed, had it not been for the killer view.
Hike amid the Fairy Chimneys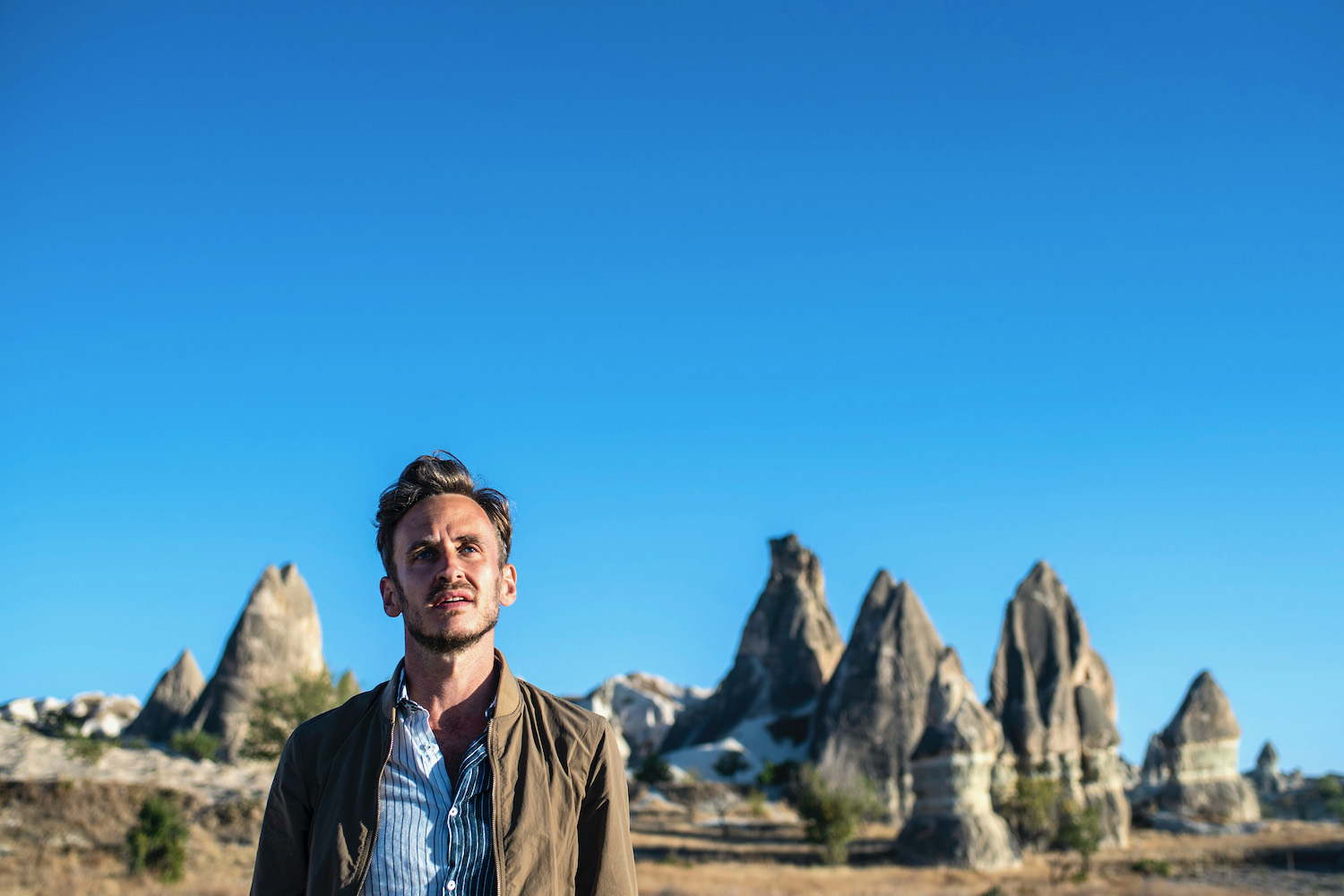 Although there's a certain spot on the map that's said to host Cappadocia's famous Fairy Chimney rock formations, the fact is that they rise basically everywhere above the northern and western outskirts of Goreme. I found the most hospitable ones for photography and solitary exploration to be in the Rose Valley (which, incidentally, hosts one of the best lookout points for watching balloons in the morning, assuming you aren't up in one).
Visit the Evil Eye Tree(s)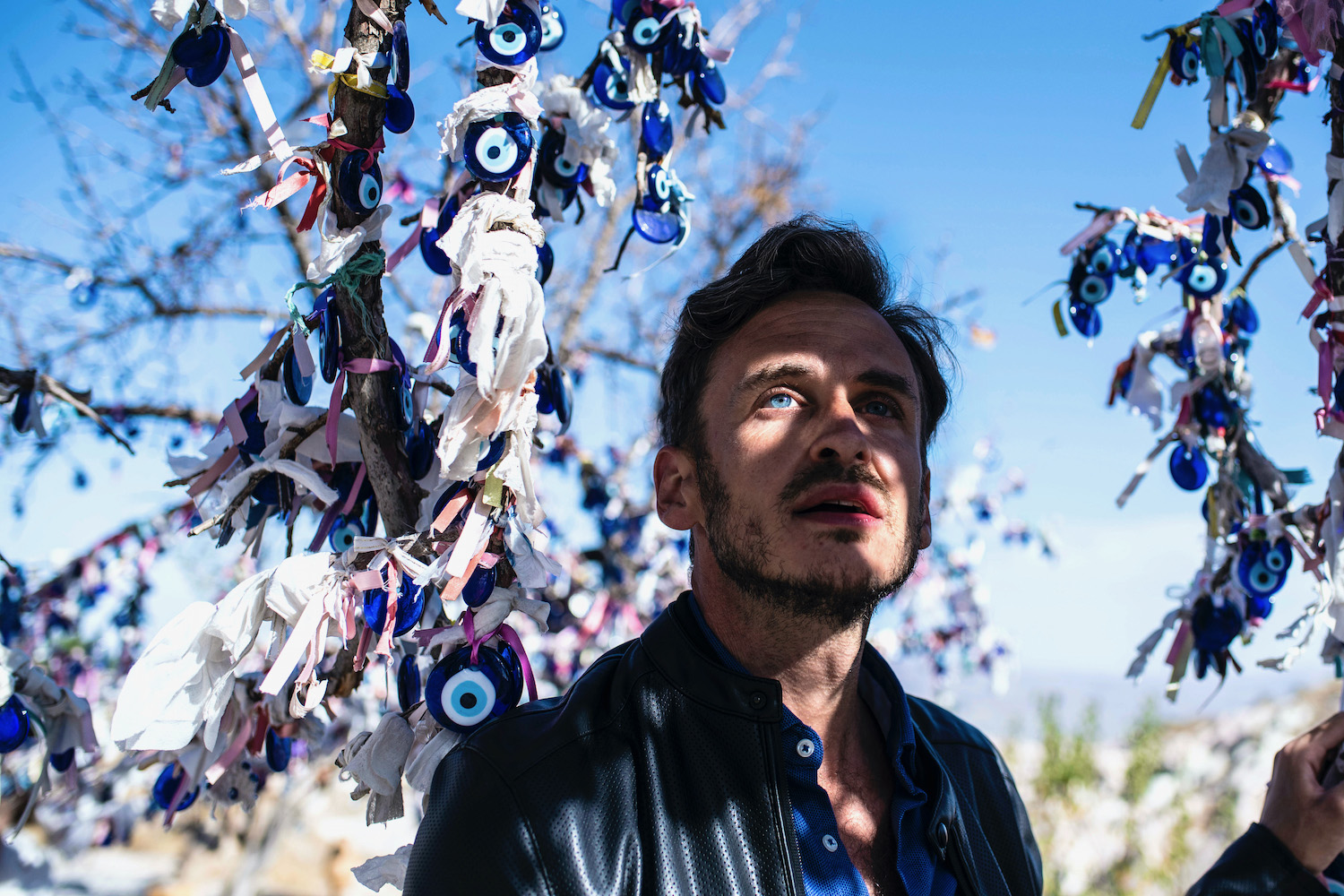 Once I had successfully ticked Cappadocia balloons off my bucket list, I wanted to return to the Evil Eye Tree I remembered having visited in 2015. Confusingly, there are now no less than half a dozen such trees along Pigeon Valley just south of Uchisar; you'll have to visit them all and see which ends up suiting you the best. Certainly, I hope you'll experience the same serendipity I did during my walk: A sweet yellow lab escorted me all the way from the rim of the valley to Uchisar Castle.
Watch a Whirling Dervish ceremony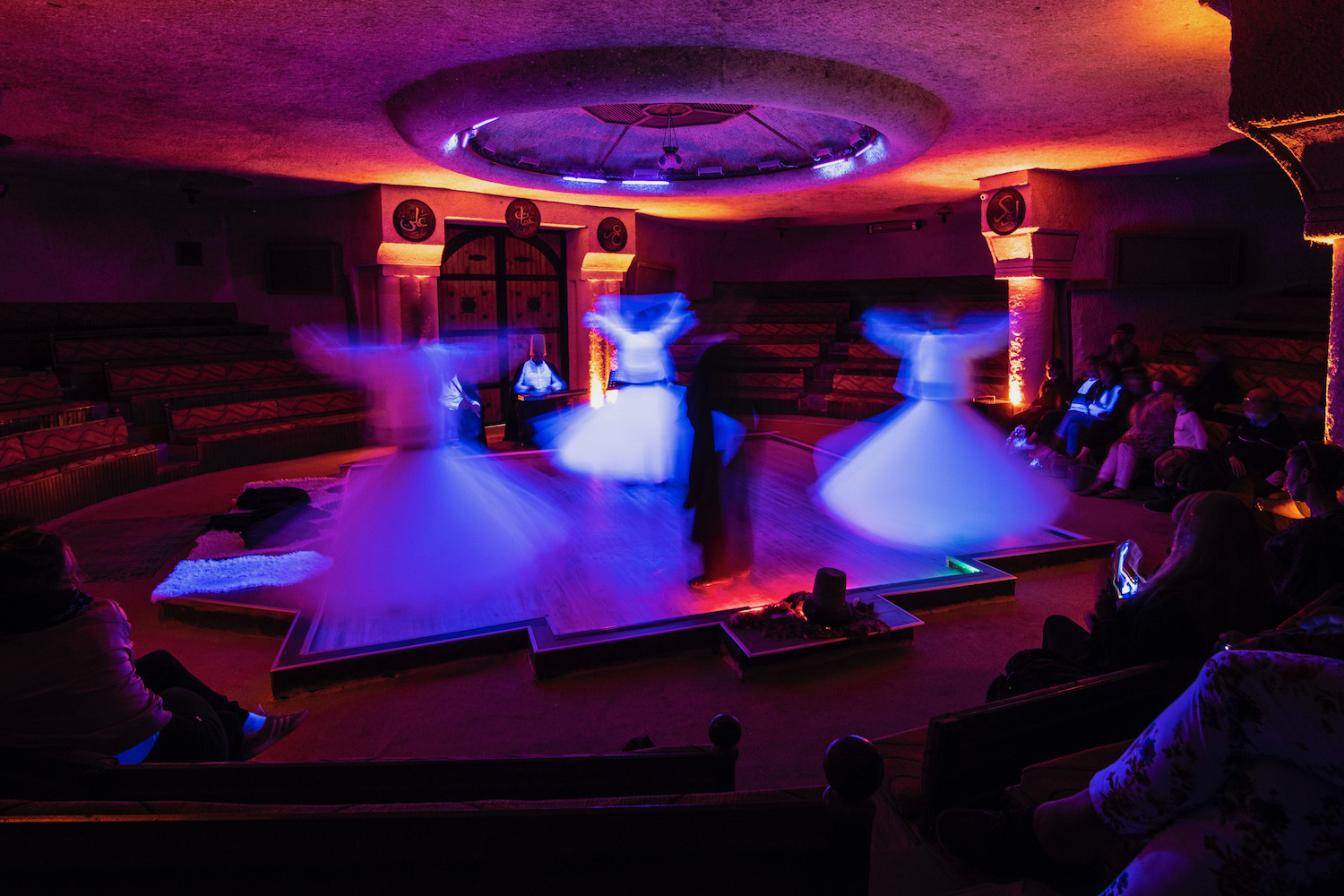 The aim of sema, the ritual Whirling Dervish practitioners do to dizzying effect, is to form a bridge between God and humankind. Unfortunately, since I caught my performance at Dervis Evi in Urgup during the middle of the coronavirus pandemic, I was paranoid the whole while that the well-intentioned men (who were, understandably, maskless) might be building a bridge between Covid-19 and my airways. Thankfully, nothing came of this!
Where to Stay in Cappadocia
The good news about Cappadocia hotels is that many of them—a majority, I guess—are "cave hotels." The bad (but not unsurprising) news is that the most expensive of these properties are the best at advertising, which means travelers often spend more than they need to on accommodation, which is generally pretty cheap in this part of Turkey. Personally, I love Sultan Cave Suites (or, if you're not completely set on sleeping inside a cave, Yusuf Bey House, whose rooftop has lovely views).
Of course, if money is no object, then by all means splurge. I only lunched and wined at argos in Cappadocia, but probably wouldn't stayed there if my budget hadn't been so…2020. In addition to stylish rooms and tasteful food and drink, this place offers an incredible perspective on the launch of the Cappadocia balloons each morning, given its location just steps from the entrance to Uchisar Castle.
Other FAQ About Visiting Cappadocia
How much is a balloon in Cappadocia?
Prices for balloons in Cappadocia vary, depending on how private you want your flight to be. As of November 2020, rates state at €75 per passenger, which includes transport from your hotel to the balloon launching site, and a ride back after the flight. To get the best rate, book directly through your hotel's reception!
What time do balloons launch in Cappadocia?
Cappadocia balloons launch between 0-30 minutes before sunrise, which means that you'll be able to watch the sunrise over the mountains of Central Anatolia from thousands of feet up in the air. You should expect your hotel pickup to be around 5 am, although this can vary depending upon what time of the year you visit.
Is hot air balloon in Cappadocia worth it?
Flying in a hot air balloon in Cappadocia is absolutely worth it! I say this as someone who waited for my (second) chance to do it for more than five years. Even if I'd had to wait another five, I still would've felt ecstatic throughout the experience.
The Bottom Line
I'll end by telling you a little secret about Cappadocia balloons: Many of the photos you see of them on Instagram are either heavily enhanced or completely fake. I realized this early the morning of my third day in Cappadocia when, standing atop a Rose Valley viewpoint many people use to capture such pictures, I noticed how tiny all the balloons appeared. The same became clear later, on an Insta-famous rooftop in Uchisar, which is nearly a mile from where the nearest balloon touches down each morning. This is not to say the experience of riding in a balloon (or watching them fly) isn't worth it, only to remind you to temper your expectations. Arrive to Turkey ready to travel when you hire me as your Travel Coach.