When my boarding pass beeped as I attempted to board the final leg of my recent Qatar Airways business class journey from Los Angeles to Bangkok, I assumed the worst. They're downgrading me, I told myself, although I had purchased my ticket outright. Or worse, they're bumping me from the flight.
Instead, the handsome agent behind the desk handed me a new boarding pass inside a heavy, maroon sleeve. "Your new seat is 2A," he smiled, then directed me up to the stairs to the dedicated boarding level for the upper deck of the Airbus A380. "Enjoy first class, Mr. Schrader."
Recently, Qatar Airways has made headlines with its new Qsuite business class product, which it touts as "First in Business," referencing the belief of the airline—and an increasingly prevailing one within the industry—that first class is redundant and nearing its end as a useful product. Ironically, however, my experience flying in first class on Qatar Airways showed it be singular and, yes, necessary.
Overview of Qatar Airways First Class
I opened last week's review by skewering the conduct of a fellow business class passenger during a boarding process that was only slightly bungled. After seeing how exclusively Qatar treats is premium passengers at its hub in Doha, I understand more where the ringleader of the protest was coming from, even if I still believe she behaved ridiculously.
Indeed, the difference in service in Qatar Airways first class as compared to business class is nothing short of striking. Some aspects of this are purely practical—of course the flight attendant spends longer with each passenger, since there are only eight of us.
In another sense, however, the cabin crew in Qatar Airways first class simply seem more attune and aware, with everything from the pacing of meal and drink services, to the maintenance of privacy, peace and quiet within the cabin, to making the bed at just the right moment. Even where the cold detachment I derided in business class flight attendants exists, it somehow seems more appropriate.
Qatar Airways First Class: The Finer Details
Qatar Airways First Class Food
I had issues with the food on all three of the business class segments I flew with Qatar Airways, but this was not the case in first. From the delicious main course—an herb-crusted filet of lamb—to the matcha-flavored, ice-cream filled macaroon that was served for dessert, dining in Qatar Airways first class is on another level.
Drinking, too, whether we're talking about Arabic coffee (served, of course, with dates) or the Krug offered at boarding. I don't believe I even walked back to the on-board bar, lest I take a chance of having to interact with business class peasants!
Qatar Airways First Class Seat
Likewise, the seat in Qatar Airways first class is way larger and more private than the one in business, and overall seems to be designed better and built more sturdily—I almost felt like I had my own room on the plane, rather than a seat! The first class cabin felt much roomier than business, not only because of the small number of seats, but because there were no overhead bins—first class passengers on Qatar Airways have personal closets instead.
The WiFi, which is free for first-class passengers, was the slowest I've ever encountered on an airline, so I mostly didn't use it. I also didn't use the Qatar Airways A380 bar on this flight, since it's located behind business class—I think it would've been awkward to walk through there, not unlike the idea of a business class passengers going to economy class to use the lavatory.
(Oh, and the first class lavatories aboard Qatar's A380 are bigger than my on-the-ground bathroom, for what it's worth.)
Qatar Airways First Class vs Business Class
In a word, absolutely. Whereas the service, hospitality, food and seat in Qatar Airways business class (moreso on the 777-200LR than than A380) all left something to be desired, the first class experience rights all these wrongs and then some.
I found the gulf between business and first on Qatar striking, especially given how intent on eliminating first class the airline seems. Obviously, I may have to revise this when and if I'm able to review Qatar's (apparently) superlative new Qsuites product!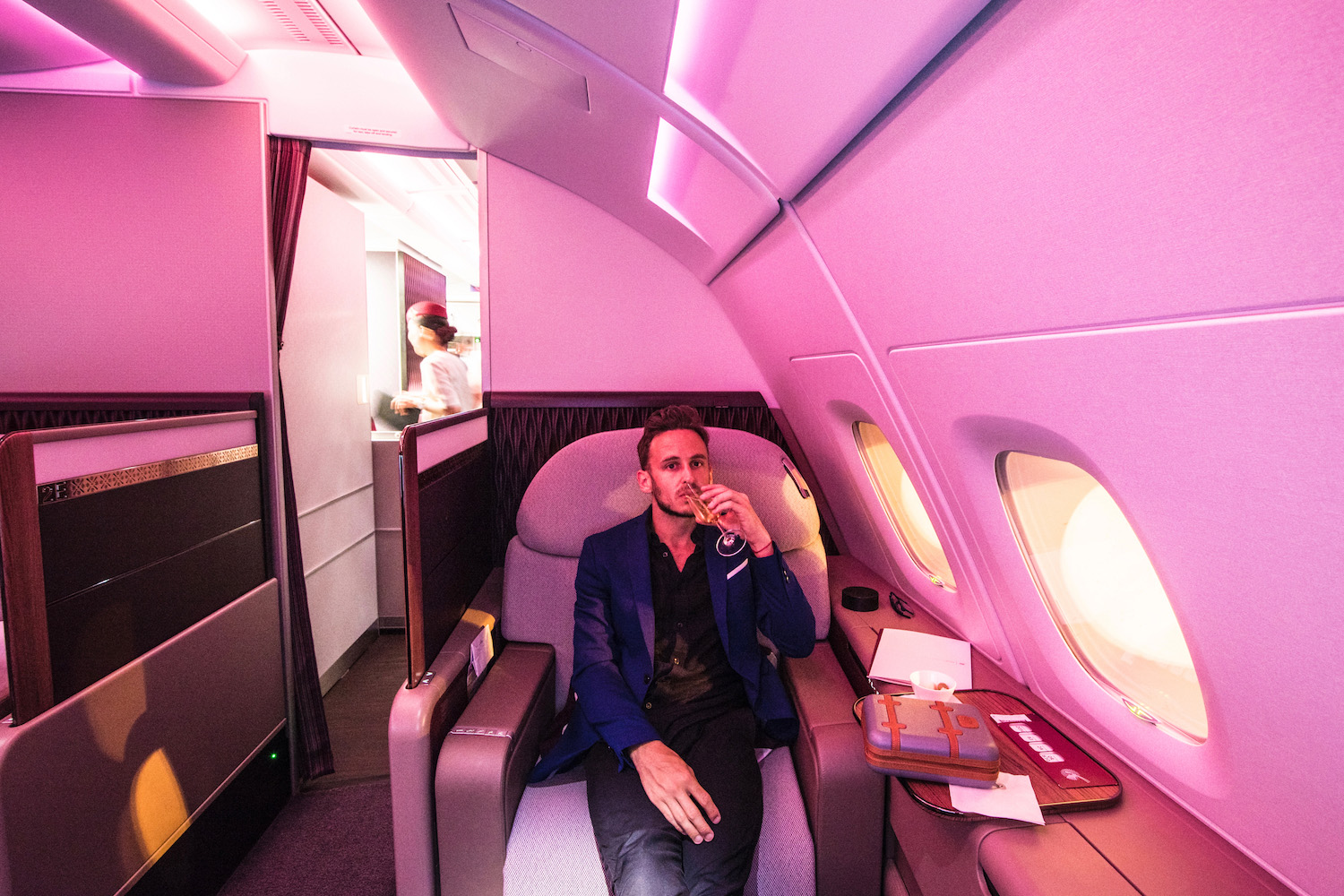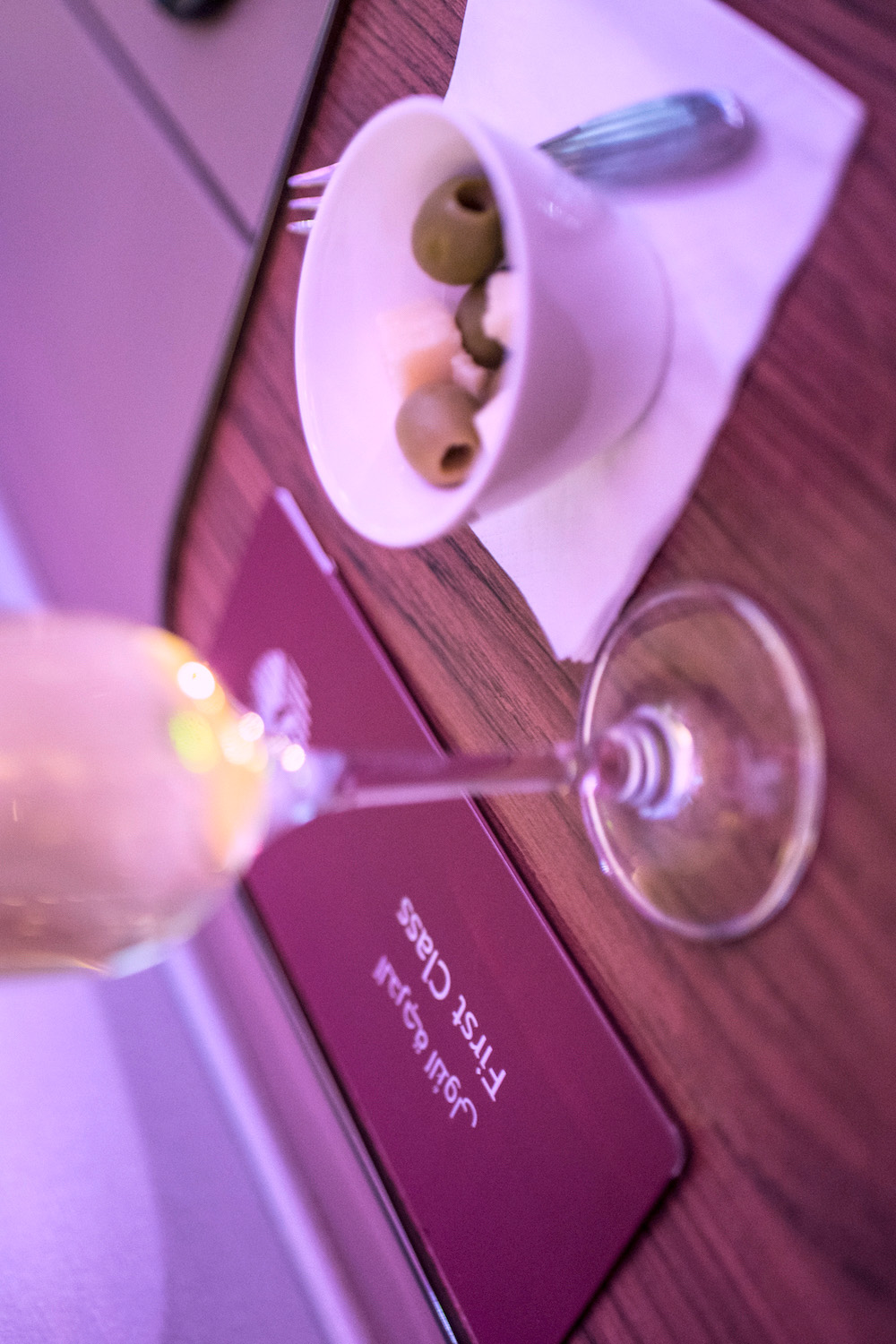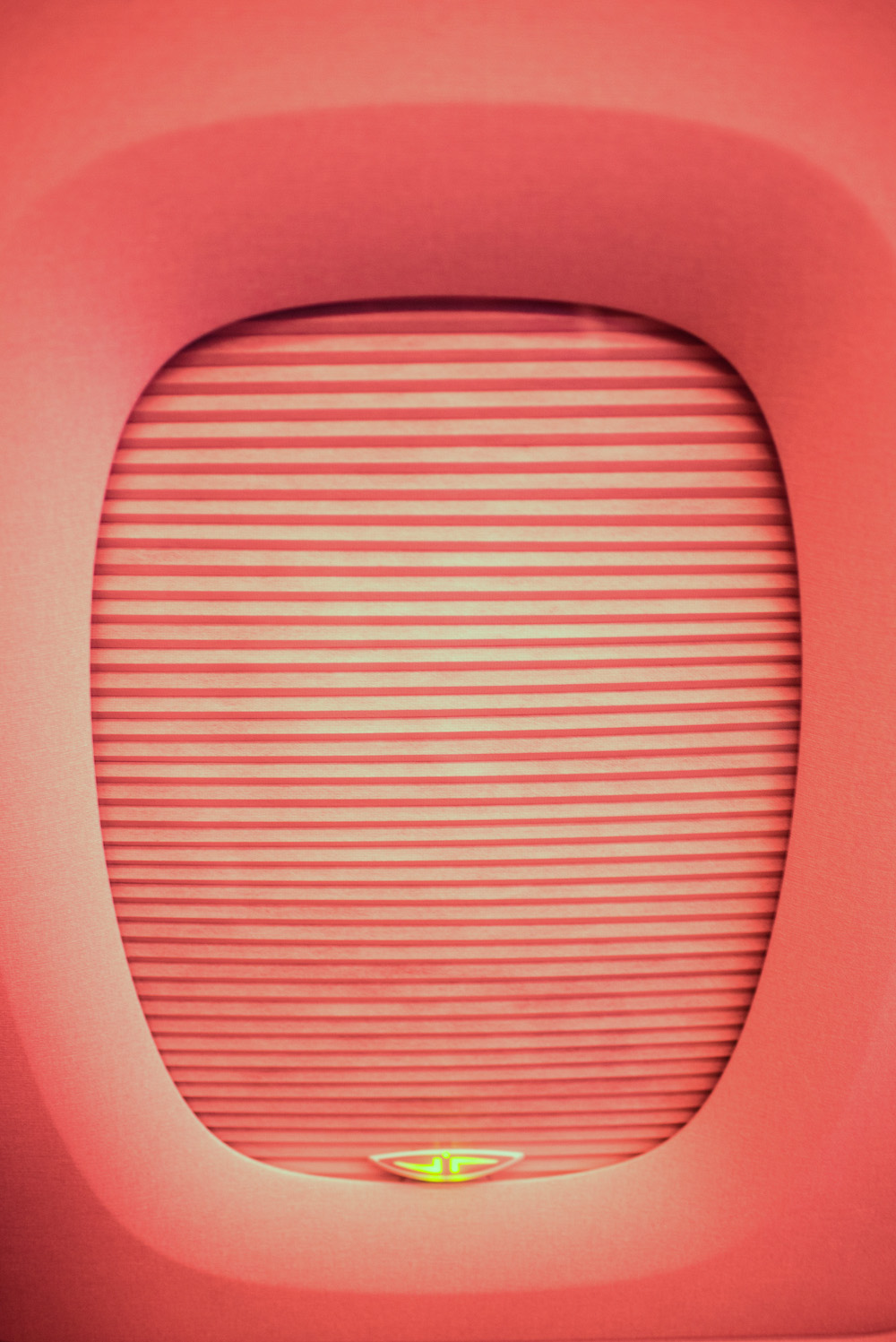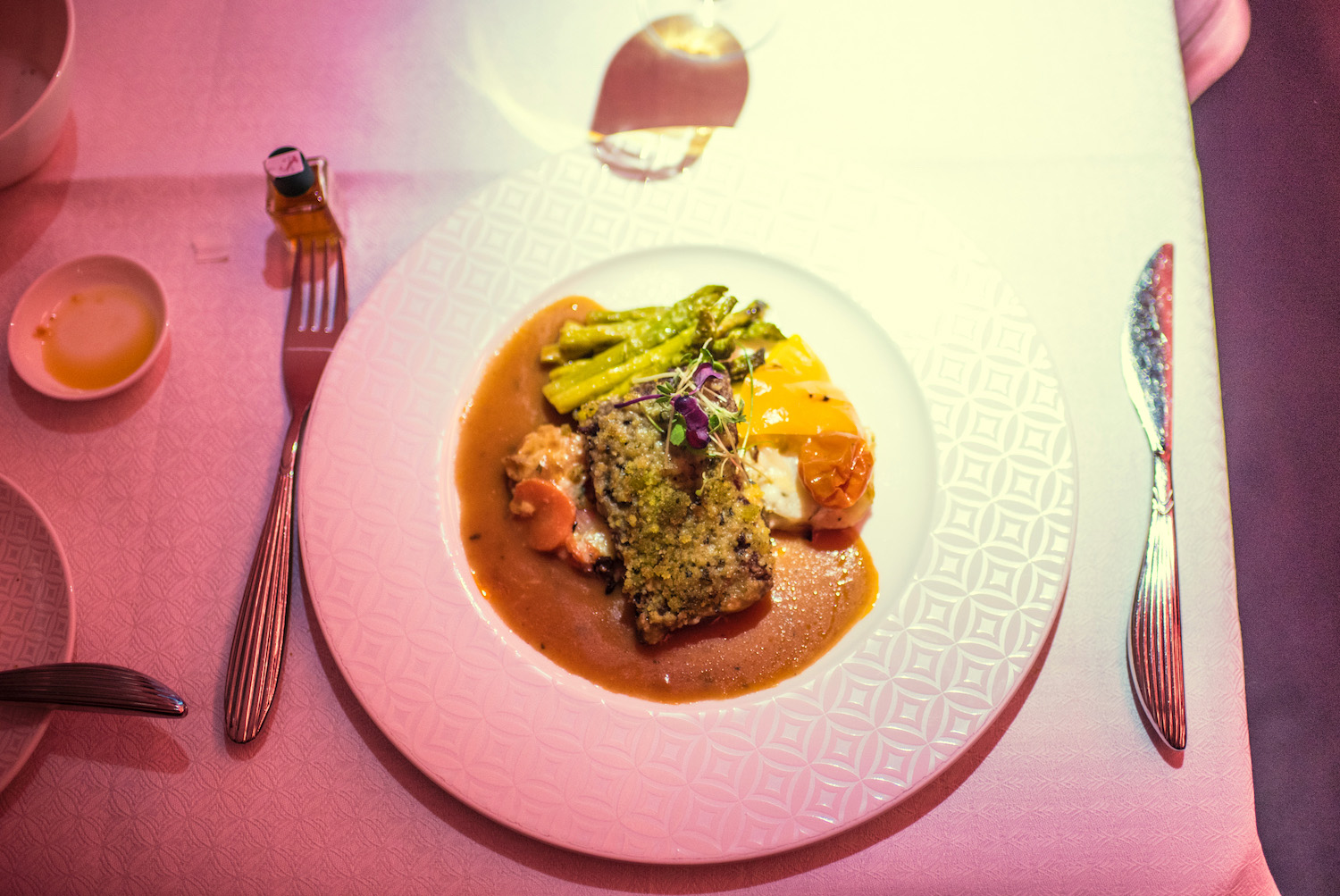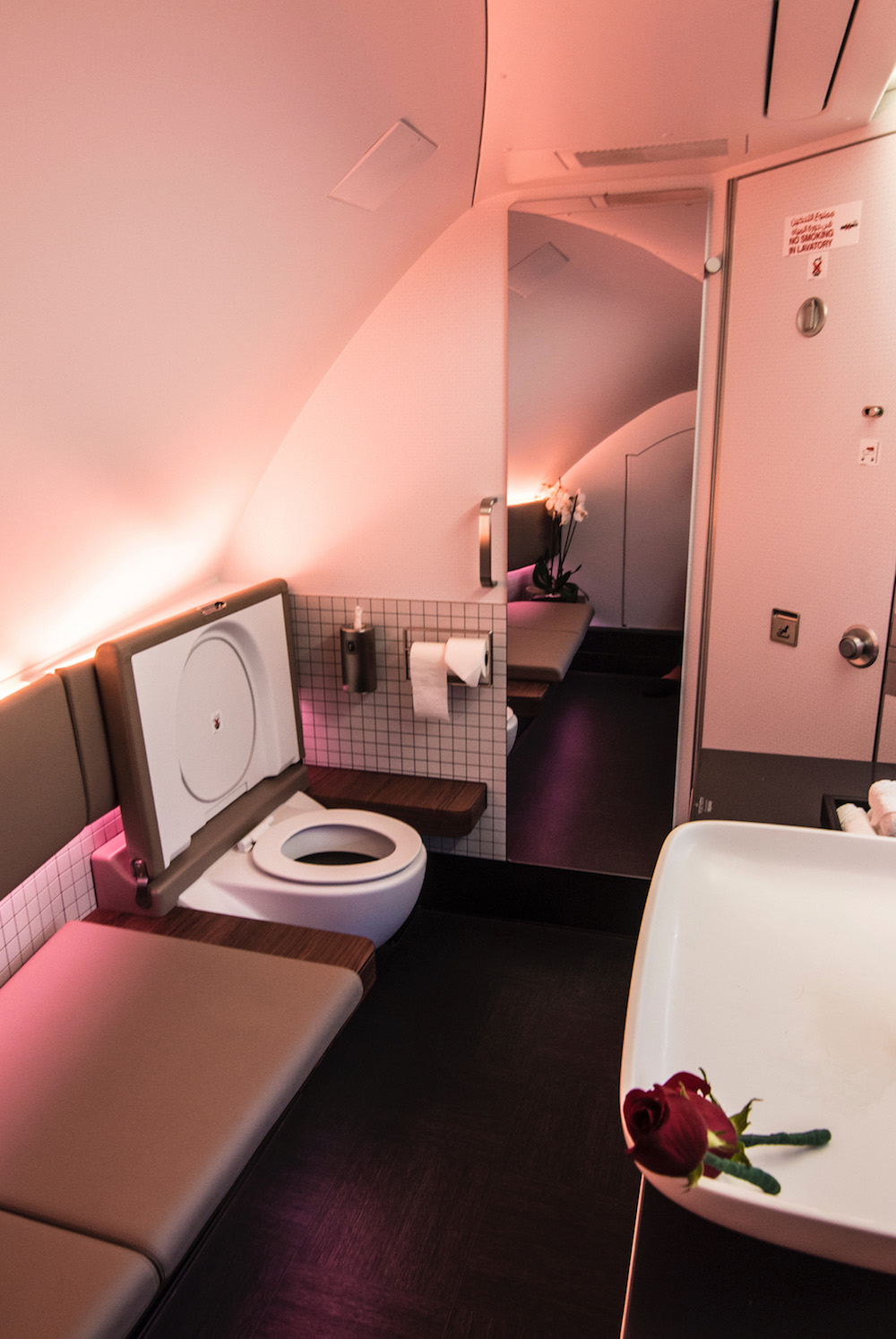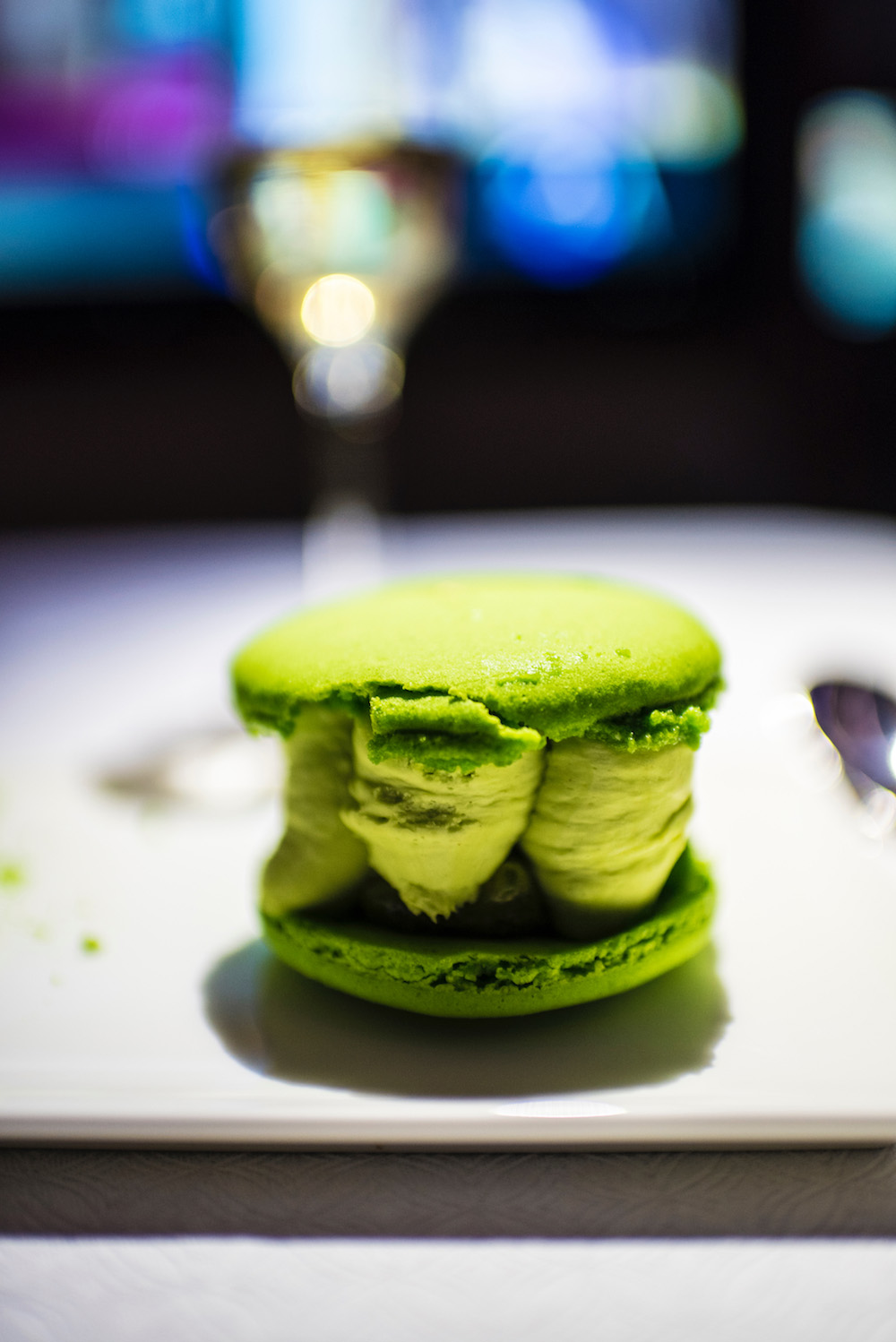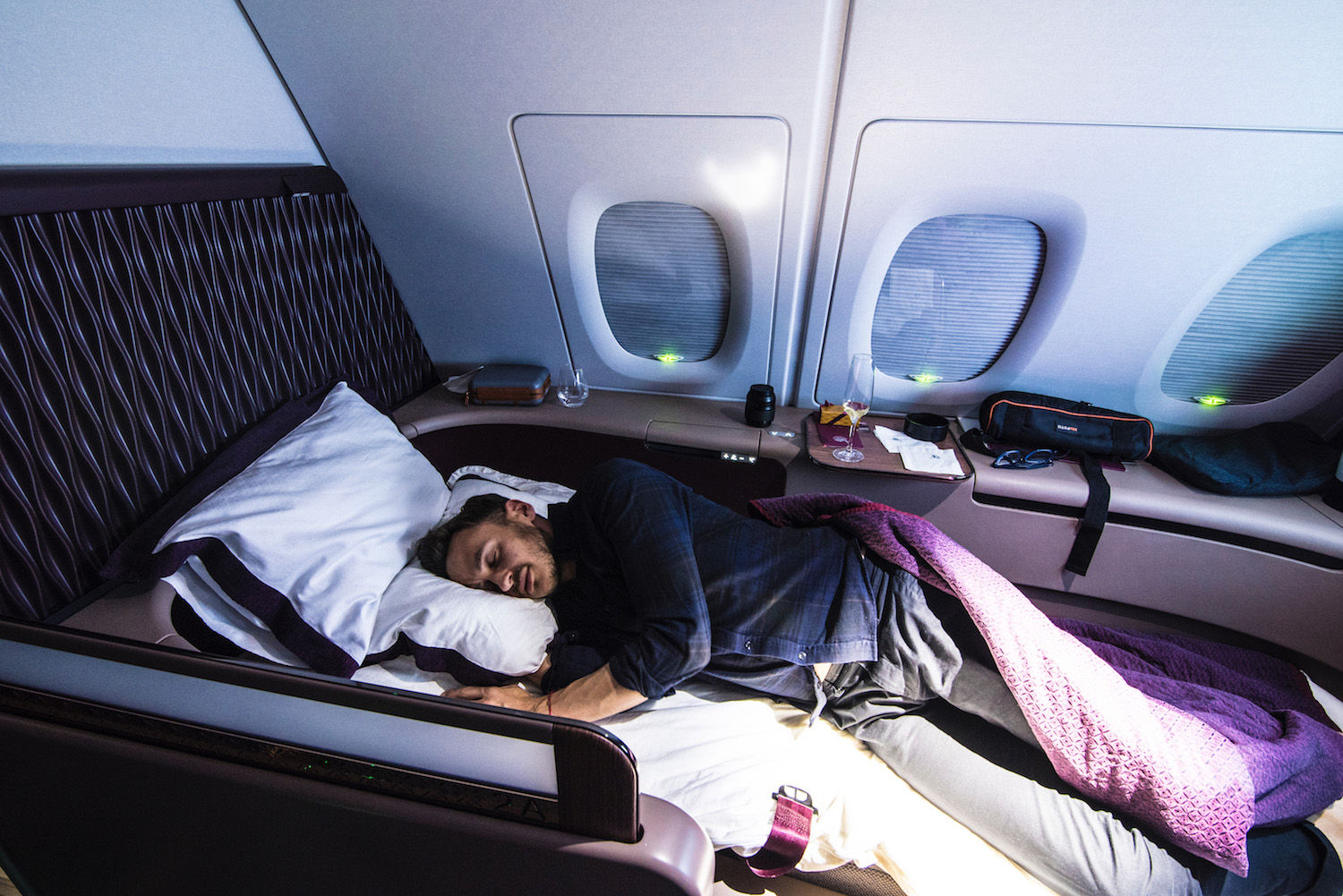 How to Book Qatar Airways First Class With Miles & Points
As I noted in my review of Qatar Airways business class last week (where I also detail how to book Qatar Airways premium class travel with Miles & Points)  I purchased my ticket outright thanks to an amazing fare sale last year.
My upgrade to first was curious, given that I paid probably the lowest fare of any business class passenger—about $1,400 round-trip between Bangkok and Los Angeles. I imagine it was a result of my "Sapphire" status within the oneworld alliance, rather than any other factor.
Other FAQ About Qatar Airways First Class How much is Qatar 1st class?
The cost of Qatar Airways first class varies, depending upon which route you're flying, your dates of travel, how close to departure you book and whether or not you can avail any promotions. As a general rule, however, you can expect it to cost more than Qatar Airways business class.
Is Qatar first class same as business class?
Although Qatar touts its new Qsuite business class seat as being a "first class killer," Qatar's first class is a distinct product from business, with a separate cabin, as well as different food, a much larger seat and a dedicated crew to serve you. It's also rare, only existing on the airline's A380 aircraft.
How big are the seats in Qatar first class?
The seats in Qatar Airways first class at 83″ long and 23″ wide—in other words, absolutely huge! The suites are big enough not only for you to sleep and eat comfortably, but for you to lounge and relax as you watch one of the many movies on the Oryx One entertainment platform.
The Bottom Line
Is Qatar Airways first class worth it? This is difficult to answer—how much do you value privacy and luxury? In general, I don't think first is worth the extra money over Qatar's own business class. I only flew Qatar first class, to be sure, because I was upgraded on account of my oneworld status. On the other hand, it's difficult to fault anything about Qatar Airways first-class, from the absolutely massive seat, to the delicious food, to the impeccable service. My only sadness is that, as of 2023, it's being phased out! Want more of my expert insights as you put your next trip together? Consider hiring me as your Travel Coach!