Among the many questions readers ask me about Thailand, "where are the country's best beaches?" has got to be near the top of the list. While answering this question is ultimately subjective, particularly if I try to narrow it down to an individual beach or island, one province tends to take the cake when it comes to having Thailand's best beaches: Krabi.
Located on Thailand's Andaman coast not far from its more famous cousin Phuket, Krabi is home not only to the town of the same name and dozens of amazing mainland beaches, but iconic islands like Koh Lanta and Koh Phi Phi, among others.
That's the good news. The better news is that with my Krabi itinerary, no matter how many days to spend in Krabi you decide, you can experience a truly wide range of amazing beaches and Thailand island hopping, among the Kingdom's other treasures. Your Krabi itinerary (3 days or longer) starts here!
Where to Stay With Three Days in Krabi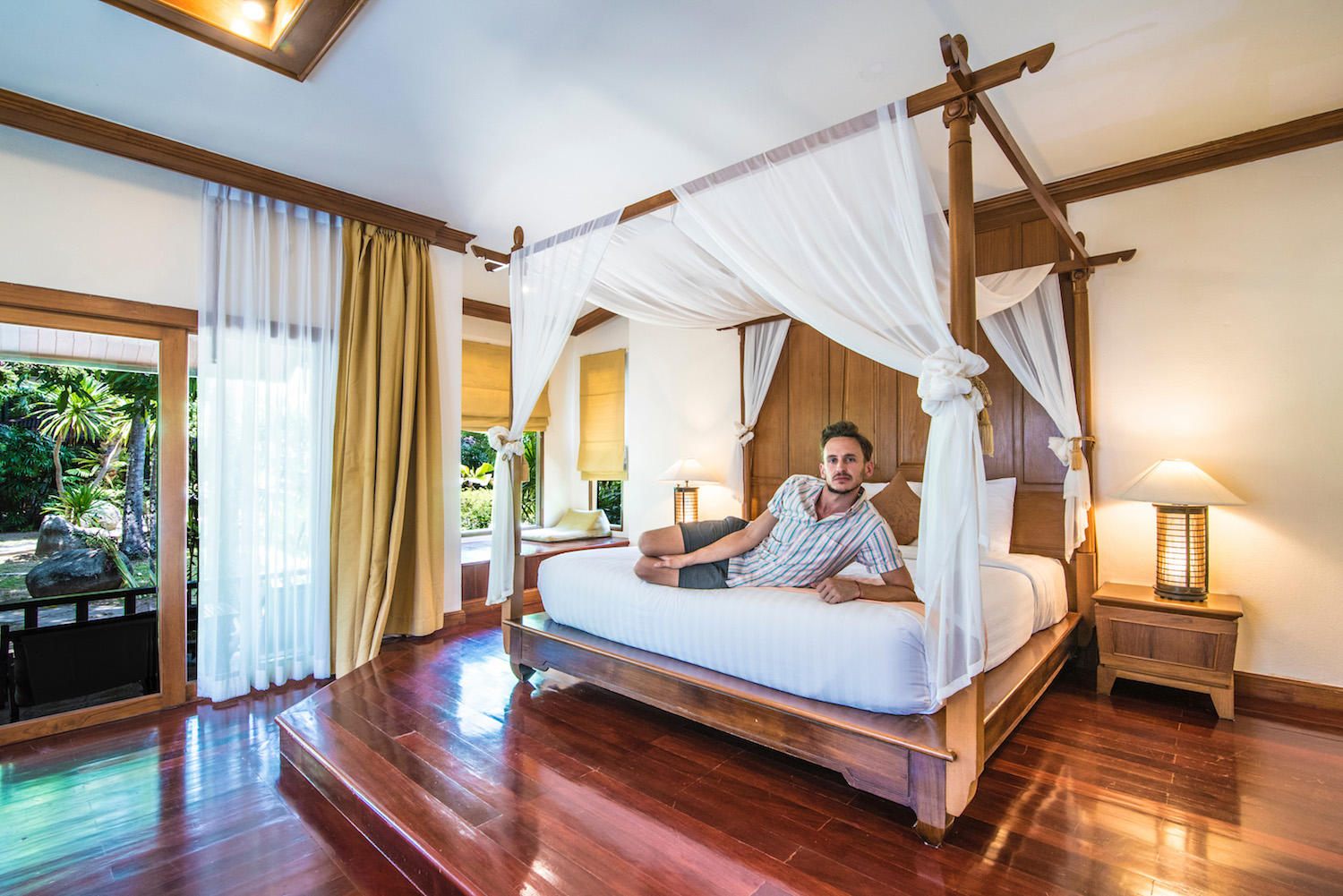 This Krabi travel blog will suggest you spend each night of your three nights in Krabi itinerary in a different place: Railay Beach, Koh Phi Phi Don and Krabi Town, in that order. For each of these locales, I can recommend an excellent hotel from personal experience. Sunrise Tropical Resort in Railay, for example, feels secluded and private (TIP: Splurge and get the villa!) even though it's just steps from the area's most popular attractions (and cheaper than many equally luxurious Krabi beach hotels). Phi Phi View Point Resort lives up to its name with a stunning panorama, and its height also immunizes you from much of the island's noise. Sasi House in Krabi Town initially appears simple and unremarkable, but has an understate charm and glamour that belie its humble exterior.
What to Do in Krabi for 3 Days
Day One: Rock Walls and Penis Caves
After arriving at Krabi Airport, get a taxi or share van to Ao Nammao Pier, where you'll board a long-tail boat to Railay Beach. Railay is most famous as the rock-climbing capital of Krabi province, but there are plenty of adventures to be had, even if you have a fear of heights. The hotel I've recommended above is located at the more charming and secluded Railay East, but Railay West is actually home to the best beaches (at high tide, the only beaches!) of the peninsula—and, in my opinion, the best Krabi beach overall, at least among those I'll mention in this Krabi blog.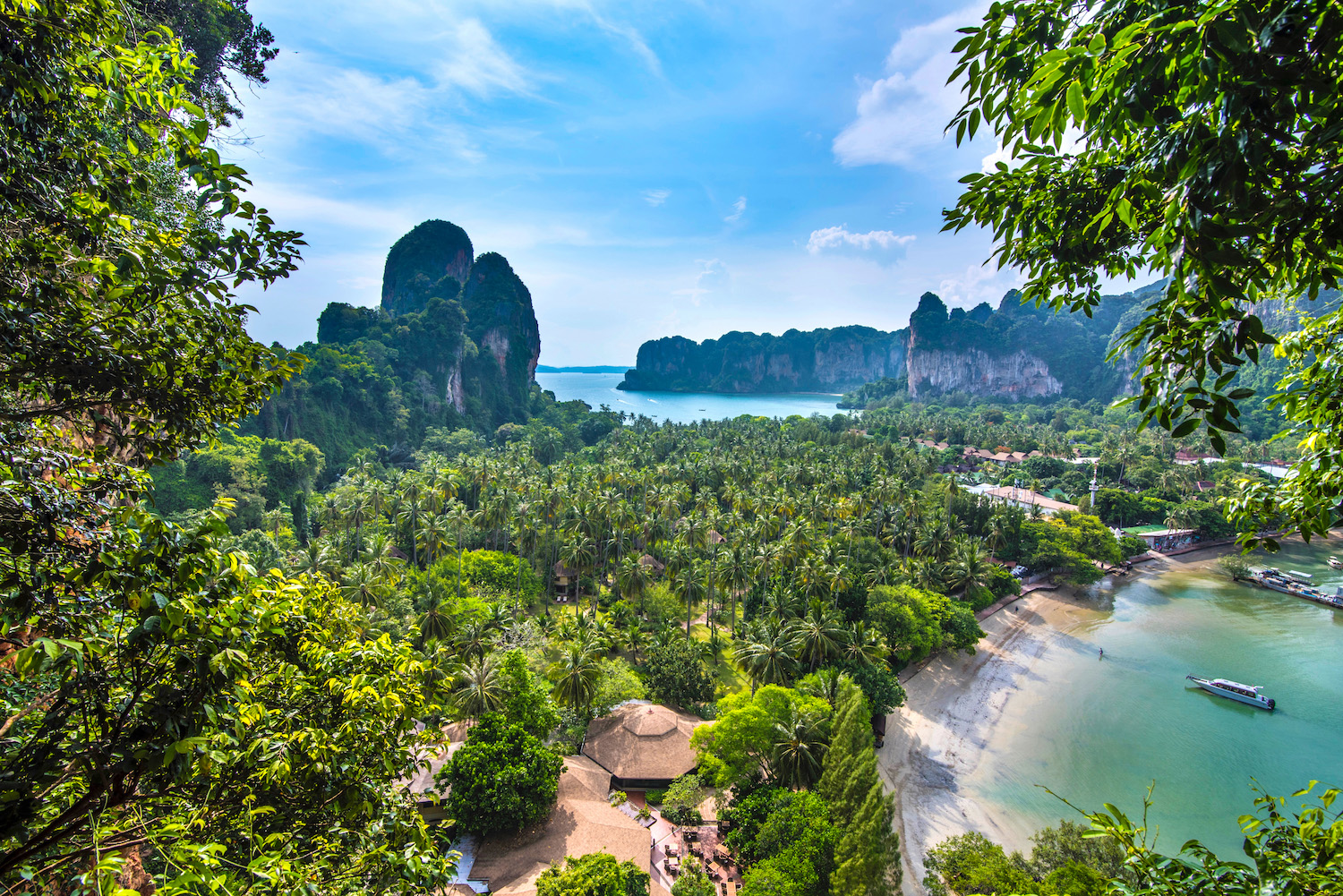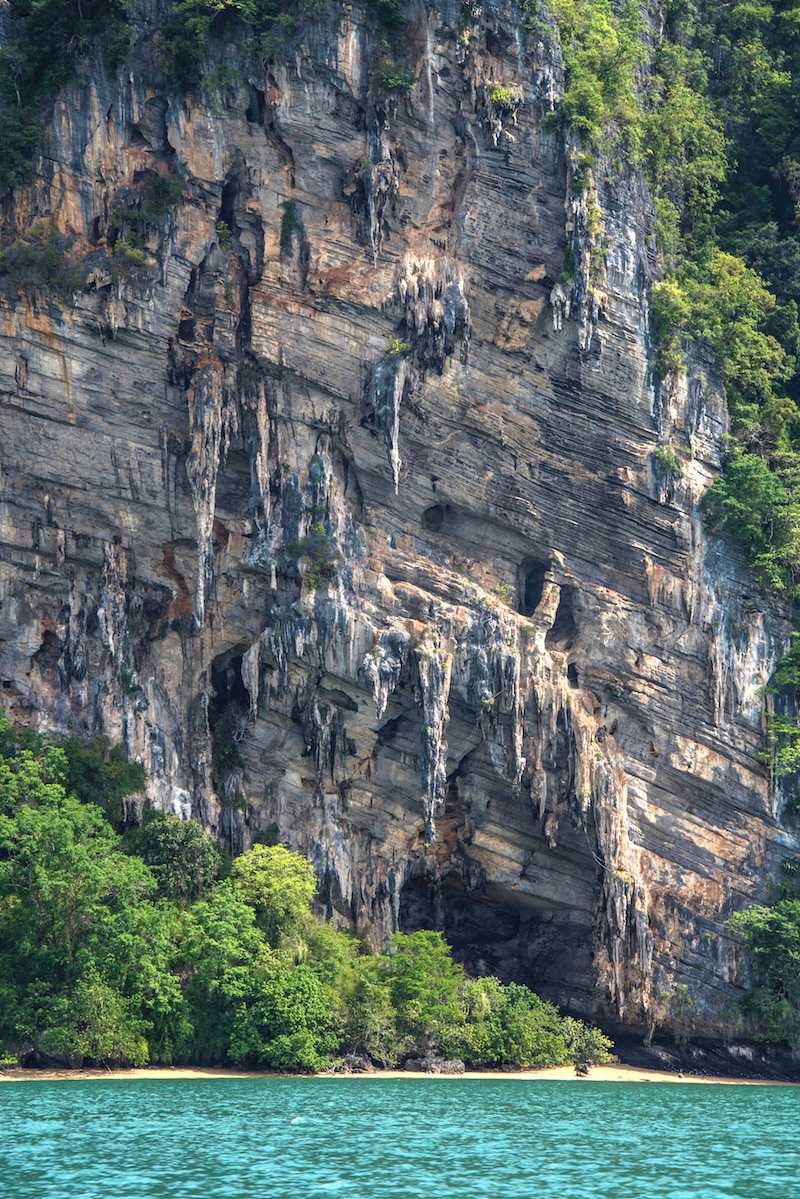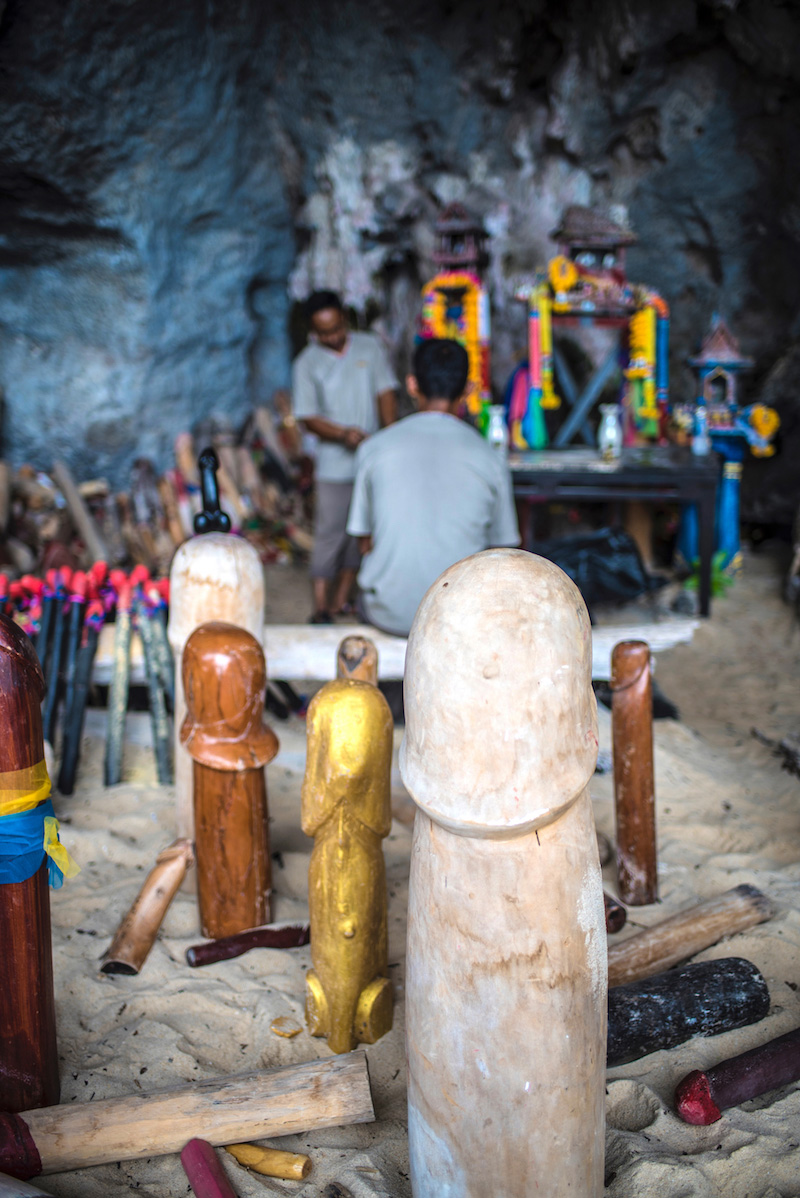 Get a bird's eye view of this land mass (and a small dose of climbing—yes, ropes are involved!) by climbing up to the View Point, which provides a stunning panorama. Come down, then walk under several karstic caves (photograph the monkeys, but don't feed them) and arrive at the Phra Nang Caves, which are not only a great vantage point for sunset, but are filled with penis carvings that are purported to bring virility to men and fertility to women. (NOTE: If you won't have time for Krabi island hopping during your Krabi itinerary 3 days or longer, you could stop here and use what I've written so far as a Krabi 1 day itinerary!)
Day Two: The Beach
Rise early on your second of three days in Krabi, then head to Railway West where you'll catch your ferry from Krabi to Phi Phi. Famous, among other things, for being home to the limestone karst beach from The Beach, Koh Phi Phi possesses an iconic beauty, but you should also be prepared for your visit here: It's incredibly crowded, to the point of being unbearable some parts of the year. (TIP: If seeing "the beach" is not a huge priority for you, you might spend your second of 3 days in Krabi in Koh Lanta instead.)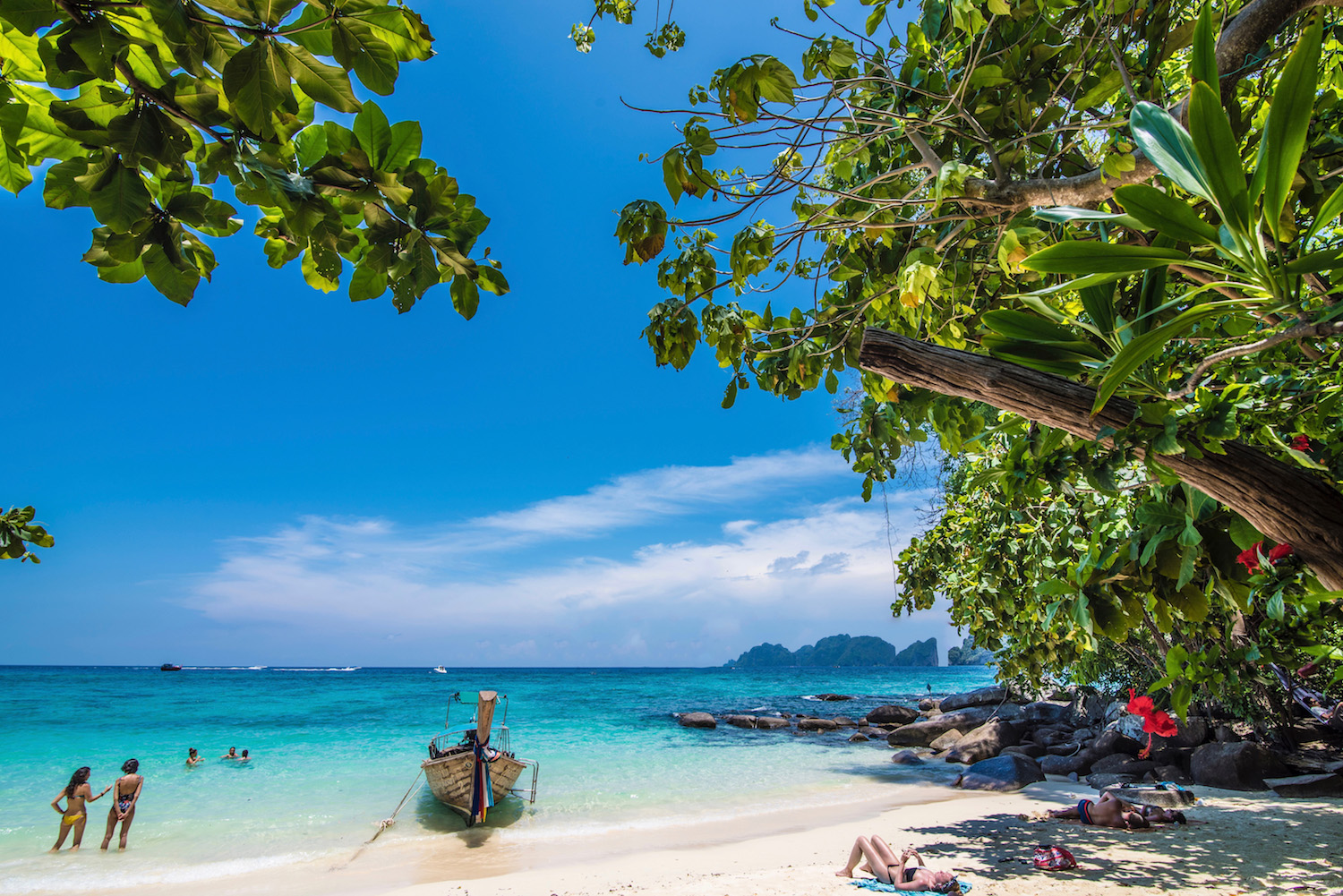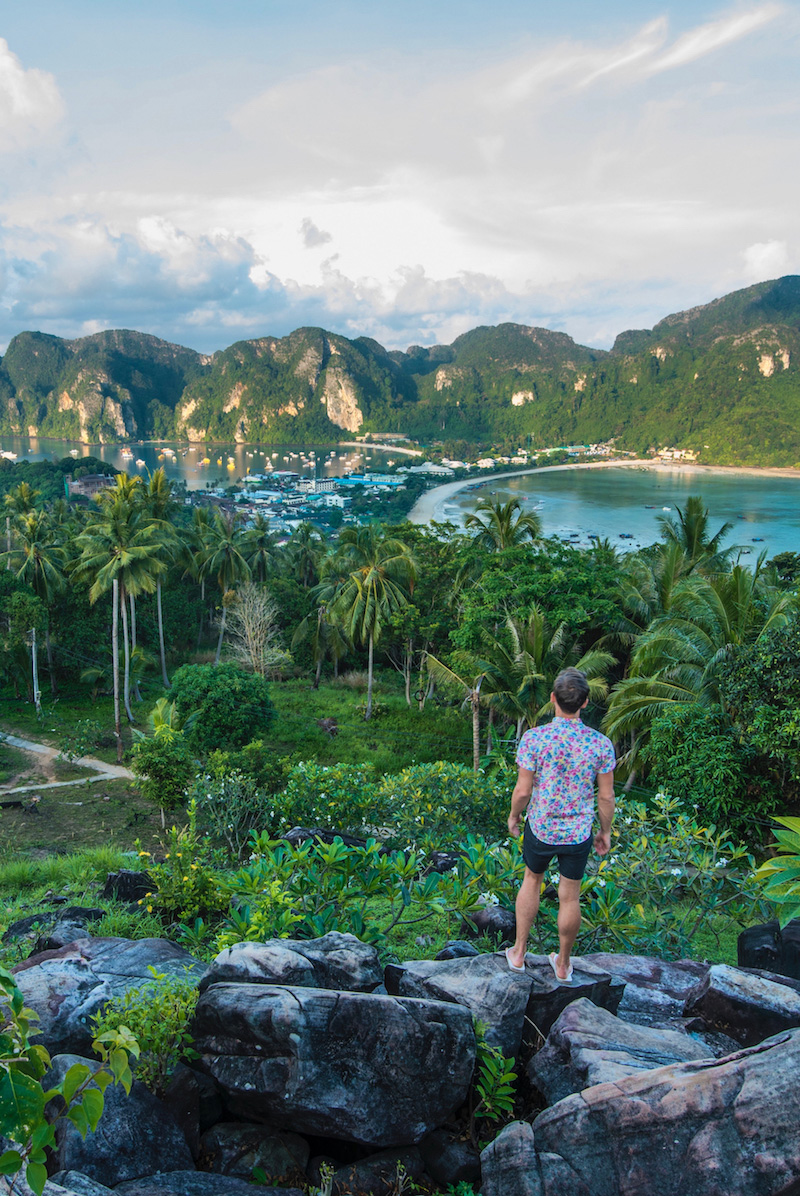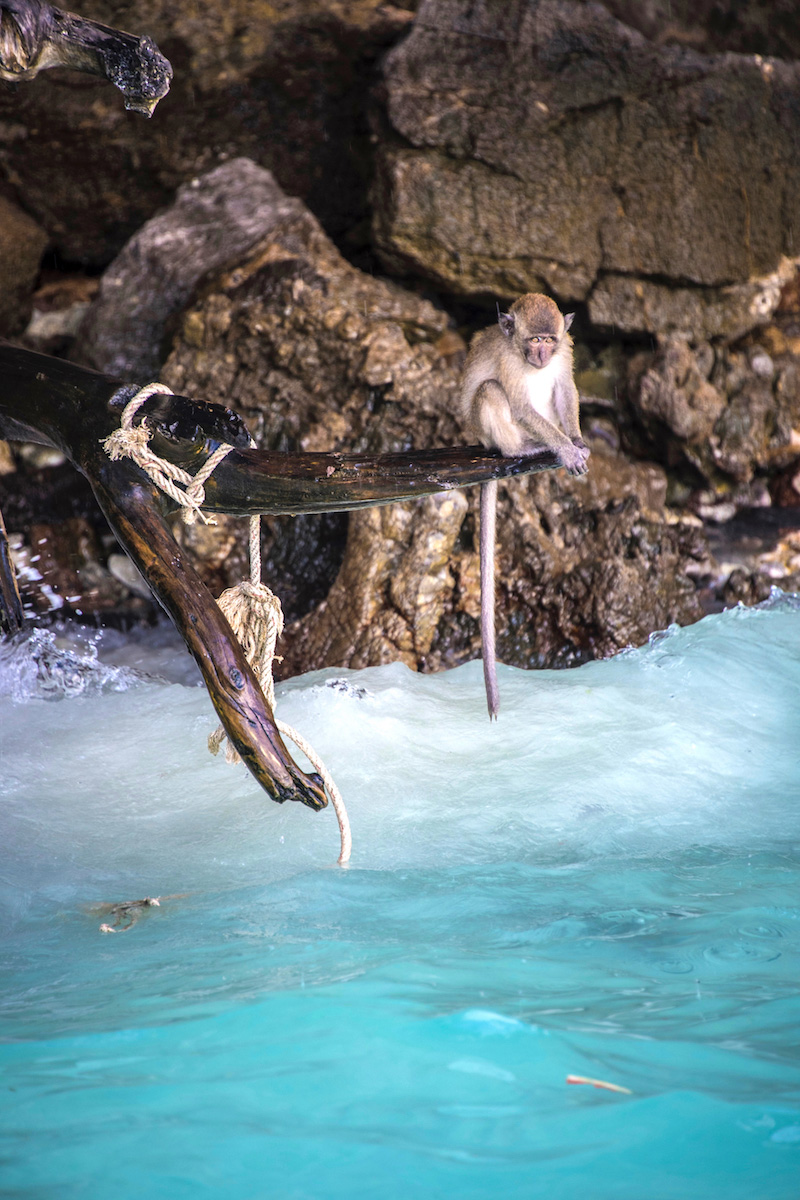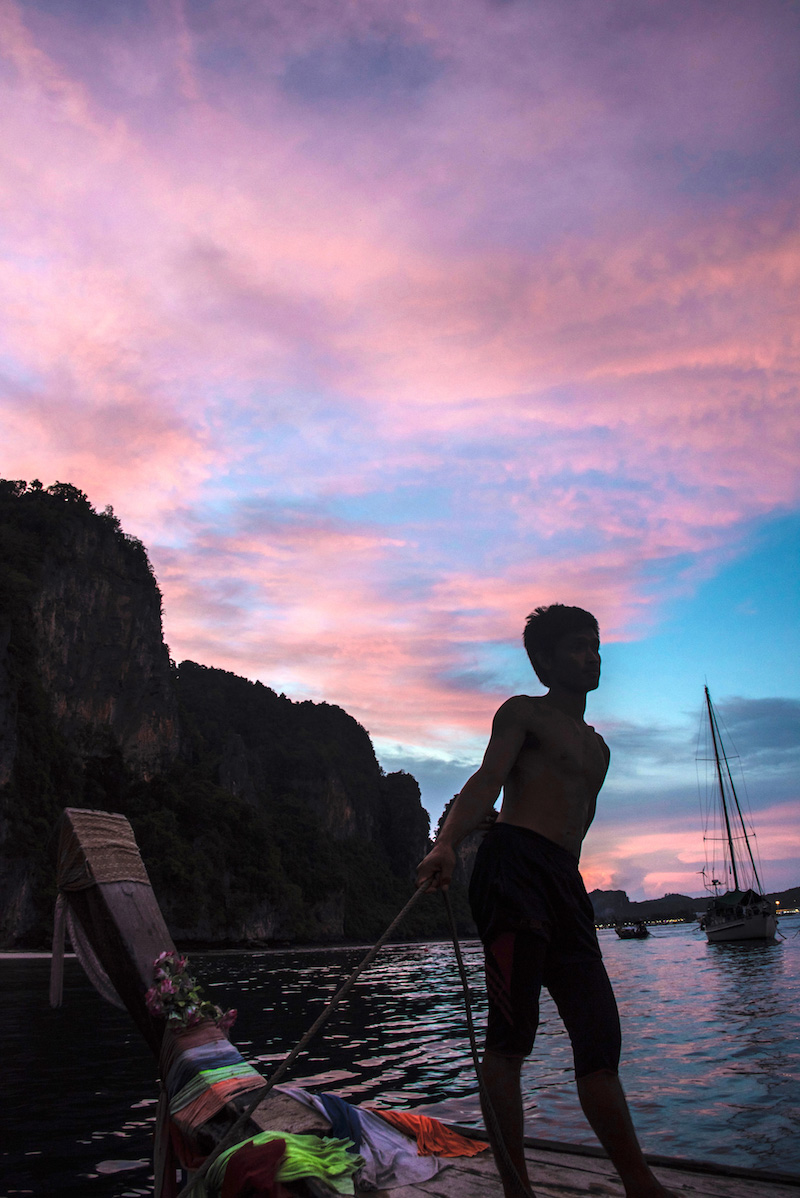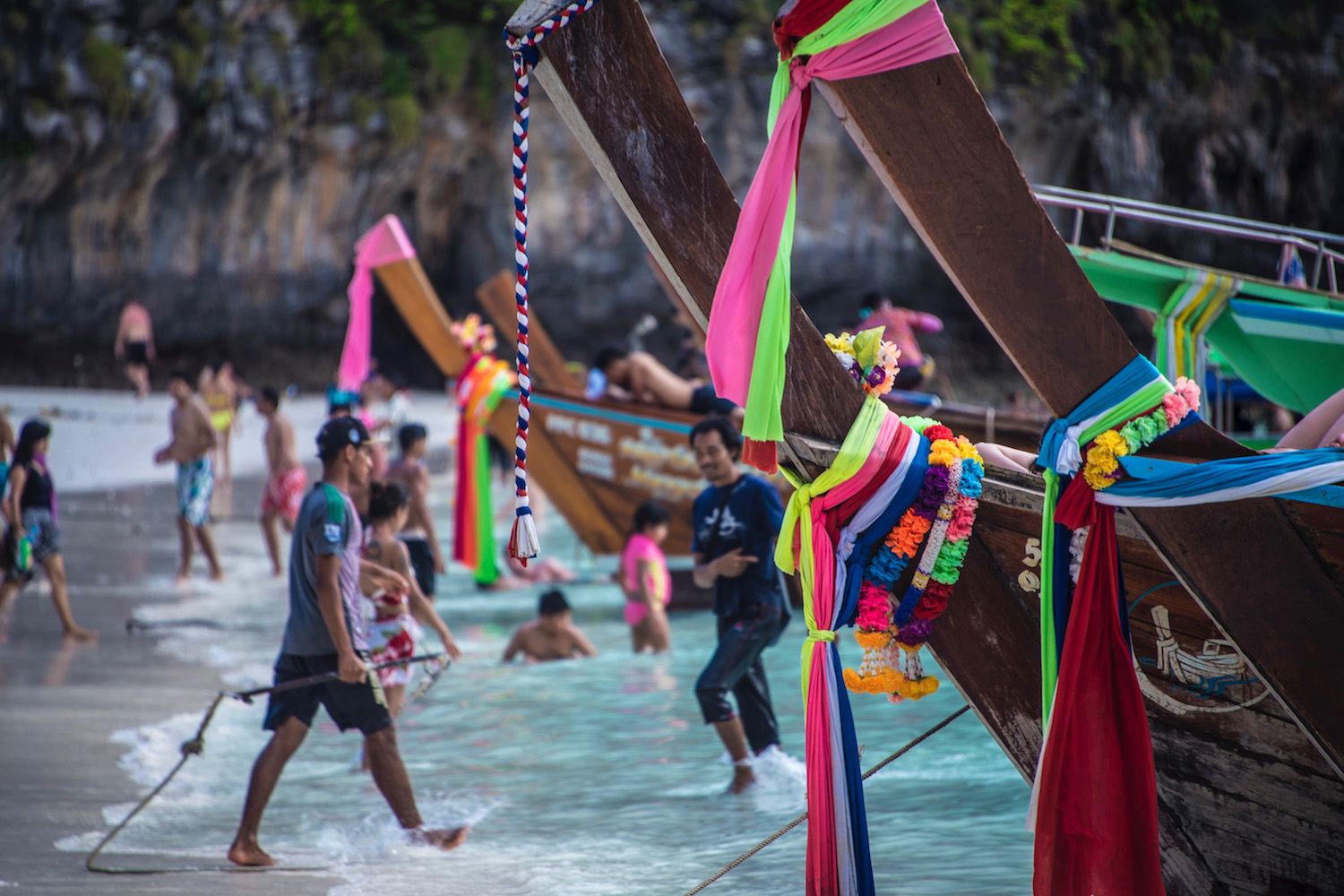 Indeed, as is the case for seeing Krabi in 3 days in general, your task-list for Koh Phi Phi is simple: 1) Join a tour (preferably the sunset one, which departs at 2 p.m.) bound for Koh Phi Phi Leh, the island that's home to the beach; 2) Ascend the aptly-named View Point (ideally the next morning, before catching your ferry back to Krabi Town) to enjoy a panorama of the narrow strip of land that separates the main beaches of Koh Phi Phi Don. An alternative option would be to book a "Four Island" day trip online or at any travel agency in Railay, which will include the magnificent Poda Island among less spectacular ones during your Krabi 3 day itinerary.
Day Three: 1,272 Steps to Nirvana
Krabi Town often gets overlooked, and for good reason—well, good reason for the town itself, even if you don't want to spend all 3 days in Krabi Town. Within the parameters of this itinerary, inland Krabi province, on the other hand, is definitely worth a day of your time. To make the most of the third day of your Krabi itinerary, get the first ferry of the day from Phi Phi's Tonsai Beach to Klong Jilad Pier, the one closest to the Krabi hotel I recommend above.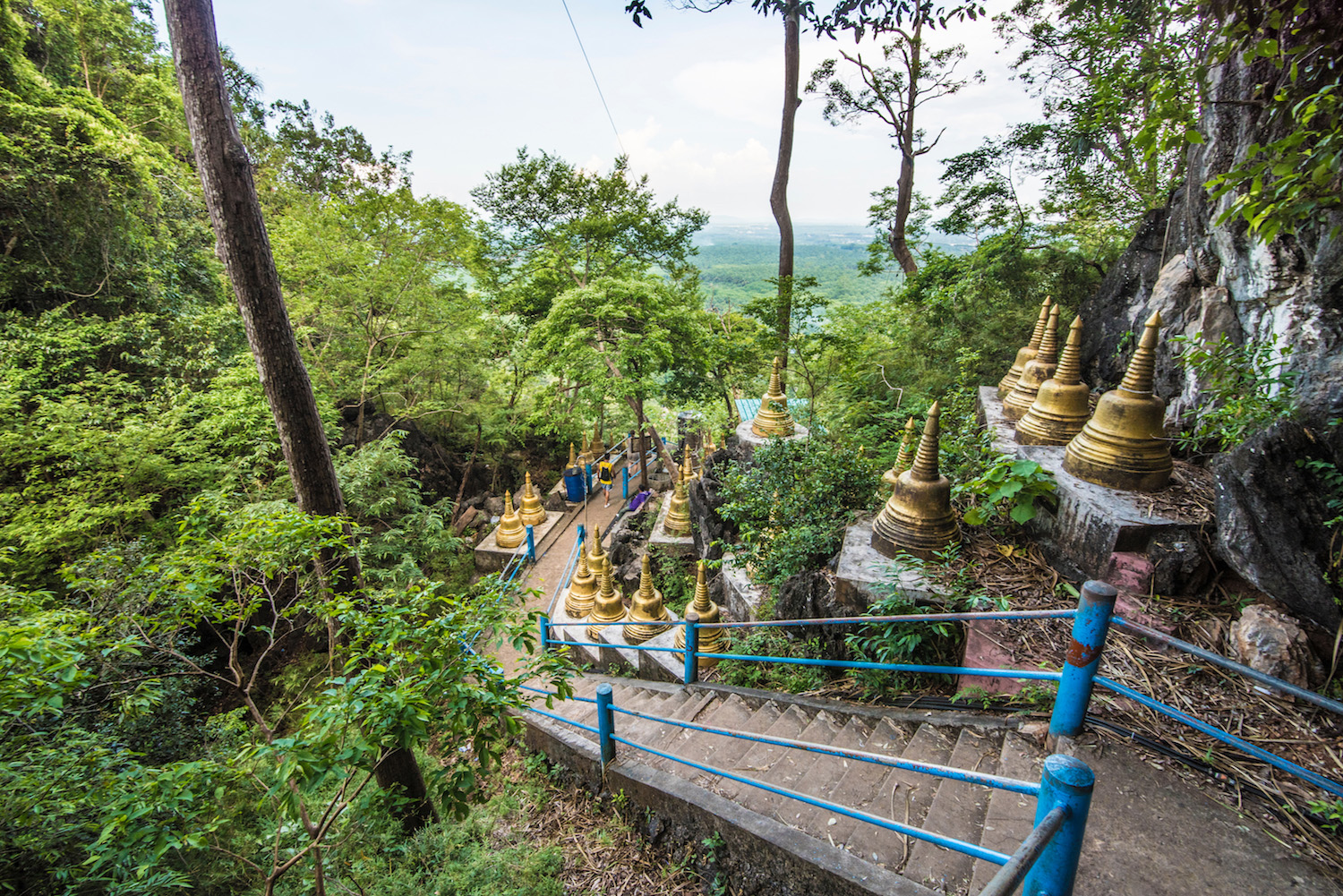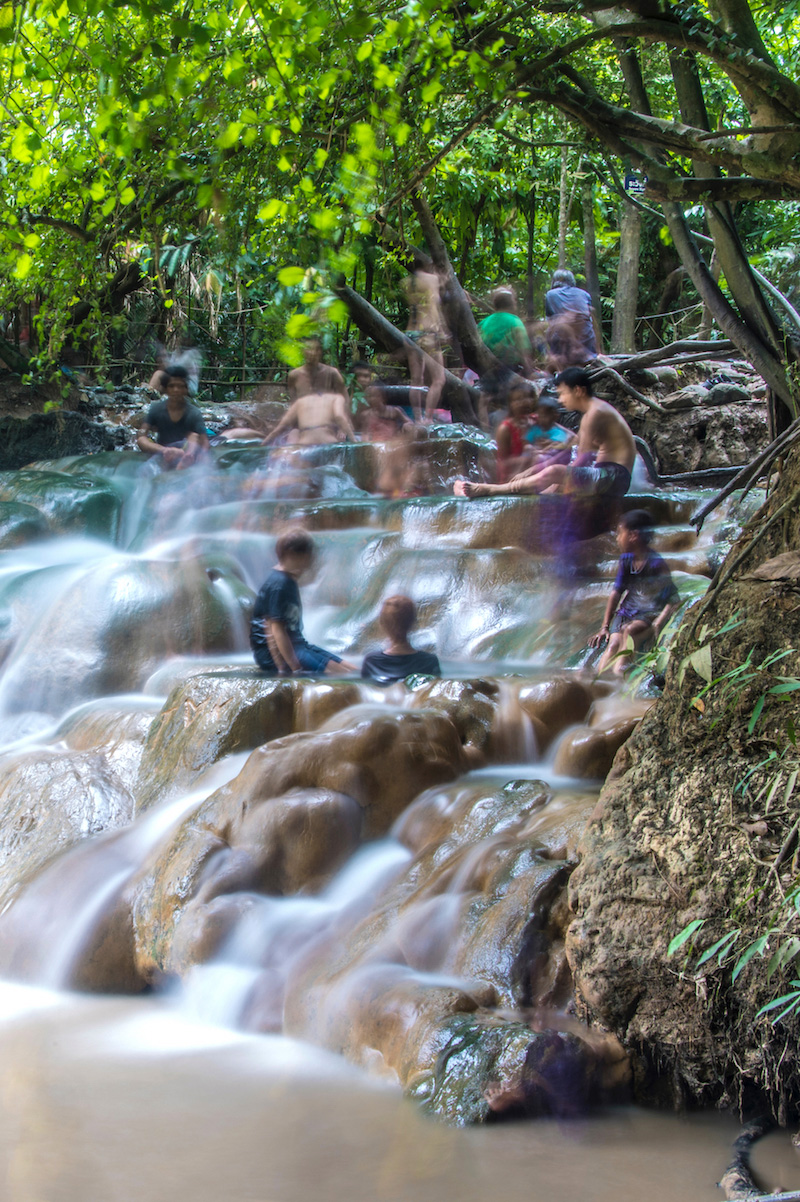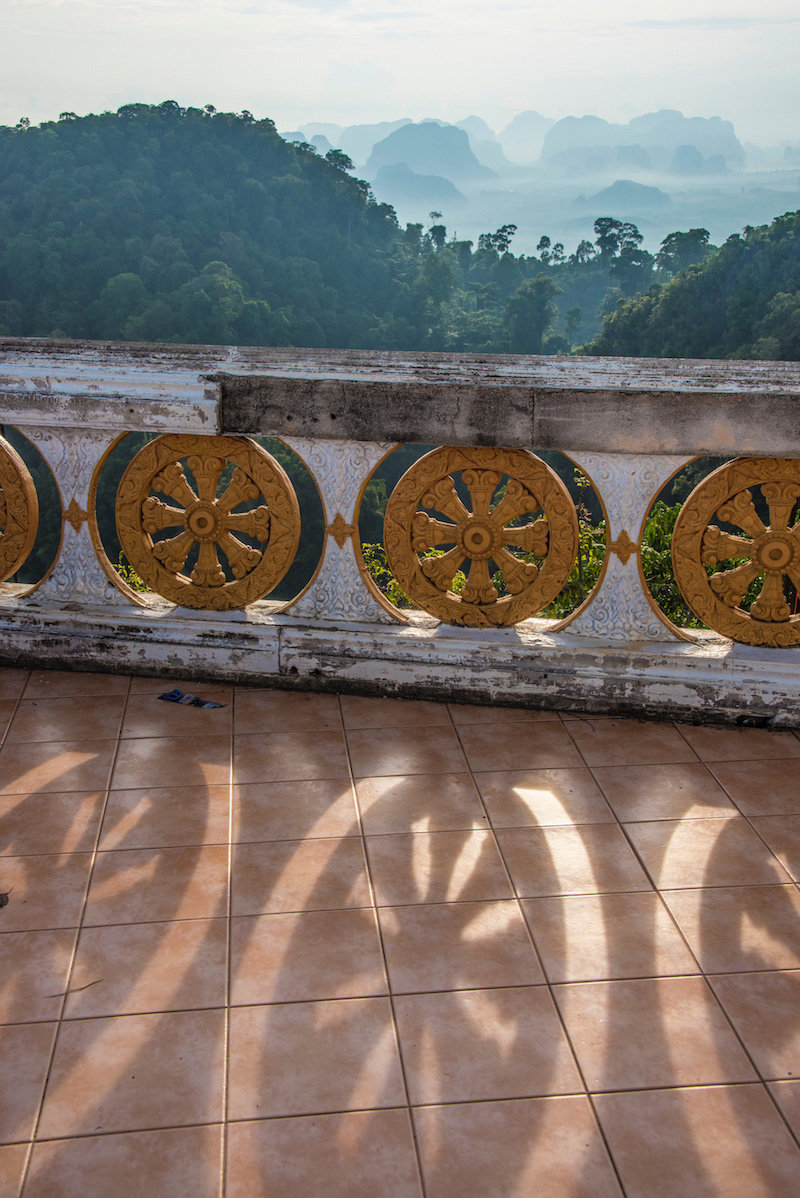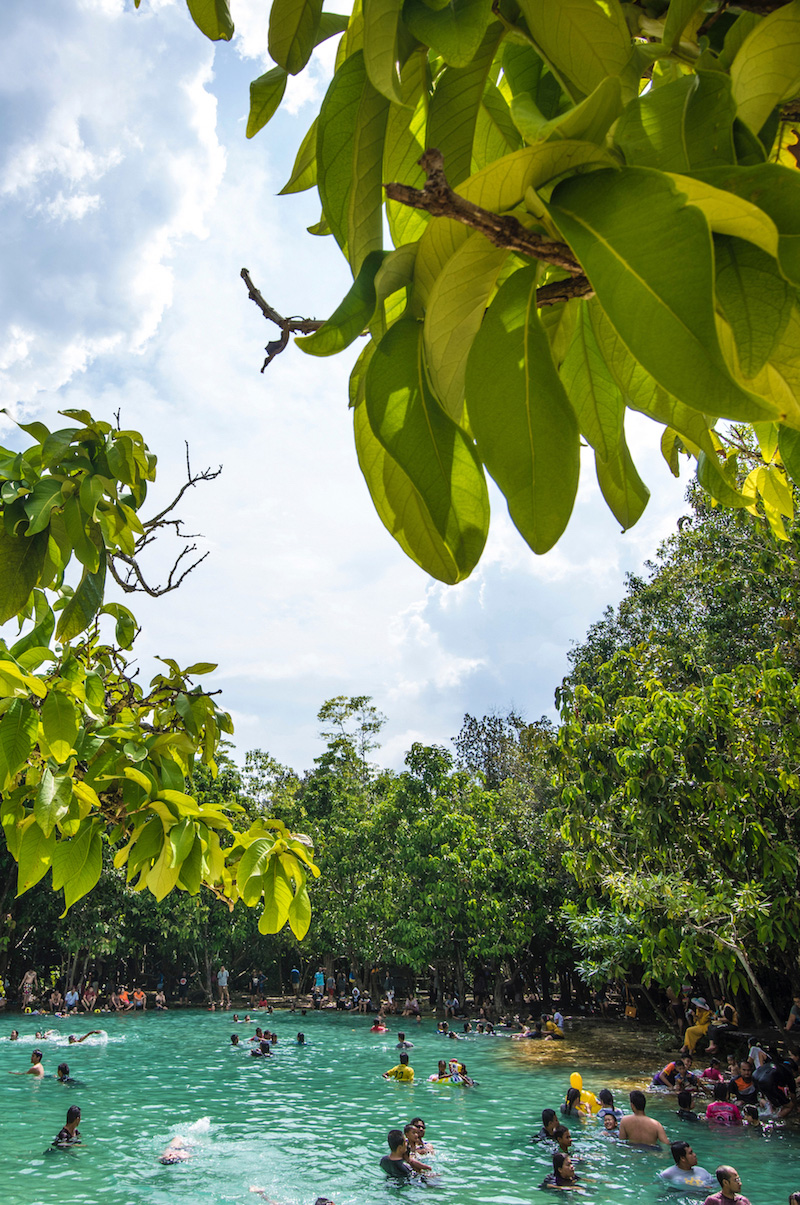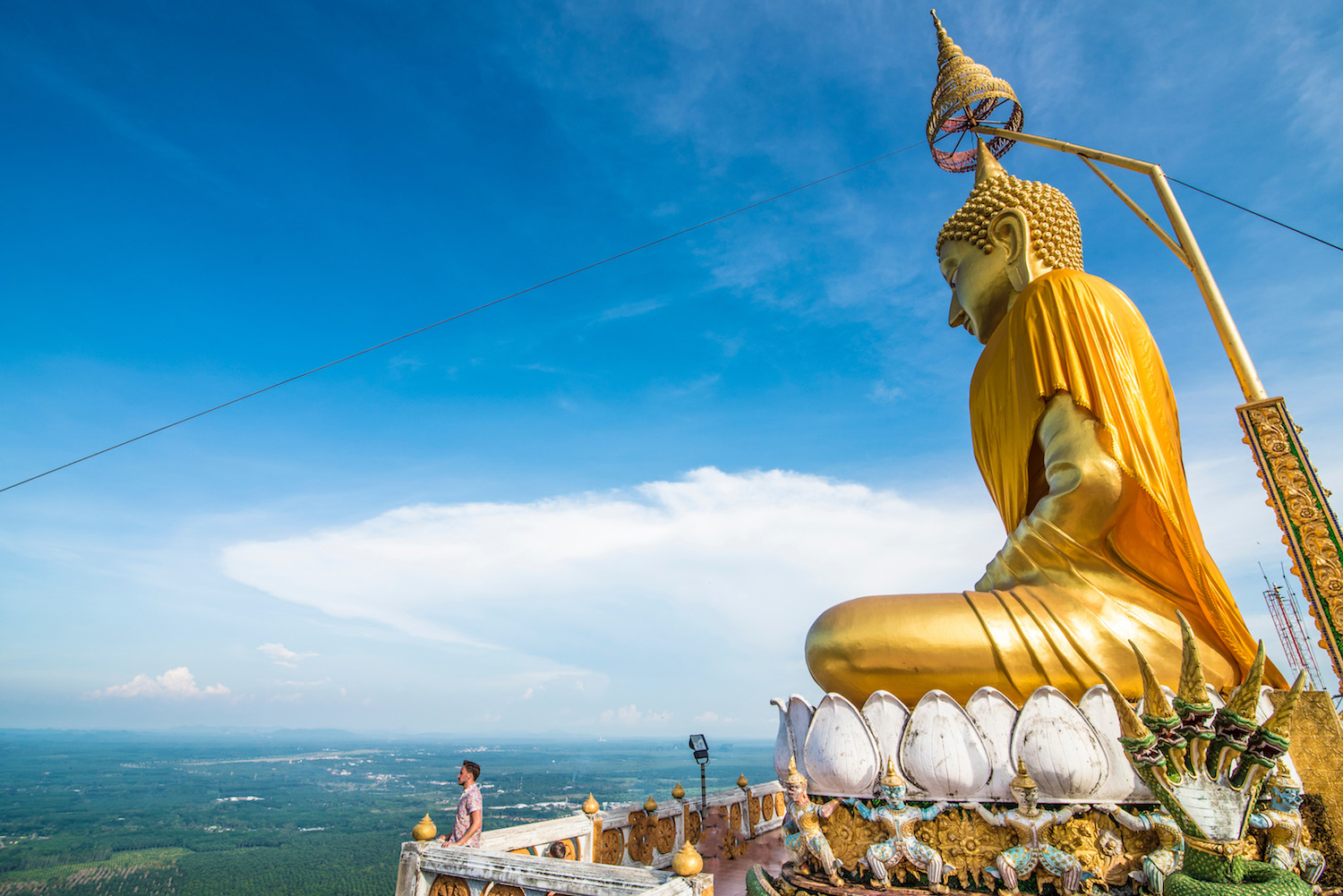 To be sure, assuming you're working within a Krabi 3 days itinerary, you'll arrive in town too late to join a tour to the places I'm recommending, but if you have more than two people, the price will be almost the same. A taxi to the Emerald Pool, Hot Spring Waterfall and Wat Tham Suea should cost no more than 2,200 baht, unless you book this awesome Krabi day tour here. (TIP: If you can, time your trip to Wat Tham Suea around sunset. It's 1,272 steps to the top, so there's a practical element—it'll be cooler and thus easier—to this suggestion, as well as an esoteric one: Your pictures from the summit will be absolutely stunning bathed in end-of-day light, and some of the best of your Krabi 3 day itinerary.)
Krabi vs. Phuket
Although this Krabi 3 days article outlines what to do in Krabi, I couldn't help but comment on the ongoing Krabi vs. Phuket discussion. In my opinion, there is no competition. In addition to the fact that Krabi still manages to attract only a small portion of the tourists Phuket gets (the island is quite literally infested), Krabi beaches are better than Phuket beaches.
I also highly prefer Krabi Town, which is laid back and authentic, whereas Phuket Town feels both fake and uptight at the same time. As far I'm concerned, when it comes to Krabi vs. Phuket, there's no competition! What to do in Krabi for 3 days is simply more satisfying.
Other FAQ About Visiting Krabi
How many days do you need in Krabi?
Although I've written this post about three days in Krabi, I recommend staying as long in the province as you want. For example, you could divide a week in Krabi between mainland beaches such as Ao Nang and Railay, plus Koh Phi Phi. With 10 days in Krabi, you can also spend time on Koh Lanta island. At the end of the day, of course, how many days in Krabi is secondary to what you make of the days you do spend there.
Is it worth staying in Krabi Town?
Although Krabi Town is charming, the only way you'd really want to stay there is if you want to explore attractions of inland Krabi province, such as the Sa Morakot Emerald Pool or Wat Tham Suea temple. Otherwise, it's really better to stay in Railay or Ao Nang, so that you can enjoy the beach.
Is 2 weeks in Krabi too long?
Two weeks in Krabi is not too long, assuming you plan to explore the province extensively. For instance, while you might get bored if you spent 2 weeks sunbathing and rock climbing in Railay, dividing 2 weeks in Krabi between the mainland, plus Koh Phi Phi and Koh Lanta, would be an intensely satisfying trip.
The Bottom Line
Is Krabi province home to Thailand's best beaches? That's for you to decide. But if you're seeking sun, surf and scenery, there are few better ways in Thailand to achieve that than by following my three days in Krabi itinerary—one night in Railay and one night in Koh Phi Phi, followed by a day exploring the province's inland treasures, are just what any sane doctor might order. Alternatively, if you don't feel satisfied by what to do in Krabi in 3 days, you could choose another answer for how long to stay in Krabi. In fact, you can spend up to one week in Krabi, by taking my Krabi itinerary (3 days, or however long you decide to spend) more slowly than I have.