Longer ago than I care to admit, I embarked on an Isle of Skye travel itinerary, a journey which began along a portion of the so-called Mary Queen of Scots Trail.
"Notice," my guide Matt said, after having explained the tragic life story of Scotland's most infamous ruler, "that she's always referred to as 'Mary, Queen of Scots'—not 'Queen of Scotland.' Our rulers rule over us, but the land rules itself."
This was a poignant observation, and an apt one. Just then, the mostly flat ground west of Edinburgh began to rise and fall dramatically, fields of winter crops replaced with thick evergreen forests, and castles like Lochleven, where Mary was imprisoned prior to her forced abdication of the Scottish Throne, became as numerous as the majestic lochs that began dotting the landscapes: We had arrived in the Scottish Highlands.
My Skye Story
Mary's reign over Scotland is a matter of historical fact, as immune to debate as matters like the sun rising in the east, the 4% rule for retirement and the Spice Girls being the UK's most important cultural export of the past century. But her place in the Scottish cultural lexicon seems as mythical as the selkies I imagined basking on the rocks far beneath me as I hiked to Skye's Neist Point Lighthouse the following afternoon.
I'm not a superstitious person—not at all—but the scenery in this part of the world makes it easy to understand why the people who've lived here for centuries are. Plus, I've heard on more than one occasion that denying the existence of faeries in Celtic countries is cause for an ass-kicking—not something I want to endure on an island with so many high cliffs.
On the other hand, both the spiritual energy of the land and Scots' willful disavowal of ownership over it makes even more curious the ubiquity of churches (and churchgoers) in Scotland, particularly on the Isle of Skye.
"Free Presbyterians are some of the strictest—well, in their mind, purest—Christians on the planet," Matt explained, as he pointed to a nondescript building I would've never recognized as a house of worship near the town of Glendale. "And a staggering number of people in Skye still adhere to this faith in one form or another."
Protestants, Catholics and Pagans haven't agreed upon much throughout Scotland's history. But one matter of unanimity, perhaps surprisingly, is the Loch Ness Monster.
"People are careful not only to avoid confirming belief in the existence of Nessie," Mark noted, as we approached Loch Ness on our way back to Edinburgh. "But also, not to explicitly deny it. Not so much because we actually believe she exists, of course, but because her intrigue is in the questions about her, not any of the possible answers or explanations."
"Her intrigue," I laughed. "And Loch Ness' tourism revenue."
Mark smiled slyly. "There's that, too."
Indeed, the appeal of Scotland is as much about its unreal beauty and surreal folklore as it is the contradictions that carpet the country like its iconic green grass. Which, it turns out, is not even natural: The land was once covered in twisted, towering Caledonian pines—and they're all but extinct now.
My Favorite Things to Do on the Isle of Skye
Visit the Old Man of Storr
Probably the most famous landform on Skye (which, let's be frank, is an island of amazing scenery) is the towering Old Man of Storr. This massive monolith has appeared in movies such as Prometheus, the 2012 Alien prequel, which is appropriate: Its size and scale are so staggering almost as if to seem otherworldly.
Hike amid the Fairy Pools
The bad news? Instagrammers have developed a bad habit of applying ridiculous filters to Skye's iconic Fairy Pools, making it appear that the vegetation all around them is a bright pink color. The good news? They're still stunning and beautiful in spite of this, even if you may or may not see an actual fairy (faerie?).
Take selfies under the Sligachan Old Bridge
I can't knock Instagrammers too much, of course, given how much I perked up when I saw the way Sligachan Old Bridge framed the Skye countryside. I won't post my selfie here—I was in an unfortunate hair and fashion moment back then, and don't really want to re-live it—but I do hope the non-selfie I've shared below will inspire you to take one of your own.
Have a meal or drink on Portree Harbour
Portree Harbour is a feast for the eyes, with candy-colored buildings along a waterfront that's gorgeous even in the dark, grey dead of winter. However, the best way to enjoy the view (especially if you come when it's not too cold to walk along the sea) is to sit down for a pint or a meal, even if that's just fish and chips.
Visit Dunvegan Castle on your way on (or off) the island
800-year old Dunvegan Castle sits near the entrance to Skye when you're coming from the mainland, which means that most people (present company included) stop to see its mirrored reflection in the water on their way onto the island. However, if you're open to a more delayed sort of gratification, you could of course stop here on your way out.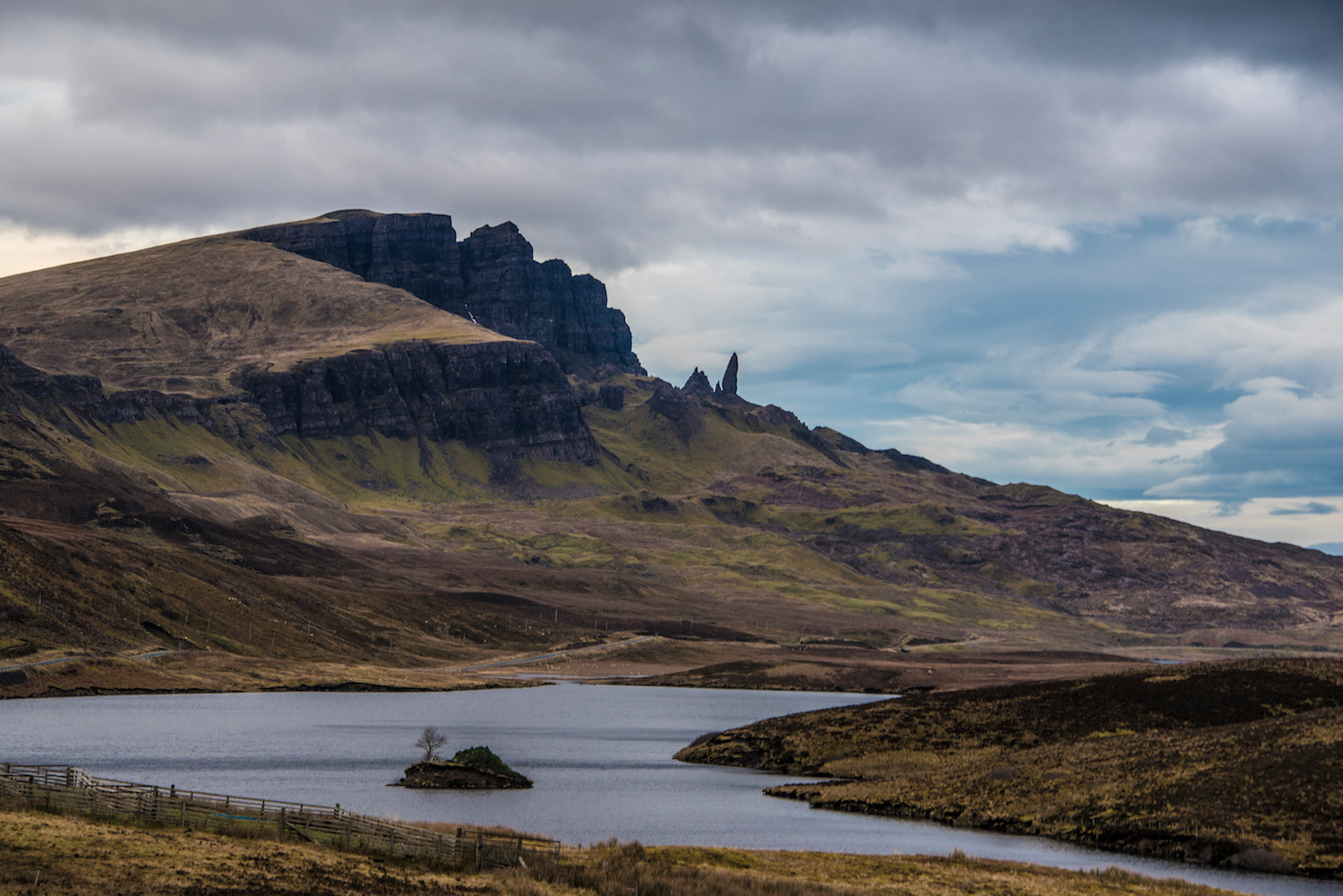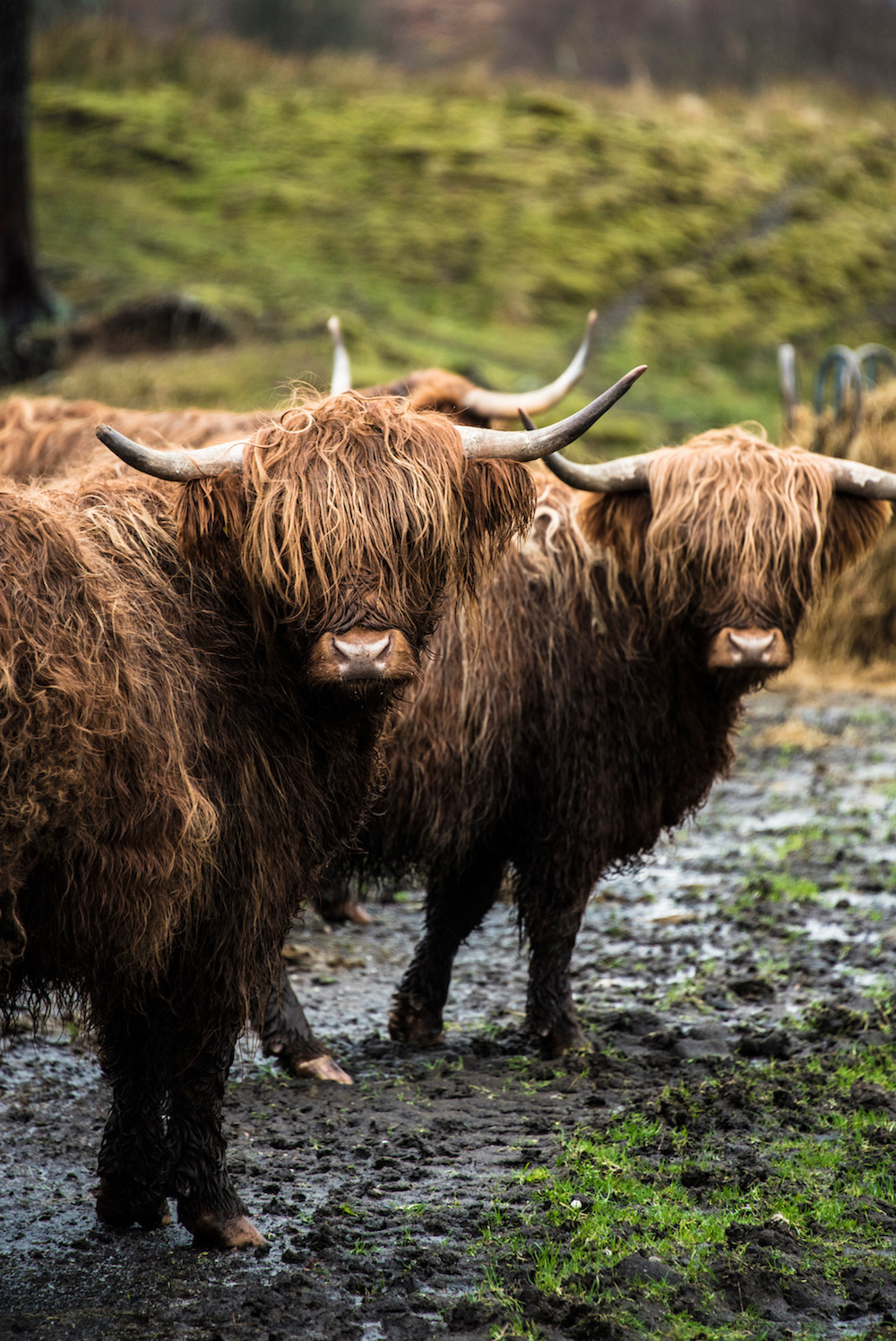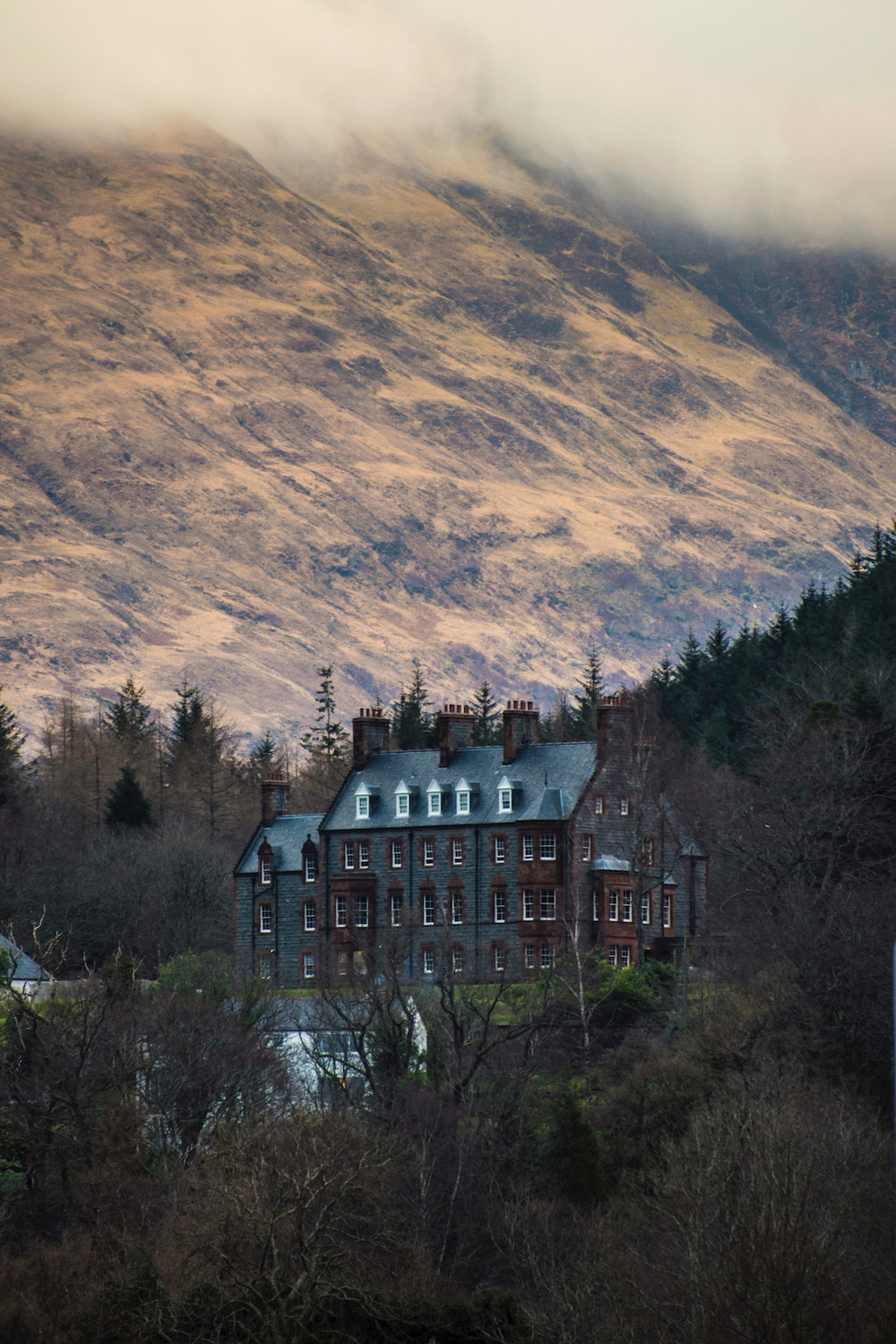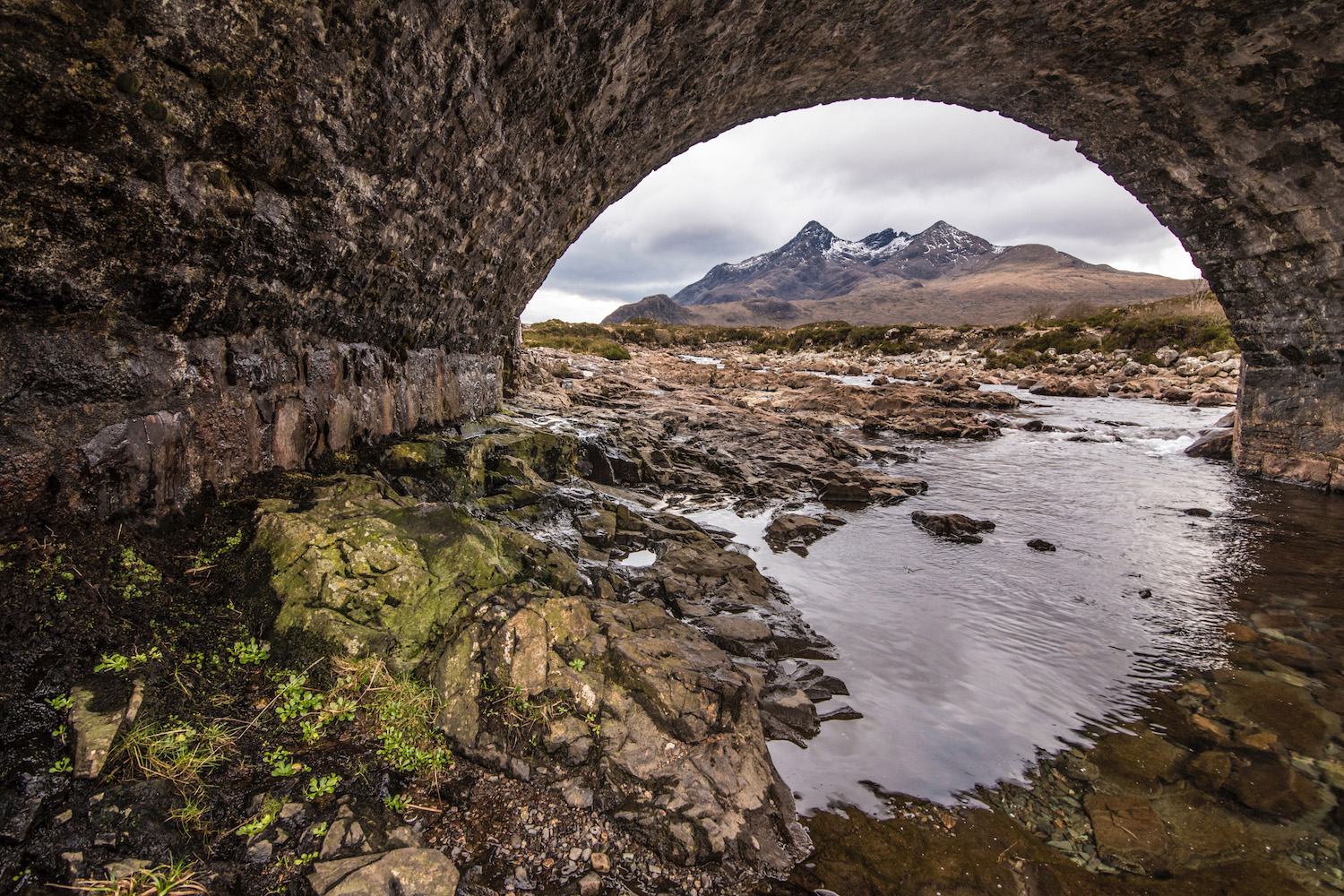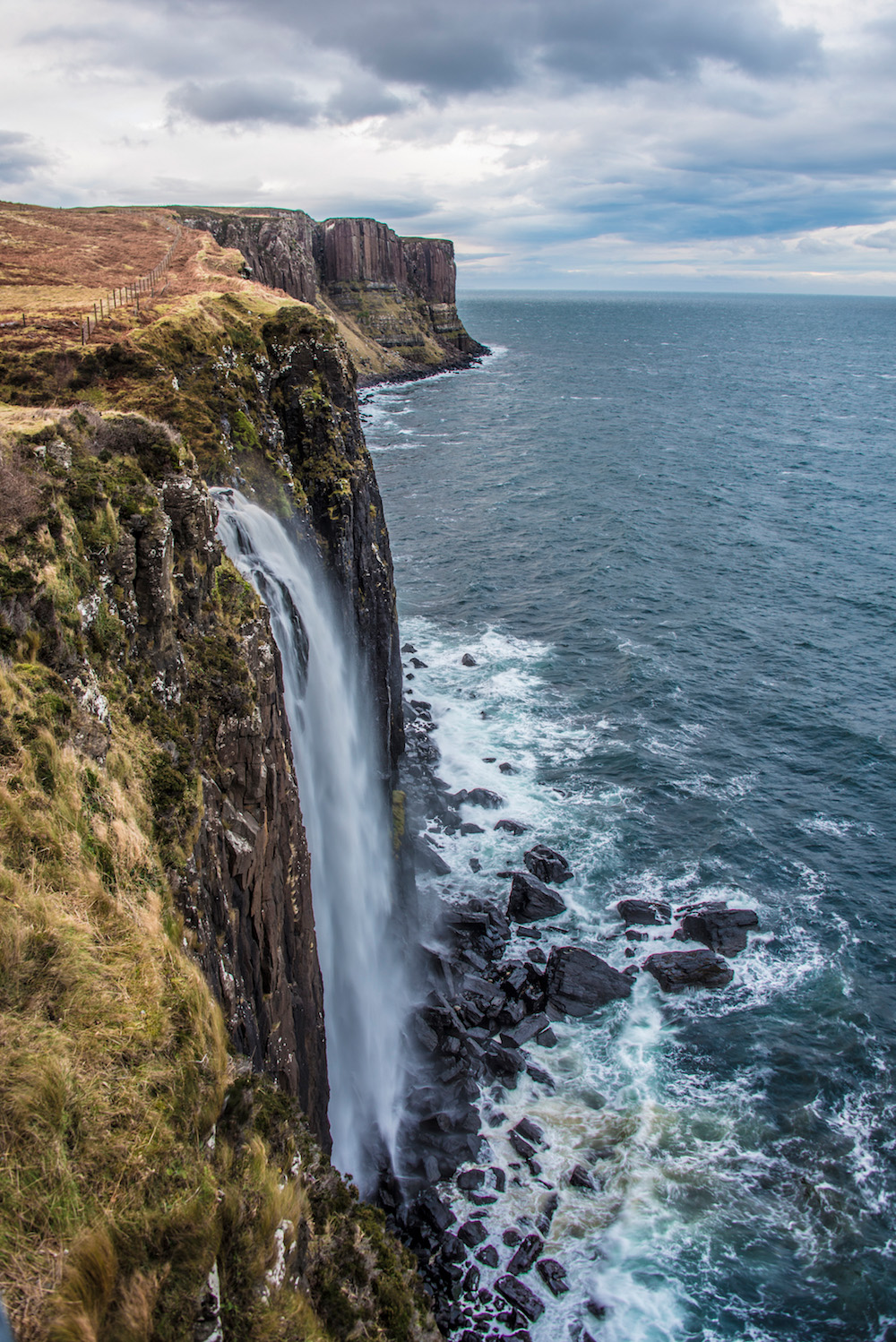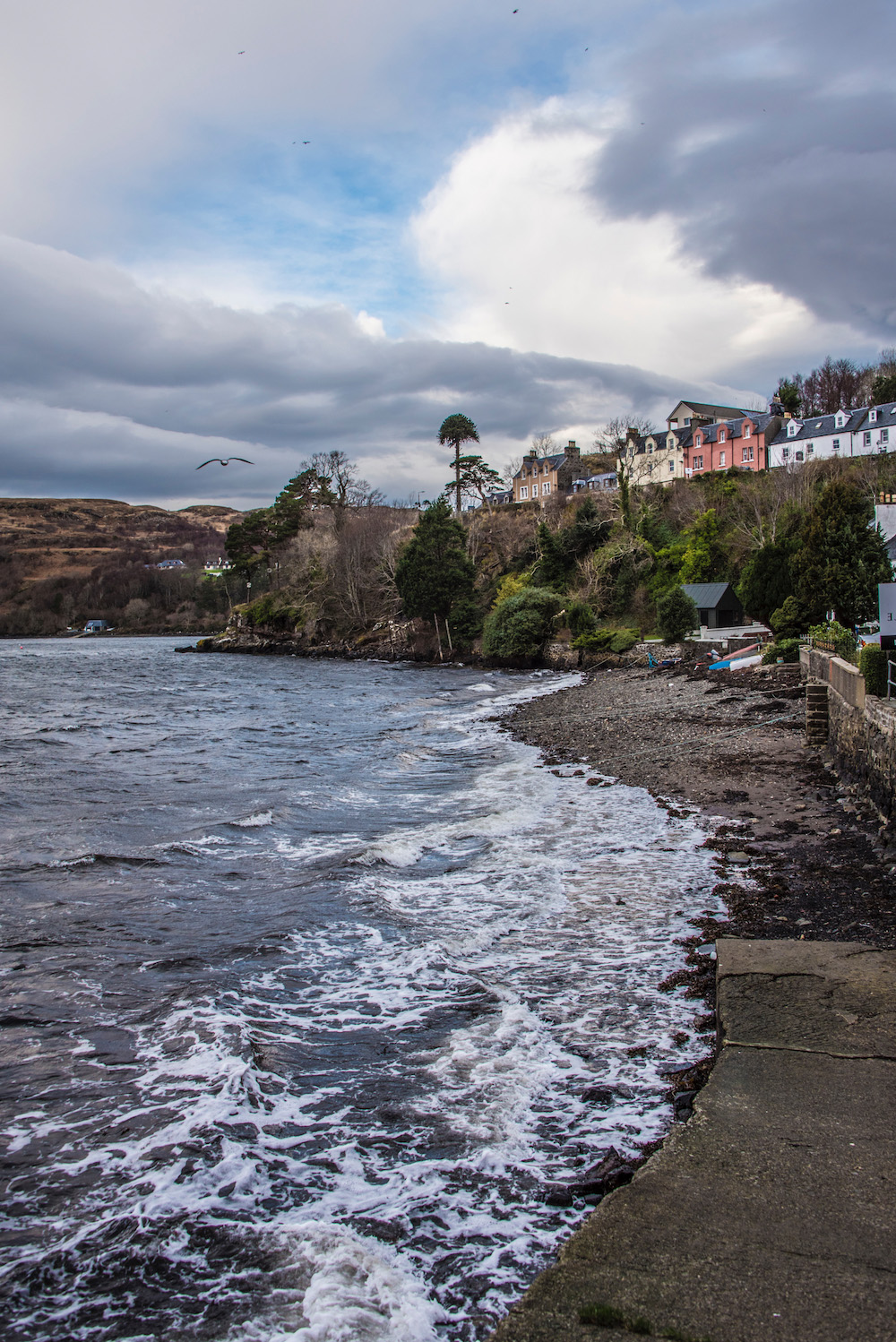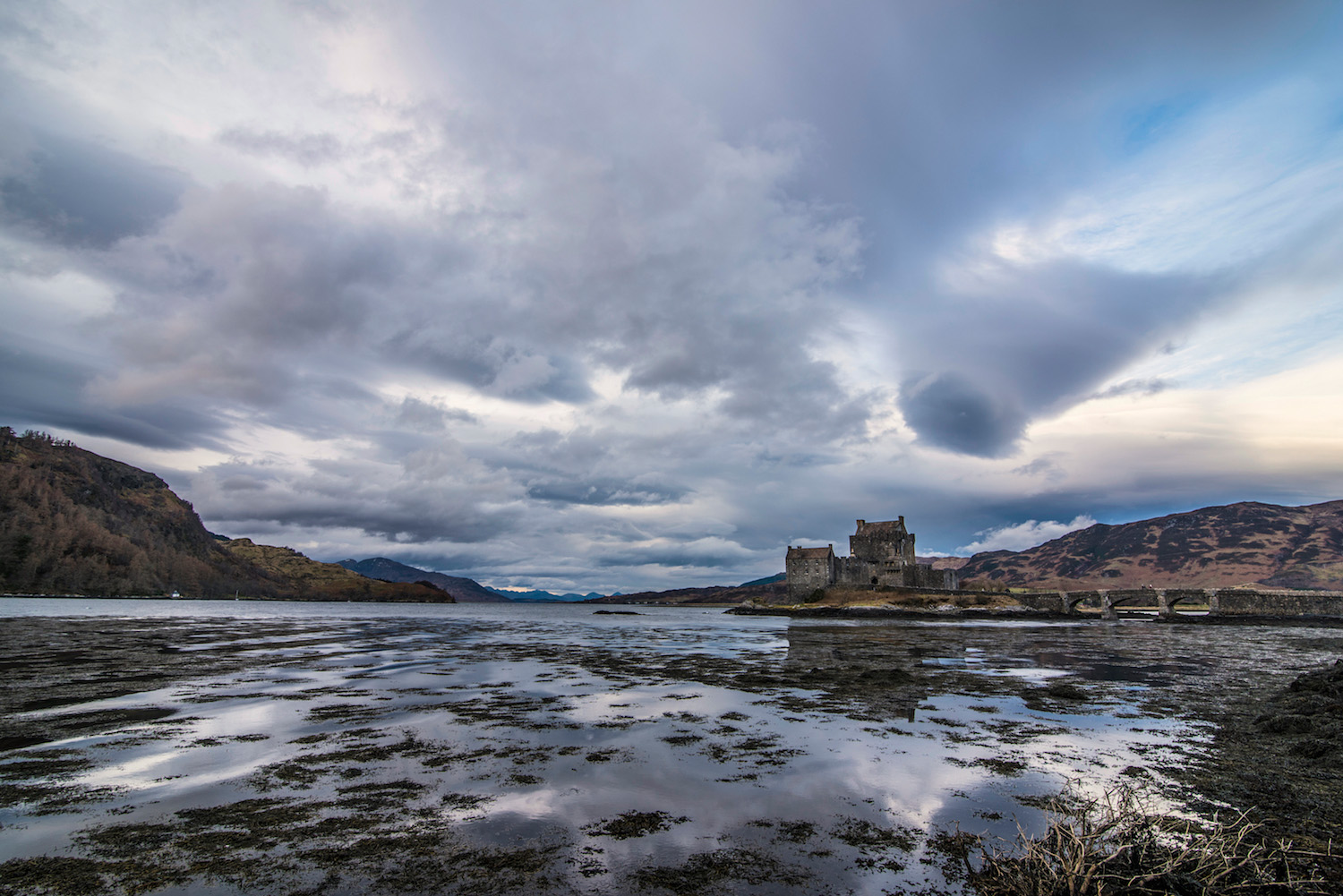 How Many Days Do You Need in Skye?
Skye is bigger than it looks on the map—and it's also farther away from most places in the country than it seems. While you could knock out most of the activities I list within this Isle of Skye travel itinerary within a day or two, you'll also need a day to get to Skye, and a day to go back to where you came from. As a result, I'd say that the absolute minimum amount of time I recommend devoting to Skye is three days.
On the other hand, you could certainly spend longer here, whether because you want to space out your sightseeing more and take more time to enjoy yourself, or in order to visit other islands in the Hebrides chain. Frankly, if I hadn't come to Skye in the middle of winter—summers, at least in the era of global warming are said to be nice here—I might've been able to bear staying longer than I did.
FAQ About Visiting the Isle of Skye
How do you get into Isle of Skye?
You can drive right onto the Isle of Skye from mainland Scotland. Whether you come from Inverness (the closest major city) or from Glasgow, Edinburgh or the Scottish Highlands, I highly recommend stopping at Eilean Donan Castle on your way in! Note that if you don't have your own car, you can also travel by bus or book an organized tour to Skye.
How much does it cost to go the Isle of Skye?
Skye isn't necessarily expensive to visit. Many tours departing Edinburgh and Glasgow cost less than £100 per person, per day. Renting a car, on the other hand, can be a surprisingly affordable option if you have several people in your group. Overall, visiting Skye isn't significantly more expensive than traveling anywhere else in Scotland (even if Scotland, on the whole, is far from a cheap destination).
Is Isle of Skye worth visiting?
The Isle of Skye is absolutely worth visiting! From natural attractions like the Fairy Pools and the Old Man of Storr, to urban citscapes like the rows of colorful houses along Portree Harbors, Skye is one of the most enchanting places in all of Scotland (which is really saying something!).
The Bottom Line
I hope my Isle of Skye travel itinerary inspires you to plan a trip there. Whether you go during the winter like I did, or come during the summer when Skye's stunning beaches will at least look swimmable (even if they're not, in fact), this most famous exemplar of the Hebrides will no doubt be a highlight of your trip to Scotland. This is true whether you get way out into nature at the Fairy Pools or beneath the "Old Man of Storr," or do more of an in-town thing at colorful Portree Harbour. Want to make sure your trip to Skye—and Scotland—is extra special? Consider hiring me as your Travel Coach!