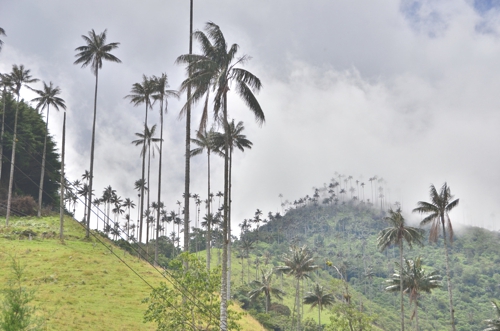 <!– Place this tag in your head or just before your close body tag –> <!– Place this tag where you want the +1 button to render –>
Plagued for decades with a reputation as a "dangerous" place to travel, Colombia is today emerging as one of the world' pre-eminent backpacker travel destinations.
I spent three weeks traveling in Colombia
.
I will wait until later in this Colombia travel guide to expound upon whether or not I find Colombia to be dangerous, but I will say unequivocally that Colombia is one of my favorite single countries I've ever visited.
Places to Travel in Colombia
Colombia is overflowing with places to visit, whether you prefer cities, nature, or regions that bridge the two.
During my three weeks in Colombia, I visited three of the country's big cities: The chaotic Colombian capital city Bogotá; super-modern Medellín; and exotic, tropical Cartagena. Each of these cities overwhelmed me not only with its charm and character, but with how extensively it different from everywhere else in Col0mbia I traveled.
Colombia is also a paradise for ecotourism. Santa Marta, about three hours east of Cartagena, is hub for the huge Tayrona National Park, the Ciudad Perdida "Lost City" (Colombia's answer to Machu Picchu) as well as the smaller town of Minca, home to a waterfall and a coffee farm.
Speaking of coffee farms, caffeine addicts will also want to head to Colombia's Eje Cafetero or "coffee triangle," where they can tour coffee fincas, hike through the Valle del Cocora and just generally feel relaxed.
Cost of Travel in Colombia
Colombia is, with few exceptions, dirt cheap. The country uses the peso colombiano (1 USD ~ 1,764 COP) as its currency, and you shouldn't expect to pay much more than 100,000 COP ($55) per day, which includes the cost of a hostel, three meals and all your transport for the day.
Although food and transport in Colombia's cities are uniformly inexpensive, excursions in Colombia do have a tendency to get expensive. Entry to the aforementioned Tayrona National Park costs 35,000 COP ($20) alone, while a five-day trek to Ciudad Perdida (which I skipped for weather reasons) will run you no less than 600,000 COP ($300).
Transportation in Colombia
Colombia's transportation infrastructure is par for the course for transport in South America: Travelers to Colombia can travel via long-distance bus or plane; Train service in Colombia is basically non-existent. I personally used flights to travel between the vast majority of cities in Colombia — unlike in most other countries in South America, flights within Colombia are cheap, although admittedly not as cheap as buses.
Within cities, taxis are typically the best option for transport, although local buses do run in Cartagena in Santa Marta, Bogotá is home to the Transmilenio urban bus system and Medellín even has a network of metro lines and cable cars. Make sure and have your hotel or hostel call a taxi for you, as hopping into a random taxi in Colombia can be hazardous.
Colombia Visas
Colombia grants nationals of most countries 30-day visas on arrival, free of charge. If you wish to live, work or study in Colombia, contact your nearest Colombian embassy or consulate for visa options.
Gay Travel in Colombia
Colombia has recently been mentioned as a gay travel hotspot, although I think it is lacking when compared to other South American day destinations like Brazil and Argentina. I explain these thoughts further in my post on gay travel in Colombia.
Is Colombia Dangerous?
My feelings on this issue are mixed. On one hand, as I mentioned, I returned to Colombia completely unharmed — I didn't even get scammed or pickpocketed! On the other hand, I got caught in a violent protest my very first day in Bogotá.
Additionally, I felt unsafe at several points during my trip, although it was more because of my gut than because of actual people or events. The good thing is that most Colombian cities are filled with police, so unless you are hanging out in sketchy, quiet areas in the middle of the night, you should be fine.