If you travel in Vietnam as a tourist, you will likely arrive in the southern city of Saigon, the country's largest. Among the tourist infrastructure that makes doing so advantageous — as opposed to starting up north in Hanoi, the capital — is that the main hub operation of Sinh Tours, a company that all but dominates bus transport along Vietnam's extremely long tourist trail, is located there.
From Ho Chi Minh City (as Saigon is internationally known), the majority of people who travel in Vietnam head north along the country's seaboard to Nha Trang, a sprawling resort city in the vein of Pattaya, Thailand. Just to the east and slightly south of Saigon in coastal Bình Thuận province sits Phan Thiet, a quiet beach community that, as the years go by, has become more and more upmarket.
If you continue heading north just a few miles, however, you arrive in smaller, sleepier Mui Ne, a mostly-local village that sends you to another place entirely.
Mui Ne Beach
After checking in down the street at the Hai Yen Hotel, my Vietnam travel companions and I returned to what had been our first accommodation choice (until we found out it was simply a beach bar, that is). With the sun shining high over the turquoise South China Sea below and without a hint of the monsoon rains that hit southern Vietnam almost daily in July, there appeared to be nothing about Mui Ne that needed changing.
Until my gaze drifted off too far to the right. "Is that pavement?"
"It can't be," Amber said and stood up, doing her best to see the apparently concrete Mui Ne beach.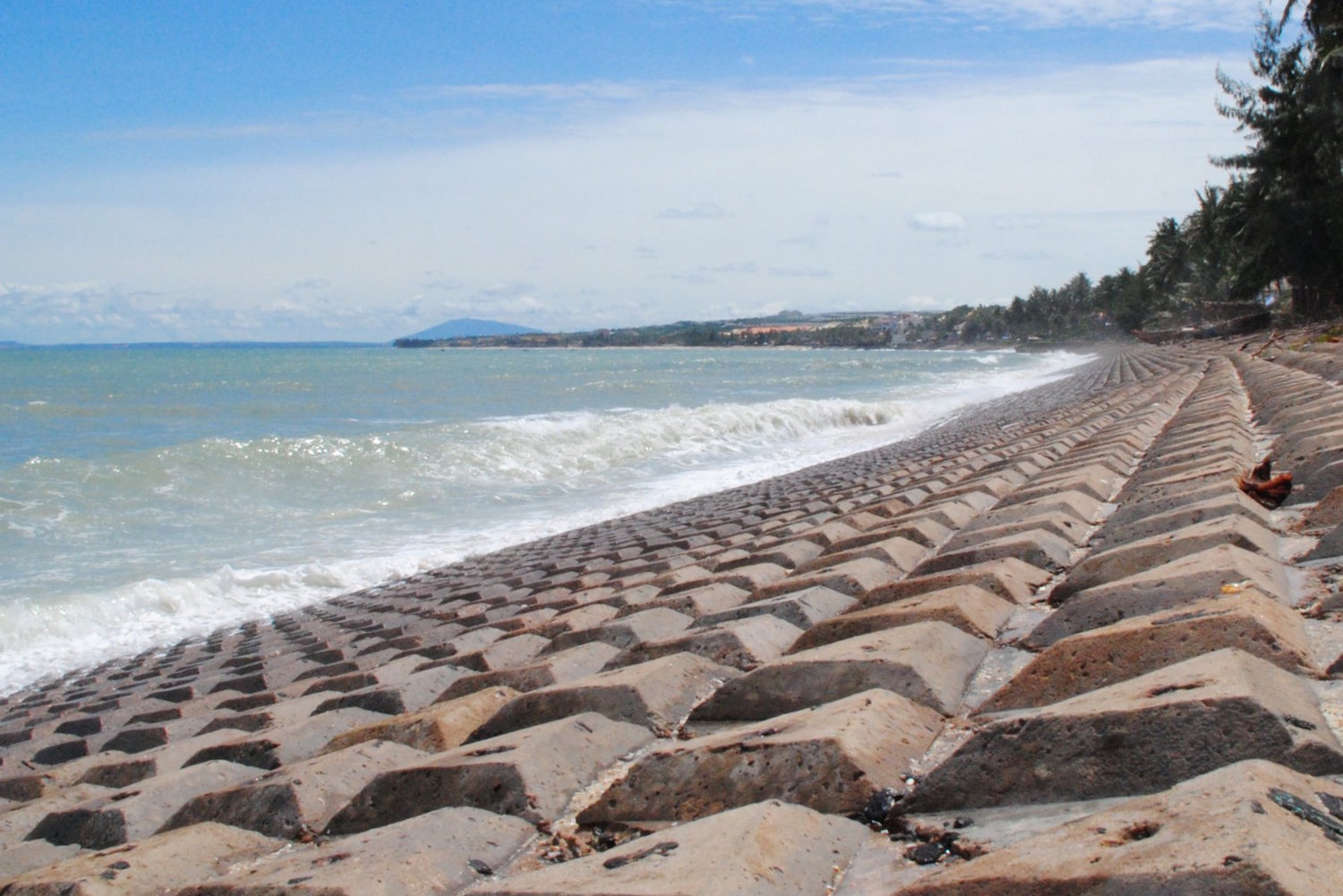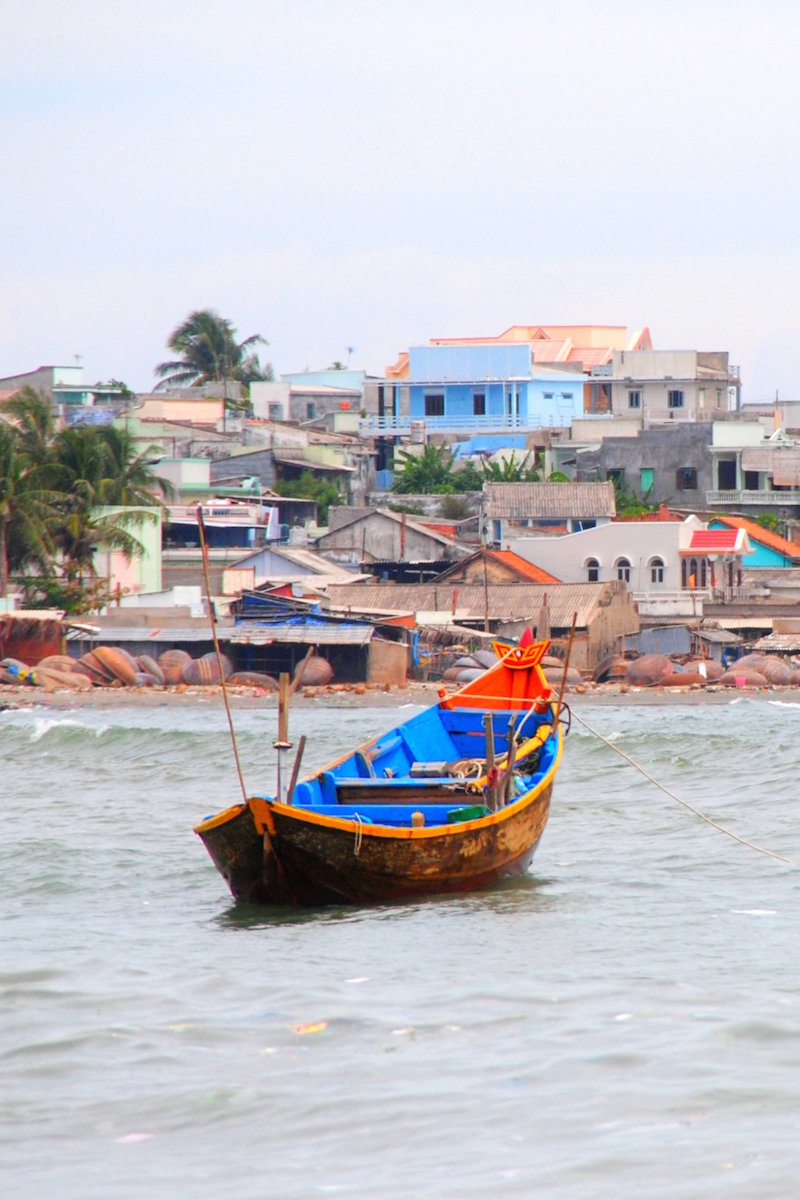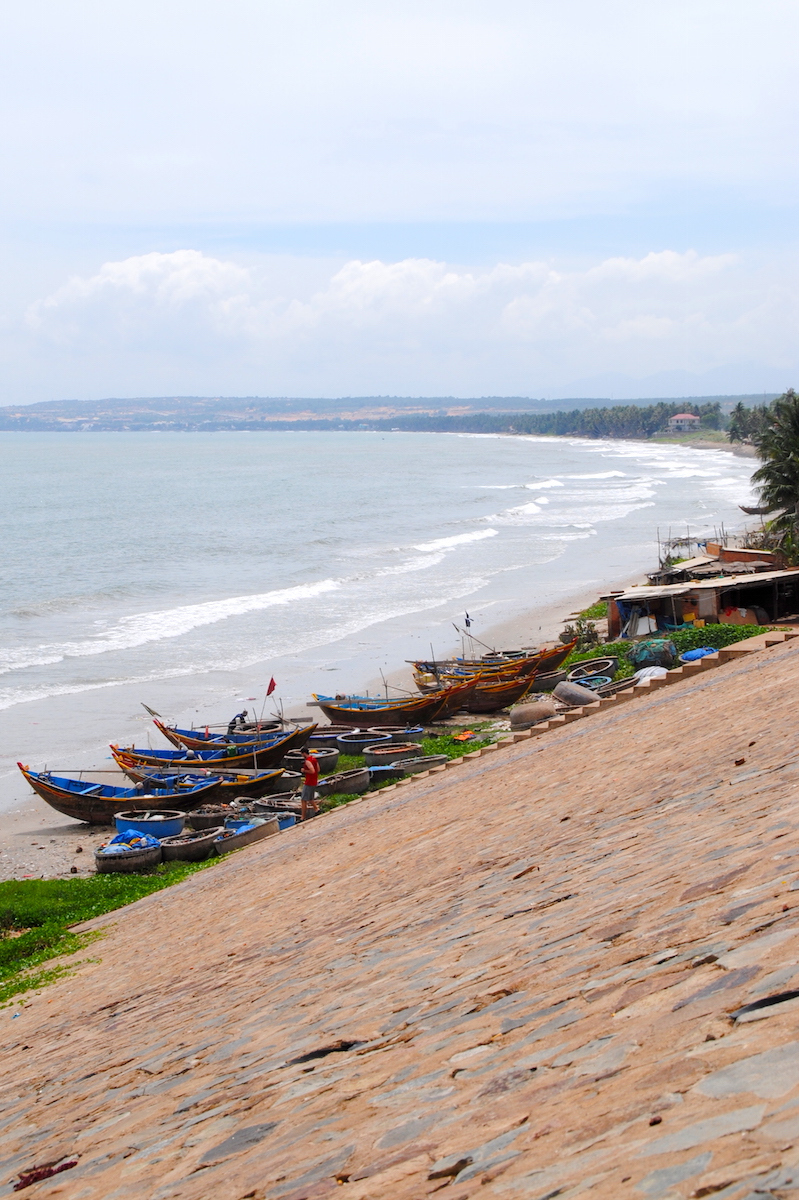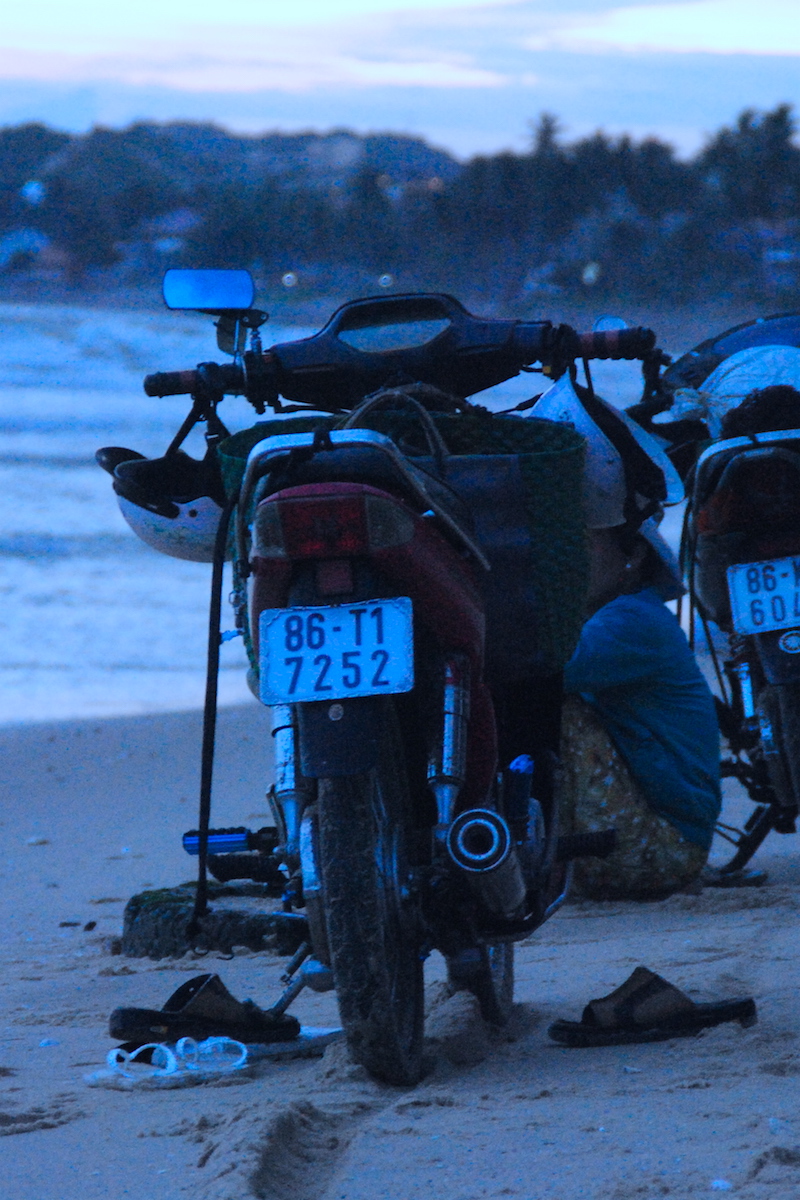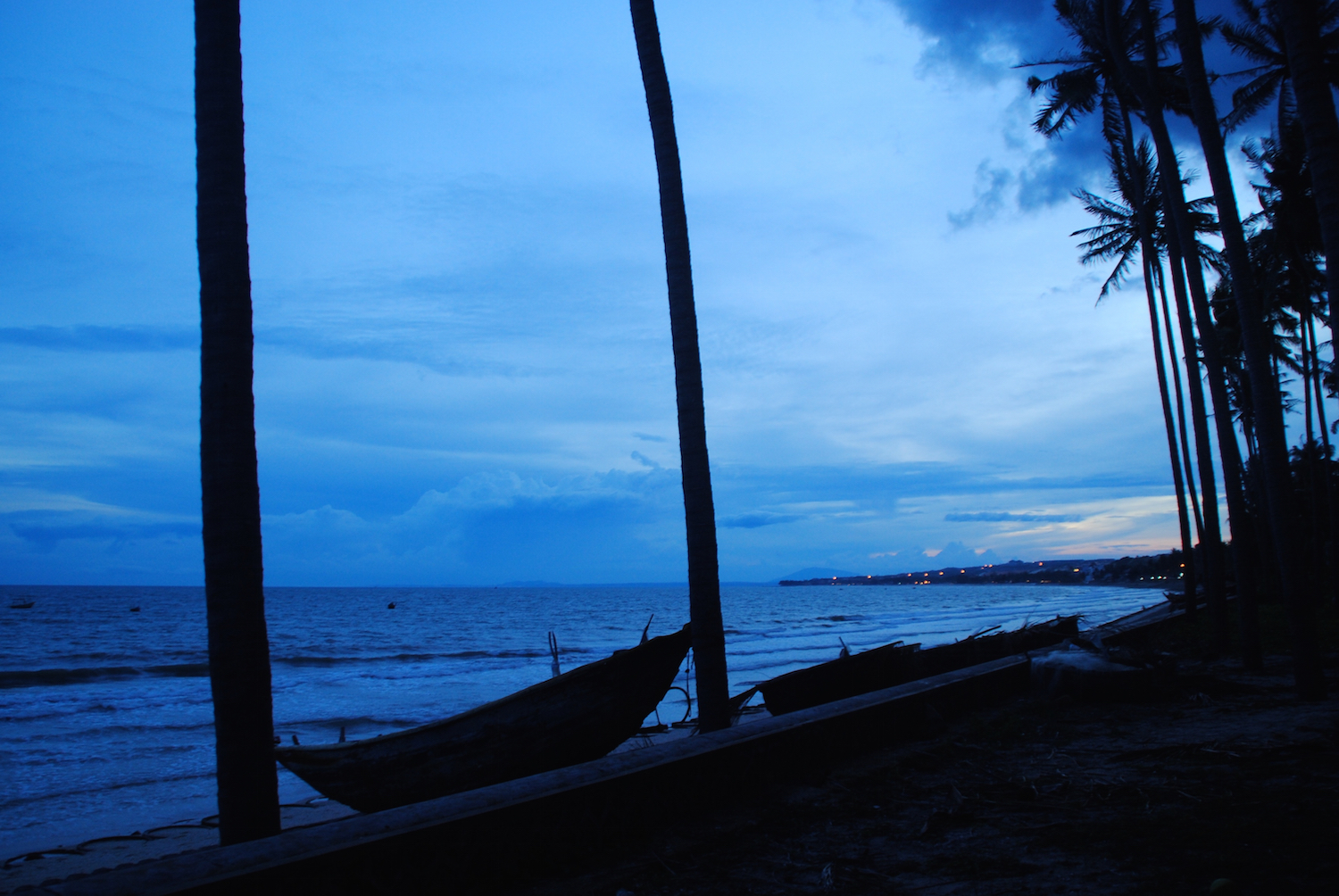 Kale returned from the counter, where he'd placed our order with the bar's Croatian expat owner. "Yep, it's paved. I told the dude who took our order we were wanting to walk along the beach and he told me it's not really possible for the next couple hours."
Which of course made me want to explore it even more.
I won't go so far as to concur with the owner RE: Mui Ne beach being impossible to stroll along, although its bumpy surface makes doing so in a barefoot or even flip-flopped fashion an invitation for tetanus. To avoid the hassle, I stayed mostly on top of the retaining wall which, like the concrete, serves to protect the inhabited areas of the shore from further eroision.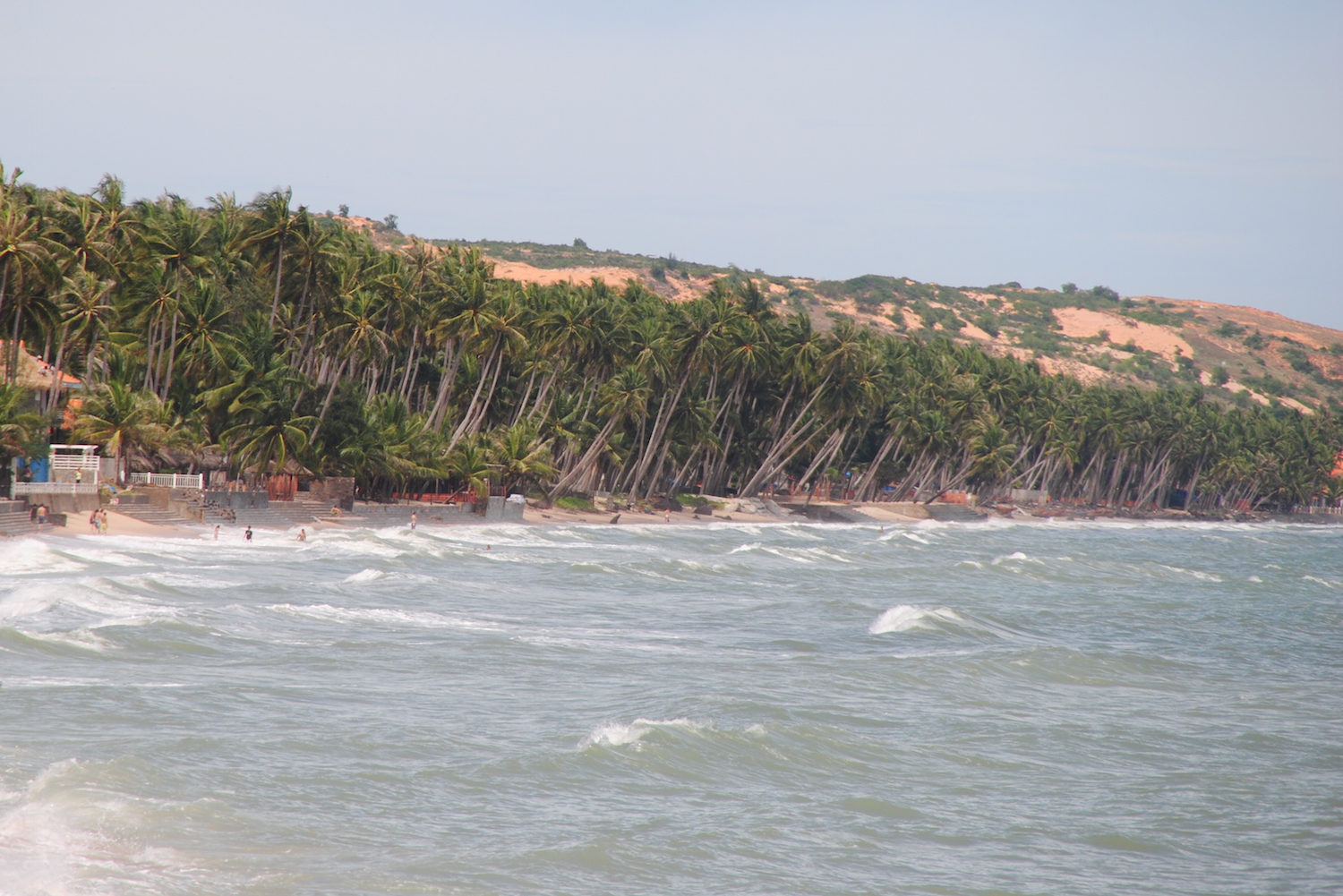 The good news is that eventually, the tide goes out far enough to expose actual sand at the base of the Mui Ne's artificial beach, which is one of the most popular things to do in Mui Ne. Although palm trees, blue skies and breezes quite literally made of butterflies provide Mui Ne with an almost dreamlike aesthetic, I can't pretend the concrete isn't distracting, although the character it adds to this already-singular Vietnam travel destination is undeniable.
Mui Ne Sand Dunes
What might surprise you to know, keeping in mind the anemic state of the Mui Ne's main tourist beach, is that massive red and white sand dunes cover the plateau just west and about 12 kilometers north of Mui Ne's town center, and are in fact one of the most popular things to do in Mui Ne.
The former more of a yellow-orange than a blood- or even rust-red color, both landscapes seem culled more from the Middle East than from Southeast Asia — and more reminiscent of a scene from a Star Wars movie than from National Geographic or Discovery, especially given their being so strangely close to the sea.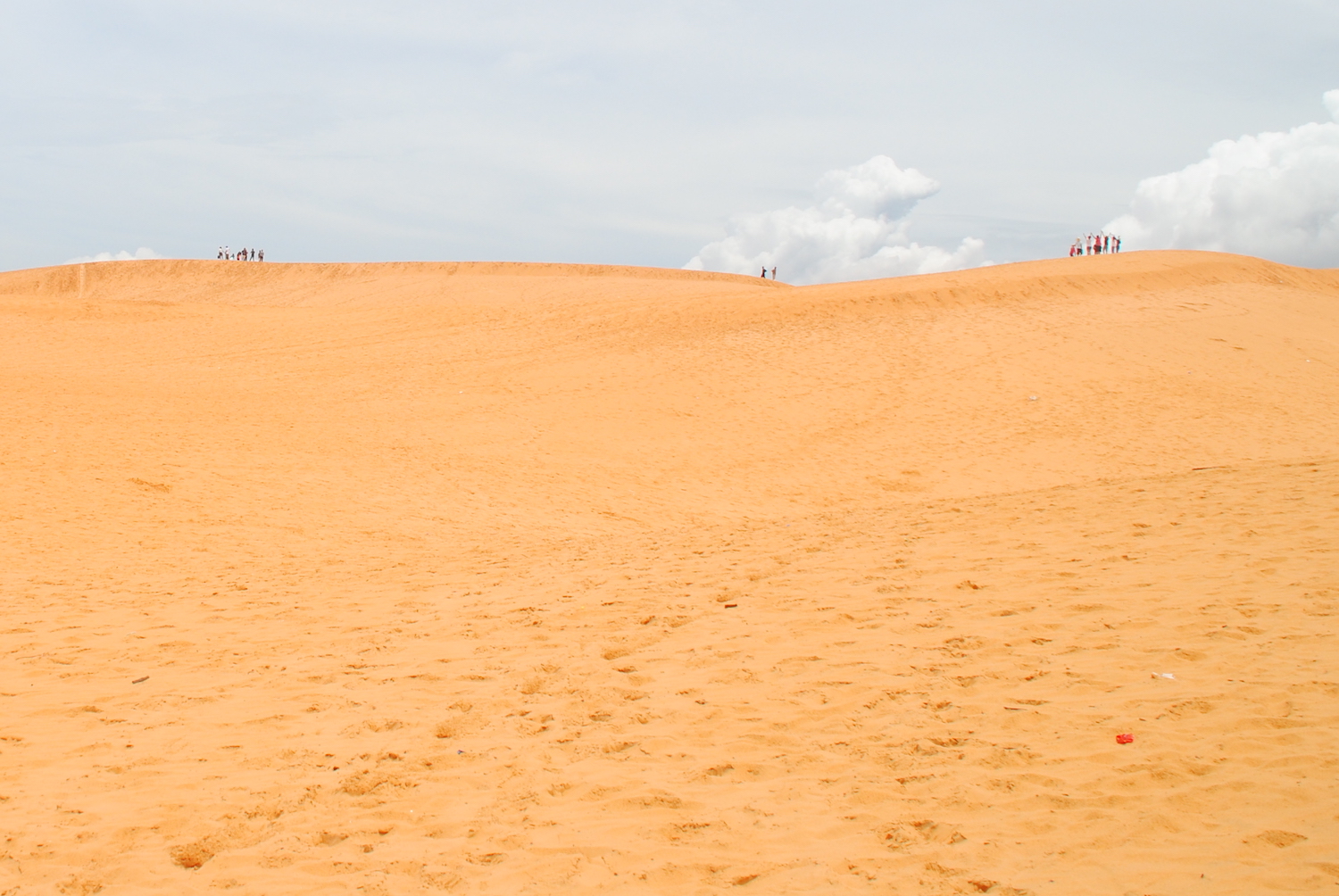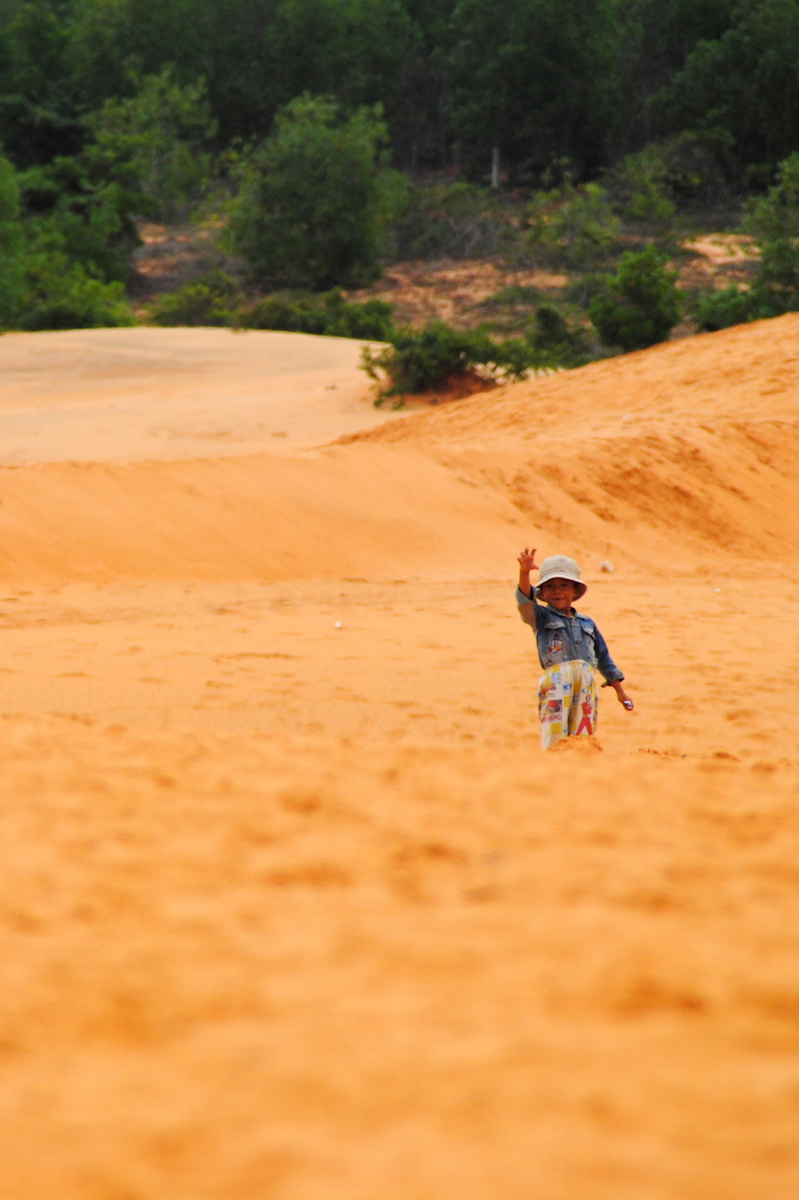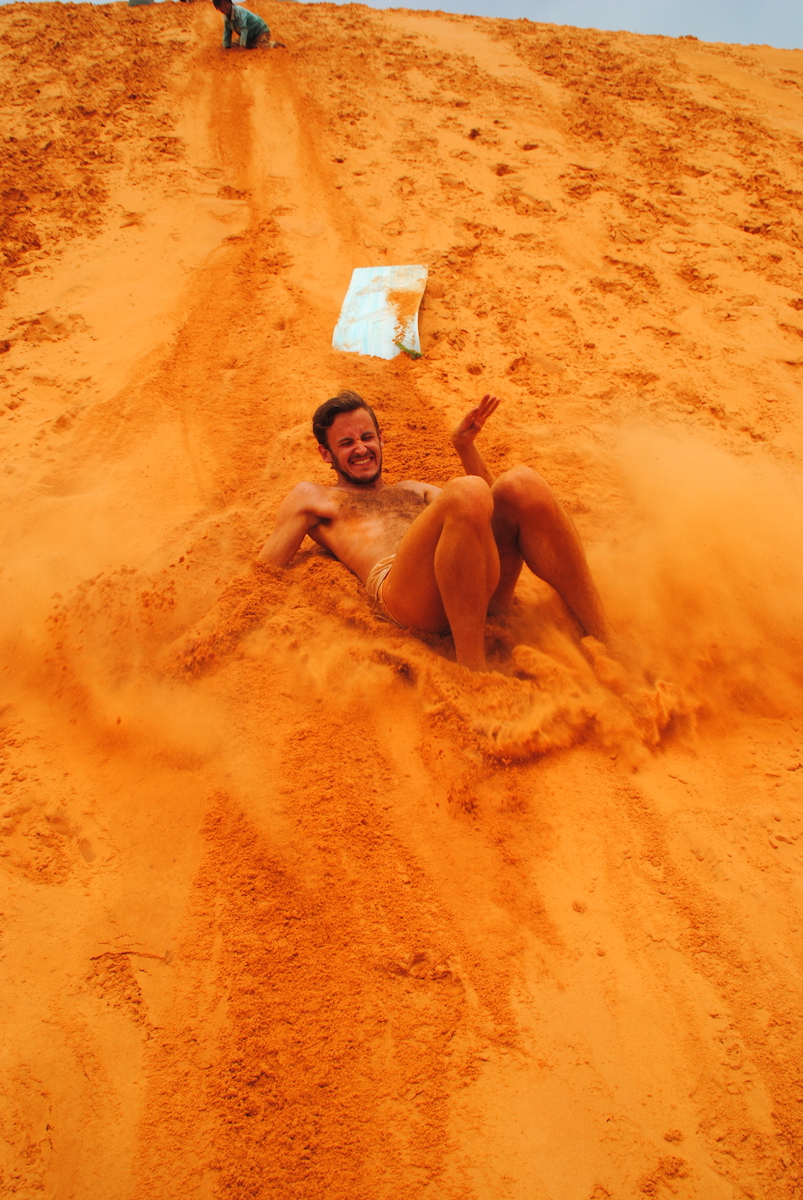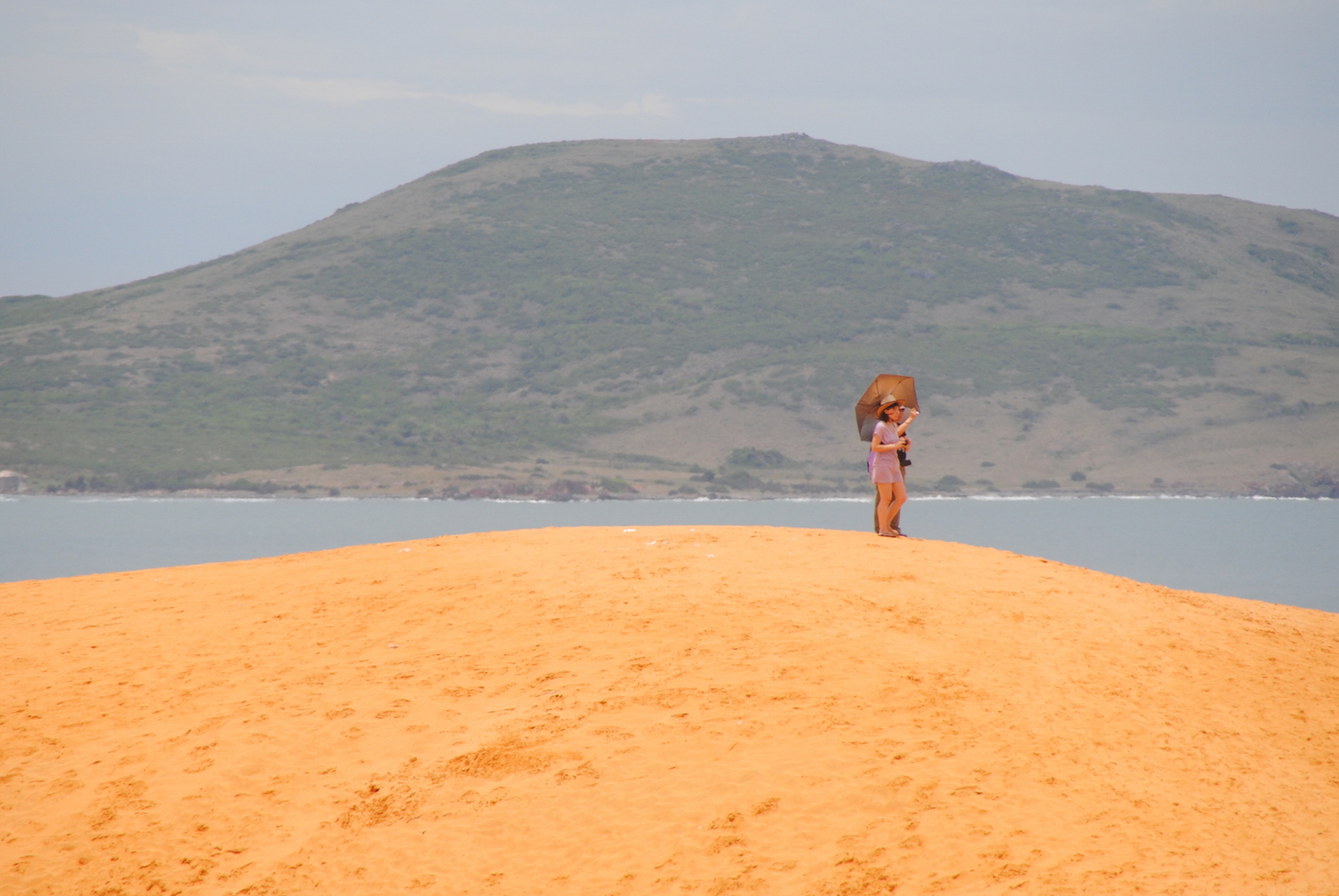 Time, too, warps and dilates a as you cycle north along the coast, which becomes expectedly more rural the farther away from the town center you go. After a few kilometers, you'll come upon a small strip of extremely local restaurants and retail establishments before arriving at an oddly-placed church, which signals to you that it's time to make a left turn.
When you do arrive at the Mui Ne sand dunes, you will be greeted by a group of young children carrying sleds. This will seem bizarre to you until you begin walking through the dunes and realize there is absolutely nothing else to do on the dunes besides sled. Do make sure and ask for an exact price before you begin employing these kids' services because if you don't (and we didn't), you'll either end up paying more than you should, or (as we did) feeling like assholes for running off without paying anything. Not good at bargaining? There's nothing to it – the key is not being afraid to walk away from a deal you don't like.
Mui Ne Fisherman Village
You'll notice upon departure that you can go in one of the two directions upon reaching the roundabout at the bottom of the hill: Straight, back exactly the way you came; or left, a much more interesting road that takes you through a village which seems entirely devoted the production of fish sauce. The silvery dead sardines drying on screens in the sun outnumber the residents tending to them at least 1,000-to-1, in my estimation.
By the time we came around the corner and onto the straightaway portion of the beach road, we'd begun descending gradually and were picking up speed with almost no effort at all. Still, I demanded we stop.
"I want to go down to the beach," I told my comrades. "I want to photograph the fishermen as they fish."
Although Kale and Amber could have biked all the way back to the hotel on their own, I could see they too were interested in knowing the types of characters we might find down at water level. As they fiddled with their bike locks and argued over which way to turn upon reaching the base of the staircase, I began my descent.
Out of nowhere, a little boy appeared, with two of his friends arriving on the scene just moments later.
He held a coconut in the air, without giving any indication of how he planned to use it. He stood there for a moment, mischievous grin on his face, then took a deep breath in. "Hello." He giggled and ran down the stairs.
After a few seconds of silence, his friends too began cutting up and followed the apparent leader of their pack down to the beach.
When I arrived at the bottom, I was happy to see that there was no visible pavement, although the number of shells that had washed up — and the fact that most of them were broken in the most jagged, sandal-piercing ways you can image — killed a bit of the charm that might have otherwise smacked me upside the head. I walked for about five minutes before I noticed the presence of any people around the low-tech fishing vessels.
None of the men who were doing their best to cast their nets bothered trying to communicate verbally with me as they stood waist-deep in the water, although one of them did begin doing beefcake poses for me once he noticed me taking pictures.
With a bevy of small food kiosks and an eponymous, medium-sized fruit and meat market located at the northern most extent of the town proper, Mui Ne is equipped enough to be your vacation home for at least a few days when you travel in Vietnam. Mui Ne does lack the pulsing nightlife or urban creature comforts that are coming to define Nha Trang, which will likely be your subsequent stop if you (as most do) travel Vietnam's coast using a Sinh tours bus, but there are plenty of amazing things to do in Mui Ne.
The Bottom Line
It's important to remember that while Mui Ne is neither Boracay nor even Thailand's more middling beaches, its miles of Martian-looking sand dunes, residents who live almost oblivious to the presence of tourists and colorful, flowery aesthetic gives you the sense of somewhere incredibly lush and vital — even in spite of its disappearing beach.