Is Seoraksan worth visiting? I didn't have high expectations of the place—hell, I didn't even expect to be able to hike there. According to people I spoke with further south, the entire northeastern quadrant of South Korea was on fire. The woman who sold me my bus ticket to Sokcho (the city closest to Seoraksan National Park) in Gyeongju looked at me like I was insane for wanting to go there.
The good news? I didn't see a single fire, or even a plume of smoke that couldn't be blamed on smog blowing in from Seoul. The better news? My first dedicated experience of hiking in Korea blew my mind, and not just because I arrived to the precipice of Seoraksan's most popular hiking trail completely alone and under perfect weather conditions.
Whether you're traveling from Seoul to Seoraksan on a day trip, or plan to stay a couple of nights and take your time like I did, I have a feeling you'll want to continue reading.
When to Visit Seoraksan
I personally thought April was a great time for my hike. In addition to the fact that the Seoraksan weather was absolutely perfect (sunny and about 10ºC at the peak), there were many cherry blossom trees at full bloom, and azaleas elsewhere to offset the rest of the admittedly grey mountainside, which was still barren and weeks from being green.
However, most Koreans I spoke with were aghast at my decision to hike Seoraksan Mountain in spring, the aforementioned fires notwithstanding. "Mt. Seorak is an autumn destination," they all insisted, showing me photos on their phones to illustrate why September and October are the only worthwhile months to visit Seoraksan.
Where to Stay in Seoraksan
If Seoraksan hiking is your priority, I'd recommend staying in one of the accommodations near the entrance to the park, rather than in Sokcho, where the intercity bus terminal is located. Specifically, I stayed at HK Resort, which isn't much of a resort, but is just 15 minutes by foot from the start of the hiking trails I'm about to describe in more details.
Or from the Seoraksan cable car, as it were. If you do decide to stay in Sokcho, be it in budget accommodation such as Sokcho & Guesthouse or the more luxurious Lotte Resort Sokcho, you'll have to take a bus for around a half hour before you can even start your hike.
Popular Seoraksan Mountain Hikes
Sinheungsa Temple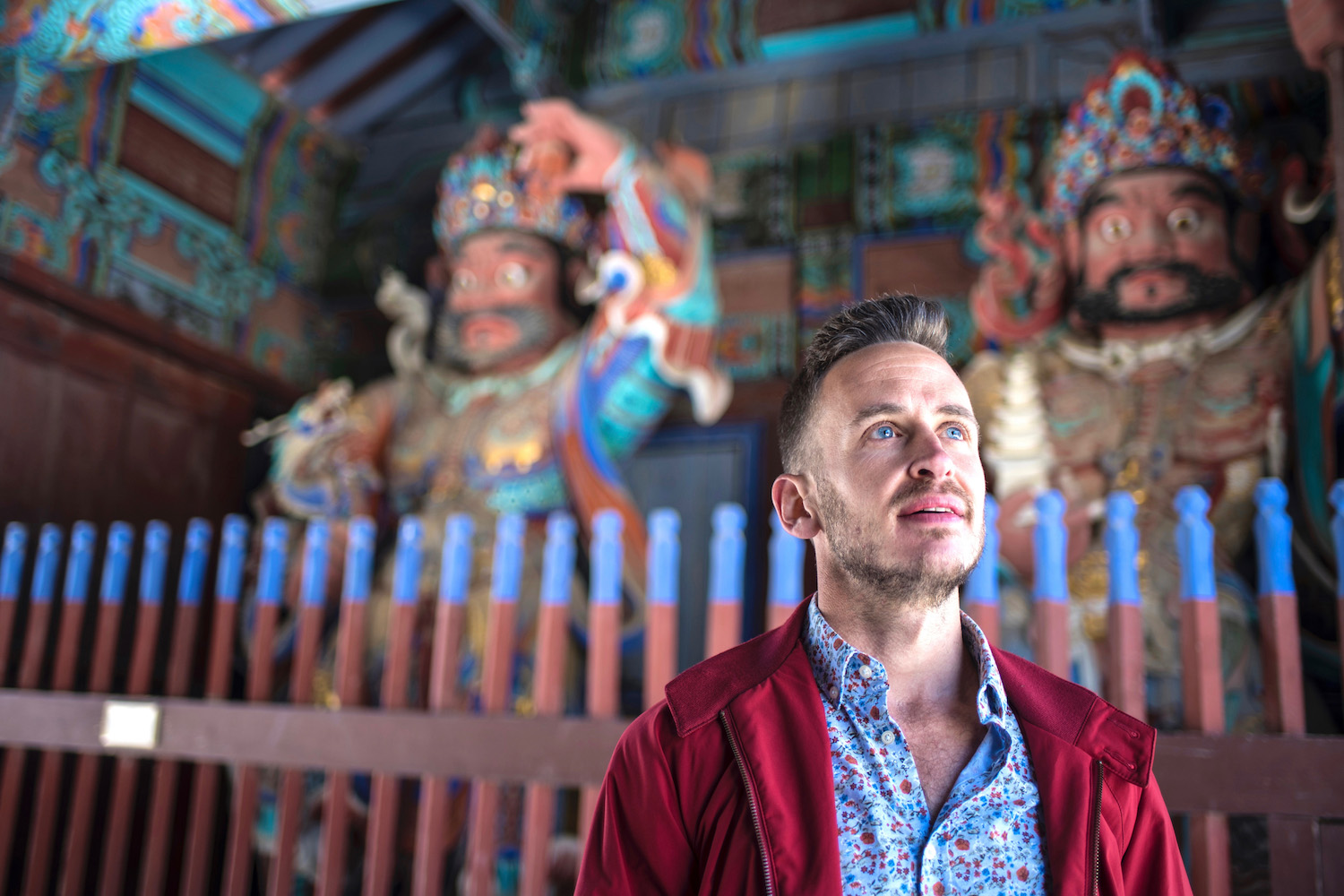 If you want to enjoy the scenery of Seorak Mountain but aren't fit or inclined to hike, Sinheungsa temple is only about 15 minutes by foot from the park entrance. The path is completely flat, and you can stop at a bronze Buddha statue just before you reach the main hall of the temple, which was built in the 7th century. Singheungsa is also open for temple stays, if you really want cultural immersion.
Ulsanbawi Rock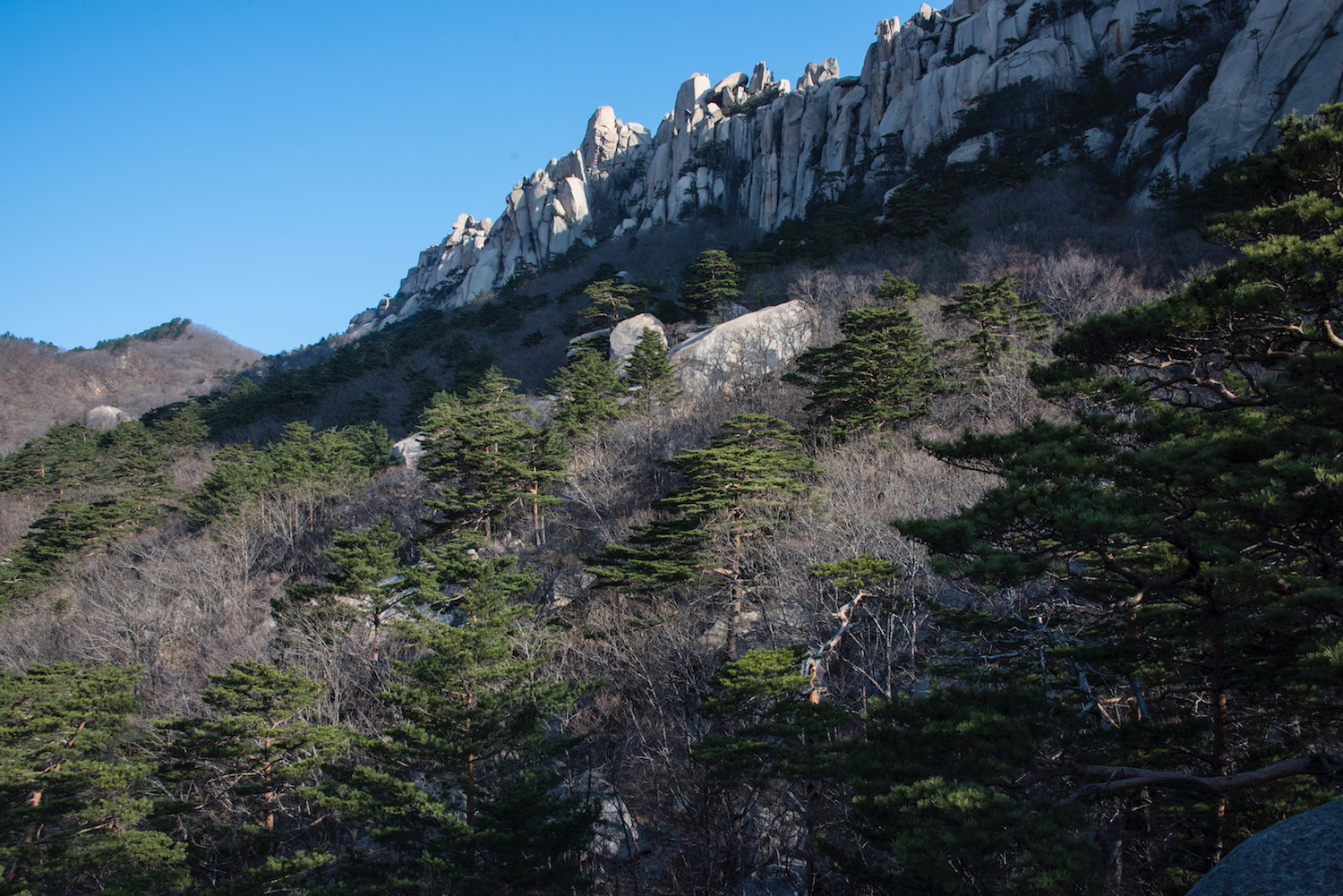 The most popular hiking trail of Seoraksan National Park will take you to Ulsanbawi rock, which is beautiful in its own right and also provides great views of Sokcho and the East Sea. The hike is about 4 km each way and requires between 60-90 minutes, depending on your fitness level and patience for stairs—there are hundreds of them! On the way, you'll stop at Heundeulbawi rock.
Biryong Waterfall & Towangseong Falls Observatory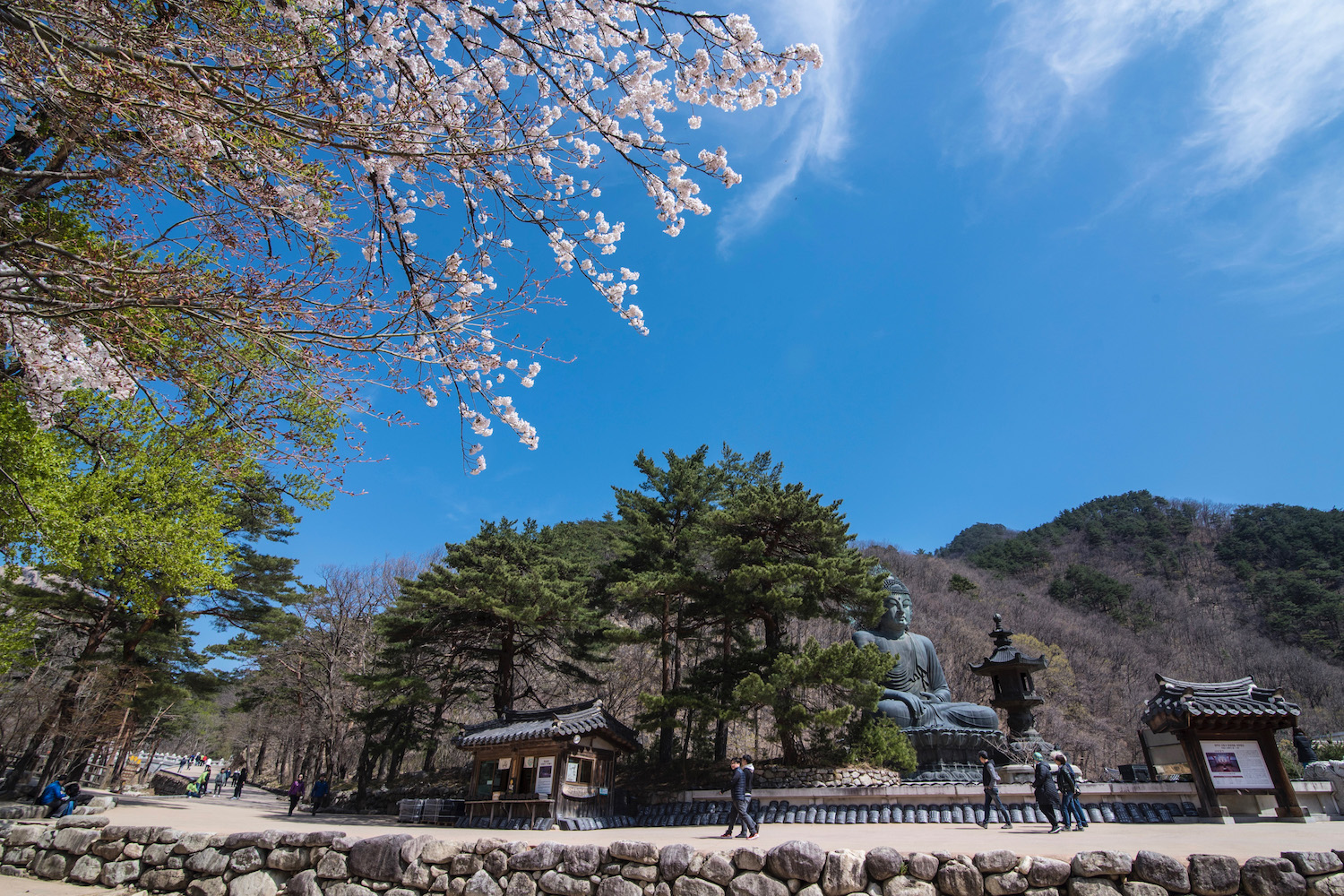 It was still early when I finished hiking Ulsanbawi (I'd entered the park around 6 am), so I briefly considered turning right instead of walking straight out the park gate. However, I decided against this, wanting to spend my afternoon exploring the city of Sokcho instead. The Towangseong Falls Observatory is 2.8 km south of the park entrance, with Biryong Waterfall about 400 m before it.
Seoraksan Cable Car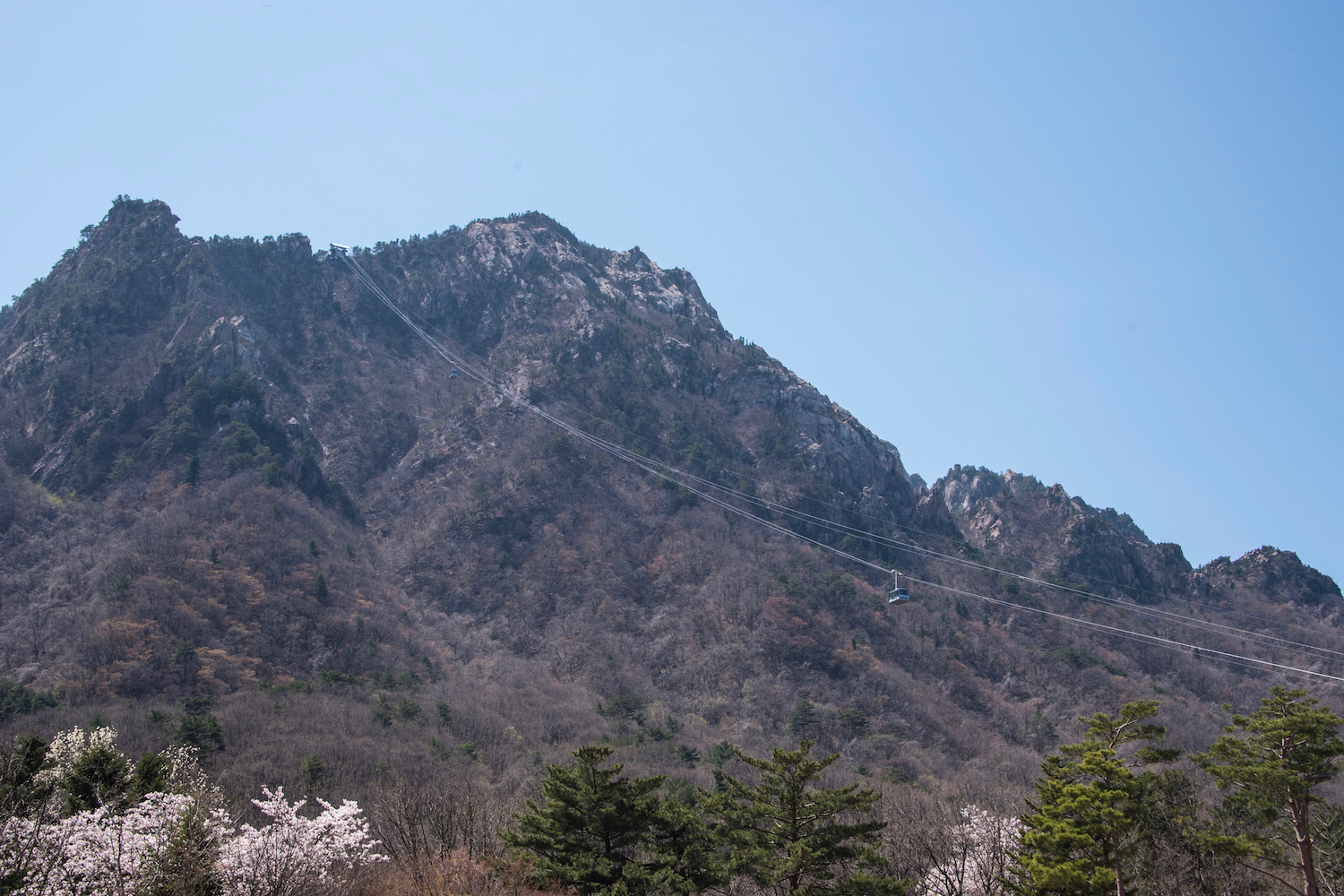 Want a great Seoraksan view without any hiking at all? Ride the Seoraksan Cable Car to its ultimate station. This will take you to the ruins of Gwongeumseong Fortress, which isn't much of a historical attraction, but provides a great panorama of the park, including the aforementioned Ulsanbawi. Go early or expect this place to be swamp, on account of how easy it is to access!
Other Seoraksan Hikes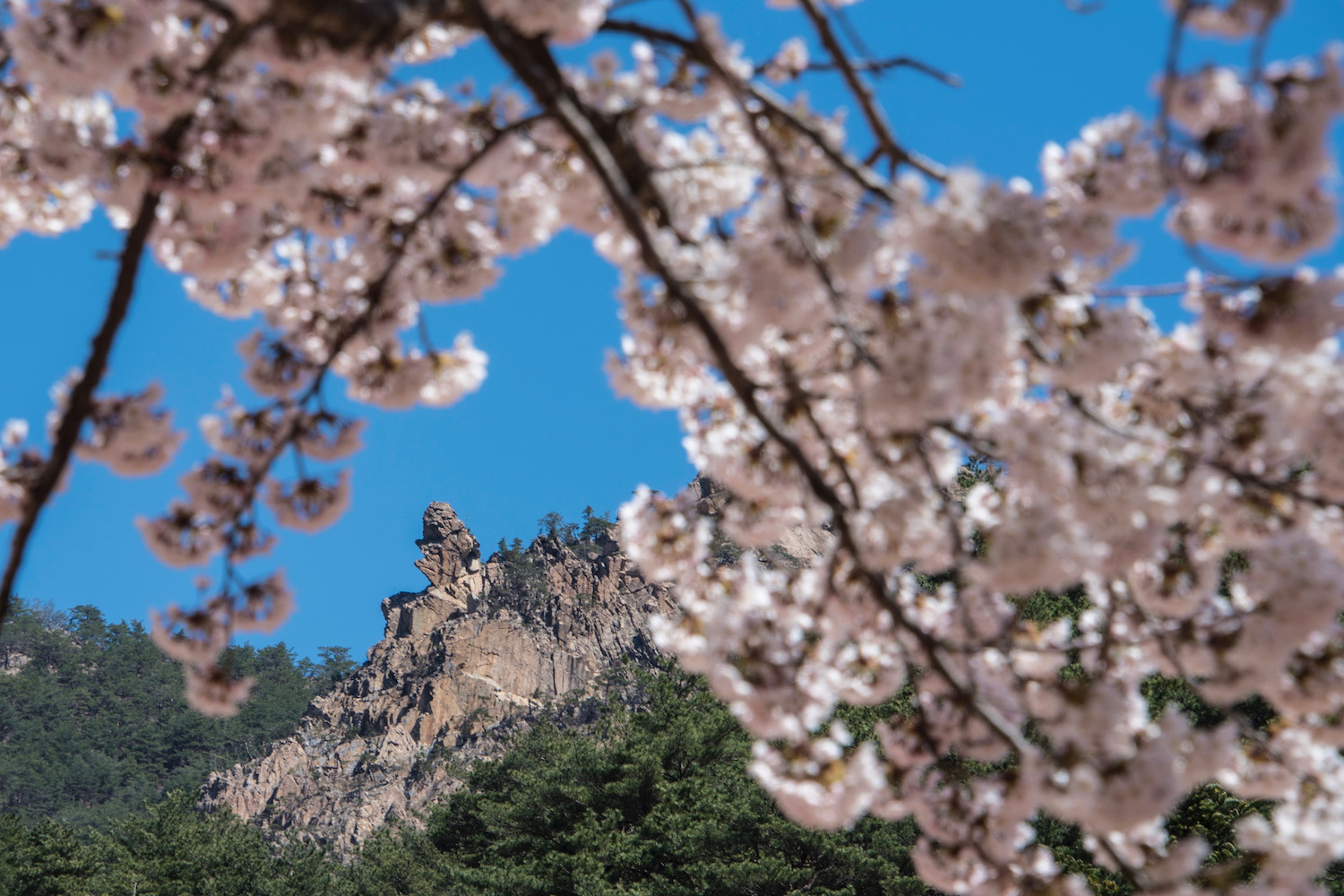 Some people spend days or even weeks in Seoraksan Mountain National Park, whether they hike trails near the east entrance to the park, or those that are much less accessible. If you're on a one- or two-day trip, the only trail I haven't mentioned so far that you're likely to traverse is the one toward Biseondae rock, which is relatively easy and about 3 km west of the park entrance.
How to Get to Seoraksan
Part of what helps make Seoraksan worth visiting is how easy it is to reach. Getting to Mount Seorak (or at least, to the popular eastern entrance of Seoraksan National Park) is relatively easy. You'll want to take an intercity bus from anywhere in Korea (most travelers will originate in either Seoul or Busan) to Sokcho and from there, take the 7 or 7-1 bus to the park entrance, about a 30-40 minutes journey. Once you're inside the park, which only costs 3,000 won to enter, hiking trails are well marked.
Assuming you're relatively chill about hiking Seoraksan Mountain (which is to say you don't need to go up every trail or ascend every viewpoint), you could theoretically come here on a day trip from Seoul, though you'd need to leave very early and expect to get back very late. In my opinion, the best course of action is to come very late on the evening of one day, sleep, wake up early to hike and go back that evening.
Other FAQ About Seoraksan Mountain
How long does it take to hike Seoraksan?
If you do the Seoraksan hike I've described in this post, it'll take you about 90-120 minutes each way to follow in my footsteps. Keep in mind, however, that many other Seoraksan hikes exist.
Why is Seoraksan National Park famous?
Seoraksan park is famously primarily for its autumn colors, and the fact that it's close enough to Seoul for many people in the capital to take weekend trips to the park.
Where is Seoraksan National Park?
Seoraksan National Park is located in northeastern South Korea, not far from the city of Sokcho. To get here, ride a long-distance bus from Seoul to Sokcho, then take a local bus to the location within the park where you plan to stay, or where you wish to hike.
The Bottom Line
Is Seoraksan worth visiting? I hope I'm not setting you up for disappointment when I say this, but Seoraksan National Park is one of my favorite places I've visited in Korea. From hiking trails that are relatively easy but provide amazing views, to picturesque landscapes and historical structures at basically every turn, to the unpretentious atmosphere of entire area, Mt. Seorak far exceeded the expectations I had for it, which were admittedly pretty minimal. You should definitely travel here as part of your Korea itinerary!