The scope of things to do in Lake Taupo, at least the ones I would be tackling during my trip there, narrowed before I even left Auckland. Waitomo Caves, it seemed, prohibited photography, at least as far as its famous glowworms were concerned.
To be sure, my itinerary underwent a second adjustment before I picked up my rental car Wednesday morning. I would need to devote an entire day to Tongariro Alpine Crossing, which appeared from Instagram (and the sorts of Instagrammers who post about it) to be a car-accessible viewpoint, but actually required a trek lasting several hours.
It's whatever, I shrugged off the minor inconveniences as I sped away from the city, its southern suburbs quickly giving way to benign farmland. I'm in fucking New Zealand.
Kiaora
My first stop, I'd decided somewhere between the Hertz agent failing to find my reservation and placing my bags inside the strange 5-door Corolla variant, would be Orakei Korako, a geothermal park and cave whose name I'd swear were Japanese if the boatman who took me across the river to it hadn't greeted me in Maori. "Kiaora," he said with a smile, combining the two words (or at least I always assumed there were two of them) into one.

I'd been trepidatious about visiting the park—and not just because of the NZ$39 entry fee. Although the prismatic spring looked unique and beautiful, I feared it would make the other thermal formations awaiting me in Rotorua redundant—time will tell.
The boat ride took time, of course, and so did navigating Orakei Korako's various attractions: By the time I finished it was past noon, which meant the lighting for all the other things to do in Lake Taupo would be sub-optimal, at best. As I entered Taupo town, my mother called me via Facebook Messenger literally 30 seconds after I thought of her, which was weird but also oddly appropriate.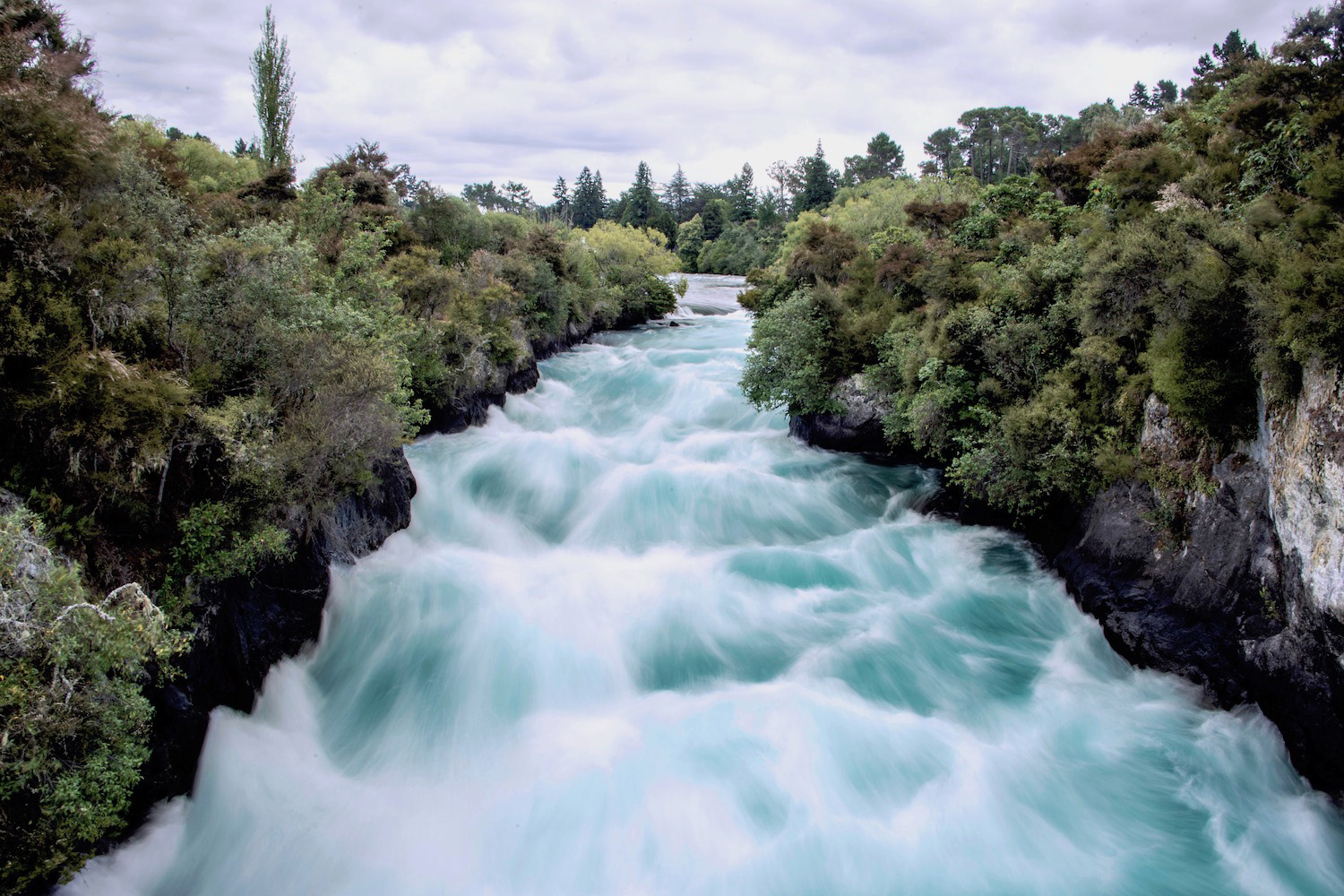 Well, to everyone except the cashier at the supermarket where I stopped to get cold cuts and wine for the makeshift lunch I planned to enjoy at my Airbnb. "Just tell me what year you were born," said the older woman as she scanned my sauvignon blanc, clearly perturbed by my rudeness, apathetic (at least it seemed) that my dear old mom had called me from the literal other side of the planet.
Not Lunar, Not Really
Initially, my Airbnb host also seemed to speak to me in a rather scolding way, though any semblance of that evaporated once it became clear to her that I hadn't purposely overshot the 3 pm check-in time by two hours. "So what's on your agenda for the next couple of days?" she inquired as she cleaned up the lunch her three children (to which she'd just introduced me) had just devoured.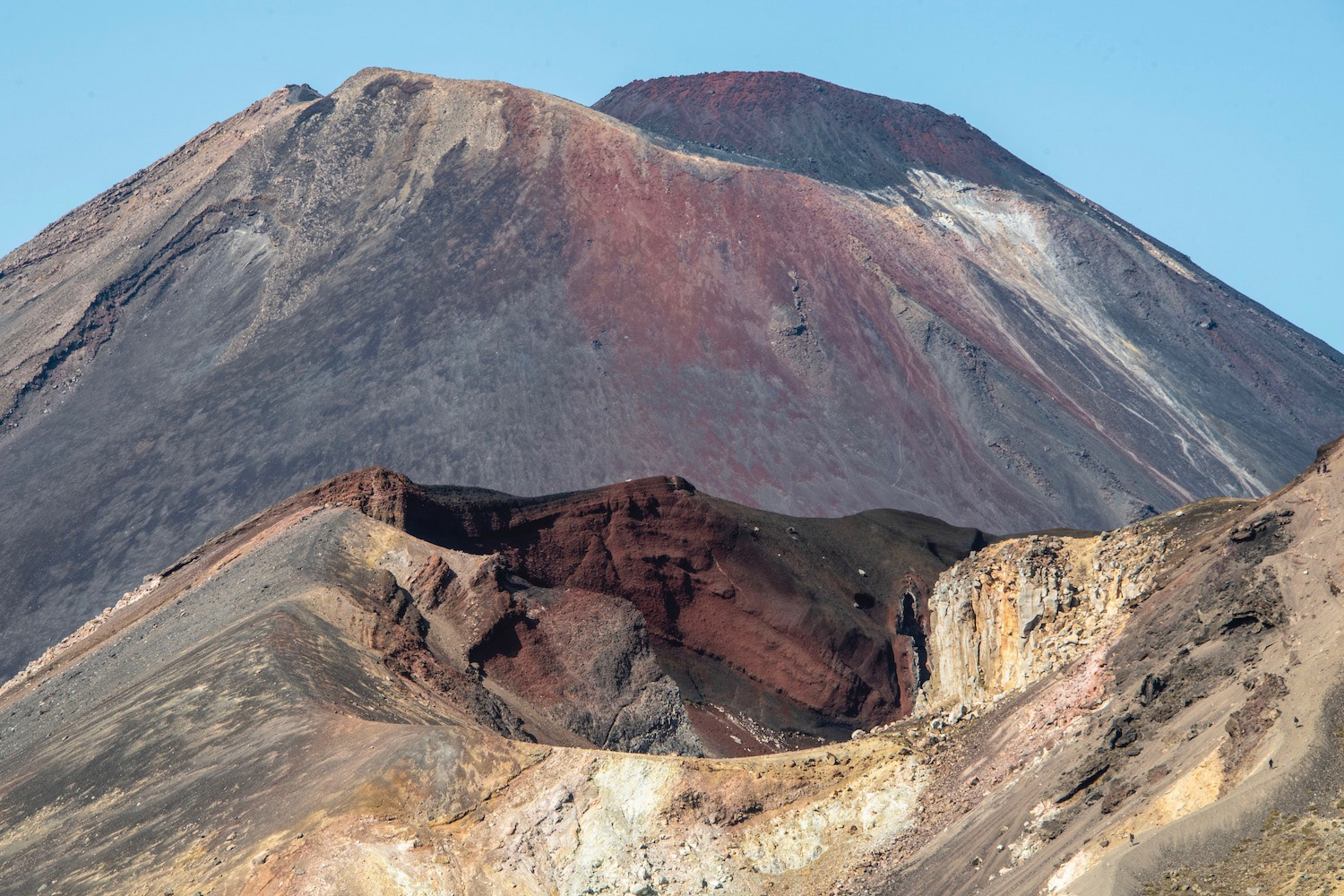 "This afternoon I'm going to head to Huka Falls and perhaps that Craters of the Moon place," I replied with a veritable laundry list of things to do in Lake Taupo. "But my ultimately reason for being here is the Tongariro Crossing, which I plan to do tomorrow." I declined to tell her about my original plans to see Waitomo Caves—at this point, I was almost hoping their wasn't a workaround for photographing the glowworms.
I had a couple of glasses of my wine before heading out, first to the Craters (which were not lunar, not really) and then both to Huka Falls and to a viewpoint overlooking it from about a kilometer away. The clouds that had hung over me for much of my drive southward from Auckland returned, though they thankfully did nothing to dull the bright turquoise color of the falls.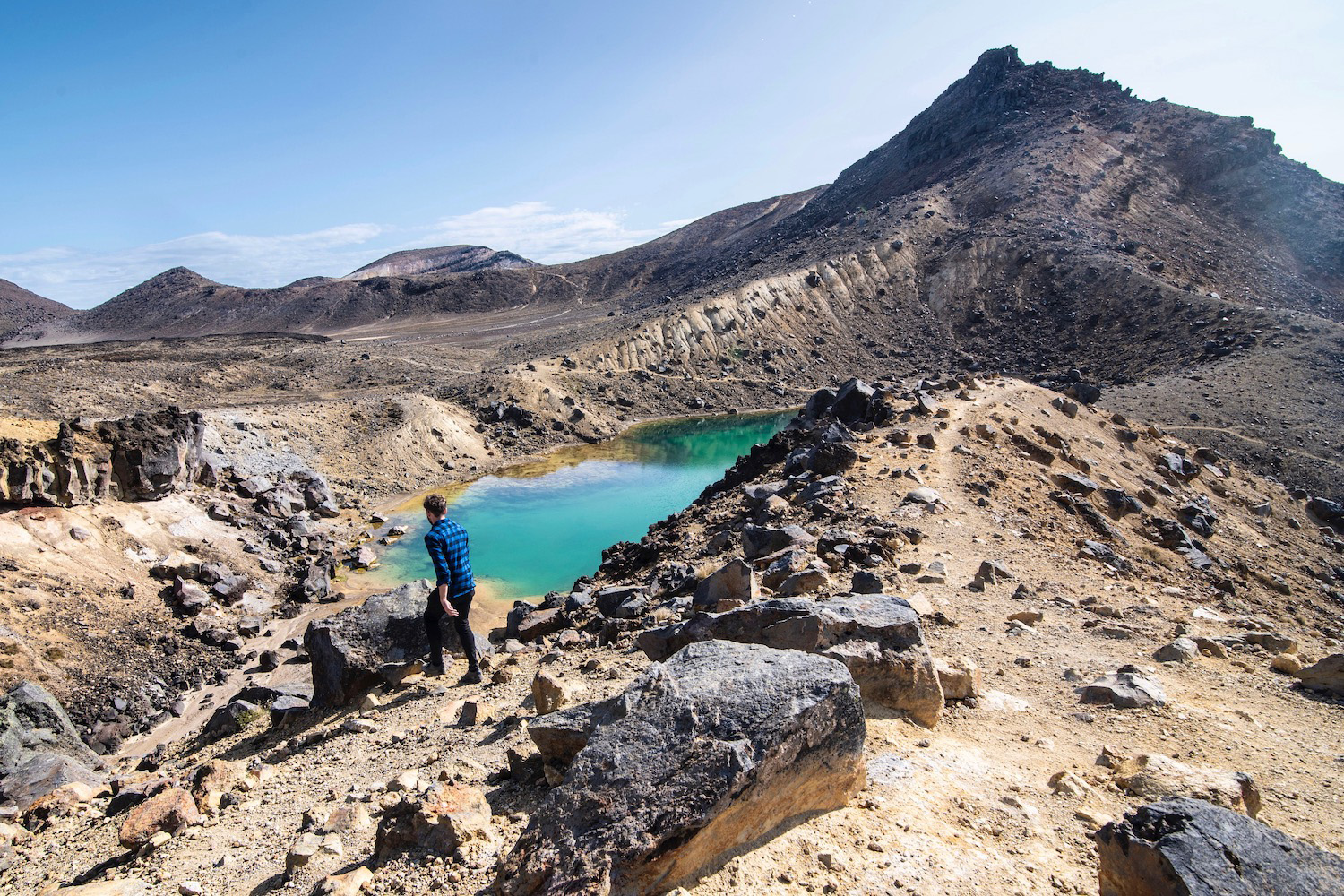 Upon returning to the Airbnb, where the woman was visiting with the couple who were staying in the cottage behind the main house, I retreated quickly to my room, not wanting to get sucked into being social. I'd need to wake up at four in order to get to the trailhead of the Alpine Crossing before most of the crowds—I didn't want to entertain the idea of getting any fewer than eight hours of sleep.
Between Fluffy and Wispy
If you've considered including a visit to Tongariro Crossing among your list of things to do in Lake Taupo, you're probably aware of a somewhat obnoxious quirk. Due to parking restrictions (and the one-way nature of the 19.6 km track) you need to book a shuttle, whose NZ$35 fee immediately negates the Crossing's lack of entry fee.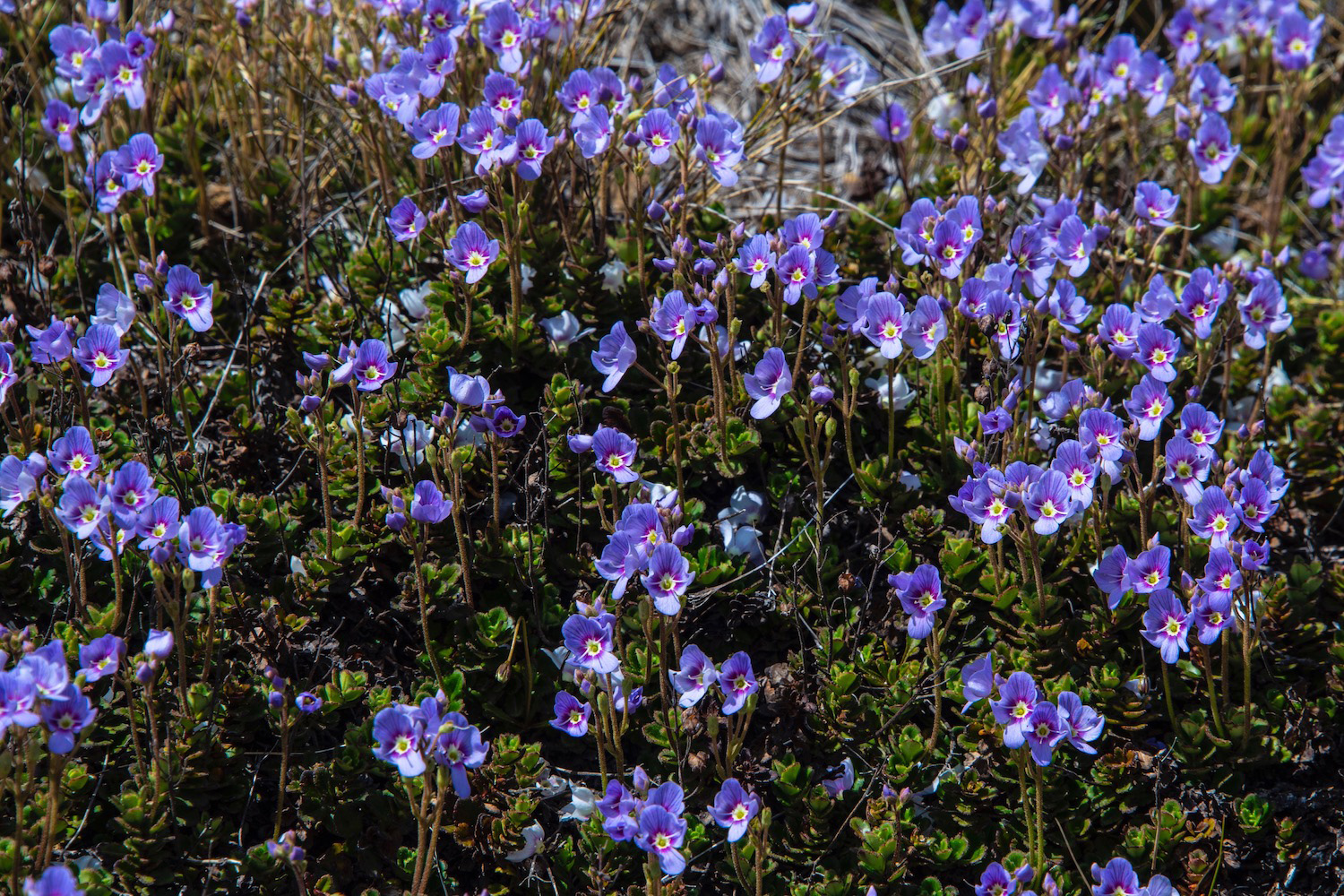 (New Zealand is doubtlessly the most expensive country I've ever visited, but I'll write more on that later. Certainly, I'm glad I waited until I was 35 for my maiden voyage here—a trip at 25 or even 30 would literally have bankrupted me!)
The trek began with a decidedly good omen: Skies that were perfectly clear, apart from a couple of clouds that were somewhere between fluffy and wispy. Although promotional materials for the hike had described it as being strenuous (in spite of simultaneously being "New Zealand's best day hike"), I found the spans of ascent relatively tame.
The only real annoyances I felt as I hiked were two: The fact that the first descent took place less than 40% through the route, just before its iconic "Emerald Lakes"; the fucking length of the thing, which took just over five hours, even at the breakneck pace I like to maintain when I hike.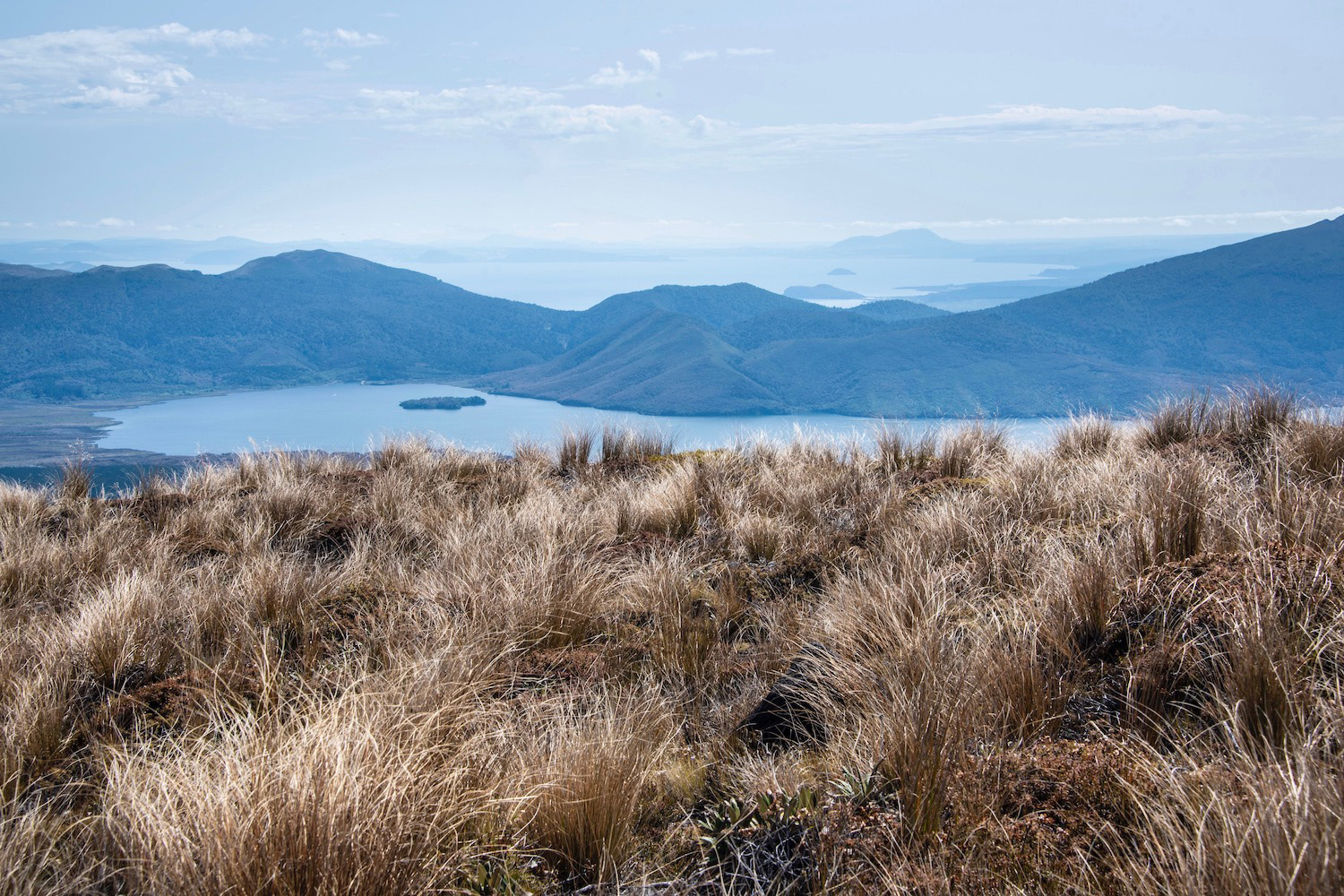 The Alpine Crossing has certainly earned its place at the precipice of things to do in Lake Taupo—it's where I saw the most impressive scenery of my trip to New Zealand so far, anyway.
Hollyhocks and Grapevines
My host and her children, the oldest of which had just suffered a bee sting, were surprised to see me back from the trek so quickly. I returned just in time, as luck would have it—she offered me a heaping helping of beef fried rice, before taking me into her chicken-filled garden with her youngest daughter, who gave me a crash course in potato picking.
The garden, whose other highlights included hollyhocks and grapevines, evoked one of the houses where my family had lived when I was growing up. The next time my mom calls me out of the blue, I guess I'll mention it to her—I wonder if she'll remember?
I capped off my evening with a stop at the town's main viewpoint, which reminded me of a curious truth: Visiting the lake itself is rarely considered a priority among things to do in Lake Taupo, though I certainly didn't regret having skipped it during my own action-packed trip.