Is Antalya worth visiting? If I'm honest, I tried not to dwell on this question too much before I arrived in the city—which I felt obliged to visit, as a travel blogger—myself.
I'm glad I didn't. From the stylish environs of what I now consider the best boutique hotel in Turkey, to the charming cobbles of one of the world's most underrated old towns, Antalya is so much more than the Russian-filled resort town you might be expecting if you believe everything you read online.
Over the next several paragraphs I'll expand on both my esoteric impressions of Antalya, as well as the nitty-gritty of traveling in the city, particularly what to do in Antalya. I hope you won't write Antalya off until you've read what I have to say!
Love at First Sight
Antalya was a breath of fresh air I simply didn't expect. From the moment I walked through the gates of the old town, I felt charmed and at ease; I regretted not having booked three or four nights at the stylish White Garden Hotel, where I immediately felt foolish for only have reserved two. Have you ever turned up somewhere and realized it was exactly where you needed to be? Antalya was that place for me.
Part of this—my intense satisfaction, I mean—was likely due to my own low expectations. In addition to what I'd read on the internet, many well-meaning Turkish people I met advised me that Antalya was more perfunctory than pleasurable. The highest praise came from one of the front desk attendants at my hotel in Istanbul, who found himself impressed by the wide array of…companions on offer in Antalya.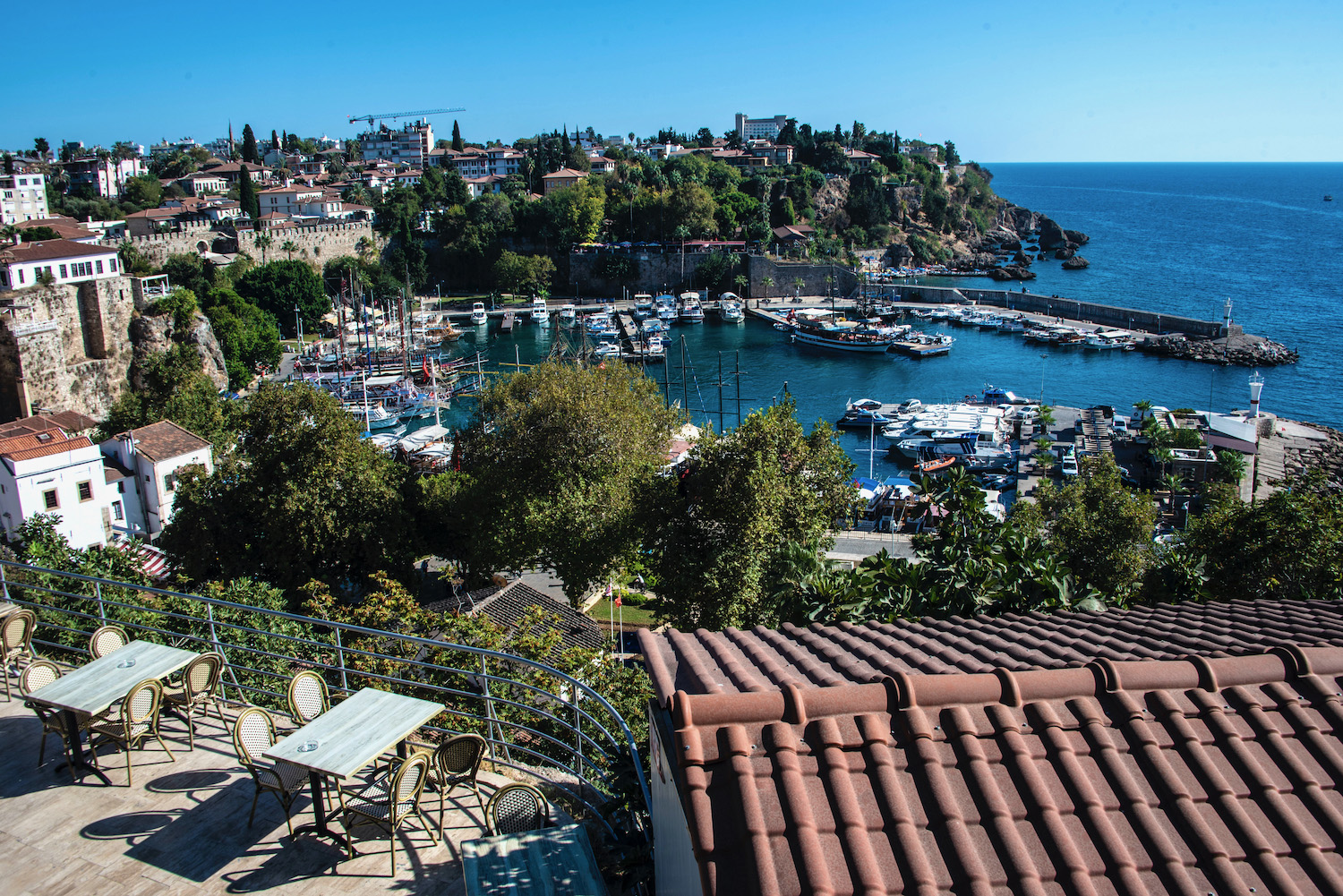 Things to Do in Antalya: The Good, Bad and the Ugly
Kaleiçi's panacea
I'm not being dramatic when I say that the old town of Kaleiçi was everything I needed. And not in terms of its attractions, necessarily, even if landmarks like the Marina and Hadrian's Gate were perfectly charming. So much of my time in Turkey prior to Antalya (in particular the crappy hotels I chose in Pamukkale and Oludeniz) had been utterly lacking in comfort, fun and flair—Kaleiçi has all those things in spades.
A matter of taste
Is Antalya worth visiting? Certainly, if eating delicious meals al fresco in cute restaurants is your thing it will be. In particular, I loved my lunch at Balikci Meyhanesi, though I didn't have a bad meal in Kaleiçi. Or a bad glass of wine: This is definitely paradise for day drinkers, to say nothing of how relaxing it can be to end the day with a glass or white or red.
Cast of characters
Like many other old towns around the world, Kaleiçi is home to quirky, idiosyncratic local people who almost seem pasted into the picture. From the man playing American folk songs on his guitar near the marina, to a quiet burqa-wearing Western woman who watched one evening's sunset from my hotel's rooftop with me, the characters I observed in Antalya were at least as memorable as the scenes they emerged from.
Furry friends
And not just human characters, either. A friendly street cat whom I was told to call "Jennifer" sat in my lap during the entirety of my dinner at scenic MARCO Teras Cafe—and she didn't beg for food once! She simply seemed to want to be held and touched, to have a few moments of genuine companionship instead of transactional food stealing. With the year I've had, I could certainly empathize!
Scam or survival mechanism?
While walking through the old city, I locked eyes with a handsome man named Thurgood (or whatever the Turkish equivalent to it is); he invited me inside his shop for a cup of tea, and to attempt to sell me overpriced nougat candies. I can't feign outrage about this—my reasons for stopping in my tracks were as unscrupulous as his for stopping me—but I will say that Antalya is full of people seeking such transactional interactions, to the disappointment (I assume) of Jennifer the Cat.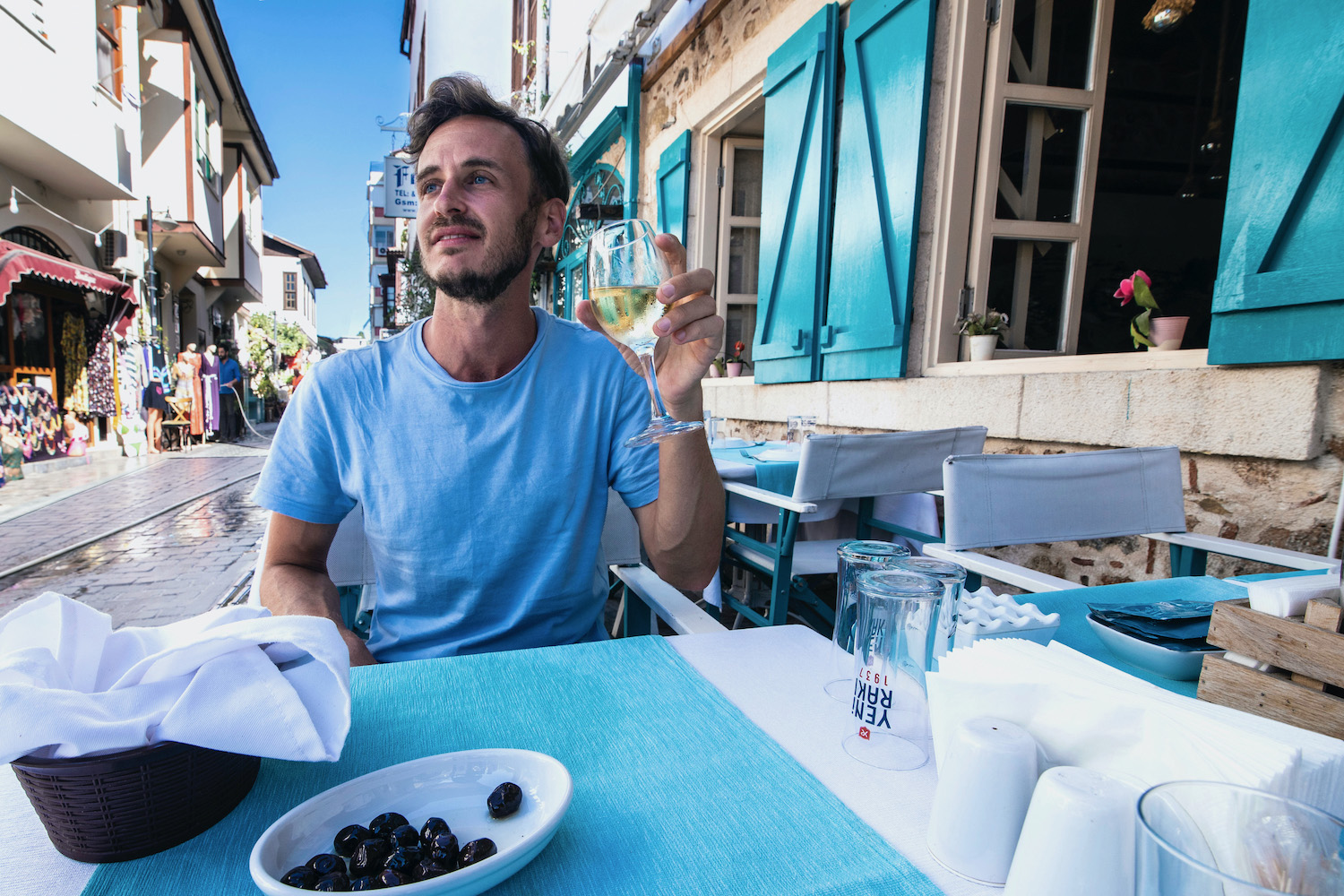 Is Cirali Worth Visiting?
I only had time to enjoy one of the many day trips from Antalya; I chose Cirali, because it paired a gorgeous (or so I'd heard) beach with the ruins of Olympos, and a so-called eternal flame that made me more nostalgic about the late 80s than excited for my late October 2020 adventure to see it. In fact, I ended up forgetting all about the eternal flame; I only made it halfway through the Olympos ruins, on account of having been sun poisoned while basking in the rays on Cirali Beach.
It's difficult to comment on Cirali Beach objectively. Certainly, it served my purpose, which was to enjoy a full day of rest and relaxation halfway through a trip mostly devoid of it up to that point. The water was rather beautiful, given that Cirali (like many of the other best beaches in Turkey) has a rock bottom, rather than a sand one. The ruins of Olympos themselves are underwhelming and in a state of disrepair, though I can't comment on the flame for reasons I mentioned earlier.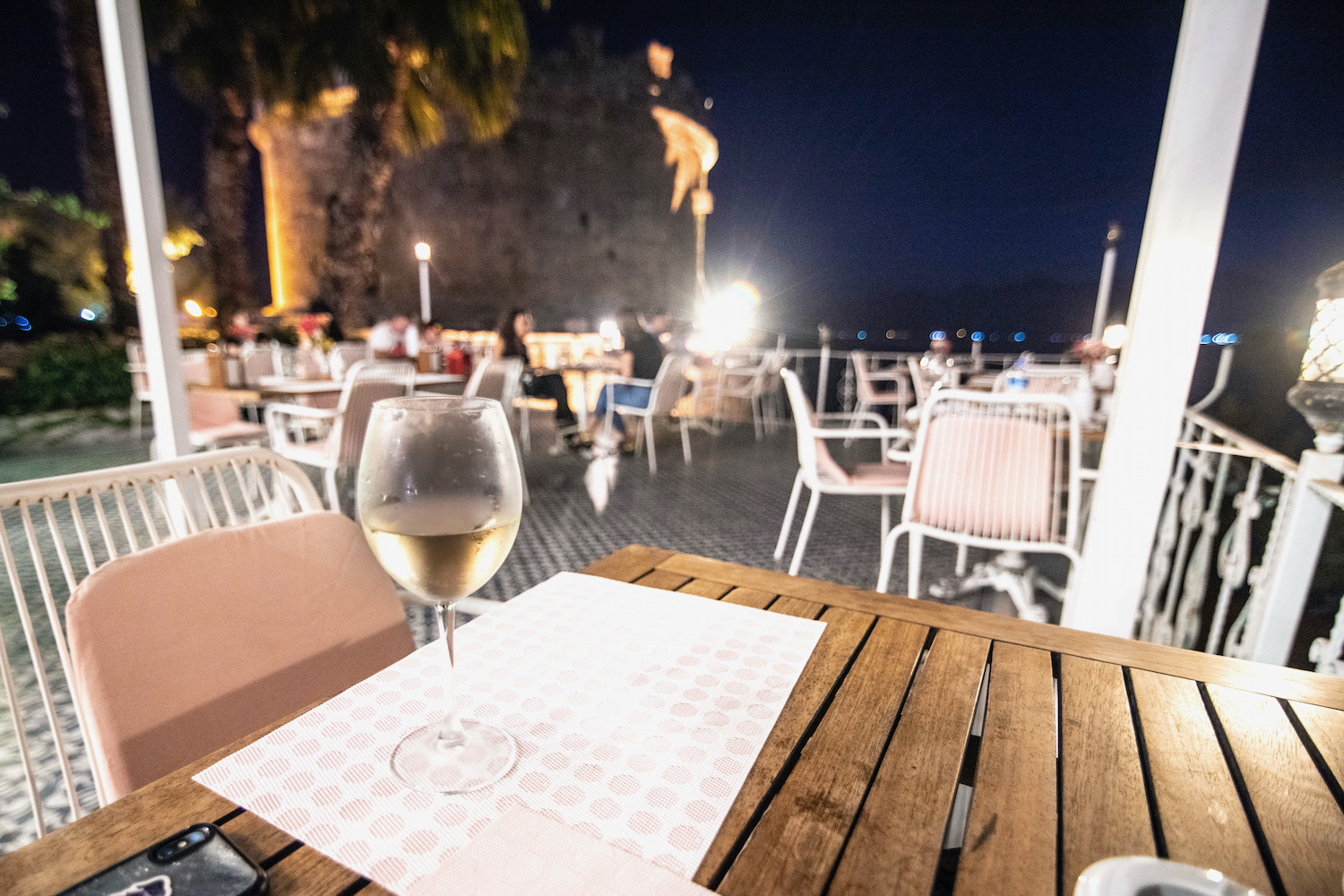 FAQ About Traveling in Antalya
What is Antalya known for?
To many travelers these days, Antalya is known primarily as a resort city filled with Russians. Historically, however, it was notable as a favorite holiday spot for Mr. Ataturk, the beloved founder of the modern Turkish Republic.
Why is Antalya so popular?
Historically, Antalya derived a great deal of its popularity from its associate with Ataturk, who loved it for its beautiful geography and relative convenience to most Turks. These days, Russian travelers in particular flock to Antalya due to an abundance of nonstop flights and a large number of high-quality hotels.
Which is the best area to stay in Antalya?
I personally love to stay in Kaleiçi, Antalya's coast-hugging old town about 15 minutes from both the bus station and the airport. However, many beach resorts are located outside the city center, notably just west of it near Konyaalti Beach.
The Bottom Line
Is Antalya worth visiting? I know you're probably sick of reading that question by this point—I apologize for the repetition. However, it's important that I state my point—Antalya is absolutely worth visiting, no matter what you expect of the destination—emphatically. Without being hyperbolic, I can safely say that Antalya was the biggest (and best) surprise of all the places I visited on my latest trip to Turkey. At a bare minimum, I recommend you spend a couple of nights here, and longer if you can manage it. Certainly, I wish I had devoted more time to Antalya, Turkey if only to savor the ambiance of the wonderful hotel I chose! Want to feel as delightful after your trip as I did after mine? Hire me to put the ultimate Turkey itinerary together!