This Turkey itinerary has been a literal decade in the making. As you'll know if you've been reading my site for any length of time, I visited Turkey twice during the 2010s, but barely made it out of Istanbul.
As I've alluded to in other posts, it's unlikely I would've taken as comprehensive a Turkey trip as I did in late 2020 had it not been for the fallout of Covid-19. Regardless, I have now explored country deeply—I now love and, more importantly, understand it almost viscerally—and I'm ecstatic to share my findings with you.
For some of you, Covid still upon us as you read this, and you'll be visiting Turkey because it's one of the only countries open. Others might reading this from a post-corona future. All of you will find everything you need to put your Turkey trip together if you continue scrolling!
Practical Matters
When to Visit Turkey
What is the best month to visit Turkey? There are merits to coming in any time of the year—a balloon flight over snowy Cappadocia in January is just as appealing as paragliding above the Blue Lagoon of Oludeniz in July—but I'm a big fan of the "shoulder" months: May, before the hottest part of summer starts; and October, after the crowds and the sweltering heat have gone. If the timing of your trip to Turkey is at the mercy of a work or school schedule, try and select your destinations based on expected weather conditions in each of them.
Where to Stay in Turkey
The good news? Hotels in Turkey are dramatically less expensive than those you find in mainland Europe, particularly due to the endless downward slide of the Turkish lira. The bad news? They often (though not always) leave something to be desired. Notable exceptions to this rule include the TS Park Hotel in Trabzon near the Black Sea and Antalya's White Garden Hotel, which is one of the most stylish boutique hotels I've ever stayed in. Alternatively, Airbnb has a robust selection of Turkey properties, particularly in Istanbul and along the coast between Bodrum and Antalya.
How to Get Around in Turkey
How best to travel around Turkey depends on the way you structure your trip. If you plan to base yourself in Istanbul, for example, you can avail Turkish Airlines' extensive domestic network to get you to and from outlying destinations. However, if you plan to make a contiguous circuit around Turkey, long-distance buses are a better option; most flights require you to backtrack to Istanbul. Many cities in Turkey have walkable centers; in the absence of this, it's easy to use and understand local rail/bus systems, and cheap to take taxis.
Money, Costs and Communication
As I referenced above, the New Turkish lira is Turkey's currency—and what a beleaguered currency it is! While the exchange rate hovered around 3 or 4 TRY to the USD during my 2010 and 2015 trips to Turkey, it was 6.8 when I arrived in October 2020 and over 8 by the time I left! As a result of this dramatic decrease in value (and in spite of how terrible this is for the spending power of Turkish people abroad), this makes Turkey an incredibly high-value destination, which I'll explain in more explicit terms later on in this article.
Communication-wise, the Turkish language is relatively difficult to speak and understand, at least by the standards of most other European nations. Thankfully, most Turks speak at least some English, which makes traveling pretty easy. When it comes to figurative communication, it's easy and cheap to buy a Turkish SIM card upon arrival; WiFi is ubiquitous but not always fast. Certainly, I'd recommend having both options—in other words, buy a SIM and keep your account charged, but use WiFi when it's available and fast—as you travel to eliminate the possibility of interruptions.
How to Get a Turkish Visa
Travelers with many passports need a visa to visit Turkey, although most people can now apply for a Turkish visa online. The valid duration of visa and its cost varies depending on your nationality; in all cases, Turkish eVisas are single entry. If you want to get a multiple entry visa, or to stay longer than 90 days, you should visit a Turkish embassy or consulate abroad prior to traveling. Note that while an eVisa can technically take up to 48 hours to issue, it is my experience (as a US passport holder, to be fair) that issuance is more or less immediate.
Where to Go in Turkey
Istanbul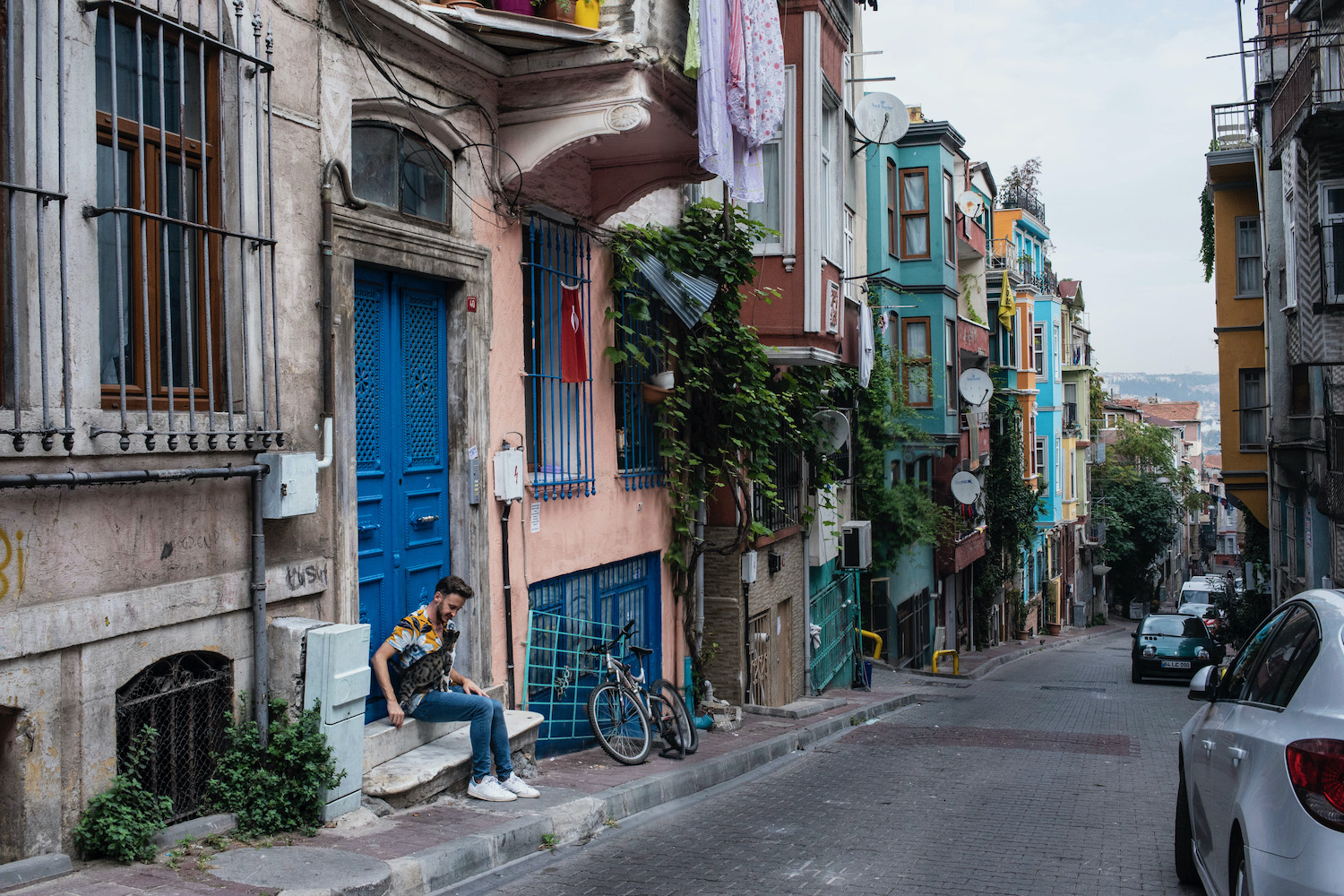 Since the days when it was known as Constantinople (and likely before), Istanbul has sat at the center of the world, both figuratively and literally. Turkey's largest city more than lives up to the hype built up around it, whether you're looking out onto the historical Sultanahmet district and the picturesque Golden Horn harbor from medieval Galata Tower, shopping along trendy Istiklal pedestrian street, or boating through the Bosphorous that separates the European landmass from the Asian one. Your Turkey travel itinerary will likely start and end here.
Pamukkale and Ephesus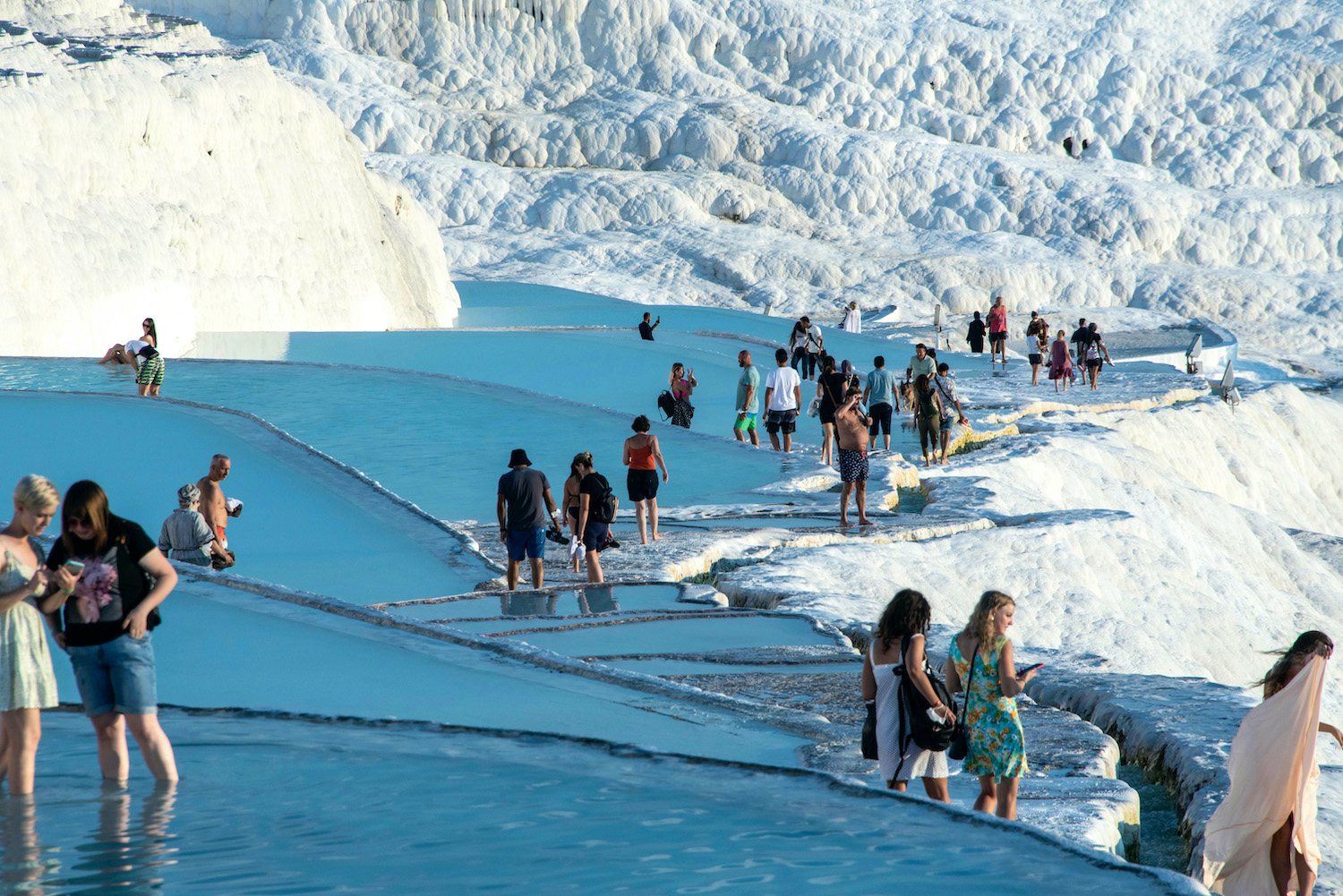 If I'm honest, I expected the travertine of Pamukkale not to live up to its magnificent Instagram reputation. I was wrong—the place is positively beatific—and I'm glad I was. The best way I can describe it is a massive mountain made of chalk, rising high above an arid landscape, with cold and hot springs flowing out of it. I visited three separate times in three days, and didn't feel bored for a single second. Pamukkale is walking distance from the ancient ruins of Hierapolis, which is good if you're visiting during Covid-19: Pandemic-related rail suspensions make visiting nearby Ephesus impossible, at least as a day trip.
The Turkish Coast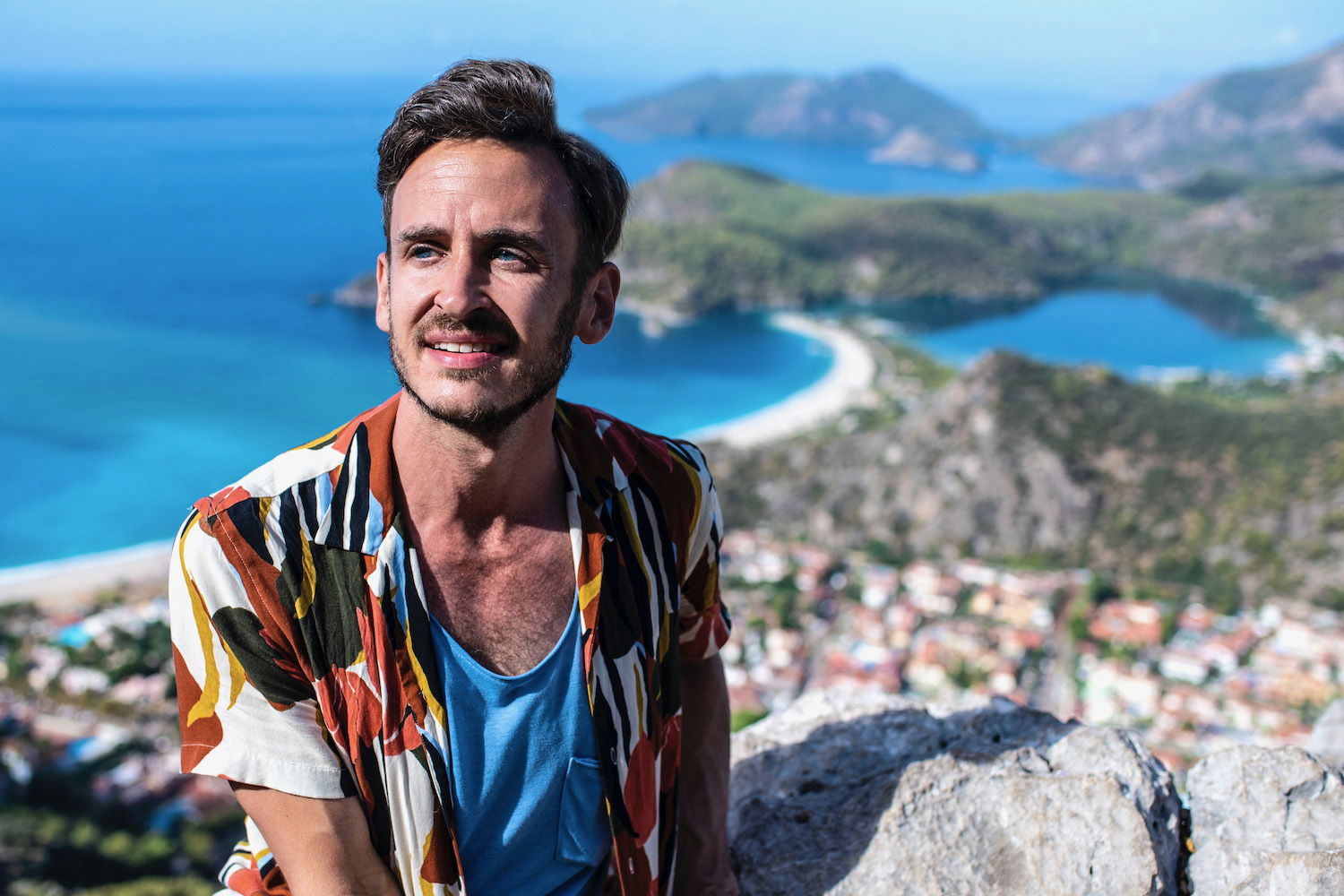 A microcosm of Turkey more broadly, the Turkish coastline is much longer and more diverse than you might believe browsing words and pictures on a travel blog; you can also kill a lot more time here than most weekend trippers from Europe seem to do. I personally chose to base myself in Oludeniz and Antalya; I took day trips to Fethiye and Cirali, respectively, to round out my time along the coast. Other travelers choose hubs in resort-filled Bodrum or even the large (and not especially relaxing city) of Izmir; boat trips out into various islands can give your Turkish coastal trip a decidedly Greek feel.
Cappadocia and Konya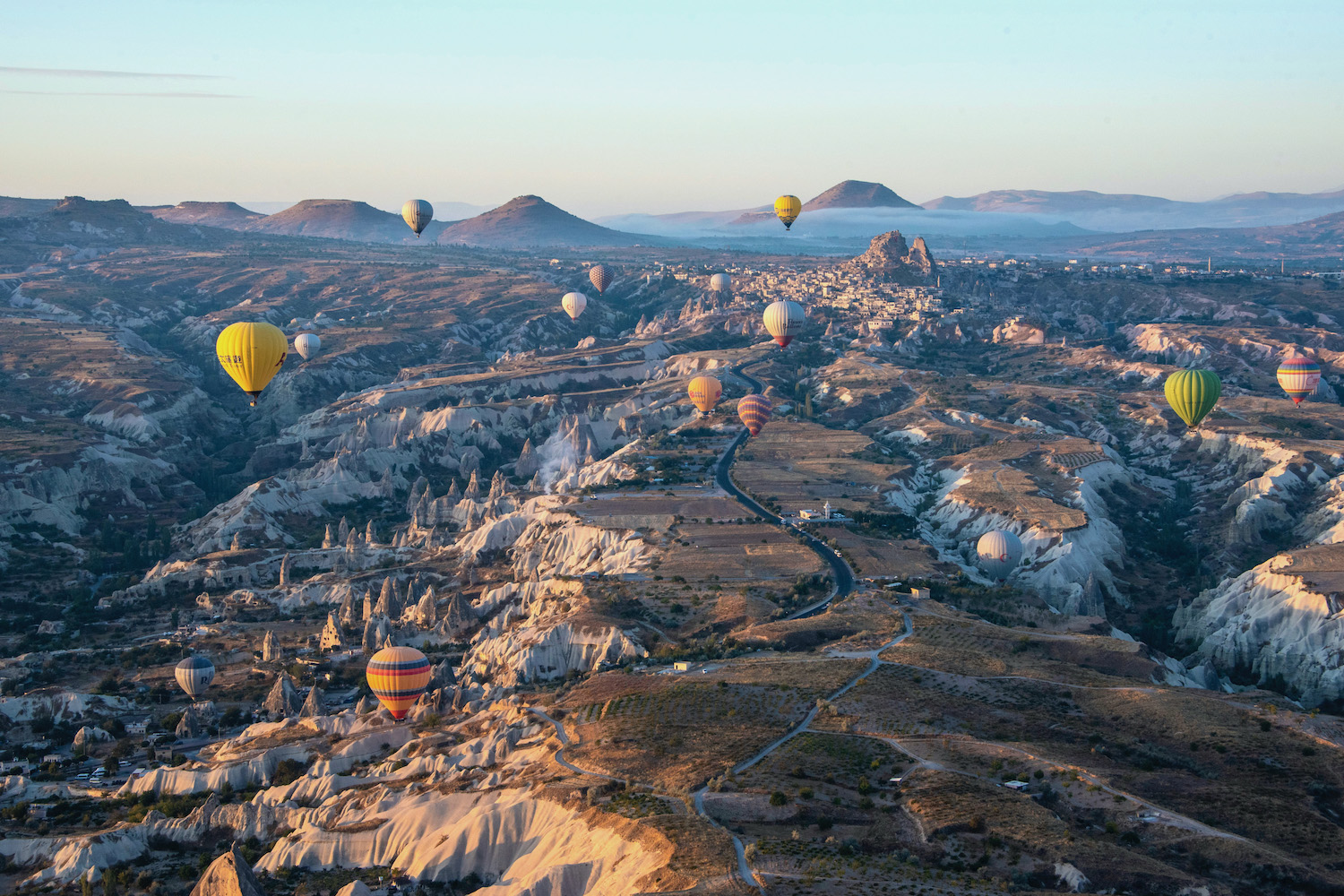 I barely got out of Istanbul during my first two trips to Turkey; Konya (Turkey's capital of Sufism) and Cappadocia (its capital of social media) were the only non-Istanbul places I'd been prior to early October 2020. To me, these destinations pair perfectly. After a night or two in Konya, a conservation and spiritual city famous mostly for its association with Rumi/Mevlana, a few touristy days in the Cappadocian towns of Goreme or Uchisar is just what the doctor ordered. Although I'm generally agnostic about hot-air balloon flights, one is definitely worth it (and I would almost say necessary) here.
The Black Sea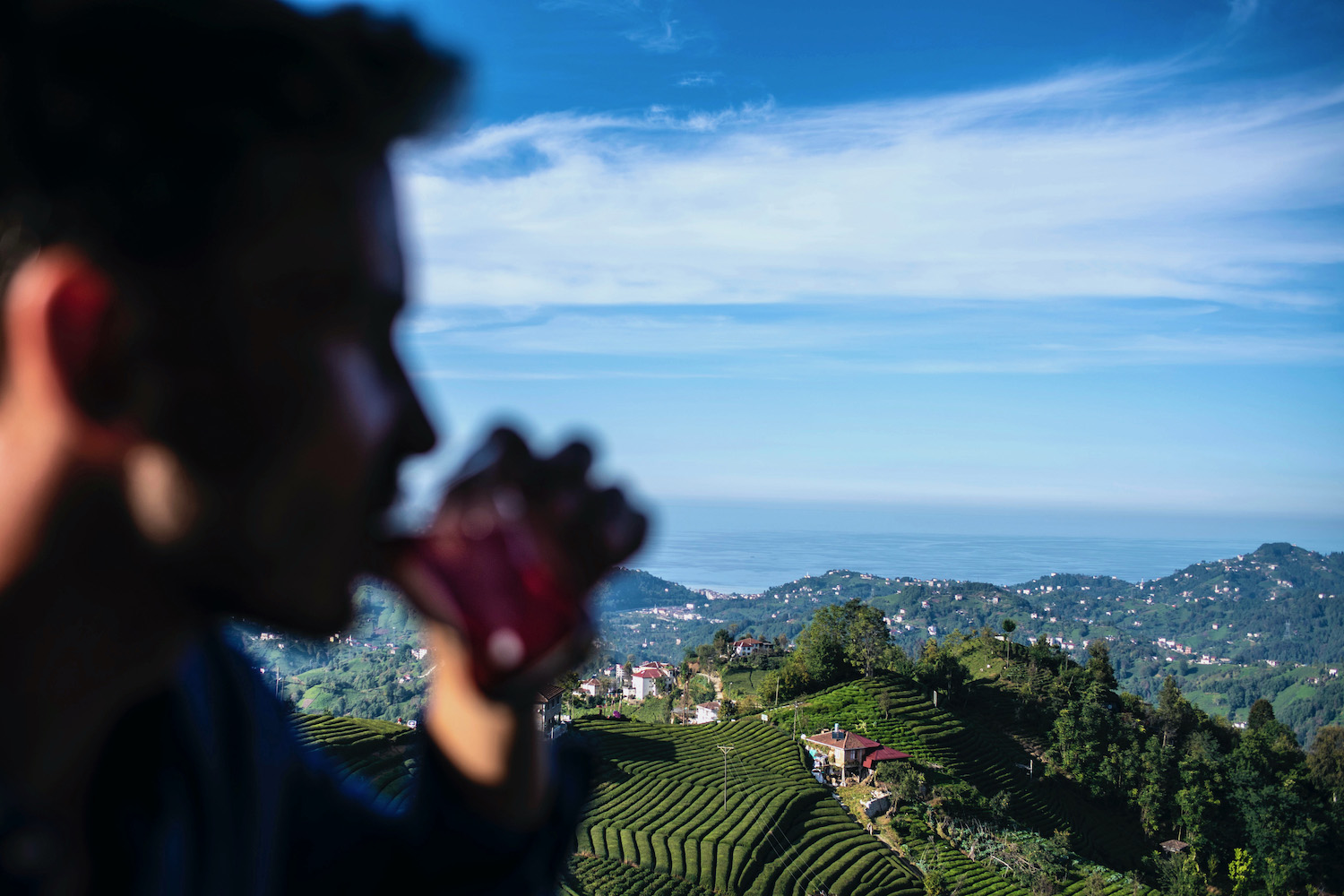 Turkey's Black Sea region, according to Turks who discovered I would be visiting, is like a completely different country. I wouldn't go this far, in spite of the fact that both the landscape and the pace of life is indeed distinct from anywhere else in Turkey. Certainly, cities like Rize and Trabzon are much less crowded with tourists than, say, Oludeniz or Antalya, to say nothing of how otherworldly the beauty of Cayeli's tea fields or the Islamic Alpine village of Uzungol proved to be. Additionally, if you rent a car here (and it's highly recommended you do, as a result of poor public transport options), please drive carefully.
Other Places to Visit in Turkey
I've just completely my most extensive Turkey trip yet; I've now explored the country more broadly and deeply than the vast majority of travelers. With this being said, there are plenty of spots I haven't yet visited, most notably the national capital of Ankara. I'd also like to head east on my next trip to Turkey, both to more traditionally touristic cities like Gaziantep and Sanliurfa, as well as to Van, a town near the Armenian border that sits amid hundreds of "ghost" churches. Finally, I'd love to spend even more time along Turkey's coasts, both the Aegean and the Black Sea, in particular near the western hub of Samsun.
How Long Should You Spend in Turkey?
I'll start my answer to this question by saying that Turkey is much bigger than it looks on the map; covering even short distances can take longer than you expect, largely as a result of the country's hill topography. Unless you plan to focus on a single destination (Istanbul or somewhere along the coast, most probably), I'd generally say that 2 weeks in Turkey is the shortest trip you should consider. I finished the trip I described in the preceding paragraphs in about three weeks, although I could've condensed it into two if absolutely necessary.
Istanbul is an eminently livable city, a fact I mention because another way to structure your Turkey trip is to base yourself there, and simply visit outlying destinations as weekend excursions. If you do this, you could spread your travels out over a month or two. This requires more flexibility—ideally, being able to work from your laptop—but will also allow you to explore Turkey more deeply and slowly, and with almost no stress. Feel free to reach out to me directly if you want tailored advice on how to put your Turkey trip together.
FAQ About Traveling to Turkey
What can you see in Turkey in 10 days?
10 days in Turkey sounds like a lot, but in reality this will be a relatively superficial trip, not to mention a pretty fast-paced on. After spending 2-3 days in Istanbul, you can fly to Nevsehir or Kayseri for 1-2 days in Cappadocia, and then travel by bus (optionally, via the spiritual city of Konya) to Antalya, for 3-5 days along the coast in Oludeniz, Fethiye and/or Bodrum.
How much does a trip to Turkey cost?
While this answer depends somewhat on the value of the Turkish lira, I'd say most travelers can get by in Turkey for between 50-100 USD per day. As a result, if you spend 10 days in Turkey, you can expect to spend between $500-1,000, not including the cost of flights between your home city and Istanbul.
Is it safe to vacation in Turkey?
Turkey is a relatively safe country to visit, but there are some precautions you should take. This include reports about bars serving bootlegged alcohol, suspicious deaths related to medical/dental tourism and dangerous roads, particularly along the Black Sea. Moreover, Turkey is prone to earthquakes, made more dangerous by shoddy architecture in some parts of the country.
The Bottom Line
I'd be shocked if you haven't made significant progress on your Turkey itinerary, assuming you've read all the way to this point. After talking you through practical aspects of traveling in the country, I succinctly laid out top places to visit in Turkey, from must-see destinations like Istanbul and Cappadocia, to coastal paradises like Antalya, Fethiye and Oludeniz, to underrated gems like the Pamukkale travertine and the Black Sea coast. Of course, if you would simply prefer for someone to plan your Turkey trip for you, that's an option as well. Hire me as your Travel Coach—and let me sweat the details!